Subscribe/Access
Advertisements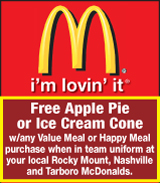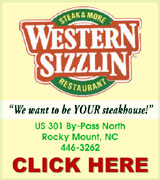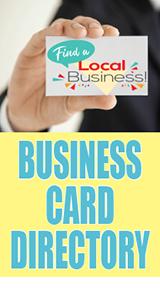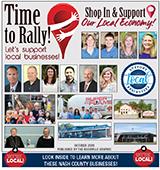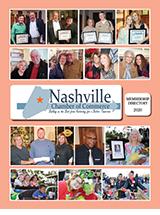 Sections
Member Options
Back
CAPTURED: Keel caught in Arizona


The husband of Diana Alejandra Keel, 38, was arrested Sunday morning in Arizona, not far from the Mexico border.
Rexford Lynn Keel was wanted for first degree murder in connection with the death of his wife, Diana.
Diana was reported missing on Saturday, March 9 around 7:30 p.m. after not being heard from by co-workers or her daughter in a few days.

More ...
AMANDA CLARK, GRAPHIC STAFF WRITER
NRMS faces budget shortfall


Nash-Rocky Mount teachers could see a 35 percent reduction in their supplement pay under a new plan proposed to reconcile the school system's budget.
Superintendent Dr. Shelton Jefferies presented the proposal to the Finance Committee of the Nash-Rocky Mount Board of Education on Tuesday afternoon.
"This year's budget cycle is a little bit different because we are still working to reconcile the 2018-2019 budget," Jefferies said. "We have a budget shortfall."

More ...
AMANDA CLARK, GRAPHIC STAFF WRITER
Nash recognizes EMS employees


Nash County Emergency Services provides top notch services because it employs the right people, according to Emergency Services Director Brian Brantley.
Emergency Services employees were recognized last Thursday night at a special employee recognition program.
Brantley said recognition programs are hard to hold for emergency services employees because they are spread out over 542 miles protecting the public, working in the 9-1-1 center or doing fire inspections.

More ...
AMANDA CLARK, GRAPHIC STAFF WRITER
Nash County Sheriff investigates overdoses
The Nash County Sheriff's Office is investigating two overdose deaths at motels outside of Sharpsburg that occured over the weekend.
Charity Hill, 41, of Nashville, was found dead at the Holiday Motel on US 301 just outside of Sharpsburg.
Brian Keith Jones, 49, of Rocky Mount, was found dead at the Carolina Inn, also on 301 outside of Sharpsburg.
More ...
Annual Pow-Wow set for April 19-21
The Haliwa-Saponi Indian Tribe, located in Halifax and Warren Counties, is gearing up to celebrate their 54th annual pow-wow. For the 2nd year in a row, Brooke Mills Simpson of The Voice's 13th Season, will be offering a concert on Saturday afternoon.
"We are thrilled that our tribal member, Brooke, is coming home to celebrate with her family and tribe," said Chief Dr. Ogletree Richardson. "Last year, her concert was a real treat to our already beautiful pow-wow."
More ...
NRMS school safety forum is April 2nd
An open forum on school safety is slated to be held on Tuesday, April 2.
The forum is hosted by the District Parent Advisory Committee of the Nash-Rocky Mount Public School System.
The safety forum will bring an expert panel of school and county level safety response teams together to discuss school safety.
More ...

Jerry Harrison performs during the Gospel Jubilee on Saturday at the O.D. Moore Building. Harrison tied for first place in the competition.

Local Gospel Jubilee held Saturday


Saturday afternoon at the O.D. Moore Building was filled with a joyful noise as the annual Gospel Jubilee was held.
The event benefitted the O.D. Moore Scholarship Foundation and featured music from six individuals or groups who competed for cash prizes.
Judges for the event, which included District Court Judge Tony Brown, Bronson Williams and Russell Leonard, had a hard time deciding who the winner of this year's competition would be and the event ended with a tie for first place.

More ...
AMANDA CLARK, GRAPHIC STAFF WRITER

RUDY BEARS - Nash County Ruritan President Peggy Winstead, at right, presents Rudy Bears to Nash County Deputy Fire Marshal John Frazier, at left, during the Nash County Ruritan meeting last Monday.

Ruritan honored for 30 years of service


The 60th annual meeting of the Nash County Ruritans honored a long-time member for his service.
Donnie Perry, who has served Ruritans for over 30 years, was surprised with a resolution for his service. Wayne Outlaw, past National President and a Nash County Ruritan, presented the honor to Perry just after Perry finished his final treasurer's report.

More ...
AMANDA CLARK, GRAPHIC STAFF WRITER
Nash County Sheriff's Office Captain graduates FBI Academy
Five North Carolina law enforcement officers graduated from the FBI National Academy on March 15 during a ceremony held in Quantico, Virginia.
Among those officers was Captain Curtis Moore, of the Nash County Sheriff's Office.
Moore has been with the Sheriff's Office for over 12 years. He started his career in the detention center and now serves as the Captain of the detention center.
More ...
Rocky Mount duo sentenced for jewelry store robberies
A Rocky Mount man and woman were sentenced to 10 years in prison for two jewelry store robberies that occurred in 2017.
Chief United States District Judge Terrence W. Boyle sentenced Jaquin Jamal Pratt, 20, and Nikita Shontel Taylor, 26, of Rocky Mount, to 120 months imprisonment, followed by three years of supervised release and 87 months imprisonment, followed by three years of supervised release.
More ...
NASH COUNTY SHERIFF'S OFFICE REPORTS
A larceny of a motor vehicle was reported on 3/10/19 at 6164 West Mount Drive
A possession with intent to manufacture, sell and deliver heroin, possession of marijuana and possession of drug paraphernalia was reported on 3/10/19 at 7026 Perry Road
A breaking, entering and larceny and larceny after a breaking and entering was reported on 3/10/19 at 5311 Taylors Store Road
More ...
NASHVILLE POLICE REPORTS
INCIDENTS
An injury to real property and intoxicated and disruptive was reported on 3/14/19 at 105 Sara Drive
A failure to appear, probation violation, possession of drug paraphernalia and escape from custody or resist, obstruct or delay was reported on 3/11/19 at Vick Road and NC 58
More ...
Block Party pics, 1
DREAM BOARDS - Aubrey Wilkins and Destiny Medlin (L-R) make dream boards at Nashville Elementary School during the Nashville Police Department and Nashville Parks, Recreation and Cultural Resources' Block Party for the Brooklyn Community. This is the first of four Block Parties that will be held in Nashville.
More ...
Block Party pics, 2
Ayden Wright tosses a bean bag while playing corn hole on Saturday in the Nashville Elementary School gymnasium.
More ...
Pinewood Derby
Coopers Boy Scouts Pack #37 recently held their Pinewood Derby, with several youth participating. Winners went on to compete in the District Pinewood Derby.
More ...
BIRTH ANNOUNCEMENT
Tiffany and Joshua Jenkins are pleased to announce the birth of their daughter, Skylar Catherine Jenkins. She was born January 9, 2019 at Nash UNC Hospital in Rocky Mount. She weighed seven pounds, eight ounces and was 20 inches long. Maternal grandparents are Sharon and Robert Ombres, of Hobe Sound, FL. Paternal grandparents are Debbie and Randy Jenkins, of Elm City.
More ...
New board of directors, officers are approved for Nash UNC Foundation
On December 6, 2018 the Nash UNC Health Care Board of Directors approved new board members and officers for the Nash UNC Health Care Foundation.
The new Foundation board members include: Adam Hodges - Director of Operations for Crown LSP Group, Dr. David Seaman - General Surgeon and Jeff Tobias - Senior VP, Commercial Team Manager for Providence Bank.
More ...
Inducted
Cierra Viverette Parvin (center) was inducted into Delta Kappa Gamma, Mu Chapter, Eta State-NC. Her sponsors were Elaine Christianson (left) and Diane Dixon (right). Cierra is an Exceptional Children's (EC) teacher at Northern Nash High School.
More ...
MILITARY NEWS
U.S. Air Force Reserve Airman 1st Class Alexis Arrington graduated from basic military training at Joint Base San Antonio-Lackland, San Antonio, Texas.
The airman completed an intensive, eight-week program that included training in military discipline and studies, Air Force core values, physical fitness, and basic warfare principles and skills.
More ...

Nashville Mayor Donald Street presents a "Toast to the Flag" at the annual Ladies Night Banquet, which is sponsored by Nashville's American Legion Post 110.

American Legion hosts Ladies Night


Ladies were the center of the evening at the American Legion Post 110's annual Ladies Night.
The event is held each year to show appreciation to the widows and wives of service men.
District Commander George Young said the wives of service men played an important role in the military, as they stayed home and ran the household while their husband was away.

More ...
AMANDA CLARK, GRAPHIC STAFF WRITER
Top 75 Agent
Associate State Sales Manager Doug Ladd congratulates Tonja Philbeck, Nash County Agent for North Carolina Farm Bureau Mutual Insurance Company, was named among the Top 75 Agents for 2018, by Steven D. Carroll, CPCU, Executive Vice President and General Manager. Agent Philbeck was selected for this honor based on her outstanding sales and service record for multi lines of insurance during 2018.
More ...
COMMUNITY HELPERS
Students in Mrs. Cindy Puckett's three-year-old class at the Nashville United Methodist Church Weekday School recently learned about community helpers. After learning about the many different community helpers, students got a chance to dress like their favorite community helper on Friday, March 1. In addition, students got a chance to hear from Nashville Graphic reporter Amanda Clark about what role newspaper reporters play in the community.
More ...
Vester earns Excellence in Teaching Award
Amy Vester, Nash Community College Computer Information Technologies instructor, has been selected as the College's 2019 J. Edgar and Peggie T. Moore Excellence in Teaching Award recipient.
Excellence in Teaching Award nominees are full-time faculty members chosen annually through a peer and student evaluation process.
More ...
Poultry Tour, Show and Auction is March 30th


Nash County Cooperative Extension is hosting its first ever Poultry Tour, Show and Auction on Saturday, March 30.
Kelsey Lichtenwalner, Extension Agent for Livestock in Nash and Edgecombe Counties, said the event is a response to the increase in people interested in raising backyard chickens. Lichtenwalner said she gets a lot of questions about raising chickens.

More ...
AMANDA CLARK, GRAPHIC STAFF WRITER
Eleven students complete BLET training at ECC
Edgecombe Community College graduated eleven cadets from its Sixth Basic Academy for Basic Law Enforcement Training on February 26.
The graduation ceremony featured comments by William Linkous, platoon leader.
The cadets completed an intensive 20-week program and have passed the certification exam mandated by the NC Criminal Justice Education and Training Standards Commission.
More ...
Rocky Mount's Paws in the Park is April 13th
Residents will have a few special hours to spend with their beloved dogs during the ninth annual Paws in the Park event from 11 a.m.-2 p.m. on Saturday, April 13. The event will take place at Best Friend's Dog Park located at 480 Lee St. in Rocky Mount.
Paws in the Park features a pet fashion show, vendors, food trucks, music from DJ Slammin and more. Fetch N Fly, which specializes in dog training and dog sports, will perform.
More ...
Local woman hits jackpot
Rubylene Knott of Spring Hope said a sudden decision to take a chance resulted in a $200,000 lottery prize.
"I don't play the lottery," Knott said. "I'm not sure why, but when I went to pay, I decided to splurge and get a ticket."
Knott bought the winning Monopoly Frenzy scratch-off ticket at Griffins Food Store on Red Oak Boulevard in Red Oak.
More ...
Nash County Animal Friends' Notebook


Fleas, ticks and mosquitoes! Spring is here and so are these pests! We will be spending more time outdoors soaking up the sunshine and exposing our pets to them. These parasites carry numerous diseases that can affect our pets, and severe infestations can cause anemia, not to mention skin infections. It is time to make sure your pet's flea and tick preventative products are on hand!

More ...
CAROL VIERELA, NASH COUNTY ANIMAL FRIENDS
Faith: The site of things not yet seen


Fanny Crosby wrote over 8,000 hymns during her lifetim, many of which still appear in today's hymnals. Hymns like "Blessed Assurance," "All the Way My Savior Leads Me," "To God Be the Glory," "Pass Me Not, O Gentle Savior," "Safe in the Arms of Jesus," "He Hideth My Soul." and "Praise Him, Praise Him" continue to draw souls to God for both salvation and comfort.

More ...
MIKE RUFFIN
Luke's Word for the Week


Hi Fellow Followers, it's our sixth and final week in the sanctity of life series and this letter is going to be a great big, "therefore." What I mean is - I've said everything else up to this point to say this to you.
As followers of Jesus we seek to not merely be hearers of the word, but doers (James 1:22). To be merely hearers puts us in a camp of aloof philosophy that has the form of religion without the power.

More ...
LUKE WHITEHEAD
PEACHTREE COMMUNITY NEWS


A beautiful Saint Patrick's Day Sunday met The Peachtree Baptist Church Congregation and friends.
The Sanctuary flower arrangement Sunday was presented to glorify God by Annie Belle Edwards in loving memory of her husband, Harold Edwards.
Sunday School:

More ...
FRAN BUNN
A vintage birthday around the bend


I have a birthday at the end of the month.
It's a nice round number, but I won't say which one.
If I was a nice solid wood writing desk, or a Coca-Cola cooler, I'd be considered somewhere between vintage and antique.
Homes that are my age can be considered historic.

More ...
Mike Brantley - 1 opinion posted
Backward Glances


This photo originally published in The Graphic on May 6, 1971. Winners in the 4-H Dress Revue were (left to right) Cynthia Sykes, Sheila Hill, Patricia Alston, Donnie Moody and Jerrie Moody. The Revue was held at Tarrytown Mall.

More ...
A PICTORIAL LOOK INTO THE PAST

TAKE A LOOK. Nash Central's Zack Vaughan eyes a pitch for the Bulldogs during last Saturday's home baseball game against Greenville Rose.

Central Battles Tough Schedule


ROCKY MOUNT -- There is a method to the madness of Nash Central's early-season baseball scheduling grind.
Veteran NCHS head coach Willie Langley saw his Bulldogs roll to the Eastern Plains Conference championship last season -- but wasn't sure if his club was adequately prepared for the level of competition the Bulldogs would encounter in the Class 2-A State Playoffs.

More ...
GEOFF NEVILLE, Graphic Sportswriter

NCHS VAULTERS (L to R) JAMESON JOHNSON, AYTHEN DREW and JARON BATTLE

ANNUAL TRADITION


FRANKLINTON -- The T Sanders Invitational has morphed into one of the area's top high school track and field events -- so the Nash Central Bulldogs were happy to participate in the renewal of the championships last Saturday at the Franklinton High School Football Field.
Nash Central did not take a full roster to the championships but still mustered an 18th-place overall boys finish with 11 total points under veteran head coach Juan Jackson.

More ...
GEOFF NEVILLE, Graphic Sportswriter

HERE COMES THE THROW. Northern Nash third baseman Travis Gamache (14) awaits a throw during Monday's home baseball game versus Wilson Hunt.

OPENING NIGHT


RED OAK -- The Northern Nash High School baseball team started its 2019 Big East Conference campaign on Monday, dropping its first league game of the season to the Wilson Hunt Warriors by a score of 9-2 at the NNHS Baseball Field.
The Knights, who now sit at 2-5 overall, couldn't contain the Warriors', who are now undefeated at 6-0, dynamic offense, with Hunt finishing with an impressive 14 hits.

More ...
CHANCE PUCKETT, Correspondent

NORTHERN NASH'S KYLAR WIGGINS

Big East players honored


NASH COUNTY -- Northern Nash and Southern Nash both displayed dramatic improvement in girls basketball action this past season in the always-competitive Big East Conference.
With a few different bounces, Northern Nash could very well have qualified for the Class 3-A State Playoffs -- but came up just short.

More ...
GEOFF NEVILLE, Graphic Sportswriter
Bishops claim USAS salutes


FAYETTEVILLE -- North Carolina Wesleyan College sophomore pitcher Beth Braswell was named as the USA South Softball Pitcher of the Week, while junior 2B Brad Pennington was named the USA South Conference's Baseball Player of the Week from March 11-17.

More ...
Staff Reports
Mudcats to host special promotion


ZEBULON -- The Carolina Mudcats, in conjunction with Minor League Baseball's "Copa de la Diversión" initiative celebrating Hispanic heritage and culture, announce that they will play as "Pescados de Carolina" for four games during the upcoming 2019 season.
Carolina's new Copa de la Diversión and Pescados de Carolina identity will come complete with new game jerseys and hats.

More ...
Staff Reports
NC State continues strong start


RALEIGH - In its first game as the nation's No. 1 team in program history, the North Carolina State University baseball team cruised past the Towson Tigers, 11-1, Tuesday evening at Doak Field at Dail Park on the NCSU campus.
The Wolfpack scored three runs in the first inning and never looked back, scoring 10 or more runs in a game for the eighth time this season.

More ...
Staff Reports
COME BACK TO ME
Nash Central's Trey Whitley tries to chase down a relay throw at third base during last Saturday afternoon's home baseball showdown against the Greenville Rose Rampants.
More ...
MAKING A HEFTY DEPOSIT
Northern Nash's Aaron Gerlach deposits an offering far beyond the left-field fence for a home run during Monday's home baseball meeting with Wilson Hunt.
More ...
STAYING AHEAD
A Nash Central 3200 Relay performer (left) tries to maintain a lead against a Franklinton runner during last Saturday's action at the T Sanders Invitational Track and Field Championships.
More ...