Subscribe/Access
Advertisements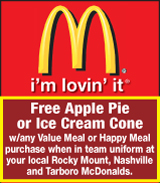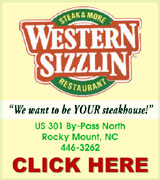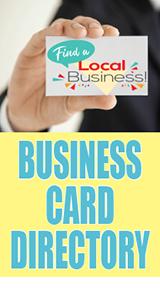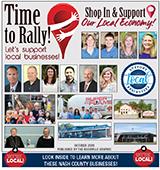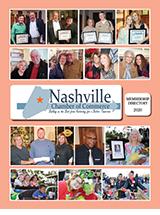 Sections
Member Options
Back
Nashville hires finance director


A Nashville native is returning home to serve as Nashville's Finance Director.
Nashville Interim Town Manager Leonard Barefoot announced the hiring of Russell Langley on Tuesday night at the board's regular meeting.
Langley was hired to serve as an Assistant Finance Director under Interim Finance Director Melonie Bryan. Bryan will train Langley in the coming weeks and he will then take over the role of Finance Director.

More ...
AMANDA CLARK, GRAPHIC STAFF WRITER
Castalia reneges clerk contract
Vigil to honor man missing since 2009


The town board of Castalia spent most of their regular monthly meeting on Tuesday in closed session to discuss personnel matters. After the closed session the mayor announced that the board had decided to rescind the employment offer for the position of town clerk extended to Maxine Perry due to an unsatisfactory background check. Town Commissioner Sylvia Mann stressed that the incident on the report was not recent, something that happened over twenty years ago.

More ...
JESSICA A. SMITH, GRAPHIC CORRESPONDENT
Scouts race derby cars
Several Nash County Scout Troops hosted their Pinewood Derbies this past Saturday. A district-wide event will be held on Saturday, March 9 at NC Wesleyan College.
Pictured above, Camden Tippette, of Nashville Troop 76, eyes his derby car before a race on Saturday. Nashville's race was held at Nashville United Methodist Church, where the pack meets.
More ...
Drug prevention program starts this month


Nash County Cooperative Extension has received grant funding that will empower families to better combat the opioid crisis.
The "Empowering Youth and Families" Program is a 12-week program for parents and youth ages 10 to 14. The program will begin this month.
The grant is through the Rural Health and Safety Education Program and SAMHSA.

More ...
AMANDA CLARK, GRAPHIC STAFF WRITER
Parent questions lack of music program funds


Security in elementary schools was again brought to the attention of school board members at their regular meeting on Monday.
Bo Brown came before the board in December to speak about his concerns for safety in elementary schools.
Brown was back on Monday, asking the board to take action. Brown said with the sale of the O.R. Pope school for rougly $200,000, the money could be used for capital purchases.

More ...
AMANDA CLARK, GRAPHIC STAFF WRITER
Local funeral home plans to rebuild


Just over a year after a fire destroyed a long-time funeral home in Nashville, the owners are making plans to rebuild.
The fire at Richardson Funeral Home on Alston Street happened on Tuesday, January 2, 2018. The fire destroyed the building and it was considered a total loss.
Nashville Fire Chief Chris Joyner said it appears the fire started in a bathroom of the building, possibly from a hot water heater, but he added that was not determined for sure.

More ...
AMANDA CLARK, GRAPHIC STAFF WRITER
Special visit
Third graders at Coopers Elementary School received a special visit from Sparky the Fire Dog recently. The visit was a part of an annual award's presentation, where Coopers Fire Fighters present plaques to winners of its Great Escape contest. Each year, during Fire Prevention Week, fire fighters visit the school and speak with students about fire safety.
More ...
Town honors former chief


Former Nashville Police Chief Tom Bashore was presented his service weapon on Tuesday night by Nashville Mayor Donald Street.
Bashore retired as the leader of the police department on December 31 after serving for six years. He spent a total of 21 years in law enforcement and another 23 years in the military.

More ...
AMANDA CLARK, GRAPHIC STAFF WRITER
Gunfire at club leads to ALE invesigation, doors closed
A shooting in a Rocky Mount nightclub left two females seriously injured, a suspect on the run, and a bar without ABC permits.
ALE special agents were contacted by the Rocky Mount Police Department after officers responded to a shooting at Studio 169 Lounge, located at 169 S Wesleyan Boulevard, late Saturday night. The shooting began in the VIP area of the nightclub after an altercation between female patrons. One patron was struck by gunfire and another was injured while crawling through broken glass in an attempt to escape the shooter.
More ...
ALE operation nets 123 arrests statewide
Nash County was among numerous counties where ALE special agents participated in a statewide operation over the weekend.
Special agents arrested over 123 people for alcohol, drug, firearm and gambling charges on Friday and Saturday night during a statewide crackdown in partnership with local, state and federal agencies.
More ...
NASHVILLE POLICE REPORTS
INCIDENTS
A forgery and uttering a forged instrument was reported on 2/25/19 at Walgreens, 703 W Washington Street
A larceny and damage to property (vandalism) was reported on 2/27/19 at 410 Woodfield Drive
A breaking and entering a motor vehicle was reported on 2/27/19 at 124 Wheeless Drive
More ...
Planning director aims to update ordinances


Nashville Planning Director Julie Spriggs hopes to begin updating the town's ordinances, with help from the Planning Board.
Spriggs brought two such ordinances before the Planning Board last week to review.
Spriggs said many of the town's planning ordinances were written in the 70s and 80s. She said she wants to work with the Planning Board to get the ordinances updated and into 2020.

More ...
AMANDA CLARK, GRAPHIC STAFF WRITER
Rocky Mount Middle School honor roll
Nash-Rocky Mount Schools has released its Honor Roll lists for the second semester of the 2018-2019 school year.
The following students at Rocky Mount Middle School made the A or A/B Honor Roll.
More ...
Distinguished Young Women of North Carolina
Four high school seniors from Nash County received the honor of representing our community at the Distinguished Young Women of North Carolina program. They spent a week in Greensboro leading up to the program finals. During their week they gained invaluable interview and public speaking skills. Distinguished Young Women is a national scholarship program that rewards young women for excellence in the categories of Talent, Fitness, Self Expression, Interview, and Scholastics. Ann Sumner Thorp received preliminary awards in Talent, Self Expression, Interview, and Scholastics before being named as 1st Runner Up.
More ...
Gift of appreciation
Deborah Tucker (right), member of Micajah Pettaway Chapter of the Daughters of the American Revolution, presented a gift of appreciation to Evan Chavez. Evan is with Capital Broadcasting and was the guest speaker at the February meeting of the chapter. She talked about the past, present and future plans for the Rocky Mount Mills.
More ...
AWARD
Jacquelyn Price, CEO Harrison Family YMCA, is pictured accepting the Commander's Award from the United States Marine Corps Reserve for outstanding support of the Toys for Tots Program in Nash, Edgecombe and Martin counties.
More ...
ECC announces President's List
Edgecombe Community College recently announced its President's List for the Fall 2018 semester. Full-time students earning a 4.0 grade point average earn a place on the President's List.
More ...
Nashville student named to Dean's List at Rochester
Erin Binkley, of Nashville, was named to the Dean's List at Rochester Institute of Technology for the 2018 Fall Semester. Binkley is in the ASL-English interpretation program.
Degree-seeking undergraduate students are eligible for Dean's List if their term GPA is greater than or equal to 3.400; they do not have any grades of "Incomplete", "D" or "F"; and they have registered for, and completed, at least 12 credit hours.
More ...
Nashville student makes Dean's List at CSU
Charleston Southern University has named Laura Elizabeth Brown, of Nashville, to the Dean's List for the fall 2018 semester. Brown is a senior majoring in Graphic Design.
Students named to Charleston Southern's Dean's List earned a 3.5 GPA or better and earned 12 or more credit hours for the semester.
More ...
Spring Hope board gives thumbs up for Internet café


A zoning text amendment for an internet a Spring Hope resident intends on creating has been tweaked and approved by the Board of Commissioners.
Steve Batchelor owns an empty building on 803 East Nash Street which he intends on creating into an internet café.
Town Manager Jae Kim said Batchelor recently requested for the property to be rezoned to the Light Industrial (LI) district.

More ...
KENDRA JONES, GRAPHIC CORRESPONDENT
SPELLING BEE WINNERS
Cedar Grove Elementary School held a spelling bee in January. Pictured are winners, first place Isabella Richardson, a fourth grader in Ms. Battle's class, and second place Joseph Richardson, also a fourth grader in Ms. Battle's class. Both were sponsored by Mrs. Hicks. Both will move on to the district competition.
More ...
Nash County Recycles Day is Saturday in Nashville
Nash County Recycles Day will take place from 10 a.m.- 1 p.m. on Saturday, March 9 at the Nash County Courthouse parking lot. The Nash County Courthouse is located at 234 W. Washington Street in Nashville.
The event invites residents from Nash and Edgecombe counties to gather their personal documents to be shredded, along with items like old electronics and prescription medications.
More ...
Tar River Academy honor roll
Nash-Rocky Mount Schools has released its Honor Roll lists for the second semester of the 2018-2019 school year.
The following students at Tar River Academy made the A or A/B Honor Roll.
More ...
Nash County Animal Friends' Notebook


IDs & MICROCHIPS Save Lives!
Some dogs show up at the Nash Shelter that may not even be from our area. We have seen reports of pets that were many a mile away from home. Perhaps they went that far themselves, perhaps they were stolen and escaped at some distance from home.

More ...
CAROL VIERELA, NASH COUNTY ANIMAL FRIENDS
Pinewood Derby pics, 1


Nashville Pack 76 Scoutmaster Sid Curtis (far left) presented trophies to the top three winners of the Pinewood Derby on Saturday. Pictured (L-R) with Curtis is: Dalton Robbins, first place; Timothy Flanagan, second place, and Joseph Gibson, third place.

More ...
Graphic photos by Amanda Clark
Pinewood Derby pics, 2
Wesley Whitehead, at left, won Best in Show for his Pinewood Derby Car for Nashville Boy Scout Troop 76. Pictured with Whitehead is Scoutmaster Sid Curtis.
More ...
Pinewood Derby pics, 3
Jacob Gibson, at left, won first and second place, for the Pack 76 Pinewood Derby's Akila Race while Dominick Robbins, at right, won third place.
More ...
NCWC promotes second-generation alumna
North Carolina Wesleyan College recently announced the promotion of Taylor Stone to Director of First Year Experience (FYE) Programs.
In this role, Stone is responsible for providing vision and direction for New Student Orientation. She will lead the design of Wesleyan Transition, the College's first-year seminar course, and oversee training for its instructors.
More ...
Horner to deliver NCC commencement message
North Carolina Senator Rick Horner will deliver the address at the Nash Community College curriculum commencement ceremony on Friday, May 17, 2019 at 6 p.m. in Brown Auditorium. President William S. Carver, II, Ed.D. and Board of Trustees Chair Paul S. Jaber will preside over the ceremony.
Horner is in his second term representing North Carolina's 11th District, and co-chairs the Senate's Committee on Education and Higher Education working with school districts and colleges across the state bringing increased urgency and accountability to NC education.
More ...
MB Hubbard Honor Roll
Nash-Rocky Mount Schools has released its Honor Roll lists for the second semester of the 2018-2019 school year.
The following students at MB Hubbard Elementary School made the A or A/B Honor Roll.
More ...
RURITAN DONATION
The Momeyer Ruritan Club recently presented a donation to the Southern Nash High School FFA Alumni. Pictured (L-R) is: Ruritan Edward Jackson and Stuart Parker, Chapter President of FFA Cassidy Joyner, Ruritan Jordan Jackson and Alumni President Chris Winstead.
More ...
Salvation should help us view sin differently


I understand exactly what the Apostle Paul meant when he said, "You used to be slaves to sin." However, I didn't understand it until I was born again. Salvation gave me a whole different perspective about the life I used to live.
The truth is I can't believe some of the things I did, not to mention some of the things I said. It never registered with me that the lifestyle I had chosen was nothing more than a life of sin.

More ...
MIKE RUFFIN
Luke's Word for the Week


Hi Fellow Followers, thank you for sticking with me as we continue in our journey of why the sanctity of life matters. I want to let all readers know why I am doing this series. There are two primary reasons that our current cultural climate calls for writing such as this; it's high time we followers open our mouths and live out actions about the witness of the Bible concerning the sanctity of human life.

More ...
LUKE WHITEHEAD
Intersections: God and Life


"Consider it a great joy, my brothers and sisters, whenever you experience various trials, because you know that the testing of your faith produces endurance. And let endurance have its full effect, so that you may be mature and complete, lacking nothing. Now if any of you lacks wisdom, he should ask God -- who gives to all generously and ungrudgingly -- and it will be given to him. But let him ask in faith without doubting.

More ...
CARLYLE HALL
RED OAK NEWS


Women in Action met at Red Oak Baptist Church on Tuesday, February 19. The group finished making teddy bears to be donated for children in traumatic situations. They also enjoyed supper together followed by their missions program.
Several from Red Oak attended the Your Choice Resource Center's Celebrate Life Banquet on Thursday, February 28 at Englewood Baptist Church.

More ...
SUZY PEARCE
PEACHTREE COMMUNITY NEWS


The Peachtree Baptist Church Congregation and friends met Sunday.
The Sanctuary flower arrangement Sunday was presented to glorify God by Fran and Bob Bunn in honor of her father, Jake's, 94th birthday and their grandson's, Giorgie - 8th, and JR's - 16th birthdays.

More ...
FRAN BUNN
Some dangerous language at work


I'll admit that even though the term "toxic masculinity" has been around for a long time, I'd not heard of it until recently.
The first definition that came to mind was memories of late night runs with my buddies to Taco Bell. That friends, I can assure you, resulted in a lot of toxic masculinity.
But, that's a different kind of toxic masculinity than the buzzword of today.

More ...
Mike Brantley
Preparing kids for challenges - literally


"Well if Johnny jumped off a bridge would you?"
Many parents have used this exact phrase in response to their kid asking them if they could do something because "Johnny did it."
Today's answer from the kid would probably be yes because apparently technology has made our kids gullible and maybe not-so-smart. Or maybe it's just the tremendous amount of peer pressure these days. Either way, it's a bit scary!

More ...
Amanda Clark
Backward Glances


DERBY WINNERS -- This photo originally published in The Nashville Graphic on April 1, 1971. The Nashville Cub Scouts competed in a Pine Wood Derby. Winners, left to right, were: Tommy Whitfield, first place, Gregg Wallace, second place, and Chris Reges, third place.

More ...
A PICTORIAL LOOK INTO THE PAST

OFFERING ASSIST-ANCE. Southern Nash's AJ Jones tries to find an open teammate during last Saturday's road playoff matchup at Durham Hillside.

STERN DEFENSE


DURHAM -- Defense may be a lost art in today's world of basketball, but its still-potent ways were on display last Saturday evening courtesy of Durham Hillside.
The homestanding Hornets seemingly had an answer for every move on offense that was made by Southern Nash in the clubs' third-round meeting in the Class 3-A Boys Basketball Playoffs.

More ...
GEOFF NEVILLE, Graphic Sportswriter

NORTHERN'S DAVONTAE 'CRANK' WIGGINS

TOUGH ENDING


RED OAK -- In front of a loud, sold-out, and rowdy crowd on Tuesday night, Northern Nash looked to exercise its fourth-round demons in a contest against third-seeded Eastern Alamance in the Class 3-A Boys Basketball State Playoffs.
Despite having a strong home-court advantage, the No. 2 seed Knights lost a 81-75 heartbreaker, ending their season with an "Elite Eight" loss for the second time in three seasons.

More ...
CHANCE PUCKETT, Correspondent

NORTHERN NASH'S DARQUEZ FLOWERS

Northern picks up key victories in postseason


RED OAK -- After a 14-point win against Havelock that was closer than the scoreboard indicated on February 26, Coach Henry Drake's Northern Nash Knights turned their focus to a talented Dudley team from Greensboro last Thursday at home in the second round of the Class 3-A Boys Basketball State Playoffs.
The Knights knocked off the Panthers 67-64 and followed up with a third-round 58-52 win against Pittsboro Northwood last Saturday afternoon at the historic NNHS Gymnasium.

More ...
CHANCE PUCKETT, Correspondent

SOUTHERN NASH SENIOR DARIUS EDMUNDSON (AT RIGHT)

STRONG SEASON


DURHAM -- Southern Nash took a journey into the basketball unknown this season -- and it proved to be quite a ride.
SNHS veteran head coach Robbie Kennedy wasn't sure what to expect from his group coming in, especially since just one starter returned from last year's group.
But several returnees stepped up with increased playing time, and other even younger performers excelled as the Firebirds eventually reached the third round of the Class 3-A State Boys Hoops Playoffs for the second time in three years.

More ...
GEOFF NEVILLE, Graphic Sportswriter
History Maker


RED OAK -- On February 2, Northern Nash High School's Sidney Sullivan cemented her name into Nash County prep sports history.
That's when Sullivan, a freshman at NNHS, competed in the first-ever North Carolina High School Athletic Association Women's Wrestling Invitational Tournament.

More ...
CHANCE PUCKETT, Correspondent
Mudcats, Wood Ducks teaming up


ZEBULON -- The Carolina Mudcats and Down East Wood Ducks have put their rivalry aside to introduce the all-new "Carolina Commuter Deal" ticket special for baseball fans all throughout Eastern North Carolina.
This jointly announced special features discounted tickets for fans of either team when they follow their club to the opponent's stadium in Class A Carolina League baseball action.

More ...
Staff Reports
NCWC spring sports teams in action


MARION -- The North Carolina Wesleyan College baseball team cruised to a weekend sweep over Brevard College last Saturday, taking game one 14-1 and winning 13-0 in 8 innings in game two.
One day earlier, the Bishops routed conference foe Brevard College 16-5 on the road Friday evening in the first game of a weekend series at Big League Camp in Marion.

More ...
Staff Reports
COUNTY FUTSAL REPORT


NASH COUNTY -- Here are updated Nash County Recreation and Senior Services Youth Futsal League Scores:

More ...
Staff Reports
H. Earl Coley Classic scheduled


NASH COUNTY -- The 10th Annual H. Earl Coley Golf Classic will be held May 29 at Belmont Lake Golf Club in Rocky Mount.
Check-in will be at 8:30 a.m., followed by a shotgun start 30 minutes later. A four-person team scramble format will be utilized.
Cost is $70 per player, which includes greens fee, golf cart, lunch, range balls, longest drive, closest to the pin, hole-in-one and other prizes.

More ...
Staff Reports
Brittany Showcase is this weekend


WILSON -- Nash County will once again be well-represented at one of the state's most prestigious girls high school soccer events.
Each of the county's four public high schools along with Rocky Mount Academy will take part in the annual The Brittany Girls Soccer Showcase at Gillette Park in Wilson.
The event is slated for Friday and Saturday and will feature top squads from across the region and state.

More ...
GEOFF NEVILLE, Graphic Sportswriter
HAPPY TIMES
Members of the Southern Nash High School cheerleading squad show their support during the Firebirds' playoff basketball victory last Thursday night at Wilson Hunt.
More ...
PAGE-ING TWO POINTS
Northern Nash's Sam Page takes the baseline during last Thursday's victory over Greensboro Dudley in the second round of the Class 3-A Boys Basketball State Playoffs.
More ...
SUPER SOPHOMORE
Tenth-grader Chason Royal (right) was a key performer this season for the Southern Nash Firebirds, who reached the third round of the Class 3-A Boys Basketball Playoffs.
More ...
Gospel Jubilee is set for March 16th
The O.D. Moore Scholarship Foundation is hosting its annual Gospel Jubilee on Saturday, March 16.
The Jubilee is set for 2 p.m. at the O.D. Moore Building, located at 806 S. Alston Street in Nashville.
Hattie Dunn said the event is a competition that will raise money to fund scholarships for local youth.
More ...