Subscribe/Access
Advertisements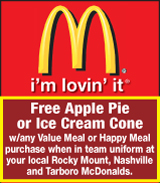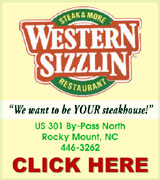 Sections
Member Options
Back
PUBLIC MEETING TONIGHT


Nashville's Town Council is considering a proposal to purchase Birchwood Country Club and is seeking input from the public.
A special called meeting is being held on Thursday, January 24 at 7 p.m. in Town Council Chambers, located in Cooley Library at 114 W Church Street, Nashville.
Interim Town Manager Leonard Barefoot said Birchwood was considering disposal of their property and the board had discussed, in closed session, the possibility of acquiring the property.

More ...
AMANDA CLARK, GRAPHIC STAFF WRITER

THORPE
Native is first female US Army Command Sgt. Major
A Nashville native was named the first female command sergeant major for the United States Army Human Resources Command (HRC).
Command Sergeant Major Lynice D. Thorpe-Noel was welcomed during a Change of Responsibility Ceremony held at Waybur Theater in Fort Knox last Thursday, January 17. The ceremony was officiated by Major Geneneral Jason T. Evans, HRC commanding general.
More ...
Leggett is sworn in as new county commissioner


Nash County Commissioners approved Sue Leggett as the newest member of the board.
Leggett was approved and quickly sworn in at the board's regular meeting on Tuesday, January 22. Following the swearing in, Leggett took her seat with the board and got to work.

More ...
AMANDA CLARK, GRAPHIC STAFF WRITER
Fire claims two homes


The Nash County Fire Marshal's Office is investigating a fire that destroyed a home a family had recently purchased.
The fire was dispatched a little after 1 a.m. on Monday, January 21 on Bayview Drive, which has a Rocky Mount address but is in the Red Oak fire district.
According to Fire Marshal Chris Jenkins, the home was unoccupied at the time of the fire.

More ...
AMANDA CLARK, GRAPHIC STAFF WRITER

Guests of the MLK Banquet sing "We Shall Overcome" at the end of the program.

Nashville honors Dr. Martin L. King


Nashville's Willing Workers Club hosted their fourth annual MLK Banquet Sunday afternoon honoring and remembering the legacy of Dr. Martin Luther King.
Guest speaker Rev. Ronnie Bridges said it's easy to find a connection between the struggles of the Israelites seeking freedom from Egypt with the Civil Rights Movement era.

More ...
JO ANNE COOPER, GRAPHIC PUBLISHER
Daddy Daughter Dance
Alivia Hurtea dances with her grandfather at Nash County's annual Daddy Daughter Dance held Saturday night at Nash Community College.
More ...
NASH COUNTY SHERIFF'S OFFICE REPORTS
A simple assault was reported on 1/13/19 at 222 W Washington Street
A financial card fraud was reported on 1/13/19 at 4601 S Halifax Road
A possession of marijuana was reported on 1/14/19 on Interstate 95 Southbound
More ...

Ronny Robertson, of Clayton Corporate, unveils plans for the company to build a new break room and training facility for employees. The $2 million project is slated to be complete within a year.

Clayton Homes announces $2 million project


Clayton Homes in Nashville is investing $2 million in a project that will give employees a top-of-the-line break room.
Officials celebrated the project on Monday with a small ceremony. Members of the community were invited to be a part of the announcement.
"We got big things going on here in Nashville," said Ronny Robertson, who serves with Clayton Homes Corporate.

More ...
AMANDA CLARK, GRAPHIC STAFF WRITER
Spring Hope looks at gaming operation request


A Spring Hope resident wants part of an ordinance to be changed so he can possibly add an electronic gaming operation and restaurant inside a vacant building he owns.
Steve Batchelor owns an empty building on 803 East Nash Street which he is interested in turning into an internet café and restaurant.
"I have never been in one, to be honest. I've never been in an internet café, but I heard of them. I just want to give it a go," he told the planning board.

More ...
KENDRA JONES, GRAPHIC CORRESPONDENT
Tar River Academy holds mid-year graduation
The auditorium was filled with excitement as 22 Tar River Academy (TRA) seniors graduated on Thursday, December 20, 2018 during the mid-year graduation held in the school's auditorium. The Class of 2018 have various plans after TRA as 15 will attend two-year colleges, two will enlist in the military and five will enter the workforce.
More ...
BIRTHDAY CELEBRATION
On Sunday January 20th, longtime Nashville resident Lula Shackleford was honored in recognition of her 91st birthday. Lula is pictured cutting the cake with sons Randy (left) and Russell (right.) Over 75 friends and family attended to make the celebration special.
More ...
Local law enforcement complete crisis training
Law enforcement officers from Nash County Sheriff's Office, Nashville Police Department, and Rocky Mount Police Department recently completed Crisis Intervention Team (CIT) Training at Nash Community College. CIT is a 40-hour training designed to assist law enforcement officers who respond to incidents involving individuals with a mental health or substance use crisis, or intellectual and developmental disabilities.
More ...
Estep, Lucas unite in marriage
Maegan Elizabeth Estep and John William Lucas were married on Sunday, October 28, 2018, at 5:00 p.m. at Flint Hill in Norcross, GA.
Rev. Elizabeth J. Edwards officiated.
The bride is the daughter of Jefferie Skinner of Peachtree City, GA, and Gene and Nancy Estep of Valparaiso, FL. The groom is the son of Will and Carol Lucas of Rocky Mount, NC, and the grandson of the late Dr. and Mrs. Gaylord Lehman, the late James R. Lucas, and Shirley Lucas, of Rocky Mount, NC.
More ...
Isley reappointed to NC EMS Advisory Council
L. Lee Isley, president and CEO of Nash UNC Health Care, has been reappointed by the Secretary of the North Carolina Department of Health and Human Services to a four-year term on the North Carolina Emergency Medical Services Advisory Council.
The primary purpose of the NC Emergency Medical Services Council is to evaluate current state laws, administrative rules, and policies regarding Emergency Medical Services (EMS) in North Carolina.
More ...
Daddy Daughter Dance pics, 1


Albert and Alysha McWilliams are all smiles at the Daddy Daughter Dance Saturday night hosted by Nash County at Nash Community College.

More ...
Graphic photos by Jo Anne Cooper

Nash Community College Nurse Aide II Graduates
NCC announces Nurse Aide graduates
On Tuesday, December 18, 2018, Nash Community College held a recognition ceremony honoring students completing Nurse Aide I and Nurse Aide II training.
More ...

Nash Community College Phlebotomy program graduates
NCC announces Medical Assistants, Phlebotomy grads
Nash Community College medical assistants and phlebotomists were recognized for program completion on Tuesday, December 18, 2018. The Medical Assisting curriculum prepares multi-skilled health care professionals to perform administrative, clinical, and laboratory procedures. Course work includes instruction in scheduling appointments, coding, and processing insurance accounts, billing, collections and computer operations.
More ...
NCC Honors List
Nash Community College announced the following students achieved academic honors during the 2018 Fall Semester.
To qualify for the Dean's List, students earn a 4.0 grade point average (all A's) while taking 12 or more semester hours.
More ...
Nash County Animal Friends' Notebook


CHANGING TIMES ~ A friend said "Give up the "dog catcher" archaic beliefs." I will add to that. The Animal Control Shelter is NOT the "pound" of the past. They care. They give protection to those without. They keep them safe from the road, starvation or worse.
Fact is however, unless we work hard to find a solution, the homeless pet may be euthanized by the Shelter vet for space.

More ...
CAROL VIERELA, NASH COUNTY ANIMAL FRIENDS
Recognized
Rocky Mount native Luther Barnes (third from left) was recognized at the January 14 Rocky Mount City Council meeting for his recent induction into the North Carolina Music Hall of Fame. Barnes, who serves as Senior Pastor of Restoration Worship Center in Rocky Mount, is a Grammy nominated vocalist and also a member of the International Gospel Music Hall of Fame.
More ...
Harper named to President's List
Keren Harper, a Sophomore Communication Disorders major, of Nashville, was among approximately 550 Bob Jones University students named to the Fall 2018 President's List. The President's List recognizes students who earn a 3.75 or higher grade point average for the semester.
More ...
Nash County Blood Drives for January 2019
Thursday, January 24 from 11 a.m. until 4 p.m. at NC Wesleyan College, 3400 N Wesleyan Blvd, Rocky Mount
Thursday, January 24 from 3 until 7 p.m. at West Mount Volunteer Fire Department, 3583 S Halifax Road, Rocky Mount
Saturday, January 26 from 9 a.m. until 3 p.m. at Union Hill Missionary Baptist Church, 1104 Taylor Store Road, Nashville
More ...
Hectic lifestyles can displace priorities


Many of us are seeking more balance in our lives, so much so that it is one of our most popular resolutions for the New Year. Our yearning for more peace in our lives doesn't surprise me because we live in our world where peace is yearned everywhere.
A college professor of mine told our freshman health class to be sure we had eight hours of sleep, eight hours of work, and eight hours of leisure.

More ...
MIKE RUFFIN
RED OAK NEWS


Red Oak United Methodist Church continues to offer after school care with transportation from Red Oak and Swift Creek Elementary Schools. After care lasts from 3:00 pm - 6:00 pm. If you'd like more information please contact the church office.
Lent will be here before we know it.

More ...
SUZY PEARCE
PEACHTREE COMMUNITY NEWS


The Peachtree Baptist Church Congregation met on a beautiful day last Sunday.
The Sanctuary flower arrangement Sunday was presented to glorify God by Lynn and David Griffin in loving memory of Jonathan Kerby Griffin.

More ...
FRAN BUNN
Luke's Word for the Week


God is the God who redeems. When we look at the grand scope of the biblical witness we come face to face with the eternal reality that God flat out loves people and desires that all be saved (1 Tim. 2:4). God is not out to get us, but to free us from sin, that we might be free to joyfully serve Him as the mission of our lives, while we press on towards the goal of New Creation (Eden restored where we walk in complete, perfected fellowship with God).

More ...
LUKE WHITEHEAD
Englewood Baptist to serve as one of 500 hosts for "Night to Shine"
Englewood Baptist Church recently announced that they will serve as one of nearly 500 churches around the world to host Night to Shine 2019, sponsored by the Tim Tebow Foundation, simultaneously on Friday, February 8.
Night to Shine is an unforgettable prom night experience, centered on God's love, for people with special needs ages 14 and older, hosted by local churches in all 50 states and across the globe all on one night.
More ...
2019 club leaders
Benvenue Ruritan Club members and guests are shown, following the installation of 2019 club leaders, at their December meeting. Club leaders were installed by 2008 National President Wayne Outlaw.
More ...
Give me a minute to see if you're a crook, please


Like most of America these days, I continually stay vigilant for things that might offend me.
There are a growing number of stores these days that insult me when I attempt to pay cash (which is still king, by the way). The clerk takes my bill, marks it with a pen, hesitates, and then proceeds on. Sometimes, a particularly aggressive worker will hold my bill up to the light.

More ...
Mike Brantley - 1 opinion posted
Are we really ready for this opportunity?


The Town of Nashville has submitted a proposal to the board of directors of Birchwood Country Club to purchase the facility, property and swimming pool. A special called meeting will take place TONIGHT AT 7 P.M. The meeting notice states it is a called meeting with the opportunity for public comments.
Apparently Birchwood has been in a downward financial spiral for sometime and is now sadly at the end of the proverbial rope. At some point there were reports a private developer had plans of acquiring the property. We're told that plan flopped.

More ...
Jo Anne Cooper
Be what you were designed to be


Dear Editor: Trials and tribulation shall follow us all the days of our life, whether or not we accept Christ as our savior. Suffering will visit us all. The problem is sometimes we think suffering is self-inflicted. In some cases that would be correct, but more often than not suffering is the result of other people's decisions, actions or simply an obstacle allowed in your path for personal growth or failure.

More ...
LETTERS
Backward Glances


LOOKING BACK -This photo originally appeared in The Nashville Graphic in 1957. Nashville resident Ravin Carpenter had purchased a copy from The Graphic back in 1957 and brought a copy by for the Backward Glances this week.

More ...
A PICTORIAL LOOK INTO THE PAST - 1 opinion posted
Award-winning Magician to perform at Louisburg College
Illusionist Mike Super is bringing his highly-acclaimed show to the Gardner stage at Louisburg College on Friday, February 8.
Mike's ever-growing popularity has garnered him many prestigious awards and honors, including being the only magician in history to win a live magic competition on primetime US network television. In addition, his other accomplishments include being named Entertainer of the Year, Best Performing Artist of the Year, and Best Novelty Performer of the Year. He was also voted America's Favorite Mystifier on NBC's hit TV Show PHENOMENON.
More ...