Subscribe/Access
Advertisements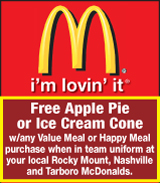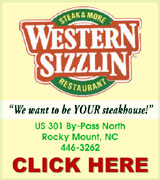 Sections
Member Options
Back

Pictured is Parker (center) with her daughter Malia Rivera, 7, far left, and son, Damion Rivera, 10, far right, in front of their new home on Brooklyn Boulevard in Nashville.

Habitat for Humanity dedicates new home


Mary Parker is starting the New Year off with keys to her new home.
Parker's home is the first to be built under the merged Nash Rocky Mount Habitat for Humanity. The Rocky Mount and Nashville organizations merged in 2014.
The new organization celebrated Parker's home on Sunday, December 30 with a dedication and blessing of the home.

More ...
AMANDA CLARK, GRAPHIC STAFF WRITER
MLK event set for January 20th


A local organization will honor the memory of Martin Luther King Jr. during a banquet on January 20.
The Nashville Willing Workers will host the annual event at 3 p.m. at the O.D. Moore Alumni Building.
The organization hosted the event as a breakfast for many years but Carolyn Williams, a member of the Willing Workers, said having it on a Sunday afternoon has worked better.

More ...
AMANDA CLARK, GRAPHIC STAFF WRITER
Inmate dies at Nash Correctional Inst.
An inmate at Nash Correctional Institution died Monday morning in an apparent suicide, officials reported.
Offender Robert Spicer, 48, was found unresponsive in his cell on Monday, December 31 around 12:36 a.m. Prison staff, medical staff and local paramedics responded and worked to resuscitate the inmate. He was pronounced dead at 12:56 a.m. at the facility by Nash County EMS.
More ...
Daddy Daughter Dance is Jan. 19th


Organizers for the Daddy Daughter Dance have made a few changes to the 12th annual event.
This year's event, which is hosted by Nash County Recreation and Senior Services, will be held in January instead of February, said Thomas Gillespie, Nash County Recreation Director.

More ...
AMANDA CLARK, GRAPHIC STAFF WRITER

Major David Wooten received a special framed gift with his badges during a special retirement celebration recently.

Wooten retires from Nash County Sheriff's Office


Major David Wooten is beginning 2019 in retirement.
Wooten's last day with the Nash County Sheriff's Office was on December 31.
Wooten began his career with the Sheriff's Office in June 1994 but his career in public service began three years before that, when he started with the Rocky Mount Fire Department.

More ...
AMANDA CLARK, GRAPHIC STAFF WRITE
Parker Philips honored with Tobacco Great Award
A local agri-business man was recently honored with the Tobacco Great Award.
Parker Philips, of Battleboro, received the award along with Dr. Richard Reich, of Forsythe County, at the annual Tobacco Day in Smithfield on December 6.
The award is given to members of the tobacco industry who have exhibited an exemplary dedication, loyalty and passion for the support of tobacco farmers and for the enhancement of the tobacco industry.
More ...
Rocky Mount warns customers about scammers
City of Rocky Mount residents should exercise caution in response to aggressive calls regarding their utility bills.
There have been multiple reports recently regarding scammers who have called customers demanding payments over the phone while claiming to take the next step with disconnection of services if bills are not paid.
More ...
NASHVILLE POLICE REPORTS
INCIDENTS
A warrant was served on 12/17/18 on US 64 E at the 463 mile marker
A warrant was served on 12/18/18 on US 64 E at the 461 mile marker
More ...
January doesn't have to be cold, dark and dreary


Now that Christmas is over, our thoughts quickly turn to the year ahead. The truth is January can be one of the most depressing months of the year. Credit card bills come in from all that Christmas overspending, and winter, if not already here, is rapidly approaching, which means that we have very few days over the next couple of months that will permit us to pursue all those outdoor activities that we enjoy.

More ...
MIKE RUFFIN
Luke's Word for the Week


Merry Christmas Fellow Followers! I pray that as the Christmas season draws to a close on January 6th that you are still completely enthralled by the fact that the Father has sent Jesus to redeem us from the law and to destroy the works of satan. If the Christmas story ever becomes numb to us, we must revisit it again and ask the Spirit to give us His power in understanding the greatest story the universe has ever known.

More ...
LUKE WHITEHEAD
Coopers Ruritan Club
Each year, the Coopers Ruritan Club prepares fruit baskets to deliver to shut-ins and other people in the community. Approximately 70 baskets were made and delivered by members.
More ...
Governor appoints Tobias
Governor Roy Cooper recently announced 40 new appointments to various North Carolina boards and commissions.
"Serving on state boards and commissions requires dedication and I appreciate these appointees stepping up to help us move North Carolina forward," Gov. Cooper said.
More ...
Service project
Trailman Christopher Korfmann, 10, of Wilson, led a service project on Saturday, November 3 to spruce up the grounds at Your Choice Resource Center in Rocky Mount. He led a team of 10 youth and seven adults from Traill Life USA and American Heritage Girls Troop NC-0834 as part of his requirements to achieve his Timberline Award, the highest award in the Trial Life USA Woodland Trails program. Trail Life USA is a Christian outdoor adventure, character, and leadership program for boys in kindergarten through 12th grade. Pictured above is Korfmann.
More ...
UNC Cancer Center implements Cancer Lay Navigation Program
Mike Beaudin lost his wife 3-1/2 years ago after her year-long struggle with lung cancer. He was her 24/7 caregiver. "I was fortunate to be able to be there for my wife," he said, "through both the good times and the difficult."
Today, Beaudin has been appointed as the first cancer lay navigator, a volunteer position, at the Danny Talbott Cancer Center, located on the Nash UNC Health Care campus.
More ...
Nash County Blood Drives for Jan. 2019
Thursday, January 3 from 2 until 6 p.m. at Parkwood Baptist Church, 1731 Hunter Hill Road, Rocky Mount
Saturday, January 5 from 1:30 until 5 p.m. at Harrison Family YMCA, 1000 Independence Drive, Rocky Mount
Sunday, January 6 from 12:15 until 4:30 p.m. at Memorial Baptist Church, 5399 Old Wilson Road, Sharpsburg
More ...
NC state fair dairy competition
Cedar Isle Dairy traveled to the NC State Fair to compete in the Holstein and Brown Swiss Open shows during the second weekend of the fair. Cole Strickland showed in the Holstein show with the following placings:
Holstein Competition - Spring Calf Class: "Cheeta": 3rd Place; Winter Calf Class: "Sollomon": 7th Place; Spring Yearling Class: "Show Girl": 3rd Place; Winter Yearling Class: "Egypt": 1st Place; Fall Yearling Class: "Gorgeous": 2nd Place; Casey S. Denton Competed in the Brown Swiss show in the Spring Yearling Class with one "Repete" and won 5th Place. Pictured left to right are: Brandon Denton, Casey S. Denton, Mary Strickland, Mike Strickland and Cole Strickland at the halter.
More ...
Recognized
The Central Carolina Holstein Club recognizes outstanding youth each December for their participation in dairy showing activities. McKenzie Kennedy and Maura Kennedy (pictured L-R) were both honored on December 4, 2018 in Hillsborough at the annual Christmas Dinner and awards program. Robin Mann, the NC Youth Leader the Junior Holstein Association of North Carolina, presented the awards.
More ...
Teacher panel discussion
Delta Kappa Gamma, Mu Chapter, Eta State-NC, sponsored a teacher panel discussion moderated by Program Chairman, Rhiannon Rains Holloman (standing). Seated left to right are members of the panel: Jeremy Bolding (Rocky Mount High School), Caroline Trull (Nash Central High School), Kelsey Burgess (South West Edgecombe), and Mandy Gill (South West Edgecombe).
More ...
Nash County Animal Friends' Notebook


Networking. That is how we are saving so many dogs and cats at the Shelter, mostly through social media... Facebook. It is like a whisper. If enough people whisper, it becomes a large sound. Our group is the voice of the animals at the Shelter. We look into their eyes and know that we must save these pets.
But what choice does Animal Control have when they exist mostly to respond to citizen complaints.

More ...
CAROL VIERELA, NASH COUNTY ANIMAL FRIENDS
Absolute accurate predictions for 2019


Another year is upon us, and that can mean only one thing: gyms everywhere will be crowded until about Valentine's Day, and then calmer heads (stomachs) will prevail.
It also means that it is time for the Soapbox Annual predictions. As you recall, everything predicted here last year, as in the previous 20 years, came true.

More ...
Mike Brantley
Here's to 2019!


I have to admit, I was pretty happy to see 2018 come to an end. It wasn't my favorite year and though it certainly wasn't entirely bad, it had a lot of moments I wasn't fond of.
Not only was my 2018 interesting, Nashville had a pretty interesting year as well. The town is ending its year without a lot of department head positions.

More ...
Amanda Clark
Internet outage put us in MacGyver mode


It's hard to believe I'm heading into my 30th year working in the newspaper business -- 28 of them right here at The Nashville Graphic!
So many things have changed over the past three decades - some good, some not so good.
One major change is the method by which we produce the newspaper and send pages to press.

More ...
Jo Anne Cooper
Backward Glances


This photo of the 1955-1956 Nashville High School Boys Basketball Team, the Nashville Blue Flames, was submitted by Ravin Carpenter.

More ...
A PICTORIAL LOOK INTO THE PAST

TROPHY TIME. Northern Nash's Sencere Battle lifts the championship trophy from the Bunn High School Christmas Basketball Tournament.

TWICE IN A ROW!!!


BUNN -- After earning earlier-round wins over Warren County and Wake Forest in convincing fashion, Coach Henry Drake's Northern Nash Knights turned their focus to the then 8-3 East Wake Warriors, in hopes of earning their second consecutive Bunn Christmas Boys Basketball Tournament Championship.
Despite a fast start and an overall strong showing from the Warriors, the Knights were able to squeak out a 50-45 win, pushing their record to 11-1 just before the calendar turns to 2019.

More ...
CHANCE PUCKETT, Correspondent
STILL THE ONE


BUNN -- Still going strong after all these years.
When Gerald Melton arrived at Southern Nash High School in the 1990s, he was in the early stages of a basketball coaching career that would take him to three different counties -- though albeit never far from the area.

More ...
GEOFF NEVILLE, Graphic Sportswriter

NASH CENTRAL'S CHRIS HIGH

Bulldogs second at Cleveland


CLAYTON -- Scoring has been an early-season issue for the Nash Central High School boys basketball team -- but that wasn't the case during last week's John Jacobs Christmas Classic at Cleveland High School in Johnston County.
The Bulldogs found their offensive form in the first two rounds to secure impressive decisions over West Johnston and North Raleigh Christian Academy.

More ...
GEOFF NEVILLE, Graphic Sportswriter

MALLORY ROUGHTON

Central nabs the 4th spot


CLAYTON -- With her team lacking a consistent go-to offensive threat, Nash Central girls basketball coach Terri Club knows her club will have to find other ways to win games -- as opposed to simply shooting the ball into the net time and time again.
Two intangibles necessary to Nash Central's potential success are an aggressive, effective defense and making mistake-free, smart decisions in offensive sets.

More ...
GEOFF NEVILLE, Graphic Sportswriter
Wesleyan wins holiday tourney


WASHINGTON, D.C. -- The North Carolina Wesleyan College men's basketball team dominated Medaille College (N.Y.) in the finals of the Catholic University Holiday Tournament 91-65 to win the tournament title in Washington Sunday evening.
Sophomore guard Damon McDowell helped lead the Bishops to the title with 22 points and 4 three-pointers while tournament MVP A.J. Frye had 25 points and 14 rebounds for his second straight double-double to lead the Bishops.

More ...
Staff Reports
ECU earns preseason recognition


GREENVILLE - After hosting just its second on-campus regional in program history in 2018, East Carolina University's baseball squad has been picked first in the 2019 American Athletic Conference preseason poll as chosen by the league's nine head coaches.
The Pirates, who claimed the 2018 AAC Tournament title, picked up six of eight first place votes.

More ...
Staff Reports
FIVE WITH THE DRIVE
Nash Central's Kiyanaizhia Richardson (with ball) surges toward the basket for the Lady Bulldogs as part of last week's tournament triumph against West Johnston at the John Jacobs Christmas Classic at Cleveland High School in Johnston County.
More ...
FLOWERS IS A FORCE INSIDE
Northern Nash's Darquez Flowers (left) makes a strong move en route to scoring a basket during last Saturday's tournament decision over the East Wake Warriors.
More ...
SPECTACULAR SAM
Northern Nash's Sam Page fades away for a basket during the Knights' triumph over East Wake in the championship game of the Bunn Christmas Basketball Tournament.
More ...
SPLITTING THE DEFENSE
Nash Central's Chris High dribbles through the West Johnston defense during last week's victory in the opening round of the John Jacobs Christmas Classic Basketball Tournament at Cleveland High School in Johnston County.
More ...