Subscribe/Access
Advertisements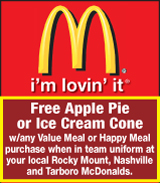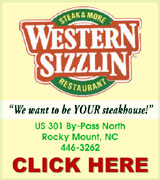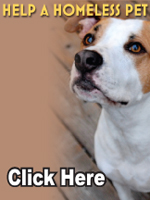 Sections
Member Options
Back

BASHORE

COUNTDOWN TO RETIREMENT


"It's time to do something different."
Those are the words of Nashville Police Chief Tom Bashore on why he's decided to retire from the department he's lead for the past six years.
Bashore will retire on December 31 with a total of 21 years in law enforcement and another 23 years in the military.

More ...
AMANDA CLARK, GRAPHIC STAFF WRITER - 1 opinion posted
Long-time NPD dispatcher retires


A visit to the Rocky Mount Police Department 34 years ago led Mitchie Lane to a career in law enforcement. In just a few more days, Lane will go back to the civilian life.
Lane has worked in an administrative role with Nashville's Police Department for the past 21 years. Lane is the first one most people come in contact with when they call or come into the department.

More ...
AMANDA CLARK, GRAPHIC STAFF WRITER

SHOPPING DAY - Little Jayce Kirtz, 2, checks out Paw Patrol toys with help from Nashville Firefighter Jimmie Sherrod last Thursday at Nashville's Wal-Mart during the Nashville Police Department's annual Cops and Kids Christmas.

COPS AND KIDS CHRISTMAS
NPD shops for local youth


Nashville Police Officers paired up with local youth for a little Christmas shopping last Thursday.
The department hosted its eighth annual Cops and Kids Christmas, providing Christmas for 13 local youth.
Youth were paired up with a Nashville police officer or fireman and had a chance to pick out $50 worth of toys on Thursday. Following the shopping trip, youth and their parents went back to the police station for lunch.

More ...
AMANDA CLARK, GRAPHIC STAFF WRITER
Town applies for mobile playground funding


Nashville Parks, Recreation and Cultural Resources is looking to apply for a grant that, if received, will fund mobile play space equipment.
Town Council gave approval to Director Marguerite Bishop to submit a letter of intent for the grant at their regular meeting earlier this month.
KABOOM is a playground company that has several grant opportunities.

More ...
AMANDA CLARK, GRAPHIC STAFF WRITER
Rowland named Oak Level Ruritan of the Year


The Oak Level Ruritan Club celebrated the holidays with its annual Volunteer Appreciation Banquet last Tuesday night.
The event was originally slated for Monday, December 10 but was postponed due to the snow.
Two members received the highest awards in Ruritan; the Ruritan of the Year and Tom Downing Fellow Award.

More ...
AMANDA CLARK, GRAPHIC STAFF WRITER
SHOPPING DAY
Demetrius Lynch, 9, shops for toys with help from Nashville Police Officer Daniel Strutton during the Cops and Kids Christmas last Thursday.
More ...
Local youth among winners in State Fair Livestock Shows
Junior winners in the N.C. State Fair livestock shows drew a record $190,000 for the top steers, barrows, lambs, goats and turkeys in the Junior Livestock Sale of Champions at the N.C. State Fair on October 13.
"The support of our junior livestock program is tremendous, and we are proud that so many businesses and organizations turned out to support the hard work of all these junior exhibitors," said Agriculture Commissioner Steve Troxler.
More ...
Youth ejected from car during crash in Red Oak
A Bailey mother and her family were injured in a car accident last Wednesday night after running a stop sign in Red Oak.
According to the North Carolina Highway Patrol, Angelina Dominguez Apolinar was traveling north on Red Road in a Chrysler Pacifica when she failed to stop for the stop sign at W. Castalia Road, driving into the path of a vehicle traveling west on W Castalia Road.
More ...
Town of Nashville okays purchase of bucket truck


Nashville's Town Council recently approved the purchase of a bucket truck at a price tag of $6,200.
Mayor Donald Street said Public Works Director Jamey Baines had found a 2001 Ford F-550 with 28,000 miles on it for $6,200.
"The DOT is holding for us, waiting for us to make a decision," Street told council members at the December 4 meeting.

More ...
AMANDA CLARK, GRAPHIC STAFF WRITER
NASH COUNTY SHERIFF'S OFFICE REPORTS
An inform FBR Report was reported on 12/11/18 at 1701 Lindsay Road
A larceny of motor vehicle was reported on 12/11/18 at 13269 S NC 231
A possession of marijuana was reported on 12/12/18 at 4217 South Church Street
More ...
Wise men went back "another way"


"And when they were come into the house, they saw the young child with Mary his mother, and fell down, and worshipped him: and when they had opened their treasures, they presented unto him gifts; gold, and frankincense, and myrrh. And being warned of God in a dream that they should not return to Herod, they departed into their own country another way." (Matthew 2:11-12)

More ...
MIKE RUFFIN
Luke's Word for the Week


Merry Christmas Fellow Followers! I'd like for us to pause and reflect on some Advent texts as we are here in the thick of Christmastide. It's important for us, as followers, to remember, to recount what the Lord has done and how He gives us wonderful examples of faithful disciples.
So let's reflect back on two characters who have an incredible exchange in the Gospel of Luke chapter 1. The two characters are women and they set before us, what I believe is a powerful view of what it means to be a disciple of Jesus Christ.

More ...
LUKE WHITEHEAD
Intersections: God and Life


Expectations! I have been focused on Great Expectations throughout the month of December with my congregation. I think there is much to be said about the question, what exactly are our expectations?
Our expectations are fueled by our recognition that Jesus loves us and He pours His love into us that we might love Him and others in return. In a previous article, I shared thoughts pertaining to loving Jesus.

More ...
CARLYLE HALL
Nashville woman wins lottery
Denise Hill, of Nashville, is celebrating after she won a $110,000 Cash 5 jackpot.
Hill's good fortune started when she stopped at the Circle K on Dortches Boulevard in Rocky Mount and bought a Quick Pick ticket for the Cash 5 drawing on Nov. 29.
More ...
HEART WALK
The Edgecombe Community College Student Nurses Association participated in the American Heart Association's Twin Counties Heart Walk on November 10. The students raised $1,780 for the American Heart Association.
More ...
Haas Foundation supports machining program at Nash Community College
The Gene Haas Foundation recently awarded Nash Community College a $30,000 grant to support students taking classes in the Computer-Integrated Machining curriculum. The funds primarily assist Gene Haas Foundation Scholarship recipients, and also provide financial assistance for National Institute for Metalworking Skills (NIMS) credentialing and competition sponsorship. Scholarships are awarded to students based on recommendations from program faculty.
More ...
Nash County Blood Drives for December 2018 and January 2019
Monday, December 31 from 11 a.m. until 3 p.m. at Southside Baptist Church, 4948 Carter Road, Rocky Mount
Wednesday, January 2 from 2 until 7 p.m. at Red Oak Volunteer Fire Department, 7951 Red Oak Blvd, Red Oak
Thursday, January 3 from 2 until 6 p.m. at Parkwood Baptist Church, 1731 Hunter Hill Road, Rocky Mount
More ...
Spring Hope woman wins big in Cash 5 Jackpot
Jewel Thorne of Spring Hope said she plans to buy her dream home after winning a $427,896 Cash 5 jackpot.
"I'm finally going to get my own house," Thorne said. "It's a wonderful feeling to know I won't have to pay rent. Plus, I'll be able to make sure it's handicapped accessible so my husband can get around."
More ...
Special guests
Nashville's American Legion Post 110 had special guests at a recent meeting. Mark Erskine (far left), who is a candidate for Department Commander for the 2019-2010 year, visited the club with his wife, Margaret Erskine (second from left). Margaret serves as the American Legion Auxiliary Unit 230 President in Spring Lake. Pictured with the Erskine's is Club President James Ervin (second from right) and Club Historian Jim Boehm (far right).
More ...
Annual Meeting
The Annual Meeting of the North Carolina Farm Bureau Federation was held December 2-4 at the Sheraton Four Seasons and Joseph S. Koury Convention Center in Greensboro. Nash County Farm Bureau President Greg Bunn was recognized among his peers at the Presidents' and Agents' Luncheon. Farm Bureau President Larry Wooten presented each winning County President with a limited edition Case knife.
More ...
Nash County Animal Friends' Notebook


A Christmas Miracle
On Dec 14, an 80 year old lady went to have her hair done. She had her dog Charlie in the car. Charlie only had on a flea collar. Apparently he darted out when the door was opened. She couldn't provide us with photos and described him as a solid tan boxer.

More ...
CAROL VIERELA, NASH COUNTY ANIMAL FRIENDS
CHARTER MEMBER
W.C. Joyner (second from left) was recognized for his many years of service as a charter member of the Oak Level Ruritan Club during the club's annual Volunteer Appreciaton Banquet last Tuesday. Pictured with Joyner is Club President Ravin Carpenter (far left), Zone Governor Fran Bunn (second from right) and Past Ruritan National President Wayne Outlaw (far right).
More ...
RURITAN OFFICERS
Officers for the 2019 year were installed at the Oak Level Ruritan Club's annual Volunteer Appreciation Banquet last Tuesday. Pictured on the back row (L-R) is Thaxton Rowland, Third Year Director; James Ervin, Chaplain; Sophia Bridges, Assistant Secretary; Roselle Tyson, Treasurer; and Frank Bozelle, Vice President. Pictured on the front row (L-R) is: Ravin Carpenter, President; Fran Bunn, Zone Governor; Helen Hayes, First Year Director and Kay Boone, Second Year Director.
More ...
TOM DOWNING AWARD
Oak Level Ruritan President Ravin Carpenter (center) was recognized with the Tom Downing Award. Pictured with Carpenter is his wife, Carolyn (far right) and Zone Governor Fran Bunn (far left).
More ...
Twas the night after Christmas


Twas the night after Christmas, when all through our place,
It looked like a tornado had hit our space..
The stockings were hanging from the ceiling fan without a care,
It was obvious that three children hepped up on sugar lived there.

More ...
Mike Brantley
It's really all about giving back


Last week, I did a story on the Helping Hands Ministry that is the brainchild of Anne Richardson.
If you know Anne, you know she's a giver. She wants to help those in need and will do everything she can to do so.
She proved that with this ministry. The ministry unfortunately was not continued at the church it had started but Anne felt led to carry it on and that's what she did.

More ...
Amanda Clark
Even afterwards, we need a little Christmas


We need a little Christmas
Have you driven around North Carolina recently? More people have decorated with outdoor lights, blowups and festive displays than we've seen in years.
I believe I know why. It's been a really hard year. Folks feel beaten up, burned out and bankrupted. They are weary, pessimistic and don't much trust anyone or any organization.

More ...
My Spin by Tom Campbell
Backward Glances


SCOUTING AWARDS - This photo originally published in The Nashville Graphic on December 9, 1971. These Boy Scouts of Nashville Troop 76 received rating badges and merit badges during a Court of Honor in Nashville. Pictured (first row, left to right) Dean Daniels, Tenderfoot badge; J.C. Manning and Bobby Winstead, merit badges. Second row: Ray Watson and Scott Cooper, Star badges and merit badges; and Brian Hinson, merit badge.

More ...
A PICTORIAL LOOK INTO THE PAST
Knight's Time Is Coming At NCSU


STANHOPE -- Southern Nash High School's football season may have ended back in November, but star running back Zonovan Knight is still on the move.
Knight, a senior, rushed for over 2,000 yards and became the school's all-time leading rusher while helping the Firebirds to their third consecutive Big East Conference championship.

More ...
GEOFF NEVILLE, Graphic Sportswriter

RM'S TA'VAUGH PARKER, NN'S DARQUEZ FLOWERS

HOLIDAY HEROICS


ROCKY MOUNT -- There are some games and events that are more anticipated than others throughout the year in Nash County, and the annual Nash County Christmas Tournament is without a doubt one of them.
And, when long-time rivals Northern Nash and Rocky Mount are set to play in the boys' championship game, the excitement and emphasis on the contest is maximized.

More ...
CHANCE PUCKETT, Correspondent

NORTHERN NASH'S KANASIA ARRINGTON

FIERCE RIVALS


ROCKY MOUNT -- Regardless of circumstance, there is always an air of intensity when long-time backyard rivals Northern Nash and Nash Central collide on the girls basketball court.
Last Saturday proved to be no different as the clubs met with fifth place on the line at the annual Nash County Christmas Tournament at the Rocky Mount Event Center.

More ...
GEOFF NEVILLE, Graphic Sportswriter

SOUTHERN NASH'S DARIUS EDMUNDSON

Southern takes 3rd at tourney


ROCKY MOUNT -- After a big victory over East Wake, and a tough loss to county rival Northern Nash, Coach Robbie Kennedy's Southern Nash Firebirds turned their focus last Saturday to the annual Nash County Christmas Tournament's third-place game, against a now 3-4 Hertford County.
The Firebirds were able to grind out a tight 78-76 overtime win against the Hertford County Bears, giving Southern Nash its fifth win of the season, and securing a third-place finish and a 2-1 record in the annual Christmas Tournament at the Rocky Mount Event Center.

More ...
CHANCE PUCKETT, Correspondent
Big East FB stars saluted


NASH COUNTY -- Heroics were plentiful this fall on the Big East Conference football stage, but nobody dished them out in more prolific fashion than the high-scoring Southern Nash Firebirds.
Southern, under the direction of veteran head coach Brian Foster, went undefeated in the regular season and won the Big East crown for the third consecutive campaign.

More ...
GEOFF NEVILLE, Graphic Sportswriter
Wesleyan finalizes diamond sked


ROCKY MOUNT -- Greg Clifton's first season as the head coach for the North Carolina Wesleyan College baseball team will begin Feb. 9 with a home doubleheader against Eastern Mennonite.
Clifton, a Roanoke Rapids native, is a long-time Nash County resident who coached Faith Christian School to back-to-back state championships before accepting the Wesleyan position early last summer.

More ...
Staff Reports
ON THE LOOKOUT
Nash Central's Mallory Roughton tries to find an open teammate against Northern Nash HS.
More ...
SENCERE SHINES
Northern Nash's Sencere Battle (right) drives toward the basket for the Fighting Knights during last Saturday night's tournament title victory over rival Rocky Mount.
More ...
SN ROYAL-TY
Southern Nash's Chason Royal (middle) splits the Hertford County defense during last Saturday evening's third-place matchup at the Nash County Christmas Tournament.
More ...
SPLITTING THE DEFENSE
Northern Nash High School's Kayla Mitchell dribbles the ball out of harm's way during last Saturday's tournament showdown against backyard rival Nash Central.
More ...
Tips for celebrating a happy and safe New Year
New Year's Eve is one of the most festive nights of the year. Many people spend the final moments of the year celebrating with family and friends. As joyous as such celebrations tend to be, it's important that New Year's revelers keep certain safety precautions in mind when celebrating the end of one year and the dawn of the next.
More ...