Subscribe/Access
Advertisements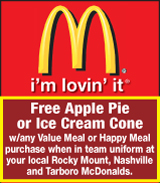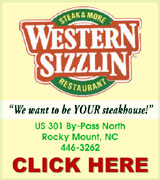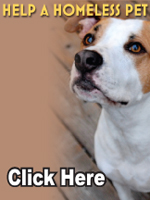 Sections
Member Options
Back

TAYLOR

Taylor noted as Outstanding Teacher of NC


Nash Central High School History Teacher Renny Taylor has once again been recognized as an outstanding teacher.
Taylor was awarded the Historical Society of North Carolina Outstanding Teacher of North Carolina Award on October 12 at a special banquet. Taylor received an award and $150.

More ...
AMANDA CLARK, GRAPHIC STAFF WRITER

GET THAT SPOT! Nashville Fire Battalion Chief Lee Coppedge lifts his son, Justin, to help dry the new truck.

Nashville Fire Department unveils fire truck


Nashville's Fire Department (NFD) invited its community to join a special ceremony Sunday to commission a new 2018 Pierce Enforcer 1500/1000 Pumper Truck into service at Station 14.
Nashville Fire Chief Chris Joyner welcomed NFD staff and volunteers, town staff, council members, and members of the community to the wetdown ceremony which is a long-time firefighter ritual of spraying water from another fire apparatus anointing a new truck into service.

More ...
JO ANNE COOPER, GRAPHIC PUBLISHER
Parks and Rec Advisory Board to meet Nov. 5th


The Parks, Recreation and Cultural Resources Department for the Town of Nashville is getting close to starting work on a Master Plan that will help define the future of recreational opportunities in Nashville.
A public forum was recently held to gain input from citizens on different things they wanted to see in recreation.

More ...
AMANDA CLARK, GRAPHIC STAFF WRITER

Sisters Mackenzie and Kayla Thomas prepare to walk for Coty.

WALK TO REMEMBER
WALK TO HELP


Cloudy skies and cool temperatures on Saturday didn't keep Vicki Robbins, along with family and guests, from walking to raise awareness about opioid addiction.
Approximately 75 people came out to join Robbins and her family in downtown Nashville at the first annual Come as you are for Coty Addiction Awareness Walk and Rally to honor her son, Coty, who passed away due to an overdose on June 3rd of this year. Coty became addicted to pain pills following surgery after a football injury.

More ...
JO ANNE COOPER, GRAPHIC PUBLISHER
Reggie Dabbs visits local elementary schools
National recognized motivational speaker Reggie Dabbs recently visited four local schools to share a message with students.
Dabbs visited Nashville Elementary, Swift Creek Elementary, Englewood Elementary and MB Hubbard Elementary Schools on Octover 19. The visits were possible because of a partnership between Nash-Rocky Mount Communities in Schools and local community partners.
More ...
Sheriff's Office seeks cop impersonator
The Nash County Sheriff's Office continues to investigatie a report of a motorist being pulled over by someone posing as a law enforcement officer.
On Tuesday, October 23, the sheriff's office received a repot of a motorist being pulled over and their vehicle searched by a law enforcement impersonator at Old Bailey Highway and Rose Loop Road, Nashville. The motorist was also assaulted.
More ...
NASH COUNTY SHERIFF'S OFFICE REPORTS
A possession of marijuana was reported on 10/21/18 at S NC 581 and US 64
A possession of marijuana and possession of drug paraphernalia was reported on 10/21/18 at 3826 Green Hills Road
A safe cracking was reported on 10/21/18 at 9482 Sugar Hill Road
More ...
NASHVILLE POLICE REPORTS
INCIDENTS
A damage to property (vandalism) was reported on 10/21/18 at 125 Wheeless Circle
A breaking and entering a commercial was reported on 10/22/18 at 1102 S Brake Street
More ...

Mayo Boddie, Sr. poses with his sons Mayo Boddie, Jr., Mike Boddie and Bill Boddie, Sr. Members of the Sons of the American Revolution are pictured in the background.

NC SAR HONORS BODDIE


The Halifax Resolves Chapter, North Carolina, Sons of the American Revolution, sponsored the dedication of a SAR Compatriot Grave Marker on Saturday, October 20th, honoring Nicholas Bunn Boddie (July 31, 1889 -- November 5, 1951) at Rose Hill Plantation.
President of the Halifax Resolves Chapter NC SAR, David B. Gammon, welcomed guests and opened the ceremony honoring Boddie, "If the past is indeed prologue, then a glimpse into the past can provide a source of wisdom and inspiration for the future," he said.

More ...
JO ANNE COOPER, GRAPHIC PUBLISHER

The Northern Nash High School JROTC participated in the flag raising ceremony and National Anthem at Wal-Mart in Nashville's grand re-opening events.

Wal-Mart celebrates rebranding with ceremony


Ten years after first opening in Nashville, Wal-Mart celebrated another milestone with a grand re-opening ceremony in Nashville.
The store held a special ceremony to celebrate the re-opening on October 19.
The re-opening ceremony comes after several months of remodeling the store to include new signage, new exterior colors and a redesign to several departments inside the store. The store remained opened during the renovations.

More ...
AMANDA CLARK, GRAPHIC STAFF WRITER
STAR WARS ADVENTURES
Nashville Parks, Recreation and Cultural Resources hosted a movie ngiht last month, showing the movie "Star Wars." Prior to the movie, there were "Star Wars" themed games youth could participate in and win "Star Wars" action figures. Pictured at left, Julian Chucci aims at bottles during a game on movie night.
More ...
CELEBRATING 4-H
Nash County 4-H recently celebrated National 4-H Week by handing out green bows to area businesses and 4-H supporters. Pictured are youth with Mr. Sonny Brantley, an avid 4-H Supporter and member of the Nash County Hall of Fame. Pictured (L-R) is Daniel Collie, Phoebe Young, Sonny Brantley, Jake Cooper and Trey Ormond.
More ...
NC Wesleyan College celebrates Founder's Day
North Carolina Wesleyan College celebrated its 62nd year with its annual Founders' Day ceremony and awards presentation in Minges Auditorium of The Dunn Center for the Performing Arts on October 25.
The opening processional was led by 40 international students carrying flags representing their native countries, the highest number in college history.
More ...
Nash County Animal Friends' Notebook


Did you know it is against the law to dump animals? We recently heard of a lady who did this when she tried to rehome her cat. Sad thing is there was someone trying to help but she apparently got impatient. It is better to take them to the Shelter than to leave them somewhere to fend for themselves. Many die or sicken, due to a lack of food, shelter and cars. How dare you? Don't adopt if you don't anticipate the pet will be forever.

More ...
CAROL VIERELA, NASH COUNTY ANIMAL FRIENDS
You can't explain away the Gospel


I don't know if you have ever heard of Jesus Seminars. They were the rage in the late 1900's and their guiding principles are very much believed by a lot of so-called Christians today. Many people who think they are Christians believe that most of the major beliefs to which Christians hold are nothing more than myths. In fact, before I was saved in 1991, I called myself a Christian and believed some of what I'm about to tell you.

More ...
MIKE RUFFIN
Intersections: God and Life


One of the most popular of all the parables of Jesus is commonly labeled, "The Prodigal Son."
This past Sunday morning I was honored to stand behind the pulpit of Castalia Missionary Baptist Church and proclaim a message that I entitled, "God is not pleased with lostness." (Luke 15)

More ...
CARLYLE HALL
Luke's Word for the Week


Yesterday was Halloween, or to go back to its roots, "All Hallows Eve."
Of all the questions I get from a variety of folks in a variety of ages, how to handle Halloween is undoubtedly one of them. Many faithful followers of Jesus want to know, "What do we do with Halloween?!?"

More ...
LUKE WHITEHEAD
RED OAK NEWS


Congratulations to Jeremy and Tori Mason on the birth of their daughter, Kennedy Lee, born on October 23 weighing 9 lbs 5 oz! Big sister is Mallori Mason. Proud grandparents are Rom Mason and Bookie and Debra Woodcock.
Congratulations also to Christian Sykes and Brooke Joyner on the birth of their son, Tristan Ray, born on October 23 weighing 7 lbs 13 oz! Proud great-grandparents are Ronald and Pam Sykes.

More ...
SUZY PEARCE
PEACHTREE COMMUNITY NEWS


The Peachtree Baptist Church Congregation gathered to worship the Lord with our hearts greatly saddened by the senseless attack of the congregation of The Tree of Life Synagogue in Pittsburg. Our prayers are for the families and friends who who lost their lives and were injured.
The Sanctuary flower arrangement today was presented to glorify God by Lawrence and Susan Edwards in loving memory of Thomas Moorefield, Susan's son, whose birthday is October 29th.

More ...
FRAN BUNN
Money raised
The Golden Girls Ministry recently raised $3,000 for the Free Will Baptist Children's home in Middlesex. They are in a building campaign to raise money to build two new homes on the campus. Brenda Stallings (center sitting at rigth) presented a check to Carrie Brown (sitting front row center at left), Development Associate of the Children's Home, a check at the senior ladies luncheon on Wednesday, October 10.
More ...
Local girl receives Stars & Stripes Award
Sydney Huffman, 18 of Rocky Mount, has earned the highest recognition the American Heritage Girls offers to Girl Members, the Stars & Stripes Award. In addition to living out the AHG Oath and Creed, Award recipients have completed a number of requirements to achieve this honor, including:
More ...
COMMUNITY DONATIONS
Kenneth and Colleen Parker present a check from the Momeyer Ruritan Club to Maria Salazar (center) of My Sister's House. The donation to My Sister's House was suggested by Momeyer Ruritan's Social Concerns Committee. October was Domestic Violence Awareness Month. (Graphic photo by Jo Anne Cooper)
More ...
PUSH IN
Nashville firefighters gather in front of the new fire truck Sunday to push the truck into Station 14 as part of a special ceremony to officially place the truck in service.
More ...
Why baseball has lasted 100 plus years


Someone asked me on Monday -- the day after the Boston Red Sox finished their World Series domination over the Los Angeles Dodgers -- if I was a bandwagon fan.
I said yes, I jumped on in 1975.
That year, a young player named Fred Lynn was diving all over the place and hitting the baseball like crazy.

More ...
Mike Brantley
We're finally at the end of the terrible three's


I'm at the end of terrible three's with my youngest little boy, Brendin, and his terrible three's have outdone all my other boys!
Brendin is my feisty little boy. He's cute, which helps his cause, but he's a mean rascal.
Having older brothers has certainly toughened the kid up!

More ...
Amanda Clark
There's something to be said for traditions


Until Sunday, I had never heard of a wetdown or push in ceremony when it comes to new fire trucks. I must say, after hanging out at Nashville's Fire Department Sunday during a special ceremony to celebrate placing their new truck into service - I was impressed.
The rituals are old fashioned, but what is accomplished by participating in the ceremony is impressive.

More ...
Jo Anne Cooper
Backward Glances


This photo originally published in The Nashville Graphic on August 22, 1968. Bobbie Joe Fisher (right) and Don Glisson, Soil Conservationist, examine a new type of grass being grown in Nash County. The new grass, Wilmington Mahia Grass, helps soil retain its moisture.

More ...
A PICTORIAL LOOK INTO THE PAST