Subscribe/Access
Advertisements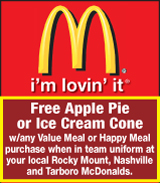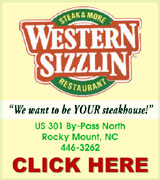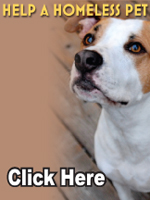 Sections
Member Options
Back
Town nears resolution on cemetery issue


The Town of Nashville is close to settling a dispute with a family who had to bury their mother in the Red Oak Cemetery instead of in plots they owned in Nashville's cemetery.
The family of Carolean Moore Hyde came before Nashville's Town Council in April to complain about how a cemetery issue was handled by the former town manager and finance director.

More ...
AMANDA CLARK, GRAPHIC STAFF WRITER
Three shot in Castalia
The Nash County Sheriff's Office is investigating a shooting in Castalia.
The incident occurred around 9 p.m. on Tuesday night.
As of presstime, little information was being released on the shootings but the Sheriff's Office reported they were investigating a multiple shooting on Lancaster Store Road and Pine Street in Castalia.
More ...
READY FOR SCHOOL
Nash County Sheriff Keith Stone is pictured with Marvin Perez, Yordi Perez and Larry Perez at the first ever Back-To-School-book-Bag-Giveaway hosted by the Nash County Sheriff's Office.
More ...

Jordyn Alston is all smiles with her new pink book bag she received at the NCSO event Saturday.
Youth receive school supplies from NCSO
The Nash County Sheriff's Office held its first ever Back-To-School-Book-Bag-Giveaway Saturday in Nashville, handing out 364 bookbags filled with supplies. The event also included the second Hot Dog for Kids Event for the year. Deputies prepared 800 hot dogs with the help of assisting agencies and volunteers.
Local youth stopped by to pick out a colorful book bag and have it filled with school supplies.
More ...

JULYE
Castalia man charged with drug trafficking
Spring Hope Police arrested a Castalia man last Wednesday, charging him with trafficking drugs.
Officers Radford and Wilson, of the Spring Hope Police Department, initiated a vehicle stop on Kevan Julye around 10 p.m. last Wednesday, August 8.
Members of the Tar River Regional Drug Task Force, Sergeant Gant, of the Spring Hope Police Department and Deputy Brantley of the Nash County Sheriff's Office, assisted in the investigation.
More ...
Missing man found deceased
Family members of a man missing for a week discovered his body in a wooded area not far from his home.
The Nash County Sheriff's Office responded to the 4900 block of Redman Road in Rocky Mount on Friday, August 10.
Upon arrival, deputies located a deceased male in the wood line. Nash County EMS arrived and pronounced the victim, Brandon Smith, deceased.
More ...
School Board okays new policies


The Nash-Rocky Mount Board of Education approved three new policies last week just in time for the new school year.
One of the policies was voted on a few years ago and will go into affect this school year.
The "Class Rankings" policy changes the way the school system recognizes graduates.

More ...
AMANDA CLARK, GRAPHIC STAFF WRITER

FIRST DAY -- Second graders Presley Watkins and Lila Claire Sanders chat during orientation at Global Achievers School Monday.

Charter school opens


Global Achievers School welcomed students on Monday and Tuesday to special orientation days.
Nash County's newest charter school held orientation days to allow students to get accustomed to teachers, classmates and the school's project-based learning system, said Principal Dr. Lisa Swinson.

More ...
AMANDA CLARK, GRAPHIC STAFF WRITER
Mark Bowling dies in prison
Mark Anthony Bowling, who pled guilty in 2008 to plotting his wife's murder, has died in prison.
Bowling, 47, died on Friday at Sampson Correctional Institute in Clinton.
Jerry Higgins, a Communications Officer with the North Carolina Department of Public Safety, said Bowling died of natural causes.
More ...
Red Oak approves revised ordinances


The regular monthly meeting of the town board of Red Oak was held a week earlier than usual. The schedule change coincided with a public hearing on the town's revised code of ordinances. The town's ordinances have not been reviewed or updated since 2002.
At last month's meeting, the board held a workshop to discuss changes to the code.

More ...
JESSICA A. SMITH, GRAPHIC CORRESPONDENT

A home built in 1959 at 111 S. Lumber Street caught fire over the weekend. The structure was the home of Governor Roy Cooper and Judge Pell Cooper's grandparents.

Nashville house burns


A Nashville home owned by North Carolina Governor Roy Cooper and his brother, District Court Judge Pell Cooper, caught fire over the weekend.
The Nashville Fire Department was dispatched to 111 S Lumber Street around 2:20 a.m. on August 12 in reference to a structure fire.
Upon arriving, crews found a single-story structure with heavy fire showing from the rear of the residence.

More ...
AMANDA CLARK, GRAPHIC STAFF WRITER
Rocky Mount man charged in infant's death
The father of a two-month old has been arrested and charged with the baby's death.
Rocky Mount Police were called to 444 Sled Court around 6 a.m. on Sunday, August 12. When officers arrived on scene, they found a two-month-old infant unresponsive. The infant was pronounced dead on the scene and was transported to the medical examiner's officer for an autopsy.
More ...
Intersection changing to 4-way-stop
A Nash County intersection will convert to an all-way stop on Wednesday to reduce the risk of crashes.
The change will occur at Old Carriage Road and Hunter Hill Road in Red Oak, just outside of Rocky Mount. Currently, drivers on Old Carriage Road must stop, while those traveling on Hunter Hill Road do not have to stop.
More ...
Castalia receives request to donate land back to owner


The town board of Castalia had a visitor at its regular monthly meeting last week.
When it came time for requests from the public, Linda Rich addressed the board. In years past she had sold some property to the town, which the town no longer uses. She would like the 9/10s of an acre back.

More ...
JESSICA A. SMITH, GRAPHIC CORRESPONDENT
NASHVILLE POLICE REPORTS
INCIDENTS
A larceny was reported on 8/7/18 at Ebenezer Church, 1452 First Street Extension
An obtaining money/property by false pretense was reported on 8/12/18 at 131 Nashville Commons Drive
More ...
NASH COUNTY SHERIFF'S OFFICE REPORTS
A felony fugitive hold was reported on 8/6/18 on I-95 Southbound
A felony larceny was reported on 8/6/18 at 6733 Red Oak Boulevard
A larcey of a dog was reported on 8/6/18 at 8777 Medlin Way
More ...
Sheriff seeks safety grant funding


The Nash County Sheriff's Office hopes to receive a Governor's Highway Safety Grant that will enable a new team to be formed that will better enforce traffic safety.
Nash County Commissioners approved last week the county's financial obligations if the grant is received.

More ...
AMANDA CLARK, GRAPHIC STAFF WRITER
Sheriff arrests alleged Rocking Chair Bandit
A rocking chair thief was arrested in Spring Hope on Tuesday.
The Nash County Sheriff's Office responded to citizen's calls concerning a man transporting rocking chairs that had been stolen from at least two Middlesex homes.
According to a press release from the Sheriff's Office, the "Middlesex citizens went above and beyond the "See something, Say something" safety suggestion and followed the rocking chair bandit."
More ...
Nash County man sentenced to prison for voting by alien
A Nash County man was sentenced last week to four months in prison for illegally voting in two separate elections.
Robert J. Higdon, Jr., the United States Attorney for the Eastern District of North Carolina, announced that Roberto Hernandez-Cuarenta, 57, of Zebulon, was sentenced to four months in prison for two counts of voting by alien.
More ...
Learn to understand salvation from the inside out


"I have waited for your salvation, O Lord." (Genesis 49:18)
We frequently receive emails from readers seeking answers to spiritual dilemmas that life brings their way. Without a doubt, the most frequently asked question I get concerns the assuredness of salvation. Recently, a reader wrote:

More ...
MIKE RUFFIN
Luke's Word for the Week


Hi fellow followers, it's good to be back with you. I've missed writing, but am thankful for the time away to reflect, be still, and rest.
As you may have heard, Nashville UMC will be kicking off an additional service September 9 at 11am. This will be an 11am Contemporary Service that will be another expression of Spirit-filled worship just like our 8:30am Contemporary, 11am Traditional, and Thursday Night Praise & Worship services.

More ...
LUKE WHITEHEAD
PEACHTREE COMMUNITY NEWS


On a bright and sunny morning, Peachtree folks gathered at the church for worship. Joan and Ray Eason gave sanctuary flowers in memory of her father, Raymond Rackley. Joan arranged and displayed them in an heirloom tea pitcher, inherited from her grandmother.
The adult choir sang an anthem titled, "Glory Land," under the direction of Pastor Whitehouse.

More ...
BARBARA HARDISON
Intersections: God and Life


I am currently involved in preaching a series of sermons entitled "Awakening." These messages deal with the idea of personal renewal or revival or as the subtitle of Awakening reads, "Life as it should be." Before I dive in to deeply, let me offer some preliminary thoughts. I believe revival as it has traditionally been called, it not about a series of revival meetings.

More ...
CARLYLE HALL
RED OAK NEWS


What a great week at Vacation Bible School at Red Oak Baptist Church! Attendance averaged over 70 children, ages 3 years through 5th grade, and the highest total with children and workers was approximately 150! "Game On!" was the theme that was carried out through Bible study, missions, crafts, recreation, and music. Each evening volunteers served the children supper before beginning VBS.

More ...
SUZY PEARCE
Nash County 4-H travels to North Dakota
This summer, the Nash County 4-H Exchange Club traveled to North Dakota. This was the second part of their two-year exchange rotation with a 4-H club in Benson County, North Dakota.
During their weeklong visit, the youth learned about North Dakota agriculture and stayed on the farms of their host families.
More ...
NCDOT equipment operators win state Roadeo
A six-person team of truck and equipment operators from Johnston, Nash and Wilson counties won the top prize in the annual state "Roadeo" championship last week.
The employees captured the Team Competition crown during the N.C. Department of Transportation's State Roadeo Championship. They work for the department's Highway Division 4, and they collectively beat teams of equipment operators from the department's other 13 highway divisions.
More ...
Local receives Wild West History Association Award
The Wild West History Association (WWHA) presented James A. Bailey, a Nash County resident, and Kurt House from San Antonio, TX, the Six-Shooter Award at the association's 2018 meeting in Springfield, MO in July.
Bailey and House received the award for their article, "21st Century Forensic Review of John Wesley Hardin Killing," which was published in the December 2017 edition of The Wild West History Association Journal.
More ...
RMFD earns international reaccreditation status
The Rocky Mount Fire Department (RMFD) recently received Internationally Accredited Agency (IAA) status with the Commission on Fire Accreditation International (CFAI). Departments must meet the criteria established through the CFAI's voluntary self-assessment and accreditation model of continuous improvement. Worldwide, approximately 250 agencies have earned the coveted status with the CFAI and the Center for Public Safety Excellence, Inc. (CPSE)
More ...
Gschwind, Riegel marry
Hannah Caroline Gschwind and Benjamin David Riegel were united in marriage on July 14, 2018 at 3 p.m. at Sunset Avenue Baptist Church in Rocky Mount. Reverend Joshua Wester officiated the traditional ceremony.
The bride is the daughter of Darryl and Fran Gschwind, of Nashville. She is the granddaughter of Carolyn Carpenter, of Nashville.
More ...
Walk for Life set for Sept. 15th
Saturday, September 15th, hundreds of supporters will gather at Englewood Park for Your Choice Pregnancy Resource Center's annual Walk for Life. Registration for the Walk will begin at 8 a.m. and the two-mile Walk will start at 9 a.m. Family-fun events include balloon art, face painting, glitter tattoos, photo booth and bouncy house. Chick-fil-A biscuits, coffee and water will be available for purchase, and Chick-fil-A coupons will be available for all sponsored walkers.
More ...
Nash County Livestock Judging and Skillathon Team
The Nash County Livestock Judging and Skillathon Team traveled to Raleigh July 26th-July 27th to compete in the State 4-H Livestock Judging and Skillathon Competition. The Senior Team (pictured above, left to right) Taylor Hall, Stacie Winner, Grace LaHay, and Caleb LaHay, placed 2nd Overall in the Swine Division. Both Stacie Winner and Grace LaHay won individual awards with Stacie placing 4th Overall in Sheep and Meat Goats, and Grace placing 8th Overall in Swine.
More ...
Rocky Mount High School honor rolls
Nash-Rocky Mount Schools has released its Honor Roll lists for the fourth semester of the 2017-2018 school year.
The following students at Rocky Mount High School made the A or A/B Honor Roll.
More ...
Nash County Animal Friends' Notebook


Nash County Animal Friends of NC (NCAF) was founded eight years ago to help save the homeless shelter pets. We are still here, thanks to people who volunteer to photograph, to post on our page, to temp foster during the time between the shelter and rescues and to transport to vets or to their rescues, people like YOU! We are still here, thanks to our partner Promoting Animal Welfare in NC (PAWNC) who provides a free spay/neuter for adopted pets and emergency vet care.

More ...
CAROL VIERELA, NASH COUNTY ANIMAL FRIENDS
The end of summer and beginning a new normal


The waves crashed, green-blue tumbling over into white foam, loud enough to mask what might have been thunder in the darkening sky.
I was propped up against a piling at Johnnie Mercer's Fishing Pier at Wrightsville Beach. The light was fading, just like the summer.
Next week, most every child in North Carolina between the ages of five and 18 heads back to school.

More ...
Mike Brantley
Poor Internet service is still a rural issue


I've written several columns over the past 12 years about internet, well the lack of internet, in my neck of the woods.
This is another one.
My neck of the woods, at least the road I live on, still cannot get access to a good, quality high-speed internet service.

More ...
Amanda Clark
Local NRA needs your support


Dear Editor: There are lots of folks that think the National Rifle Association (NRA) is truly the "Evil Empire" - the root cause of all gun problems in our country. They are, of course, absolutely wrong. It is true that the NRA is a strong supporter of the Constitution, especially the 2nd Amendment. The NRA is much more than that.

More ...
Letters
Backward Glances


NASHVILLE JUNIOR GIRL SCOUTS -- This photo was originally published March 2, 1972. The Nashville Junior Girl Scouts were lining up for inspection during their Juliette Low World Friendship Brunch held Saturday in the United Methodist Church in Nashville. The program included a candle lighting ceremony and a badge awards program. Guests for the brunch were the mothers of the scouts.

More ...
A PICTORIAL LOOK INTO THE PAST

HANG ON TIGHT. Northern Nash's defensive unit teams up to make a tackle during last Friday evening's Wilson Fike High School Football Jamboree.

A TRIP TO ORANGE


WILSON -- Andrew Farriss' first season as the head football coach at Northern Nash High School will begin with a tremendous test -- and a tremendous opportunity.
That's because the Fighting Knights will open with a tough road meeting this Friday night against Hillsborough Orange.
Orange has developed into a football powerhouse over the past several seasons and went 8-3 last fall.

More ...
GEOFF NEVILLE, Graphic Sportswriter

RUNNING ROOM. Nash Central's Deante Watson gains yardage on the ground against Corinth Holders during last Friday night's Wilson Fike High School Football Jamboree.

LEGGETT BOUND


WILSON -- Nash Central took a back-door approach toward a successful 2017 prep football campaign.
The Bulldogs went 10-3 overall and tied for the Eastern Plains Conference Championship in a season that pretty much exceeded the expectations of everyone on the NCHS campus.

More ...
GEOFF NEVILLE, Graphic Sportswriter
Mudcats shut out the Sox


SALEM, VA. -- Cooper Hummel and Ryan Aguilar both had three hits, Trever Morrison hit a solo home run, Nick Roscetti drove in three with a bases loaded triple and Christian Taugner pitched through six scoreless frames in his debut as the Carolina Mudcats defeated the host Salem Red Sox 9-0 in a rain-shortened game on Sunday in a Class A Carolina League baseball showdown.

More ...
Staff Reports
SN will host the Falcons


STANHOPE -- Southern Nash is wasting little time getting into the challenging portion of its 2018 non-conference football schedule.
The Firebirds, fresh off a trip to the Elite Eight of the Class 3-AA State Playoffs last season, will open this Friday at home against Green Hope High School out of Wake County.

More ...
GEOFF NEVILLE, Graphic Sportswriter
Down East Classic a Nash Co. tradition


ROCKY MOUNT -- City of Rocky Mount Mayor David Combs joined coaches and administrators last Thursday morning for the 21st annual Down East Viking Football Classic press conference held in City Hall's council chamber.
The event was held in advance of the Down East Viking Football Classic scheduled for 4 p.m. on Sept. 15 between the Elizabeth City State University Vikings and the Winston-Salem State University Rams.

More ...
Staff Repots
Southern spikers open with home defeat


STANHOPE -- Coach Melanie Davis and the Southern Nash Ladybirds opened their 2018 prep volleyball schedule Monday with a tough home match versus a strong West Johnston squad.
The visiting Wildcats were too much for the Ladybirds, who were swept by a 25-16, 25-9 and 25-8 margin at the SNHS Gymnasium.

More ...
Staff Reports
Brett named to NCHSAA Hall of Fame


CHAPEL HILL - The North Carolina High School Athletic Association has announced the eight-member group of the Hall of Fame Class of 2018.
This year's class is the 32nd class to join the illustrious Hall of Fame dedicated to honoring those who "have done the most for high school athletics in North Carolina" throughout their careers.

More ...
Staff Reports
Bishops select assistant soccer coaches


ROCKY MOUNT -- The North Carolina Wesleyan College Men's and Women's Soccer programs have added new assistants for the upcoming 2018 season.
Head Men's Soccer Coach Frankie Taal picked up a new assistant hiring Meir Lewin from Mary Washington University (VA).
Lewin comes to Wesleyan after most recently serving as the assistant coach at MWU while he was also the assistant for two seasons at Washington College in Maryland from 2012-2014.

More ...
Staff Reports
CRUNCH TIME
Nash Central's Jah-Kee Williams (left) absorbs a huge hit from a Corinth Holders defender during last Friday's action at the Wilson Fike Football Jamboree. The Bulldogs will travel to North Edgecombe this Friday night.
More ...
TEN TOTES THE PIGSKIN FOR NN
Northern Nash's Byron Hawkins picks up yardage during last Friday evening's jamboree meeting with D.H. Conley. NN will open its regular season slate this week on the road at Hillsborough Orange.
More ...