Subscribe/Access
Advertisements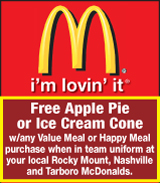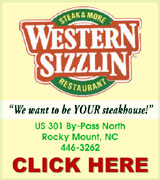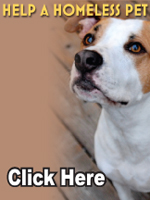 Sections
Member Options
Back
Vet Tech program opens at NCC


Nash Community College's Veterinary Medical Technology program will soon be up and running, with its first cohort of students gearing up for the start of class this fall.
The students will be the first to start in the college's newest program, which will be one of only six Veterinary Medical Technology programs offered in North Carolina and the only one in the northern and eastern region of the state.

More ...
AMANDA CLARK, GRAPHIC STAFF WRITER
Farmers Market hires manager


Stephanie Collins has spent her first two months as manager of the Nash County Farmer's Market getting to know the ins and outs of the market.
Collins, of Rocky Mount, said while she has a background in marketing, the agricultural side of things was a bit new so she's made sure to get out and meet all the farmers and learn more about agriculture.

More ...
AMANDA CLARK, GRAPHIC STAFF WRITER
UNITED FOR CHILDREN
PACKING BAGS -- Shirley Sullivan and Linda Fenner (L-R) put folders in a bookbag on Monday evening in preparation for a bookbag giveaway event in Castalia. Local churches, along with the Town of Castalia, are coming together to host the event at the Castalia Community Park on Saturday, August 4 at 11 a.m.
More ...
NFD announces promotions, new hires


Nashville's Fire Department has four new firefighters on duty.
The department recently hired Jimmy Sherrod, Cody Goff, Harrison Lancaster and Dwayne Perry to fill spots left by others who were recently promoted.
Fire Chief Chris Joyner said the four new hires are a good addition to the department. Joyner said one of the four is local while others are from Pinetops, Youngsville and Zebulon.

More ...
AMANDA CLARK, GRAPHIC STAFF WRITER
RMPD investigates homicides
Rocky Mount Police are investigating two separate homicides that occurred on Saturday.
Officers responded to the 4300 block of Carrol Avenue around 4 a.m. on July 28 in response to an aggravated assault call. When officers arrived, they located 32-year-old Cerron Fox, of Rocky Mount, who had been stabbed. Fox was transported to Vidant in Greenville where he succumbed to his injuries.
More ...
Local church celebrates new vision


A long-time community church will celebrate a new name and vision on Sunday.
Beulah Church of Christ will soon change its name to "Community Christian Church."
The name change will take place on Sunday, August 5 during a special ceremony at 1 p.m. The ceremony will follow a celebration meal, which will be served at 12 p.m.

More ...
AMANDA CLARK, GRAPHIC STAFF WRITER

Louise Undean Bass Edwards celebrates her 100th birthday.

CENTENNIAL BIRTHDAY


Family, friends and even a miniature pony visited Brekenridge Retirement Center last Thursday to celebrate a resident's 100th birthday.
The celebration was for Louise Undean Bass Edwards, of Momeyer.
Edwards, who is known as "Miss Jackie," is a lifelong Momeyer resident. She was born July 26, 1918 to William Lee Bass and Mary Lillian Hinton.

More ...
AMANDA CLARK, GRAPHIC STAFF WRITER
NCSO to host Back-to-School Bookbag Giveaway


The Nash County Sheriff's Office is hosting its first "Back-to-School Bookbag Giveaway next Saturday, August 11.
The event will be held from 11 a.m. until 1 p.m. in the Nash County Courthouse parking lot.
The bookbag giveaway will be held in conjunction with the second Hot Dog for Kid's event.

More ...
AMANDA CLARK, GRAPHIC STAFF WRITER
Election filing ends Friday
No one has yet to file for two of the five available seats on the Nash-Rocky Mount Board of Education.
Filing ends on Friday, August 3 at 12 noon.
The District 2 and District 4 seats, which are currently held by Wendy Wilson and Brenda Brown, are still up for grabs. No one has filed for those seats as of the Graphic's press deadline.
More ...
FARM TO TABLE CHEF CAMP
Emma Cahoon cuts up ingredients for a dish she and her teammates prepared during a Farm to Table Chef's Camp last week. The camp taught youth about food safety, knife skills and cooking techniques. On the final day, youth competed in a "mini chopped" competition, where they were challenged to work in small groups and create a recipe from a basket of ingredients. They were judged on food safety, taste and teamwork.
More ...
Dog issue resurfaces in Town of Spring Hope


A Spring Hope couple is upset that nothing has been done about a neighbor's dog who they say is terrorizing the neighborhood.
Police were called to 205 E Bunn Lane on July 12 just before 6 a.m. in reference to a dog chasing a woman into her home.
Rebecca Bonner said her neighbor's dog had gotten off his chain and came on her porch.

More ...
AMANDA CLARK, GRAPHIC STAFF WRITER
Man charged with theft of meat


The Nash County Sheriff's Office apprehended a Wal-Mart meat thief on Monday.
Keith Jordan allegedly stole over $100 worth of steaks from Nashville's Wal-Mart, putting the steaks down both of his pants legs before walking out of the store and not paying.

More ...
Contributed Photos
Baskerville Elementary Honor Rolls
Nash-Rocky Mount Schools has released its Honor Roll lists for the fourth semester of the 2017-2018 school year.
The following students at Baskerville Elementary School made the A or A/B Honor Roll.
More ...
NASH COUNTY SHERIFF'S OFFICE REPORTS
A larceny of a motor vehicle was reported on 7/22/18 at 8206 West Mount Drive
A larceny of a motor vehicle was reported on 7/23/18 at 5105 Doe Run Court
A possession of marijuana and possession of drug paraphernalia was reported on 7/23/18 at 1464 Brookmead Court
More ...
NASHVILLE POLICE REPORTS
INCIDENTS
An identity theft was reported on 7/23/18 at 503 E Elm Street
A possession of marijuana was reported on 7/24/18 at W Washington Street and US 64
More ...
Worthington participates in leadership seminar
The Delta Kappa Gamma Society International (DKG), a professional organization of women educators, provided an intense two-week 2018 Leadership Management Seminar. Educator Tobey Worthington was one of 30 participants. This program, a custom designed training in collaboration with DKG and The University of Texas at Austin, McCombs School of Business, provided learning experiences that develop leadership, communication and management skills.
More ...
American Legion Post 110 receives state awards, 2
Current American Legion Post 110 Commander James Irvin (left) presents a Certificate of Achievement to past Commander Jim Boehm in appreciation and recognition of the post reaching 100 percent membership for 2018 by May 11th and 100 percent Post Renewal Retention in 2017.
More ...
Education & Business Summit is August 9th
Nash Community College has joined forces with Strategic Twin Counties Education Partnership (S.T.E.P.), along with numerous partners in education and business to present the Twin-Counties Education & Business Leaders' Summit. The event will be held Thursday, August 9, 2018 in Keihin Auditorium on the campus of Edgecombe Community College in Tarboro.
More ...
Local woman earns award
Sherlon Page of the financial services firm Edward Jones in Rocky Mount recently won the firm's Jack Phelan Award for her exceptional achievement in building client relationships.
Page was one of 742 of the firm's more than 16,000 financial advisors to receive the Jack Phelan award.
More ...
DAR District VIII meeting
Five members from Micajah Chapter of Daughters of the American Revolution attended the DAR District VIII meeting held at Edenton, NC. Those attending were Ginger Haden, Laura Earp, Martha Strange, Meg Cooke and Helen Sharpe. The chapter received 3 awards for achievements made in the past year.
More ...
Scholarships
West Mount Ruritan Club member Gold Joyner (center) presents scholarships to Joseph Lloyd and Sarah Lamm. Not pictured is Jackie Webb.
More ...
Honor
West Mount Ruritan Club Vice President Buck Pittman (right) honors Gold Joyner with a 60 years perfect attendance award.
More ...
Local serves as page
The North Carolina Senate was honored the week of June 18th to have Bernard Faulkner "Bayden" Collins II, a student at Rocky Mount Academy, serve as a Page. He is the son of Bernard and Mindi Collins of Red Oak. Bayden was sponsored by Senator Rick Horner and appointed by the Senate President Pro Tempore, Phil Berger of Rockingham County. Statewide high school students in grades 9 through 12 serve as pages when the General Assembly is in session.
More ...
NCC awarded $15,000 to assist students
Nash Community College has been awarded $15,000 for Project Skill-UP, a North Carolina Community College System workforce development initiative with the goal to help North Carolinians adversely impacted by changes in the tobacco-related sector of the economy. This support will provide scholarship assistance to individuals to update their skills and provide them with additional marketable skills reflective of fast-growing, local occupations and/or new industries.
More ...
Area youth receive Kitty Powell scholarships
The Board of Directors of the Kitty Powell Scholarship Fund recently presented $5,000 in scholarships to members of the local bowling community.
The Kitty Powell Scholarship Fund was established in 1989 to provide education assistance to members of the Rocky Mount bowling community. The scholarship is named for Kitty Powell who was the long-time General Manager of the Bowling Center in Rocky Mount, and who has given so much to the sport of bowling.
More ...
MB Hubbard Elementary Honor Rolls
Nash-Rocky Mount Schools has released its Honor Roll lists for the fourth semester of the 2017-2018 school year.
The following students at M.B. Hubbard Elementary School made the A or A/B Honor Roll.
More ...
Middlesex Elementary Honor Rolls
Nash-Rocky Mount Schools has released its Honor Roll lists for the fourth semester of the 2017-2018 school year.
The following students at Middlesex Elementary School made the A or A/B Honor Roll.
More ...
Benvenue Elementary Honor Rolls
Nash-Rocky Mount Schools has released its Honor Roll lists for the fourth semester of the 2017-2018 school year.
The following students at Benvenue Elementary School made the A or A/B Honor Roll.
More ...
Englewood Elementary Honor Rolls
Nash-Rocky Mount Schools has released its Honor Roll lists for the fourth semester of the 2017-2018 school year.
The following students at Englewood Elementary School made the A or A/B Honor Roll.
More ...
Nash County Animal Friends' Notebook


Once upon a time, this newspaper did some investigative reporting about how many pets died because too few people adopted or rescued. Most people had no clue this happened and we thank them for bringing it to our attention. With the Graphic's encouragement, Nash County Animal Friend of NC was born in August 2010. Being retired, I had some extra time and I started with photographing the Shelter pets so that people would know of their need, to help save their lives.

More ...
CAROL VIERELA, NASH COUNTY ANIMAL FRIENDS
What happens when we wrestle with God?


It was a close encounter of the God kind and one of the most unusual stories told in Scripture. To many, it raises more questions than it answers. But to me, it reveals a great deal about the character of God. And it helps to answer one of the most troubling spiritual questions I have about the Lord, which is why he sometimes seems to be sitting back and letting my life spin out of control.

More ...
MIKE RUFFIN
RED OAK NEWS


Red Oak Baptist Church has 11 children and 3 adults attending camp this week at Camp Caraway near Asheboro. They will be returning Friday.
Rah! Rah! It's time! "Game On!" Vacation Bible School at Red Oak Baptist Church begins Sunday, August 5 and continues through Friday, August 10.

More ...
SUZY PEARCE
PEACHTREE COMMUNITY NEWS


On a beautiful Sunday morning Peachtree Folks gathered at the church for worship. Sanctuary flowers, given by Melba Hobgood, were a beautiful arrangement of white hydrangea. The Adult Choir sang a medley which included "Through it All", under the direction of the pastor. Jane May played a beautiful piano selection for the offertory.

More ...
BARBARA HARDISON
Nashville resident named to Dean's List
Trevecca Nazarene University has announced its Dean's List for traditional undergraduate students. To be named to the Spring 2018 semester Dean's List, a student must be enrolled as a full-time undergraduate student and attain a semester grade point average of 3.50 or higher on a 4.00 grading scale.
Nashville resident Samuel Hattaway has been named to the list.
More ...
Intersections: God and Life


The Church Isn't Important...
So the church isn't that important, huh? That is a prevailing sentiment held by many today--maybe not in their words but by their actions. Otherwise, how do we explain why half of the members of churches never show up? Because the church isn't necessary.

More ...
CARLYLE HALL
Duke Energy grant supports NCC STEM summer camps
Nash Community College has been awarded $75,000 by Duke Energy Foundation to support the Eighth to Associate Degree program, and $5,000 for student scholarships. With the support, NCC will increase the number of STEM summer camps for students in 8th grade through second year college students to encourage their future enrollment in STEM programs. The camps will be open to all with emphasis on economically disadvantaged populations and females.
More ...
When a mouse in the house is set free


How did your Monday start?
Mine began shortly after daylight when I was awakened from a seriously good dream that involved me and a million dollars and N.C. State University sending a truck full of Howling Cow Ice Cream to my house once a month.

More ...
Mike Brantley
Glad to see communites are investing in our future


"Train up a child in the way he should go and when he is old he will not depart from it."
I try to think about that little nugget of advice from Proverbs 22:6 as often as I can.
Raising kids is super hard and it helps to have that guidance sometimes, well, all of the time.

More ...
Amanda Clark
Backward Glances


This photo was originally published in The Nashville Graphic on January 20, 1972. The Rocky Mount Business and Professional Women's Club presented new robes and doctors' coats for use during examinations at the Cancer Detection and Diagnostic Clinic at the Health Department in Rocky Mount.

More ...
A PICTORIAL LOOK INTO THE PAST

ALL ABOUT INSTRUCTION. Southern Nash High School assistant coach Robbie Kennedy provides some drills tips during Tuesday's football workout on the SNHS campus in Stanhope.

'BIRDS BACK AT IT


STANHOPE -- In the past, there would have been a certain hoopla surrounding the opening day of fall football drills at Southern Nash High School -- especially since the Firebirds are fresh off their Elite Eight state finish one campaign ago.
But due to the nature of full-time work, Monday was just another day at the office at Southern Nash -- with the exception of heavy rains that tried to interfere with drills.

More ...
GEOFF NEVILLE, Graphic Sportswriter
Sharks Sweep Swim Season


ROANOKE RAPIDS -- Nash Rec's dominant swim summer needed an exclamation point -- and that's exactly what the Sharks offered during last Saturday's campaign-ending Nash-Halifax Swim League Championships.
After rolling through the regular season with an undefeated mark, Nash Rec closed out its schedule by defending its N-HSL crown in impressive fashion at the Roanoke Rapids Aquatic Center.

More ...
Staff Reports

FLYING HIGH. Drifton Padgett played soccer and baseball this past season while helping Nash Central High School achieve the Wells Fargo Cup for the Class 2-A Eastern Plains Conference.

Bulldogs earn first WF Cup


ROCKY MOUNT -- Nash Central High School Athletic Director Kyle Bain received the best back-to-school welcome gift -- albeit a little early -- a few days ago.
That's when Bain opened a box from the North Carolina High School Athletic Association that contained the Wells Fargo Conference Cup for the Eastern Plains Conference.

More ...
GEOFF NEVILLE, Graphic Sportswriter
Mudcats fall to Nationals


WOODBRIDGE, VA. -- Starter Alec Bettinger allowed eight runs and nine hits while pitching into the second and the host Potomac Nationals totaled 14 hits in a sweep-clinching 10-1 victory versus the Carolina Mudcats in Sunday's series final at Northwest Federal Field at Pfitzner Stadium in Northern Virginia.
Bettinger, in his first Carolina League start in his hometown of Woodbridge, took the loss for Carolina (19-17, 53-53) after allowing eight runs and nine hits over just an inning and 1/3. He also struck out two and threw 61 pitches (44 strikes) while leaving the game with one out in the second inning.

More ...
Staff Reports
Town of Nashville hosts registration


NASHVILLE -- Registration is currently ongoing for the Town of Nashville's Fall Youth Soccer League.
Signups will end on August 17. Children ages 3-12 are eligible to participate.
Practices will start the week of August 27 and games will be played on Saturdays beginning September 8 at Glover Park.

More ...
Staff Reports
DRILL MASTER
Southern Nash's Daylen Whitley works his way through an agility drill during a recent practice session on the SNHS campus. The Firebirds are coming off a spectacular 12-2 season under veteran head coach Brian Foster.
More ...
SECONDARY SITUATION
Southern Nash assistant coach Jordan Bass discusses a coverage scheme with safety Zonovan Knight during Tuesday morning's football practice session.
More ...
SUCCESSFUL SUMMER
The Westridge Swim Team enjoyed another strong campaign in the Nash-Halifax Swim League, and finished third at last Saturday's N-HSL Championships.
More ...
TOP GUN HEROES
The recent Top Gun Baseball Tournament in Rocky Mount, acknowledged two local businesses, along with others, for their contributions and support. Zaxby's Restaurant has served as the local food sponsor and provided the meals for the planning and team leader meetings. They are currently exploring how they can help on the regional level for Top Gun. In addition, they offer large discounts to all teams that come to the area to play.
More ...