Subscribe/Access
Advertisements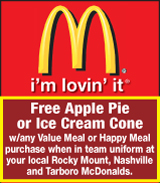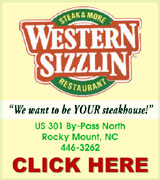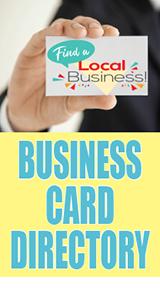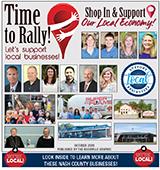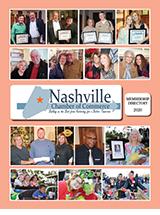 Sections
Member Options
Back
Ruritan club celebrates anniversary


The Oak Level Ruritan Club has been giving back to the community for 55 years now.
On Monday, Harold Rogers, District Governor for the Rocky Mount-Durham Ruritan District, applauded the club for its contributions and presented a certification from Ruritan National.

More ...
AMANDA CLARK, GRAPHIC STAFF WRITER
Rocky Mt. man nabbed for child porn
A Rocky Mount man was charged last week with 15 counts of second degree sexual exploitation of a minor.
Investigators with the North Carolina Northeast Regional Internet Crimes Against Children Task Force conducted an investigation of possible child pornography at 2900 Hunter Hill Road, Rocky Mount on Wednesday, July 18.
More ...
Local teens volunteer at H.D. Cooley Library


Area teens have spent part of their summer volunteering at Cooley Library.
Around 10 teens have been working with the library throughout the summer to help create a better teen section.
Cooley Library Director Emily Enderle said shelves have been adjusted to new heights to create more shelf space and books.

More ...
AMANDA CLARK, GRAPHIC STAFF WRITER
Auto parts store seeks rezoning


A company out of Tennessee is requesting two properties be rezoned B-1 (General Business) to potentially build an auto parts store.
Hutton Team, LLC, out of Chattanooga, TN, is requesting property at 626 E Washington Street and a portion of 203 Aviation Avenue be rezoned from R-10 (residential) and R-4 (high density residential) to B-1 (General Business).

More ...
AMANDA CLARK, GRAPHIC STAFF WRITER
Nashville man injures police officer
A Nashville man is facing numerous charges after injuring a Rocky Mount Police Officer last week.
Officers with the Rocky Mount Police Department, along with the Nash County Sheriff's Office, were conducting a traffic stop in the 900 block of South Grace Street on Wednesday, July 18 at 4:46 p.m.
More ...
Castalia plans Family Fun Day


Castalia churches are coming together to host the first Family Fun Day in the Park.
Reverend Victor Fenner, pastor of Castalia Missionary Baptist Church, said the idea came from a convention he attended last year.
"They are wanting us to focus more on families," Fenner said.

More ...
AMANDA CLARK, GRAPHIC STAFF WRITER
LIFE AFTER RECOVERY


Chris Thompson wants to use the negative experiences in his life to help others.
Thompson, of Elm City, began taking light prescriptions while working in an emergency room years ago. He said a doctor was treating him for one thing and another doctor was treating him because he was having trouble sleeping.

More ...
AMANDA CLARK, GRAPHIC STAFF WRITER
SELF-DEFENSE CAMP
Nash County 4-H partnered with Nashville Academy of Martial Arts to offer a self-defense summer camp last week. The camp was taught by Sensei Allen Clark with help from his son, Corbin Clark. During the camp, youth learned basic self-defense techniques using Jiu-Jitsu movements. Pictured above, Sensei Clark shows Aniyah Arrington (at right) a self-defense technique.
(Graphic photos by Amanda Clark)
More ...
Hazel Valentine BPW scholarship
Nashville's Business and Professional Women club presented its annual Hazel Valentine BPW scholarship to two Southern Nash High grads. Pictured (L-R) are Alyssa Andelin, BPW member Brenda Foster and Alexis Richardson.
More ...
Rocky Mount Middle Honor Roll lists
Nash-Rocky Mount Schools has released its Honor Roll lists for the third semester of the 2017-2018 school year.
The following students at Rocky Mount Middle School made the A or A/B Honor Roll.
More ...
Flag-raising pays tribute to service of Air Force veteran


Kenneth Eugene Schmitz's 21 years of service to the United States Air Force was honored on Saturday during a flag-raising ceremony.
The ceremony is hosted each month at the Veterans Memorial at Jack Laughery Park and sponsored by the Joint Veterans Committee of Nash and Edgecombe Counties.
Schmitz was born on September 11, 1944 in St. Joseph, Missouri.

More ...
AMANDA CLARK, GRAPHIC STAFF WRITER
Two charged with shooting teen
Rocky Mount Police have arrested two men in connection with the shooting of a teenager over the weekend.
A 16-year-old was shot in the lower back on Saturday, July 21 around 8:47 p.m. while standing in the parking lot of 1129 N Fairview Road.
A suspect vehicle description was given and officers located a vehicle matching that description on Pennsylvania Avenue.
More ...
Local homes part of buyout plan from Hurricane Matthew


Nash County has received $516,912 in grant funding to purchase and demolish three homes damaged by Hurricane Matthew in 2016.
Two of the homes are in Nashville in the Indian Trail subdivision and one is near Northern Nash High School.
The NC Department of Public Safety/Division of Emergency Management approved the purchase and demolition of the three homes.

More ...
AMANDA CLARK, GRAPHIC STAFF WRITER
Rocky Mount presented Tree City Awards during meeting
Rocky Mount is one of more than 3,400 communities that have made the commitment to becoming a Tree City USA. The Tree City USA program is sponsored by the Arbor Day Foundation in partnership with the U.S. Forest Service and the National Association of State Foresters. This is the 15th year the city of Rocky Mount has received the Tree City USA award by meeting the program's four requirements: a tree board; a tree-care ordinance; an annual community forestry budget of at least $2 per capita and an Arbor Day observance and proclamation.
More ...
NASHVILLE POLICE REPORTS
INCIDENTS
A larceny and breaking and entering a motor vehicle was reported on 7/16/18 at 616 Boddie Street
A hit and run was reported on 7/17/18 at 1210 Womble Road
More ...
NASH COUNTY SHERIFF'S OFFICE REPORTS
A breaking and entering a motor vehicle and larceny after a breaking and entering was reported on 7/8/18 at 6530 Leigh Road
A suspicious person/vehicle was reported on 7/9/18 at 14726 NC 43
A domestic violence was reported on 7/9/18 at 5440 Denton Road
More ...
ENGAGED
Mr. and Mrs. Gene Estep, of Valparaiso, Florida and Mrs. Jefferie Skinner, of Palmetto, Georgia, are pleased to announce the engagement of their daughter, Maegan Elizabeth Estep, of Atlanta, Georgia, to John William Lucas, of Atlanta, Georgia. He is the son of Mr. and Mrs. Will Lucas, of Rocky Mount. An October 28, 2018 wedding is planned at Flint Hill, Norcross, Georgia.
More ...
In service
Aviation Boatswain's Mate (Equipment) Airman Larry Johnson, from Rocky Mount, North Carolina, stands bow safety as an EA-18G Growler, assigned to Electronic Attack Squadron (VAQ) 141, launches from the flight deck of the Navy's forward-deployed aircraft carrier, USS Ronald Reagan (CVN 76), during airwing fly-off.
More ...
NCC welcomes 2018-2019 Student Ambassadors
Nash Community College recently held orientation to welcome its Student Ambassadors for the 2018-2019 academic year.
Students are selected for the program based on application, letters of recommendation and an interview. They must be enrolled at Nash Community College as a full-time student, maintain a minimum grade point average of 3.0, and demonstrate a commitment to academic and career success.
More ...
Free Will Baptist Children's Home receives donation
AgCarolina Farm Credit has announced a $2,050 donation to the Free Will Baptist Children's Home.
Employees have the option to participate in "A Cause a Quarter" each quarter. The quarterly campaign requires a $25 donation from participating employees to a non-profit voted on by all employees of the association. Participants are able to wear jeans each Friday of the quarter in which they participate.
More ...
NCC appoints Trustees
At the Nash Community College board meeting held Monday, July 16, 2018, Trustees Katherine Wiggins Fisher and James A. Mercer were re-appointed for four-year terms, by the Nash-Rocky Mount Board of Education and Nash County Board of Commissioners respectively.
Student Government Association President, Amberleigh Dornseif, will serve as the 2018-2019 student representative on the Board of Trustees.
More ...

Officials with Nash Community College hosted a ribbon cutting on Monday, July 16 to celebrate two new buildings.
NCC hosts ribbon cutting for new buildings
Nash Community College students, faculty, staff and community members celebrated the official opening of the Advanced Manufacturing and Cosmetology buildings at a ribbon cutting and dedication ceremony held Monday, July 16 at 4 p.m.
President Dr. Bill Carver welcomed attendees stating, "This expansion process began in 2010 with the purchase of 25 acres on which we are standing.
More ...

SCV member Matt Bone, Ryan Page, Robert Cooper, Craig Bone, and Josh Sills begin the process of stone restoration at the Rackley Cemetery.
CEMETERY RESTORATION
Members of Robert Henry Ricks Camp #75 Sons of Confederate Veterans, based out of Rocky Mount, worked steadily this spring on cemetery restoration projects as well as cleaning debris from the cemeteries including the Rackley Family Cemetery in Nashville. Member Craig Bone said the group has restored and maintained 16 cemeteries, cleaned approximately 200 tombstones, installed Southern Crosses of Honor on over 20 graves.
More ...
Rahab was more than a prostitute


We often name our children after some of the heroes in the Bible: Joshua, Caleb, Ruth, or Sarah. Yet we never hear of a child named Jezebel or Rahab for obvious reasons. Who in the world would name a child after a prostitute?
Interestingly, Rahab was an Old Testament harlot who was vaulted in the New Testament for her faith.

More ...
MIKE RUFFIN
Intersections: God and Life


Watch what God does, and then you do it, like children who learn proper behavior from their parents. Mostly what God does is love you. Keep company with him and learn a life of love. Observe how Christ loved us. His love was not cautious but extravagant. He didn't love in order to get something from us but to give everything of himself to us. Love like that.

More ...
CARLYLE HALL
Barbe presented Governor's Award for Volunteer Service
The State of North Carolina has presented the Nash-Edgecombe Counties 2018 Governor's Award for Volunteer Service to Dr. Robert Barbe.
The Governor's Volunteer Service Award honors the true spirit of volunteerism by recognizing individuals, groups and businesses that make a significant contribution to their community through volunteer service.
More ...
Counselor Institute
Edgecombe and Nash County elementary, middle school and high school counselors; CTE coordinators; and career coaches attended a Counselor Institute at Edgecombe Community College June 18 through 20. Participants toured Honeywell Aerospace in Rocky Mount, took part in ECC program demonstrations, and learned about admissions and financial aid at the College.
More ...
Williford Elementary honor rolls
Nash-Rocky Mount Schools has released its Honor Roll lists for the third semester of the 2017-2018 school year.
The following students at Williford Elementary School made the A or A/B Honor Roll.
More ...
PEACHTREE COMMUNITY NEWS


Peachtree Folks gathered at the church for worship on a bright, sunny Sunday morning. Storms and welcomed rain had come during the previous night, and had brought some relief to the recent drought.
Sanctuary flowers were given by Doug and Cheryl Hayes in memory of Steve and Linda Johnson, their beloved brother and sister-in-law.

More ...
BARBARA HARDISON
RED OAK NEWS


The Women in Action of Red Oak Baptist Church will meet at 6:30 pm at the church on Tuesday, July 31. This is a missions group for adult ladies, any age, who come together to learn about missions, pray for missions, and do missions. All ladies welcome!
Join us at Red Oak Baptist Church! We have Sunday night services for adults and in September we will begin offering AWANA on Sunday nights for the children.

More ...
SUZY PEARCE
LEGO CLUB
Cooley Library hosted a Lego Club during the month of July. The final meeting was on Tuesday, July 24. Youth were able to build Lego creations while watching a Lego movie and enjoying snacks. Pictured above, Alaina Broddie works on her Lego creation Tuesday while at the library.
More ...
Recognized
Pictured (L-R) Rocky Mount-Durham District Governor Harold Rogers stands with Ethel Bell, W.C. Joyner and Betty Joyce Thompson on Monday at the Oak Level Ruritan meeting. Rogers recognized the club for 55 years of service. Joyner is a charter member while Bell and Thompson are the wives of charter members and considered honorary members of the club.
More ...
Scholarships
The Oak Level Ruritan Club presented three scholarships at their regular meeting on Monday. Pictured (L-R) is Lauren Keel, Adam Bridges and Rebecca Warren with club Treasurer Roselle Tyson.
More ...
The destruction of an icon for 40-something men


If you were a boy aged 10-14 in the early 1980s, on Friday nights there was only one place to be at 8 p.m. -- in front of the television and tuned into CBS.
That was when the "Dukes of Hazzard" aired.
That show had everything a teenage boy rampaging through puberty could dream for: a fast car, two mischievous bow-wielding cousins who always did the right thing, and a good-looking woman with a honey-dripping Southern drawl and short-shorts.

More ...
Mike Brantley
You can't compare Amazon to local libraries!


Over the weekend, Forbes published an opinion piece by a fella who argued that "Amazon Should Replace Local Libraries to Save Taxpayers Money."
When I first came across the headline, I didn't even read it. I just scoffed and thought to myself, "this guy obviously has no clue" and went about my business.
But then, I kept seeing the article pop up. Friends were sharing it and talking about it. So I finally read it.
I scoffed some more.

More ...
Amanda Clark
Backward Glances


This photo originally published in The Nashville Graphic on January 10, 1978. These people were cited by the Stony Creek Fire Department and Rescue Squad for their accomplishments during the year in service to the department.

More ...
A PICTORIAL LOOK INTO THE PAST
Birchwood Takes On Rockfish


ROANOKE VALLEY -- Birchwood Country Club wrapped up the regular season portion of its 2018 Nash-Halifax Swim League schedule by traveling to Roanoke Valley last Thursday evening in Halifax County.
The homestanding Rockfish were able to secure a 430-143 decision over the Barracudas at the Roanoke Rapids Aquatic Center.

More ...
Staff Reports

WESTRIDGE SWIMMER MADDIE GIROUARD

ONE VICTORY AWAY


ROCKY MOUNT - Nash Rec is on the cusp of perfect after yet another impressive Nash-Halifax Swim League overall team victory.
The Sharks wrapped up the regular season portion of their schedule with an unblemished mark last Thursday thanks to a 487-306 decision at long-time rival Westridge.

More ...
GEOFF NEVILLE, Graphic Sportswriter

NORTHERN NASH'S TREVOR SLEDGE

SPECIAL NIGHT


GREENSBORO -- Northern Nash's Trevor Sledge knew for several months that he would participate in the annual North Carolina Coaches Association's East-West All-State Football Game.
Southern Nash's Abe Rodriguez only knew for a few days.

More ...
Staff Reports
Carolina gets by Hillcats


LYNCHBURG, VA. -- Daniel Brown struck out seven over three innings, and Luke Barker earned his league-leading 15th save as the Carolina Mudcats defeated the host Lynchburg Hillcats 6-5 in 10 innings in a rain-plagued, marathon game at City Stadium in on Sunday night in a Class A Carolina League baseball meeting.
The Mudcats (50-49, 16-13) outlasted the Hillcats (17-14, 46-52) in a 10-inning game that was delayed 48 minutes at the start because of rain, saw 3 hours and 48 minutes of actual game action because of rain and included a 2 hour and 28 minute rain delay.

More ...
Staff Reports
SN to open vs. Wildcats


STANHOPE -- Southern Nash High School will begin its 2018 boys soccer schedule on Aug. 13 with a road meeting against backyard rival Bunn.
Kickoff is slated for 5 p.m. at the BHS Soccer Complex in Franklin County.
SN's home opener will take place Aug. 20 at 5 p.m. versus C.B. Aycock.

More ...
Staff Reports

BULLDOG PRIDE. Wake Forest University's Aaron Spivey prepped at Nash Central High School under veteran head coach Renny Taylor.

Supreme Honor


KANSAS CITY, MO. -- Three members of the Wake Forest University men's basketball team were honored recently by the National Association of Basketball Coaches (NABC) as the organization announced the 2017-18 Honors Court.
Britton Anderson, Troy Rike and Aaron Spivey were recognized for their accomplishments in the classroom.

More ...
Staff Reports
Viking Classic contest finalized


ROCKY MOUNT -- The city of Rocky Mount will once again host the 21st annual Down East Viking Football Classic on Sept. 15 at 4 p.m. at the Rocky Mount Athletic Stadium.
The game will feature the Elizabeth City State University Vikings against their CIAA rival, the Winston-Salem State University Rams.

More ...
Staff Reports
NASH REC SPEEDSTER
Nash Rec's Dominic Wozniak makes his way through the pool during last Thursday evening's road matchup against Nash-Halifax Swim League opponent Westridge.
More ...
Hope Haitian Choir to perform at Arlington Baptist
"Amazing," "so inspiring," "what beautiful children," "what beautiful voices," "they sure are energetic!"
These are the comments heard after most every concert by Hope Haitian Choir. This non-traditional choir, made up of fifteen young people, ranging in age from seven to 17, are touring the eastern U.S. this summer, sharing their joy in a variety of venues and churches.
More ...