Subscribe/Access
Advertisements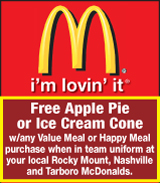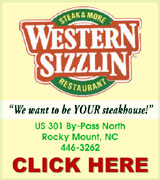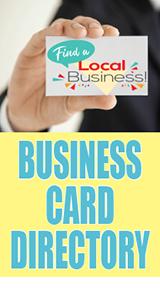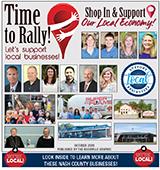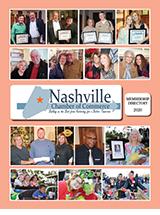 Sections
Member Options
Back
Nashville welcomes interim


Pete Connet is wrapping up his first month of serving as Nashville's Interim Town Manager.
Connet was hired last month by Nashville's Town Council after the board agreed to dismiss previous Town Manager Hank Raper.
Technically, Connet said he's been retired since 2009 but added that this is his eighth or ninth interim gig.

More ...
AMANDA CLARK, GRAPHIC STAFF WRITER
Scholarship fund to support 4-H programs


Since forming three years ago, the Nash County 4-H Alumni and Friends organization has been looking at various ways to support 4-H programs.
Recently, the organization started raising money to help more youth attend 4-H Summer Camps.
The "Nash County 4-H Where Seeds for Success Grow" campaign was announced at the annual ice cream social last month, said Nash County Cooperative Extension Director and 4-H Agent Sandy Hall.

More ...
AMANDA CLARK, GRAPHIC STAFF WRITER

CAMP INVENTION - Ethan Price works on the finishing touches of his robot dog while attending Camp Invention at Nashville Elementary School last week.

Local youth attend Camp Invention


Local youth were encouraged to find their inner inventor last week during Camp Invention at Nashville Elementary School.
Camp Invention, a nonprofit summer enrichment camp program, was held at the school last week for rising kindergartners through rising sixth graders.
Thirty-three kids participated in the camp, said Leslie Taylor, who serves as the director of the program.

More ...
AMANDA CLARK, GRAPHIC STAFF WRITER
Rocky Mount police seek homicide suspect
The Rocky Mount Police Department is looking for information on a homicide that happened on Saturday.
Officers responded to an assault call on Saturday, June 30 around 1:30 on the 100 block of Sullivan Lane. When officers arrived, they found 38-year-old Antwon Chisley, of Rocky Mount, deceased with gunshot wounds.
More ...
NPD Officer Spotlight
The Nashville Graphic is introducing new officers of the Nashville Police Department this month as part of an "Officer Spotlight" series. This week's article features Officer Zachary Webb.
More ...
Middlesex woman found dead in SC
The body of a Middlesex woman was found on Saturday in a wooded area in Myrtle Beach, South Carolina.
Authorities said the body of Jennifer Fitchett, 41, was found in a wooded area of the Palmetto Pointe Boulevard in Myrtle Beach. The cause of death is being withheld as the investigation continues.
More ...
RISE AGAINST HUNGER


Nash County volunteers came together on Saturday to package over 10,000 meals as part of Rise Against Hunger, an international hunger relief organization.
This is the fifth year Red Oak United Methodist Church has taken on the project, with support from Dortches Baptist Church and Bethlehem United Methodist Church.

More ...
AMANDA CLARK, GRAPHIC STAFF WRITER
Nashville Town Council applauds fire chief's state recognition


Nashville Fire Chief Chris Joyner was recognized on Tuesday night at Nashville's Town Council meeting for being named the American Legion Department of North Carolina Firefighter of the Year.
In addition to being the North Carolina Firefighter of the Year, Joyner was also named the Southeast Regional Firefighter of the year.

More ...
Amanda Clark, Graphic Staff Writer
Nashville Town Council approves policy changes


The Town of Nashville amended its public comment policy on Tuesday night.
The policy now allows the public to sign up to speak during the public comment period on the night of the meeting instead of having to sign up 10 days prior to the town's meeting. Those wishing to speak can now sign up just 20 minutes prior to the meeting.

More ...
Amanda Clark, Graphic Staff Writer
Rocky Mount adopts budget
The Rocky Mount City Council approved the FY 2019 budget during the June 25, 2018 council meeting. The new budget includes a 2.5-cent property tax increase to pay down debt for the Rocky Mount Event Center. The approved property tax rate is now 68.5 cents per $100 of valuation.
The city of Rocky Mount's total operating budget for FY 2019 is $207,269,690.
More ...
CSX to build intermodal facility
An intermodal transportation facility initially announced in 2016 and later rescinded will be coming to Rocky Mount afterall.
The Carolina Connector Intermodal Terminal Project was announced in July 2016 to located on the Edgecombe County side of Rocky Mount.
Originally, CSX intended to build what is called a "hub and spoke" intermodal facility in Edgecombe County.
More ...
Group studies ways to boost northeast Franklin County


Members of a community group trying to bring economic development to northeast Franklin County are trudging ahead with plans to bolster broadband, develop agritourism and install a marketing plan for the area.
With the aid of the State Department of Commerce, the Northeast Franklin Revitalization Committee crafted a plan to achieve the above three goals.

More ...
CAREY JOHNSON, Special to The Graphic
Rocky Mount gang member is sentenced to 17 years of prison
A Rocky Mount Blood gang member was sentenced to over 17 years in prison.
Senior United States District Judge W. Earl Britt sentenced Bakari Maurice Teachey, also known as "Double R," 27, of Rocky Mount, to 210 months in prison followed by three years of supervised release.
More ...
NASHVILLE POLICE REPORTS
INCIDENTS
A hit and run and damage to property (Vandalism) was reported on 6/24/18 at 813 Birchwood Drive
A larceny by an employee was reported on 6/25/18 at Bojangles, 101 W Nashville Drive
More ...
NASH COUNTY SHERIFF'S OFFICE REPORTS
Drug violations were repoted on 6/24/18 at 130 N Old Carriage Road
A breaking and entering, simple assault and damage to personal property was reported on 6/24/18 at 3595 Bass Road
A financial card fraud was reported on 6/25/18 at 234 Wiley Road
More ...
McDonald's celebrates grand re-opening
New technology, menu items, digital menu boards, table service and mobile order pay now enable a more modern and fun guest experience. McDonald's of Nashville invites guests to experience in a new and unexpected way, with a new level of choice, engagement and service. These changes are reflective of a new restaurant model that puts more choice and control in the hands of guests by evolving how they order, what they order, how they pay and how they are served.
More ...
Nashville BPW member named President of State organization


A member of Nashville's Business and Professional Women's (BPW) organization was recently elected to serve as the State BPW President.
Barbara Bozeman was sworn in this past weekend at the annual state conference.
Bozeman is originally from New York State in Rhode Island but now lives in Goldsboro.

More ...
AMANDA CLARK, GRAPHIC STAFF WRITER
Red Oak Middle School Honor Rolls
Nash-Rocky Mount Schools has released its Honor Roll lists for the third semester of the 2017-2018 school year.
The following students at Red Oak Middle School made the A or A/B Honor Roll.
More ...
GR Edwards Middle School Honor Rolls
Nash-Rocky Mount Schools has released its Honor Roll lists for the third semester of the 2017-2018 school year.
The following students at GR Edwards Middle School made the A or A/B Honor Roll.
More ...

CHRIS DRIVER
HONORING THE FALLEN
Police officers came from all over the state to pay tribute to Rocky Mount Senior Police Officer Christopher Driver, 27, on Friday.
Driver was killed in a car accident last Saturday night while responding to a call.
He was reportedly responding to a call of a suspicious vehicle in the roadway when he came upon a tree-trimming truck stopped in the road.
More ...
Northern Nash High School Honor Rolls
Nash-Rocky Mount Schools has released its Honor Roll lists for the third semester of the 2017-2018 school year.
The following students at Northern Nash High School made the A or A/B Honor Roll.
More ...
Recognized
In a special ceremony held Tuesday, June 5, 2018, Nash Community College recognized four officers for completing the College's 52ndBasic Law Enforcement Training Academy. Thomas Bashore, Nashville Police Chief, was the guest speaker. Franklin County Sheriff's Office and Nash County Sheriff's Office were in attendance and hired graduates directly from the class. Pictured from left are Timothy Mehus, NCC Basic Law Enforcement Training Director; Heath White of Zebulon; John Wind of Nashville; James Wright, Jr. of Justice; Robinzon Loor of Rocky Mount.
More ...
Grant-In-Aid Scholarship
Whitney Stocks (center), Barton College Student, received the Kate Parks Kitchin Grant-In-Aid Scholarship from Mu Chapter, Delta Kappa Gamma Society International, for Key Women Educators. Pictured with her are two Barton College Professors, Dr. Barbara Mize (left) and Dr. Jackie Ennis (Right).
More ...
Wesleyan President's son follows in his footsteps - 40 years later
Dr. Dewey Clark, President of North Carolina Wesleyan College, pays close attention to numbers. When his son, Nick, decided he would join Wesleyan's Class of 2022 this fall, Dr. Clark realized something. Nick would be attending Wesleyan exactly 40 years after he arrived on campus as a freshman in the fall of 1978.
Dr. Clark and Nick are excited for the adventure that awaits Nick at Wesleyan.
More ...
How Do We Know If We Are Spiritually Drifting?


How do we know if we're spiritually drifting? The Bible certainly acknowledges that it can happen, but what are the early warning signs that we are moving away from God?
Maybe today's column doesn't apply to you. How about your spouse, your friend, your child? Were they once closer to the Lord than they now appear?

More ...
MIKE RUFFIN
Intersections: God and Life


Twisting roads and a trustworthy God! In 2006, I seized the opportunity to travel as a short-term missionary to Tanzania, East Africa. It was, in many ways, a trip I shall never forget.
After a long flight, we finally landed at Dar es Salaam airport. But we had not arrived at our final destination.

More ...
CARLYLE HALL
PEACHTREE COMMUNITY NEWS


On a hot July morning, Peachtree folks gathered at the church for worship. Sanctuary flowers were a beautiful arrangement of red, white and blue flowers given by David and Rosemary Bryant. The service was a celebration of our American Independence. The Adult choir sang "America the Beautiful" for the call to worship. Pastor Whitehouse led the congregation in giving the "Pledge of allegiance to the Flag".

More ...
BARBARA HARDISON
GIVING BACK
The Royal Stallions Mustang Club made a donation of $2,000 to the Boys & Girls Club of the Tar River Region at the annual Real Men Kook for Kids on June 16 at Sunset Park. Present to accept the check was Executive Director, Ron Green, and many of the kids that the club mentors. The Royal Stallions Mustang Club was started in 2011 by local mustang enthusiasts. Since that period, the club has grown to more than 70 members in Nash, Wake, Pitt, Edgecombe,
More ...
Spring Hope resident receives scholarship
Local Government Federal Credit Union (LGFCU) recently announced that Amelia Lynn Gallina is the recipient of an LGFCU Scholarship Award.
Gallina, will use the scholarship to study at Appalachian State University and is one of 120 high school seniors and post-secondary students that will have extra money to apply toward their education at the university, community or technical college of their choice.
More ...
BAND AWARD
Joshua Anderson (far left) was the recipient of the John C. Sykes, Jr. Band Award at Rocky Mount High School for the 2017-2018 school year. The award is presented to someone with outstanding leadership and musicianship and is named after John Sykes, who was the band director at the school for 30 years. Anderson's name will be added to a plaque, which is hung in the band room.
More ...
Awarded
Steven Ray McClain (center) received the Armed Forces Expeditionary Service Medal for his honorable service during operations in the Persian Gulf War. He served as a United States Navy Chief Petty Officer. The Certificate was presented by Margaret McIntyre Sink (at left), Bethel Heroes Chapter, UDC, Recorder of Military Service Awards (Lt.), and the Medal was presented by Chapter President Margie Parker Brantley (Rt.) (at right).
More ...
Binkley named to Dean's List
Erin Binkley, of Nashville, who is in the ASL-English interpretation program, made the Dean's List for the spring semester at Rochester Institute of Technology.
Degree-seeking undergraduate students are eligible for Dean's List if their term GPA is greater than or equal to 3.400; they do not have any grades of "Incomplete," "D," or "F"; and they have registered for, and completed, at least 12 credit hours.
More ...
July 4 and all things connected were no sure thing


This is a fun week for a lot of people.
July Fourth, along with Memorial Day and Labor Day, are the three biggest holidays of the summer. It seems everyone -- short of farmers -- goes on vacation the week of the Fourth.

More ...
Mike Brantley
A girl is never too old for her dad's help or advice


I've been in the market for a new vehicle for a few weeks now. My poor minivan was on its last leg.
It had been a great vehicle, the best I've ever owned. But it was inching close to 340,000 miles and it was starting to show its wear. I purchased my van seven years ago.

More ...
Amanda Clark
Backward Glances


HAPPY CHAMPS -- This photo originally published in The Nashville Graphic on April 11, 1978. Rocky Mount's star center Buck Williams (center) hugs Gryphons Coach Reggie Henderson after receiving the trophy as the team's most valuable player in a special awards banquet for the Gryphon basketball team. Left is University of Maryland Head Coach Lefty Driesell, who was the guest speaker at the banquet.

More ...
A PICTORIAL LOOK INTO THE PAST

Nash Rec's Jacob Joyner makes his way toward the finish line for the Sharks during last Thursday evening's road meet against Nash-Halifax Swim League opponent Birchwood in Nashville.

NASHVILLE RIVALRY


NASHVILLE - Separated by just one mile geographically, Nash Rec and Birchwood have one of the longest-standing backyard rivalries in the Nash-Halifax Swim League.
The clubs resumed their grudge match last Thursday as Birchwood hosted Nash Rec at the BCC Pool.

More ...
GEOFF NEVILLE, Graphic Sportswriter
THE CUP QUEST


NASH COUNTY -- Only two points separated Nash County's three Big East Conference high schools in the league's annual Wells Fargo Conference Cup standings.
The Wells Fargo Conference Cup is a companion to the Wells Fargo Cup and recognizes schools with the best overall interscholastic athletic performances within individual conferences.

More ...
GEOFF NEVILLE, Graphic Sportswriter
Mudcats defeated on road


BUIES CREEK -- Osvaldo Duarte hit a score-tying home run in the fifth and broke a 1-1 tie in the eighth with a go-ahead, two-out RBI single as the host Buies Creek Astros won their seventh straight game, 3-1 versus the Carolina Mudcats on Sunday afternoon at Jim Perry Stadium on the campus of Campbell University in a Class A Carolina League baseball contest.

More ...
Staff Reports
Hoops camp is scheduled


ROCKY MOUNT -- Local youths will have the opportunity to improve their basketball skills this summer from some of the more well-known names in the area.
The Rocky Mount Parks & Recreation Department will offer a pair of camps July 9-12 and July 30-Aug. 2 for youth who are entering the third through 12th grades.
The registration fee is $35 per person.

More ...
Staff Reports
STUDENTS EARN BLACK BELTS
A DAY TO REMEMBER. Nashville Academy of Martial Arts presented three black belts last Saturday during a black belt test. Brandon Bunn, Trey Evans and Johnathan Bass (L-R) earned their black belts after several years of training under Sensei Allen Clark (bottom center). The students had to participate in a grueling boot camp prior to their test on Saturday.
More ...
Tobs surge past the Salamanders


WILSON -- Designated hitter JT Stone delivered a pair of doubles at the plate for the homestanding Wilson Tobs on Sunday night as part of an 8-5 victory at Historic Fleming Stadium against the Holly Springs Salamanders in a Coastal Plain League baseball matchup.
The Tobs used a six-run fifth inning to turn a 3-1 deficit into a 7-3 advantage.

More ...
Staff Reports
Taylor to host basketball camp


NASH COUNTY -- The annual Eastern North Carolina Roundball Skills Camp will be held July 9-12 at Faith Christian School in Rocky Mount.
Nash Central High School veteran boys basketball coach Renny Taylor will serve as the camp director.
The camp is for boys and girls who are rising second through ninth-graders.

More ...
Staff Reports
Sports Complex hosting tournament


ROCKY MOUNT -- The Rocky Mount Sports Complex will be the first step in what local and regional teams hope is a national journey.
Rocky Mount's Little League 12-year-old baseball all-stars will compete in the North Carolina District 4 Tournament from July 2-7.
Teams from Newport, Havelock, Morehead City and Greenville also will compete in the tournament, with the winner moving on the state tournament.

More ...
Staff Reports