Subscribe/Access
Advertisements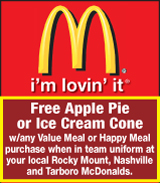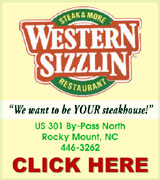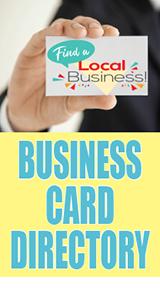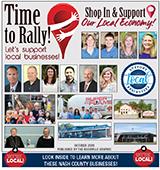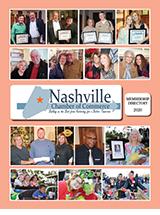 Sections
Member Options
Back

Brian and Ashley Hassell are pictured standing at the George's BBQ Sauce facility in Nashville. The couple has taken the helm of the family business.

Nashville planner changes path


The Town of Nashville is losing its planning director.
Brian Hassell, who has served as the town's director for the past four years, will serve his last day on Friday, May 18.
But Hassell isn't going far.

More ...
AMANDA CLARK, GRAPHIC STAFF WRITER
Citizens offer input on town projects


Christmas decorations are still on the minds of business owners and residents in Nashville.
The town's Municipal Service District (MSD) Advisory Board held a public hearing on Monday night to get input on desired projects for the upcoming year. The town now has a municipal service district tax for the downtown area, which garners around $32,000 in additional tax revenue for the town.

More ...
AMANDA CLARK, GRAPHIC STAFF WRITER

Melayah Avent waves to her parents while riding the carousel with her sister, Christina, on Saturday.

Nashville Blooming Festival celebrates 22nd year


Temperatures soared close to 90 on Saturday during the 22nd annual Nashville Blooming Festival.
The extreme heat affected attendance on Saturday, said Cindy Puckett, one of the organizers of the event.
"Saturday, after the parade, the crowd went down," she added.

More ...
AMANDA CLARK, GRAPHIC STAFF WRITER
Dog tests positive for rabies in Castalia
The Nash County Health Department reported a case of rabies recently in the Castalia area.
On Friday, May 4, a dog in the Red Bud Road area of Castalia tested positive for rabies.
Rabies is a deadly disease. According to the Centers for Disease Control and Prevention (CDC), there are usually only one or two human rabies cases each year in the United States. In North Carolina, the most common type of rabies is raccoon-variant rabies.
More ...

Nash County Manager Zee Lamb and Senator Rick Horner (L-R) fill their plates at the annual Catfish Luncheon, which is hosted each year by the Nash County Soil and Water Conservation District.

Fisher receives Long Leaf Pine award


Bobby Joe Fisher noticed the increase in attendance at last week's annual Nash County Soil and Water Catfish Luncheon. But it took Fisher a while to realize the increase in attendance was partly due to him.
Fisher, 84, was surprised at the start of the luncheon with the Order of the Long Leaf Pine Award, which was presented by his good friend, Norris Tolson.

More ...
AMANDA CLARK, GRAPHIC STAFF WRITER
Castalia woman killed in car accident
A Castalia woman was killed last Wednesday afternoon in an accident on Highway 64.
Patricia Lynn King, 39, was traveling eastbound on Highway 64, near the Red Oak/Nashville exit, around 5 p.m. when her right rear tire blew out, causing her to lose control.
More ...
Public hearing set for retailer request


Wal-Mart in Nashville wants to change its color scheme back to its more traditional colors.
A public hearing is being held for the retailer's request on Wednesday, May 30 at 7 p.m.
The request is for an amendment to a site plan for Wal-Mart.

More ...
AMANDA CLARK, GRAPHIC STAFF WRITER
NASH COUNTY SHERIFF'S OFFICE REPORTS
An assault and concealing a handgun permit was reported on 5/6/18 at 4845 Church Street
A damage to vehicles was reported on 10923 W Old Spring Hope Road
An assault on a female was reported on 5/6/18 at 6601 Harpy Drive
More ...
NASHVILLE POLICE REPORTS
INCIDENTS
A larceny by bypass of an anti-theft device and larceny was reported on 5/8/18 at 800 E Washington Street
A missing person was reported on 5/8/18 at Sheetz
More ...
Man feeds lunch to residents of Trinity Villas in Nashville


Residents of Trinity Retirement Villas in Nashville were treated to lunch on Friday, compliments of Rev. Andrew West.
West is the pastor at New Life Missionary Baptist Church. A Halifax County resident, West visits around 10 different places each year to feed people. One of those places is Trinity Retirement Villas.

More ...
AMANDA CLARK, GRAPHIC STAFF WRITER
Nashville Council celebrates completion of sewer outfall
Officials with the Town of Nashville celebrated the opening of the Stoney Creek Sewer Outfall last Tuesday morning during a short ceremony.
During the event, Mayor Donald Street flipped the switch to direct the sewer flow down the newly constructed Stoney Creek Outfall Line. In addition, the power to the Elm Street Lift Station was officially cut off.
More ...
AWARD
Hardee's Furniture in Sharpsburg has been awarded the "Eastern North Carolina La-Z-Boy Comfort Studio of the Year" for 2017. The award was presented to Hardee's Furniture by La-Z-Boy Executive, Della Crone, for being the largest volume dealer in Eastern North Carolina. Hardee's Furniture has been serving Eastern North Carolina for over 37 years.
More ...
Joyner chosen to fill Rocky Mount Ward 3 seat
Rev. Richard Joyner has been appointed to the Rocky Mount City Council to represent Ward 3.
"The privilege to serve is what I am happy about," stated Joyner. "I still have close relationships with Ward 3, and I have not only served Rocky Mount, but the eastern part of North Carolina. I look forward to serving with the entire city council."
More ...
New Nash Rural Economic Developer visits Castalia


The town board of Castalia had a visitor at its regular monthly meeting last week.
The board was introduced to Susan Phelps the new Rural Economic Developer for Nash County. She explained that her position was created to help small towns and rural communities develop and retain businesses. She said the Carolina Gateways Partnership focuses on larger industrial type businesses, and the City of Rocky Mount has its own business development staff, but that many small towns and other parts of Nash County were being over looked.

More ...
JESSICA A. SMITH, GRAPHIC CORRESPONDENT
100TH YEAR ALUMNI
Graduates of Red Oak High School celebrated the Red Oak High School's 100th alumni event with 262 members attending. The oldest class with members still living is the class of 1935. The class with the highest attendance is the class of 1963, 83 percent of their class attended the event. The Alumni awards a scholarship to a deserving young person who is related to a family of Red Oak High School.
More ...

BESCHLER
City of Rocky Mount hires new Assistant Managers
The City of Rocky Mount's two assistant city manager vacancies will soon be filled. City Manager Rochelle Small-Toney has appointed Chris Beschler and Natasha Hampton-Clayton to serve in the roles.
Beschler most recently worked for the Commonwealth of Virginia where he served as director of the Department of General Services.
More ...
There's a minister in all of us!


"And because he was a tentmaker as they were, he stayed and worked with them." (Acts 18:3)
Last month, I celebrated my 65th Birthday. That prompted a lot of questions for me about where I am in my Christian walk.
The closer I got to 65, the more I realized there were a lot more years behind me than ahead of me.

More ...
MIKE RUFFIN
Luke's Word for the Week


Children, by nature, are quick to pick up on things. Some things are good and we are thankful they are taking note and asking questions, while others are not so good and we bemoan the fact they are so attune to such things that we'd prefer go unnoticed in their sponge like minds.
For the believer in Christ, the follower of the Way, the being sanctified child in the Spirit, we should celebrate the fact that children want to learn.

More ...
LUKE WHITEHEAD
PEACHTREE COMMUNITY NEWS


Mother's Day! Oh , what a glorious occasion! On a beautiful spring morning Peachtree folks gathered at the church for worship. To honor Mothers, the men of the church prepared and served a delicious breakfast to the ladies of the church. They served it in the Fellowship Hall and even did the dishes.
Sanctuary flowers were given by JoAnn Blankenship, in loving memory of her mother, Ann Savage, and her grandmothers, Minnie Savage and Dolly Downey.

More ...
BARBARA HARDISON
Local reading service celebrates volunteers
The Down East Radio Reading Service (DERRS) held its Volunteer Appreciation Dinner on the evening of April 10.
Joe Warner, chairman of the board, opened the evening by welcoming volunteers, board members, and special guests to the event. Stephanie Brown, director of Volunteer Services, thanked each of the volunteers for their countless hours and efforts in DERRS' mission - to share local newspaper stories and events over the air with fellow residents in the tri-county area who are blind or print-impaired.
More ...
"Live United"
Children from Nash Community College's Betsy B. Currin Child Development Center celebrated the United Way "Live United" coloring contest campaign at a coloring event with NCC President Dr. Bill Carver. Artwork will be displayed in the college's Business & Industry Center lobby.
More ...
RED OAK NEWS


News flash! The Hometown Favorites Cookbook is now $5 each! All proceeds go to the Cystic Fibrosis Foundation in their search for a cure. You can contact Audrey or Suzy Pearce if interested or come by Rocky Mount Medical Park Pharmacy to purchase a book.
Welcome Jesse and Virginia Perry to the family at Red Oak Baptist Church!

More ...
SUZY PEARCE
Take a break from reality for some weird stuff


It's time to clean out notebook of weird stuff I've been collecting:
A woman in Phoenix, Arizona has been arrested for sending a man 65,000 text messages after their first date last summer.
Jacqueline Ades, 31, has been charged with threatening, stalking, harassment and failure to show up in court.

More ...
Mike Brantley
Long-time healthcare providers will be dearly missed


Dear Editor: I am experiencing so many emotions as I write this letter. I have just been advised that Rocky Mount Gynecology and Women's Health is closing. I know I speak for many women in Rocky Mount and the surrounding area as I voice my anger, sadness, disappointment, and loyalty. I have been a patient of this clinic, for over 33 years, specifically of Dr. Larry High.

More ...
LETTERS:
Local pastor supports newly elected Sharpsburg Mayor


Dear Editor: Tuesday, May 8, 2018 in Sharpsburg, after the town's mayoral electoral victory of Robert Williams, Jr., the freshly elected official was pulled over by local law enforcement while allegedly driving under the influence among other alleged violations. However, due to the circumstances around the post-election traffic stop that roused the occurrence and the subsequent charges, there are serious concerns regarding the incident.

More ...
LETTERS:
Backward Glances


Troy Winstead is pictured drinking a Pepsi in front of William Winstead's Store in 1955.

More ...
A PICTORIAL LOOK INTO THE PAST

NASH CENTRAL'S HAILEY DINOTA (RIGHT)

TOUGH WAY TO END


ROCKY MOUNT -- Few outcomes are more gut-wrenching in sports than a penalty kicks loss in soccer -- especially when so much is at stake.
Suddenly, a team's fate is set to be determined by what is basically a skills competition, and that certainly wasn't the exclamation point Nash Central High School wanted to put on its historic 2018 girls soccer campaign.

More ...
GEOFF NEVILLE, Graphic Sportswriter

OUCH. Red Oak's Bryson Jenkins is tagged high at second base during last Thursday's Tri-County Conference Championship Game at Elm City.

HEARTBREAKER


ELM CITY -- When Red Oak Middle School took an early -- and what appeared to be insurmountable -- advantage, Coach Kristian Cox warned his players that things weren't going to be easy the rest of the way.
Cox's words proved to be the understatement of Red Oak's amazing year, which ended in disappointment last Thursday with a 15-14 loss at Elm City in what will certainly be remembered as one of the wildest tournament championship games in the history of the Tri-County Conference baseball scene.

More ...
GEOFF NEVILLE, Graphic Sportswriter
The Hits Keep Coming!


MOUNT OLIVE -- It felt like old times last Saturday as Nash Central, Northern Nash and Southern Nash were reunited again as part of the Class 2/3-A Super Regional East Region Track and Field Championships at the University of Mount Olive.
The Class 2-A and 3-A events were run separately but concurrently, so there was plenty of Nash County action at the meet -- including another crown for the Northern Nash Fighting Knights.

More ...
GEOFF NEVILLE, Graphic Sportswriter

SOUTHERN NASH'S CARRIGAN EWERS

Southern wraps up campaign


STANHOPE -- Perspective is sometimes needed when an otherwise-spectacular season ends with a disappointing setback.
Such was the case for the 2018 version of the Southern Nash softball squad -- a young group that exceeded all expectations by going 22-5 while winning the Big East Conference's regular season and tournament championships.

More ...
GEOFF NEVILLE, Graphic Sportswriter
NCHS wins in playoffs


ROCKY MOUNT -- Never before had Nash Central High School entered the State Baseball Playoffs as a conference champion.
That changed two weeks ago after Coach Willie Langley's Bulldogs completed a perfect 10-0 conference record in their inaugural season as a member of the Class 2-! Eastern Plains Conference.

More ...
CHANCE PUCKETT, Correspondent
Long's jersey to be retired by Bishops


ROCKY MOUNT -- The North Carolina Wesleyan College Department of Athletics has announced that its storied baseball program will be adding a seventh retired jersey to the left field fencing of Bauer Field -- the #10 of long-time head coach Charlie Long.
Long, who recently stepped down after 21 seasons at the helm of the program, joins Bishop greats Jamie Whiting (#2), Greg Clark (#3), Ernie Jones (#8), Carl Payne (#14), Moe Bauer (#18), and Mike Fox (#30) in garnering this prestigious honor.

More ...
Staff Reports
Big East Conference honors tennis stars


ROCKY MOUNT -- The future of the Rocky Mount High School boys tennis squad became a bit shaky last summer when Barry Nethercutt announced his retirement as the program's head coach after 29 successful campaigns.
But the Gryphons have continued to prosper, albeit with a new skipper (Wayne Holloman) in charge.

More ...
GEOFF NEVILLE, Graphic Sportswriter
COUNTY REC RESULTS


NASH COUNTY -- Here are updated Nash County Recreation & Senior Services Spring Sports Scores:

More ...
Staff Reports
Mudcats surge past Wilmington


ZEBULON -- Ronnie Gideon hit a go-ahead home run in the sixth, Rob Henry added to the lead with a home run in the seventh and Conor Harber worked through two and 2/3 scoreless frames while earning the win as the Carolina Mudcats defeated Wilmington 6-3 on Sunday afternoon at Five County Stadium in a Class A Carolina League matchup.

More ...
Staff Reports
ANOTHER RUN SCORES
Red Oak's Bryson Jenkins is congratulated by his teammates after crossing home plate during last Thursday's conference championship baseball game at Elm City.
More ...
COME BACK HERE
Nash Central High School's Mallory Roughton (left) tries to track down a loose ball during last Wednesday's tough penalty kicks setback to North Carolina School of Science and Math in the first round of the Class 2-A Girls Soccer State Playoffs.
More ...
IN THERE
Southern Nash's Carrigan Ewers (left) beats a throw to second base during last Friday's contest.
More ...
LAYING IT DOWN
Red Oak Middle School's Seth Williams attempts a bunt for the Tigers during last Thursday afternoon's contest at Elm City in the championship game of the Tri-County Conference Baseball Tournament. The Tigers dropped a 15-14 heartbreaker .
More ...
ON THE LOOKOUT
Nash Central's Taylor Baker (left) follows the path of a NCSSM pass attempt during last Wednesday evening's matchup in the Class 2-A Girls Soccer State Playoffs.
More ...
WAITING FOR THE THROW
Southern Nash High School's Taylor Bailey (left) awaits a throw at second base during her team's meeting with Harnett Central last Friday evening in the second round of the Class 3-A State Softball Playoffs at historic Ladybird Field.
More ...
BACK TO THE 80'S
Nash Central High School presents "Back to the 80's" on Thursday, Friday and Saturday, May 17, 18 and 19 at 7 p.m. and on Sunday, May 20 at 2 p.m. "Back to the 80's" is a musical that tells the story of the senior class of William Ocean High School, as remembered through the eyes of now 30-something Corey Palmer. The performance is directed by Joanna Hale and will be held at the Imperial Centre in Rocky Mount.
More ...
Rocky Mount's summer concert series starts May 24th
Downtown Live!, the summer concert series presented by PNC and hosted by the City of Rocky Mount, will be held on the Imperial Centre lawn beginning Thursday, May 24, 2018 with subsequent events every other Thursday through Sept. 13, 2018. Doors open at 5 p.m., and music starts at 6 p.m.
The season begins with the Legacy Motown Revue performing on Thursday, May 24, followed by The Fantastic Shakers on June 7, 2018.
More ...