Subscribe/Access
Advertisements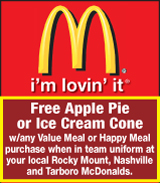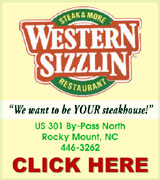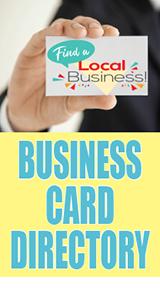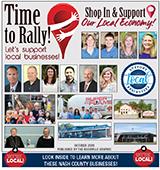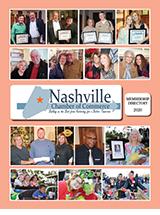 Sections
Member Options
Back
Nashville Fire Auxilary disbands


Nashville's Fire District Auxiliary has disbanded after many years of providing support and services to the town's fire department.
Auxiliary President Butch Mull said the organization wanted to make a statement following claims at last Tuesday night's meeting that Councilwoman Louise Hinton had been colluding with the auxiliary to get Town Manager Hank Raper fired.

More ...
AMANDA CLARK, GRAPHIC STAFF WRITER
Blooming Festival is this weekend!


Downtown Nashville will soon be bustling with excitement as the 22nd annual Nashville Blooming Festival kicks off.
The carnival started the festivities on Wednesday and will run through the festival's end on Saturday night.
A kick-off party is slated for Thursday night at Nash Arts, where Cool John Ferguson will perform at 7 p.m. Admission is free.

More ...
AMANDA CLARK, GRAPHIC STAFF WRITER

Chester Moody, Commander of American Legion Post 293, presents Corporal Allen S. Johnson a lifetime membership to Post 293.

Local man receives Congressional Gold Medal


Family, friends and fellow veterans filled the O.D. Moore Building on Saturday to pay tribute to Corporal Allen S. Johnson, who was presented a Congressional Gold Medal for his service to the United States Marines.
Johnson, 93, was one of around 20,000 African Americans who enlisted in the United States Marines between 1942 and 1949.

More ...
AMANDA CLARK, GRAPHIC STAFF WRITER
Nashville board requests budget cuts


Nashville's Town Council is looking for ways to slash the town budget to prevent a hefty tax increase.
The board met on Tuesday and went through the budget again, looking at ways to cut each department by at least two percent.
At a budget retreat in February, council members had approved a seven cents tax hike after being told that the town would not be able to offer the services it currently offers at the current 56 cents tax rate.

More ...
AMANDA CLARK, GRAPHIC STAFF WRITER
Barnes wins primary
Nash County Commissioner Lisa Barnes will face off District 7 House Representative Bobbie Richardson in the November elections, after winning the Republican primary race on Tuesday night.
Barnes defeated Glen Bradley in a landslide, receiving 73.09 percent of the votes. Bradley received 26.91 percent of the votes.
More ...
Schools to close May 16


The Nash-Rocky Mount Board of Education is joining other school districts in closing school on May 16 to allow teachers the opportunity to attend a rally in Downtown Raleigh.
Over 10,000 teachers from across the state are expected to protest in Raleigh on May 16 to ask lawmakers for higher pay and more education funding. The rally, "March for Students and Rally for Respect," is being lead by the North Carolina Association of Educators.

More ...
AMANDA CLARK, GRAPHIC STAFF WRITER
Spring Hope mulls 4 percent tax increase


The Spring Hope Board of Commissioners are considering raising the town's taxes to possibly hire one new police officer, according to the 2018-2019 fiscal year budget draft.
Town Manager Jae Kim presented the proposed town budget which sets the total budget at $1,642,400, a 4 percent increase compared to the 2017-2018 figure.

More ...
KENDRA JONES, GRAPHIC CORRESPONDENT

Neil and Dot Griffin at the Derby Party on Saturday in Red Oak.

Red Oak hosts first annual Derby Party


The grounds of the former Red Oak Teacherage came back to life on Saturday afternoon, as the first annual Derby Party was held.
The event was hosted by the Red Oak Area Historical Preservation Association (ROAHA), which is working hard to preserve the old teacherage. Plans are to renovate the home to be utilized as a multi-purpose venue for the community.

More ...
AMANDA CLARK, GRAPHIC STAFF WRITER
My Sister's House celebrates new location


My Sister's House celebrated its new stand-alone location in Nashville last with a ribbon cutting.
My Sister's House has maintained its presence in Nashville since 2000 but in 2016, the organization moved its main offices to Rocky Mount to be more centrally located between Nash and Edgecombe Counties. However, it maintained an office space in Nashville.

More ...
AMANDA CLARK, GRAPHIC STAFF WRITER
"Teal Yaking About It" event is June 2nd


A local couple is hoping to bring awareness to Ovarian Cancer by hosting a kayaking event on June 2.
Donna and Charles Minton are planning a kayak float down the Tar River to raise money to support and benefit ovarian cancer research at Duke University Medical Center.

More ...
AMANDA CLARK, GRAPHIC STAFF WRITER
NASHVILLE POLICE REPORTS
INCIDENTS
A trespassing and disturbing the peace was reported on 4/30/18 at 409 Ward Street
A possession of cocaine was reported on 5/1/18 at 903 Brake Street
More ...
NASH COUNTY SHERIFF'S OFFICE REPORTS
A possession of stolen goods and possession of firearms by a felon was reported on 4/29/18 at 8777 Medlin Way
A larceny was reported on 4/29/18 at 6424 Saddlehorn Drive
A misdemeanor larceny was reported on 4/30/18 at 3057 Duke Road
More ...
Teen Summer Job Fair is set for May 31st


Teens looking for summer work can make plans to attend a Teen Summer Job Fair at the end of this month.
The job fair is being hosted by Nash County Cooperative Extension on Thursday, May 31 from 3 until 7 p.m. It will be held at the Nash County Agriculture Center in Nashville.

More ...
AMANDA CLARK, GRAPHIC STAFF WRITER
75TH ANNIVERSARY
Delta Kappa Gamma Society International, Mu Chapter, Eta State - NC, celebrated 75 years recently. To mark the occasion, a reception was held at Benvenue Country Club. Mu Chapter was Chartered by International April 26, 1941 and founded March 28, 1942. Years later, as it grew, two other chapters were formed, Beta Theta (Nash County) and Gamma Lambda (Edgecombe County). To continue the Sisterhood, the three chapters rotate, one each year to host a Tri-Chapter Brunch.
More ...
ENGAGED
Leigh and Robert Dunn, of Spring Hope, are pleased to announce the engagement of their daughter, Beth Dunn, to Robert White. He is the son of Anne and Doug White, of High Point. A wedding is planned for June 2018.
More ...
5th grade students earn DAR Citizenship Medals
Micajah Pettaway Chapter of Daughters of the American Revolution honored the winners of the DAR Youth Citizenship Medal at their May meeting.
The DAR Youth Citizenship Medal was established to foster among school children a greater appreciation of the qualities of citizenship Americans must possess if our country is to remain sovereign and independent.
More ...
DAR presents Good Citizens Awards to local seniors
Micajah Pettaway Chapter of Daughters of the American Revolution honored the winners of the DAR Good Citizens Award at their May meeting.
The DAR recognizes and rewards seniors who possess the qualities of dependability, service, leadership, and patriotism in their homes, schools, and communities. These students are selected by their teachers because they demonstrate these qualities to an outstanding degree.
More ...
BIRTH ANNOUNCEMENT
Amanda and Colby Griffin, of Nashville, are pleased to announce the birth of their daughter, Ruby Pauline Griffin. She was born on March 30, 2018 at UNC Nash. She weighed 8 pounds, 4 ounces and was 20 inches long. Maternal grandparents are Jerry and Mary Carpenter, of New Bern. Paternal grandparents are Dwayne and Brenda Griffin, of Red Oak. Ruby has a two-year-old sibling, Hudson Vanhook Griffin. Amanda is the former Amanda Pauline Carpenter.
More ...
Winner of Sharpsburg's Mayoral seat nabbed for DWI
The winner of Sharpsburg's Mayor race was arrested shortly after elections ended on Tuesday night and charged with driving while impaired.
Police received complaints on Robert Williams, Jr. after a near-accident in Sharpsburg, near town hall.
Williams was pulled over around 8:30 p.m. by police.
More ...
Red Oak holds public hearing for rezoning


A land rezoning public hearing filled Red Oak's town hall to standing room only Monday night.
First, the board listened to citizen concerns related to the rezoning of the property mentioned at the March meeting. During the March meeting, Town Clerk Tracy Shearin described the situation, "This is really just preliminary to let [the board] be aware of what's going on.

More ...
JESSICA SMITH, GRAPHIC CORRESPONDENT
Nash County Animal Friends' Notebook


Money. Some say it is the root of much evil, but having it can make life more comfortable. It can help keep your pets healthier too. Here in the south there is the bane of heartworms. The eggs are carried by mosquitoes. Inside dogs are safer from this life killing pest, but most of them go out to potty and therefore are at risk, although less.

More ...
CAROL VIERELA, NASH COUNTY ANIMAL FRIENDS

SCHENALL
Bennett College Alumnae striving to make a difference
"Striving to Make A Difference " is the motto of the Eastern North Carolina Chapter of Bennett College Alumnae Association.
Functional for many years, this organization has been actively involved in the recruiting of promising local young ladies for the college and providing scholarships and other financial assistance when needed.
More ...
RED OAK NEWS


Congratulations to Kevin and Lindsey on the birth of their son, Camden Scott Shepherd, born May 1 and weighing 7 pounds 11 ounces! Proud grandmother is Dolly White.
It was a great day Saturday, May 5 for the Kentucky Derby Party at the Red Oak Teacherage.

More ...
SUZY PEARCE
Baskerville Elementary Honor Rolls
Nash-Rocky Mount Schools has released its Honor Roll lists for the second semester of the 2017-2018 school year.
The following students at Baskerville Elementary School made the A or A/B Honor Roll.
More ...
Local appointed to NC Council for Women
Governor Roy Cooper recently announced 13 new appointments to various North Carolina boards and commissions, including the North Carolina Board of Education, the North Carolina Industrial Commission, the Economic Development Partnership of North Carolina and the North Carolina Council for Women.
"I appreciate the commitment these appointees bring to improving our state," Gov. Cooper said. "We're fortunate to have their skills and experience on our state boards and commissions."
More ...
Locals named to Chancellor's List at FSU
Fayetteville State University recently held the Program of Recognition for the Chancellor's List Students named in the Fall 2017 semester.
Students named to the Chancellor's List successfully completed at least 12 semester hours during one semester (or two consecutive terms for Fort Bragg Students), earned a GPA of 3.75 or higher, and no incompletes.
More ...
Living a Godly life is a powerful testimony


When I lived in Georgia, I had a friend at my church that I had grown to admire. His love for Christ was deep and his passion to witness for the Lord was unmatched. In short, he was on fire for Jesus.
Unfortunately, his born-again attitude made him the brunt of a lot of jokes where he worked.

More ...
MIKE RUFFIN
Luke's Word for the Week


Is your happiness based on faith or feeling? Thoughts or truth? Circumstances or Christ? The battle that wages within us for authentic joy is an intense one. Some days we find we are flying high, feeling good, having good thoughts and just enjoying our circumstances. But then our feelings change, our thoughts become muddled with questions, and our circumstances begin to dictate the course of our life. We live as foreigners to the abundant life we read about in John 10:10.

More ...
LUKE WHITEHEAD
PEACHTREE COMMUNITY NEWS


On a beautiful spring morning Peachtree folks gathered at the church for worship.
Sanctuary flowers were given by Beverly Wilson in loving memory of her nephew, John Edward Privette, and in honor of her mother, Barbara Hardison.
The Adult Choir sang, "The Old Country Church," under the direction of the Pastor. Pastor Whitehouse's sermon was titled "Have You Tasted My Jesus?"

More ...
BARBARA HARDISON
Vegetarian turns away from the dark side


I guess the best story to sum up my youngest son's last year is to tell the story of the $40 steak.
Lowell, who just turned 11, until recently had been an avowed vegetarian. At least in title, anyway. He was more like a carbohydrate-tarian, but the point is, the boy declined to eat meat for a little over three years.

More ...
Mike Brantley
It's Blooming Festival time!


Nashville's 22nd Blooming Festival has snuck up on us!
I can't believe it's May already!
The Blooming Festival is always such a great event for Nashville. Volunteers work so hard to put this event together and it's always exciting to see how it all comes together.

More ...
Amanda Clark
GUEST EDITORIAL: Finding our Rural Voice


"This county is my heart and soul. I am here because I chose to be here. I've made my home here, raised my family here, and I'm going to make every effort to stay."
We heard this inspiring quote on the last day of the Rural Center's Rural Road Trip--a year-long, 80-county adventure to meet with a diverse sample of local leaders in each of the rural counties we serve.

More ...
Patrick Woodie, President of the NC Rural Center
Backward Glances


WAVES OF GREEN - This photo was taken during the Waves of Green in the spring of 1950. The Oak Level Home Demonstration Club members are pictured on a float preparing to ride in the parade. The float was themed yesteryear (1900) and today (1950).

More ...
A PICTORIAL LOOK INTO THE PAST

RED OAK PITCHER TRAVIS GAMACHE

Red Oak Swings Into Title Game


RED OAK -- Everything Kristian Cox touches these days seems to turn into gold -- as in gold medals in the Tri-County Conference.
During the winter sports season, Cox guided the Red Oak Middle School boys basketball squad to a league championship.
Cox is now working his magic with the Tigers' baseball team, which has advanced to the finals of the Tri-County Conference Tournament.

More ...
GEOFF NEVILLE, Graphic Sportswriter

SOUTHERN NASH'S HUNTER ISSETTE

THE CROWN QUEST


STANHOPE -- With star jumper Brandon Richardson unable to compete due to an injury, Northern Nash's expected boys title at the Big East Conference Track and Field Championships was in question -- at least for NNHS head coach Jeff Dodrill.
After crunching some numbers in his head, Dodrill wondered if the Knights, in Richardson's absence, would be able to accumulate enough points to hold off the rest of the field at last Wednesday's event at Southern Nash's Firebird Stadium.

More ...
GEOFF NEVILLE, Graphic Sportswriter

AIR BALL. Nash Central's Lizzie Daniels and Red Oak's Ciara Boone try to gain possession during last Thursday's tie-breaking soccer matchup.

THRILLER IN OT


NASHVILLE -- Red Oak Middle School's girls soccer campaign has come to an end, but the Lady Tigers certainly went out with an emphatic bang.
After tying with backyard rival Nash Central one match apiece in the regular season, the clubs needed a play-in game last Thursday to determine the second seed out of the Tri-County Conference's North Division for the TCC Playoffs.

More ...
GEOFF NEVILLE, Graphic Sportswriter
SN Takes Big East Title


STANHOPE -- Southern Nash High School's young softball team continues to progress ahead of schedule -- and the result has been a Big East Conference Tournament Championship.
After winning the Big East's regular season crown, the Ladybirds made it 2-for-2 for 2018 by defeating Wilson Hunt by a 6-3 margin in last Thursday's tournament title game at Ladybird Field on the SNHS campus.

More ...
Staff Reports
Pirates a winner at Tulane U.


NEW ORLEANS -- Tyler Smith allowed one run over five innings of work and Spencer Brickhouse hit a two-run homer in the first frame lifting No. 12 East Carolina University to a 6-1 baseball win over host Tulane Sunday afternoon at Greer Field inside Turchin Stadium in New Orleans.
With the win, the Pirates complete the series sweep and improve to 33-12 overall and 11-7 in American Athletic Conference action while the Green Wave falls to 22-27 on the season and 7-11 in AAC play.

More ...
Staff Reports
Hunt staged in Nash Co.


NASH COUNTY -- The Pleasants Farmer Hunting Event was hosted by Fellowship Gun Club from April 20-22.
Fourteen soldiers and veterans hunted with guides.
The first gobbler turkey was taken by Matt, a Marine stationed at Camp Lejeune.

More ...
Staff Reports

RED OAK MIDDLE SCHOOL 2018 TRI-COUNTY BOYS CONFERENCE CHAMPS

Red Oak nabs XC titles


RED OAK -- Red Oak Middle School's dominance of the Tri-County Conference cross country scene has been unparalleled -- and continued this spring.
Both the Tigers and Lady Tigers rolled to first--place finishes at the annual TCC Championships, which were held May 1 at the ROMS Course.
In girls action, Red Oak secured the top spot with 41 points -- 18 markers ahead of runner-up Southern Nash.

More ...
GEOFF NEVILLE, Graphic Sportswriter
Mudcats drop slugfest at home


ZEBULON -- The Down East Wood Ducks collected six doubles, a triple and two home runs while totaling 15 hits during a 9-3 series finale victory against the host Carolina Mudcats on Sunday afternoon at Five County Stadium in a Class A Carolina League baseball showdown.
The Mudcats came up one game shy of the sweep with the loss, but ended up with a series victory after taking two of the three from Down East.

More ...
Staff Reports
Worsley sparks Wesley Men to win


ROCKY MOUNT -- Brandon Worsley carried the day for the Wesley Men Thursday night as he struck out 11 Breakfast Optimist hitters on the mound, yielded but 5 hits and walked only one in leading his charges to a 14-3 win in City of Rocky Mont Major League Baseball action.
Tristan Murray (2-4) and Tevin Jones (2-2) led the way from the batter's box with each player scoring a trifecta of runs for the 'Church goers.

More ...
Staff Reports
NASH CO. REC UPDATE


NASH COUNTY -- Here are updated Nash County Recreation & Senior Services spring sports scores:

More ...
Staff Reports
An exciting day at Glover Park


NASHVILLE -- It was another beautiful day at Glover Park this past Saturday for the Town of Nashville Recreation Department's Spring Sports season.
In softball play, George's BBQ Sauce won a hard-fought game by the score of 6-2.
Giselle Barragan tallied her first hit of the year, while continuing to play stellar defense during the impressive victory.

More ...
Staff Reports
AHEAD AT THE CURVE
Northern Nash's Jordan Richardson leads the competition in the Boys 3200 Relay at last Wednesday's Big East Conference Track and Field Championships at Southern Nash.
More ...
BAG SWIPED
A West Edgecombe runner steals second base as Red Oak Middle School's Malik Hill comes up with the throw during Monday's tournament baseball showdown. Homestanding Red Oak was a 10-1 winner in the semifinal game on the ROMS campus.
More ...
BALL CONTROL
Nash Central Middle School's Leticia Vazquez (right) tries to maintain possession while being heavily defended during last Thursday's tournament play-in game against Red Oak.
More ...
LOOSE BALL
A West Edgecombe runner is safe at first base as Red Oak's Seth Williams (middle) and Bryson Jenkins (right) try to come up with the ball during Monday's baseball tourney contest.
More ...
UP AND OVER
Southern Nash's Symia McCalston sails over the bar as part of the Girls High Jump at last Wednesday's Big East Conference Track and Field Championships.
More ...