Subscribe/Access
Advertisements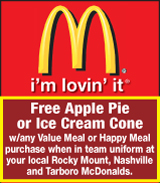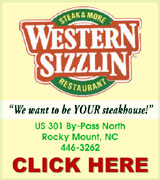 Sections
Member Options
Back

McKenzie Kennedy holds her lamb in position while being judged at the annual Livestock Show and Sale.

Youth compete in livestock show


Nash County youth fared well in the 81st annual Eastern Carolina 4-H Meat Animal Show and Sale, which was held last Tuesday and Wednesday.
Nash youth dominated the steer competition, which was held on Wednesday, April 18.
Caleb LaHay's steer was named Grand Champion in the steer competition, with Lexie Lucas and her steer being named Reserve Champion.

More ...
AMANDA CLARK, GRAPHIC STAFF WRITER
School Board asks for additional funds


The Nash-Rocky Mount Public School System is requesting an additional $1.3 million from Nash County Commissioners in the upcoming budget.
The Board of Education heard the school system's budget request on Monday and again on Tuesday evening during a joint meeting with the Nash County Board of Commissioners.

More ...
AMANDA CLARK, GRAPHIC STAFF WRITER

Nash County Sheriff Keith Stone

Initiative announced to target violent crime, drugs


Robert Higdon, U.S. Attorney for the Eastern District of North Carolina, visited the Helen P. Gay Rocky Mount Historic Train Station in Downtown Rocky Mount on Monday morning to announce a new initiative that will target violent crime and drug dealers.
Higdon's announcement of the "Take Back North Carolina" initiative was one of two stops on Monday.

More ...
AMANDA CLARK, GRAPHIC STAFF WRITER
Drivers needed for disabled veterans


Local veterans are in need of volunteers to help transport them to clinic appointments.
The Disabled American Veterans (DAV) is currently seeking volunteer drivers in the Twin Counties area to help transport veterans to appointments in Greenville and Durham.

More ...
AMANDA CLARK, GRAPHIC STAFF WRITER

Dave Sannes and Mike Pressley, both members of the Joint Veterans Committee of Nash and Edgecombe Counties, raise a flag on Saturday in honor and memory of Samuel Manin Bass.

Flag raised in honor of local veteran


God. Country. Family.
Those were the priorities of Samuel Manin Bass during his time on earth.
The Joint Veterans Committee of Nash and Edgecombe Counties, along with family and friends of Bass, remembered his dedication to his country on Saturday during a special flag raising ceremony in his honor.

More ...
AMANDA CLARK, GRAPHIC STAFF WRITER
Stoney Creek Sewer Outfall Project nears completion


The Town of Nashville is getting closer to completing the largest infrastructure project in town history.
Work is slowly wrapping up on the Stoney Creek Sewer Outfall Project. Ground was broke on the project in July 2017 and is anticipated to be completed no later than July 31.

More ...
AMANDA CLARK, GRAPHIC STAFF WRITER
Plumber assaults local business owner
Police were called to a Nashville business on Friday after a fight broke out.
Nashville Police Chief Thomas Bashore said Mucho Mexico, located at 912 Eastern Avenue, had a plumber come out to the business for some work. Bashore said while the plumber, Donnie Lucas, was doing some work, he inadvertently turned the water off.
More ...
Bissette appointed to Tobacco Trust Fund Commission
Governor Roy Cooper recently announced 44 appointments to various state boards and commissions.
"State boards and commissions provide valuable guidance and oversight on a variety of critical issues, and I appreciate these talented North Carolinians stepping forward to serve," Gov. Cooper said.
More ...
Local teacher selected for Rocky Mount Mills project


A local teacher was among two teachers selected to develop lesson plans about the Rocky Mount Mills.
Renny Taylor, a history teacher at Nash Central High School, and Elijah Kane, a middle school teacher in Edgecombe County, were selected as Teaching Fellows to develop classroom resources and activities for teaching about Rocky Mount Mills in middle and high school classes.

More ...
AMANDA CLARK, GRAPHIC STAFF WRITER
NASHVILLE POLICE REPORTS
INCIDENTS
A larceny of a motor vehicle was reported on 4/16/18 at 110 S Barnes Street
A larceny and assault on a female was reported on 4/16/18 at 222 Richardson Court
More ...
NASH COUNTY SHERIFF'S OFFICE REPORTS
Lost/found property was reported on 4/15/18 at 101 Rose Drive
A possession of a schedule VI controlled substance was reported on 4/15/18 on US 264 Eastbound
An assault on a female was reported on 4/15/18 at 12536 Lee Road
More ...

Timothy Rudd, of Cummins Rocky Mount Engine Plant, also received a special recognition, for wearing the highest heel.

A Walk in Her Shoes!


Believe.
To a survivor of sexual assault, that simple word can make all the difference.
On Saturday, April 14, supporters of My Sister's House gathered on the walking trail across from the Rocky Mount Senior Center to show their support for survivors of sexual assault and to take a "Walk in Her Shoes."

More ...
AMANDA CLARK, GRAPHIC STAFF WRITER
Rocky Mount Middle Honor Rolls
Nash-Rocky Mount Schools has released its Honor Roll lists for the second semester of the 2017-2018 school year.
The following students at Rocky Mount Middle School made the A or A/B Honor Roll.
More ...
Williford Elementary Honor Rolls
Nash-Rocky Mount Schools has released its Honor Roll lists for the second semester of the 2017-2018 school year.
The following students at Williford Elementary made the A or A/B Honor Roll.
More ...
Edwards Middle School Honor Rolls
Nash-Rocky Mount Schools has released its Honor Roll lists for the second semester of the 2017-2018 school year.
The following students at G.R. Edwards Middle School made the A or A/B Honor Roll.
More ...
Livestock Show and Sale pics, 6
Landen Lucas received the R. Sullivan Fisher Award during the 81st annual Eastern Carolina Livestock Show and Sale. Pictured is Lucas, at left, with Linda Fisher, who presented the award.
More ...
Nash County Animal Friends' Notebook


Volunteers. They are like gold. Wish they were a dime a dozen! Then we wouldn't have to worry that we wouldn't have a photographer or a publicist or a transporter or a temporary foster.
Our 2017 Volunteer of the Year, Meagan Asay is one of our wonderful caring folks (pictured on the left). She has been volunteering almost as long as me!

More ...
CAROL VIERELA NASH, COUNTY ANIMAL FRIENDS
Learning from someone else's mistakes


"For what profit is it to a man if he gains the whole world and loses his own soul?" (Matthew 16:26) No one was more prepared to speak about vanity than Solomon. He lived a life chasing all the traps that his money could set for him. After he finally learned that it would get him nowhere, he wrote a book about it and called it "Ecclesiastes."

More ...
MIKE RUFFIN
RED OAK NEWS


The Red Oak High School Alumni Association held its annual Alumni Banquet on Saturday, April 20 celebrating 100 years! Many returned home to share in the celebration and enjoy time with friends and family.

More ...
SUZY PEARCE
Intersections: God and Life


I suspect my preaching and sermon preparation impacts my life more than those in the congregation each Sunday.
I recently preached a message on the subject of sin and my primary text was Psalm 51. The psalm is thought to be written by King David. Now students of the Bible will recall how David had an adulterous affair with a woman named Bathsheba. The story is recorded in 2 Samuel 11-12.

More ...
CARLYLE HALL
Luke's Word for the Week


"God, give me patience and give it to me now!" Ever voiced, or yelled, a prayer like this to the Lord? If you have, you join millions of others who are seeking to follow Jesus, yet trying to figure out this whole thing called patience.
Often times, patience seems to be an elusive part within the fruit of the Spirit that we struggle with on a daily basis.

More ...
LUKE WHITEHEAD
PEACHTREE COMMUNITY NEWS


On a beautiful spring Sunday morning Peachtree folks gathered for worship at the church. The sanctuary flowers were given by Fran and Bobby Bunn in honor of their children and grandchildren. The Adult Choir, under the direction of the pastor, sang "Holy Spirit Medley." Jane May played for the offertory a beautiful arrangement of "Halleluiah."

More ...
BARBARA HARDISON
PASSING THE GAVEL
Janelle Ezzell, at left, Outgoing Worthy Matron of Nashville Chapter #332 Order of the Eastern Star passes the gavel to Beverly W. Whitehurst, at right, Incoming Worthy Matron for 2018-19. Masonic affiliation is required for membership in this organization and meetings are held at the Masonic Lodge in Nashville on Barnes Street. The membership focuses on awarding scholarships, supporting local charities, assisting with disaster relief, etc. during the year.
More ...
Court rules animals do not have property rights


You might have missed the big news: legally, monkeys and other animals cannot sue for copyright protection.
The United States Court of Appeals for the Ninth Circuit -- if that sounds familiar, it's because they often make decisions that seem like monkey business -- actually heard a case brought by a monkey. Well, on behalf of a monkey, anyway.

More ...
Mike Brantley
Loving Jay - Autism Awareness Month
Dear Editor: I am grateful for the fact that my son can ask questions and share his feelings about a matter. I am grateful that the slightest variation causes him to question what or why questions. Sometimes it is irritating. It is difficult for him to make independent selections like the cheapest mustard; somehow, he always goes for the highest price stuff.
More ...
Don't fall for the quick fix on home repairs


Spring cleaning sometimes leads to spring home repairs. Updating or fixing your home can be stressful. There are many decisions to make - and, of course, you want to make sure that any work done on your home is done well and lasts.
Don't let a scam add to your stress. Scammers will often target homeowners to trick you out of your hard- earned money.

More ...
Attorney General Josh Stein
Backward Glances


PEEWEE CHAMPS -- This photo originally published in The Graphic on June 27, 1978.

More ...
A PICTORIAL LOOK INTO THE PAST

SOUTHERN NASH'S THOMAS JEFFREYS

Belmont Tames Big East Golfers


ROCKY MOUNT -- The Big East Conference might have bitten off more than it could chew when it scheduled the league's annual Golf Championships at the difficult Belmont Lake Golf Club just north of North Carolina Wesleyan College.
Belmont Lake is a challenge at any time, and was made even tougher during Monday's 18-hole event when the wind picked up.

More ...
GEOFF NEVILLE, Graphic Sportswriter

NORTHERN NASH HIGH SCHOOL'S NOAH DAVIS

COURT PLAN AT NN


RED OAK -- With so many youngsters on the roster this spring, this was destined to be a rebuilding campaign for the Northern Nash High School boys tennis squad.
The Big East Conference is always unforgiving with the likes of Rocky Mount, Southern Nash and Wilson Fike usually dominating the court proceedings.

More ...
GEOFF NEVILLE, Graphic Sportswriter

These two grapplers work on a tandem technique drill during last Saturday's wrestling camp, which was hosted by Zach Coble at the historic Southern Nash High School Gymnasium in Stanhope.

ZACH'S BIG DAY


STANHOPE -- Zach Coble combined two of his greatest passions to produce one memorable event last Saturday at the Southern Nash High School Gymnasium.
Coble, a senior wrestler at SNHS, is an avid scout who was given a mandatory Eagle Scout project and decided to host a mat clinic at Southern, with the proceeds going to charity.

More ...
GEOFF NEVILLE, Graphic Sportswriter

NASHVILLE ACTION ON TARGET

Nashville standouts in action


NASHVILLE -- Last Saturday started out chilly, but it warmed up and turned into a beautiful day at Glover Park for some ballgames in the Town of Nashville Recreation Department Youth Baseball and Softball Leagues.
Everyone came out ready to play.

More ...
Staff Reports
NC Wesleyan salutes stars


ROCKY MOUNT -- The North Carolina Wesleyan College Department of Athletics celebrated the 2017-2018 season by hosting its 53rd Annual Awards Ceremony on April 17 in Minges Auditorium at the Dunn Center on the NCWC campus.
Coaches, staff and student-athletes came together to celebrate the accomplishments of both individuals and teams from this academic year.

More ...
Staff Reports
COUNTY PARKS & REC RESULTS


NASH COUNTY -- Listed are updated Nash County Recreation & Senior Services Flag Football, Baseball, Softball and Soccer scores from Week 2:

More ...
Staff Reports

BIG CUT. Nash Central Middle School's Connor Whitley delivers a base hit during last Thursday's home baseball victory against league opponent Rocky Mount Middle.

NC'S Early Uprising


NASHVILLE -- It didn't take long to see that last Thursday was going to be a profitable day for the Nash Central Middle School baseball squad.
Hosting Rocky Mount Middle for a Tri-County Conference diamond doubleheader, the Trojans erupted for 15 runs in the bottom of the first inning of the opener en route to securing a twinbill sweep.

More ...
GEOFF NEVILLE, Graphic Sportswriter
Mudcats drop a close matchup to Astros


ZEBULON -- The Carolina Mudcats rallied for a score-tying run in the seventh inning, but Astros third baseman Abraham Toro broke a 1-1 tie in the eighth with a two-run homer while leading visiting Buies Creek to a 3-1 victory over Carolina in the final of a four-game series on Sunday afternoon at Five County Stadium.
Trey Supak started for the Mudcats (9-9) and pitched through the fifth with just one run allowed on five hits.

More ...
Staff Reports
Jones sparks Wesley Men to win


ROCKY MOUNT -- The Wesley Men notched their first win of the young season as they bested the Breakfast Optimist club 8-1 Tuesday night at the RCMT Sports Complex in another chilly, windy late evening game in the city of Rocky Mount Youth Baseball League.

More ...
Staff Reports
A GREAT DAY AT SOUTHERN
A DAY ON THE MAT. Southern Nash High School senior wrestler Zach Coble (front) hosted a mat clinic last Saturday at the SNHS Gymnasium in Stanhope as part of an Eagle Scout project. Hall of Famer Phil Mueller (back row at left) was one of the guest instructors.
More ...
East Carolina sweeps rival Memphis


MEMPHIS, TENN. -- Tyler Smith picked up his sixth win of the season, while Bryant Packard tallied five hits and Dwanya Williams-Sutton collected four for East Carolina University in a doubleheader baseball sweep at American Athletic Conference foe Memphis last Saturday with a pair of 4-2 wins inside FedExPark.
With the sweep, the Pirates improve to 30-9 on the season and 8-4 in league play and the Tigers fall to 13-28 on the year and 1-11 in conference action.

More ...
Staff Reports
EYES ON THE BALL
Northern Nash's Ashton Palmer prepares to hit a forehand at No. 2 Singles during last Thursday's Big East Conference team showdown against Rocky Mount at the NNHS Tennis Courts.
More ...
RIGHT ON TARGET
Northern Nash High School's Lee Casper follows this shot during action Monday afternoon at the annual Big East Conference Golf Championships, which were held at the Belmont Lake Golf Club in Rocky Mount.
More ...
THIS IS GOING TO BE GOOD
Southern Nash's Matthew Shealy follows an approach shot toward the green during Monday's Big East Conference Golf Championships at Belmont Lake Golf Club.
More ...
TOP KNIGHT
Owen Hans has lined up at a high-level singles spot this season for the Northern Nash HS boys tennis squad.
More ...
Nash Arts to feature local artist
Nash Arts will present an art exhibit for the month of May featuring the work of a locally born artist/potter, Pat Alsup Montgomery.
The exhibit and sale will include landscapes of Nash County sites plus pottery designed and made by the artist.
Pat grew up on Red Oak Road outside of Nashville on a tobacco farm.
More ...