Subscribe/Access
Advertisements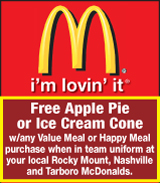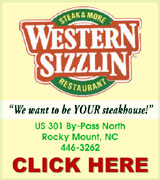 Sections
Member Options
Back

Members of the group who attend programs at the Mount Pleasant Community Center are pictured at the groundbreaking.

Nash breaks ground for senior center


Cephus Ray has appeared before Nash County Commissioners on numerous occasions pleading for senior services in the southern end of the county.
In just a few months, Ray and many others residents in the southern end of the county will get their wish, as a new senior center will open.
A ground-breaking was held for the new Southern Nash Senior Center on Monday.

More ...
AMANDA CLARK, GRAPHIC STAFF WRITER
Drug bust nets multiple arrests
The Nash County Sheriff's Office arrested seven individuals on Sunday at a Rocky Mount motel and charged them with trafficking heroin.
Sheriff's deputies responded to the Super Star Motel at 3226 S. Wesleyan Boulevard on Sunday, April 15 around 7:10 p.m. regarding suspicious activity.
Upon arrival, deputies made contact with seven occupants of a room. The occupants gave consent for deputies to search the motel room.
More ...

GOVERNOR VISITS -- North Carolina Governor Roy Cooper announces "Operation Drive to Live" at a special ceremony at Northern Nash High School.

Gov. Roy Cooper announces teen driving safety initiative at NNHS


North Carolina Governor Roy Cooper returned to his Alma Mater on Friday to announce a special initiative aimed at keeping teen drivers safe.
Cooper announced the annual "Operation Drive to Live" initiative at Northern Nash High School, where he graduated, with Northern Nash students looking on.
The initiative began on Monday and will end on Friday, April 20 but Colonel Glenn McNeill, Jr., Commander of the North Carolina Highway Patrol, said really, efforts will continue until zero lives are lost.

More ...
AMANDA CLARK, GRAPHIC STAFF WRITER
NRMS School Board seeks input


The Nash-Rocky Mount Board of Education is moving towards hosting public informational meetings next month on the potential consolidation of three elementary schools.
The Board of Education, along with the Nash County Board of Commissioners, are looking at the consolidating Cedar Grove Elementary School, Swift Creek Elementary School and Red Oak Elementary School into one, newly built school.

More ...
AMANDA CLARK, GRAPHIC STAFF WRITER

Ty Broom is all smiles as he climbs off a bouncy slide on Saturday at festivities that were a part of Nashville United Methodist Church's Centennial Celebration.

Nashville UMC celebrates centennial


Easter Sunday is always a significant day for churches but in Nashville, Easter Sunday back in 1918 was extra special as the community celebrated the first service in the newly constructed Methodist church.
Today, Nashville United Methodist Church continues to hold services in that infamous sanctuary and this past weekend, celebrated 100 years with special events throughout the weekend.

More ...
AMANDA CLARK, GRAPHIC STAFF WRITER
Early voting starts today


Early voting for Primary Elections is now underway and will go for just over two weeks.
Primary Election Day is May 8.
Early voting began on Thursay, April 19 at 11 a.m. at the Agriculture Center in Nashville and will run through Saturday, May 5.

More ...
AMANDA CLARK, GRAPHIC STAFF WRITER
Library receives grant for computer replacement


Nashville's Cooley Library will be replacing its adult computers in the upcoming budget year, thanks to a state grant.
Library Director Emily Enderle said the library recently received notification it was one of the recipients of the Library Services and Technology Act (LSTA) EZ Edge Technology Grant. The library will receive around $8,000.

More ...
AMANDA CLARK, GRAPHIC STAFF WRITER
Rocky Mount men arrested after chase
Two Rocky Mount men were arrested on Tuesday after trying to run from law enforcement.
Nash County Sheriff's Deputies assigned to the Tar River Regional Drug Task Force were patrolling the Nashville Road area in Rocky Mount around noon on Tuesday, April 17 when they observed two subjects in a vehicle driving aimlessly while stopping at various dirt paths and driveways.
More ...
NASHVILLE POLICE REPORTS
INCIDENTS
A larceny by bypass of an anti-theft device was reported on 4/10/18 at Wal-Mart, 1205 Eastern Avenue
A larceny (shoplifting) was reported on 4/10/18 at Food Lion
More ...
NASH COUNTY SHERIFF'S OFFICE REPORTS
A breaking and entering and damage to personal property were reported on 4/8/18 at 11124 Christian Road
A possession of marijuana was reported on 4/8/18 on US 64 Eastbound at the 453 mile marker
A driving while intoxicated was reported on 4/9/18 at 3176 Southbrook Road
More ...
NRMS announces appointments
The Nash-Rocky Mount Public Schools Board of Education approved Brian Littke as the Director of Transportation on Thursday, April 12, 2018 during the April Board Meeting.
Littke previously served as the Assistant Director of Transportation.
More ...
Rocky Mount seeks applicants for board vacancy
With the appointment of Councilmember Lamont Wiggins as a North Carolina Superior Court Judge, the Ward 3 council seat will become vacant in late April. It is the Rocky Mount City Council's responsibility to fill the Ward 3 vacancy.
Residents of Ward 3 who are registered and eligible to vote may apply to be formally considered for appointment.
More ...
Tar River Academy honor roll list
Nash-Rocky Mount Schools has released its Honor Roll lists for the second semester of the 2017-2018 school year.
The following students at Tar River Academy made the A or A/B Honor Roll.
More ...
Braswell Family Farms expands egg operation
Braswell Family Farms, the second largest Eggland's Best franchisee in the United States, recently announced its first pasture-raised farm.
The farm is located in southern Virginia and is a state-of-the-art facility with one hen house and 21 acres of organic pastureland for hens to roam.
"The creation of our pasture-raised farm allows us to supply a growing area of the egg market that is important to our customers," said President Trey Braswell.
More ...
Winstead Family Skilled Trades Scholarship
The Winstead Family Skilled Trades Scholarship was established at Nash Community College in 2017 by Thomas and Peggy Winstead of Nashville. The scholarship will be awarded annually to recognize students in short-term trades related courses. Students are eligible if they are enrolled in a Continuing Education course that leads to a credential.
More ...
Cancer prevention training


Edgecombe Community College and the Rocky Mount Fire Department partnered in March to provide area firefighters with cancer prevention training. Shown are Tyler Jenkins of the RMFD with Mellisa Wheeler, director of disparities and outreach at the Levine Cancer Institute of Atrium Health in Charlotte. Wheeler led the training.

More ...
1 opinion posted
Nash County Animal Friends' Notebook


I have been lazy about writing. Actually I took a break from volunteering except for some temp fostering. Life intervened. I had been blessed with a husband, Philip, who encouraged me to be engaged in helping the homeless pets of Nash. This note is an ode to him. That is his hand in the photo helping to feed an orphaned pup a few years ago.

More ...
CAROL VIERELA, NASH COUNTY ANIMAL FRIENDS
Luke's Word for the Week


"This is the Word of God, for the people of God...thanks be to God." No matter which worship service it is at Nashville UMC we respond with this historic cry before we sit down after hearing the Word of God proclaimed. It's one of my favorite times of the service and when I'm preaching, it becomes so much more special because I'm reminded that when we preachers, preach, we are responding to the Word of God that has been read from the Bible.

More ...
LUKE WHITEHEAD
Don't judge me yet - there's an unfinished part


Joel Hemphill, a great southern gospel songwriter, wrote a hit song in the 1970's entitled "He's Still Working On Me," The first verse goes like this:
"There really ought to be a sign upon my heart,
'Don't Judge Me Yet There's An Unfinished Part'.

More ...
MIKE RUFFIN
PEACHTREE COMMUNITY NEWS


On a beautiful spring morning, Peachtree folks gathered at the church for worship. Sanctuary flowers were given by Fran and Bobby Bunn in honor of their 53rd wedding anniversary. Special music was a solo by Marta Whitehouse. Other music was played by Mary Jane May.
Pastor Whitehouse's sermon was titled "You Have a Sacred Relationship with the Lord."

More ...
BARBARA HARDISON
Intersections: God and Life


What is a family? There are many different models of family today. For example, there are a growing number of single-parent families and I hear about more and more grandparents taking responsibility for raising their grandchildren.
No doubt, every family is different. But I want to say a little about my family. I want to give a shout out to my grandparents.

More ...
CARLYLE HALL
RED OAK NEWS


Congratulations to Matt and Sarah Pullen on the birth of their son, Brantley Ward! He was born on April 10 weighing 7 pounds. Proud granparents are Mitch and Sylvia Pullen and Peggy Outlaw Webb.
Women in Action of Red Oak Baptist Church met at the church on Thursday, April 12.

More ...
SUZY PEARCE
Local receives scholarship
Malinda Pennington has received the Edna McGuire Boyd Scholarship from the Delta Kappa Gamma Society International.
The honor society for women educators promotes excellence in education and personal and professional growth of women educators, leading in the field of graduate scholarships given to members and emphasizing leadership development for its more than 60,000 members in 17 countries.
More ...
Having a heart is easier than you think


Two years ago this week --Thursday to be exact -- I was lying in a hospital bed in Chapel Hill.
I was dying of liver failure, caused by cirrhosis, caused by Non-Alcoholic Fatty Liver Disease (NAFLD), something almost 25 percent of Americans have. Many of them don't know it.

More ...
Mike Brantley
Don't shoot the messenger, facts are facts


Lately, The Graphic and other media seems to be the scapegoat for a lot of issues going on locally and around the world.
It's easy to blame media and reporters, I suppose.
I will say, as a disclaimer, that the larger news networks are a bit disappointing.

More ...
Amanda Clark
Nash County should be proud of its staff and its citizens


Dear Editor: Time flies and we sometimes are so busy that we don't take the time to thank the people who help us in times of stress. I want to do a shout out to the EMS members of Spring Hope squad for their help with my husband Philip, when he fell, or when he would need transport to the hospital or to be brought home.

More ...
LETTER:
Backward Glances


This week's Backward Glances photos were taken at Momeyer Baptist Church Bible School in June of 1961. (Submitted)

More ...
A PICTORIAL LOOK INTO THE PAST

TWO FOR TANNER. Northern Nash's Grayson Tanner (right) scored twice for the Lady Knights during Monday's home soccer loss against the Bunn Ladycats.

Northern Drops Thriller To Bunn


RED OAK -- With only two victories on the season, the Northern Nash girls soccer squad entered Monday's home meeting with Bunn with the hope of gaining a much-needed triumph.
But Bunn junior forward Rachel Alford had other ideas.

More ...
GEOFF NEVILLE, Graphic Sportswriter

Junior veteran Cameron Johnson is lining up at No. 1 Singles this season for the Nash Central High School boys tennis squad, which is currently undefeated in Eastern Plains Conference action.

CONFERENCE QUEST


ROCKY MOUNT -- Nash Central is ascending to new heights as part of its impressive 2018 boys tennis campaign.
The Bulldogs hoped to compete for a league championship this spring in its first season in the Eastern Plains Conference -- and they have lived up to that expectation to date.

More ...
GEOFF NEVILLE, Graphic Sportswriter

DRAWING A CROWD. Nash Central's Mallory Roughton (right) tries to work her way through the North Johnston defense during last Thursday's soccer match.

EPC EXPERTISE


ROCKY MOUNT -- When Nash Central made the switch to the Eastern Plains Conference before the 2017-18 school year, it was widely thought that a potential girls soccer championship for the Lady Bulldogs would have to work its way through North Johnston.
With that in mind, there was a high level of importance from Nash Central's perspective when they entertained the Lady Panthers for a key EPC matchup last Thursday at the NCHS Soccer Complex.

More ...
GEOFF NEVILLE, Graphic Sportswriter
Northern stopped in league


RED OAK -- After last Tuesday's loss to Rocky Mount, the Northern Nash baseball team was determined to get revenge on the arch-rival Gryphons during the second game of the series last Thursday evening at the NNHS Baseball Complex.
However, the Gryphons had other plan as Rocky Mount toppled the Knights by a 15-0 score in six innings.

More ...
CHANCE PUCKETT, Correspondent
Mudcats fall in road game


WILMINGTON, DEL. -- Keston Hiura had three hits, Clint Coulter reached base safely in all four at-bats and Conor Harber struck out six over four innings in relief, but starter Marcos Diplan walked five while allowing four runs in two innings as the Carolina Mudcats lost 5-1 in Wilmington to the Blue Rocks on Monday night in Class A Carolina League baseball action.

More ...
Staff Reports
NASH REC YOUTH SPORTS


NASH COUNTY -- Listed are updated Nash County Recreation & Senior Services Soccer, Flag Football, Baseball and Softball Scores:

More ...
Staff Reports
NCWC wraps up baseball season


LAGRANGE, GA. -- North Carolina Wesleyan College's run in the 2018 USA South Baseball Tournament came to an end in last Saturday's championship game as LaGrange ended the Bishops' season by a 12-7 score.
Both of Wesleyan's losses came to the Panthers, who clinched their second straight tourney title on their home field.

More ...
Staff Reports

BIG ARM. Carolyn VanHoute of the Paradise Salon team makes a play during last Saturday\'s Opening Day action.

Nashville hosts annual Opening Day


NASHVILLE -- Glover Park sprang to life last Saturday with Opening Day for the Town of Nashville spring sports season.
The day was delayed from April 7 but the enthusiasm and excitement did not wane.
The opening pitch was thrown by James Cooke of LBJ Chevrolet, a long-time sponsor of the league and caught by Council Woman Kate Burns.

More ...
Staff Reports
Pizza Inn gets past Wesley Men


ROCKY MOUNT -- In an affair which looked more like the softball game at the company picnic rather than a little league contest, Pizza Inn "merry-go-rounded" the Wesley Men by a 14-8 count last Thursday evening in City of Rocky Mount youth baseball action.
Parker Sherrod and Parker Gay lead the pizza eaters as they combined for 6 hits and five runs on the night, all the while doing the pitching as well.

More ...
Staff Reports
A KNACK FOR THE NET
Nash Central's Mallory Roughton (right) has been a sophomore scoring sensation this season for the Lady Bulldogs, who are in first place in the Eastern Plains Conference.
More ...
CAN'T BE STOPPED
Nash Central High School senior Linzi Long (right) has been an explosive offensive force during her soccer tenure with the Lady Bulldogs, who are enjoying a strong campaign.
More ...
HOG HEAVEN
Mr. Pig from Piggly Wiggly was on hand to greet youngsters during last Saturday's Town of Nashville Opening Day for spring sports season.
More ...
IN MOTION
Nash Central High School No. 2 Singles standout Isaiah Hernandez unleashes a forceful forehand return as part of last Thursday afternoon's boys tennis match vs. Wilson Beddingfield.
More ...
IN SIGHT
(L to R) Bunn's Kayla Sellars and Northern Nash's Maycee Aycock track the ball during Monday night's non-conference girls soccer showdown on the NNHS campus in Red Oak.
More ...