Subscribe/Access
Advertisements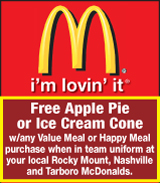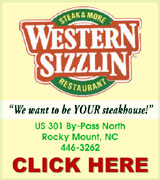 Sections
Member Options
Back
Manager responds to cemetery issue


Nashville Town Manager Hank Raper is disputing claims made at last week's town council meeting.
The family of Carolean Moore Hyde spoke out at last Tuesday night's meeting and said they were treated with disrespect while trying to bury their family member in Forest Hills Cemetery.

More ...
AMANDA CLARK, GRAPHIC STAFF WRITER
Three nabbed for drug trafficking
A joint investigation last week led to the seizure of heroin and cocaine during a traffic stop on I-95.
The Tar River Regional Drug Task Force collaborated with the Nash County Sheriff's Office Highway Interdiction Team, the Wake County Sheriff's Office and the Drug Enforcement Administration on a traffic stop last Thursday, April 5, where a white Hyundai Sonata was stopped for a traffic violation.
More ...
Nash Arts presents local production of "The Fantasticks"


"The Fantasticks" has become the longest running production of any kind in the history of American theatre.
In a few weeks, Nash Arts will bring the production to Nashville.
Pictured (Above): Pictured (L-R) on the back row is: El Gallo, played by Brandon Stephens, Bellamy, played by Dan Fogarty, the mute, played by Kim Baker and Hucklebee, played by Jeff Dodson. On the front row is Matt, played by Patrick Baker and Luisa, played by Allison Baker.

More ...
AMANDA CLARK, GRAPHIC STAFF WRITER
Southern Nash High Showdown is Saturday!


Southern Nash High School will host its Sixth Annual Southern Sizzlin' BBQ Showdown on Saturday, April 14.
The event, which started out as a BBQ Cook-off, has grown over the years to include many other items for the family to enjoy.
The festivities will begin bright and early at 6 a.m. with a yard sale. Biscuits and donuts will be for sale.

More ...
AMANDA CLARK, GRAPHIC STAFF WRITER
Sheriff Stone lobbies for staff pay raises


Nash County Sheriff Keith Stone made an impromptu appearance at last week's County Commissioner's meeting to plead with commissioners to consider his request for a pay raise for certain employees at the Sheriff's Office.
Commissioners met March 28 and 29 for their annual budget retreat, where they went over capital needs as well as personnel requests.

More ...
AMANDA CLARK, GRAPHIC STAFF WRITER
Town of Nashville launches new website


Nashville Town Manager Hank Raper unveiled the town's new website to council members last Tuesday night at the board's regular meeting.
Raper said the new website was launched on Saturday, March 31 and was a project that had been in the works for a while.
"It's been a two year project," Raper said.

More ...
AMANDA CLARK, GRAPHIC STAFF WRITER
Red Oak board hears concerns of litter and traffic


Randolph Lewis, a concerned citizen, addressed the town board of Red Oak during their regular monthly meeting on Monday. Lewis lives on Old Carriage Road between Hunter Hill and Regis Store roads. Lewis said he has lived in the area since 1976 There are two issues on his road that are quite worrisome. First, as he had explained in an earlier letter to the board, drivers are ignoring posted speed limit signs. The speed limit is 45 mph.

More ...
Jessica A. Smith, Graphic Correspondent
NASH COUNTY SHERIFF'S OFFICE REPORTS
A possession of marijuana was reported on 4/1/18 at S Halifax Road and Bethlehem Road
A driving while intoxicated was reported on 4/1/18 at 2181 S Halifax Road
A motor vehicle theft was reported on 4/1/18 at 11270 97 East
More ...
NASHVILLE POLICE REPORTS
INCIDENTS
A larceny (shoplifting), obtaining money/property by false pretense and larceny by bypass of an anti-theft device was reported on 4/7/18 at Wal-Mart, 1205 Eastern Avenue
A possession of marijuana was reported on 4/2/18 at Cross Creek Drive and E. Old Spring Hope Road
More ...
Nash Health opens newly renovated cafeteria
The Courtyard Café, Nash UNC Health Care's newly renovated cafeteria, opened on Sunday, April 8, with expanded menu selections, longer service hours, and a new look.
"We are thrilled to offer our visitors and coworkers a welcoming environment where they can dine, relax and re-charge," said Lisa Whitlock, retail manager of the hospital's Food Services department.
More ...
Local man charged with breaking and entering
A Whitakers man accused of breaking into a home on West Mount Drive was arrested on Monday after trying to pawn the items he stole.
According to the Nash County Sheriff's Office, they were called to a home in the 8600 block of West Mount Drive around 11:30 p.m. on Friday, April 6 in reference to a residential burglary in progress.
More ...
Business and Professional Women donation
Nashville's Business and Professional Women (BPW) recently gave wash clothes to My Sister's House. Members made the wash clothes in the shape of bunnies. Pictured above is BPW member Maryanna Bennett with one of the Easter bunny wash clothes.
More ...
Nashville Chamber of Commerce offers scholarships
The Nashville Chamber of Commerce is accepting applications for its 2018 educational scholarships. The chamber presented two, five-hundred dollar scholarships in 2017. Funding for the scholarships is provided from advertising on the chamber's website.
More ...
Nashville Pack 76 hosts annual Pinewood Derby, pics 1


Pack 76 of Nashville held its annual Pinewood Derby on Saturday, March 10 at Nashville United Methodist Church. Youth participated in several categories, where a winner was named in each and then overall winners named. Pictured above are overall winners (L-R): Jacob Gibson, third place; Joseph Gibson, second place and Aaron Mowatt, first. In the Webelos division, Joseph Gibson won third place, Jacob Gibson won second and Aaron Mowatt won first.

More ...
Contributed photos
Bits and Boots Horse Club hosts first horse camp, pics 1
Megan Godwin (at left) shows Riley Weaver how to brush a horse's leg on Saturday, March 24 during a horse camp, which was hosted by the Boots and Bits Horse Club. The camp allowed families to learn the many aspects of riding a horse, from grooming to saddles to the many different breeds. Horse rides were also available.
More ...
Genuine confession brings divine forgiveness


When the prophet Nathan pointed his finger at David and told him his sins were known by God, it shook him to the core. No longer could he think he could hide the fact that he had committed adultery with Bathsheba and murdered her husband, Uriah. He had foolishly convinced himself that out of sight meant out of mind until Nathan reminded him that God knew his sins, not to mention others who worked and lived close by.

More ...
MIKE RUFFIN
Luke's Word for the Week


Hi Fellow Followers, I'd like to continue our talk about prayer and the work of the Holy Spirit in our prayer life. For that, I'm sharing a snippet of my sermon manuscript used this past Sunday at Nashville UMC.
"The Spirit works in us to apply the life, death, resurrection, and ascension of Jesus into our lives. To restore us to the image of which we were created.

More ...
LUKE WHITEHEAD
PEACHTREE COMMUNITY NEWS


On a chilly but sunny morning, Peachtree folks gathered at the church for worship. Sanctuary flowers were given by Joan and Ray Eason in memory of Elizabeth and Raymond Rackley, Joan's parents.
Beverly Wilson's "Time of Reflection" was about the disciple, Thomas, usually referred to as "Doubting Thomas".

More ...
BARBARA HARDISON
RED OAK NEWS


Welcome to the newest member at Red Oak Baptist Church, Griffin Williams! Griffin is the son of Matt and Allison Williams.
Baptist Men's Day will be Sunday, April 15 at Red Oak Baptist Church. All are invited! This is a great time of worship with the men filling the choir and leading the service. Bill Sheets will be the featured speaker. The day will begin with the Baptist Men's breakfast at 8:30 am.

More ...
SUZY PEARCE
Nash County Blood Drives for April 2018
Saturday, April 14 from 12:30 until 4:30 p.m. at Golden East Crossing Mall, 1100 N Wesleyan Boulevard, Rocky Mount
Tuesday, April 17 from 2 until 7 p.m. at the Red Oak Volunteer Fire Department, 7951 Red Oak Boulevard, Red Oak
Thursday, April 19 from 10 a.m. until 3 p.m. at Nash Health Care Systems, 2460 Curtis Ellis Drive, Rocky Mount.
More ...
Local appointed Superior Court Judge
Governor Roy Cooper recently announced three new appointments to judicial and district attorney positions.
"These North Carolinians bring years of courtroom experience to their appointments," Governor Cooper said. "Their commitment to justice and public service make them valuable additions to our legal system."
More ...
What are we willing to give up for a discount?


Most of you dear readers are probably familiar with the recent news about Facebook and how the social media giant has -- gasp -- essentially been using information about members to make money.
That's right, a company made money.

More ...
Mike Brantley
Nashville citizen addresses concerns of possible tax increase


Open Letter to the Nashville Town Council: It had been my hope to speak publicly at the Town's April meeting but when I called on March 27, I was told in order to be able to speak, I must submit a request in writing at least 10 days prior to the meeting.

More ...
LETTER TO THE EDITOR:
There is still a lot of good stuff happening!


There's some things going on in Nashville that have caught the attention of citizens and others outside the town as well, things that don't really make us proud of our little Mayberry.
It's important that citizens know about these not-so-good issues. The more they are allowed to happen, the more they will happen.

More ...
Amanda Clark
Backward Glances


This photo of the regular season champs, Ward Drug, was originally published in The Graphic on June 13, 1978.

More ...
A PICTORIAL LOOK INTO THE PAST

CLOSE CALL. Southern Nash catcher Elisabeth Collie (left) waits for a relay throw at home plate as Warren County's Kaila Robinson tries to score during last Friday's softball doubleheader in Stanhope.

A SOUTHERN SWEEP


STANHOPE -- Southern Nash softball coach Scott Collie offered a not-so-subtle message to his young team in the top of the first inning of last Friday's home doubleheader against non-league opponent Warren County.
"Wake up!'' Collie shouted as part of a mount meeting after some fielding and mental mistakes by SN had helped lead to an early rally by the Lady Eagles.

More ...
GEOFF NEVILLE, Graphic Sportswriter

ANOTHER RUN SCORES FOR NCHS. Nash Central's Colby Carter scores a run during last week's tournament action.

Central Solid At Tourney


WILSON -- Nash Central High School baseball coach Willie Langley feels like this is the best team he has had to work with during his tenure with the Bulldogs -- though the club's current record might not show it.
Nash Central is 8-7 overall, but the Bulldogs have undertaken a brutal schedule -- by Langley's design -- that has featured dates with the likes of powerhouses South Granville, Greenville Rose, Cardinal Gibbons and North Lenoir.

More ...
GEOFF NEVILLE, Graphic Sportswriter

SWIPE OF SECOND. Nash Central's Zhaterrica Cherry (sliding) steals second base during Monday's road softball victory at Rocky Mount.

WELCOME BACK


ROCKY MOUNT -- Nash Central couldn't have experienced a better welcome back from Spring Break on the softball diamond.
The Lady Bulldogs rolled to a 20-5 triumph Monday at rival Rocky Mount -- and also picked up their first victory of the 2018 campaign in the process.
Central has struggled early in the year and has been mainly undone by one bad inning against an assortment of talented opponents.

More ...
GEOFF NEVILLE, Graphic Sportswriter

NCWC BASEBALLER GARRISON VICK

Bishops swept by Falcons


MISENHEIMER -- The North Carolina Wesleyan College Battling Bishop baseball team wrapped its regular season slate last weekend, suffering a 3-game sweep on the road at Pfeiffer University.
NCWC will now prepare for this week's USA South Conference Tournament in LaGrange, Georgia.

More ...
Staff Reports
Mudcats take two contests


ZEBULON -- Catcher Max McDowell had the lone run-scoring hit in game one and catcher Robie Rojoas had the same in game two as the host Carolina Mudcats edged out a doubleheader sweep of the Dash 5-2 and 2-0 on Sunday afternoon at Five County Stadium in Class A Carolina League baseball action.
The twinbill sweep lifted the Mudcats into a three games to one series victory over the visiting Dash.

More ...
Staff Reports
Nashville ready for Opening Day


NASHVILLE -- The Town of Nashville will host its annual Opening Day for spring sports this Saturday at Glover Park.
The ceremonial first pitch will be held around 9:50 a.m. and will be thrown by 'Mr. Pig' from the Piggly Wiggly grocery store.
Fans are welcome to attend, and there is no charge for admission. Concessions will be available.

More ...
Staff Reports
A BIG HIT
Nash Central High School's Katelyn Pridgen laces a hit during Monday's road victory against Rocky Mount in non-conference softball action.
More ...
MOUND VICTORY
Nash Central's Addie Jones claimed a decision on the hill Monday for the Lady Bulldogs during their road softball triumph against long-time rival Rocky Mount High School.
More ...
SAFE AT SECOND
Southern Nash's Taylor Bailey (top) takes second base for the Ladybirds during last Friday's home softball doubleheader sweep against non-league opponent Warren County.
More ...
STRONG THROW
Southern Nash's Caroline Winstead makes a play at third base during last Friday's home doubleheader against Warren County High School.
More ...
Litter art on display
Litter art, uniquely crafted from recyclables, will be on display through April 29 in the craft gallery at the Maria V. Howard Arts Center located in the Imperial Centre for the Arts and Sciences. Litter art demonstrates the importance of recycling, planting and caring for trees, and not littering.
According to Cornelia McGee, coordinator for Keep America Beautiful (KAB) of Nash and Edgecombe counties, the art was created by students in grades K-12.
More ...