Subscribe/Access
Advertisements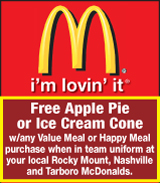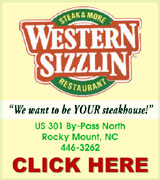 Sections
Member Options
Back
Nash County to consider "In God We Trust" display


Nash County Commissioners are putting together a committee to determine whether county building should have "In God We Trust" on them.
The decision to form a committee came after a presentation from Rick Lanier.
Lanier said he is a former county commissioner in Davidson County, where he served until 2002.

More ...
AMANDA CLARK, GRAPHIC STAFF WRITER
Nashville plans seven cents tax hike


Nashville's Town Council is looking at raising property taxes in the next budget year.
The topic of increasing taxes was discussed during the board's annual budget retreat, which was held on Friday, February 23.
Council members debated whether to raise property taxes by just a few cents or as much as 10 cents but agreed 3-1 to look at raising the rate to 63 cents per $100 valuation, a seven cents increase. Councilwoman Louise Hinton voted against the increase.

More ...
AMANDA CLARK, GRAPHIC STAFF WRITER
Former policeman nabbed for trafficking heroin
A former Nashville Police Officer was arrested on Tuesday afternoon and charged with trafficking heroin.
The Tar River Regional Drug Task Force received information on Tuesday that John Pelham Turner, 32, of 171 Jack Lane, Nashville, would be in possession of two bricks, or 100 dosage units of heroin, operating a white Mercedes Benz in the Red Oak community.
More ...
Lieutenant wins Dancing with 2018 Arts contest


Nash Arts was filled on Friday night with people wanting to get a glimpse of local celebrities dancing to moves they recently learned for the fifth annual Dancing with the Arts.
This year's fund-raising event brought in over $8,000 for Nash Arts.
The dancing competition is based on which celebrity dancer receives the most votes, which are purchased for $1 each.

More ...
AMANDA CLARK, GRAPHIC STAFF WRITER

BARNES
Nash Commissioner files for District 7 House seat
Nash County Commissioner Lisa Barnes is seeking a new public office.
Barnes announced her candidacy on Friday for the North Carolina House of Representatives in District 7, which is comprised of Franklin County and the southern part of Nash County.
More ...

Nash Central Middle School's Living Literature team is pictured with parents and staff at the state convention displaying their first place award.

Living Literature team wins state award


Members of Nash Central Middle School's Living Literature team will once again be competing in the national convention, after winning first place at the state convention recently.
The Living Literature team won second place at last year's state convention.

More ...
AMANDA CLARK, GRAPHIC STAFF WRITER
NCHP investigates two weekend fatalities
The North Carolina Highway Patrol is investigating two separate accidents recently that killed two.
The first accident happened at 12:10 p.m. on Thursday, February 22.
According to a spokesperson with the Highway Patrol, Glenn Williams, 65, was traveling westbound on Bend of the River Road when he traveled left of center and struck two trees. He was pronounced dead at the scene.
More ...
Joint effort leads to arrest of gang members
Multiple gang members were arrested last week as part of a joint effort between the Nash County Sheriff's Office, Edgecombe County Sheriff's Office and Rocky Mount Police Department.
The three agencies, along with the Tar River Regional Task Force, teamed up to execute a search warrant last Tuesday, February 20 at 813 Long Avenue in Rocky Mount.
More ...
NASHVILLE POLICE REPORTS
INCIDENTS
A hit and run was reported on 2/19/18 at the Nash County Courthouse, 222 W Washington Street
A trespassing and larceny was reported on 2/19/18 at Wal-Mart, 1205 Eastern Avenue
More ...
NASH COUNTY SHERIFF'S OFFICE REPORTS
An assault on a female was reported on 2/18/18 at 11257 Cedar Lake Court
A misdemeanor larceny, obtaining property by false pretense and breaking and entering were reported on 2/18/18 at 8606 Norris Avenue
A possession of a firearm by a felon and assault by pointing a weapon was reported on 2/18/18 at 11010 W NC 97
More ...
NC Highway Patrol promotes troopers
The North Carolina Highway Patrol recognized 77 employees on Monday, February 26 for promotions.
The promotions included 10 civilian and 67 sworn members from various sections within the organization.
Sgt. G.E. Rhew, who was stationed with Troop C, District 3 in Wake County, was promoted to First Sergeant and will now be located with Troop C, District 1 in Nash County.
More ...
Operation Cookie Drop
Girl Scout Brownie Cara Cotugno, of Nashville Troop #611, has dedicated her time to raising awareness for Operation Cookie Drop, a community service project that brings Girl Scout Cookies to military men and women deployed away from home. Cotugno spoke to her local fire department and encouraged them to donate $280 to the cause.
More ...
Red Oak bank robbery suspect caught in Kenly
The man who robbed Southern Bank in Red Oak on Friday was apprehended around two hours later in Kenly.
According to the Nash County Sheriff's Office, Michael Scott King, 36, walked into the bank around 2:30 p.m. on Friday, February 23 and handed a teller a note demanding money.
More ...
First place
The Technology Student Association (TSA) team at Red Oak Middle School recently won first place in website design at the STEMEast/NCTSA Eastern Regional Conference. The event was hosted by Lenoir Community College and held on February 16. This is the first year that Red Oak Middle School has had a TSA team. The team is led by Ms. Madeline Cutchin.
More ...
Local TV station announces new ownership
WHIG-TV, a local television station in Rocky Mount, recently announced new ownership.
WHIG-TV, formerly owned by Action Community Television Broadcasting Network, INC., was purchased by RSS Media Marketing, LLC, a new partnership which includes the station President, Sandra Smith. The transition comes just over three and a half years after the death of Herbert Greenberg, the founder of WHIG-TV.
More ...
Rep. Richardson appointed to committee on school safety
Representative Bobbie Richardson was recently appointed to the House Select Committee on School Safety. The bipartisan committee was formed by House Speaker Tim Moore and is made up of House members with backgrounds in education, law enforcement, and mental health policy. Rep. Richardson is a retired Ed.D. educator and administrator.
More ...
Local named legacy student at university
The Bob Jones University Alumni Association recently recognized Andrew Harper, a Junior Information Technology major from Nashville, as a legacy student.
Each year the BJU Alumni Association is pleased to recognize second, third, and fourth generation legacy students. In order to be eligible, students must have at least one parent who graduated from BJU.
More ...
CELEBRATING DR. SEUSS!
Nashville's Cooley Library held a Dr. Seuss Storytime and Birthday Party on Monday, February 26. Area day cares and classes from Nashville United Methodist Church's Weekday School were among those who came out to celebrate Dr. Seuss's birthday. The event included Dr. Seuss stories, some dancing and snacks. Pictured above, Library Director Emily Enderle (center) came dressed as Dr. Seuss to celebrate his birthday. With Enderle, dressed as Thing 1 and Thing 2 are Library Aid Yvonne Thompson (at left) and Dr. Marilyn Jackson (at right), who volunteers with the library.
More ...
Wesleyan named to Transfer Honor Roll
Phi Theta Kappa has named North Carolina Wesleyan College to its 2018 Transfer Honor Roll. The honor roll identifies top four-year colleges and universities that are creating dynamic pathways to support transfer students. This is the college's second consecutive year to receive such acknowledgement.
More ...
ECC announces honors list
Edgecombe Community College recently announced its President's List for the Fall 2017 semester.
Students named to the President's List earned a 4.0 grade point average.
More ...
Luke's Word for the Week


Looking back on those grade school days can be fun for some, while miserable for others. Some of us have fond memories of certain events that have happened, while others prefer to let the past be the past. Often times students have wonderful experiences during grade school because of a certain teacher he or she had. The type of teacher who made learning come alive, the type of teacher who kept your attention.

More ...
LUKE WHITEHEAD
Intersections: God and Life


"One day you will hear that I have died. Don't believe it because I will be more alive than I've ever been." These words spoken by Reverend Billy Graham are extremely powerful, especially since his departure from this world more than a week ago.
Billy Graham, the evangelist known throughout the world, is reported to have spoken to more than 215 million people in his lifetime.

More ...
CARLYLE HALL
PEACHTREE COMMUNITY NEWS


On a beautiful, unseasonably warm Sunday morning, Peachtree folks gathered at the church for worship. Sanctuary flowers were given by Susan and Lawrence Edwards in loving memory of Tom Moorefield and Karen Edwards, their deceased spouses.
The special music was an inspiring solo by Marta Whitehouse titled, "Four Days Late." For the offertory Jane May played a beautiful arrangement of "I'm a Wonder Lord."

More ...
BARBARA HARDISON
The world could take a lesson from Disney


As I write, I am sitting in a hotel room painted 1970s-kitchen-green.
It is a nicer room than I'm used to having as my wife and I travel with three kids. One of us typically ends up on an air mattress or chair, as the hotel industry seems baffled at times with how to accommodate families of five.

More ...
Mike Brantley
Arming teachers isn't the answer to security


Gun control always seems to be up for debate following any type of tragic shooting.
A school shooting in Florida has caused the issue to be heavily discussed just about everywhere you turn.
There's been some chatter about how teachers in all schools should be armed.
I agree.
Teachers should be armed....with pencils, paper, hand sanitizer and open arms for the occasional hug.

More ...
Amanda Clark
Backward Glances


This photo published in The Graphic on April 4, 1978. J.W. Vanhook (right) of Nashville was the lucky customer who received the first piece of birthday cake during the 47th birthday party held at People's Bank in Nashville. Officiating as hostess was Mrs. Bonnie May who was the head teller.

More ...
A PICTORIAL LOOK INTO THE PAST

SOLID CONTACT. Silas Gonzalez has wielded a potent bat during his baseball career at Northern Nash High School.

Gonzalez Going With Air Force


RED OAK -- A great leader who provides oversized contributions both offensively and defensively -- and excels in the classroom.
Certainly, Northern Nash High School senior baseball standout Silas Gonzalez offers an array of plus intangibles.
And when put together, Gonzalez's attributes were in demand by Division I programs, including the one at the Air Force Academy in Colorado.

More ...
GEOFF NEVILLE, Graphic Sportswriter

NORTHERN NASH'S DASHAWN LIGGINS

TOUGH ONE TO TAKE


RED OAK - Back in 2017, Northern Nash's boys basketball season came to an end at the hands of the Eastern Guilford Wildcats in heartbreaking fashion in the Elite Eight of the Class 3-A State Playoffs.
A total 359 days later, the 2018 campaign ended once again in bitter fashion.

More ...
CHANCE PUCKETT, Correspondent

BUNN HS GUARD BUTTERBALL COOKE

Crazy Finish For 'Dogs


BUNN -- Wild. Crazy. Almost beyond belief.
Those are about the best available adjectives to describe last Tuesday's matchup between Nash Central and host Bunn in the opening round of the Class 2-A Girls Basketball State Playoffs.

More ...
GEOFF NEVILLE, Graphic Sportswriter

NC WESLEYAN'S AARON DENTON

Denton is tabbed by Wesleyan


ROCKY MOUNT -- Aaron Denton is coming home -- or at least much closer to home.
Denton, a Bunn High School graduate who went on to serve as the men's basketball coach at Louisburg College, has been selected as the new Vice President and Director of Athletics at North Carolina Wesleyan College in Rocky Mount.

More ...
GEOFF NEVILLE, Graphic Sportswriter
All-Big East club picked


NASH COUNTY -- The Big East Conference girls basketball standings featured a rarity this winter as Nash County's schools went an uncharacteristic 4-5-6 in the standings of the six-team league.
Wilson Hunt and Wilson Fike controlled the regular season action, with Hunt taking first -- just ahead of its crosstown rival.

More ...
GEOFF NEVILLE, Graphic Sportswriter
Cherry earns Player of Year honors


RED OAK -- After his club graduated several key seniors from last year's club, Northern Nash boys basketball coach Henry Drake wondered who would develop into a 'go-to' performer this season for the Fighting Knights.
Senior wing Undray Cherry stepped in and helped fill that role quite nicely as the Knights roared through the Big East Conference toward the league's regular season championship.

More ...
GEOFF NEVILLE, Graphic Sportswriter
Wesleyan campaign wraps up


MARYVILLE, TENN. -- North Carolina Wesleyan College's men's hoops season came to an end last Friday night with a heartbreaking 81-80 loss to Covenant College in the 2018 USA South Conference Tournament semifinal round.
The 3rd-seeded Scots advanced to Saturday's championship on a last-second putback by Caleb Hanes with 0.3 seconds on the clock, finishing out the last two minutes of play with a 7-2 run to upset the top-seeded Bishops.

More ...
Staff Reports
NASH COUNTY REC REPORT


NASH COUNTY -- Listed are updated Nash County Recreation & Senior Services Youth Futsal and Basketball Scores:

More ...
Staff Reports
ALLEN ALWAYS COME THROUGH
Nash Central High School's Robbi Allen (left) had an amazing performance last Tuesday during the Lady Bulldogs' overtime victory on the road against the Bunn Ladycats in the first round of the Class 2-A Girls Hoops State Playoffs.
More ...
INSIDE FACTOR
Northern Nash's Darquez Flowers (with ball) scores in the paint for the Knights during last Thursday's home contest against Fayetteville Westover in the state hoops playoffs.
More ...
Dancing with the Arts, pics 1


Natalie Webb won second place in fundraising at Dancing with the Arts. Pictured with Webb is her dance partner Dee Turner.

More ...
Graphic photos by Amanda Clark