Subscribe/Access
Advertisements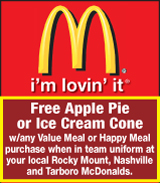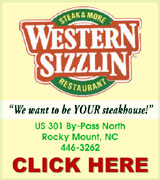 Sections
Member Options
Back

THERE'S ALWAYS HOPE -- Nashville Police Chief Tom Bashore speaks about the HOPE Initiative during a candlelight vigil held Friday night in front of the Nash County Courthouse.

Locals join vigil for HOPE


A few years ago, Heather Moore stood on the steps of the Nash County Courthouse to bring awareness to drug addiction.
Moore was just a mom looking for answers and support.
On Friday night, Moore once again stood on the steps of the Nash County Courthouse but this time was joined by friends, family, law enforcement and others who know firsthand what addiction can do.

More ...
AMANDA CLARK, GRAPHIC STAFF WRITER
Nashville to hold public hearing


The Town of Nashville will hold a public hearing on whether to allow some residential units in the downtown area.
A hearing will be held on Wednesday, February 28 at 7 p.m. in Council Chambers, which is located in Cooley Library at 114 W Church Street in Nashville.
The request is to amend the zoning ordinance requirements to allow some high density residential dwellings in the B-2 Central Business District.

More ...
AMANDA CLARK, GRAPHIC STAFF WRITER
Parks and Rec to offer adult fitness programs
Grant funding will allow the Parks, Recreation and Cultural Resources Department in Nashville to offer adults a new way to stay fit.
An instructor training grant from the National Recreation and Park Association (NRPA) and the Centers for Disease Control and Prevention (CDC) will allow a Walk with Ease (WWE) program to the Nashville community.
More ...
Filing continues for 2018 election


Less than a week remains to file for primary elections in May.
Linda Thorne, who serves as the assistant in the Clerk of Court office, filed last Tuesday, February 14 to run for the Clerk of Court seat.
Thorne, a Democrat, is from the Spring Hope area.

More ...
AMANDA CLARK, GRAPHIC STAFF WRITER
Nash hires new extension agent


Nash County Cooperative Extension recently welcomed a new extension agent.
Regina Moseley started as the Family and Consumer Science Extension Agent on February 1. She will be based in Nash County but will also work in Edgecombe County.
Moseley is no stranger to the area, however. She is a long-time residence of Edgecombe County, residing in Whitakers.

More ...
AMANDA CLARK, GRAPHIC STAFF WRITER
Nash County DSS Director prepares for retirement


In another week, Donna Boone will be enjoying retirement from a 35 and a half year career with the Nash County Department of Social Services.
Boone has led the department for the past three years.
Boone first started her career with Nash County in 1982 when she was hired as a Food Stamp Eligibility Specialist.

More ...
AMANDA CLARK, GRAPHIC STAFF WRITER
Northern Nash High hosts Black History Month celebration
On Wednesday February 28, 2018, Northern Nash High School will be presenting their first ever celebration honoring Black History Month appropriately named In Living Color.
Students school wide and across the curriculum will be presenting, displaying and performing their own tributes to great Black Americans and culture.
More ...
Phil Ford to speak at Chamber Distinguished Citizen event
Phil Ford will return to Nash County on March 1 to serve as the guest speaker for the Nashville Chamber of Commerce's Distinguished Citizen event.
Ford is a Nash County native and former UNC basketball star.
He was the second pick in the NBA draft in 1978 and was named NBA Rookie of the Year with the Kansas City Kings in 1979.
More ...
Tarboro woman killed in accident


A Tarboro woman was killed in an accident on Saturday afternoon on Highway 64.
According to the NC Highway Patrol, a vehicle driven by Victor Lopez Alvarez, 21, of Macclesfield, was traveling east on Highway 64, just a few miles north of Nashville when he ran off the road to the left, over corrected and then ran off the road to the right, striking two trees before coming to rest.

More ...
AMANDA CLARK, GRAPHIC STAFF WRITER
Chamber hosts ribbon cutting for Twin Counties Mattress


Nashville's Chamber of Commerce hosted a ribbon cutting last week for a new mattress business.
Twin Counties Mattress by Appointment opened in June at 107-C West Nashville Drive.
Brad Thayer said the mural on the building at Faith Christian Ministries is what encouraged him to locate the business in Nashville.

More ...
AMANDA CLARK, GRAPHIC STAFF WRITER
Rocky Mount man convicted of weapon charges
Bakari Maurice Teachey, aka "Double R," of Rocky Mount, was recently convicted in a three-day jury trial before Senior United States District Judge W. Earl Britt. The jury found Teachey guilty of three counts of possession of a firearm and/or Ammunition by a convicted felon.
The evidence at trial showed that Teachey pistol-whipped a man on May 9, 2017 at his estranged wife's home, and the victim received medical treatment.
More ...
Blackwell appointed to state advisory board
Governor Roy Cooper recently announced 31 new appointees to various state boards and commissions for North Carolina, including the State Health Coordinating Council, the Minority Health Advisory Council, and the Domestic Violence Commission.
"I'm grateful that these North Carolinians have agreed to serve in these important roles and share their talent to benefit our state," Gov. Cooper said.
More ...
Nash native runs for Beaufort County Sheriff
A Nash County native has filed for a second term as the Sheriff of Beaufort County.
Ernie Coleman, a 1979 graduate of Northern Nash High School, filed last week to run for Sheriff.
"It has been my honor to serve the great citizens of Beaufort County over the past four years," Coleman said in a press release.
More ...
Red Oak receives update on water system


The town board of Red Oak had a full agenda for its regular monthly last Monday.
Robbie Davis, Chairman of the Nash County Board of Commissioners, delivered an update on the water system. The project is on schedule and in the final design stages. In May 2017, the board voted to aid Nash County in funding the construction of the County water system. The project should be completed in late 2019.

More ...
JESSICA A. SMITH, GRAPHIC CORRESPONDENT
Spring Hope considers sidewalks in town


The Spring Hope Board of Commissioners are considering adding sidewalks to high traffic areas within town.
The Congestion Mitigation and Air Quality Improvement Program, or CMAQ, would make it possible for the sidewalks to be built. CMAQ is a program that is through the Federal Highway Administration of the U.S. Department of Transportation which funds transportation projects.

More ...
KENDRA JONES, GRAPHIC CORRESPONDENT
NASHVILLE POLICE REPORTS
INCIDENTS
A larceny was reported on 2/13/18 at 516 Indian Trail
An identity theft was reported on 2/13/18 at 1121 A-Crescent Meadows
A larceny (shoplifting) was reported on 2/13/18 at Wal-Mart, 1205 Eastern Avenue
More ...
NASH COUNTY SHERIFF'S OFFICE REPORTS
A driving while intoxictaed was reported on 2/11/18 at Peachtree and Wilkerson Streets
A financial card fraud was reported on 2/11/18 at 130 N Old Carriage Road
A possession of a schedule II controlled substance, trafficking heroin and possession of marijuana was reported on 2/11/18 at West Mount Drive and Briarwood Drive
More ...
STEP hosts lunch with an engineer
As a continued effort to push work-based learning experiences and to help close the information gap between students, educators and industry, the Strategic Twin-Counties Education Partnership (STEP) sponsored Lunch with an Engineer in traditional Nash-Rocky Mount Public Schools (NRMPS) high schools in November and December 2017. STEP also sponsored a February 2018 Career Connections: Engineering and Advanced Manufacturing event at Nash-Rocky Mount Early College High School (NRM-ECHS).
More ...
Nashville resident selected to compete for Miss Teen title
Hayley Turner, of Nashville, was recently selected to participate in the 2018 Miss Teen pageant competition that will take place on Sunday, February 25, 2018.
Turner learned of her acceptance into this year's competition when the pageant announced their selections following interviewing in the local area. Turner submitted an application and took part in an interview session that was conducted by this year's Pageant Coordinator.
More ...
Intersections: God and Life


As they were going along the road, someone said to him, "I will follow you wherever you go." And Jesus said to him, "Foxes have holes, and birds of the air have nests, but the Son of Man has nowhere to lay his head." To another he said, "Follow me." But he said, "Lord, let me first go and bury my father." And Jesus said to him, "Leave the dead to bury their own dead. But as for you, go and proclaim the kingdom of God."

More ...
CARLYLE HALL
PEACHTREE COMMUNITY NEWS


The weather was bright and sunny as Peachtree folks gathered for worship on Sunday morning. Sanctuary flowers were given by Gene and Marta Whitehouse in memory of Dr. Roy DeBrand, Gene's friend, beloved professor and pastor.
Special music by the Adult Choir, and directed by the pastor, was "I've Been to Calvary". For the offertory Jane May played a beautiful arrangement of "Standing on Holy Ground."

More ...
BARBARA HARDISON
RED OAK NEWS


Several from Red Oak attended the Celebrate Life Banquet on Thursday, February 15 at Englewood Baptist Church in Rocky Mount. Everyone had a great time of fellowship, delicious meal, and wonderful speaker. This year Your Choice Pregnancy Resource Center in Rocky Mount marked 28 years of ministry with featured speaker, Dr. Robert E. Jackson, Jr., of Spartansburg, SC. Dr. Jackson speaks frequently for the pro-life movement and has authored a book, "The Family Doctor Speaks: The Truth About Life."

More ...
SUZY PEARCE
Luke's Word for the Week


"We are all traveling toward death" said the Father of Methodism, John Wesley (this is a great way to start an article off, right?) As we are in the thick of lent, it's important for us to move deeper in our relationship with God than merely giving up chocolate or sweet tea. While those might be admirable acts during these 40 days, there are much deeper depths we must dive towards if we are going to truly go down this road of knowing Christ.

More ...
LUKE WHITEHEAD
115th Anniversary
Bethel Heroes Chapter 636, UDC celebrated its 115th Anniversary. Pictured, Margaret McIntyre Sink, a 35-year member, holds the original Charter and a special gavel, which was carved by John D. Christian, a Confederate Veteran from Virginia. He used a red dogwood tree found on the Big Bethel Battlefield, Bethel Church, Virginia. The Chapter was named for this Battle to honor the men from Nash and Edgecombe Counties who were involved in the conflict.
More ...
Nursing Department earns 2017 NCC Pride Award
Nash Community College President Dr. Bill Carver, during the NCC Employee Recognition Ceremony, awarded the Nursing Department the 2017 Pride Award. Each year, the Pride Award honors a full-time employee or group of employees.
The department was selected for demonstrating a high level of service, commitment, and perseverance.
More ...
Chowan University Honors List
Chowan University announced the President's and Dean's List honorees for Fall 2017.
Students who receive President's list have achieved a grade point average of 3.8 or better for the semester. Those who have attained a grade point average between 3.25 and 3.79 for the semester are awarded Dean's List honors.
More ...
Happy birthday BPW!


Nashville's Business and Professional Women (BPW) celebrated a birthday this week.
I joined the organization a few years ago and haven't regretted a day of it !
BPW is really one of the only organizations I've been able to stick with after having kids. Free time is hard to come by at the moment and the members of BPW understand that.

More ...
Amanda Clark
Is it time to stop talking and literally do something about gun violence?


Dear Editor:
Here are a few 2018 statistics from The Trace, a nonprofit news organization dedicated to expanding coverage of guns in the U.S.
7,036 -- the number of gun violence incidents this year through Saturday, Feb. 17. (Source: http://www.gunviolencearchive.org/)
1,939 -- the number of deaths this year

More ...
LETTER TO THE EDITOR
Backward Glances


This photo originally published in The Graphic on February 23, 1978. The JC's, sponsored by the Nashville Jaycees, posted a 13-1 regular season record to take the regular season championship of the Nashville Little League basketball program.

More ...
A PICTORIAL LOOK INTO THE PAST

NORTHERN'S JOSEPH CHERRY-BLUE

THE PERFECT FINISH


ROCKY MOUNT -- Last Tuesday night, the Northern Nash Knights were up 14 points at halftime at Wilson Fike and feeling good about themselves.
In what seemed to be the blink of an eye, the Golden Demons had made it a one-point game with less than one minute to go in Big East Conference boys basketball action.

More ...
CHANCE PUCKETT, Correspondent

Members of the Red Oak Middle School boys basketball team celebrate after wrapping up the championship of the annual Tri-County Conference Boys Basketball Tournament.

Super 6th For ROMS


RED OAK -- Red Oak Middle School used plenty of late-game magic as part of its monumental run through the 2017-18 boys basketball season.
That wasn't about to change in the most important game of the campaign.
Trailing in the closing minute of last Thursday's meeting at Forest Hills Middle School in Wilson in the Tri-County Conference Tournament Championship, the Tigers rallied and were able to secure a hard-fought 53-50 decision over the hosts in the title showdown.

More ...
GEOFF NEVILLE, Graphic Sportswriter

NASH CENTRAL'S TIM BRIDGERS (RIGHT)

SECOND TO ONE


FARMVILLE -- Nash Central didn't quite know what to expect on the boys basketball hardwood when the Bulldogs made the move this season to the Class 2-A Eastern Plains Conference.
But one thing has pretty much been established through the years, and that Farmville Central will inevitably be at or near the top of the EPC standings.

More ...
GEOFF NEVILLE, Graphic Sportswriter
Mudcats will host tryouts


ZEBULON -- The Carolina Mudcats will hold open tryouts for National Anthem singers on March 10 from 10 a.m.-Noon at Five County Stadium in Zebulon.
Registration begins at 9:30 a.m. on the Highway 264, third base side of the stadium.
Auditions will be held on a first-come, first-served basis.

More ...
Staff Reports
State opens with sweep


RALEIGH -- The 13th-ranked North Carolina State University baseball team opened the 2018 season with a doubleheader sweep against the Seton Hall Pirates last Friday afternoon at Doak Field at Dail Park on the NCSU campus.
The Wolfpack won the first game of the day, 8-4, before taking the nightcap by a final score of 3-1.

More ...
Staff Reports
Patriots looking for a solid year


ROCKY MOUNT -- For the past several years, the expectation level within the Faith Christian School baseball program has skyrocketed -- and culminated with last season's North Carolina Independent Schools Athletic Association Class 2-A State Championship.
But just because that long-time lofty goal was achieved doesn't mean the annual outlook of the program will change.

More ...
GEOFF NEVILLE, Graphic Sportswriter

NORTHERN NASH'S KYLAR WIGGINS (LEFT)

Campaign concludes for the Lady Knights


ROCKY MOUNT -- Coming off of a tough loss to Wilson Fike last Tuesday, Coach Grover Battle's Northern Nash Lady Knights knew one thing.
In order to be guaranteed a playoff spot, they would have to go on the road, and beat their arch-rival Rocky Mount in last Thursday's regular season finale.
However, despite leading for most of the game, and holding a one-point with less than 20 seconds to go, Northern would drop a heartbreaking 31-30 loss to the Lady Gryphons.

More ...
CHANCE PUCKETT, Correspondent
NASH CO. REC UPDATE


NASH COUNTY -- Here are updated Nash County Recreation & Senior Services Futsal and Basketball Youth League Scores:

More ...
Staff Reports
NCWC closes out regular season


ROCKY MOUNT -- The North Carolina Wesleyan College men's basketball team wrapped up its regular slate last Saturday, falling to Pfeiffer University in Everett Gym on the NCWC campus.
Prior to tip-off, the Bishops honored their two seniors: Adrian Moore and Malique Judd.

More ...
Staff Reports
Squads entered in The Brittany


WILSON -- One of the state's most prestigious prep soccer events will once again boast a heavy Nash County flavor.
Six county squads will be in action March 9-10 at the 14th annual The Brittany Girls Soccer Showcase at the Gillette Park Soccer Complex in Wilson.
Participants from Nash County will be Rocky Mount, Southern Nash, Rocky Mount Academy, Northern Nash, Nash Central and Faith Christian.

More ...
GEOFF NEVILLE, Graphic Sportswriter
GREAT HUSTLE
Northern Nash's Shamiya Mercer (right) drives for a loose ball during last Tuesday night's Big East Conference girls basketball showdown against the homestanding Wilson Fike Lady Demons.
More ...
INSIDE JOB
Northern Nash's Davontae Wiggins (with ball) works in the paint for the Fighting Knights during last Tuesday night's road conference decision against the Wilson Fike Golden Demons.
More ...
TAYLOR TALKS IT OVER
Nash Central High School boys basketball coach Renny Taylor (center) discusses strategy with his club during last Friday's meeting with host Farmville Central in the championship game of the Eastern Plains Conference Tournament.
More ...
Dancing with the Arts is Friday


The Fifth Annual Dancing with the Arts competition is set to take place on Friday, February 23 at Nash Arts.
Eight local residents will take to the stage to compete for the dancing title.
This year's competition is a bit different than in year's past, said Shelly Gray, Nash Arts Director.

More ...
AMANDA CLARK, GRAPHIC STAFF WRITER
Festival of Cultures is March 3rd
When it comes to diversity, the International Festival Cultures is an event rivaled by few others. Sponsored by the Martin Luther King, Jr. Commission, the city of Rocky Mount, Nash Community College, PNC Bank, Nash UNC Healthcare, Cummins Rocky Mount Engine Plant, Rocky Mount Mills and Movin' 99.3, the annual celebration serves to highlight the variety of ethnic communities that call Rocky Mount home.
More ...