Subscribe/Access
Advertisements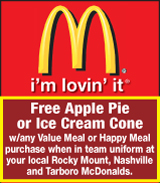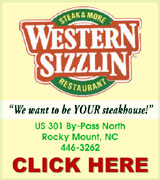 Sections
Member Options
Back
Joyner named fire chief


A long-time member of Nashville's Fire Department was recently hired as the new fire chief.
Nashville Mayor Donald Street announced the hiring of Chris Joyner on Tuesday night at the board's regular meeting.
Joyner has been with Nashville's Fire Department since 1997. He started off part-time with the department.

More ...
AMANDA CLARK, GRAPHIC STAFF WRITER
HOPE Initiative celebrates two years


Being able to help just one person win the war against a substance abuse disorder would make the HOPE Initiative worth it for Nashville Police Chief Tom Bashore.
But, since its inception in February 2016, the HOPE Initiative has helped a lot more than one person.
So far, there have been over 320 participants seeking help in the HOPE Initiative.

More ...
AMANDA CLARK, GRAPHIC STAFF WRITER
DADDY DAUGHTER DANCE
DANCING THE NIGHT AWAY -- Nash County Recreation and Senior Services hosted its 11th annual Daddy Daughter Dance on Saturday night, February 3 at the Nash County Ag Center. Girls ages five to 12, along with a male family member, came out to enjoy food and a night of dancing. Pictured is Lyndell Williams, at left, with his daughter, Trinadi Williams, 6, at right, dancing at the Daddy Daughter Dance.
More ...
Mural to be replaced at Faith Christian


Faith Christian Ministries is working hard to replace its well-known mural that was recently damaged by weather.
The mural, titled "Hands of Christ Reaching Out to All," was placed on the side of Faith Christian Ministries' downtown building in 2013.
The mural was originally designed by prisoners at Nash Correctional Institute and then made digitally into a 24X15-foot flex face banner that was mounted with a frame system on the side of the building.

More ...
AMANDA CLARK, GRAPHIC STAFF WRITER
Local is NC Distinguished Citizen


A Rocky Mount teen was recently named the North Carolina Distinguished Young Woman and will represent the state in June at the national competition.
Kennedy Miller received the honor on January 27 in Greensboro during the state's Distinguished Young Women program, a national scholarship program.
Miller, a senior at Faith Christian School, was able to compete in the state competition after being named the Distinguished Young Woman of Rocky Mount for 2018 in September.

More ...
AMANDA CLARK, GRAPHIC STAFF WRITER

Marion Barnes and Danny Talbott (L-R) stand in front of the new Danny Talbott Cancer Center.

Nash UNC celebrates new cancer center


The Danny Talbott Cancer Center officially opened with a ribbon-cutting ceremony on February 1 on the Nash UNC Health Care campus.
Named in honor of Rocky Mount's athletic legend and cancer survivor Danny Talbott, the 11,000-square-foot facility now houses all services under one roof -- diagnostic imaging, radiation therapy, and infusion therapy, hospice and palliative care, navigation, nutrition support, financial counseling, genetic counseling, clinical research, and social work services.

More ...
AMANDA CLARK, GRAPHIC STAFF WRITER
Piggly Wiggly celebrates grand opening


Almost a month after opening, Piggly Wiggly of Nashville held its grand opening celebrations last Wednesday.
Nashville's Chamber of Commerce joined the grocery store for a ribbon cutting.
Scott Dunn, owner of Piggly Wiggly of Nashville, said the store has stayed busy since its "soft opening" on January 10 at 731 East Washington Street, where Just Save wa previously located.

More ...
AMANDA CLARK, GRAPHIC STAFF WRITER
Diabetes prevention program offered
The Nash County Health Department and the YMCA are offering a Diabetes Prevention Program to the community, thanks to regional Obesity, Diabetes, Heart Disease, and Stroke Prevention grant funding.
The program will be launched in February.
More ...
Nash Heart Center to host Health Heart Fair
February is American Heart Month and the Nash Heart Center is hosting a Healthy Heart Fair on Saturday, February 10, from 10 a.m. until noon in the lobby of the Nash Heart Center on the Nash UNC Health Care campus. The public is invited to this free event, and the first 100 visitors will receive free lipid/glucose testing.
More ...
Career and Technical Showcase is Feb. 27th
Nash Community College (NCC) and Nash-Rocky Mount Public Schools (NRMPS) will host sixth through twelfth grade students and their parents at the ​Ninth Annual Career & Technical Education Open House on Tuesday, February 2​7​ from 5:30 to 7:30 p.m. in the NCC Business and Industry Center. The event is free and open to the public.
More ...
No business on agenda for Castalia monthly meeting


The town board of Castalia called their regular monthly meeting to order on Tuesday at 6:03 pm. The meeting adjourned at 6:10 pm.
There was no unfinished business and no new business.
The mayor mentioned that registration is now open for the County's flag football program, which will begin in March with games taking place in the Castalia park.

More ...
JESSICA A. SMITH, GRAPHIC CORRESPONDENT
Nashville Police Dept. Reports
INCIDENTS
A damage to property (vandalism) was reported on 1/30/18 at Southern Bank, 209 S Barnes Street, in the parking lot
An obtaining money/property by false pretense was reported on 1/31/18 at Wal-Mart, 1205 Eastern Avenue
More ...
Nash County Sheriff's Office Reports
A possession of marijuana and possession of drug paraphernalia was reported on 1/28/18 at 8353 Red Oak Boulevard
A criminal damage to property was reported on 1/29/18 at 6446 Southern Nash High Road
Found narcotics was reported on 1/29/18 at 7100 S Old Carriage Road
More ...
HOPE, Anchor Holds to host candlelight vigil February 16
The Anchor Holds and HOPE Initiative will join together to host a candlelight vigil at the Nash County Courthouse on February 16.
The vigil is being held to bring awareness of the opioid epidemic to the public, reduce the stigma associated with substance use disorders and to celebrate the successes of those who have entered into recovery.
More ...
Cooley Library offers "Blind Date with a Book" through February


Cooley Library is offering book lovers a special Valentine treat this year.
Between now and February 14, the library will offer a "Blind Date with a Book."
As part of "Blind Date with a Book," patrons can pick up a wrapped book at the library to take home.

More ...
AMANDA CLARK, GRAPHIC STAFF WRITER
NRMPS Board announces new, improved traditional calendars


The Nash-Rocky Mount Board of Education approved new traditional calendars that will have high school students taking exams before Christmas break.
The 2018-2019 and 2019-2020 was a topic of concern at last month's meeting, when board members questioned state requirements that forced many school systems to have exams after Christmas break.

More ...
AMANDA CLARK, GRAPHIC STAFF WRITER
Arrington earns Gold Award
A local scout was recently awarded one of the most prestigious awards in Girl Scouts.
Tyasha Arrington, of Rocky Mount, earned the Girl Scout Gold Award, which is presented to less than six percent of girl scouts annually. Arrington joins generations of young women who have earned their Girl Scout Gold Award while making a difference in their communities both locally and globally.
More ...
VOLUNTEER OF THE YEAR
Coopers Ruritan President Steve Williams (at left) presents a 2017 Volunteer of the Year Award to Donald Raynor, at right, at their December meeting. Raynor was recognized for his many hours and miles delivering BBQ plates, selling plates, assembling plates and helping whenever the club needs him.
More ...
DONATION
The Coopers Ruritan Club presents a donation to My Sister's House at their regular meeting in December. Pictured is Emily Lemus, Executive Director of My Sister's House, at left, with Gail Walker, at right, of the Coopers Ruritan Club.
More ...
DONATION
Gail Walker, at left, of the Coopers Ruritan Club, presents a donation to Jim Boehm, at right, of the American Legion Post 110. The Coopers Ruritan Club presented donations to two local organizations during their December meeting.
More ...
Nashville resident graduates from University of Alabama
Samuel Smith Lane, of Nashville, received a Bachelor of Science in Human Environmental Sciences from the University of Alabama (UA).
UA awarded some 2,077 degrees during winter commencement on December 16.
Lane was also named to UA's President's List for fall 2017.
More ...
Rocky Mount woman is first $1 million lottery winner of 2018
Marion Nellum, of Rocky Mount, the first $1 million winner of 2018, said her win means her dream of a cross-country train trip can come true.
"I've always wanted to take a train trip across the country," Nellum said. "Now I can!"
Nellum's good fortune happened when she stopped by the EP Mart on Benvenue Road in Rocky Mount the Saturday before Christmas and bought a $10 Big Money Super Ticket.
More ...
Competing
Nash County had a junior team and a senior team competing at the 2018 NC Junior Hereford Association Judging Contest, which was held on January 27 in Raleigh. As part of the contest, youth have the opportunity to evaluate cattle, sheep, pigs and goats.
More ...
New Department of Revenue office opens in Rocky Mount
The North Carolina Department of Revenue's Rocky Mount service center opened to the public on Monday, January 29 at 793 Country Club Drive.
Taxpayers can visit the service center to respond to an audit, file and pay taxes, obtain tax forms or meet with an NCDOR representative.
The agency's previous location was at the Edgecombe County Industrial Incubator on Fountain Drive.
More ...
NRMPS recognized for PBIS
Nash-Rocky Mount Public Schools (NRMPS) was recognized at the annual Positive Behavior Intervention & Support (PBIS) State Ceremony in Greensboro on November 14, 2017.
Southern Nash Middle was awarded Exemplar Recognition.
More ...
New members
New members recently joined the Mu Chapter of Delta Kappa Gamma International Society for Women. They are pictured (L-R): Brandi Simonof, a science teacher at Southern Nash High School; Catherine Melle, also a science teacher at Southern Nash High School; and Debbie Viverette, a social studies teacher at Rocky Mount Academy. The Delta Kappa Gamma Society International promotes professional and personal growth of women educators and excellence in education.
More ...
Luke's Word for the Week


Greetings fellow follower of the Way! Valentine's Day has never been something important in my life and praise be to God, it's never been something to get excited about even in the life of our marriage (we both feel this way). When a celebration becomes so divorced from what the person (Saint Valentine) stood for, it usually causes me to step back and politely say, "no thank you."

More ...
LUKE WHITEHEAD
Intersections: God and Life


Words make a difference. As a pastor I want Christ to speak His truth through me. Often someone will approach me to let me know that they remember something I've said. I've also had people approach me to share something I said months ago. It's truly incredible what you and I remember.
On last Sunday night, Castalia Baptist Church welcomed the Watchman Quartet. Most of the songs I knew.

More ...
CARLYLE HALL
RED OAK NEWS


It was a big weekend for the youth of Red Oak Baptist Church! They enjoyed a ski trip and returned home Sunday afternoon. Then they came back together that evening at the home of Nate and Jordan James for a Super Bowl party.
Register now for the Mother/Daughter Overnight Camp sponsored by the North Roanoke Baptist Association WMU! The deadline for registering is February 12.

More ...
SUZY PEARCE
PEACHTREE COMMUNITY NEWS


It was a cold drizzly morning as Peachtree folks gathered at the church for worship. This was the 209th birthday of the church. The first meeting of it as an organized church was Feb 4, 1809. Sanctuary flowers were given by Beverly Wilson, in honor of the occasion.
For the offertory Jane May played a beautiful arrangement of "Be Still My Soul" on the piano.

More ...
BARBARA HARDISON
Former Graphic writer earns national media award
Rocky Mount native Clifton Barnes, who worked for The Nashville Graphic in high school and after graduation from college in the 1980s, has won a national social media award.
A series of UNC Tar Heels game blogs during the NCAA Tournament won an Award of Excellence from the DC area-based Communications Concepts through its 2017 Awards for Publication Excellence competition.
More ...
Educators renew National Board Certified Teacher status
A total of nine Nash-Rocky Mount Public Schools (NRMPS) educators recently renewed their National Board Certified Teacher (NBCT) status with the National Board for Professional Teaching Standards (NBPTS). NBCT is the highest credential in the teaching profession and the most rigorous performance-based assessment for teachers.
More ...
Tar River Academy holds mid-year commencement
A total of 26 Tar River Academy (TRA) seniors graduated on Friday, January 26, 2018 during the mid-year commencement ceremony held in the school's auditorium. Members of the Winter Class of 2018 have various plans after TRA, as 19 will attend two-year colleges, two will enlist in the military and five will enter the workforce. Keylizha Anthony was the class Valedictorian and Micah Hill was the Salutatorian.
More ...
Proclamation
Mayor David Combs presented a proclamation to the members of the Rocky Mount Alumnae Chapter of Delta Sigma Theta Sorority, Inc. proclaiming Jan. 13, 2018 as Delta Day in the City of Rocky Mount.
More ...
Emotional support animals might be a sign


Call me insensitive if you like (it's happened), but I'm just going to say it: if your life is in such a state that you can't travel or function in the world without your emotional support peacock, you might ought to consider staying at home.
A "performance" or "conceptual" artist who goes by the name Ventiko recently tried to board a United Airlines flight with her peacock.

More ...
Mike Brantley
Celebrating the good days, coping with the bad


There are several dates in the file cabinet of my brain that I will always remember.
Some are good.
The day Allen and I started dating (November 27, 2001 in case he's reading this).
The day Allen and I married (March 27, 2004).

More ...
Amanda Clark
Backward Glances
VOCATIONAL EDUCATION WEEK - This photo was originally published in The Graphic on February 14, 1978. Representatives of vocational clubs at Northern Nash High School get ready for National Vocational Education Week.
More ...

MALCOLM FOR AN OPENING. Southern Nash's Jalen Lucas (left) drives during last Wednesday's boys hoops victory at Wilson Fike.

Southern Surging In Big East


WILSON -- Few teams cherish their status and being an overlooked underdog like the Southern Nash Firebirds.
Just about every year, Southern Nash's name is never mentioned in the preseason as a possible favorite in the Big East Conference boys basketball standings.
Maybe it's the fact that the Firebirds have developed a well-earned reputation in recent years for being a football powerhouse.

More ...
GEOFF NEVILLE, Graphic Sportswriter

MALCOLM MAKES IT HAPPEN. Northern Nash's Malcolm Wade tries to clear a height in the boys high jump competition during last Saturday's track and field event at Franklinton High School.

THE FINAL CHANCE


FRANKLINTON -- Thanks to a familiar face, indoor track and field is enjoying a renaissance period at Northern Nash High School.
Back in the 1990s, Jeff Dodrill oversaw the indoor program, and even guided the Knights to a state championship in 1994.
Dodrill stepped down from his position in the early 2000s, and commitment to the program has been hit-or-miss since then, depending on the coaching staff.

More ...
GEOFF NEVILLE, Graphic Sportswriter

NN'S HANNAH EVANS

THE AVENGERS


FRANKLINTON -- The Big East Conference's girls basketball standings have become a jumbled mess -- thanks in part to league newcomer Franklinton.
During the early portion of the Big East schedule, FHS dropped heartbreakers at Rocky Mount and Northern Nash -- only to avenge those setbacks in convincing fashion the second time around.

More ...
GEOFF NEVILLE, Graphic Sportswriter

RED OAK'S JORDAN BATTLE

Red Oak tops the division


ROCKY MOUNT -- For the second consecutive year, the Red Oak Middle School Tigers have finished off a perfect regular season schedule in boys basketball action.
But the fun might just be starting for the Tigers, who are now two postseason victories away from securing yet another Tri-County Conference Hoops Championship.

More ...
GEOFF NEVILLE, Graphic Sportswriter

SN'S STACIE WINNER

SN stopped by Demons


WILSON -- It is simply too early in the rebuilding phase of the Southern Nash girls basketball program to gauge progress in the form of wins and losses.
Still, that doesn't mean the setbacks aren't painful, especially when the winless Ladybirds have dropped their share of tight contests during the 2017-18 season.
Southern Nash had certainly had its chances, and Coach Jordan Bass' young club has spurts of dominance during particular outings.

More ...
GEOFF NEVILLE, Graphic Sportswriter

TAKING THE BASELINE. Franklinton's Kalib Matthews drives past Northern Nash's Maliek Dawes during last Friday night's Big East Conference basketball game.

NN's Close Call


FRANKLINTON -- Coming into last Friday night, Northern Nash boasted a 17-1 record, and Franklinton sat at 2-14 during the 2017-18 boys prep basketball campaign.
While looking at the records, one might've expected a blowout heading into the competition.

More ...
CHANCE PUCKETT, Correspondent
NC Wesleyan sprints past Berea


ROCKY MOUNT -- Junior Robert Wilson notched his sixth double-double of the season last Saturday afternoon, helping his North Carolina Wesleyan College men's basketball team secure an 82-62 victory over Berea College in Everett Gym on the NCWC campus.
Wilson poured in 19 points and grabbed 10 rebounds to help the Bishops move to 12-9 overall, 10-3 in USA South Conference action.

More ...
Staff Reports
A Huge Victory


ROCKY MOUNT -- Round and round the standings go in the topsy-turvy world of the Tri-County Conference North Division.
Where they will end up, nobody knows.
Heading into the final few days of the regular season, three teams -- Parker, Nash Central and Red Oak -- are competing for two playoff spots in the North Division girls basketball standings.

More ...
GEOFF NEVILLE, Graphic Sportswriter
Southern takes cheer crown


ROCKY MOUNT -- Southern Nash claimed the top spot in the varsity category at the recent Big East Conference Cheer Competition Championships at Rocky Mount High School.
The title-winning Firebirds, coached by Ashley Bass, were followed by (in order) Franklinton, Wilson Fike, Wilson Hunt, Rocky Mount and Northern Nash.

More ...
Staff Reports
NASH COUNTY REC UPDATE


NASH COUNTY -- Here are updated Nash County Recreation & Senior Services Youth Futstal and Basketball Scores:

More ...
Staff Reports
NCWC receives accreditation


ROCKY MOUNT -- North Carolina Wesleyan College's Exercise Science program has received national accreditation.
This prestigious recognition demonstrates the quality of the college's program and assurance of a demanding program of study for graduates and prospective employers.

More ...
Staff Reports
Mudcats tickets are now on sale


ZEBULON -- The Carolina Mudcats have announced that individual game tickets for the upcoming 2018 season, featuring a fully revamped weekly theme night calendar, nine souvenir giveaways, four themed game jerseys, two Dirty Dogs Spa Bark in the Park games and 15 total fireworks nights, are now available for purchase online at www.carolinamudcats.com and at the Five County Stadium front office.

More ...
Staff Reports
GOING UP?
Red Oak Middle School's Xavier Whitaker (left) prepares to elevate for a basket during Monday's Tri-County Conference boys basketall triumph at Parker Middle in Rocky Mount.
More ...
PAINT PRESENCE
Kristian Johnson (right) scores inside for Northern Nash during last Friday's game at Franklinton.
More ...
RIGHT BY YA
Northern Nash's Markela Avent (right) drives toward the basket for the Lady Knights during last Friday night's Big East Conference girls basketall meeting at host Franklinton.
More ...