Subscribe/Access
Advertisements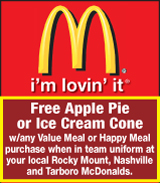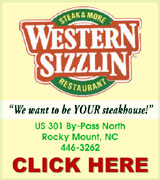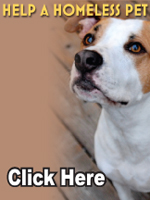 Sections
Member Options
Back
Christmas decorations under fire


Nashville's new Christmas decorations are causing quite a stir among residents.
The new decorations were installed last week in the downtown area. The new decorations were part of projects funded through an additional ten cents tax that was levied to the Municipal Service District.

More ...
AMANDA CLARK, GRAPHIC STAFF WRITER

Curtis Lee Thorne
NPD nabs two in theft ring
The Nashville Police Department arrested two men and charged them with stealing pieces of equipment from John Deere businesses throughout North Carolina.
Tony Ray Thorne, of High Point, was charged with felony larceny, felony conspiracy and misdemeanor injury to real property. He received a $400,000 secured bond.
More ...
A CHRISTMAS CAROL
Nash Arts will offer six opportunities for the public to see this year's rendition of "A Christmas Carol."
This year's production takes place in a warehouse setting in Los Angeles just after World War II, however the play will feature the traditional Christmas music.
Evening performances are December 1st, 2nd, 8th and 9th at 7:30 p.m. Matinee performances are December 3rd and 10th at 2:30 p.m.
More ...
Explosion kills Middlesex man
A well-known Middlesex man was killed last Friday morning in an explosion at a water purification plant.
The explosion happened just after 9:30 a.m. on Friday, November 24 at the Pencoo Corp plant, located at 10143 US Highway 264-A in Middlesex.
The plant's manager, Dale Bachmann, 64, was killed in the explosion.
More ...
Sheriff launches new 9-1-1 position


The Nash County Sheriff's Office has a new position in place to help reduce the number of non-emergency calls made to the 9-1-1 center.
Sergeant Yvette Whitley started in the new role on November 1.
Whitley has been with the Nash County Sheriff's Office for 14 years. She began her career first as a Detention Officer and decided to attend Basic Law Enforcement Training. Her entire law enforcement career has been spent with the Nash County Sheriff's Office.

More ...
AMANDA CLARK, GRAPHIC STAFF WRITER

North Carolina Attorney General Josh Stein presents Dogwood Award to Heather Moore.

LOCALS HONORED


Two Nash County residents were among the 11 recipients of Attorney General Josh Stein's Dogwood Award.
The awards were presented last week by Stein to 11 North Carolinians who are dedicated to keeping people safe, healthy and happy in their communities. The 11 honored last week have worked tirelessly to confront the opioid crisis.

More ...
AMANDA CLARK, GRAPHIC STAFF WRITER
Sheriff Stone offers holiday shopping tips
The holiday season is here which means malls and other stores will be crowded with shoppers searching for the best deals.
Nash County Sheriff Keith Stone said safety should be a top priority this holiday saeason.
"This time of year attracts more shopping-related criminal activity because of the larger crowds and the extended store hours," Stone said.
More ...
Elm City man charged with drug conspiracy and distribution
An Elm City man was charged last week with drug conspiracy and distribution of methamphetamines and heroin.
A federal grand jury in Greenville returned an indictment charging Tyrell Eliza Watson, 25, of Elm City, with conspiracy to distribute heroin and cocaine base and substantive distribution counts, as well as possession of a firearm by a convicted felon and in furtherance of a drug trafficking offense.
More ...
Four charged with heroin, methamphetamine distribution
A federal grand jury in Greenville returned indictments charging Brian Allen Gardner, 39, of Wilson, Sean Jason Harstine, 31, of Lucama, Crystal Marie Pate, 32, of Bailey and James Madison Parker, 27, of Wilson, with conspiracy to distribute methamphetamine and heroin.
More ...
NASHVILLE POLICE REPORTS
INCIDENTS
A hit and run was reported on 11/22/17 on Elm Street, in the parking lot behind the Nash County Jail
A damage to property (vandalism) was reported on 11/25/17 at 112 S Clarendon Drive
More ...
NASH COUNTY SHERIFF'S OFFICE REPORTS
A breaking, entering and larceny was reported on 11/19/17 at 3358 Wheeless Cabin Road
A non-negligent traffic death was reported on 11/20/17 at 8305 N US 301
A burning personal property and burglary was reported on 11/20/17 at 10321 Lancaster Store Road
More ...
Nash Sheriff's Office hosts Worship Center Safety Forum


Being prepared is the most important thing a worship center can do in the event of an emergency, Nash County Sheriff Keith Stone told the over 200 people who attended a "Worship Center Safety Forum" on Monday night.
The forum was held "to provide direction for places of worship regarding reasonable measures of safety to confront the spectrum of threats and emergencies they may face during the hours of worship."

More ...
AMANDA CLARK GRAPHIC STAFF WRITER
Commissioners hear proposal on memorial for Billy Morgan


Nash County Commissioners received the first proposal on a commemorative courtyard marker that will honor the late Commissioner Billy Morgan.
The proposal came in at a higher price tag than commissioners anticipated, Assistant County Manager Stacie Shatzer told commissioners at their November 20 meeting.

More ...
AMANDA CLARK, GRAPHIC STAFF WRITER
Christmas events set for Saturday
Several Christmas events will kick off this weekend in Nash County.
Nashville will host its annual Children's Christmas Parade on Saturday, December 2.
The celebration will begin at 4 p.m. with music from the Nash Central High School Chorus and Red Oak Middle School Band.
More ...
NNHS to host Toys for Toys concert


Northern Nash High School's Band will host a Toys for Tots Charity Concert on Thursday, December 7 at the Dunn Center.
A new, unwrapped toy will serve as the admission for the concert, said Tammy Rundle, a band parent who helps organize events.
"The band is trying to help support the community that supports them by being able to give back and help those in need," Rundle said.

More ...
AMANDA CLARK, GRAPHIC STAFF WRITER
Hinton, Bishop unite in marriage at Nashville Baptist
On Saturday, October 7, 2017, Sarah Caroline Hinton and Stephen Ferebee Bishop, Jr. were united in marriage at Nashville Baptist Church in Nashville, North Carolina. Reverend J. Kenneth Byrd, Jr. officiated at the ceremony. The bride is the daughter of Mr. and Mrs. James L. Hinton, Jr. of Nashville, N.C. and is the grand-daughter of the late Mr. and Mrs. James L. Hinton of Nashville and Mr. and Mrs. McAdoo M. Moore of Red Oak.
More ...
65TH WEDDING ANNIVERSARY
Gene and Eloise Holland of Nashville, celebrated their 65th Wedding Anniversary on Monday, November 27, 2017. They are the parents of Butch Holland, and his wife, Marilyn of Rocky Mount, and Dean Holland, and his wife Susan of Nashville. They have four grandchildren: Corrie Gurganus and her husband, Elic, of Franklin, Tenn; Dr. Seth Holland of Nashville; Morgan Williams, and her husband, Ted, of Nashville; and Tyler Holland of Chapel Hill.
More ...
NCC awarded grant to increase addiction recovery awareness
Nash Community College has been awarded a grant from Transforming Youth Recovery, an organization committed to creating a cultural shift in how substance use, addiction, and recovery for youth are addressed, and the elimination of the stigma this brings to those with substance use disorders. The $3,000 will be used over three years​ to broaden the scope of the College's existing Collegiate Recovery Program, and to increase awareness and engagement.
More ...
Luke's Word for the Week


Happy Almost December Friends! It's hard to believe we are steam rolling into the last month of 2017. For our discussion today, I want to center around the absolute necessity of prayer in your life.
When Jesus knew that His time had come and He was preparing to give himself at the Mount of Olives, He looked over at his followers and said, "Watch and pray that you may not enter into temptation..." (Mark 14:38).

More ...
LUKE WHITEHEAD
Intersections: God and Life


"I am the Real Vine and my Father is the Farmer. He cuts off every branch of me that doesn't bear grapes. And every branch that is grape-bearing he prunes back so it will bear even more. You are already pruned back by the message I have spoken. Live in me. Make your home in me just as I do in you. In the same way that a branch can't bear grapes by itself but only by being joined to the vine, you can't bear fruit unless you are joined with me.

More ...
CARLYLE HALL
RED OAK NEWS


Happy birthday to Aileen Davis! Aileen celebrated her 90th birthday on Sunday, November 26 with family and friends at a party at Red Oak Baptist Church.
Members of Red Oak Baptist Church packed 481 shoe boxes for Operation Christmas Child! Thanks to everyone who helped with this ministry by packing their boxes and delivering them. This means 481 children and families will know the love of God and hear the gospel!

More ...
SUZY PEARCE
PEACHTREE COMMUNITY NEWS


Thanksgiving Day has just passed. It was observed by all, with lots of good food and family visitors. It is a wonderful time of the year. Now we look forward to Christmas.
On a crisp but sunny November Sunday morning, Peachtree folks gathered at the church for worship. Beautiful seasonal decorations were in place throughout the sanctuary.

More ...
BARBARA HARDISON
guest speaker
WWII veteran Irvin "Buck" Price was the guest speaker at the October meeting of the Micajah Pettaway Chapter of the Daughters of the American Revolution. "Buck" was born and raised in Tarboro. On 1 July 1943, he enlisted in the Navy and at the age of 17, he served as a helmsman of LST 285. On D-Day, he helped ferry troops and military equipment to Omaha Beach.
More ...
The Links, Inc. host annual White Rose luncheon
The members of the Wilson-Rocky Mount-Tarboro Chapter of The Links, Incorporated, hosted their fifth Biennial White Rose Luncheon on Saturday, November 4, 2017, at the Greenville Hilton in Greenville, North Carolina. The Theme for the occasion was a "Scholarship Luncheon and Fashion Show".
The Wilson-Rocky Mount-Tarboro Chapter of the Links, Incorporated was chartered in 1948: the sixth chapter of The Links, Incorporated and the first chapter in the Southern Area.
More ...
Speaker
Chief Deputy Brandon Medina, of the Nash County Sheriff's Office, was the guest speaker on November 20 at the regular meeting of the Nashville Business and Professional Women's Club. Medina spoke on holiday, home and financial safety.
More ...
Foundation awards scholarships
The NCC Foundation awarded $262,335 in scholarships for the 2017-2018 academic year. Approximately 217 students received scholarships at the Forty-Second Annual Scholarship Awards Program held Thursday, November 2.
Recalling her experience as a young student, NCC alumna and Foundation Board President Robyn Perkerson said, "I could have never afforded to attend Nash without the scholarships of the Nash Community College Foundation.
More ...
Wreath presentation
Pictured (L-R): Margaret Cobb, Virginia Haden and Helen Sharpe, members of the Micajah Pettaway Chapter of the Daughters of the American Revolution, presented a wreath during the SAR Patriot Grave Marker dedication at the grave of Dr. Ralph Hardee Rives.
More ...

Firefighters work to put out a fire last Wednesday evening on Green Road in Spring Hope. No one was injured in the fire.
Fire destroys home on eve of Thanksgiving
A Thanksgiving Eve fire destroyed a home in Spring Hope.
Firefighters from Spring Hope, Momeyer and Stanhope responded to the fire on Green Road just before 7 p.m. on November 22.
Upon arrival, firefighters reported a large brick, one-story home fully involved.
More ...
SCHOLARSHIPS
Rocky Mount Academy recently announced the 2017-18 Turner W. Battle Scholarship recipients. Senior Elias Moore, junior Georgia Morris, senior Alexis Reams, and sophomore Colby Freeman were presented scholarship money during a special ceremony held at Rocky Mount Academy. The criteria for receiving the Turner W. Battle Scholarship are leadership, scholarship, college potential and school spirit.
More ...
"Holiday Mail For Heroes"
Molly Satterwhite, volunteer with the Red Cross, is shown with the more than 1,200 Christmas cards that were collected by the joint effort of Micajah Pettaway Chapter of the DAR and Bethel Heroes Chapter 636 of the UDC. DAR chapters participate in the "Holiday Mail For Heroes" each year. Cards are sent to local active duty service members and to Veterans in VA hospitals. (Contributed photo)
More ...
Local woman finds way to get free collars for rescues


A local woman is hoping dog rescue organizations are aware of a program that provides free collars and leashes to dogs.
Kathy Lewis came across the program by accident, after looking for ideas for her own dog collar business. Lewis works at Coats Vet as a groomer and also make dog collars and other dog accessories as a hobby.

More ...
AMANDA CLARK, GRAPHIC STAFF WRITER
Dallas Herring Lecture
Nash Community College president Dr. Bill Carver, at right, attended the 2017 Dallas Herring Lecture held October 3 at North Carolina State University's College of Education Friday Institution for Educational Innovation. Carver is a member of the NCSU Envisioning Excellence Advisory Board which consists of current and former community college presidents, non-profit leaders whose work supports community colleges, and community college system leaders.
More ...
Daughters of American Revolution
Kathryn Quigg was the guest speaker at the November Meeting of Micajah Pettaway Chapter of the Daughters of American Revolution. Kathryn is the co-Author of the novel "To Any Soldier A Novel of Vietnam Letters." The novel revolves around the relationship of a Vietnam soldier, Jay and his friend Ashley Beth and the letters they wrote to each other during the war. These were not love letters, but rather subjects like faith, religion, and other weighty subjects. Kathryn grew up in Franklinton.
More ...
Rocky Mount man appointed to ECC board
Timmy L. Cordell of Rocky Mount was recently appointed to a four-year term on the Edgecombe Community College Board of Trustees.
Appointed to the board by Governor Roy Cooper, Cordell is employed by the Pitt County Department of Social Services in Greenville.
"I hope to become a positive asset to this esteemed board of trustees and enhance the necessary platforms so that our students may achieve their absolute best," he says.
More ...
NCC celebrates Manufacturing Day
Manufacturing Day was celebrated Friday, October 6, 2017 to recognize the importance of modern manufacturing, its role, and to inspire the next generation of manufacturers.
Nash Community College, a leader in Advanced Manufacturing training, Nash-Rocky Mount Schools and the Turning Point Workforce Development Board held a formal presentation of their certificates for implementation of an Advanced Manufacturing Pathway to assist the area's workforce.
More ...
Detention Officer training
Students from Nash County, Franklin County, Vance County and Johnston County Sheriff's Offices recently completed Detention Officer training at Nash Community College. The certification includes 179 hours of training designed to train qualified participants to function as officers in detention facilities. The course is governed by the North Carolina Sheriffs' and North Carolina Criminal Justice Education and Training Standards Commissions.
More ...
Art of Yoga
Emily Bondy, Registered and Licensed Dietitian and ViniYoga teacher, introduced Mu Chapter members of Delta Kappa Gamma International Society of Women, to the Art of Yoga. She demonstrated, then involved the group in Yoga moves and deep breathing. The benefits of Yoga are many. Some experts claim that Yoga can relieve back pain, improve sleep, and boast overall fitness.
More ...
Soapbox Christmas shopping guide is back!


Good news, dear readers. Since Thanksgiving fell early this year, the Soapbox has even more lead-time to bring a great shopping guide for those hard to buy for people on your list.
Bear in mind that we've not adhered to any type of budget, or for that matter common sense in compiling this list. We simply went for the best gifts we could find.
Here you go:

More ...
Mike Brantley
Nashville really has a lot to be proud of!


Nashville has really been making headlines lately and not just for its new, unique Christmas decorations.
Instead, Nashville has become well known around the world for its HOPE Initiative, which was started last February by Nashville's Police Department.
But even before that, Heather Moore, who considers herself "just a mom," was working hard to make a difference in what is now known as the opioid epidemic.

More ...
Amanda Clark
Local prison ministry sparks hope and renewed relationships with Christ


Dear Editor: The inmates of the Nash County Jail receive training in the areas of life skills, parenting, career readiness, personal health, and abuse counselling under the auspices of Chuck Colson Fellowship Training Ministry, coordinated by Kathy Freeman. Chuck Colson Fellowship curriculum materials provide a bible based expanse of books and links to a wealth of information used on a weekly basis in support of inmates awaiting trial by a volunteer group.

More ...
LETTER:
Backward Glances


This is a photo from The Nashville Graphic's December 1, 1981 archives. Nashville town employee Milton McRay is pictured putting the finishing touches on one of the Christmas decorations that lined Washington Street during the 1981 Christmas season.

More ...
A PICTORIAL LOOK INTO THE PAST

Nash Central's Aythen Drew (left) maintains a hold on a Louisburg wrestler during last Tuesday's action at the annual I-95 Duals Wrestling Tournament at Northern Nash High School in Red Oak.

Bulldogs Continue Mat Build


RED OAK -- Nash Central High School may be moving to a new league this winter, but the Bulldogs won't be a stranger to other Nash County opponents during the 2017-18 prep wrestling campaign.
After a long tenure in the Class 3-A Big East Conference, the Bulldogs have been moved to the Class 2-A Eastern Plains Conference for the next four seasons.
Central hopes to be a contender in the EPC under veteran coach Shon Johnson.

More ...
GEOFF NEVILLE, Graphic Sportswriter

BACK TO PASS. Southern Nash quarterback Lorenzo Sessoms (left) tries to find an open receiver during last Friday night's matchup at Havelock in the third round of the Class 3-A State Football Playoffs.

TOUGH WAY TO END


HAVELOCK -- Earlier in the week, Southern Nash assistant coach and athletic director Robbie Kennedy appropriately described the contrast in styles between the offenses of his Firebirds and the Havelock Rams.
While Southern Nash thrived on straight-at-you success, the Rams have excelled with a unique offense that relies on deception and numerous formations.

More ...
GEOFF NEVILLE, Graphic Sportswriter

NASH CENTRAL'S CHANDLER PADGETT (RIGHT)

CENTRAL STARS


ROCKY MOUNT -- Nash Central parlayed a third-place finish in the Eastern Plains Conference this fall into four selections on the league's All-Conference Boys Team for the 2017 campaign.
Central, under the direction of veteran head coach Ryan Ruiz, went 8-10-2 overall to go with a 5-4-1 mark in its first season in the EPC.

More ...
GEOFF NEVILLE, Graphic Sportswriter

CLOSING ACT. Northern Nash's Bryce Miles (right) prepares to finish off a pinfall at last Tuesday's I-95 Duals Tournament at the NNHS Gymnasium.

NN Hosts Mat Tourney


RED OAK -- Even without long-time standout Dillon Joyner being lost to graduation, the Northern Nash Fighting Knights still have plenty of quality returners available for the 2017-18 prep wrestling campaign.
Second-year head coach Troy Brake had hoped the Fighting Knights would get off to a strong start on the mat this winter, but that can be a difficult proposition, considering the fact that Northern Nash hosts the annual I-95 Duals Thanksgiving Tournament on the NNHS campus in Red Oak.

More ...
GEOFF NEVILLE, Graphic Sportswriter

NORTHERN NASH'S KYLAR WIGGINS

Knights outlast Bulldogs


RED OAK -- Veteran head coach Grover Battle sacrificed a bit of the present for future success during the 2016-17 girls basketball season at Northern Nash.
As part of a rare rebuilding phase, Battle fielded a young, inexperienced squad -- and those intangibles showed as the Lady Knights sputtered to an uncharacteristic 8-17 overall record while not making the state hoops playoffs.

More ...
GEOFF NEVILLE, Graphic Sportswriter
Knights edge 'Dogs in OT


ROCKY MOUNT -- Before the focus of Northern Nash and Nash Central students turned to the Thanksgiving Holiday, the two fan bases were locked in on one another this past Tuesday as Northern Nash was able to grab a 61-57 overtime win over rival Nash Central in a boys basketball showdown at the NCHS Gymnasium.

More ...
CHANCE PUCKETT, Correspondent
STATE PLAYOFF FOOTBALL SKED


CHAPEL HILL -- Listed are the regional pairings for this Friday's semifinal round of the North Carolina High School Athletic Association State Football Playoffs (highest remaining seed will be the home team):

More ...
Staff Reports
SN splits mat matches


STANHOPE -- Southern Nash High School hosted a tri-match last Tuesday against East Wake and Corinth Holders in non-conference wrestling action at the SNHS Gymnasium.
Southern Nash defeated East Wake 69-12 and dropped a close contest against Corinth Holders by a 47-35 margin.

More ...
Staff Reports
Nash County Christmas Tourney scheduled


RED OAK -- The annual Nash-Rocky Mount Schools County Basketball Tournament will be held Dec. 13-15 at the Northern Nash High School Gymnasium in Red Oak.
NN will host the entire boys and girls varsity tourneys, along with the JV girls and boys championship games.
The JV girls and boys semifinals will be staged December 9 at Nash Central High School.

More ...
Staff Reports
Shrock makes All-EPC team


ROCKY MOUNT -- Sophomore Cana Shrock was Nash Central's lone player on the 2017 All-Eastern Plains Conference Volleyball Team.
Shrock and the Lady Bulldogs finished sixth this fall in their initial campaign as a member of the Class 2-A EPC after a long stint in the Class 3-A Big East Conference.

More ...
GEOFF NEVILLE, Graphic Sportswriter
Wesleyan gives back to community


ROCKY MOUNT -- The holidays are a time to give thanks and appreciate the blessings in one's life, thus Cans Across the Conference was initiated in 2004.
This year, the North Carolina Wesleyan College Battling Bishops collected nearly 2,000 items that were split between the Hurricane Harvey Relief Fund and the local Peacemakers Family Center in Rocky Mount.

More ...
Staff Reports
CLOSE CALL
Nash Central's John-Paul Ramos (bottom) ended up winning this close match against Louisburg as part of the Bulldogs' team showdown with Louisburg at last Tuesday evening's I-95 Duals on the campus of Northern Nash High School in Red Oak.
More ...
HAS A NICE RING(S) TO IT
RING CEREMONY. (L to R) Former Nash Central High School track and field standouts Michaela Nelms, Myia Spivey and T'Keyah Macklin returned to campus last Tuesday to receive their state championship rings from the 2016-17 indoor and outdoor seasons. The ceremony was held as part of Nash Central's home basketball game against Northern Nash. The stars are now competing at Division I schools -- Nelms (Eastern Michigan), Spivey (Appalachian State) and Macklin (Delaware State).
More ...