Subscribe/Access
Advertisements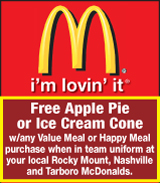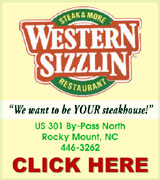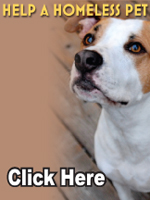 Sections
Member Options
Back
Two file as write-in candidates


Two Nashville residents have announced their intentions to seek the recently vacated seat of Michael Coleman on the Nashville Town Council.
Butch Mull and Kate Burns have each filed to run as write-in candidates.
Coleman resigned from his seat on the board on August 1. Coleman accepted a position with Haywood Community College as the Vice President.

More ...
AMANDA CLARK, GRAPHIC STAFF WRITER
Castalia murder suspect arrested
The Nash County Sheriff's Office has made an arrest in the homicide last Monday of a Castalia man.
Deputies responded to the 7900 block of Edwards Road, Castalia, in reference to a subject that had been shot.
Upon arrival, deputies found Danny Ray McCalston, 59, of Castalia, suffering from multiple stab wounds.
More ...
Nashville issues parks and rec survey


The Town of Nashville Parks, Recreation and Cultural Resources Department is seeking input from the community.
The department recently issued a Needs Assessment Survey to get opinions on the additional programs and facilities the community feels needs are needed for the towns parks and recreation.

More ...
AMANDA CLARK, GRAPHIC STAFF WRITER

Southern Nash band member Mason Edgerton performs on Saturday.

Marching bands unite in showcase


Marching bands in the Nash-Rocky Mount Public School System came together on Saturday for the first time as part of a showcase titled, "The Power of Music."
The inaugural event brought out hundreds of spectators as each band performed their competition and/or half-time shows.
Southern Nash, Northern Nash, Nash Central and Rocky Mount High School Marching Bands each performed during the event.

More ...
AMANDA CLARK, GRAPHIC STAFF WRITER
Williford on short list for state district
The newly created North Carolina Innovative School District (NCISD), led by Superintendent Eric Hall, announced last week the updated list of schools that qualify for inclusion in the new statewide school district.
Williford Elementary School is among the six schools included from the initial list of 48.
More ...

Pictured above are signs leading up to Saturday's Rally.

Nashville rally celebrates addiction recovery


Recovery was celebrated in Nashville on Saturday at the second annual Recovery Rally.
The rally was hosted by The Anchor Holds, CARE Inc. and the Nashville Police Department's HOPE Initiative.
Heather Moore, who heads up the Anchor Holds Support Group, said at the start of the rally that Nashville and Nash County had done so much for recovery and it was making a difference.

More ...
AMANDA CLARK, GRAPHIC STAFF WRITER
Nashville welcomes new officers
The Nashville Graphic is introducing three new officers of the Nashville Police Department this month as part of an "Officer Spotlight" series. This week's article features Officer Caleb Shockley. Two more officers will be featured over the next two weeks to help Nashville residents get to know the officers who protect and serve their communities.
More ...
Town of Nashville celebrates electric car charging station


A ribbon cutting ceremony was held on Monday morning to celebrate the completion of an electric charging station in the Town of Nashville.
The town was awarded $10,000 by Duke Energy as part of their EV Charging Infrastructure Support Program, which provides $1 million to help cities and towns develop charging stations for residents.

More ...
AMANDA CLARK, GRAPHIC STAFF WRITER
Survey teams to start design phase of county water project
Survey teams have hit the streets of Nash County to begin the design phase of the Northern Nash Water Systems project.
For the next two months, crews will cover portions of the 55-mile project as they survey elevations and assist with aerial mapping.
Nash County Utilities Director Mike Tolson said workers would be operating near intersections in the public right-of-way.
More ...
Rocky Mount woman killed in accident on Hwy. 64


A chain-reaction accident last Wednesday evening killed a Rocky Mount woman, the North Carolina Highway Patrol said.
Sgt. D.B. Finch said the accident occurred around 5:40 p.m. on Wednesday, September 20 on Highway 64 in the Eastbound lane at the Momeyer exit near Old Franklin Road.

More ...
AMANDA CLARK, GRAPHIC STAFF WRITER
NASHVILLE POLICE REPORTS
INCIDENTS
A damage to property (vandalism) was reported on 9/20/17 at 101 Embassy Drive
A fraud, obtaining money/property by false pretense was reported on 9/21/17 at 1205 Eastern Avenue
More ...
NASH COUNTY SHERIFF'S OFFICE REPORTS
A driving while intoxicated was reported on 9/17/17 at W NC 97 and Liles Road
A burglary-forcible entry was reported on 9/17/17 at 8498 W Tarboro Road
A call for service was reported on 9/17/17 at 5420 E NC 97
More ...

Brenda Wind quilts during the Art in the Gardens event hosted by the Nash County Extension Master Gardeners and the Nash County Cooperative Extension.

Art in the Gardens snap-shots, 1


Nash County Extension Master Gardener Volunteers, along with the Nash County Cooperative Extension, hosted "Art in the Gardens" Saturday to show off all the Nash County Arboretum has to offer.
The event included artists painting and art displays throughout the Arboretum as well as children's activities, craft exhibits and live music on the Homestead Porch plus ice cream and a silent auction.

More ...
Graphic photos by Jo Anne Cooper
Band showcase pics, 1


Nash Central High School's Kaylee Mills performs with the marching band during the showcase on Saturday.

More ...
Graphic photos by Amanda Clark
PEACHTREE COMMUNITY NEWS


Peachtree folks gathered at the church for worship on a beautiful Sunday morning. There were many visitors as Peachtree Church was observing its 208th Homecoming and the weather was perfect. It is the oldest church in the area and is often referred to as "The Mother of Churches". The buildings have been destroyed by fire, several times, but were always rebuilt.

More ...
BARBARA HARDISON
CASTALIA BAPTIST CHURCH


Remembering!!!
Rosser Howard Taylor, scholar, writer, and professor at Western Carolina University in Cullowee, North Carolina who had grown up in the Castalia community wrote about life in the area around the turn of the century when Castalia Baptist Church was established.

More ...
CARLYLE HALL
Luke's Word for the Week


Last week during our time together we approached a tough subject, but as people who are followers of the Way, we must never back down from a tough issue. We must trust that God leads us to hard places so that we can grow and see the logs that are in our own eyes. We discussed what it means to be an enemy of the Cross, where Paul called out people in the church for not being the people they were called to be (Philippians 3:18).

More ...
LUKE WHITEHEAD
Crisis Intervention Team (CIT) Training
Law enforcement officers from Nash County Sheriff's Office, Spring Hope Police Department and Rocky Mount Police Department recently completed Crisis Intervention Team (CIT) Training at Nash Community College. CIT is a 40-hour training designed to assist law enforcement officers who respond to incidents involving individuals with a mental health or substance use crisis, or intellectual and developmental disabilities.
More ...
Pay It Forward Civitan Club
The Pay It Forward Civitan Club held their 2017-2018 Officer and Director Installation Ceremony on September 11th at Ribeye's iin Nashville. The Guest speaker was Erma Kuboushek, 2017-18 NC District East Governor.
More ...
Guest speaker
Harriet Buss was the guest speaker at the September meeting of Micajah Pettaway Chapter of the Daughters of the American Revolution. Harriet joined the 2017 Coast to Coast Women's Tour, Southern Tier and rode her bicycle from the Pacific Coast in California to the Atlantic coast in Florida. She biked over 3100 miles through 8 states taking 58 days to complete the trip. (Contributed photo)
More ...
Raleigh Convocation Choir
Emmanuel Episcopal Church in Warrenton will host the Raleigh Convocation Choir on Sunday, October 1st. The choir is a ministry of the Raleigh Convocation of the Episcopal Diocese of North Carolina and will sing choral evensong at 5 p.m. Formed in 2008, the ensemble performs music from the Anglican choral tradition and sings for church services in the Triangle and beyond. Their dedicated members are from churches and communities throughout the state.
More ...
Duke Life Flight crash hits close to home


When I heard the news that a Duke Life Flight helicopter had crashed in eastern North Carolina, I probably reacted the way most of you did. I cringed at the tragedy, the loss of life and even how rare it is to hear of an accident related to such flights, especially considering how often they fly.
Like most folks, I hear about terrible news on the TV or the Internet, and then it usually passes quickly as other stories take their place in the cycle.

More ...
Mike Brantley
Marching band is an awesome experience for students


Saturday was a big day in Nashville.
There were several events going on and you can see how much fun people had in all the pictures we have included in this week's Graphic!
I got to wrap up my evening at Northern Nash High School to watch the first ever Band Showcase, where all four high school bands performed.

More ...
Amanda Clark
Backward Glances


WILDLIFE DONATION - This photo originally published in The Graphic on July 2, 1981. The Nash County Wildlife Club donated $725 to the Rocky Mount Children's Museum for an exhibit of underground life. The club raised the money in a fishing contest.

More ...
A PICTORIAL LOOK INTO THE PAST

REACHING FOR EXCELLENCE. Northern Nash's Ashlee Brackett (right) elevates for a block attempt during last Tuesday's home spike event against Franklinton.

NN Looks For Spike Consistency


RED OAK -- Consistency and continuity.
Those are the two intangibles Northern Nash volleyball coach Patricia Haggerty would like to see from her club as the Lady Knights begin the second half of their Big East Conference schedule.

More ...
GEOFF NEVILLE, Graphic Sportswriter

NORTHERN NASH'S JORDAN RICHARDSON

NNHS STILL THE ONE


LOUISBURG -- Long-standing members of the Big East Conference cross country family weren't sure what to think when Franklinton was named the newest member of the league beginning this fall -- and for the next four years.
While the injury-riddled Red Rams have yet to make in impact in the Big East standings, they certainly made the league take notice when their home course was unveiled during last Wednesday's latest conference showdown.

More ...
GEOFF NEVILLE, Graphic Sportswriter

TRACK HIM DOWN. Nashville's Tristen Sigers (left) chases Tarboro's Christopher Tillery-Shaw during last Saturday's Eastern North Carolina Football League JV game.

ROAD SETBACK


TARBORO -- The Nashville Hornets continue to make progress this season on the junior varsity level in the Eastern North Carolina Football League.
The Junior Hornets were faced with a challenge last Saturday as they traveled to Tarboro to take on the youth league version of one of the area's most storied football programs.

More ...
GEOFF NEVILLE, Graphic Sportswriter

NORTHERN NASH'S MACKENZIE PROCTOR

Proctor a winner in Big East


LOUISBURG -- After dominating the early portion of the Big East Conference girls cross country proceedings, Northern Nash veteran Mackenzie Proctor couldn't overcome breathing issues en route to taking second place behind Wilson Hunt's Isabel Reed during a league meet two weeks ago at the Hunt layout.
"That was (Reed's) home course and you could tell she was really motivated,'' said NNHS veteran skipper Jeff Dodrill.

More ...
GEOFF NEVILLE, Graphic Sportswriter
Central tops rival RMHS


ROCKY MOUNT -- Before the football season began, Nash Central High School Athletic Director Kyle Bain brainstormed several ideas to increase attendance and interest in the community for the Bulldogs' program.
And one of the plans he came up with is a beauty that has Nash County buzzing -- both at Nash Central and opposing schools.

More ...
GEOFF NEVILLE, Graphic Sportswriter
Red Oak Return


RED OAK -- Monday proved to be an exceptional day for Bert Woodburn -- and not just because his Franklinton Red Rams earned a key Big East Conference victory over homestanding Northern Nash.
Woodburn is the former youth pastor of a church in Red Oak, so the outing provided a homecoming of sorts for the Franklinton coach, who saw plenty of familiar faces as part of the proceedings.

More ...
GEOFF NEVILLE, Graphic Sportswriter

The Valentine Law Firm Team takes on the Panthers.

COUNTY SOCCER UPDATE


NASH COUNTY -- Listed are updated results from the Nash County Recreation & Senior Services Fall Youth Soccer League:

More ...
Staff Reports

SUPER SCOOP. Nashville's Anthony Wilder picks up a kickoff.

A Tarboro Task


TARBORO -- Taking on the tradition-rich Tarboro Vikings on the high school football level is considered to be one of the area's most challenging tasks.
The same goes for a meeting with Tarboro's Little Vikings in the Eastern North Carolina Football League.
Nashville was faced with that difficult assignment last Saturday in ENCFL action at Viking Stadium on the campus of Tarboro High School.

More ...
GEOFF NEVILLE, Graphic Sportswriter
Bishops surge past Maryville


ROCKY MOUNT -- Junior quarterback Nate Gardner tossed two touchdowns and rushed for another to help lead his North Carolina Wesleyan College football team to a 35-25 USA South win over visiting Maryville College last Saturday afternoon at Rocky Mount Athletic Stadium.
Sophomore defensive back Eddie Graham sealed the victory with a 99-yard interception return with three minutes remaining, setting a new Bishop record for the longest pick-6 in program history.

More ...
Staff Reports
SNHS drops spike heartbreaker


STANHOPE -- Southern Nash played a competitive match but came up just short during a five-set volleyball thriller last Thursday at home against Big East Conference rival Rocky Mount.
Scores were 21-25, 22-25, 25-23, 27-25 and 15-10 in the hard-fought league spike showdown.

More ...
Staff Reports
NASHVILLE SOCCER UPDATE


NASHVILLE -- Glover Park in Nashville saw another Saturday of exciting soccer games this past weekend.
In the U12 division, Little Caesars tasted its first victory this weekend in a 11-8 win over Mary Ruffin Nationwide.
Goals scored by Kamiyah Thomas and Jayden Gray helped lead their team to victory.

More ...
Staff Reports
CIAA football tickets now on sale


SALEM, VA. -- The Central Intercollegiate Athletic Association (CIAA) will host its 2017 Football Championship game at Salem Stadium on November 11 in Salem, Virginia.
Kickoff is slated for at 4:30 p.m.

More ...
Staff Reports
AND AWAY HE GOES
Tarboro's Christopher Tillery-Shaw (with ball) picks up yardage for the Vikings during last Saturday's home junior varsity football decision against league opponent Nashville.
More ...
EMILY ON TARGET
Northern Nash's Emily Garner rips a serve for the Lady Knights during last Tuesday's Big East Conference home volleyball match against the Franklinton Lady Rams.
More ...
I'LL RACE YA
Northern Nash's Camden Johnson (left) challenges a Wilson Fike runner near the finish line during last Wednesday's Big East Conference Cross Country Meet at Owens Park.
More ...
KEEPING PACE
Southern Nash's Artavious Allen leads this group of runners during last Wednesday's event.
More ...
TIGHT QUARTERS
Northern Nash's Haley Hiatt (right) tries to send a dig over Franklinton's Shelby Sykora during last Tuesday's Big East Conference spike matchup.
More ...
TOUGH TO TAKE DOWN
Tarboro's Tristan Roberson (left) tries to avoid a tackle attempt by Nashville's Elijah Harrison during last Saturday's youth league football meeting at Viking Stadium.
More ...
UPHILL CHARGE
Southern Nash's Mitzi Lopez ascends the difficult finishing portion of the course at Owens Park.
More ...
Rocky Mount to offer guided nature walks
The City of Rocky Mount Parks and Recreation Department will offer guided nature walks at Battle Park every first Saturday now through December from 10 a.m. to 12 p.m.
Naturalist Tom Stutz will lead the walks, which will highlight identification and uses of trees and plants, wildlife and more.
More ...