Subscribe/Access
Advertisements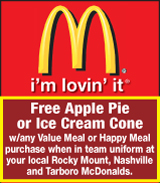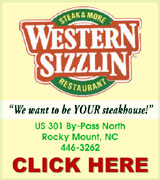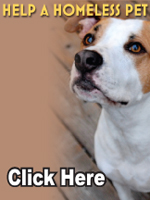 Sections
Member Options
Back
Hospital's "D" safety rating upsets officials


After an article in Friday's News and Observer revealed a safety score of "D" for Nash General Hospital, Nash County Commissioner Chair Robbie Davis said he began receiving phone calls.
But, Davis added, he's been hearing complaints about Nash County's hospital for years and he's fed up.
"I haven't been happy with the hospital for a long time," Davis told commissioners on Monday during a board meeting.

More ...
AMANDA CLARK, GRAPHIC STAFF WRITER
Local man faces federal tax evasion charges
A Nashville businessman was arrested last week and faces felony and misdemeanor tax charges.
The North Carolina Department of Revenue charged Shawn M. Dwyer, 45, of Nashville, on April 13 with one count of embezzlement of state property, one count of embezzlement of Nash County property and five counts of willful failure to file North Carolina Individual Income Tax Returns.
Arrest warrants allege that Dwyer feloniously embezzled, misapplied and converted to his own use close to $5,000 in North Carolina and Nash County Sales Tax from February 1, 2013 to February 28, 2015.
More ...
EASTER MONDAY FUN
THERE'S AN EGG! -- Little McKenna Cooper, 3, gets a little help finding Easter Eggs from her father, Dominique , during an Easter Egg Hunt at Glover Memorial Park in Nashville Monday. The event was sponsored by Nashville Parks and Recreation.
More ...
Creekside Music Series starts Friday


The Town of Nashville's Creekside Music Series will kick off on Friday with Matt Begs.
Matt Begs formed in 2012. The lead singer, Matty Russo, is from Wilson, while the rest of the band members are from Rocky Mount. Russo said one of his band members is from Red Oak.
"We're local boys," Russo said.

More ...
AMANDA CLARK, GRAPHIC STAFF WRITER
Davis responds to new park location concerns


Nash County Commissioner Chair Robbie Davis tried to ease the concern of residents living near the recently acquired site of the proposed Nash County Play Together Regional Park on Monday afternoon.
Davis spoke just before the board heard a presentation on the proposed park and commissioners unanimously adopted a site specific master plan and authorized the submission of a grant application, which will provide funding for the park, if approved.

More ...
AMANDA CLARK, GRAPHIC STAFF WRITER
Missing teen found safe
A Silver Alert issued for a Bailey teenager early Monday has been lifted.
The N.C. Center for Missing Persons issued the Silver Alert for 14-year-old Candace Renee Couling in the early morning hours on Monday.
The Nash County Sheriff's Office reported on Wednesday morning that Couling had been found and was back home with her family.
More ...
Bailey fire districts are redrawn


Nash County Commissioners approved redrawing several fire districts in Southern Nash County at their meeting earlier this month.
The new districts are a result of the new substation, which was Bailey's Fire Department added on W. Hornes Church Road.
According to Deputy Emergency Services Director Scott Rogers, the station has been rated by the North Carolina Office of the State Fire Marshal.
"The station is complete," Rogers told commissioners.

More ...
AMANDA CLARK, GRAPHIC STAFF WRITER

Nashville Patrol Lt. Joey Corbett receives an appreciation award from the Richardson Court Community. Ashley Hinnant, at right, presented the award.

Community honors law enforcement


Local law enforcement officers and firefighters got a chance to sit down to a hot meal last Friday, thanks to a Nashville community.
The Richardson Court community came together to host a law enforcement appreciation lunch for Nashville's Police Department and the Nash County Sheriff's Office on Friday. The community also invited the fire department to attend.
Hinnant, who organized the event, said the event was a way to recognize and show appreciation for the work law enforcement officers and firefighters do each day.

More ...
AMANDA CLARK, GRAPHIC STAFF WRITER
NASHVILLE POLICE REPORTS
INCIDENTS
A possession of stolen property was reported on North 58 and Taylor Store Road
A larceny by an employee was reported on 4/10/17 at Wal-Mart, 1205 Eastern Avenue
A larceny, consuming beer on unauthorized premises was reported on 4/10/17 at Wal-Mart, 1205 Eastern Avenue
More ...
NASH COUNTY SHERIFF'S OFFICE REPORTS
A breaking and entering was reported on 4/9/17 at 7669 S NC 58
A breaking, entering and larceny was reported on 4/9/17 at 8664 Taylors Store Road
A fraud was reported on 4/10/17 at 1738 Green Meadow Lane
A larceny was reported on 4/10/17 at 4683 Dortches Boulevard
More ...
Franklin County Historic Home Tour is this Saturday and Sunday
The biennial Franklin County Historic Homes Tour will feature 11 homes and a church this year and is scheduled for Saturday, April 22 from 10 a.m. until 5 p.m. and Sunday, April 23 from 1 to 5 p.m. The tour is in and around Louisburg.
Among the homes to be open on the tour are the 19th Century Woodleaf Plantation and the Nicholson-Bickett-Taylor House, Circa 1897.
Also part of the tour will be First Baptist Church, circa 1925, that was originally built for an African-American congregation.
More ...
Bailey, Middlesex receive water-sewer grants
Two Nash County towns were among those who received water and sewer grant funding from the NC Division of Water Infrastructure Authority.
Six North Carolina towns received over $6 million in water and sewer grants.
According to Envirolink, a utility management company and a municipal partner to the towns, the grants will be used to improve and assess their water and sewer systems.
More ...
Nashville Fire Lt. attends Fire and Life Safety Conference
Nashville Fire Lt. Chris Jenkins attended the NC Fire and Life Safety Education Conference in Concord February 20 through 24.
The conference provides an array of classes for Fire Prevention Educators to share ideas, experiences, and discover new and innovative ways in educating the public on fire prevention.
Lt. Jenkins attended a child passenger seat course that reviewed new NC Laws pertaining to child passenger seats.
More ...
Rocky Mount to host 34th Annual Down East Senior Games
The City of Rocky Mount Parks and Recreation Department will host the 34th annual Down East Senior Games Monday, May 1, 2017 to Friday, May 12, 2017. The games are a partnership among five counties, including Nash, Edgecombe, Halifax, Northampton and Wilson. Registration for participation ends Monday, April 3, 2017.
"We have senior competitors that come from as far away as Scotland Neck," says Alex Langley, Senior Center manager.
More ...
STORYTIME
Nashville's Harold D. Cooley Library hosted a special storytime on Saturday, March 25 with Nashville Police Chief Tom Bashore as the storyteller. Bashore read several stories about police officers and talked to youth about his job as a police officer.
More ...
REUNION
Members of the Spring Hope High School Class of 1959 held their 58th reunion last Thursday at the home of John T. Puckett in Nashville. There were 42 in the graduating class. Those in attendance enjoyed a meal and fellowship.
More ...
SPRING FEST!
Elm Grove Baptist Church held its Spring Fest on Saturday, April 1 at Glover Park. The event included inflatables, games, face painting, crafts, outdoorsman demonstrations and food. as well as door prizes and entertainment. Pictured above, Sarah Dunn, 7, at right, gets her face painted from Brittany Whitehurst, at left.
More ...
Nash County Blood Drives May 2017
Monday, May 1 from 2:30 until 6:30 p.m. at the Sharpsburg Fire Department, 300 Taylor Road, Sharpsburg
Saturday, May 6 from 9:30 a.m. until 2:30 p.m. at Capital Ford Lincoln, 2012 Stone Rose Drive, Rocky Mount
Tuesday, May 9 from 3 until 7 p.m. at Stony Hill FWB Church, 9649 Stony Hill Church Road, Middlesex
Saturday, May 13 from 10 a.m. until 2 p.m. at Light of Peace Missionary Baptist Church, 510 S. Glendale Avenue, Rocky Mount
More ...
Southern Nash High School Honor Rolls
Nash-Rocky Mount Schools has released its Honor Roll lists for the second semester of the 2016-2017 school year.
The following students at Southern Nash High School made the A or A/B Honor Roll.
More ...
Southern Nash Middle School Honor Rolls
Nash-Rocky Mount Schools has released its Honor Roll lists for the second semester of the 2016-2017 school year.
The following students at Southern Nash Middle School made the A or A/B Honor Roll.
More ...
Rocky Mount High School Honor Rolls
Nash-Rocky Mount Schools has released its Honor Roll lists for the second semester of the 2016-2017 school year. The following students at Rocky Mount High School made the A or A/B Honor Roll.
More ...
Vester wins national award
Caitlyn Vester recently received a National Medal in the 2017 Scholastic Art & Writing Awards. Vester was awarded the Silver Medal in the Drawing and Illustration category. In 2017 more than 300,000 works of art and writing were submitted, and less than one percent of submissions are awarded medals at the National Level.
Since 1923, the Awards have recognized creative teenagers from across the country. By receiving a Scholastic Art & Writing Awards National Medal, these students join a legacy of celebrated artists including Andy Warhol, Sylvia Plath, Truman Capote, Richard Avedon, Robert Redford, Lena Durham and Paul Chan.
More ...
Nash County Animal Friends' Notebook


Sometimes.... it doesn't seem like that there are many pets available at the Shelter. But if you visit, there may be someone there that you will fall in love with. There may be pets not photographed who have just arrived. Some of the pets at the Shelter are there for things such as bite quarantines (they are seldom available) or their owners are known.

More ...
CAROL VIERELA NASH, COUNTY ANIMAL FRIENDS
Winstead earns RMA scholarship
Elizabeth Winstead has been awarded this year's Ann MacPherson Weaver Memorial Scholarship at Rocky Mount Academy.
An eighth-grader at Bunn Middle School, Winstead will attend RMA in the fall on a full-tuition scholarship, valued at more than $48,000 for four years.
The Weaver Scholarship was established at Rocky Mount Academy in 1986 in memory of a 1984 RMA graduate who had succumbed to cancer earlier that year.
More ...
Luke's Word for the Week


He is Risen! (I can hear you as you sit with your coffee or tea as you excitingly reply back, "He is risen, indeed!) Oh what joys come with Easter, what treasures can be found in knowing the cross and tomb are empty as they bear no power over our risen Savior, but instead serve as a sign of where he once hung and he once lay.
For us, as disciples of Jesus, Easter must be our victory song, it must be our continued battle cry as we live our daily lives.

More ...
LUKE WHITEHEAD
PEACHTREE COMMUNITY NEWS


Easter Morning was a beautiful climax to Holy Week. As Peachtree folks gathered for worship, it was with joyful praise for a Risen Savior.
The Good Friday service, which had been held in communion with the people of Spring Hope Baptist Church and their pastor, Kevin Moore, was well attended. It was an inspirational service. Following Holy Communion, Pastor Whitehouse brought the message, "The Faces of Calvary". Special music was solos by Jerry Hobgood, Marta Whitehouse and David Griffin.

More ...
BARBARA HARDISON
RED OAK NEWS


Red Oak Baptist Church had a great time of revival last week! Rev. Justin Carp brought the Sunday morning message and Rev. Billy Webb brought the evening messages. It was good to see the community participate.
Dorothy, Audrey, and Suzy Pearce enjoyed time with family on Easter. Family gathered at the home of Earl Penny in Selma. They had a delicious lunch together and an Easter Egg Hunt for the children.

More ...
SUZY PEARCE
Parker Middle honor roll lists
Nash-Rocky Mount Schools has released its Honor Roll lists for the second semester of the 2016-2017 school year.
The following students at JW Parker Middle School made the A or A/B Honor Roll.
More ...
Highway Patrol promotes locals
The North Carolina State Highway Patrol recognized 76 employees on Monday, April 3 in a promotional ceremony.
The ceremony was held in Raleigh.
The promotions included eight civilian and 68 sworn members from various sections within the organization.
More ...
Senator Horner to speak to League of Women Voters
The League of Women Voters Twin Counties invites the public to a legislative update with Senator Rick Horner (R-Nash, Wilson, Johnston).
Senator Horner will speak and answer questions on Thursday, April 20 from 6 to 7 p.m. in the Warner meeting room at Braswell Memorial Library.
Horner, who won last fall's District 11 senatorial election, was educated in Nash County public schools and graduated from East Carolina University with a degree in Business Administration. His career has focused on the securities industry and commercial insurance, specializing in agribusiness and education.
More ...
Top 75 Agent
Stacey Wise, Nash County Agent for North Carolina Farm Bureau Mutual Insurance Company, was named among the Top 75 Agents for 2016, by Steven D. Carroll, CPCU, Executive Vice President and General Manager. Agent Wise was selected for this honor based on her outstanding sales and service record for multi lines of insurance during 2016. North Carolina Farm Bureau Insurance Company has more than 785 agents across the state.
More ...
Bethel Heroes
Edith Coggin Whitby, at left, Vice President Bethel Heroes 636 Chapter, UDC, presented Margie Parker Brantley, at right, with a Supplemental Certificate. The certificate honors Brantley's ancestor, Richard Lawrence Green, Company D, 47th Regiment, NC Infantry, CSA.
More ...
SAR PRESENTATIONS
Halifax Resolves NC Sons of the American Revolution Vice President R. J. Myrick, at left, presented the Sheetz #447 station on Wesleyan Boulevard in Rocky Mount the SAR Flag Certificate last month. This certificate is presented to individuals, organizations or companies "In Recognition of exemplary Patriotism in the display of the flag of the United States of America." Tasha Bryant, at right, accepted the certificate on behalf of Sheetz.
More ...
Coopers Fire and Rescue gives donation to local Girl Scouts
Giving to others is extremely important for Girl Scouts, and during the 2017 Girl Scout Cookie Program, many girls made a strong effort to collect contributions for Operation Cookie Drop, our council-wide service project that brings the sweet taste of home to military men and women deployed far from home.
This year, Cara Cotugno, a Girl Scout Brownie from Nashville Troop #611, went above and beyond to collect donations.
More ...
Rocky Mount Middle Honor Lists
Nash-Rocky Mount Schools has released its Honor Roll lists for the second semester of the 2016-2017 school year.
The following students at Rocky Mount Middle School made the A or A/B Honor Roll.
More ...
CHANGE OF COMMAND
Rick Thomason, at left in front, hands over command of the Marine Corps League Detachment #1262 - Cpl Suzy Sannes to his successor Dave Sannes, at right, during a recent meeting. The Marince Corps League is for all Marines and veterans and meets on the first Monday of every month at the VFW hall on Highway 97.
More ...
Sometimes really big bombs are the best diplomats


I'd like to know if any readers heard the phrase "Mother of All Bombs" last week and thought of Slim Pickens riding the bomb all the way down in the 1964 film "Dr. Strangelove"?
Maybe others got the image of Wile E. Coyote, who in the age before Amazon managed the quick delivery of an assortment of WMDs. Apparently, after years of desperation and millions of dollars spent with the Acme Company, decided he no longer wanted to make a meal, he just wanted to eliminate the Roadrunner.

More ...
Mike Brantley
Progress has finally been made towards victims' rights


Dear Editor:
For the first time in 20 years, North Carolina has taken an important step to strengthen victims' rights on behalf of crime victims and their families. A bipartisan victims' rights bill, also known as Marsy's Law, was introduced in the state Legislature to begin the process of amending our state constitution on behalf of victims of crime.

More ...
LETTERS:
Backward Glances


This photo originally published in The Graphic on June 8, 1972. Joseph A. Martin, Principal of Red Oak Elementary School, is shown with Sherry Hunter (far left) and Charles Williams (far right), winners of Meritorious Service Awards.

More ...
A PICTORIAL LOOK INTO THE PAST

JOB WELL DONE. Nash Central's Cameron Taylor was sharp on the mound for the Bulldogs against Eastern Wayne.

Central Starring At Tournament


WILSON -- Nash Central seemed to have its second-round game with Eastern Wayne in hand during Monday's action at the Golden Leaf Invitational Baseball Tournament at historic Fleming Stadium.
But the Warriors stormed back to tie the score, only to see the Bulldogs come through in the clutch before pulling away for an 8-4 decision that was part of an exceptional overall performance for Nash Central at the annual event.

More ...
GEOFF NEVILLE, Graphic Sportswriter

RACE TO THE PLATE. Southern Nash's Trevor Mills (left) slides safely into home plate after a wild pitch during his club's contest against Rosewood at the Golden Leaf Invitational Baseball Tourney.

WALKS HAUNT FOR SN


WILSON -- Of all the adages that surround baseball, perhaps the most consistent is the one that stresses that base-on-balls will inevitable come back to haunt the offending team.
That adage once again rang true Monday, this time for the Southern Nash Firebirds in the second round of the Golden Leaf Invitational Baseball Tournament in Wilson County.

More ...
GEOFF NEVILLE, Graphic Sportswriter

HOLDING HER OFF. Southern Nash's Melissa Hernandez plays solid defense.

VICTORY NEEDED


STANHOPE -- After a strong start to the season, the reality of being in the ultra-competitive Big East Conference has set in for the Southern Nash High School girls soccer squad.
Southern won six of its first seven outings against non-league foes under Coach Carlos Barron -- but the Ladybirds have been unable to collect a victory in the Big East.

More ...
GEOFF NEVILLE, Graphic Sportswriter
Mudcats stopped by Keys


ZEBULON -- Troy Stokes Jr. hit a score-tying home run in the sixth, Jake Gatewood was 3-for-4 with three doubles and three runs, Luis Aviles drove in two runs with two hits and Max McDowell was 1-for-3 with two RBI as the Carolina Mudcats erased a late three-run deficit to defeat the Frederick Keys 9-3 at Five County Stadium on Easter Sunday in Zebulon.
Carolina (6-4) trailed 3-0 as they entered the sixth of Sunday's series finale against the visiting Keys (4-6), but then rallied for three runs in the sixth to tie it.

More ...
Staff Reports

EVANS FARMS' BLAKE DENTON

Big Day In Nashville


NASHVILLE -- There were more exciting times last Saturday as the Town of Nashville Parks and Recreation Department continued its spring sports season.
Even though softball had a break, there was still plenty of action in Baseball and T-Ball at Glover Park.
In the Cornerstone vs. Evans Farms Rookie game Charlie Messamer hit a bases-loaded single, knocking in 2 runs to tie the score at 12-12 in the last inning.

More ...
Staff Reports
COUNTY LINE RACE RESULTS


ELM CITY -- Here are last weekend's results from action as part of the Super Stock Four-Cylinder Special event at County Line Raceway:

More ...
Staff Reports
NASH SOCCER RESULTS


NASH COUNTY -- Listed are updated Nash County Recreation & Senior Services Youth Soccer Scores:

More ...
Staff Reports
Bishops saluted by conference


FAYETTEVILLE -- The USA South Conference has announced its 2017 All-Conference awards in the sport of baseball, and North Carolina Wesleyan Carolina has announced that seven Battling Bishops have earned recognition.
Wesleyan had three players garner Second Team accolades as senior Tony Sanchez, sophomore Nate Gardner, and senior Ryan Grant were honored at first base, utility, and starting pitcher, respectively.

More ...
Staff Reports
RM Orioles outlast rival Yankees


ROCKY MOUNT -- Connor Whitley sliced a two out, 2 run single to left field in the top of the sixth inning to spearhead a come-from-behind rally as the Evening Optimist Orioles knocked off the Wesley Men Yankees by a 9-5 count in Wlast ednesday night's Rocky Mount Little League action.
Whitley's hit was just one of 10 notched by the O's as they outhit the Yankees by a 10-3 count during their evening's work.

More ...
Staff Reports
Cook claims county championship


NASHVILLE -- Nash Central's Joseph Cook and Zach Ward went to a playoff to determine the medalist at last Wednesday's First Annual Nash County High School Championship.
Both players shot identical 80s, but Cook was able to earn the title in the playoff at Birchwood Country Club.
Cook's heroics also helped his team take the overall crown with 351 strokes.

More ...
Staff Reports
SACRIFICING FOR THE TEAM
Nash Central's Drifton Padgett executes a sacrifice bunt for the Bulldogs during Monday's second-round meeting with Eastern Wayne at the Golden Leaf Invitational Baseball Tournament at historic Fleming Stadium in Wilson.
More ...
SHALL WE DANCE?
Nash Central's Cameron Taylor (right) tries to avoid a tag at home plate during Monday's victory over Eastern Wayne at the Golden Leaf Invitational Baseball Tournament.
More ...
Nashville Showcase features Ray Scott


Nash Arts will wrap up this year's Nashville Showcase Series next Friday, April 28 with a performance by country artist Ray Scott.
Scott is the third performance for the Showcase, said Nash Arts Director Shelly Gray.
The Nashville Showcase brings nationally acclaimed artists to Nash Arts each year.
This year, the Showcase began with Nick Shnebelen performing in February. In March, Bryan Mayer performed.

More ...
Amanda Clark, Graphic Staff Writer
THE MUSIC MAN
Rocky Mount High School Gryphon Theatricals will perform Meredith Willson's classic musical, THE MUSIC MAN, May 3-6. Audiences will see how the town swindler, Harold Hill, makes his debut in River City and his shenanigans are caught by Marian, the town's librarian! Set in the summer of 1912, in an all-American small town in Iowa and months after the sinking of the Titanic, this musical explores themes of pursuing one's passion and bringing light and hope to a community during a dark, dismal time.
More ...