Subscribe/Access
Advertisements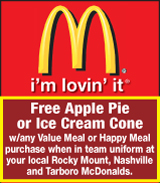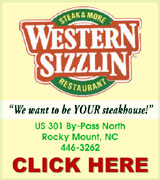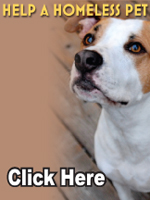 Sections
Member Options
Back
Nash purchases land for park


Nash County Commissioners announced last week the purchase of a 46-acre tract at 4671 Joyner Road that will be used to build the county's latest park.
The decision was made on Friday following a closed session meeting.
Commissioner Wayne Outlaw made the motion to purchase the piece of property, which is owned by Horne and Walston Farms, for $209,835. The motion was contingent on a suitable Phase 1 environmental assessment and subject to final review and approval of the closing documentation by the County Attorney and staff.

More ...
AMANDA CLARK, GRAPHIC STAFF WRITER
NRMPS celebrates educators


Nash-Rocky Mount Public Schools celebrated educators on Tuesday night, recognizing the district's educators of the year.
Around 150 people attended the district's annual Teacher and Principal of the Year banquet on Tuesday night at Rose Hill Conference Center.
Nash Central High School Principal Victor Ward, Sr. was named the district's Principal of the Year.
Ward has 23 years combined experience in education. He holds a Bachelor's Degree in Education, a Master's Degree in School Administration and an Education Specialist Degree in School Administration, all from East Carolina University.

More ...
AMANDA CLARK, GRAPHIC STAFF WRITER
4-H CLOVERBUD
SHOW DAY -- Victoria Hill, 7, shows off her goat, Emerald, on Tuesday during the Cloverbud Show at the Eastern Carolina 4-H Livestock Show and Sale. The two-day show included youth showing goats, lambs, pigs and steer before the big sale on Wednesday night. This is the 80th year of the show and sale.
More ...
Supt. seeks funding sources


Nash Rocky Mount Public Schools Superintendent Dr. Shelton Jefferies presented an alternative funding source to board members that will invest in the "human capital" of the system.
Jefferies told board members at their April 3 meeting that pursuing alternative funding streams was something he had said he would do during his hiring interview with the board over a year ago.

More ...
AMANDA CLARK, GRAPHIC STAFF WRITER
Spaulding bids reach $50,000


The Nash-Rocky Mount Board of Education has received another offer to purchase the former Spaulding Middle School site.
The latest bid was for $50,100 from the Spaulding Alumni Association. This is the third time the organization has bid on the facility.
The bidding war began in January after the Board of Education voted to place the Spaulding site up for surplus. The decision was made based on the increasing cost of maintenance for the facility.

More ...
AMANDA CLARK, GRAPHIC STAFF WRITER

OUTDOOR CLASSROOM - Mariela Nava tends to one of the raised gardens at Bailey Elementary School's updated Outdoor Classroom. A ribbon cutting was held last Wednesday.

Bailey Elementary celebrates science, agriculture


It was a busy week for students and staff at Bailey Elementary School last week, as a celebration for the school's outdoor classroom was held on Wednesday followed by the Sixth Annual Science Fair on Friday.
Though the outdoor classrooms have been a concept at the school since 2010, a $2,400 grant helped revamp the area, said Lisa Langley, a fifth grade science teacher at the school.

More ...
AMANDA CLARK, GRAPHIC STAFF WRITER
Nash County celebrates Telecommunicator Week
Public safety agencies nationwide recognize the critical role playing by Public Safety Telecommunicators. These professionals are the true first "first responders" and one of the most critical contacts citizens have with emergency services.
Every year, he second full week of April is dedicated to the men and women who serve as Public Safety Telecommunicators. In 1992, Congress proclaimed it a national week of recognition. Accordingly, Nash County Emergency Services will recognize National Telecommunicators Week during April 9 through 15.
More ...
Stan Mesh is NCAF Volunteer of Year


The Nash County Animal Shelter has become a familiar place for Nashville resident Stan Mesh.
Each week, Mesh spends between three to five afternoons at the shelter, photographing animals for Nash County Animal Friends of NC. The photographs are used to help get the animals adopted.

More ...
AMANDA CLARK, GRAPHIC STAFF WRITER
Library visit
Brent Lubbock, Director of Operations & Development at Sylvan Heights Bird Park, shows off Peepers, a Magie Goose, at Harold D. Cooley Library on Friday. Lubbock visited the library and talked about the park and the different types of birds there.
More ...
Date for Nash to join Trillium delayed to July
The official date for Nash County to join Trillium Health Resources has been pushed back three months.
Trillium recently sent letters to Nash County residents stating that Nash County would join its serve area on April 1.
However, in order for Trillium to officially begin providing service to Nash County residents, a contract must be signed between the State of North Carolina and Trillium and also between the State and Eastpointe, who Nash County currently is served by.
More ...
Speaker
Rotary Club of Rocky Mount President Garry E. Hodges, at left, stands with Jesse Lewis, PeaceMakers, at right, who spoke at a recent Rotary meeting at the Doubletree Hotel.
More ...
NASHVILLE POLICE REPORTS
INCIDENTS
An assault on a female was reported on 4/3/17 at 222 Richardson Court
An involuntary commitment service was reported on 4/3/17 on Cross Street
A larceny (shoplifting) was reported on 4/4/17 at Wal-Mart, 1205 Eastern Avenue
More ...
NASH COUNTY SHERIFF'S OFFICE REPORTS
A simple possession of a Schedule V controlled substance was reported on 4/2/17 at 7374 Richardson Road
A domestic was reported on 4/2/17 at 11004 Nelms Avenue
A breaking and entering and damage to property was reported on 4/2/17 at 6340 Atlas Lane
A breaking and entering was reported on 4/3/17 at 1612 Rolling Acres Drive
More ...
Nash awarded for production of Nash County NOW show
Nash County was among 22 North Carolina cities and counties to earn recognition in the Tenth North Carolina City & County Communicators' (NC3C) Excellence in Communications Awards.
The awards were presented Thursday, April 6, 2017 at the NC3C's annual Spring Conference in Charlotte during which the organization celebrated 10 years of existence.
More ...
Crowl, Hardee unite in marriage
Vanessa Lynn Crowl and Lewis Edward Hardee, III were married October 29, 2016, at 4:30 p.m. at The Sutherland in Wake Forest, NC. Pastor Kris Weiss performed the garden ceremony, which was followed by a reception. The bride is the daughter of Charles and Cathy Crowl of Holly Springs, NC. The groom is the son of Ted and Phyllis Hardee of Nashville, NC. The bride was given in marriage by her father. The bride graduated from UNC Chapel Hill and is employed by Kilpatrick Townsend.
More ...
Nash County Animal Friends' Notebook


Are YOU a Serial Litterer?
Nope, I'm not talking about trash. I'm talking about people who don't spay their dogs or cats allowing them to have litters year after year until the pet cannot produce or dies.

More ...
CAROL VIERELA, NASH COUNTY ANIMAL FRIENDS
VIP for a VIP presents program to NCHS students


Students at Nash Central High School received a real-life view into how distracted driving can alter a life.
Nash County Emergency Services, along with other local and State Emergency Services Responders, offered the Vehicle Injury Prevention for a Very Important Person (VIP for a VIP) program to the school last month.
The program consisted of two sessions, with a morning session featuring guest speakers and video presentations.

More ...
AMANDA CLARK, GRAPHIC STAFF WRITER
Nash County 4-H hosts annual Science Fair


Over 30 youth participated in the 6th Annual Science Fair on March 28 at the Nash County Agricultural Center.
The event was hosted by Nash County 4-H.
Sandy Hall, Cooperative Extension Director and 4-H Agent, said she was pleased with this year's event. Hall said the event is a great way to encourage science but also is a good tool to encourage youth to work on their presentation skills.

More ...
AMANDA CLARK, GRAPHIC STAFF WRITER
Rocky Mount Chapter of Deltas celebrates 70 years
The Rocky Mount Alumnae Chapter of Delta Sigma Theta Sorority, Inc., established on April 4, 1947 by Soror Muriel Johnson, Eastern Regional Director, is celebrating 70 years of sisterhood, scholarship and service.
Originally the chapter was founded as Gamma Kappa Sigma because all chapters used Greek names at that time. After the 21 charter members organized the chapter, sorors from surrounding areas became affiliated. Marguerite Carson Armstrong was the first president.
More ...
Nash County Blood Drives April 2017
Friday, April 14 from 1 until 5 p.m. at Golden East Crossing Mall, 1100 N. Wesleyan Blvd, Rocky Mount
Thursday, April 20 from 10 a.m. until 3 p.m. at Nash Health Care Systems, 2460 Curtis Ellis Drive, Rocky Mount
Thursday, April 25 from 10:30 a.m. until 4:30 p.m. at Environmental Services Building, 1221 Thorpe Road, Rocky Mount.
More ...
Word for the week


In Bibletimes, "whentheyheardoftheresurrectionofthe dead, some began to sneer" (Acts 17:32).
That's what many of us also do today. After all, we are just a little too sophisticated to believe in the resurrection of dead bodies. The only resurrection messages we can stomach speak of renewal of life in the springtime or personal renewal through recommitment to a major project.

More ...
DENNIS PRUTOW
Luke's Word for the Week


Holy Week Greetings, I pray that the peace of Christ is sustaining you in your journey as we approach Easter Sunday. Today, I'd like to cordially invite you to the Community Sunrise Service that will take place this Sunday, April 16th - 7am at Forest Hills Cemetery Flagpole.
It's truly a sacred time to be together with the body of believers (and unbelievers who are curious about the faith!) to be standing in the middle of a cemetery, at sunrise, on Resurrection Sunday.

More ...
LUKE WHITEHEAD
PEACHTREE COMMUNITY NEWS


Sunday, Psalm Sunday, was a beautiful spring morning as Peachtree folks gathered at the church for worship. Pastor Whitehouse and his wife, Marta, were missing. Marta's father, Frank Venegas of Daytona Beach, Florida, passed away on Thursday, following a lengthy illness. Our sympathy goes out to them. The pulpit was filled by Dr. Bill Wakefield, in Gene's absence. Dr. Wakefield is a former interim pastor at Peachtree and his, and his wife's, Delcie's presence brought back precious memories.

More ...
BARBARA HARDISON
NCC Foundation receives funds for scholarship program
The Gene Haas Foundation recently presented a check for $17,500 to the Nash Community College Foundation in support of the scholarship program and National Institute for Metalworking Skills (NIMS) credentialing in the college's advanced manufacturing program. Scholarships will be awarded to students currently enrolled in, or who will be enrolling in, a machining-based training program at Nash Community College. Students in the Computer-Integrated Machining or Engineering programs at NCC will benefit from the gift.
More ...
The world is moving towards automation, maybe


The latest doomsday scenario for life as we know it is upon us, and it has nothing to do with Donald Trump.
In the last two weeks, I've heard on both television and radio, as well as read several articles about how automation will soon put most, if not all, humans out of work. As a matter of fact, this "news" has been such a hot topic, I offered my freshmen the opportunity (they don't view it exactly the same way) to write research papers about the robot invasion.

More ...
Mike Brantley
Congratulations teachers!


Teachers are perhaps the most important profession in the world.
After all, they mold the minds of our children each and every day and spend more time with our children than anyone else.
But often, they are overlooked and not given enough credit for all they do.
On Tuesday night, Nash-Rocky Mount Public Schools recognized teachers in the district with the annual Teacher of the Year ceremony.

More ...
Amanda Clark
Backward Glances


This photo was found in The Graphic's 1974 archives. We're not sure of the location or event, but it looks as though it may be a school or summer camp project.

More ...
A PICTORIAL LOOK INTO THE PAST

ON THE MOVE. Nash Central High School's Taylor Baker (left) tries to gain possession past a Wilson Fike player during Tuesday afternoon's Big East Conference girls soccer match.

Ryan's Hope For Nash Central


ROCKY MOUNT -- In many respects, Nash Central High School's 2017 girls soccer season is merely an audition for next year.
The Lady Bulldogs, in their final Class 3-A Big East Conference campaign, have only three seniors and are loaded with talent -- an intangible that Coach Ryan Ruiz hopes will serve his club well when the Bulldogs move to the Class 2-A Eastern Plains Conference next spring.

More ...
GEOFF NEVILLE, Graphic Sportswriter

EFFECTIVE BACKHAND. Nash Central's Israel Brown goes to his backhand to deliver a winner during Tuesday's Big East boys tennis contest.

COURT COMPETITION


FRANKLINTON -- Nash Central High School continues to be on the upswing in boys tennis -- and the Bulldogs could very well be on the verge of earning a winning overall team record this spring.
Coach Frank Poyer's Court Bulldogs are now 8-6 overall after securing a home Big East Conference victory Tuesday afternoon against the Wilson Hunt Warriors.

More ...
GEOFF NEVILLE, Graphic Sportswriter
GRIDIRON GREATS


NASH COUNTY -- It's become an annual tradition that Nash County will be well-represented at the North Carolina Coaches Association's East-West All-Star Football Game.
That will once again be the case for this year's event, which will be held July 19 at Jamieson Stadium on the campus of Grimsley High School in Greensboro.
Nash Central lineman A.J. Floyd has been selected to the East roster after his outstanding senior campaign.

More ...
GEOFF NEVILLE, Graphic Sportswriter
Godwin honored by USAS


ROCKY MOUNT -- The USA South Conference has released it 2017 All-Conference awards in softball with a trio of North Carolina Wesleyan College Battling Bishops earning recognition.
Junior Alicia Burns and sophomore Shelby Godwin were each named to the East Division's Second Team, while senior Abigail Leonard was named to the league's All-Sportsmanship Team.

More ...
Staff Reports
Rocky Mount hosts openers


ROCKY MOUNT -- The City of Rocky Mount recently held its Opening Day for youth baseball and softball.
Among the highlights of the event was the First Annual Skills Challenge, which consisted of a home-run hitting contest, baserunning contest, outfield throwing contest and a team Rocket Relay.

More ...
Staff Reports
Mudcats a winner at Wilmington


WILMINGTON, DEL. -- Marcos Diplan and Freddy Peralta carried a no-hitter into the eighth and closer Nate Griep pitched around a lead-off triple in the ninth with three straight strikeouts as the Carolina Mudcats defeated the Blue Rocks 2-1 at Daniel S. Frawley Stadium on Monday night in a Class A Carolina League baseball matchup.
The Mudcats (3-1) managed just one hit in the road victory, but scored twice and held the Blue Rocks (1-3) to only one run and four hits.

More ...
Staff Reports
Rocket Run slated in Rocky Mount


ROCKY MOUNT -- Tar River Running Company (TRRC) has announced that the Nash Health Care Rocket Mile has been awarded the 2018 National Road Mile Championship of the Road Runners Club of America (RRCA) with the news announced at the 59th annual RRCA National Convention in Detroit, Michigan.
"We are very excited to have been selected to host next year's National Championship," said TRRC founder and race director Michael Forrester.

More ...
Staff Reports

HERE'S A TIP. Nationwide coach Joey Corbett offers batting advice to player Bryson Racket during last Saturday's Town of Nashville youth baseball actoin at Glover Park. (Graphic photo by Amanda Clark)

Nashville sked continues


NASHVILLE -- Last Saturday, April 8 was another exciting day at Glover Park for the Town of Nashville Parks, Recreation and Cultural Resources Department.
In Minor League Baseball, Webby's Shaved Ice played Mary Ruffin's Nationwide Team.
Webby's won the matchup 12-3 with Christopher Kearney hitting an in-park Grand Slam.

More ...
Staff Reports
Pirates defeated versus Houston


HOUSTON, - Fourteenth-ranked Houston scored four runs in the sixth inning erasing a one-run deficit and went on to complete the American Athletic Conference baseball sweep of East Carolina University, 9-6, Sunday afternoon at Schroeder Park in the Lone Star State.
With the win, the Cougars improve to 23-8 overall and 4-2 in league play while the Pirates fall to 18-15 on the season and 0-6 in conference play.

More ...
Staff Reports
Nash Central falls to Golden Demons


WILSON -- Homestanding Wilson Fike secured a key Big East Conference boys tennis contest last Tuesday against the Nash Central Bulldogs.
The score was 9-0 in favor of the Golden Demons, who improved to 10-2 overall and 6-1 in the Big East.
Coach Frank Poyer saw his Bulldogs drop to 5-6 and 1-6.

More ...
Staff Reports
Big East golf campaign ends


ROCKY MOUNT -- Suspense wasn't one of the key intangibles when the Big East Conference held its final boys golf match of the 2017 season on Monday at Belmont Golf Course.
Wilson Fike's team championship, pretty much a formality coming in, was finalized in convincing fashion at the Golden Demons claimed the final match with 325 strokes -- 25 shots ahead of runner-up Nash Central.

More ...
Staff Reports
EYE ON THE BALL
Nash Central's Sarah Radjail (right) follows the play during Tuesday afternoon's Big East Conference girls soccer home contest against the Wilson Fike Lady Demons.
More ...
POWERFUL SERVE
Nash Central's Israel Brown delivers a strong serve as part of his No. 6 Singles match during Monday's Big East Conference boys tennis event against rival Wilson Hunt.
More ...