Subscribe/Access
Advertisements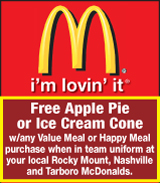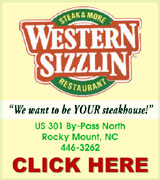 Sections
Member Options
Back
Former cop charged with teen's death


A former Nash Central High School student was shot and killed last Tuesday night, causing disputes at the school the next day.
According to the Rocky Mount Police Department, officers responded to a report of a shooting in the 700 block of Powell Drive. When officers arrived, they found 17-year-old Traveon Sessoms Bullock in a yard suffering from wounds received in the shooting.

More ...
AMANDA CLARK, GRAPHIC STAFF WRITER
AG Stein visits Nashville


Leaders from the Town of Nashville and Nash County shared what they are doing to fight the opioid addiction crisis with Attorney General Josh Stein.
Stein visited Nashville on Tuesday morning for a roundtable discussion on the opioid addiction crisis facing the state.
Nashville Police Chief Thomas Bashore, Nashville Mayor Donald Street and Town Manager Henry Raper were among those at the roundtable to discuss the town's efforts to help with the opioid crisis.

More ...
AMANDA CLARK, GRAPHIC STAFF WRITER
Traffic stop nets drug bust on I-95
A member of the Nash County Sheriff's Office's Highway Interdiction Team arrested a Florida man last week after finding drugs and counterfeit items in his vehicle.
Deputy J.S. Winstead stopped a vehicle last Wednesday morning on I-95 at the 139.5 mile marker for speeding. During the traffic stop, it was believed that criminal activity was present which resulted in a search of the vehicle.
More ...
Red Oak bank robbed Friday
The Nash County Sheriff's Office is continuing to investigate an armed robbery that occurred on Friday at Southern Bank in Red Oak.
The robbery happened around 11:15 a.m. According to the Nash County Sheriff's Office, the suspect did appear to have a firearm during the robbery but a citizen that saw the suspect outside the bank also indicated a firearm was present.
More ...
Tri-County commissioners meet


Nash County Commissioners hosted a breakfast for fellow commissioners from Wilson and Edgecombe Counties on Tuesday in Sharpsburg.
The breakfast was a chance for commissioners to fellowship and open the lines of communication between the three boards, said Nash County Board Chair Robbie Davis.
Though there was no agenda, Davis did offer some trivia from each of the three counties, including who each county was named after and each counties size as well as how many square miles of water each county has.

More ...
AMANDA CLARK, GRAPHIC STAFF WRITER
Raper named RMT interim manager
The Rocky Mount City Council recently announced the selection of Stephen W. Raper as interim city manager. The appointment became necessary after current City Manager, Charles Penny, announced his retirement, effective April 1, 2017. Raper will assume the responsibilities of city manager until a permanent replacement is named.
Raper, a resident of Rocky Mount, worked as city manager of Rocky Mount from Jan. 1, 1995 to Dec. 31, 2010.
More ...
Sylvan Heights Bird Park to visit Cooley Library


Syvlan Heights will bring its bird park to Nashville on Friday, April 7.
Harold D. Cooley Library will host the bird park at 4 p.m., said Library Director Cati Montgomery.
A hands-on presentation will be offered to attendees that includes ducks, geese and a swan that will expose people to the world of birds, particularly waterfowl. Eggs and feathers will also be shown so attendees can learn how birds nest, fly and survive in the wild.

More ...
AMANDA CLARK, GRAPHIC STAFF WRITER
Shearon earns Girl Scouts Appreciation
Christina Shearon, of Nashville, has been recognized for her volunteer service by Girl Scouts - North Carolina Coastal Pines at the council's 10th Annual Meeting held Saturday, March 4 in Greenville, NC.
Shearon was awarded the Girl Scouts of the USA (GSUSA) Appreciation Pin, which recognizes an adult volunteer who has delivered outstanding service to at least one area or program delivery audience.
More ...
Rocky Mount's annual Easter Eggstravaganza is April 9
Sunday, April 9 is the date for the city of Rocky Mount's annual Easter Eggstravaganza. Dubbed the largest easter egg hunt in the city, the event is scheduled for 2 p.m. to 4 p.m. in the Imperial Centre for the Arts and Sciences.
"Easter Eggstravaganza is a hugely popular event for residents and visitors to Rocky Mount," says Special Events Coordinator Susan Ball. "It's a time for families to get together and enjoy the many activities planned for babies and children up to age 12, and it's all free."
More ...
Zebulon man charged with robbery in Murraytown
The Nash County Sheriff's Office arrested a Zebulon man after he robbed the Express Mart on Highway 97 in the community of Murraytown.
The Sheriff's Office responded to an armed robbery last Wednesday around 12:51 p.m. at the Express Mart, which is located at 13577 West NC 97 in Zebulon.
Once on scene, deputies discovered a white male suspect wearing a mask and hoodie had entered the store displaying a firearm and demanded money from the clerk/owner. After getting the register open and removing the money, the suspect fled the scene in an unknown direction.
More ...
NASHVILLE POLICE REPORTS
INCIDENTS
A damage to property (vandalism) and larceny was reported on 3/20/17 at 405 Center Street
A driving while impaired and damage to property (vandalism) was reported on 3/22/17 on First Street
A larceny was reported on 3/24/17 at 1025 Eastern Avenue
More ...
Nash County Blood Drives April 2017
Monday, April 3 from 3 until 7 p.m at Bethlehem Baptist Church, 305 South Halifax Road, Rocky Mount.
Tuesday, April 4 from 3 until 7 p.m. at Red Oak Volunteer Fire Department, 7951 Red Oak Boulevard, Red Oak.
Tuesday, April 4 from 3 until 7 p.m. at Grace Baptist Church, 8923 West Mount Drive, Rocky Mount.
More ...
39th Jabberwock Pageant set for April 2nd
Twenty-five young women will be presented to society April 2, 2017 at the 39th Jabberwock pageant to be held by the Rocky Mount Alumnae Chapter of Delta Sigma Theta Sorority, Inc.
The honorees are juniors and seniors attending eight area schools; Rocky Mount High has ten participants, Northern Nash High six participants, Tarboro High three participants, North Edgecombe two participants, Southwest Edgecombe High one participant, Nash Central High one participant, Southern Nash High one participant, and Green Central High one participant.
More ...

James Hurst, from the Baltimore Ravens NFL football team, visited with students in the media center during Career Day. Hurst encouraged students to work hard to make good grades and be open to learn new things.
Nashville Elementary Career Day
This is part two of the Nashville Elementary Career Day photos. Students had the opportunity to learn about numerous careers during the recent Career Day event. Numerous people from the area were on hand to talk to students about various careers. Pictured are classes which attended a presentation from The Nashville Graphic.
More ...
Nash County Animal Friends' Notebook


Sometimes I get so sad. I see where County Shelters have a clinic (for spay/neuter plus). I see where County Shelters have a bathing area. I see where County Shelters have a kitchen. I see where County Shelters have a cat room, separate from the dog area. I see where County Shelters have an Adoption Room (where people can interact with cats or dogs in a home like setting). I see where County Shelters will allow volunteers to walk dogs and socialize them. I see County Shelters that not only embrace TNR (Trap/Neuter-Spay/Return) of feral cats, but some that even help.

More ...
CAROL VIERELA, NASH COUNTY ANIMAL FRIENDS
Local church to host Priscilla Shirer simulast April 8
Best-selling author and Bible teacher Priscilla Shirer will inspire Nash County women on Saturday, April 8 during a Simulcast at Nashville United Methodist Church.
The event is open to all women in the community and is slated to be held from 11 a.m. until 6 p.m. Doors will open at 11 a.m.
Nashville will stream the Tulsa, Oklahoma event in their worship center.
More ...
Luke's Word for the Week


Public displays of humiliation are awful for anyone. Whether tripping over our own two feet or spilling a drink on ourselves while in a restaurant, I've yet to find someone who likes public humiliation. We, rightly so, do our best to avoid humiliation at all cost.
In our Stations of the Cross text for today though, we see public humiliation at a whole new level. We see the most shameful act of attempting to blatantly humiliate a man. However, it's not just a man they are attempting to humiliate, but God of very God - the second person of the Trinity.

More ...
LUKE WHITEHEAD
PEACHTREE COMMUNITY NEWS


On a beautiful spring morning Peachtree folks gathered at the church for worship. Sanctuary flowers were given by Beth Baines in memory of her sister, Patricia Ann Griffin Baines.
The Adult choir sang a stirring rendition of "We Will Remember". Solo parts were sung by Jerry Hobgood, David Griffin, Lawrence Edwards and Robert Sykes. Jane May played a beautiful arrangement of "The Gift of Love" for the offertory.

More ...
BARBARA HARDISON
RED OAK NEWS


Welcome to Mike and Megan Conner as new members of Red Oak Baptist Church!
Women in Action of Red Oak Baptist Church and friends joined together to prepare and serve a meal at the Homeless Shelter in Rocky Mount on Saturday, March 25. Those participating included Karen Girona, Jeanette and Larry Hill, Marion Faulkner, Maureen Williams, and Lisa Carp.
The Edna Booth Group will meet on Monday, April 3 at 7:00 - 8:00 pm at Red Oak Baptist Church.

More ...
SUZY PEARCE
BPW MEETS
President Barbara High Tyre (at left) discusses plans for the meeting with Maryanna Bennett.
More ...
Partnership for Healthier Communities conducts surveys in Nash County
With the assistance of the North Carolina Institute for Public Health, graduate students from the UNC Gillings School of Global Public Health, and volunteers from the community, the Twin Counties Partnership for Healthier Communities interviewed over 150 residents in randomly selected neighborhoods throughout Nash County recently.
In three days, twenty-two teams knocked on doors in 40 different neighborhoods.
More ...
Never too old for daddy's birthday letter


Dear Holly,
The farthest thing on my mind 17 years ago this week, was where we'd be in 17 years. "Old people" told me from before you were born that you'd be grown before your mom and I could blink. They were close -- it seems faster than that.

More ...
Mike Brantley
Seven days of the flu is enough for anyone!


This month has not been the exciting March I had hoped it to be.
I did not have any exciting plans, per say, but I can say with certainty one of my plans was not to be stuck inside with my family for seven days with the flu.
Yep, the flu hit my boys, all three of them, at once.
Of course, it started with just one.

More ...
Amanda Clark
Facts can clear the fear of change and certain technologies


Dear Editor:
How often these days certain people claim to be on the edge of real facts; and we also feel those on the edge of fears and anxieties too. Opinion often influences the lesser informed. It comes down to how some do superlative efforts on research and many don't - we just read about it. So we work with slanted opinion.
About 14 years ago the USNavy had undergone testing for long distance low and high sensitive radar designs at NC coast.

More ...
Letters
Backward Glances


UNDEFEATED TEAM -- This photo originally published in The Graphic on June 27, 1974. The L.R. Bass Small Fry team took the regular season and tournament trophies by going 14-0 through the tourney play.

More ...
A PICTORIAL LOOK INTO THE PAST

GLENN GETS TO THIS ONE. Northern Nash High School's Glenn Jarvis lunges for a forehand return at the No. 5 Singles position as part of last Friday's Big East Conference road tennis showdown against the Nash Central Bulldogs.

NNHS, NC Renew Tennis Rivalry


ROCKY MOUNT -- Northern Nash boys tennis coach Lisa Weaver expected a tussle when her club traveled across US 64 last Friday to renew its backyard rival with Big East Conference opponent Nash Central.
But Weaver couldn't have anticipated how the match would turn out as four of the six singles contests needed tie-breakers to determine the outcome.

More ...
GEOFF NEVILLE, Graphic Sportswriter

PUCKETT PLASTERS ONE. Northern Nash's Chance Puckett likes the look of this tee shot during last Wednesday afternoon's Big East Conference Boys Golf Match at The River GC in Franklin County.

DOWN BY THE RIVER


BUNN -- Under normal circumstances, The River Golf Course at Lake Royal provides a challenging test with its undulating layout and tricky greens.
But throw in wet and chilly conditions, along with a steady wind, and The River proved to be the true winner of last Wednesday's Big East Conference Boys Golf Match.
Not a single league linkster managed to break 80 on the par-72 layout -- and just about every golfer had trouble with the next-to-impossible green on the 7th hole.

More ...
GEOFF NEVILLE, Graphic Sportswriter

LOOKS LIKE HE MADE IT. Northern Nash's Silas Gonzalez (left) slides safely into third base during his club's non-conference home game last Friday afternoon against the Tarboro Vikings.

COLLINS' CREW


RED OAK -- Northern Nash stunned the Big East Conference baseball world last spring by earning a share of the league championship -- despite having an overall record under .500.
But seven key players graduated from that squad, leaving second-year skipper Bard Collins with a bit of a rebuilding project this season.
Even with a young, inexperienced group, the Fighting Knights have managed to hang in at 4-6 overall to go with an 0-2 ledger to date in the Big East.

More ...
GEOFF NEVILLE, Graphic Sportswriter
Southern soars on diamond


STANHOPE -- Southern Nash's effective start to the 2017 varsity baseball season continued last Thursday with a 5-2 home victory against the Northern Nash Knights in a Big East Conference diamond showdown.
Southern Nash, coached by Todd Brewer, improved to 9-2 overall to go with a 2-0 mark in the Big East.
Trevor Mills worked five innings on the mound to gain the decision, while Leroy Edwards finished off a save with two frames of work.

More ...
Staff Reports

NC WESLEYAN'S SHELBY GODWIN

NCWC nabs softball wins


ROCKY MOUNT -- The North Carolina Wesleyan College softball team picked up a pair of USA South Conference sweeps over the weekend, downing Wesleyan (Ga.) on Saturday and Agnes Scott on Sunday.
The Bishops honored their parents prior to Saturday's game with the Wolves, while Sunday's Cancer Awareness Day featured a ceremonial first pitch by NCWC's Director of Security and recent cancer survivor Wayne Sears.

More ...
Staff Reports

33 FOR ME. Mount Olive's Ni'ya Styles came through with a career-high 33 points during a victory over Chowan back in December. Styles prepped at Nash Central High School under Coach Terri Cash.

Styles' Points


MOUNT OLIVE -- Three years ago, a few eyebrows were probably raised in Wayne County when the University of Mount Olive announced its latest women's basketball signee -- Ni'Ya Styles from Nash Central High School.
Styles came to Mount Olive with an impressive pedigree following her standout career at NCHS under Coach Terri Cash.
But there was just one statistic that was worrisome for Trojan followers -- Styles' height (or lack thereof).

More ...
GEOFF NEVILLE, Graphic Sportswriter
NC State drops series to Cards


RALEIGH -- The North Carolina State University baseball team split the first two games of the series with top-ranked Louisville, but dropped the series finale on Sunday afternoon at Doak Field at Dail Park, 8-1, as the Cardinals clinched the series.
The Wolfpack falls to 13-12 and 4-5 in Atlantic Coast Conference (ACC) play, while the Cards move to 21-2 and 8-1 in conference play.
Louisville starter Nick Bennett picks up his third win and remains unbeaten, while Cory Wilder takes the loss for NC State.

More ...
Staff Reports
East Carolina nabs series sweep


GREENVILLE -- Bryant Packard collected a career-high four hits and drove in a pair of runs, while Spencer Brickhouse and Eric Tyler each hit home runs as No. 25 East Carolina completed the three-game series sweep of Towson, 12-7, Sunday afternoon at Lewis Field inside Clark-LeClair Stadium.
With the win the Pirates improve to 17-8 on the season, while the Tigers fall to 8-10.
Tyler Smith (1-0) picked up the win in his first collegiate start where he allowed a pair of runs (one earned) on three hits with one walk and one strikeout over five innings or work.

More ...
Staff Reports
BIG EAST GOLF PHOTOS, 1
STAR POWER. Among the competitors from last Wednesday afternoon's Big East Conference Boys Golf Match were (above) Northern Nash's Zach Ward.
More ...
BIG EAST GOLF PHOTOS, 2
STAR POWER. Among the competitors from last Wednesday afternoon's Big East Conference Boys Golf Match were (above) Nash Central's Joseph Cook.
More ...
BIG STRETCH
Tarboro's Lee Thorne (left) lunges to retire Northern Nash's Devin Davenport at first base last Friday.
More ...
FOREHAND FURY
Northern Nash's Jackson Nethercutt returns a shot at No. 4 Singles during last Friday's boys tennis match against Big East Conference rival Nash Central at the NCHS Courts.
More ...
ON THE MARK
Nash Central's Isaiah Hernandez offers a return of service last Friday against rival Northern Nash.
More ...
WATCH IT FLY
Southern Nash's Jubie Moss follows this approach shot during last Wednesday afternoon's Big East Conference Boys Golf Match at The River Golf Course in Franklin County.
More ...

Chris Nash
Nash Arts
Nash Arts welcomes the Bill Lyerly Band tonight, March 30th from 8-10 p.m., along with special guests Clyde Mattocks and Alan Hicks. General admission is $15. Nash Arts membership discounts applied according to level of membership.
Chris Nash & the Nash County Line will perform Saturday night from 7-9 p.m. General admission is $13.
More ...