Subscribe/Access
Advertisements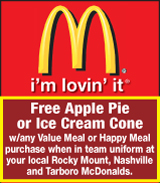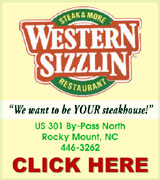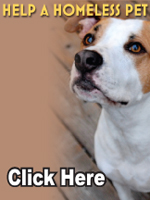 Sections
Member Options
Back

VOLUNTEER OF THE YEAR -- Brittany Wind, at right, receives the 4-H Volunteer of the Year Award. Presenting the award is Johnnie Specht, at left, County Council President.

4-H holds awards program


Nash County 4-H celebrated its volunteers, clubs and youth on Monday night at its annual awards program.
This year's theme was "4-H Wild West Bonanza."
Numerous awards were presented to individual 4-H members as well as clubs and club leaders.
Johnnie Specht and Olivia Daughtridge were each named the 4-H'er of the Year.

More ...
AMANDA CLARK, GRAPHIC STAFF WRITER
I-95 interchange proposed near Nashville


A project on the North Carolina Department of Transportation's (DOT) "to do" list is finally becoming a reality.
Public meetings were held last week on the proposed project to construct a new interchange on I-95 at Sunset Avenue in Rocky Mount.
According to DOT, the purpose of the project is to provide improved access to I-95 in support of an economic development initiative in the Rocky Mount area.
The project will involve adding ramps at the existing Sunset Avenue overpass and widening Sunset Avenue to four lanes with a median between Old Carriage Road and Halifax Road.

More ...
AMANDA CLARK, GRAPHIC STAFF WRITER
CARDINAL BALL
Pictured above, PTO president Shondick Boone crowns Mason Moore the Cardinal Ball King on Friday night.
More ...
HOPE celebrates successful year
Nashville's Police Department is celebrating a successful year with its HOPE initiative, which became the first such program in the state that was aimed at helping those with a substance abuse disorder.
The HOPE initiative was unveiled on February 9, 2016. The initiative is a safe way for those with an opiate addiction to seek help without fear of incarceration as well as to provide resources to give individuals hope in becoming independent.
More ...
Rosenwald School open house is Feb. 25


History will come alive at Castalia's Rosenwald School on Saturday, February 25.
As part of Black History Month, the Castalia Community Development Corporation will host an open house from 11 a.m. until 2 p.m. at the school, located at 10445 Lancaster Store Road in Castalia. The open house will include tours as well as personal stories from former students of the school.
Rosenwald Schools were part of a building program established to improve the quality of public education for African Americans in the early twentieth-century.

More ...
AMANDA CLARK, GRAPHIC STAFF WRITER
Nashville oks rezoning request


Nashville's Town Council approved a request to rezone property across from Walgreens from residential to general business.
The request was approved last Tuesday night during the board's regular meeting.
A public hearing was held on the rezoning on February 1.
The request was from Jeremy Bell, who owns the 3.5 acre piece of property.

More ...
AMANDA CLARK, GRAPHIC STAFF WRITER
NCMS BETA Club heads to Orlando!


A team of BETA Club students at Nash Central Middle School will head to Orlando, Florida this June to compete in the National BETA Club Convention, after receiving second place at the state convention recently.
There are over 200 members in Nash Central Middle School's BETA Club. The club is an invitation only club and is based off of four principles; academics, leadership, service and character.

More ...
AMANDA CLARK, GRAPHIC STAFF WRITER
Nashville Baptist plans mission for "Hope for Appalachia"


A local church is planning to fill 400 boxes for children in impoverished areas of Appalachia and is asking for the community's help.
Nashville Baptist Church will send a team of up to 25 people to six schools in Letcher County, Kentucky in April. The trip is part of "Hope for Appalachia," which was started in 2012.
As part of the mission's project, boxes are filled for youth with basic, everyday items.

More ...
AMANDA CLARK, GRAPHIC STAFF WRITER
NCMS BETA CLUB
The Nash Central Middle School BETA Club is pictured above posing at their Living Literature scene. Pictured left to right are: Cannon Puckett (Baker), Rachel Winston (Baker's Wife), Lilly Boone (Witch), Kylie Grace Billups (Little Red Riding Hood), Kada Murray (Cinderella), Trista Phan (Cinderella's Stepsister), Grayson Dwyer (Cinderella's Stepmother), Abby Wilson (Cinderella's Stepsister), Jimmy Porter (Jack), and Anthony Cockrell (Milky White-Jack's cow).
More ...
Water boil notice lifted for Nash County customers


Nash County water customers in one area of the county were under a boil water notice through Tuesday afternoon after a water line broke on Bend of the River Road.
According to Derek Hawkes, Nash County Utilities Director, the leak was quickly fixed on Monday morning after it was discovered. Lines were also flushed and samples were taken and sent to the health department.

More ...
AMANDA CLARK, GRAPHIC STAFF WRITER
Reports of armed person near courthouse proven false
Reports of an armed subject near the courthouse on Thursday afternoon were unfounded, according to the Nash County Sheriff's Office.
Officers with the Sheriff's Office and Nashville Police Department responded to reports of a subject walking up Washington Street carrying a rifle headed towards the Nash County Courthouse. The report came in just before 5 p.m. and units quickly responded and located the subject; however it was determined he did not have a weapon.
More ...
Nashville rethinks charging stations


Nashville's Town Council wants more information before moving forward with a Duke Energy Grant that will provide two electric vehicle charging stations in town.
Council members were presented a reimbursement agreement on Tuesday at the board's regular meeting that would reimburse the town $10,000 upon completion of the project.

More ...
AMANDA CLARK, GRAPHIC STAFF WRITER
NASH COUNTY SHERIFF'S OFFICE REPORTS
A money seizure was reported on 2/6/17 on I-95 Southbound
A counterfeiting was reported on 2/6/17 at 9608 W NC 97
A felony larceny was reported on 2/6/17 at 8076 Stoney Hill Church Road
A recovered stolen vehicle and injury to personal property was reported on 2/7/17 on Richardson Road
More ...
NASHVILLE POLICE REPORTS
An involuntary commitment was reported on 2/6/17 on W Washington Street
A fraud - credit card/ATM - was reported on 2/6/17 at 1016 Cross Creek Drive
A city ordinance violation was reported on 2/6/17 at 413 Center Street
A possession with intent to sell/deliver marijuan was reported on 2/8/17 on W Washington Street, near Taylor's Store Road
More ...
Sink honored for twenty-five years of service with UDC
Margaret McIntyre Sink was honored with a Thirty-Five Year Pin and Certificate for her service and membership in the United Daughters of the Confederacy (UDC).
Margaret joined the organization on May 15, 1980 under her Great Grandfather, Pvt. James Jefferson DeBose, Co E, 18th NC Infantry.
Margaret was a teacher with the Rocky Mount City Schools when she joined and was unable to attend the mid-day meetings. Then, in 1983, she and her husband went to the Netherlands. They lived there for sixteen years, where they taught school for the Department of Defense on two different military bases.
More ...
Middlesex Powell Clinic changes name
The Middlesex Powell Clinic is now UNC Internal Medicine & Pediatrics at Middlesex.
This change reflects that the practice provides whole family care including pediatrics. Dr. Gilbert Alligood specializes in pediatrics and internal medicine and is accepting new patients.
More ...
State Capitol Police Dept. promotes Tucker to Sergeant
The State Capitol Police has announced the promotion of Officer George (Ricky) Tucker to the rank of Sergeant. The promotion was effective February 1, 2017.
Sergeant Tucker has served for 13 years with the State Capitol Police, most recently serving as the Training Officer for the agency. During his more than 30-year career in local and state law enforcement, he has served in supervisory positions including as a municipal police chief. He holds an Advanced Law Enforcement Officer certification, is a criminal justice instructor, and is a crime prevention specialist.
More ...
Speakers
Rotary Club of Rocky Mount President Garry E. Hodges, left, stands with Laura Ashley Lamm, Eastern NC Desk Editor and Drew Elliot, Opinion Editor, both of North State Journal. They spoke Monday at the Doubletree of Rocky Mount.
More ...
ENGAGED
Mr. and Mrs. Stuart Lee Parker of Spring Hope announce the engagement of their daughter, Victoria Rose Parker, to Tyler Clay Whitley of Bailey. He is the son of Mr. and Mrs. Jeff Whitley also of Bailey. The wedding is planned for May at the Chapel in the Woods in Louisburg, N.C.
More ...
Cardinal Ball Royal Court
Pictured above is the Cardinal Ball Royal Court, along with other top sellers for the Cardinal Ball raffle tickets. The Royal Court was composed of two groups of students; the first group are students who raised the most money on the third through fifth grade hall and the second group are the ones who raised the most money on the kindergarten through second grade hall by selling raffle tickets. It was still based on the traditional first, second and third place winners but a male and female winner was chosen for first and second place.
More ...
Cardinal Ball, pics 1
Halen Lynch and Ayahnie Savage take a break during the Cardinal Ball to enjoy refreshments. (Graphic photo by Jo Anne Cooper)
More ...
Cardinal Ball, pics 2
Jase Moore, a pre-kindergartner at Cedar Grove, at right, works on a Valentine at the Cardinal Ball with help from his mother, Amber. (Graphic photo by Amanda Clark)
More ...
Cardinal Ball, pics 3
Alijah Hedgepeth is all smiles during the Cedar Grove Elementary School Cardinal Ball. (Graphic photo by Jo Anne Cooper)
More ...
4-H pics, 1


Mikialah Specht, at right, was presented the 4-H Agriculture Award by her brother, Johnnie, at left. Johnnie serves as the Nash 4-H Council President.

More ...
Graphic photos by Amanda Clark
4-H pics, 2
The 4-H Club Citizenship Award was presented to the Sandy Cross 4-H Club. Pictured (L-R) are club leaders Tracy Batchelor and Christy Corbett, Taryn Reams, Laken Batchelor and Liana Vandemark.
More ...
4-H pics, 3
Olivia Daughtridge, at right, was presented the 4-H'er of the Year Award for youth ages 9-12. Presenting the award is Nash 4-H Council President Johnnie Specht, at left.
More ...
4-H pics, 4
The Red Oak Acorns were recognized for third place in the 4-H Scrapbook Awards. Pictured is club leader Jennifer Aycock (far right) with club members (from L-R) Maycee Aycock, Payton Whitley and Cullin Whitley.
More ...
Nash County Animal Friends' Notebook


Do dogs cry real tears? After reading a very graphic description of a homeless Shelter dog, I thought.... nice writing that pulled at the heartstrings. We use our photographer's words on their experiences with the Nash Shelter homeless pets on our Facebook page, along with their basic bio. A homeless pet at the Shelter must indeed feel emotional, but everything I've been reading says that pets express sadness differently but we tend to suggest our own human responses to them.

More ...
CAROL VIERELA, NASH COUNTY ANIMAL FRIENDS
Farm Credit Scholarship dealine approaching
AgCarolina Farm Credit will be awarding $28,500 in scholarships to students who will be attending, or who are currently enrolled in, a North Carolina college, university, or community college. The deadline is approaching for the twenty-nine scholarships available from the cooperative. Children or grandchildren of the cooperative's board of directors are not eligible for the scholarships, as well as children or grandchildren of the cooperative's employees.
More ...
Luke's Word for the Week


One thing, among many, that we are discovering and knowing to be true here at Nashville UMC is that we are children of faith. Each and every day, we are seeing miracles through the Spirit in the lives of people in this wonderful community that we love (and that God loves even more). Families are being reunited, souls saved, pains conquered, and illnesses cast out, this is nothing short than what Jesus was talking about when he taught us to pray, "on earth as it is in heaven" (Matthew 6:10).

More ...
LUKE WHITEHEAD
PEACHTREE COMMUNITY NEWS


On a beautiful spring-like morning Peachtree folks gathered for worship at the church. Sanctuary flowers were given by Kathy and Aubrey Farmer, as a Valentine gift to the Peachtree Family. Special music was by the Adult Choir under the direction of the pastor. They sang "Calvary Covers it All." The offertory by Jane May was a beautiful piano rendition of "In the Garden."

More ...
BARBARA HARDISON
RED OAK NEWS


Thanks to everyone from Red Oak Baptist Church and the community who contributed card fronts to be used at St. Jude's Ranch for Children. Over 3 large flat rate boxes of card fronts were donated.
Red Oak Baptist Church welcomes new members, Jeremy and Jessica Guzman.

More ...
SUZY PEARCE
Word for the week


The salvation planned by God and worked out by Jesus Christ is not only negative. It is positive. It is not only salvation from sin. It is salvation to eternal life. To be rescued from the consequences of sin is not enough. Such rescue simply brings us back to ground zero.
Can any human being then earn his or her way to heaven? Absolutely not! "For all have sinned and fall short of the glory of God" (Romans 3:23). You and I not only need rescue from the terrible consequences of sin, we need to be taken to glory.

More ...
DENNIS PRUTOW
Rocky Mount Chamber names Gailliard Distinguished Citizen
During the 113th Annual Meeting of the Rocky Mount Chamber of Commerce, James D. Gailliard, Pastor of Word Tabernacle Church and President of The Impact Center, was awarded the 2016 Distinguished Citizen Award. According to Chamber officials,
"Each year The Chamber recognizes a citizen who has demonstrated noteworthy commitment and contribution to the greater Rocky Mount community.
More ...
NCC offers "Little Free Library"
Little Free Libraries are a global phenomenon. The small, front-yard book exchanges exist in approximately 36,000 locations in 70 countries--from Iceland to Tasmania to Pakistan. Now, Nash Community College has joined the movement to share books, bring people together and grow communities of readers with an on-site Little Free Library.
More ...
Local named to Dean's List
Mackenzie Elisabeth Boone, of Nashville, was named to The University of Alabama's Dean's List.
A total of 11,758 students enrolled during the 2016 fall semester at UA were named to the Dean's List with an academic record of 3.5 (or above) or the President's List with an academic record of 4.0 (all A's). The UA Dean's and President's lists recognize full-time undergraduate students.
More ...
Observations from the road and other nonsense


It seems like travel outside of Nash County, no matter how limited, always offers plenty to write about.
I recently drove to Washington, D.C., for a writers conference, and the experience did not disappoint:
•Early on I-95, which has a posted speed limit of 70 mph for most of the ride from Rocky Mount to the Virginia border, I was passed many times because I exceeded the speed limit only enough to keep from getting run over.

More ...
Mike Brantley
Hopeful that Spaulding will remain intact historically


The Spaulding Family Resource Center has been at the center of attention lately.
The building has been put on the auction block, so to speak, and has caused a bidding war of sorts.
The building has a lot of historical significance and one group wants to ensure the building's history is never forgotten. And rightly so.
The Spaulding Alumni Association made the first bid on the building but was quickly outbid.

More ...
Amanda Clark
Tariffs could be a good thing for the United States


Dear Editor: There are many that are up in arms about President Trump's proposal to place a tariff on goods imported from foreign countries that are from factories that moved from the United States. President Trump also plans to place tariffs on countries that use unfair trade practices such as currency manipulation.

More ...
Letters
Backward Glances


COOPERS SCHOOL KIDS -- This photo was originally published in The Graphic on April 2, 1974. Mrs. Barbara Turner's fourth grade home room class presented a musical program during a PTA meeting at Coopers School. Pictured are the students dressed in Hawaiian attire preparing to sing and present several Hawaiian dances.

More ...
A PICTORIAL LOOK INTO THE PAST

FINDING A SEAM. Red Oak Middle School's Caleb Reams (with ball) drives toward the basket during Monday afternoon's Tri-County Conference Boys Basketball Championship.

TWO POINTS SHORT


RED OAK -- For the Red Oak Tigers, all hope appeared to be lost of winning the Tri-County Conference Boys Basketball Championship.
The Tigers, who were undefeated coming in, had just missed a pair of 3-point attempts while encountering a five-point deficit.
Opponent Speight grabbed the rebound, and all the Cougars needed to do was hold on to the ball and draw a foul at the eight-second mark.
That's when the magic started, and Red Oak was almost able to rally for what would have been a miraculous victory.

More ...
GEOFF NEVILLE, Graphic Sportswriter
Winstead Frazier Inducted At LC


LOUISBURG -- In his role as Louisburg College's Athletic Director, Mike Holloman has attended every installment of the school's Hall of Fame ceremonies -- including his own induction several years ago.
But in Holloman's estimation, the Feb. 4 event at the LC Multi-Purpose Room was his favorite not just for the impressive list of honorees, but the unifying message they all presented.
"This was one of the best turnouts we have had,'' Holloman said.

More ...
GEOFF NEVILLE, Graphic Sportswriter
Red Oak schedule finalized


RED OAK -- Red Oak Middle School's 2017 girls soccer schedule will begin March 8 with a road contest against the Edwards T-Birds.
The Lady Tigers will be coached by Shannon Michaels and Phillip Michaels.
All games still start at 4 p.m. Admission is $5 for adults and $3 for students.
Red Oak's complete ledger is as follows, with home matches listed in CAPS:

More ...
Staff Reports
NCWC wins on diamond


ROCKY MOUNT -- Seniors Tony Sanchez and Luis Palencia each recorded walk-off hits last Saturday afternoon to lead their North Carolina Wesleyan Collee Bishop baseball team to a season-opening sweep of Virginia Wesleyan College at Bauer Field on the NCWC campus.
Sanchez blasted a walk-off grand slam to seal an 8-4 win in the opener, while Palencia delivered a two-out bunt single to secure a 6-5 victory in game two.
Sophomore hurler Nate Gardner got the call in the opener and tossed a solid 5.1 innings, allowing just one unearned run on four hits with three strikeouts.

More ...
Staff Reports
Central rolls at the states


WINSTON-SALEM -- Nash Central gained some statewide attention last year at the Class 3-A State Indoor Track and Field Championships -- and fared even better during this year's event.
Nash Central's girls took third in the team standings at the state meet, which was held last Saturday at the JDL Track in Forsyth County.
"We went (to Winston-Salem) with the goal to challenge for the championship,'' said Nash Central veteran head coach Juan Jackson.

More ...
Staff Reports

IT'S OFFICIAL. Northern Nash High School's Isaiah Gay dons a University of Illinois hat as he makes his official decision to become a member of the Illini football team during last Friday's ceremony.

Gay Inks With Illini


RED OAK -- The suspense built as Isaiah Gay removed each layered T-shirt that was emblazoned with a college logo.
But while family members, classmates and teammates were on hand for last Friday's ceremony at the Northern Nash Gymnasium, little did anyone know that Gay had Champaign Taste.
As in Urbana-Champaign, Illinois -- the home of the University of Illinois Fighting Illini.

More ...
GEOFF NEVILLE, Graphic Sportswriter
RM to host youth sports signups


ROCKY MOUNT -- The Rocky Mount Parks and Recreation Department is currently conducting registration for its Spring Sports Youth Leagues.
Registration runs through March 3. Games will start in April and will end in early June. Practices will begin in March.
Here is a list of each offering:

More ...
Staff Reports

TREMENDOUS TRIO. (L to R) Allison Smith, Kaley Sharpe and Sarah Lamm were among the Nash Central standouts at last Saturday's Class 3-A State Swim Championships at the Triangle Aquatic Center.

Great Job At State


CARY -- Nash Central High School made some huge strides this season in swimming -- and the future looks even brighter under veteran head coach Kyle Bain.
The Bulldogs and Lady Bulldogs capped off the successful campaign last Saturday by taking part in the annual Class 3-A State Swim Championships at the Triangle Aquatic Center in Wake County.
Nash Central wasn't able to qualify for any of the finals, but the high level of competition must be taken into consideration.

More ...
Staff Report
NASH COUNTY REC REPORT


NASH COUNTY -- Listed are updated Nash County Parks and Recreation Department Futsal and Basketball Scores:

More ...
Staff Reports
HOOPS ALL-STAR ROSTERS


GREENSBORO -- Rosters have been finalized for the Tar Heel teams at the annual North Carolina/South Carolina All-Star Carolinas Basketball Classic.
The 2017 installment of the event will be held March 18 at Socastee High School near Myrtle Beach.
The girls game will tip-off at 6:30 p.m. and will be followed by the boys matchup.
Tickets are $10 per person and will be available at the gate.

More ...
Staff Reports
Staton sparkles for Wesleyan


GREENSBORO/RALEIGH -- The North Carolina Wesleyan Collee Battling Bishop women's hoops squad picked up a pair of USA South Conference road wins over the weekend, knocking of Greensboro and William Peace to end the regular season on a four-game winning streak.
Wesleyan finishes conference play with an 8-6 record and will take a 13-12 overall mark into next weekend's conference tourney divisional round.
Last Saturday, NCWC posted a 62-59 victory at Greensboro College behind a team-high 14 points from senior Timyra Staton, who was a perfect 6-for-6 from the floor.

More ...
Staff Reports
SINCERE-LY YOURS
Red Oak Middle School's Sincere Battle (with ball) tries to work his way through the Speight defense during Monday's conference championship basketball showdown.
More ...