Subscribe/Access
Advertisements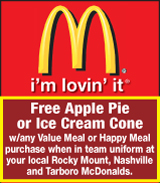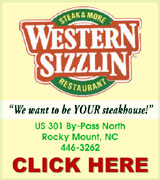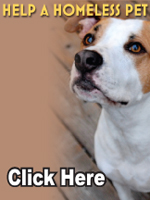 Sections
Member Options
Back
Nashville sets advisory board


Appointments were made to Nashville's newly created Municipal Service District Advisory Board on Tuesday night.
Nashville Town Council approved the appointments, which consists of five members of the business community, during the board's regular meeting.
Those appointed include Tim Evans, Angela Dawes, Dylan Bunch, Tammy Davis and Layla Langley.
Evans, owner/operator of Acme Cleaners, and Angela Dawes, owner/operator of Unity Hair Salon, will each serve one-year terms.

More ...
AMANDA CLARK, GRAPHIC STAFF WRITER

BISHOP

Glover retires from Nashville Parks and Recreation


Jim Glover has one resolution for 2017; to spend more time at the beach. And with his recent retirement as the Director of Nashville's Parks and Recreation Department, he'll have plenty of time to do just that.
Glover wrapped up a nearly 21-year career with parks and recreation but his time with the department really goes much further back.
Glover grew up playing ball in the recreation league. When he was in high school, he coached and when his own children played, he also coached.

More ...
AMANDA CLARK, GRAPHIC STAFF WRITER
Red Oak hires new Deputy Town Clerk


The first regular meeting of 2017 for the Red Oak Town Board was held on Monday.
At December's meeting the board had gone into closed session to discuss applicants for the Deputy Town Clerk position. During Monday's meeting the board unanimously voted to appoint Tracy Shearin to the new position. Shearin has retired from a position with Nash County and will be sworn in as the Deputy Town Clerk of Red Oak at next month's meeting.

More ...
JESSICA A. SMITH, GRAPHIC CORRESPONDENT
Johnson named Bailey Administrator


Tim Johnson is adjusting to life in a new role with the Town of Bailey.
Johnson recently became the town's administrator and has resigned from his role as the mayor. Johnson will also serve as the zoning administrator and finance officer in his new role.
"I officially became the administrator on December 20," Johnson said.

More ...
AMANDA CLARK, GRAPHIC STAFF WRITER
Annual MLK celebration is Jan. 15th


Nashville's Willing Workers are making plans to host their annual Martin Luther King, Jr. celebration.
This year's event will be held on Sunday, January 15 at 4 p.m.
For many years, the event was held on Monday, the day recognized for Martin Luther King, Jr. Day but last year, organizers decided to host the event on a Sunday afternoon.

More ...
AMANDA CLARK, GRAPHIC STAFF WRITER
Local student excels through virtual online learning


An online public charter school has made a big difference in the educational life of one Nashville boy.
Amanda Pridgen said her son, Hadley, 9, has been enrolled in North Carolna Virtual Academy since August. The school is all online and students, teachers and parents communicate via email, phone and in a virtual classroom. Amanda said by having the virtual setting, Hadley is able to be in a more comfortable environment, where he can take breaks when he needs them but he's still able to thrive academically.

More ...
AMANDA CLARK, GRAPHIC STAFF WRITER
Nashville honors retired firefighters


Nashville's Town Council recognized three firefighters on Tuesday night for their long-time service to Nashville's Fire Department.
William Lindsey, Allen Williams and Austin Taylor were all recognized by the board for their 20 years of service to the fire department.
Council members unanimously approved resolutions that awarding their fire helmets.
Driver/Operator Lindsey started his volunteer career with the department on March 3, 1995.

More ...
AMANDA CLARK, GRAPHIC STAFF WRITER
FEMA provides more time for families living in hotel rooms
FEMA's program to assist people with transitional housing, set to expire on January 7th, has been extended in increments of 14 days through February 4th, 2017. But to be eligible, survivors must demonstrate they are working toward a permanent housing solution.
Currently more than 1,600 North Carolina households are in the program, including over 3-hundred Edgecombe County families who are housed in FEMA-paid hotel rooms because their homes were left uninhabitable by Hurricane Matthew.
More ...
Suspect sought in two recent bank robberies
The Nash County Sheriff's Office is looking for a man wanted in two bank robberies on Tuesday.
The first robbery was at the Southern Bank in Red Oak. According to the sheriff's office, a male suspect walked in the bank around 4:52 p.m. and told the teller she was going to give him $30,000. The suspected allegedly acted suspiciously while in the bank and left after the teller did not give him any money.
More ...
NASHVILLE POLICE REPORTS
INCIDENTS
A larceny after breaking and entering, breaking and entering a commercial, safe cracking and conspiring to break and enter into a building to commit a felony was reported on 12/27/16 at Highway 55 Diner, 137 Nashville Commons Drive
A possession of stolen property was reported on 12/18/16 at 115 McCoy Drive
More ...
NASH COUNTY SHERIFF'S OFFICE REPORTS
An assault with a deadly weapon with injury, assault with a deadly weapon with intent to kill and communicating threats was reported on 12/18/16 at 4397 Oak Level Road
A simple physical asasult and assault on a female was reported on 12/18/16 at 2604 Bayview Drive
An overdose was reported on 12/19/16 at 10187 W Old Spring Hope Road
More ...
Spring Hope Board discusses plans for street repairs


The Spring Hope Board of Commissioners are planning to make improvements to some of the town's streets.
The street maintenance would be provided through the Powell Bill Project, which municipalities receive funds from the state for upgrading and maintaining its public streets, according to Town Manager Jae Kim.
Streets included in the project are McLean Street, Second Street, Virginia Street, and Poplar Street.

More ...
KENDRA JONES, GRAPHIC CORRESPONDENT
Sheriff Stone visits Castalia Board


The town board of Castalia held its first regular meeting of 2017 on Tuesday.
Sherriff Keith Stone was present to address the board and to "put a face with his name." He emphasized that he and his department are here to serve. Castalia, like Red Oak, has no police force of its own, so relies on the county to provide law enforcement.
"That's what it's all about. I'm here to serve y'all. And we take this very seriously."

More ...
JESSICA A. SMITH, GRAPHIC CORRESPONDENT
NORTHERN NASH HIGH SCHOOL HONOR ROLLS
Nash-Rocky Mount Schools has released its Honor Roll lists for the first semester of the 2016-2017 School Year.
The following students at Northern Nash High School made the A or A/B Honor Roll.
More ...
ROCKY MOUNT MIDDLE HONOR ROLLS
Nash-Rocky Mount Schools has released its Honor Roll lists for the first semester of the 2016-2017 school year.
The following students at Rocky Mount Middle School made the A or A/B Honor Roll.
More ...
ENGAGED
Mr. and Mrs. George Thomas Joyner, of Rocky Mount, are pleased to announce the engagement of their daughter, Sarah Elizabeth Joyner, of Rocky Mount, to Tyler Jordan Payne, of Wilson. He is the son of Dr. and Mrs. Kevin Gerald Payne, of Wilson. A November 2017 wedding is planned.
More ...
RED OAK MIDDLE SCHOOL HONOR ROLLS
Nash-Rocky Mount Schools has released its Honor Roll lists for the first semester of the 2015-2016 School Year.
The following students at Red Oak Middle School made the A or A/B Honor Roll.
More ...
Nash County Animal Friends' Notebook


As we go into the new year, I am fostering a new dog. A dog that was owner surrendered. We have not walked in the owner's shoes, but we wonder if they explored all options before bringing to the Animal Control Shelter. This one will be a lucky one. It is little and purebred and will go to a Rescue soon. She would have been petrified over the long weekend, to be in a kennel, not a home, a place with lots of dogs barking and not even a person, except once a day to check on them. But what about the others? They are scared and tremble too.

More ...
Carol Vierela, NASH COUNTY ANIMAL FRIENDS
PEACHTREE COMMUNITY NEWS


Christmas is a time of celebration of God's love for His creation. We celebrate by making every effort to be with our loved ones. Families seek to be together, no matter the distance that separates them. We want to share memories of our childhood Christmases. Examples of this: Bob and Fran Bunn flew a long distance to Washington State to be with their son and his family. Janice and Bobby Sykes drove to Kernersville to be with their son, Mike, and his family.

More ...
BARBARA HARDISON
Word for the week


We set the mood with soft lights and sentimental music. Our favorite person arrives. Our hearts are moved. We feel good. Love is in the air. Or is it?
What is love? Jesus says, "If you love Me, you will keep My commandments" (John 14:15). First, love is an objective standard. John, the apostle of love, tells us plainly, "This is the love of God, that we keep His commandments" (1 John 5:3). The objective standard of love is the Ten Commandments. We do not steal from or lie to someone we love.

More ...
DENNIS PRUTOW
Grain marketing meetings set for January 18 in Rocky Mount
AgCarolina Farm Credit announces grain marketing meetings to be held January 18th in Rocky Mount and January 19th in Greenville. Attendees will learn more about current factors impacting grain prices from Scott Mickey, a Farm Business Consultant from Clemson University Extension.
Each of the grain marketing meetings will begin at 8 a.m. and breakfast will be served. The Rocky Mount meeting will take place at the Doubletree in Rocky Mount. The Greenville meeting will take place at the Hilton in Greenville.
More ...
Nash County Blood Drives January 2017
Monday, January 9 from 3 until 7 p.m. at Bethlehem Baptist Church, 305 South Halifax Road, Rocky Mount
Tuesday, January 10 from 2:30 until 7 p.m. at Northside Community Church, 1660 Beaver Pond Drive, Rocky Mount
Tuesday, January 10 from 11 a.m. until 3:30 p.m. at The Bowling Center, 3250 N Church Street, Rocky Mount
Thursday, January 12 from 2:30 until 7 p.m. at Red Oak Volunteer Fire Department, 7951 Red Oak Boulevard
More ...
Sons of Confederate Veterans clean cemetery in honor of soldier
The Thompson cemetery, near Silver Lake, was cleaned December 10, 2016 by the Sons of Confederate Veteran Camp #1916, General William Dorsey Pender & Camp #75 Robert Henry Ricks.
This clean-up was performed in honor of Pvt. Doctor Franklin Thompson a native of Wilson county who served North Carolina in the War Between the States. Pvt. Thompson was a Confederate cavalryman who served in the 19th N.C. Calvary, Co. E, also known as the Wilson Co. Raiders under Captain Lawrence.
More ...
KIWANIS NEWS
Michael Darr, Plant Manager Bridgestone Plant in Wilson, at left, recently spoke about Bridgestone and the plant operation in Wilson during a Rocky Mount Kiwanis Club Meeting. Pictured with Darr is Ginny Mohrbutter, Kiwanis Club president, at right.
More ...
FARM SERVICE AGENCY NEWS


The U.S. Department of Agriculture (USDA) recently announced that starting March 20, 2017, organic producers and handlers will be able to visit over 2,100 USDA Farm Service Agency (FSA) offices to apply for federal reimbursement to assist with the cost of receiving and maintaining organic or transitional certification.
"USDA reimburses organic producers up to 75 percent of the cost of organic certification, but only about half of the nation's organic operations currently participate in the program," said FSA Administrator Val Dolcini.

More ...
Sharon Taylor, Nash County Fsa Executive Director
After 2016's bumpy ride, 2017 ought to be a breeze


I've always been excited about welcoming a new year. There is just something that gets in my head about a fresh start, a clean slate, and a blank calendar that makes me feel hopeful every year.
It is sort of like a news sports season -- even the worst teams are undefeated on Opening Day. Making New Year's Resolutions has always been a tradition in this space, but most everyone participates in this hobby. Maybe not everyone writes out a list, but I believe even the most pessimistic among us have prospects on January 1.

More ...
Mike Brantley
New York trip was certainly a lifetime experience


As a mother and a wife, and just a grown up in general, you don't sometimes get to do a lot for yourself.
I've talked for several years about my desire to visit New York. It's one of those "bucket list" items and really, something I never thought would happen. But then, a few years, ago, Nash County 4-H decided to start hosting bus trips to New York. I told my husband about it and how I'd just love to go and his response was, "ok." But you know how that goes.

More ...
Amanda Clark
McCrory was a friend to veterans


Former Governor Pat McCrory, who lost his bid for re-election, was a friend to the state's burgeoning veteran population.
Everybody knows that N.C. is home to Fort Bragg, the largest or second largest army base in the United States. We are also home to Camp LeJeune, which is the largest base for U.S. Marines on the East Coast. Other N.C. military installations include MCAS (Marine Corps Air Station) Cherry Point, N.C., and Seymore Johnson AFB in Goldsboro.

More ...
LETTER
Backward Glances


FIRE BELL RESTORED-- This photo originally published in The Graphic on March 3, 1977. Unveiling of the old fire bell which summoned Rocky Mount firemen to the scene of fires during the early 1900's was held at the headquarters fire station on George Street in Rocky Mount. Pictured are Rocky Mount Fire Chief John Sykes and officials from Burlington Industries which financed restoration of the bell. From left to right are Olin Wilson, Jack Stuart, Chief Sykes, Don Williams and Bill Dix.

More ...
A PICTORIAL LOOK INTO THE PAST
4 ON THE FLOOR


BUNN -- Coach Robbie Kennedy knows he has the pieces in place for his Southern Nash Firebirds to provide a strong defense to their Big East Conference boys basketball championship.
It's just a matter of those pieces fitting into the right places -- and at the same time.

Pictured (Above): Southern Nash's Tavaris Brown (with ball) tries to find room in the paint during last Thursday's tourney contest versus Wake Forest.

More ...
GEOFF NEVILLE, Graphic Sportswriter

Northern's Raymond 'Goody' Bullock

THE 5TH ESTATE


BUNN -- On the surface, last Thursday's meeting between Northern Nash and Eastern Wayne didn't seem too important -- at least in the grand scope of the 2016-17 boys basketball season for the Fighting Knights.
Fifth place at the annual Bunn High School Boys Basketball Tournament was at stake, thought it would be understandable if everyone in attendance saw their minds drift from time to time toward the New Year's Weekend.

More ...
GEOFF NEVILLE, Graphic Sportswriter
Lady Bishops returning to action


ROCKY MOUNT -- The North Carolina Wesleyan College women's basketball team returned to action on Monday night, dropping their first contest of 2017 by a 70-60 score at Virginia Wesleyan.
Senior Timyra Staton, who prepped at Nash Central High School, paced the Bishops with 14 points and nine rebounds.
The difference in the contest came late the first quarter when the Marlins (6-4) put together a 12-0 run to close out the period and forge a 19-8 advantage.

More ...
Staff Reports
Central clubs ready for conference tests


ROCKY MOUNT -- As a defending league regular season co-champion -- and current holder of an 8-3 record -- the Nash Central Bulldogs are once again expected to be a player in the Big East Conference boys basketball race.
Central, coached by Renny Taylor, prepped for its upcoming league slate by making its annual trip last week to take part in the Cleveland Christmas Classic at Cleveland High School in Johnston County.

More ...
GEOFF NEVILLE, Graphic Sportswriter
'Canes announce softball sked


LOUISBURG -- Louisburg College's women's softball program, which has rich ties to Nash County, will begin its 2017 season Feb. 5 with a doubleheader at Methodist University in Fayetteville.
Michelle Carlson will serve in her second season as the head coach for the Lady Hurricanes.
Louisburg's complete schedule is as follows, with home games listed in CAPS:

More ...
Staff Reports
BUNN TOURNAMENT INFO


BUNN -- Here are the results and all-tournament performers from the annual Bunn Christmas Boys Basketball Tournament, which concluded last Thursday at the Bunn Dome in Franklin County:

More ...
GEOFF NEVILLE, Graphic Sportswriter
Hot Stove event slated


RALEIGH -- The 67th Annual Raleigh Hot Stove League Baseball Banquet is scheduled for January 24 at the McKimmon Center on the campus of North Carolina State University in Raleigh.
Festivities will begin with a silent auction at 5:15 p.m., with dinner to follow at 6 p.m.
Several area diamond dignitaries will be honored.

More ...
Staff Reports
Greene picked for team


NASH COUNTY -- Rocky Mount High School's Sherrod Greene, who helped lead the Gryphons to the runner-up finish in the Class 3-A State Playoffs, has been selected to the 2016 NCPreps.com All-State Football Team.
Greene, a linebacker, has verbally committed to continue his gridiron career at the University of South Carolina. He was the lone Nash County player on the prestigious squad, though Bunn defensive end Celik Curtis also made the team.

More ...
Staff Reports
ALL-TOURNAMENT PICK
Southern Nash's Darius Edmundson (with ball) earned an all-tournament selection at the Bunn Christmas Boys Basketball Tournament, which concluded last week at the Bunn Dome in Franklin County.
More ...
ALWAYS ON POINT
Northern Nash's Darius Spragley makes a strong move toward the basket during last Thursday's victory over Eastern Wayne at the Bunn Christmas Basketball Tournament.
More ...
UNDRAY UP FOR TWO
Northern Nash's Undray Cherry (with ball) prepares to elevate for a basket during last Thursday's tournament triumph versus Eastern Wayne.
More ...
WILKINS WOWS 'EM
Southern Nash's Dae'One Wilkins heads toward the bucket during last Thursday's setback against Wake Forest at the Bunn Christmas Basketball Tournament.
More ...
Arts Center, Children's Museum to close during January for exhibit changeover
The Maria V. Howard Arts Center and the Children's Museum and Science Center will close January 1 through January 28 for maintenance and an exhibit changeover.
The Imperial Centre for the Arts and Sciences will host its latest exhibit, "Backyard Adventures," Jan. 29, 2017 to May 7, 2017.
From the perspective of bees, known as the hardest working creatures on the planet, visitors to this exhibit will get an opportunity to discover the outdoors.
More ...