Subscribe/Access
Advertisements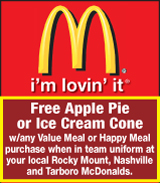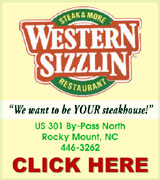 Sections
Member Options
Back
Officials survey damage from Matthew


Assessments are still ongoing as to the damage caused by Hurricane Matthew, which hit Nash County on October 8 and caused flooding in parts of the county the following day.
Though most residents were spared, several homes and businesses in Nashville are still cleaning up after the storm.
Downtown Nashville experienced flooding in the area where McDonald's is up to LaMama's on Washington Street.

More ...
AMANDA CLARK, GRAPHIC STAFF WRITER

Shoes were placed on the ground representing the people who overdosed in 2016.

Rally gives HOPE for addiction


Robin McNallie was overwhelmed as she walked down the sidewalk to enter Glover Park on Saturday. Greeting her were over 150 pairs of shoes representing those who have overdosed on heroin.
As a newcomer to Nash County, the numbers were overwhelming but not surprising. McNallie herself is the mother of a son who is working towards recovery.
McNallie said she was thankful for the support she had received so far in getting her son help, support like the HOPE initiative, started by Nashville's Police Department, and The Anchor Holds, a support group for families of those suffering from addition.

More ...
AMANDA CLARK, GRAPHIC STAFF WRITER
Early voting starts today!


Nash County Board of Elections Director John Kearney said voters can expect a heavy turnout during the early voting period, which starts on Thursday, October 20.
Early voting will begin at 9 a.m. on Thursday at the Nash County Agricultural Center. Early voting will be held at that site through November 5 from 9 a.m. until 6 p.m. Monday through Friday and on Saturdays from 9 a.m. until 1 p.m.
Three additional early voting sites will open up on October 27 and remain open through November 5.

More ...
AMANDA CLARK, GRAPHIC STAFF WRITER
Nashville adds $50 non-payment fee


Nashville's Town Council approved a new fee schedule for water/sewer and sanitation services that includes the addition of a $50 non-payment fee.
The new schedule was approved earlier this month at the town's regular meeting. A lengthy discussion was held on the item before being approved 3-1. Councilman Larry Taylor voted against the change.
Town Manager Henry Raper told council members the $50 non-payment fee would be added to public utilities.

More ...
AMANDA CLARK, GRAPHIC STAFF WRITER
Nashville to offer Halloween events


The Town of Nashville is planning to offer its Halloween festivities for youth on Monday, October 31.
The fun will begin at 4 p.m. at the Harold D. Cooley Library with a fall festival that will include games and prizes. The festivities will end at 5:30 p.m.
Cooley Library is also offering a special Halloween story time on Halloween morning at 10:30 a.m.
Following the fall festival, parents can bring youth to Glover Park for the Parks and Recreation Department's annual Haunted Walking Trail, which will be held from 5:30 until 6:30 p.m. Candy stations will be set up along the walking trail.

More ...
AMANDA CLARK, GRAPHIC STAFF WRITER

Pictured above, on the front row in the center, Board Chair Tonya Slocum cuts the ribbon to celebrate the opening of the new offices in Rocky Mount. Pictured with Slocum are other board members, My Sister's House staff and members of the community.

My Sister's House holds grand opening in Rocky Mount


Staff at My Sister's House are settling into their new location at Station Square in Rocky Mount.
A grand opening celebration was held on October 6 for the new facility.
The new Rocky Mount offices opened on August 1 but the grand opening celebration was delayed to coincide with Domestic Violence Awareness Month, which is recognized every October.

More ...
AMANDA CLARK, GRAPHIC STAFF WRITER
Asphalt machine saves town money


The Town of Nashville is putting a new asphalt recycler machine it recently purchased to good use.
Town Council members approved the purchase of the machine at their annual retreat earlier this year. The new machine cost the town $79,945.
The asphalt recycler takes old pavement and melts it down into a patching material.
Larry Williams, Nashville's Public Works Director, said the machine has already been used around 10 times and will save the town a lot of money.

More ...
AMANDA CLARK, GRAPHIC STAFF WRITER
NASH COUNTY SHERIFF'S OFFICE REPORTS
A missing person was reported on 10/9/16 at 6782 Pinecrest Road
A governor's warrant was reported on 10/9/16 at 222 W Washington Street
A possession of marijuana or drug paraphernalia was reported on 10/10/16 on I-95 Southbound at the 146 mile marker
A domestic was reported on 10/10/16 at 4350 S Church Street
More ...
NASHVILLE POLICE REPORTS
INCIDENTS
A larceny after a breaking and entering and breaking and entering a motor vehicle was reported on 10/9/16 at 214 Hurt Court
A larceny of a motor vehicle and breaking and entering a motor vehicle was reported on 10/10/16 at 741 Western Avenue
An assault by pointing a gun was reported on 10/10/16 at Murphy's Express, 1151 Eastern Avenue
More ...
Local DKG member reflects on career in blog series
Delta Kappa Gamma's Local Mu Chapter member, Ann Davis, is a French Teacher and Chair of the World Languages Department at Rocky Mount High School. Twenty years ago, she won a prestigious national honor, the Milken Educator Award, the so-called "Oscar of Teaching" as described by Teacher Magazine. This award recognizes top educators across the country with a $25,000 unrestricted prize and with opportunities for career advancement. Like Davis was, winners are usually in the early or middle parts of their careers.
More ...
50TH ANNIVERSARY
Larry and Betty Drake of Nashville celebrated their 50th wedding anniversary with a Royal Carribbean cruise to the Bahamas. The Drake's married on October 15, 1966. They have a daughter, Sherri Drake Medlin and her husband, Tim, of Fayetteville. The Drake's also have three grandchildren; Christopher, Jeremy and Ryan. Larry is a retired diesel mechanic of 25 years with Carolina Freight.
More ...
RED OAK NEWS


Over 60 participants joined together Saturday, October 8 for the 3rd Annual Fruit of the Spirit 5K in Red Oak despite the rain brought on by Hurricane Matthew. These runners and walkers contributed to help the Stop Hunger Now ministry and the summer literacy program at Red Oak. Thank you to everyone who participated and who worked all year to make this event a success.
The Baptist Men enjoyed their monthly breakfast on Sunday, October 16 at Red Oak Baptist Church.

More ...
SUZY PEARCE
Luke's Word for the Week


Two weeks ago in our time together we learned about the nature of Jesus, which according to Mark 1:21-28 is to administer healing to hurting people. We can take the liberty of being bold in saying that healing is in the nature of Jesus because his healings are numerous throughout the Gospels and here in the book of Mark, we find it's the first public miracle in Mark's gospel. Not only was it a healing, but it was a healing of a man possessed by a demon - a man was healed as Jesus cast out the demonic forces that were ruining his life.

More ...
LUKE WHITEHEAD
PEACHTREE COMMUNITY NEWS


On Oct. 15, 1954 Hurricane Hazel hit this area, doing extensive damage to roof tops and trees. Then in 1996 Fran hit with floods. On September 14 of 1999, Floyd hit with floods and the area was without power for ten days. Now in 2016 we have Matthew to remember with extensive flooding which has impacted a large area of the state. Its' effect will be felt for a long time, but we can be thankful that this area survived as well as it did.

More ...
Barbara Hardison
AVENTON COMMUNITY NEWS


No Aventon News this week, just thoughts.
Things sure are different today than they were 40 years ago. When I married my late husband Ben, I was from that moment on a "kept woman"; he was from the old school, that was the way it was supposed to be. I had the babies, stayed at home and raised them, kept the house, cooked for the family; I was a mama and wife everyday...all day and all night long. I washed his clothes, ironed them and laid them out every morning...well, at least most mornings.

More ...
JOJO RICKS
Donation
The Coopers Ruritan Club recently gave $1,000 to Southern Nash High School to go towards the Agricultural Science Department's new Agriculture Storage Facility. Charles Ethridge, President of the Ruritan Club, made the presentation, along with his wife, Linda. Construction will soon begin on the new facility.
More ...

Dr. Crystal Hayden
Nash Health announces new staff
Nash Health Care has announced the addition of two new names to its health care team.
Dr. Crystal Hayden has been named Nash Health Care's new Chief Nursing Officer, replacing Leslie Hall who retired this summer. UNC Cardiology at Nash has also added a new physician to their team, Dr. Zehra Husain, who will join Dr. Michael Yeung and Dr. Xuming Dai in caring for heart patients at the Nash Heart Center.
"Nash Health Care is growing in new and exciting ways" said Larry Chewning, President, Nash Health Care.
More ...
Richardson named Excellence Award winner
The National Foundation for Women Legislators (NFWL) recently announced Rep. Bobbie Richardson as a 2016 Elected Women of Excellence Award winner.
This award was created to identify women who have worked tirelessly, often breaking down barriers and overcoming obstacles that once seemed insurmountable, to serve their communities. These pacesetters have engendered an environment where women can now serve in public office and fight for the issues they are passionate about.
More ...
Social media can be unsocial- and costly


Oh, how I miss those photos of untouched food plates in restaurants.
I miss the postcards with old images, and clever to snarky modern comments.
I even miss the recycled jokes cut and pasted and slapped into Facebook status updates.
I can't believe I just typed any of that.

More ...
Mike Brantley
We all need to support the fight against addiction


The heroin epidemic in our area isn't as talked about anymore as it once was but I promise you, it's still there.
Nash County is still seeing overdoses at an alarming rate. But for some reason, it's not the "hot topic" anymore.
This Saturday, I attended an Addiction Awareness Rally at Glover Park. The event was really for anyone in the community but it seemed that only those who have been affected by addiction chose to come out. That was a bit disappointing.

More ...
Amanda Clark
Reader responds to letter
Dear editor, The other week in The Graphic, a critique of voters actions was presented telling us why the writer felt his processing was the way it was -- for all of us i.e. all parties. How he did not feel the ruling party-- attempted voters requirements--were "too much."
Federal ruling said the switched boundaries were typical; but this time, they went too far. Is his opinion better than the courts? Data showed the vast majority of names in question were John Doe II and John Doe III after the original John Doe was the first --legal voter.
More ...
Backward Glances


This photo was submitted by Jane Smith of Rocky Mount. The photo was taken at Nashville Church of God on Red Oak Highway on 1956. Pictured are Bo Bissette, Frank Bissette, Sr., Sue Webb, Hazel Bissette, Charlie Sherrod, Mertie Bissette, Rev. Travis and daughter, Lela Sherrod, pianist.

More ...
A PICTORIAL LOOK INTO THE PAST

EXCEEDING EXPECTATIONS. Former Southern Nash High School soccer player Sabrina Vaughan has earned a startingposition this fall for the Louisburg College women's squad under Coach Andy Stokes.

A TERRIFIC TRIO


LOUISBURG -- Andy Stokes thought he was just recruiting one player when he made a visit last spring to the Southern Nash High School campus.
As it turned out, Stokes got a three-for-one bargain as a trio of Ladybirds opted to sign letters-of-intent to join Stokes' women's soccer program at Louisburg College.
Southern Nash has a rich history of sending athletes to Louisburg College -- but none on the women's soccer front until Stokes inked deals with Sabrina Vaughan, Leticia Cantera and Jennifer Salazar.

More ...
GEOFF NEVILLE, Graphic Sportswriter
TENNIS TRADITION


WILSON -- Through Day One, Northern Nash's Grayson Tanner was still alive in the singles portion of the Big East Conference Girls Tennis Tournament, which was being held at the Barton College Courts.
Tanner secured a pair of victories during Monday's opening action to advance into Tuesday's semifinals. The championship round was also slated for Tuesday.
Tanner was scheduled to take on No. 1 seed Taylor Love from Wilson Hunt.

More ...
Staff Reports

RM's Grace Strickland

Golfers compete in region


BENSON -- Three Southern Nash standouts -- and one from Rocky Mount -- represented Nash County at the 2016 Class 3-A East Regional Girls Golf Championships.
The event was held Monday at Reedy Creek Golf Course in Johnston County.
Southern Nash, coached by Todd Brewer, finished in ninth place overall in the team standings with 348 strokes.

More ...
Staff Reports
NCWC wins showdowns


MONTGOMERY, ALA./LA GRANGE, GA. -- The North Carolina Wesleyan College Battling Bishop men's soccer team moved to 7-0 in USA South Conferenc play over the weekend, out-scoring Huntingdon and LaGrange by an 11-2 combined score to secure a pair of road victories.
A.J. Wadda netted four goals, including one gamewinner over the two-match span, while Olafur Einarsson notched a pair of scores and an assist.
Wesleyan opened the weekend with a 4-1 victory at Huntingdon last Saturday.

More ...
Staff Reports
Football schedules changing


NASH COUNTY -- The recent decision by the North Carolina High School Athletic Association to extend the football season by one week due to the effects of Hurricane Matthew has impacted games involving Northern Nash, Southern Nash and Nash Central that were postponed last Friday.
The contests, which were targeted for next Tuesday, will instead be staged on November 9-10.
On November 9, Nash Central will travel to Wilson Fike for a Big East Conference make-up showdown.

More ...
Staff Reports
State makes prep moves


CHAPEL HILL - The North Carolina High School Athletic Association Board of Directors and Commissioner Que Tucker have made the difficult decision to move playoff dates following historic flooding in many parts of Eastern North Carolina.
"The logistics of moving the fall championships dates, especially this close to the events are complex; however, we must do everything in our power to do what is best for our student-athletes in the state," Tucker said. "Keeping our young people safe as we try to minimize risk of injury must be paramount in our decisions."

More ...
Staff Reports
NN's Beal starring for Chowan


MURFREESBORO -- The Chowan University women's soccer team blanked Barton College 1-0 on Sunday afternoon.
The Hawks improve dto 7-5-1 on the year with the victory while the Bulldogs slid to 6-7 overall with the setback.
Chowan's seven wins is the most for the women's soccer program since the 2008 season (7-10-1).
Sunday's win marked the first victory over Barton since the 2009 season (2-0).

More ...
Staff Reports
FAB FIVE
North Carolina Wesleyan College recently saluted the five members of its senior class from the 2016 volleyball squad. Pictured are (l to r) Christina Huber, Ayla Brewer, Tori Stewart, Evie Hunter, and Yasmin Alexander. The players were honored last Friday as part of a home decision over Mary Baldwin College at Everett Gymnasium on the NCWC campus in Rocky Mount. Stewart recently passed the 1,000-kill mark for her career.
More ...
SABRINA WITH SPEED
Louisburg College's Sabrina Vaughan (left) defends a Howard College player during a recent women's soccer contest on the LC campus in Franklin County.
More ...
STERN DEFENDER
Former Southern Nash High School standout Leticia Cantera (left) has been exceptional on the defensive end this season for the Louisburg College women's soccer squad. Cantera is currently a starter for the Lady Hurricanes, who compete in Region X of the National Junior College Athletic Association.
More ...
Rocky Mount cancels "Dracula" production
The city of Rocky Mount has postponed the upcoming performances of Dracula, scheduled for Oct. 13-16. A decision to postpone the performance follows the impact of flooding in the area due to Hurricane Matthew. Staff will work with the volunteer cast to determine a future date to offer the show. Those who purchased tickets may be refunded or may request a credit to their account towards another show during the theatre's season.
More ...