Subscribe/Access
Advertisements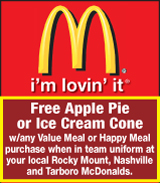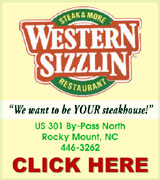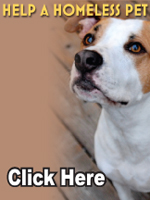 Sections
Member Options
Back
Outdoor event violates town ordinance


The town board of Red Oak held its regular monthly meeting on Monday. The meeting was a week later than usual due to the Labor Day holiday last week.
During the meeting, the board heard a presentation by Mike Cook, a resident of Red Oak who has appeared on American Ninja Warrior, a reality tv show competition that features physically demanding obstacle courses. Cook had built obstacle courses similar to those on the show on his property and twice a year hosts competitions that attract participations from all over the United States.

More ...
JESSICA A. SMITH, GRAPHIC CORRESPONDENT

DEMUTH

Bridge named for fallen officer


A bridge crossing Red Oak Road on US 64 in Nash County was dedicated to a North Carolina Highway Patrolman who gave his life in the line of duty.
The bridge was renamed the Trooper Gene DeMuth Bridge during a special ceremony last Thursday, September 8, the four-year-anniversary of DeMuth's death.
DeMuth, of Red Oak, was killed in the line of duty while assisting during a vehicle pursuit. The pursuit was initiated in Wake County after attempting to stop a vehicle operated by a motorist wanted for several felonious violations.

More ...
AMANDA CLARK, GRAPHIC STAFF WRITER

Renny Taylor, Teacher of the Year, is pictured with his wife, Leslie.

Nash-Rocky Mount names outstanding educators


Behind every great teacher is a support system that provides encouragement.
For Renny Taylor, a teacher at Nash Central High School, that is definitely the case.
Taylor was named the 2016-2017 Nash-Rocky Mount Schools Teacher of the Year on Tuesday night at a special banquet held at Rose Hill. Taylor was quick to give credit to his wife, Leslie Taylor, for being the example he strives to follow. Leslie is also a teacher and was the Teacher of the Year for Nashville Elementary School.

More ...
AMANDA CLARK, GRAPHIC STAFF WRITER
Momeyer EMS station will not close


Nash County EMS has officially opened its new station in Nashville but Momeyer residents can expect to see the same service as before.
Momeyer Fire and Rescue Chief Scott Whitford said there has been some confusion since the Nashville station opened up. Whitford said some in the community are worried the Momeyer station is closing or has closed but that's not the case.
Though the Nash County ambulances were moved to Nashville, Whitford said there is still an ambulance stationed at the Momeyer station.

More ...
AMANDA CLARK, GRAPHIC STAFF WRITER
Vigil planned Saturday for missing man
The Nash County Sheriff's Office is still looking for a man who went missing over 13 years ago in Middlesex.
Travis Lamont Lynch was last seen on Christmas Eve, December 24, 2003 around 1 a.m. in the Middlesex area. He was driving a white 1992 Pontiac Grand Am with the NC registration RZS-4814.
Lynch reportedly had left his girlfriend's house that night on Claude Lewis Road and never returned home.
More ...
Spring Hope prepares for festival; Manager reports town is owed grant monies


There will be various street closures in Spring Hope as the town prepares for its upcoming 45th Annual National Pumpkin Festival September 30 - October 1.
The festival will feature food and music as well as activities including arts and crafts and a parade.
According to Kim, part of McLean Street, Hopkins Street, Walnut Street, Nash Street and Branch Street will be closed for the festival.
Regarding the closures, Kim said, "Part of it is for the parade, but part of it is for the actual festival downtown as well, too."

More ...
KENDRA JONES, GRAPHIC CORRESPONDENT
Oretha Parker celebrates 100th birthday


Oretha Parker celebrated her 100th birthday several times this weekend with family and friends.
On Friday, September 9, Parker's actual birthday, family members surprised Parker with a cake at Autumn Care.
On Sunday, a larger party was held for family and friends at Kingdom International Church - Taylor's Chapel Church in the Sandy Cross Community.
Parker said she was excited to be celebrating her 100th birthday though she added that she didn't feel different at all.

More ...
AMANDA CLARK, GRAPHIC STAFF WRITER

DO THE FUNKY CHICKEN -- J.W. McClenny, of Middlesex, has some fun with the Zaxby's chicken on Saturday during the Hometown Heroes 5K Run.

Nashville Elementary celebrates first 5K


Though raising money was the main purpose of Nashville Elementary School's first ever 5K race, the events of September 11, 2001 were not far from everyone's minds.
The theme of the race was Hometown Heroes and Scott Parker, U.S. Marshal, said his heroes were all the law enforcement officers, public safety workers and military personnel who gave their lives.

More ...
Amanda Clark, Graphic Staff Writer
NASHVILLE POLICE REPORTS
INCIDENTS
An assault on a female was reported on 9/6/16 at 125 W Church Street
An embezzlement was reported on 9/7/16 at Wal-Mart, 1205 Eastern Avenue, Nashville
A larceny was reported on 9/9/16 at Wal-Mart, 1205 Eastern Avenue
More ...
NASH COUNTY SHERIFF'S OFFICE REPORTS
An assault on a female was reported on 9/4/16 at 1072 Ada Taylor Road
A larceny was reported on 9/5/16 at 1685 Abernathy Lane
A breaking and entering a motor vehicle and felony larceny was reported on 9/5/16 at 851 Green Road
A discharging a weapon into occupied property and damage to property was reported on 9/5/16 at 2800 S Halifax Road
More ...
Spring Hope Elementary honor rolls
Nash-Rocky Mount Schools has released its Honor Roll lists for the final semester of the 2015-2016 School Year.
The following students at Spring Hope Elementary School made the A or A/B Honor Roll.
More ...
Southern Nash Middle School honor rolls
Nash-Rocky Mount Schools has released its Honor Roll lists for the final semester of the 2015-2016 School Year.
The following students at Southern Nash Middle School made the A or A/B Honor Roll.
More ...
Stop the NC Pipeline People's Hearing is September 22
Stop the NC Pipeline, along with Clean Water for North Carolina, are hosting a People's Hearing on the Atlantic Coast Pipeline next Thursday, September 22.
The meeting will be at 5:30 p.m. at the Red Oak Community Building and is open to the public.
Anyone is welcome to attend and speak for or against the pipeline.
Several speakers will be attendance providing facts on the pipeline.
More ...
Early voting starts Oct. 20
The State Board of Elections has approved the Nash County Board of Elections Majority Plan for the 2016 General Election, John Kearney, Nash County Director of Elections reported recently.
The Majority Plan was approved 4-1 by the state board on September 8 and allows for early voting at the Nash County Ag Center in Nashville during the first five weekdays of the early voting period. The early voting period will begin on October 20.
More ...
Nash County Animal Friends' Notebook


SAY-NO-TO-CORN-COBS!
Never feed your dog corn cobs or allow them to chew on corn cobs. Small pieces of corn cob can build up in the intestines causing an obstruction. If you think that your dog may have eaten a corn cob, it is best to take them to the vet to get checked out.

More ...
Carol Vierela, NASH COUNTY ANIMAL FRIENDS
Splash Bark set for Sunday at Sunset Park
On Sunday, September 18, 2016 from 2 to 5 p.m., dogs and their owners are invited to a one-of-a-kind event. It's the first ever Splash Bark at Sunset Spray Park. Fur family members and their human companions will be able to take a trip on the train, ride around in circles on the carousel, and even wade through the waters at the spray park.
The city of Rocky Mount Parks and Recreation department is building on the success of Paws in the Park and the opening of Best Friend's Dog Park with Splash Bark, and it promises to be an afternoon of fun for dogs and owners alike.
More ...
Nash County Blood Drives
Thursday, September 8 from 2:30 until 7 p.m. at Rocky Mount Moose Lodge, 521 Country Club, Rocky Mount
Thursday, September 15 from 3 until 7 p.m. at the Nash GOP headquarters, 3607 Sunset Avenue, Rocky Mount
Monday, September 19 from 3:15 until 7 p.m. at Nashville United Methodist Church, 209 E Washington Street, Nashville
Thursday, September 22 from 12 until 6 p.m. at Englewood Presbyterian Church, 100 South Englewood Drive, Rocky Mount
More ...
Webb, Coggin unite in marriage
Megan Amber Dawn Webb and Joseph Daniel Coggin were united in marriage on July 16 at 9 a.m. in a private ceremony at their home in Castalia.
The wedding was directed by Cindy House and officiated by Janie House, both cousins of the groom.
The bride is the daughter of Bobby Edward Webb. She is the granddaughter of the late Dale Boykin Webb and the late Bobby Kay Webb.
The groom is the son of the late Gerald Carlett Coggin and the late Jackie Sykes Coggin.
More ...
Distinguished Women program is Sept. 24th
The 35th annual Distinguished Young Women of Rocky Mount Program will be held on Saturday, September 24th at 7 p.m., at The Dunn Center for The Performing Arts at North Carolina Wesleyan College 3400 Wesleyan Blvd, Rocky Mount. Tickets are can be purchased in advance from a participant for $15 or at the door for $20.
Founded in 1958 in Mobile, Alabama, Distinguished Young Women is the largest and oldest national scholarship program for high school girls.
More ...
RED OAK NEWS


Congratulations to Hope Lee who was baptized on Sunday, September 11 at Red Oak Baptist Church!
Everyone enjoyed the homemade ice cream, desserts, fellowship, and worship through music during the ice cream social at Red Oak Baptist Church on Sunday, September 11. There were lots of freezers filled with delicious ice cream and many sweet desserts. Special music was provided by various musicians led by Paul Davis.

More ...
SUZY PEARCE
Luke's Word for the Week


"Revenge is drinking poison and waiting for the other person to die." I'm not sure where I first heard this phrase but I do know that it is true. I also know that revenge is not of the Kingdom, it's not the fruit that comes from being rooted in the Word of God.
We live in a world where revenge is the norm. If you hit me, I'm going to hit you. If you talk bad about me, I'm going to talk bad about you. These are tools and vices of the enemy. They're also fruit from the wrong tree.

More ...
LUKE WHITEHEAD
PEACHTREE COMMUNITY NEWS


Sunday was the 15th anniversary of the 9/11 disaster. Peachtree folks gathered at the church to worship and remember. At the opening service of Sunday School assembly, led by Cheryl Hayes, they viewed a video of some of the horrific events of the day. The Adult Choir sang, "Prayer for America". For the offertory David Griffin whistled "Let there be Peace", accompanied by Jane May at the piano.

More ...
BARBARA HARDISON
AVENTON COMMUNITY NEWS


No Aventon News this week, just thoughts.
Hopefully, this past weekend was my last in my old home and not a moment too soon. My oldest son Stan stepped on a baby snake going down in the basement and took much joy in reminding me snakes do not have single births, nor is there only one snake around my house. He knows I am terrified of snakes, and fear seeing one in my house again. Yep, that's right; I have seen 3 throughout the years. I always told my late husband Ben, if I ever saw one, I was leaving.

More ...
JOJO RICKS
SCHOLARSHIPS
The Momeyer Ruritan Club recently presented scholarships to area youth. Scholarships were presented to Brandon Bass, who is in his first year at NC State University, and Brandon Pitts, who is in his second year at NC State University. A scholarship was also presented to the family of Kendall Parker, who is attending ECU. Kendall could not attend the meeting.
More ...
Southern Nash High School honor rolls
Nash-Rocky Mount Schools has released its Honor Roll lists for the final semester of the 2015-2016 School Year.
The following students at Southern Nash High School made the A or A/B Honor Roll.
More ...
Freedom to disagree, but with respect


It didn't blow over, that's for sure.
Once again, thanks to a hysteria-driven national media, a tradition no one gives much thought to has become a thing.
San Francisco quarterback Colin Kapernick, who a couple of years ago got on a hot streak and came off the bench to lead his team to the Super Bowl (and lost), has caused quite a stir. After that flash of brilliance fizzled, he found himself on the bench.

More ...
Mike Brantley
Honoring law enforcement who have paid the ultimate price


Last Thursday was a bittersweet day for family and friends of Trooper Gene DeMuth. The bridge over Red Oak Road was renamed after him.
DeMuth was killed in the line of duty four years ago right here in Nash County on Highway 64.
I remember the day well.
It was the day of the Sneak Lewis 5K run in Middlesex. Lewis is another law enforcement officer whose life was taken in the line of duty.

More ...
Amanda Clark
Carolina Connector is a huge win for all of us


Dear Editor, Moving finished products to the end user is a major issue for people in the business community. Doing it quickly and efficiently helps businesses and consumers, makes more satisfied customers and improves the bottom lines for business owners.
In its simplest terms, that's why winning the CSX Intermodal terminal is such a big deal for Edgecombe and all surrounding counties.

More ...
LETTER
Backward Glances


TOBACCO MARKET -- This photo of the 1966 Miss Rocky Mount visiting the tobacco market was found in The Graphic's 1966 archives.

More ...
A PICTORIAL LOOK INTO THE PAST

CARRYING THE LOAD. A Nashville Hornets' running back looks for some room during his club's home football contest last Saturday morning against the Wilson Boys and Girls Club Jets.

Hornets Drop Opener To Wilson


NASHVILLE -- Nashville's Hornets opened their 2016 Eastern North Carolina Football League campaign last Saturday against the Wilson Boys and Girls Club Jets.
A strong crowd attended the event as the Hornets looked to bounce back following a rebuilding campaign last fall under veteran head coach Jim Glover.
But it wasn't to be as the visiting Jets took charge early and went on to defeat Nashville by a convincing margin at The Hornets Nest at Glover Park in Nashville.
Nashville took the opening kickoff and churned out a first down on the ground, only to see the mach eventually stall due to a costly holding penalty.

More ...
GEOFF NEVILLE, Graphic Sportswriter

JUMP FOR JOY. A South Johnston receiver tries to come up with a catch while being defended by Southern Nash players (l to r) Tremaine Williams and Jerod Wright during last Friday's prep football matchup.

FOUR IN THE BOOKS


STANHOPE -- Few opponents have proven to be as frustrating as South Johnston for the Southern Nash Firebirds.
In one of the most epic games in SN history, the Firebirds fell to the Trojans in overtime in a classic state semifinals showdown seven seasons ago.
And last year, the clubs went to an extra session before Southern Nash was edged once again.
Overtime wasn't needed last Friday as the teams met once again, this time at Firebird Stadium on the SNHS campus.

More ...
Staff Reports

GREAT EIGHT. Northern Nash's Jason Michaels (right) avoids Bunn's Tanner Friedly during last Thursday's non-conference soccer match in Franklin County.

NO SUPER SEVEN


BUNN -- Coaches often use the non-conference portion of their boys soccer schedules to gauge a club's progress -- especially when playing an opponent twice.
Coaches are always encouraged when a team posts a better outcome than an initial meeting with a foe -- but that wasn't the case this fall for the Northern Nash High School Fighting Knights.
During earlier showdowns with North Pitt and Bunn, the Knights dropped both hard-fought events by idential 1-0 scores.

More ...
GEOFF NEVILLE, Graphic Sportswriter
SN takes second at golf event


BUNN -- Southern Nash High School's girls golf squad posted a season-best score of 309 to claim second place during the latest Big East Conference match -- an 18-hole event that was held Monday at The River Golf Course at Lake Royale in Franklin County.
Wilson Hunt was the overall team winner at 267, followed by Southern Nash, Northern Nash (327) and Rocky Mount (341).
Hunt went 1-2 in the individual medalist race, led by Sarah Bunn's 85.

More ...
Staff Reports
'Cats finish off schedule


ZEBULON -- Jordan Edgerton broke a scoreless tie in the ninth stanza with a walk-off double scoring Dylan Moore while lifting the Carolina Mudcats to a 1-0 season finale victory versus the Winston-Salem Dash at Five County Stadium last Monday afternoon.
The Mudcats (52-87, 23-46) finished the Class A Carolina League baseball season with a five-game winning streak.
The Mudcats closed with a 4-0 mark in September and also collected their third series sweep of the campaign.

More ...
Staff Reports
Knights surprise grid titan Tarboro


RED OAK -- After having to go all the way to Wilmington to take on Laney last Friday night, the 1-2 Northern Nash Knights quickly turned their focus to Jeff Craddock's Tarboro Vikings for Monday's much-anticipated, rescheduled contest at Death Valley.
Tarboro, sitting at 3-0 with dominant wins over Nash Central, Washington, and Franklinton, was looking to keep its #2 ranking in the statewide Class 1-A poll intact.

More ...
CHANCE PUCKETT, Correspondent

READY TO STRIKE. Nash Central High School's Madi Craft returns a shot as part of Monday afternoon's road girls tennis showdown against the Louisburg Lady Warriors.

NCHS Surges To Win


LOUISBURG -- Turner Votipka is gauging progress in terms of individual development -- and not team record -- during his first season as the Nash Central High School girls tennis coach.
A former Bulldog himself who went on to play at Guilford College, Votipka returned to his alma mater this fall and was greeted with a rebuilding project as Nash Central's girls have only six varsity performers -- and are lean on experience.

More ...
GEOFF NEVILLE, Graphic Sportswriter
Wesleyan topped by power Mount Union


ROCKY MOUNT -- North Carolina Wesleyan College's football team hosted top-ranked University of Mount Union last Saturday at Rocky Mount Athletic Stadium, falling to the Purple Raiders by a 45-10 score.
Despite the loss, senior wideout Malik Adams faired well against the defending DIII National Champions, hauling in a game-high 11 catches for 113 yards and one touchdown.

More ...
Staff Reports
Central a winner again


PINETOPS -- It's one thing to secure a victory on the gridiron against an overmatched opponent.
It's another thing to rally on the road with a late drive to defeat a tradition-rich opponent.
Certainly, Nash Central proved something during last Friday's 18-13 road decision against the SouthWest Egecombe Cougars.
The Bulldogs, who have been in rebuilding mode the past two years under Coach Chris Lee, made a major step in that process by stopping the Cougars courtesy of a closing touchdown march.

More ...
Staff Reports
COUNTY LINE RACE RESULTS


ELM CITY -- Listed are results from September 3 action at County Line Raceway, which included the I-95 Late Model Challenge:

More ...
Staff Reports
ANOTHER SHUTOUT
Thanks to strong defensive plays like this, Southern Nash registered its second shutout of the season last Friday night against South Johnston High School.
More ...
BACKHAND BLAST
Nash Central's Madison Wall goes to her backhand to secure a winner during Monday afternoon's road tennis meeting with Louisburg High School in Franklin County.
More ...
EYEING A WINNER
Nash Central High School's Madi Craft prepares to send a shot back over the net during her singles victory as part of Monday's team triumph against host Louisburg.
More ...
GREAT CATCH
A Wilson Boys and Girls Club player makes a spectacular catch in the end zone for a touchdown during last Saturday's Eastern North Carolina Football League opener against the homestanding Nashville Hornets at Glover Park's The Hornets Nest.
More ...
THE GREAT RACE
Bunn's Bryan Velazquez (left) and Northern Nash's Trent Marshall (right) speed toward possession during last Thursday's non-conference soccer match in Bunn.
More ...
USE YOUR HEAD
Northern Nash's Braedon McConnell (right) sends the ball forward during last Thursday's road, non-conference boys soccer event against the Bunn Wildcats in Franklin County.
More ...