Subscribe/Access
Advertisements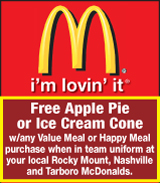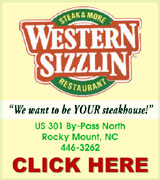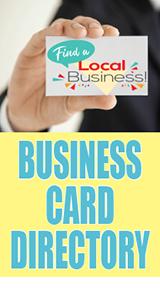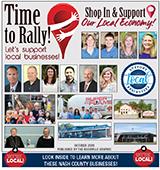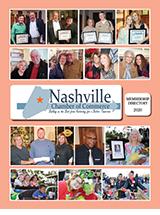 Sections
Member Options
Back

Buildings on the corner of Washington and Boddie Streets will be torn down to make way for the Nash County Courthouse expansion. Demolition is slated to begin in August. (Graphic photo by Jo Anne Cooper)

Demolition begins next month


Nash County's Home Health Agency has moved out of its Nashville location into a new location in Rocky Mount. Soon, the building in Nashville will be demolished to make way for an expansion of the Nash County Courthouse.
According to Dawn Hall, who works with capital projects with Nash County, bids for demolition of the building will be awarded this week. Abatement of hazardous materials will follow and contractors are anticipated to begin demolition around August 15.

More ...
AMANDA CLARK, GRAPHIC STAFF WRITER

Tammy and Tommy Arstrong stand in front of a photo of their little boy, Connor, who passed away last year. The lobby of the new Continuing Education Building at Nash Community College was named the Duke K.I.D.S. Lobby.

NCC honors Duke K.I.D.S.


The lobby of the new Continuing Education Building at Nash Community College has been named in honor of a local organization and the two children who started it all.
The West Mount Ruritan Club celebrated the new Duke K.I.D.S. Lobby at Nash Community College last week and instead of conducting regular business, members had a chance to tour the new Continuing Education Facility.

More ...
AMANDA CLARK, GRAPHIC STAFF WRITER
Sheriff seeks fugitive
The Nash County Sheriff's Office is looking for a Nashville man suspected of taking indecent liberties with his stepdaughter.
Detectives investigated a report of indecent liberties on Friday, July 22 on the 5100 block of Old Bailey Highway in Nashville. The report involved a 37-year-old man and his juvenile stepdaughter.
According to a press release, the initial report indicated that the indecent liberties had occurred on Saturday, July 16.
More ...
Forum educates community


Nash County residents got a little insight into the lives of a police officer during a community forum held on Saturday at Nash Community College.
The forum was hosted by the Nash County Sheriff's Office and was held to address recent events involving law enforcement officers around the country.
Nash County Sheriff Keith Stone and NC Highway Patrol Trooper Clee Atkinson were the primary presenters during the forum, which included simulated traffic stops, videos and a question answer session.

More ...
AMANDA CLARK, GRAPHIC STAFF WRITER
Bailey woman charged with statutory rape
A Bailey woman has been charged with statutory rape of a 15-year-old boy in Nash County.
According to Chief Deputy Brandon Medina, of the Nash County Sheriff's Office, Dakita Joyce Wright, 28, was arrested and charged with statutory rape of a child and contributing to the delinquency of a minor.
Medina said the incident was reported by the legal guardian of the child, who lives in Spring Hope. The incident also reportedly occured in Nash County.
More ...
NPD National Night Out is Tuesday


Nashville's Police Department will host its Fourth annual National Night Out on Tuesday, August 2 at Glover Park.
National Night Out is a national event held to strengthen police-community partnerships and also to heighten crime and drug prevention awareness. Though the event is in its 33rd year nationwide, Nashville's Police Department started hosting events four years ago. The event is held each year on the first Tuesday of August.

More ...
AMANDA CLARK, GRAPHIC STAFF WRITER
Nashville native publishes book


A Nashville native recently returned home to celebrate her first book being published.
Tyechia White held her first book signing on Saturday at Nash Central Middle School. White's mother, Pearl White, is a teacher at the school and helped get the book signing set up.
But prior to Saturday, White spent the week reading the book, "I Didn't Leave Because of You," to students participating in Nash-Rocky Mount Public Schools' Summer Reading Program.

More ...
AMANDA CLARK, GRAPHIC STAFF WRITER
Middlesex man faces drug charges
A Middlesex man was sentenced to 18 months in prison in federal court last week.
Harold Devon Scarboro, 25, was sentenced by United States District Judge Terrence R. Boyle to 18 months imprisonment followed by three years of supervised release.
More ...
NASH COUNTY SHERIFF'S OFFICE REPORTS
A breaking, entering and larceny was reported on 7/17/16 at 10421 Smith Road
A damage to personal property was reported on 7/17/16 on W Castalia Road
A domestic and damage to personal property was reported on 7/17/16 at 11621 Cedar Lake Drive
A breaking, entering and larceny was reported on 7/18/16 at 7921 Red Oak Battleboro Road
More ...
NASHVILLE POLICE REPORTS
INCIDENTS
A possession of controlled substance, possession of marijuana and possession of drug paraphernalia was reported on 7/19/16 at Breelove Road and N. First Street
An obtaining controlled substance by fraud was reported on 7/21/16 at CVS, 101 W Washington Street
A damage to real property (vandalism) and breaking and entering a place of religious worship was reported on 7/23/16 at Mount Vernon Baptist Church, 904 S Alston Street
More ...
Local student earns Master of Education degree at UMass Lowell
Melissa Armstrong of Rocky Mount was among a record number of graduates presented with diplomas at UMass Lowell's 2016 Commencement exercises on Saturday, May 14 at the Tsongas Center at UMass Lowell.
Armstrong received a Master of Education degree in curriculum and instruction.
UMass Lowell held two Commencement ceremonies to accommodate this year's graduates, 3,720, a record number for the ninth consecutive year.
More ...
SPRING HOPE HIGH 50TH CLASS REUNION
Fifteen classmates and their spouses from the 1950 class at Spring Hope High School gathered on June 25, 2016 for their 66th class reunion. The reunion was held at Mt. Zion FWB Church in the fellowship hall. Local classmates attended as well as ones from out of town. It was a special occasion and enjoyed by all. A special silent prayer was held for 21 deceased classmates.
More ...
ENGAGED
Perry and Laura Faulkner, III, of Nashville, announce the engagement of their daughter, Brittany Gena Faulkner, of Nashville, to Edward Franklin Thomas, III, of Goldsboro. He is the son of Edward and Tina Thomas, Jr., of Wallace. The wedding is planned for December 18, 2016 at the Howard Chapel in Wilson.
More ...
ENGAGED
Gwen and Douglas Deans, of Middlesex, announce the engagement of their daughter, Brandi Brianne Deans, of Bailey, to Andrew Glover, of Bailey. He is the son of Jo and Randy Glover, of Bailey. A September 17, 2016 wedding is planned in Nashville.
More ...
Pay It Forward
Pay It Forward Civitan President Deborah Hill welcomes guest speaker Robin Snyder, North Carolina District East Civitan Chair for Special Olympics to the Pay It Forward Civitan Club's July Meeting. Civitan NCDE clubs have supported Special Olympics North Carolina and it's local, area, and statewide-programs both financially and with event volunteers since 1979.
More ...
Filing ends August 5 for school board seats
Five of the six Nash-Rocky Mount Board of Education members whose seats are up for grabs in November's elections have filed for re-election.
Evelyn Bulluck, Richard Jenkins, William Sharpe, Franklin Lamm and Doneva Chavis-Battle have all filed for another term as members of the Nash-Rocky Mount Board of Education.
The District 11 seat is also up for grabs and so far, Ann Edge, who serves District 11, has not filed for re-election.
More ...
Nash County Blood Drives
Tuesday, August 2 from 2 until 7 p.m. at Living Fath Fellowship Church, 1090 West Mount Drive, Rocky Mount
Tuesday, August 2 from 1 until 7 p.m. at Englewood Baptist Church, 1350 Winstead Avenue, Rocky Mount
Wednesday, August 3 from 3 until 6 p.m. at Rocky Mount Chrysler Jeep Dodge RAM, 1340 S Wesleyan Boulevard, Rocky Mount
Thursday, August 4 from 2 until 6:45 p.m. at the Rocky Mount Shrine Club, 320 Airport Road, Rocky Mount
More ...
Twin-Counties awarded food, shelter funding
United Way Tar River Region is pleased to announce the continuation of the Emergency Food and Shelter Program (EFSP). For Phase 33, Congress has appropriated $120,000,000 nationally to supplement and expand emergency food and shelter programs. Of this amount, Nash and Edgecombe Counties have been awarded $87,819.00 to supplement emergency food and shelter programs in our area.
The source of funding is a federal appropriation from Congress to the Emergency Food and Shelter National Board Program.
More ...
AVENTON COMMUNITY NEWS


This week went by fast, too fast. It's been hot and us Aventonians have been staying in the cool as much as possible. I guess some folks are out doing their gardens and chores early in the morning when it's the coolest, but I wouldn't know. Living in my kitchen, I have all the conveniences right beside me most folks don't have. My bed is beside a table with the coffee pot and pop tarts and my TV is directly in front of my bed. I lean over, get my breakfast and remote, and then cut the tube on for the news. This old gal ain't getting out in the heat or the bed too early, not with these luxuries.

More ...
JOJO RICKS
FARM SERVICE AGENCY NEWS


The U.S. Department of Agriculture (USDA) North Carolina Farm Service Agency (FSA) Executive Director, SED Bob Etheridge, today reminded farmers, ranchers and other agricultural producers that they have until Aug. 1, 2016, to nominate eligible candidates to serve on local FSA county committees.
"The August 1 deadline to submit nominations is quickly approaching," Etheridge said. "If you've been considering nominating a candidate or nominating yourself to serve on your local county committee, I encourage you to go to your county office right now to submit that nomination form.

More ...
SHARON TAYLOR, NASH COUNTY FSA EXECUTIVE DIRECTOR
Speaker
Rocky Mount Rotary President, Garry E. Hodges, at left, stands with Tyler Staverman, Veterans Service Officer for Nash County, at right, who spoke at the Doubletree of Rocky Mount on how Nash County will be helping the more than 8,000 veterans in our county get the Veteran services they need.
More ...
Shelter help
Youth put together over 450 pre-packaged kits for domestic violence shelters across North Carolina at the annual North Carolina Conference of the United Methodist Church. The kits, along with other supplies, were distributed to domestic violence shelters across the state, including My Sister's House, which serves Nash and Edgecombe Counties. Pictured above, Joey Rabil (at left) presented kits to Samantha Andelin (at right), of My Sister's House on Monday. Rabil attends Nashville United Methodist Church and also served as a youth counselor at the conference.
More ...
Wood serves as page for NC House
Ann Wood, a student at Virginia Episcopal School, recently served as a Page for the North Carolina House of Representatives. She is the daughter of Ernest M. Wood, IV and Donna Wood, of Nashville, and was sponsored by Representative Jeff Collins (R-Franklin, Nash). Ms. Wood was appointed and introduced to the Members of the House during session.
The North Carolina House Page Program offers a unique and firsthand experience to students from across the state.
More ...
PEACHTREE COMMUNITY NEWS


Despite the sweltering heat, Peachtree Folks gathered for worship on Sunday morning. The sanctuary flowers were given by Cheryl and Doug Hayes in memory of Melvin Hayes and Annie Hayes.
Jerry Hobgood, Deacon Chairman, led the opening service. Pastor Whitehouse, tho still in recovery from his knee surgery, brought the morning message. It was titled "Lead Me Not into Temptation".

More ...
BARBARA HARDISON
Luke's Word for the Week


Undoubtedly, the upcoming Presidential election has been a hot topic across the landscape of America. Turn to social media and everyone has an opinion, turn to the media and there's another controversy brewing. It's been chaotic, unconventional and some would say a little disheartening - no matter where you sit on the political spectrum.
One thing I'd suggest to all during this time of uncertainty of who will lead our country into the next four years is that the leader we are all looking for cannot be elected or nominated.

More ...
LUKE WHITEHEAD
RED OAK NEWS


Everyone had a great time at "Submerged" Vacation Bible School at Red Oak Baptist Church last week! Over 100 children and workers enjoyed the week. They all had fun and learned a lot through Bible study, mission, crafts, videos, and recreation. Bible study emphasized a different story each day while in missions children learned about missionary Matt Dye and his family serving in Atlanta, GA through videos and activities. Commencement was Friday night and the children did a great job sharing some songs they had learned during the week.

More ...
SUZY PEARCE
Maybe Jim Lauderdale will play at opening of CSX


I'm going to go ahead right now and make a suggestion for our area's new best friend, CSX. Readers and the company can thank me later.
Call Jim Lauderdale and book him for your grand opening, or groundbreaking or whatever big event will happen when that blessed (pronounced bless-ED) new terminal coming soon on the Nash-Edgecombe county border.
Last week, when the announcement came down that the railroad company would be bringing much needed -- and high paying -- jobs to the area, I immediately thought of Lauderdale's classic song from 2006, "Where They Turn Around."

More ...
Mike Brantley
Recent law enforcement forum was amazing


The world has been an interesting place lately. I say interesting but really, that's not even the word I'm looking for.
Nonetheless, it's been a bit disappointing to turn on the news lately because it seems like there is something disheartening on every channel.
Law enforcement officers have really been under scrutiny lately and some are paying for it with their lives.
Of course, on the other spectrum, there are people being killed by law enforcement officers, which is causing some unrest in cities across the United States.

More ...
Amanda Clark
Open letter to friends, partners, advocates and supporters of CSX Hub


Dear Editor: I wanted to express my sincere gratitude to all of you who were a vital part of our quest to bring the CSX Intermodal Hub to Eastern North Carolina. I know some of you in Johnston County are disappointed Johnston County was not selected. But as we started this journey more than seven months ago, our top priority was always to convince CSX that Eastern North Carolina both welcomes and needs this major economic development accelerator.

More ...
Letter to the Editor:
Similarities among unfortunate shootings are haunting


Dear Editor: The shooter in Dallas, who took the lives of five police officers, had served in the army reserve until only recently. The gunman had been trained as a soldier. He was in the reserves from 2009-2015 and actually deployed to Afghanistan in 2014.
It was there that he got into trouble with the army having been the subject of an investigation involved sexual harassment of a female soldier.

More ...
Letter to the Editor:
Backward Glances


SUMMER CHAT -- This photo was found in The Graphic's 1966 archives. We're pretty sure it was taken sometime in the summer of 1966 and the location of the photo looks to be at the old ball field behind Nashville Elementary. Maybe our readers will recognize some local faces!

More ...
A PICTORIAL LOOK INTO THE PAST

THE WAVE MAKER. Franklin Davis competes in an event for the Birchwood Barracudas as part of last Thursday afternoon's road conference swim matchup against Westridge in Rocky Mount.

FINISHING TOUCHES


ROCKY MOUNT - Birchwood wrapped up its regular season schedule last Thursday with a journey to tangle with long-time opponent Westridge in Nash-Halifax Swim League action.
The Barracudas put forth a strong performance but saw the homestanding Westridge club come away with a 321-250 decision.
Both clubs will return to the pool one final time this Saturday for the annual N-HSL Championships at the Harrison Family YMCA in Rocky Mount.

More ...
GEOFF NEVILLE, Graphic Sportswriter

ONE LAST TIME. Southern Nash's (l to r) Jaquay Mitchell and Zack Foster were teammates one final time on the football field as part of last Wednesday's East-West All-Star Game at Jamieson Stadium in Greensboro.

The Perfect Curtain Call!


GREENSBORO -- Friends and teammates since they were seven years old, Southern Nash's Zack Foster and Jaquay Mitchell thought their football time together ended when the Firebirds were eliminated last fall in the second round of the Class 3-A State Playoffs.
After all, Mitchell was going to sign to continue his career at Lenoir-Rhyne, while Foster was set join the program at North Carolina Wesleyan College.
But through a simple twist of fate, Mitchell and Foster would have one final magical moment together -- and they weren't about to let it pass by.

More ...
DAVE BUCK, Correspondent
HISTORY LESSON


ROCKY MOUNT -- While some of his cohorts were away at the beach or the mountains this summer, Nash Central High School's Renny Taylor was also hitting the road for some of his favorite travel destinations.
Like Fredericksburg, Richmond, Petersburg or Bentonville.
Or any other hotspot that is doused in history.

More ...
GEOFF NEVILLE, Graphic Sportswriter
Bulldogs will host tryouts


ROCKY MOUNT -- Nash Central High School will begin its fall sports season with tryouts that will start on August 1.
Here is the list of times for each sport:
• Soccer -- 8:30-10:30 a.m. at the NCHS Soccer Field
• Football -- 9-11 a.m. at the NCHS Football Practice Field

More ...
Staff Reports
Cats topped in road game


LYNCHBURG, VA. -- Caleb Beech allowed just two earned runs over a season high six and 2/3 innings pitched, but the Carolna Mudcats fell 5-2 to the homestanding Lynchburg Hillcats in the final contest of a five-game Class A Carolina League baseball series at Calvin Falwell Field in Lynchburg on Sunday afternoon in the Dominion State.
Beech (2-4, 4.26) suffered the tough luck loss in Sunday's game after allowing two earned runs, but five total, while pitching into the seventh.

More ...
Staff Reports

STATE SENSATION. Former Northern Nash High School standout Rebekah Beal displays the plaque she received for being chosen to compete in the North Carolina Coaches Associations East-West All-Star Girls Soccer Game.

Superb Summer


RED OAK -- The calendar year is just over halfway complete, but it's already been one to remember for Rebekah Beal.
And it might get even better very soon.
Beal, who recently graduated from Northern Nash High School, has been piling up the accolades for her prowess on the soccer field.
During the 2016 campaign, Beal broke Northern Nash's all-time goal-scoring record en route to being selected as the Big East Conference Player of the Year.

More ...
GEOFF NEVILLE, Graphic Sportswriter
NRST Wins Again


ROANOKE RAPIDS -- One event proved to be a stroke of genius for the Nash Rec Sharks during last Thursday's key road matchup against Nash-Halifax Swim League rival Roanoke Valley.
Nash Rec had edged RVST by a scant two points a few weeks ago, and the rematch promised to be tight once again.
But in an otherwise closely contested showdown, Nash Rec used a wide advantage in the breaststroke to eventually earn a 419-398 triumph in the regular season finale for both clubs at the Roanoke Rapids Aquatic Center.

More ...
Staff Reports
HERE TO HELP
Birchwood Country Club's Blaine Hale receives pre-event instruction from Coach Tammy Peele as part of last Thursday's swim meet at Westridge. Birchwood and Nash Rec will take part in Saturday's league championships at Harrison Family YMCA.
More ...
JUMPING SHIP
Birchwood Country Club's Cooper Parks dives into the pool for the Barracudas during last Thursday afternoon's road conference swim meeting against rival Westridge.
More ...
LEARNING EXPERIENCE
Nash Central High School boys basketball coach and history teacher Renny Taylor relishes the teaching moments he has at the school -- both in the classroom and the basketball court.
More ...
MORE BCC HIGHLIGHTS, 1
ACTION-PACKED EVENING. Birchwood Country Club capped off the regular season portion of its schedule last Thursday as the Barracudas traveled to Rocky Mount to tangle with Westridge. Among the Birchwood competitors were (above) Maddie Girouard.
More ...
MORE BCC HIGHLIGHTS, 2
ACTION-PACKED EVENING. Birchwood Country Club capped off the regular season portion of its schedule last Thursday as the Barracudas traveled to Rocky Mount to tangle with Westridge. Among the Birchwood competitors were (above) Jillian Hale. The Barracudas will return to the pool one more time this summer on Saturday at the annual Nash-Halifax Swim League Championships at the Harrison Family YMCA.
More ...
THE VERY BEST IN THE STATE
Nash Central High School's Renny Taylor (left) receives a state history teaching award from the Sons of the American Revolution during a recent ceremony in Charlotte.
More ...