Subscribe/Access
Advertisements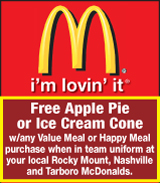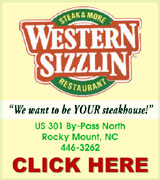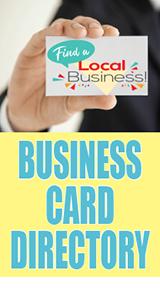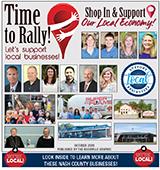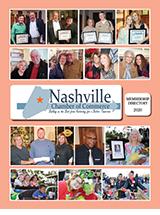 Sections
Member Options
Back

Volunteers sweep mud out of the Clendenin United Methodist Church in West Virginia during an Appalachian Service Project mission trip.

MISSION TO HELP


A local team of volunteers recently spent a week providing disaster relief to a small town in West Virginia devastated by flooding.
The trip was part of the Appalachian Service Project (ASP), which typically involves home repair.
A team of 36 volunteers from Nashville United Methodist Church, plus one from Red Oak United Methodist Church, had been assigned to West Virginia in September.

More ...
AMANDA CLARK, GRAPHIC STAFF WRITER
Nash grants extension of landing strips


Nash County Commissioners have revised the county's UDO requirements to allow private landing strips in residential zoning districts.
Landing strips would only be allowed in the R-40 single-family residential zoning districts with a special use permit. The landing strips would only be allowed for personal use and not commercial, commissioners decided after a lengthy discussion last Monday.

More ...
AMANDA CLARK, GRAPHIC STAFF WRITER

LEE
Gailliard files to replace Lee in House race
State House candidate Jim Lee recently announced that he is stepping out of the race for the NC House of Representative District 25 seat.
Lee cited health problems as his reasons for stepping out.
"I'm truly honored to have had the opportunity to serve as the Democratic Party's nominee in NC House District 25," Lee said. "Due to personal health conditions, I have decided to step aside and attend to my health, so I can make a full and more rapid recovery from recent surgery."
More ...
Kids in the Kitchen
Eli Manning cuts up lettuce during a recent Kids in the Kitchen 4-H Camp, which was held at the Nash County Agricultural Center. The camp taught youth ages five to 18 food safety, nutrition, cooking basics and table etiquette. Nash County 4-H offers several camps throughout the summer, including a new cooking camp for pairs, Cooking in a SNAP.which will be held July 21 and July 22 and is for pairs: one adult and one child.
More ...
Red Oak okays road expansion


At the regular meeting of the Red Oak Town Board Monday, the board approved the DOT's proposed 20 year long-range plan for road expansion. The plan includes building of bike lanes and sidewalks along Highway 43 in Red Oak.
The board also heard a presentation by Brooks Bunting, Vice President of Southern Investment Services at Southern Bank. Bunting presented to the board an investment strategy from the bank's partner SEI, a money management firm.

More ...
JESSICA A. SMITH, GRAPHIC CORRESPONDENT
Lupus Walk is July 23 at Glover Park


Natasha Davis' life changed in 2011 when she was diagnosed with Lupus, an autoimmune disease that causes the boy to attach its own healthy tissues.
Since then, Davis has been working hard to educate others about the disease.
On Saturday, July 23, Davis, along with Lupus from Pain to Praise, will host a Lupus Walk at Nashville's Glover Park.
The walk will raise money for the organization, Lupus from Pain to Praise, which was started by Contessa Turner.

More ...
AMANDA CLARK, GRAPHIC STAFF WRITER
Grants pave way for home repair in Nash


Nash County Commissioners approved the closing out of the county's 2014 Housing Urgent Repair Program and immediately approved moving forward with the 2016 program.
At the board's regular meeting last Monday, Patsy McGhee, M.R.P. Grants and Intergovernmental Relations Administrator, provided an update on the 2014 program.
The program provides deferred loans, up to $8,000 each, to low income homeowners for crucial repairs that enable residents to remain in the home.

More ...
AMANDA CLARK, GRAPHIC STAFF WRITER
Incumbents file for re-election to school board
Evelyn Bulluck, William Sharpe and Richard Jenkins have filed for another term as members of the Nash-Rocky Mount Board of Education.
Filing for the Board of Education runs through noon on August 5.
Bulluck serves District 10, Sharpe serves District 5 and Jenkins serves District 7.
More ...
SENIOR GAMES ATHLETE


"You're only as old as you feel."
That's the motto 81-year-old Orlandas Moore chooses to live by.
That motto is also the reason he's been so successful in the Down East Senior Games over the past 13 years.
Moore has won 102 medals in numerous events at the Senior Games over the years.

More ...
Amanda Clark, Graphic Staff Writer
NASH COUNTY SHERIFF'S OFFICE REPORTS
An assault with a deadly weapon was reported on 7/3/16 at 293 Frazier Road
An assault on a female and communicating threats was reported on 7/3/16 at 9075 Lyn Road
A larceny of a motor vehicle was reported on 7/3/16 at 1083 Warren Road
A damage to property was reported on 7/3/16 at 6446 Southern Nash High School Road
More ...
NASHVILLE POLICE REPORTS
INCIDENTS
An obtaining money/property by false pretense was reported on 7/5/16 at Wal-Mart, 1205 Eastern Avenue
A larceny and breaking and entering was reported on 7/7/16 at Food Lion, 1151 Eastern Avenue
An involuntary commitment was reported on 7/8/16 on Boddie Street
More ...

Captain James William Breedlove retires after 25 years of service with the Nash County Sheriffs Office.
Nash County Sheriff's Office recognizes staff
The Nash County Sheriff's Office hosted a retirement, awards and employee recognition ceremony recently in the Commissioners Room of the Claude Mayo, Jr. Administration Building in Nashville.
Sheriff Keith Stone opened his statement with thanking the Nash County Commissioners and Nash County Manager Zee Lamb for supporting the many initiatives of the Sheriff's Office and ensuring that the workforce was a direct reflection of the community that we served.
More ...

Pictured above, left to right, are: Kitty Powell, Garrett Lee, Andrea Fox, Steve Morgan (President Kitty Powell Scholarship Fund). (Contributed photo)
Local students earn Kitty Powell scholarships
The Kitty Powell Scholarship Fund was established in 1989 to provide education assistance to members of the Rocky Mount bowling community. The scholarship is named for Kitty Powell who was the long-time General Manager of the Bowling Center in Rocky Mount, and who has given so much to the sport of bowling. To be eligible for a scholarship, the recipient must be an active bowler in the local Rocky Mount USBC or the child or grandchild of an active bowler. Since 1989, the Kitty Powell Scholarship Fund has awarded 135 scholarships totaling $83,750.00
More ...
Kids in the Kitchen 4-H Camp, pics 2
Luke Copenhaver shows the placemat setting he made during the Kids in the Kitchen 4-H Camp. In addition to learning how to cook, youth also learn etiquette and the proper placement of silverware.
More ...
Mu Chapter attends state convention
Mu Chapter was represented by Tobey Worthington, President; Patricia Taylor, Immediate Eta State (NC) Past President; Jeannette Pittman, Past Eta State (NC) President; Malinda Pennington and Beth Wingfield, chapter members at the 82nd annual Eta State North Carolina Convention held April 22 through 24 at the Twin City Quarter in Winston-Salem.
More ...
COUNCIL VISITS LEGISLATURE
Nashville's Town Council visited the Legislature last month as part of NC League of Municipalities Legislative Day at the General Assembly. Pictured (L-R) are members of the Nashville Town Council with Rep. Bobbie Richardson: Mayor Pro-Tem Louise Hinton, Council Member Michael Coleman, Rep. Richardson, Town Manager Harry Raper, Council Member Larry Taylor and Council Member Charles Taylor.
More ...
Tar River Land Conservancy buys 40 acres in northern Nash County
Tar River Land Conservancy purchased 40 acres adjoining Fishing Creek in northern Nash County in May 2016. The newly purchased property connects to land across the creek in Halifax County that the Conservancy purchased in 2012. Over the last fifteen years, the Conservancy has preserved 1,963 acres of land on Fishing and Little Fishing Creeks through conservation easement agreements and outright land purchases.
The Conservancy purchased the 40-acre property from David Hodges of Rocky Mount and John Williams of Littleton.
More ...
Nash Health hosts mental health fair
In recognition of May's designation as Mental Health Awareness Month, Nash Health Care organized a Mental Health Fair last month in the ground floor cafeteria. Organized by staff from Coastal Plain Hospital, Nash Health Care's Behavioral Health facility, along with other Nash staff, the Mental Health Fair had educational activities, seminars, and demonstrations to promote awareness about mental illness, its impact on the community, and how to recognize its signs and symptoms. The Mental Health Fair also discussed substance abuse and treatment options.
More ...
Moore serves as page for NC Senate
Elias Waverly Moore, a student at Rocky Mount Academy, recently served as a page for the North Carolina Senate.
Moore is the son of Brandon and Tamara Moore of Nashville.
He was sponsored by Senator Buck Newton and appointed by the Senate President Pro Tempore, Phil Berger, of Rockingham County.
More ...
House page
Ashley King, of Rocky Mount, served as a House page for Rep. Bobbie Richardson recently. King attends Northern Nash High School and is the daughter of Lindsey and Angela King.
More ...
Nash County Animal Friends' Notebook


BEWARE of DOG ~ So often people associate that with Pit Bull type of dogs. I have one of those. His name is Poppy and currently I have a foster puppy crawling all over him while he is laying on my foot. I am getting his DNA tested to see exactly what type of dog he is. He is a big one, about 65 pounds and I thought I would share his photo. Should you be aware of him if you visit? Well, I think he would protect me, but more than anything, watch out for the other dogs, they are more likely to do so. Especially the Pomeranian.

More ...
Carol Vierela, NASH COUNTY ANIMAL FRIENDS
Nash County Blood Drives
JULY
Thursday, July 14 from 9 a.m. until 1 p.m. at Tri-County Industries, 1250 Atlantic Avenue, Rocky Mount
Wednesday, July 20 from 1:30 until 6 p.m. at Sunset Avenue Baptist Church, 3732 Sunset Avenue
Wednesday, July 20 from 10:30 a.m. until 3:30 p.m. Honeywell Corporation, 3475 Wesleyan Boulevard, Rocky Mount
More ...
Livestock shows
The Nash County 4-H Club, Bridles and Halters 4-H livestock Club, traveled to the annual Central Carolina District 4-H Show, which was held on Friday, June 17 in Hillsborough. The club had four animals in the competition. McKenzie Kennedy (at left) took first place and Maura Kennedy (at right) took fourth place in in Junior Showmanship. McKenzie took first place with "Adeline" and Maura took secod place with her calf in the spring calf class. Maura gook first place with "Gladys" in the Ayrshire Spring Yearling Class, and she went on to win Junior Champion of the Ayrshire Show. McKenzie took first place with "Wendy" in the Holstein Winter Heifer class and she went on to win the Junior Champion of the Holstein show. (Contributed photo)
More ...
PEACHTREE COMMUNITY NEWS


Peachtree folks gathered at the church on Sunday morning for worship. Still missing was Pastor Whitehouse, who is at home recovering from knee surgery. Sanctuary flowers were given by Beverly Wilson.
Jerry Hobgood, Deacon Chairman, led the service. The special music was a trio by Ray Eason,
Lawrence Edwards and Jerry Hobgood. They sang "In the Garden", accompanied by Jane May, at the piano.

More ...
BARBARA HARDISON
Boys and Girls Club receives grant to enhance Triple Play program
With support from the Kate B. Reynolds Charitable Trust, the Twin Counties will enhance the Triple Play program - which focuses on increasing kids' daily physical activity, teaching them about good nutrition, and helping them develop healthy relationships - at three Boys & Girls Club locations in Edgecombe and Nash Counties. The investment is part of Healthy Places NC, a long-term Trust effort to improve the quality of life and health in rural, financially disadvantaged North Carolina counties.
More ...
AVENTON COMMUNITY NEWS


On Thursday night, Sue Shearin and Big Mike Tyndall picked up JoJo Ricks for a ride around the community and a trip to Red Oak to Griffins Store for their special Thursday night $6.00 pizzas. They went back to Sue's house for supper and lots of laughs. I think I feel a regular habit forming here folks.
On Wednesday afternoon, with key board in tow, Sue Shearin picked up JoJo Ricks (again) and off they went to Rusty Chasons house in Rocky Mount to sing Gospel songs. Sue's playing as always was beautiful, but JoJo's singing was best described as "a joyful noise."

More ...
JOJO RICKS
Luke's Word for the Week


Somewhere along the way we lost our way. Somewhere along the way we started looking to the right and to the left. Somewhere along the way we sought rules instead of relationships. Somewhere along the way we lost our first love and our ability to love. Our first love though - has made a way back.
Our first love is God. He is our first love because He is the only one who was there as we were being knit together. He's the first one who knew and knows our name. He's the one who stamped His very image in us.

More ...
LUKE WHITEHEAD
BEULAH COMMUNITY NEWS


I pray everyone is having a safe week during the extremely hot weather. For some time now, I have missed a lot of weeks that I did not write any news for th Graphic. I want to thank those of you who have let me know how much you enjoyed my articles over a few years and also how much you have missed reading it in the weeks that I have not written it. I just want to tell you that this will be my final week. Sometimes as we get older our time must go in different areas and we need to change some of our priorities and just cut back on additional things that take time which we don't always have.

More ...
WILMA ENROUGHTY
RED OAK NEWS


Help! Red Oak Baptist Church is accepting donations for the flood victims in West Virginia. The entire community is asked to help with "Truckload of Love". They will be collecting donations through July 30. Drop off locations are Red Oak Baptist Church (252-443-0376) on Monday - Thursday at 9:00 am - 3:00 pm and Saturday at 9:00 am - 11:00 am. The church secretary will accept items in the family life center during the week. You can also drop off items at Trinity Self Storage at 2471 Eastern Ave. in Nashville (252-937-4636) on Friday at 8:30 am - 5:30 pm and Saturday at 8:30 am - 1:00 pm.

More ...
SUZY PEARCE
The brain is far too absent in today's games


Have you ever watched a show entitled "Brain Games"?
My two boys, restless on a day that was 98 degrees -- which weather officials said felt like 105 -- decided to search a TV service for something different. They were familiar with the show; I'd heard the name, but never watched an episode.
Unlike many of their selections, which often involve a moronic sponge-person, or formulaic kids teen shows, which I am certain kill gray matter, this show was pretty interesting.

More ...
Mike Brantley
Through all the bad - there is still a lot of good


Last week I interviewed several people about their recent trip to West Virginia as part of a mission trip. This trip was a bit different, as instead of fixing homes, they provided disaster relief to a church and a few homes that were destroyed by flooding.
In preparing for the interviews, I read a lot of news about the West Virginia flooding and it brought back a lot of memories.
I was 19 when Floyd devastated a huge part of Eastern North Carolina. I was living in Pitt County at the time and going to school at East Carolina University.

More ...
Amanda Clark
Reunions should be an important part of our life


Dear Editor:
There are two kinds of people, those who go to reunions and those who don't go to reunions.
Increasingly, it appears the world is being populated by people in the second category.
Reunions are just not as popular as was the case years ago.

More ...
LETTER TO THE EDITOR
Backward Glances


NEW LAW PARTNER -- This photo originally published in The Graphic on July 21, 1966. Franklin L. Adams, Jr. (right) formerly of Rowland, had joined the law firm of Valentine and Valentine in Nashville. Pictured above, Tim Valentine (left) is pictured with Adams going over some of the legal matters of the firm.

More ...
A PICTORIAL LOOK INTO THE PAST

FULL EXTENSION. Nash Rec's Grahson Williams competes in the IM event as part of last Thursday evening's home meeting with Nash-Halifax Swim League opponent Birchwood Country Club.

FOUR ON THE FLOOR


NASHVILLE - Make it four in a row for the Nash Rec Sharks in Nash-Halifax Swim League action.
One week earlier, the Sharks remained unbeaten with one of their narrowest victories in program history -- a two-point decision over Roanoke Valley.
Nash Rec returned to the pool last Thursday and found the outcome to be a little more comfortable as the Sharks topped backyard rival Birchwood by a 569-179 total at the NRST Pool.

More ...
GEOFF NEVILLE, Graphic Sportswriter

A TRUE BULLDOG. Josh Mullins will go down as one of the best players in the history of the Nash Central High School boys basketball program.

Mullins Decides On A&T


ROCKY MOUNT -- Josh Mullins never gave up on achieving his lifelong goal -- even when it appeared to be slipping away.
Despite averaging 23 points as a senior and earning Big East Conference Boys Basketball Player of the Year honors, Nash Central's Mullis didn't find many Division I scouts knocking at his door or trying to call him on the door.
Mullins had always dreamed of competing on the Division I level, but his options looked to be limited as the campaign progressed.

More ...
GEOFF NEVILLE, Graphic Sportswriter

SECOND SACKER. Nash County's Jeremy Thompson makes a play at second base.

SUPER SHOWING


LOUISBURG -- Nash County Parks and Rec's All-Stars picked up one victory in three attempts at last weekend's Tar Heel 9-10 Baseball Tournament -- and the triumph was certainly one to remember.
Last Saturday, Nash County tangled with Zebulon for the right to stay alive in the double-elimination format at Louisburg High School's Softball Field.
Nash County spotted the Wake County opponent an early lead, but roared back to win the hard-fought matchup by a 7-4 tally.

More ...
GEOFF NEVILLE, Graphic Sportswriter
Northern schedule finalized


RED OAK -- Northern Nash High School will begin its 2016 volleyball schedule on Aug. 16 with a home match against long-time powerhouse D.H. Conley out of Pitt County.
Northern Nash will be coached by veteran skipper Patricia Haggerty. The Lady Knight's first Big East Conference event will be Sept. 8 on the road against Wilson Hunt.

More ...
Staff Reports
'Cats surge past P-Nats


WOODBRIDGE, VA. -- Sal Giardina started a five-run fifth inning with a two-run home run, Luis Valenzuela capped the fifth with a bases-loaded, three-run double and Carlos Portuondo and Phil Pfeifer kept the host Potomac Nationals scoreless over the final two and 2/3 innings while the Carolina Mudcats held on for an 8-7 win against Potomac at Pftizner Stadium on Sunday night in a Class A Carolina League baseball event.
Giardina's home run in the fourth brought Carolina (37-51, 8-10) back from a 3-2 deficit and gave them their first lead at 4-3.

More ...
Staff Reports
Faith baseball standouts named to All-State Team


ROCKY MOUNT -- Faith Christian School enjoyed another strong showing on the baseball diamond last spring, and that assessment was further strengthened when the North Carolina Independent Schools Athletic Associaton recently released its 2016 NCISAA Class 2-A All-State Baseball Team.
Faith Christian, coached by Greg Clifton, reached the semifinals of the NCISAA State Tournament before suffering a tough loss that ended the Patriots' successful campaign.

More ...
GEOFF NEVILLE, Graphic Sportswriter
Bulldogs will open at Tarboro HS


ROCKY MOUNT -- Chris Lee's second season as the Nash Central High School head football coach will begin August 19 on the road against long-time area powerhouse Tarboro.
Central's first home outing will be August 26 versus the Smithfield-Selma Spartans at The Dawg Pound on the NCHS campus.
The Bulldogs will kick off the Big East Conference portion of their schedule on Oct. 7 at home against defending state champion Rocky Mount.

More ...
GEOFF NEVILLE, Graphic Sportswriter
TOURNEY CHAMPS
The Church on the Rise Men's Softball Team recently took the championship at the 2016 Rocky Mount Parks and Recreation Church League Softball Tournament.
More ...
AND HE SCORES!
Nash County's Jordan Bobbitt (left) slides safely into home plate for a key run as part of his club's tournament matchup last Saturday against the Zebulon All-Stars. Nash County rallied to register a 7-4 victory in the hard-fought contest.
More ...
FIELDING HIS POSITION
Nash County's Logan Wiggins tries to retrieve a throw as part of his team's action at the 9-10 Tar Heel District Baseball Tournament at Louisburg High School.
More ...
FUN IN THE POOL
Birchwood Country Club's Mary Kate Girouard makes the most of her time in the water during last Thursday evening's road swim meet against Nash Rec in Nashville.
More ...
FUTURE AGGIE
Nash Central High School's Josh Mullins will continue his basketball career on the Division I level as a preferred walk-on for North Carolina A&T State University in Greensboro. Mullins is the reigning Big East Conference Player of the Year after averaging 23 points per outing in 2015-16 while leading Nash Central to a share of the league championship and a spot in the Class 3-A State Playoffs.
More ...
MORE SWIM HIGHLIGHTS, 1
SWIM SUCCESS. Action was plentiful last Thursday evening as Birchwood visited Nash Rec for a key Nash-Halifax Swim League showdown in Nashville. Among the competitors were (above) Nash Rec's Leah Dorsey. Both squads will return to the pool today for meets that will begin at 5 p.m. There is no charge for admission.
More ...
MORE SWIM HIGHLIGHTS, 2
SWIM SUCCESS. Action was plentiful last Thursday evening as Birchwood visited Nash Rec for a key Nash-Halifax Swim League showdown in Nashville. Among the competitors were (above) Birchwood's Hylan Wheeler. Both squads will return to the pool today for meets that will begin at 5 p.m. There is no charge for admission.
More ...
TREY WITH THE PLAY
Nash County's Trey Ormond (left) tags out a Zebulon baserunner at third base as part of last weekend's action at the Tar Heel 9-10 District Baseball Tournament at Louisburg High School. Nash County went 1-2 overall, including this victory.
More ...