Subscribe/Access
Advertisements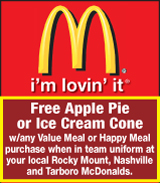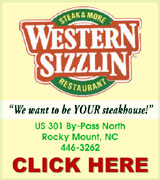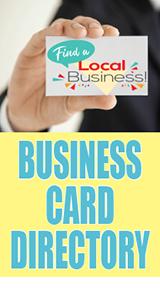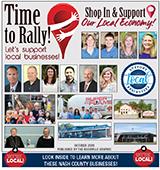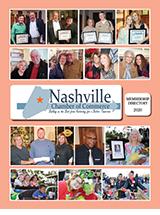 Sections
Member Options
Back
Investigation leads to eight arrests
Numerous complaints about illegal activity at the Sheetz Gas Station on Old Carriage Road led to the arrest of eight individuals last week.
The Tar River Regional Drug Task Force conducted surveillance and investigative intervention, dubbed "Operation Clean Sheets," at the Sheetz at 157 N Old Carriage Road, Rocky Mount last Wednesday, June 29 around 7 p.m. The surveillance stemmed from numerous complaints the Nash County Sheriff's Office had received about loitering and illegal activities at the gas station.
More ...
Two nabbed for shooting
A Nashville woman was among two charged on Friday in a shooting in Rocky Mount.
According to the Nash County Sheriff's Office, deputies responded to the 7900 block of W Tarboro Road in Rocky Mount around 11:40 p.m. on Friday, July 1 in reference to a gunshot victim.
Deputies located Scott Edward Cole, 46, of Rocky Mount, suffering from a single gunshot wound to the lower right leg. Cole was transported to UNC-Nash Health Care for treatment.
More ...
Hall named Ext. Director


A long-time employee of Nash County's Cooperative Extension was recently named the new Extension Director.
Sandy Hall officially began in her new role July 1.
Charlie Tyson previously served as the Director of Cooperative Extension until his retirement in December 2015.
Hall has served as the Nash County 4-H Extension Agent since 1998.

More ...
AMANDA CLARK, GRAPHIC STAFF WRITER

PARADE -- Orlandas Moore, a member of Nashville's American Legion Post 293, waves to parade spectators during Castalia's July 4th Parade on Monday.

Castalia celebrates Fourth


Rain didn't keep Castalia from celebrating America's birthday on Monday during its annual Fourth of July festivities.
Organizers said this year's events were still a success, despite rain showers in the morning.
Ty Davis, one of the organizers of the car show, said the car show did experience a smaller turnout because of the rain but still was a success.
Davis said he was worried the rain would put a damper on festivities but people still came out to the car show, which kicked off events for the annual Fourth of July celebration in Castalia.

More ...
AMANDA CLARK, GRAPHIC STAFF WRITER
Nashville oks district tax


Nashville's Town Council moved forward last week with approving the creation of a Municipal Service District.
A public hearing was held last Wednesday with no comments on the proposal, which would create an additional 10 cents tax on businesses within the district.
A Municipal Service District is a defined area within a municipality that levies an additional tax for special projects or additional services that benefit the properties in the district.

More ...
AMANDA CLARK, GRAPHIC STAFF WRITER
NFD helps people "get alarmed"


Nashville's Fire Department is continuing to ensure that each home in Nashville is equipped with working smoke alarms.
Recently, the department received an additional 40 smoke alarms that will be used for the departments "getAlarmed, Smoke Alarms" program. The smoke alarms were received through a grant from Kiddie Fire Safety.
Members of the fire department visit a neighborhood once a month and perform home safety inspections.

More ...
AMANDA CLARK, GRAPHIC STAFF WRITER
Nashville changes minutes process


Nashville's Town Council held a special called meeting last Thursday to consider four items; however, one additional item was brought up at the end of the meeting by a council member.
Councilman Michael Coleman made a motion to change the policy on how the board's minutes were recorded by Town Clerk Lou Bunch.
At the board's agenda meeting last Wednesday, Coleman said he felt too much time was being spent by Bunch taking minutes on the board's meetings.

More ...
AMANDA CLARK, GRAPHIC STAFF WRITER
OFFICER OF THE YEAR


Since joining Nashville's Police Department five years ago, Jennifer Bull has worked tirelessly to build partnerships between the department and the community.
Her efforts led to her being named the North Carolina American Legion's Law Enforcement Officer of the Year.
Bull was recognized in Raleigh on Friday at the American Legion's annual conference.
Local Legionnaire Larry Womack presented Bull the award during the conference.

More ...
AMANDA CLARK, GRAPHIC STAFF WRITER
Nash County proposes to join state insurance plan


Nash County is hoping to save money by joining the State of North Carolina's health insurance plan.
Commissioners voted last week during a recessed meeting to approve a resolution related to inclusion in the state health plan.
Elgin Lane, Human Resources Director for Nash County, told commissioners that the state had agreed to allow local governments the ability to participate in the state's health insurance plan. However, participation was limited to employees with under 1,000 members.

More ...
Amanda Clark, Graphic Staff Writer
FIRST COTTON BLOOM
Little Caroline Arrington Denny, 8 1/2 months old, is pictured with the first cotton bloom found on her great uncle Burt Philips' Farm in the Battleboro Community. She is the daughter of Travis and Nichole Philips Denny; granddaughter of Stewart and Carolyn V. Philips. Pictured above holding Caroline is her father, Travis Denny, and her grandmother, Carolyn V. Philips. They brought the bloom to the Graphic office on June 30th. The Nashville Graphic has held a long-time tradition of offering a free one-year subscription for the first bloom of the season brought to the newspaper.
More ...
New flea market business proposed in Spring Hope


The possibility of a flea market has been proposed, but several steps must be taken for approval. Danny Rice, a Nash County resident who lives just outside of Spring Hope, made the proposal at Tuesday's meeting.
Rice told the commissioners he wants to start a flea market that operates Thursday through Saturday using some of the multiple buildings he purchased in the town.

More ...
Kendra Jones, Graphic Correspondent
Filing begins for School Board seats
Filing for seats on the Nash-Rocky Mount Board of Education began on Friday but as of Tuesday afternoon, no one had filed for the six available seats.
Filing for the Board of Education will run through noon on August 5. The filing fee is $60.
Filing is open for Districts 1, 3, 5, 7, 10 and 11 on the Board of Education. Those seats are currently held by Doneva Chavis-Battle, Frankin Lamm, Richard Jenkins, William Sharpe, Evelyn Bulluck and Ann Edge, respectively.
More ...
Former town clerk charged with embezzlement
The former town clerk for the Town of Sharpsburg was charged with stealing around $1,400 from the town.
Town of Sharpsburg Administrators contacted the Nash County Sheriff's Office in April concerning five instances of embezzling town funds by Selena Hope Taylor. The five instances totalled around $1,400, a press release said.
Investigators sought bank records and other information that would aid in the investigation and after reviewing the data, discovered there was sufficient probable cause to reveal the embezzlement time frame was between October 2007 and April 2016.
More ...
NASH COUNTY SHERIFF'S OFFICE REPORTS
An assault with a deadly weapon with intent to kill was reported on 6/26/16 at 5791 Red Oak Road
A burglary, other larceny was reported on 6/26/16 at 8804 Mill Branch Road
A domestic was reported on 6/26/16 at 4356 Langwood Way
A breaking and entering and damage to personal property was reported on 6/26/16 at 7989 Old Middlesex Road
More ...
NASHVILLE POLICE REPORTS
INCIDENTS
A possession of heroin, possession of a schedule I controlled substance, simple possession of a schedule IV controlled substance and possession of drug paraphernalia was reported on 6/29/16 at 209 E Elm Street
A simple assault and assault on a female was reported on 6/30/16 at 916 E Washington Street
More ...
Castalia July 4th Snapshots, 1


Members of the Twisted Clovers 4-H Club participated in the Castalia July Fourth Parade on Monday afternoon. The club is based out of Castalia.

More ...
GRAPHIC PHOTOS BY AMANDA CLARK
Castalia July 4th Snapshots, 4
Castalia Commissioners, along with some Nash County Cmmissioners, ride on the town's patriotic float during the annual Fourth of July Parade on Monday afternoon.
More ...
Castalia board reviews Fourth


There was no new or unfinished business at Castalia's regular meeting Tuesday. There were no requests from the public, and the meeting largely consisted of updates.
Town Commissioner James Alston provided updates on the street paving project that has been delayed due to rain. At the May meeting the board voted to use Powell Bill funds to repair Barnes, Harrison, and Spring Streets. Alston stated that the project is top priority and will be completed as soon as weather allows.

More ...
Jessica A. Smith, Graphic Correspondent
UNC announces 2016 grads
The University of North Carolina at Chapel Hill recently announced its graduates for the Spring 2016 semester.
Nashville residents receiving degrees include Mary Moore, who received a Bachelor of Arts in Media and Journalism, and Joseph Hyde, who received a Bachelor of Arts in Anthropology.
More ...
UNC announces Dean's List
The University of North Carolina at Chapel Hill recognized 6,311 student for outstanding academic achievement through their selection for the Spring 2016 Dean's List.
Dean's list recognition requires full-time students who enter the University as new first-year students starting in fall 2010 or thereafter to earn at least a 3.5 grade-point average on a 4.0 scale with no grade lower than a "C" for 12 hours of letter-grade credit, exclusive of physical education activities (PHYA) courses.
More ...
Nash County Animal Friends' Notebook


"I hate people." "People suck." We hear it all the time. Because of owner surrenders or people not taking care of their pets. We even see statements like "The owners should be PTS." Where is the kindness and love we give to pets? Could it be that the people need saving as much as the pets? Where is the empathy? Below are some blogs that explores our mindset. I challenge you to read them.... We often say, do not judge until you walk in their shoes. I think of our pets (5 dogs, 3 cats) and what would happen to them, if our circumstances change. Do you have a "what if" plan for yours?

More ...
Carol Vierela, NASH COUNTY ANIMAL FRIENDS
RED OAK NEWS


Red Oak Baptist Church and the community will be collecting items to deliver to the areas devastated by the flood in West Virginia. The Truck Load of Love kick-off will be Sunday, July 10. Lists of needed items will be available. Contact the Red Oak Baptist Church office at 443-0376 if you have questions or for more information. Several from the church will be going to deliver the items near the end of July.
It is shaping up to be another fruitful summer at Red Oak United Methodist Church.

More ...
SUZY PEARCE
FARM SERVICE AGENCY NEWS


Producers who file accurate and timely reports for all crops and land uses, including failed acreage can prevent the potential loss of FSA program benefits. Please pay close attention to the acreage reporting dates below for 2016.
In order to comply with FSA program eligibility requirements, all producers are encouraged to visit the Nash County FSA office to file an accurate crop certification report by the applicable deadline.

More ...
SHARON TAYLOR, NASH COUNTY FSA EXECUTIVE DIRECTOR
Nash County Blood Drives for July 2016
Thursday, July 7 from 10:30 a.m. until 4:30 p.m. at the Environmental Services Building, 1221 Thorpe Road, Rocky Mount
Friday, July 8 from 2:30 until 7 p.m. at Petsmart, 1462 Jeffries Road, Rocky Mount
Monday, July 11 from 2:30 until 7 p.m. at Northside Community Church, 1660 Beaver Pond Drive, Rocky Mount
Monday, July 11 from 3 until 7 p.m. at St. Paul Baptist Church, 1151 N Winstead Avenue, Rocky Mount
More ...
PEACHTREE COMMUNITY NEWS


Peachtree folks gathered for worship at the church on a beautiful July morning. Sanctuary flowers were given by Rosemary and David Bryant. Jerry Hobgood, Deacon Chairman, directed the service in the absence of Pastor Whitehouse, who is recovering from knee surgery.
The morning message was delivered by Dianne Tucker. Her message was titled, "Obedience". It was based on scripture found in Luke 5: 1-11. She said that salvation is a gift but that obedience is a learning process. The first step is to hear the Word.

More ...
BARBARA HARDISON
Luke's Word for the Week


Nearly 2 weeks ago, 37 image bearers from Nashville UMC and Red Oak UMC began a journey to the land that John Denver called, "almost heaven." Some of you might know it as West Virginia, the Mountaineer State. Their mission was simple: work to make homes warmer, safer, and drier. Their avenue to complete the mission was called ASP or Appalachia Service Project, which is a ministry that works in the states of Tennessee, Virginia, West Virginia, Kentucky, and North Carolina.

More ...
LUKE WHITEHEAD
AVENTON COMMUNITY NEWS


Where is time going?? After taking a long, hard look at myself in the mirror last week, I noticed my hair had gotten grayer and there were lots more wrinkles. Seriously, I glance in the mirror daily to make sure everything is ok before I leave home, but this time I just stood there. That young girl from yesterday was gone, and there in front of me stood a mother, a grandmother and a widow. It hit me; I am proud of every gray hair and of every wrinkle. They show a life well lived and loved. Each one tells a story and each story made me who I am today.

More ...
JOJO RICKS
New horror shows coming to television


Hopefully, you all enjoyed celebrating the 240th birthday of our country last week, which is also, perhaps our most dangerous one.
In addition to fire on the grill, fireworks, firewater, and firebrands, we all get a chance, while some don't take it, to consider the unity required for our country to last nearly two and a half centuries so far. If you escaped last week without an incident that involved the phrase, "Here, hold my beer and watch this," consider yourself a lucky American.

More ...
Mike Brantley
Officer Bull is most deserving of award


Last week was a bittersweet week for Nashville.
Officer Jennifer Bull, who had been with Nashville's Police Department for around five years, received a pretty awesome award in Raleigh. She was nominated by Nashville's American Legion Post 110 and ended up winning the title of NC Law Enforcement Officer of the Year.
To say the award is well deserved is a bit of an understatement.

More ...
Amanda Clark
Backward Glances


FOURTH OF JULY -- 1999 wasn't all that long ago, but we couldn't resist using this submitted photo as this week's Backward Glace. Maggie Freeman Barnes and Elizabeth Cahoon were all decked out for the Castalia July 4th Celebration on July 4th, 1999.

More ...
A PICTORIAL LOOK INTO THE PAST

FAST TO THE FINISH. Nash Rec's Grahson Williams heads toward the finish line in the freestyle stroke as part of the IM event during last Thursday's home swim meet against rival Roanoke Valley.

SHOWDOWN TO NRST


NASHVILLE -- Rare are the occasions when Nash Rec's pool dynasty is tested in the Nash-Halifax Swim League.
But that would prove to be the case last Thursday as Nash Rec and visiting Roanoke Valley literally went down to the final event before the Sharks came up with one of their narrowest victoies in the history of the long-time program.
Thanks to a combined eight points from Langdon Norris and Jacob Richardson in the closing Boys 15-18 Freestyle, the Sharks were able to hold off Roanoke Valley by a slim 381-379 margin at the Nash Rec Pool.

More ...
GEOFF NEVILLE, Graphic Sportswriter

SPEED MERCHANT. Birchwood Country Club's Blaine Hale takes part in the freestyle event during last Thursday's home contest against Nash-Halifax Swim League opponent Westridge out of Rocky Mount.

Birchwood Edged By Westridge


NASHVILLE -- Westridge and host Birchwood tangled in a pre-holiday Nash-Halifax Swim League matchup last Thursday -- and the visitors from Rocky Mount were able to squeeze out a 300-250 victory in a close contest.
Birchwood was ahead after the initial IM competition, but Westridge was able to roar back and take the lead for good in the team standings with a strong overall showing in the butterly.

More ...
GEOFF NEVILLE, Graphic Sportswriter
Baseball tourneys targeted


NASH COUNTY -- The Nash County Parks and Recreation Department will take part in a pair of upcoming Tar Heel League Baseball Tournaments.
This week, the Tar Heel 9-10 Tournament is being held at the Louisburg High School Softball Field in Franklin County.
The seven-team field will include the Nash County All-Stars, who opened play in the double-elimination format on Wednesday against Wendell White.
The winner of that event will tangle with host Louisburg today at 7:30 p.m.

More ...
Staff Reports
Mudcats roll past Red Sox


ZEBULON -- Gordon Beckham hit a two-run home run in the third, Isaias Tejeda was 2-for-4 with three RBI and the Carolina Mudcats offense broke out for nine runs on 12 hits while snapping an eight game losing streak with a 9-6 win against the Salem Red Sox in front of 6,846 at Five County Stadium on Monday night in a Class A Carolina League baseball event.
Carolina's six-run sixth erased a three run deficit and put the Mudcats (32-50, 3-9) in front for the first time in the game.

More ...
Staff Reports
Wilson Tobs drop a heartbreaker


WILSON -- The homestanding Wilson Tobs fell to the Peninsula Pilots by a final score of 5-4 at Historic Fleming Stadium on Independence Day in a Coastal Plain Wooden Bat League diamond showdown.
Jake Lewis started for the Tobs (15-14) and went 5 innings and gave up 2 runs on 2 hits, also striking out 2.
Zack Mozingo (L, 0-1) pitched the sixth inning and was the tough luck loser giving up 3 runs but none were earned.

More ...
Staff Reports
DISTRICT BASEBALL CHAMPS
The Rocky Mount All-Stars won the Little League 7-8 North Carolina District 4 Championship recently in Beaufort. Rocky Mount went 4-0 overall by a combined score of 78-6. In the title game, Rocky Mount defeated Newport 19-5. Rocky Mount will represent District 4 at the NC State Tournament at Gillette Stadium in Wilson beginning July 9.
More ...
PARKS AND REC BASEBALL CHAMPS
The Spartans won the Nash County Parks and Recreation Department's 13-14 Baseball Championship. Roster members are, in no particular order, Head Coach Deri Land, Zach Baker, Daniel Batchelor, Hobart Brantley, Greyson Curtis, Preston Curtis, John Land, Bradley Peace, Trayven Pearce, Jacob Pridgen, Cooper Strickland, Ketric Williams, Dylan Alford and Jackson Bradberry.
More ...
Nicholson excels at LC


LOUISBURG -- After back-to-back 20-victory seasons, Louisburg College women's basketball coach Shay Hayes will be reloading next winter following the graduation of six talented sophomores -- five of which will be playing in 2016-17 on the four-year level.
Three of those LC standouts have signed letters-of-intent, including Iresha Cooper, who has inked a deal with Coker College.
Cooper, a forward, paced the Lady Hurricanes in scoring and rebounding while earning Team Most Valuable Player honors.

More ...
GEOFF NEVILLE, Graphic Sportswriter
CHLOE'S QUEST
Nash Rec's Chloe Jones collects some important points for the Sharks during last Thursday evening's nail-biting home decision against the Roanoke Valley Swim Team.
More ...
MORE BCC HIGHLIGHTS, 1
BIG-TIME BARRACUDAS. Birchwood's competitors during last Thursday's swim meet against Westridge included (above) Isabella Daza. The Baracudas will be at Nash Rec today at 5 p.m.
More ...
MORE BCC HIGHLIGHTS, 2
BIG-TIME BARRACUDAS. Birchwood's competitors during last Thursday's swim meet against Westridge included (above) Logan Hobgood. The Baracudas will be at Nash Rec today at 5 p.m.
More ...
MORE NRST HIGHLIGHTS, 1
TRULY A SUPER NIGHT FOR THE SHARKS. Among the competitors for Nash Rec during last Thursday's narrow triumph against Roanoke Valley were (above) Graham Williams. The Sharks will remain home today for a meeting against backyard rival Birchwood as the clubs continue their respective Nash-Halifax Swim League schedules. Action will begin at 5 p.m., and there is no charge for admission.
More ...
MORE NRST HIGHLIGHTS, 2
TRULY A SUPER NIGHT FOR THE SHARKS. Among the competitors for Nash Rec during last Thursday's narrow triumph against Roanoke Valley were (above) Nola Holder. The Sharks will remain home today for a meeting against backyard rival Birchwood as the clubs continue their respective Nash-Halifax Swim League schedules. Action will begin at 5 p.m., and there is no charge for admission.
More ...