Subscribe/Access
Advertisements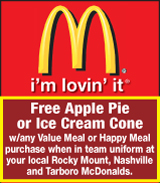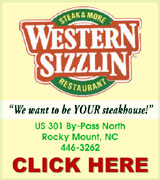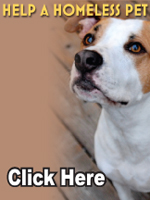 Sections
Member Options
Back
Four arrested for homicide
The Nash County Sheriff's Office has arrested four suspects and are still searching for the fifth suspect in connection with the county's first homicide in over two years.
Members of the Sheriff's Office responded to 13360 W. Old Spring Hope Road, Spring Hope on Friday morning in reference to a man with a possible gunshot wound.
The victim, Tony Maurice Braswell, 21, was found by a family member lying on the ground in the front yard of the residence.
More ...
Police seek robbery suspect
Nashville Police are searching for a man who robbed Food Lion on Saturday night.
According to a press release, a white male entered the store, at 1151 Eastern Avenue in Nashville, around 9:15 p.m. on Saturday, June 18. He ordered one of the cashiers to place the money from the cash register into a plastic bag. The suspect did not display a weapon but told the cashier that he had a weapon in the waistband of his pants.
More ...

Tripp Evans spends time in his garden harvesting vegetables for the vegetable stand he and his brother, Riley, have opened near Nashville.

Brothers open vegetable stand in Elm Grove area


While most kids are sleeping in on Saturday mornings, Tripp and Riley Evans are in their garden, picking and preparing to sell their homegrown goods to the public.
The brothers recently opened Evans Brothers Veggie Stand at the corner of Old Bailey Highway and Rose Loop Road.
This is the second year the boys have had a vegetable stand but the Evans' family has had a garden for many years.
The boy's mom, Lindsey Evans, said she has always had a garden with her mom and grandmother.

More ...
AMANDA CLARK, GRAPHIC STAFF WRITER
PNC Bank employee faces charges
An employee of PNC in Nashville was arrested and charged with stealing from a customer's account.
Meghan Nicole McComb, 28, faces 13 charges of felony obtaining property by false pretense plus one charge each of felony embezzlement, felony financial card theft and felony identity theft.
According to Nashville Police Chief Tom Bashore, McComb allegedly used a customer's debit card to remove cash from a customer's account.
More ...
Drug sweep nets 22 arrests


The Tar River Regional Drug Task Force spent most of Monday rounding up suspected drug dealers in and around the Spring Hope area.
Nash County Sheriff Keith Stone will announce the results of the roundup, dubbed Operation Spring Cleaning, on Thursday afternoon.
Operation Spring Cleaning is an initiative geared to address the recent drug-related crimes, specifically in and near Spring Hope.
Around 30 subjects have been investigated within the past year, which resulted in felony warrants being obtained against the subjects.

More ...
AMANDA CLARK, GRAPHIC STAFF WRITER
School Board oks updated AIG plan


The Nash-Rocky Mount Public Schools Board of Education approved an updated AIG plan at their regular meeting earlier this month.
The plan is required to be updated every three years.
The Nash-Rocky Mount Public School System's Academically or Intellectually Gifted (AIG) Education Program is a part of a continuum of services that promotes and supports the academic achievement of all students while emphasizing appropriate educational opportunities for the academically/intellectually gifted child.

More ...
AMANDA CLARK, GRAPHIC STAFF WRITER
Six arrested for home repair fraud
An elderly Nashville woman was duped into paying thousands of dollars to several individuals claiming to have done work to her home.
According to the Nash County Sheriff's Office, deputies responded to the 6000 block of NC 58 in Nashville on June 7 around 1 p.m. in reference to a possible home repair fraud. The victim stated she had paid several thousands of dollars to the suspects over a period of several months for home repairs. However, she didn't think the repairs had been completed so she contacted the Sheriff's Office.
More ...
Local, well known pastor passes away
Rev. Dr. Tyrone P. Jones, III, CFSP, Pastor of Mount Vernon Missionary Baptist Church in Nashville, passed away on Friday, June 17, 2016.
Dr. Jones of Wilson, and formerly of Augusta, GA, died at his residence. He was a well-known preacher and Bible expositor in Wilson, throughout North Carolina, and the United States. He has been the Pastor of Mount Vernon Missionary Baptist Church, 904 S. Alston St. in Nashville for the past 14 years In addition, he was the Manager of Edwards Funeral Home, Inc. in Wilson.
More ...
Nash Arts Center to host several summer camps


Nash Arts has kicked off its Summer Camp Schedule for 2016 with several camps in store for the coming weeks.
This week, a Crafty Crafts Camp is being at the arts center. Shelly Gray, Nash Arts Director, said during the summer months, the arts center tries to offer arts opportunities for youth.
"That's our primary focus during the summer, our summer camps," Gray said. "The summer camps are primarily targeted for children and youth."

More ...
Amanda Clark, Graphic Staff Writer
Fire
Fire departments from Battleboro, Salem and Whitakers along with Nash County EMS reponded to a storage building fire on Watson Seed Farm Road in the Battleboro area of Nash County Monday afternoon. The blaze was under control in 30 minutes and no one was hurt. The fire is being investigated by the Nash County Fire Marshal's Office.
More ...
House fire
Coopers, West Mount, Sharpsburg and Silver Lake Fire Departments responded to a house fire at 10218 South NC 58 on the evening of June 2. Fire destroyed the mobile home, which was started by materials discarded in a trash can in the kitchen. No one was injured in the fire.
More ...
Reminiscing
Barry Bledsoe, 62, reminisces about his father, Charles Brantley Bledsoe, by performing songs on his trumpet outside the Nash County Courthouse. Bledsoe's father recently passed away and family members were inside taking care of legal matters so Bledsoe said he felt compelled to play the trumpet, which he has been playing since he was eight years old. His father was from the Samaria area.
More ...
Whitakers man jailed for selling crack cocaine
A Whitakers man was arrested after law enforcement authorities discovered crack cocaine was being sold from his home.
Members of the Tar River Regional Drug Task Force executed a search warrant at 10058 N US Highway 301 last Wednesday afternoon after investigation revealed Marvin Eugene Rudd, 64, was allegedly selling crack cocaine from the residence.
The crack cocaine was allegedly being distributed throughout the Whitakers community.
More ...
Officials apprehend escaped juvenile
State and local law enforcement officials have apprehended a juvenile who on May 29 failed to return to secure custody at the Edgecombe Youth Development Center, following an off-campus visit.
Officials with the Rocky Mount Police Department took the juvenile identified as Khalil D. back into custody Tuesday, June 14, at approximately 10 p.m. Khalil D. has been returned to secure custody at a Division of Adult Correction and Juvenile Justice juvenile facility.
More ...
NASHVILLE POLICE REPORTS
INCIDENTS
An involuntary commitment was reported on 6/13/16 on Oak Court
A possession of drug paraphernalia was reported on 6/14/16 at W Washington Street and Evans Drive
An involuntary commitment was reported on 6/15/16 on E Cockrell Street
More ...
NASH COUNTY SHERIFF'S OFFICE REPORTS
A breaking, entering and larceny, felony larceny and damage to personal property was reported on 6/12/16 at 9981 Stone Heritage Road
A felony larceny was reported on 6/12/16 at 9041 Main Street
A damage to personal property and communicating threats was reported on 6/12/16 at 3000 S. Wesleyan Boulevard
A felony larceny was reported on 6/12/16 at 8938 Graham Brantley Road
More ...
Legislature passes school lines bill


A bill to prevent a split of the Nash-Rocky Mount School System was unanimously passed in the North Carolina General Assembly last Wednesday.
Representative Jeff Collins, in the House Rules Committee, replaced Senate Bill 382, formerly a transportation bill on the ferry system, with a compromise to prevent a split of the Nash-Rocky Mount School System.
The bill comes after a week of deliberations and addresses the financial concerns Nash County Commissioners had over funding of the school system.

More ...
Amanda Clark, Graphic Staff Writer
Community says goodbye to local Boys & Girls Club Director


Nashville's Boys and Girls Club is spending the summer without a director.
Boris Ashford recently resigned as the Unit Director to move to Charlotte.
Last Thursday, Rock Creek Baptist Church held a farewell dinner for Ashford and his family.
Rock Creek Pastor Blake Dempsey applauded Ashford for the partnerships he had formed in his year and a half with the club.

More ...
Amanda Clark, Graphic Staff Writer
Luncheon held to celebrate NRMPS retirees
A total of 48 Nash-Rocky Mount Public Schools (NRMPS) retirees were celebrated at the 2016 Retirement Luncheon on Tuesday, June 14, 2016. The event was held at Rose Hill in Nashville. The theme of the event was "You made a difference." Each retiree was honored with lunch, a special gift presented by Superintendent Dr. Shelton Jefferies and guest speakers who reminded them of the difference they made by working for NRMPS.
Board of Education Chair Reginald Silver opened the event by welcoming the retirees and their guests. Each retiree was escorted into the room by a NRMPS principal.
More ...
Citizenship Focus
Nash County 4-H'ers attended Citizenship Focus last week. Pictured are (left to right) Emmett LaHay, Steven Bradley, Edgecombe County 4-H'er, Stacie Winner and Johnnie Specht.
More ...
Gurganus receives UNC School of Government Scholarship
Local Government Federal Credit Union (LGFCU) recently announced that Nicki Gurganus, of the City of Rocky Mount, was the recipient of a UNC School of Government (SOG) Scholarship award.
Gurganus was announced in the first round of LGFCU winners for 2016. Gurganus will use the money to attend the course Effective Supervisory Management at the SOG at UNC-Chapel Hill.
More ...
NHC to hold blood drive Thursday, June 23rd
In the wake of the recent violence and tragedy in Orlando, Florida, Nash Health Care will partner with the American Red Cross to host a blood drive on Thursday, June 23, 3016, from 10:00 am - 3:00 pm in the Nash General Auditorium. Anyone eligible and interested in giving blood may make an appointment by visiting redcrossblood.org (sponsor code: NashHCS) or by calling 1-800-RED-CROSS.
"Nash Health Care is always committed to helping facilitate life-saving blood donations in our region.
More ...
Tar River Academy holds graduation
A total of 56 Tar River Academy (TRA) Class of 2016 seniors turned their tassels during the Friday, June 10 graduation ceremony that was held in the school's auditorium. The graduates are excitedly looking forward to their futures, as a total of 47 students will attend two-year colleges, three will join the military and six will enter the workforce. Shakur Garrett was named class Valedictorian and Skylar Huey was named class Salutatorian.
Principal John Milliner-Williams provided the opening remarks for the ceremony. Valedictorian Shakur Garrett addressed the graduating class and reminded them of the hard work they put in to graduate.
More ...

Event participants are pictured with their giveaways.

NHC celebrates Cancer Survivor's Day


Nash Health Care's National Cancer Survivor's Day celebration was held on June 3, 2016 at Nash Day Hospital. Participants gathered in a large lobby area decorated with balloons to socialize, enjoy refreshments, and groove to the music of DJ Pinyan.
The theme of the event was "Hope Grows Here." Nash hosted it a few days earlier than the official National Cancer Survivors Day on June 5, to, as Sterling Grimes, Director, Specialty and Cancer Services, said in her remarks, "kick off the weekend right."

More ...
Contributed
Nash County Health offers weight management program
Nash County Health Department is in collaboration with the Harrison Family YMCA and Area L AHEC to coordinate a new weight management program called Group Lifestyle Triple P. This program will be held at the Harrison Family YMCA on Mondays, June 20, 2016 through August 29, 2016 from 6:30pm to 8:30pm. The target population for the Group Lifestyle Triple P is families with overweight or obese children 5 to 10 years old. The program consist of 14 sessions (10 group sessions and 4 telephone sessions) delivered over a 14-week period.
More ...
Nash County Animal Friends' Notebook


WHEW! It is HOT today! Summer is here! When temperatures get above the 90s, best to take your pet inside. For outdoor pets, be sure to provide them with plenty of fresh, cold water in a tip-proof water dish and shade for them to cool down. Don't exercise with your pets when it is too hot: Older and certain long-haired dogs can be particularly susceptible to heat, and hot asphalt can burn their paws. Exercise in the early morning or evenings and make sure both of you have plenty of water. It will be easier on both of you.

More ...
Carol Vierela, NASH COUNTY ANIMAL FRIENDS
AVENTON COMMUNITY NEWS


A big thank you to all the people that told me they missed reading about Aventon. After a too long hiatus, I will be reporting our community news again. Aventonians, I will need your help. I know what you're doing; I have connections, but I need you to tell me about it anyway. By telling me, you are also giving me permission to write about it. Hint, Hint Aventon. I would love to write about the trip out west Dolores Journigan and Mary Ann Holland took recently. I would like to write about the Milligans and their lake stays.

More ...
JOJO RICKS
PEACHTREE COMMUNITY NEWS


Sunday was a beautiful summer day as Peachtree folks gathered at the church to worship. Special recognition was given to the fathers present on this Fathers' Day. With the help of the children present, Linda Edwards, Youth Director, gave a gift to all of the fathers present. The choir sang "I'm Standing on the Rock" under the direction of the pastor.
For her sermon to the children, Beverly Wilson gave each child a sample of a fruit to taste.

More ...
BARBARA HARDISON
Luke's Word for the Week


There's sometimes a little problem I have when I am driving. While cruising down the road and coming upon a law enforcement officer, that is usually hiding in a discreet location, I find myself consumed with the fear that I am doing something wrong. As I cruise by (going one mile under the speed limit of course) fear sets in that he or she will switch those lights on and soon be in my rear view mirror. I remind myself over and over to stop looking in the rearview mirror to see that status of their location and that if he or she is going to pull someone over it will most likely be the vehicle that just passed me going 20 over, who was also texting and reading a book.

More ...
LUKE WHITEHEAD
RED OAK NEWS


Women in Action met at Red Oak Baptist Church on Thursday, June 16.
The youth and chaperones from Red Oak Baptist Church had a great time spending time together, doing missions projects, and worshiping at Mfuge in South Carolina last week.
The Baptist Men enjoyed their monthly breakfast meeting and fellowship on Sunday, June 19.

More ...
SUZY PEARCE
Mission trip
Kay Turner (at left) is preparing to return to Cambodia for her fifth mission trip. Turner will stay at the Shelter of Love, a home for disadvantaged and orphaned children, and travel each day to the Clevel Child International School in Kampong Thom, where she will teach English. Pictured with Turner is Pastor Blake Dempsey, of Rock Creek Baptist Church, preparing to say a prayer of blessing over Turner's trip.
More ...
Why do we make things so complicated?


If you, like me, found out fairly early Monday morning that the government would be censoring the 911 recordings from the Orlando, Florida, nightclub shooting, your common sense response was probably, "What?!"
The censoring taking place, at the order from the Justice Department, at the order from the White House, would be removing all references to ISIS, Islam, and phrasing of any indications that was a jihadist terrorist attack.

More ...
Mike Brantley
Honestly, you just can't make this stuff up!
The failure of American education has produced a Republican candidate for president who had significant trouble understanding the negative consequences of being endorsed by David Duke. He also has expressed some dismay that mainstream faithful Muslims have not spoken out opposing what he calls radical Islamic terrorism.
Perhaps the answer lies in the observation that mainstream faithful Christians in the last century did not speak out opposing radical Christian terrorism carried out by the Ku Klux Klan.
More ...
My three sons, and a new pot-bellied pig


Since I was a little girl, I've been fascinated by pigs.
I'm not sure what it is. I am not necessarily a fan of dirty, smelly animals but there's something about a cute, little pig that has always made me happy.
I've never actually been up close and personal with a little pig but I've always wanted a pig.
I didn't want one of those 300 pound pigs but instead, wanted a smaller one, not the oddly small pigs but just a small pig that would reach maybe 50 pounds max.

More ...
Amanda Clark
Backward Glances


COOLEY CAMPAIGNS IN NASHVILLE -- This photo was found in The Graphic's 1966 archives. U.S. Congressman Harold D. Cooley visited his hometown during a 25-stop personal appearance tour campaigning for re-election.

More ...
A PICTORIAL LOOK INTO THE PAST

SMITH'S SHOW OF SPEED. Nash Rec's Samuel Smith heads toward the finish line with intensity during last Thursday's season-opening Nash-Halifax Swim League showdown.

QUEST BEGINS


NASHVILLE -- With a deep roster filled with veterans and potential-filled newcomers, Nash Rec seems poised to continue its long-time dominance of the Nash-Halifax Swim League.
The Sharks didn't have to travel too long for last Thursday's regular season opener -- just down the road to meet with backyard rival Birchwood.
Nash Rec flashed its promised by defeating the Barracudas by a 519-182 score at the BCC Pool.

More ...
GEOFF NEVILLE, Graphic Sportswriter

CHERRY ON TOP. Northern Nash's Coleman Cherry was outstanding during his distance-running career for the Knights -- and he will continue to run next season at Louisburg College under touted coach Jay Koloseus.

Strong Quartet For Northern Nash


RED OAK -- Four student-athletes known for their all-around excellence took home the top honors at the recent Northern Nash High School Athletic Awards Ceremony.
Zach Langley was tabbed as the Boys Athlete of the Year, while CeCe Harrison was the selection as the Girls Athlete of the Year for the 2015-16 school calendar at Northern Nash.

More ...
GEOFF NEVILLE, Graphic Sportswriter

MAKING THE CLIMB. Josh Cook takes part in an obstacle event as part of the recent Ultimate Backyard Warrior competition in Red Oak.

Another success for Cook


RED OAK -- Mike Cook called it the best event yet -- and the numbers bear out that assessment after Cook hosting his third Ultimate Backyard Warrior competition last month on his property near Red Oak Middle School.
Cook was unable to compete because of an injury, but 87 other performers tested their endurance and skill on Cook's home-built course, which features a series of obstacles and is inspired by the acclaimed television show 'American Ninja Warrior'.

More ...
GEOFF NEVILLE, Graphic Sportswriter

SNHS' Olivia Lamm

Lamm tops in Big East


STANHOPE -- Olivia Lamm earned a starting position on the mound when she first arrived as a freshman three years ago at Southern Nash High School.
Lamm hasn't let up since, and her continued improvement helped vault the Ladybirds into the upper half of the Big East Conference softball standings during the 2016 campaign.
After leading Southern Nash to a third-place effort and a spot in the Class 3-A State Playoffs, Lamm has been saluted as the Big East Conference Pitcher of the Year.

More ...
GEOFF NEVILLE, Graphic Sportswriter
Buffaloe sparkles in NYC


NEW YORK -- Area resident Christian Buffaloe, 16, recently competed in the "2016 All American Kyokushin International Karate Championships" in New York City on June 18.
This prestigious annual event is sponsored and organized by the International Kyokushin Karate Organization in Tokyo, Japan and featured over many fighters from Japan, Russia, Serbia, Bulgaria, Romania, Poland, Canada, and South America.

More ...
Staff Reports
NASH CO. SOCCER SCORES


NASH COUNTY -- Listed are updated results from the Nash County Parks and Recreation Departmen's Spring Youth Soccer Season:

More ...
Staff Reports
E-W hoops rosters announced


GREENSBORO -- Rosters have been finalized for the 2016 North Carolina Coaches Association East-West All-Star Basketball Games, which will be played July 18 as part of a doubleheader at the Greensboro Coliseum.
Tickets for the hoops twinbill will be available at the gate.
Rosters for the event are as follows:

More ...
Staff Reports
Gryphons claim conference award


CHAPEL HILL -- Wells Fargo, along with the North Carolina High School Athletic Association, has announced the final standings in the Wells Fargo Conference Cup competitions for the 2016 spring sports season.
The Wells Fargo Cup award recognizes the schools that achieve the best overall interscholastic athletic performance within each of the state's four competitive classifications.

More ...
Staff Reports
PARKS AND REC RESULTS


NASH COUNTY -- Here are updated scores from the Nash County Parks and Recreation Department's Spring Youth Baseball and Softball Season:

More ...
Staff Reports
Mudcats wrap up first half of sked


ZEBULON -- The Carolina Mudcats finished their first-half schedule one win shy of 30 in the Class A Carolina League after losing 4-3 to the Blue Rocks in Sunday's baseball series and first-half finale at Five County Stadium in Zebulon.
Ryan Clark allowed his league worst 12th home run of the season in the loss.
The loss came in front of a Father's Day crowd of 4,988 at Five County Stadium and in game six of a six-game series between the Mudcats (29-41) and Blue Rocks (27-42) in Zebulon.

More ...
Staff Reports
LEAGUE CHAMPS
The Bulldogs were the champions in the Nash County Parks and Recreation Department's Tar River 7-8 Baseball League. Pictured are, in no particular order, Coach John Gibson, Joseph Gibson, Ayden Phillips, Trey Kowack, Aaron Mowatt, Carson Holloman, Nicolas Groesser, Carter Griffin, Hunter Parker, Jayden Jones and C.J. Rosser.
More ...
MORE SWIM SENSATIONS
COMPETITIVE SPIRIT. Action was plentiful last Thursday evening as the 2016 Nash-Halifax Swim League campaign opened with a contest between long-time rivals Nash Rec and host Birchwood Country Club in Nashville. Among the participants were (above) Nash Rec's Callie Wilson.
More ...
Activate Drama presents Willy Wonka JR. June 24-25
Activate Drama will present a scrumdidilyumptious weekend of performances of Roald Dahl's Willy Wonka JR. at Wesleyan College's Dunn Center the 24th and 25th of June. The toe-tapping musical follows enigmatic candy manufacturer Willy Wonka as he stages a contest by hiding golden tickets in five of his scrumptious candy bars. Whomever comes up with these tickets will win a free tour of the Wonka factory, as well as a lifetime supply of candy. Four of the five winning children are insufferable brats, but the fifth is a likeable young lad named Charlie Bucket, who takes the tour in the company of his equally amiable grandfather.
More ...