Subscribe/Access
Advertisements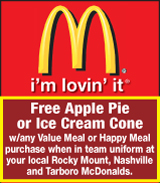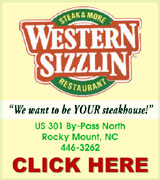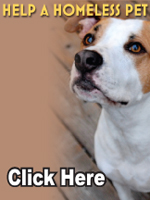 Sections
Member Options
Back

Dale Griffin, Nash County EMS Program Manager, has taught several training classes on how to give the Narcan drug to addicts who overdose on heroin.
Nash forms focus group
Nash County has formed a focus group to respond to the heroin epidemic.
The heroin epidemic has taken its toll on Nash County, with Nash County EMS units responded to a greater percentage of overdosing calls over the past few months. On average, EMS are responding to between 25 and 32 calls each month.
Coastal Plains Hospital has also seen a dramatic jump in patients admitted with heroin/opioid overdoses from 33 patients in 2013 to 632 patients in 2015.
More ...
Nashville cuts recreation fees


Nashville Town Council members were presented an $8.7 million budget last week that includes an increase in automobile sticker fees but a significant decrease in the town's recreation fees.
Town Manager Henry Raper presented the budget during a special meeting last Wednesday.
The $8.7 million budget includes two permanent funds; a general fund totalling $5.5 million and an enterprise fund totalling $3.2 million.

More ...
AMANDA CLARK, GRAPHIC STAFF WRITER
5K DONATION
Spring Hope's Chamber of Commerce presented the town's Police Department with a $2,000 check at the town's meeting on Monday. The funds came from a 5K the chamber hosted in April. Pictured on the front row (L-R) is Spring Hope Police Chief Anthony Puckett with Tracey Jackson and Chris Wheaton, both of Spring Hope's Chamber of Commerce. Pictured on the back row (L-R) are Spring Hope Police Officers Durwood Radford, Tim Bell and Allen Proctor.
More ...
Spring Hope okays budget


The Spring Hope Board of Commissioners have approved the town's budget which means residents will officially not endure any tax increases.
The total budget for the 2016-2017 fiscal year is $1,527,050, which is $100 less than the proposed total budget. Property tax rates will stay the same at 63 cents per $100 valuation.
Regarding the town's water and sewer fund, Town Manager Jae Kim said the town will indeed pursue a water and sewer rate study for the upcoming fiscal year.

More ...
KENDRA JONES, GRAPHIC CORRESPONDENT
Locals oppose pipeline


Nash County residents have joined together to fight the Atlantic Coast Pipeline (ACP).
Landowners, farmers, neighbors and other concerned residents have formed the Nash Stop the Pipeline (NSTP) with the help of the Blue Ridge Environmental Defense League (BREDL).
The non-profit organization was formed to educate the community and take action against the Atlantic Coast Pipeline and their proposed 564-mile interstate natural gas transmission pipeline.

More ...
AMANDA CLARK, GRAPHIC STAFF WRITER
Pastor hopes to run for NC House seat
A Rocky Mount pastor recently announced plans to run for the NC House District 25 seat.
James Gailliard, the pastor of Word Tabernacle Church, announced last week that he is working to have his name placed on the ballot as an unaffiliated candidate in the general election for the NC House District 25 seat.
Gailliard said he has developed a petition to solicit signatures and hopes to have at least 4,000 before June 14.
More ...
NRMS unveils new website


Nash-Rocky Mount Public Schools are unveiling a new website this week.
Patricia Hollingsworth, Chief Public Information Officer, told school board members on Monday that the school system would be making the switch to Schoolwires, a move that would improve functionality, offer cutting edge features, streamline navigation and present a much better visual display.
The school system has been using HD Studios but the company was having trouble handling glitches with such a large customer.

More ...
AMANDA CLARK, GRAPHIC STAFF WRITER

MANN

Nash County 4-H honors alumni


Nash County 4-H honored two alumni on Sunday by dedicating a cabinet full of 4-H memorabilia in their name.
Albert Batchelor and Vera Mann were each recognized posthumously during a special ice cream social, which was hosted by Nash County 4-H.
Both Batchelor and Mann are recipients of the Nash County Hall of Fame Award.
Mann was inducted in 2009.

More ...
AMANDA CLARK, GRAPHIC STAFF WRITER
Nash 4-H offers summer camps


The start of summer is just around the corner, which means it is time for parents to enroll their youth in summer camps.
The Nash County 4-H Summer Programming is still accepting registration, said Sandy Hall, 4-H Extension Agent for Nash County Cooperative Extension.
There are over a dozen 4-H camps available for youth to participate in and so far, Hall said, all have openings.
The camps are part of Nash County 4-H's efforts to provide educational programs to youth that teach life and leadership skills.

More ...
Amanda Clark, Graphic Staff Writer
Perdue contributes to playground upgrade for Ruritans
Perdue Farms, through a $1,747.36 grant funded by the Franklin P. and Arthur W. Perdue Foundation, is helping the Ruritan Club in Momeyer, upgrade equipment at the community's playground.
"The Momeyer Playground Committee has been humbled by the generous financial support from the community," said Kenneth Parker, Ruritan Club treasurer and committee member. "We are very appreciative of the support of Perdue and the Foundation for their contribution."
More ...
Seat belt survey begins in Nash
Nash County is one of 25 North Carolina counties selected as a seat belt survey county to help determine North Carolina's overall seat belt usage rate, as required by the National Highway Traffic Safety Administration. The seat belt usage rate is one of many metrics used by the Governor Pat McCrory's Vision Zero project which aims to save lives on North Carolina roadways. The governor's goal is to reach zero traffic-related fatalities through coordinated agency-to-agency efforts that helps reduce risky driving behaviors by changing the overall traffic safety culture.
More ...
Eastpointe CFO is indicted
The former CFO of Eastpointe was indicted by a federal grand jury last week.
A federal grand jury in Wilmington returned the 47-count indictment on Tuesday May 24 against William Robert Canupp.
The superseding indictment charged Canupp and Ronnie L. Davis, a contractor, with conspiracy, bribery, organization fraud and wire fraud.
Canupp was also charged with money laundering.
More ...
NASHVILLE POLICE REPORTS
INCIDENTS
A possession of marijuana, escape from custody or resist, obstruct, delay and assault on a government official was reported on 5/31/16 at Fuel Doc on Western Avenue
A larceny (shoplifting) was reported on 5/31/16 at Wal-Mart, 1205 Eastern Avenue
An aid and abet a larceny and larceny was reported on 5/31/16 at Wal-Mart, 1205 Eastern Avenue
More ...
NASH COUNTY SHERIFF'S OFFICE REPORTS
A possession of a firearm and carrying a concealed weapon was reported on 5/29/16 at W NC 97 and Old Smithfield Road
A larcey of a motor vehicle was reported on 5/29/16 at 9535 Shasta Road
A domestic violence was reported on 5/29/16 at 5625 NC 48
A breaking and entering and larceny after breaking and entering was reported on 5/29/16 at 11798 Crooked Swamp Road
More ...
George Holding wins Congressional Primary
Just under 8.5 percent of Nash County's 65,806 registered voters participated in the Congressional Primary Election on Tuesday.
The voter turnout in Nash County was higher than statewide, as only 7.68 percent of the state's 6.5 million voters cast ballots.
George Holding came out on top in Nash County in the Congressional Primary for Republican candidates, receiving 65 percent of the votes, or 2,191, compared to Renee Ellmers 21.66 percent, or 730 votes. Greg Brannon received 13.35 percent, or 450 votes.
More ...
Red Oak adopts budget


The budget for the next fiscal year was adopted by the town board of Red Oak at its regular monthly meeting. A public hearing had been scheduled and advertised, however, only board members were present at the meeting.
Before the budget was adopted, Town Commissioner Barbara Tyre asked that $2,000 be added to the Professional Fees line item to cover the cost of having a structural engineer evaluate the old dormitory located across from Red Oak Elementary School. The board approved the request.

More ...
Jessica A. Smith, Graphic Correspondent
Nashville Town Council approves rezoning request


Nashville's Town Council approved a rezoning request Tuesday night that will allow a local real estate agent to move her office two doors down.
The request was to rezone property at 919 Eastern Avenue from R-10 Residential to B-1 General Business.
The property is across from the L&L gas station and beside Joyner Silk Reams Realty.
A joint public hearing was held on the request last Wednesday night and following the hearing, Nashville's Planning Board recommended approval.

More ...
Amanda Clark, Graphic Staff Writer
Project Lifesaver program now available at no cost to families


When Project Lifesaver was first unveiled in Nash County in December 2010, there were only a handful of people to sign up for the program.
Today, the program has 33 clients.
Project Lifesaver is a rapid response program that locates people with a cognitive impairment, such as Alzheimer's, Autism, Down Syndrome and Dementia, who wonder away from caregivers.

More ...
Amanda Clark, Graphic Staff Writer
Nashville Fire completes Insurance Rating Inspection
Nashville's Fire Department recently completed their "Insurance Rating Inspection," which determines the insurance premium for homeown's property insurance.
The inspection was performed by the North Carolina Office of the State Fire Marshal.
According to the departments command staff the final score will determine the rating for the town and the Gulley Fire District.
Three areas are graded during the fire inspection; the water system, the 911 communications center, and the fire department.
More ...
Castalia grants permission to local church for outdoor movie series


Although the mayor was absent from Tuesday's regularly scheduled meeting of the Castalia town board, a quorum was present and the meeting went forward as planned. Town Commission James Alston served as Mayor Pro Tem during the meeting.
The board approved a request presented by Linda Boulden of Castalia Baptist Church. The church would like to have a summer outdoor movie series, and would like to use the park facilities after dark. The park rules do not allow for activities after dark without permission from the town.

More ...
Jessica A. Smith, Graphic Correspondent
Red Oak Bridge to be named in honor of DeMuth
The Board of Transportation approved a special posthumous recognition for Highway Patrol Trooper Bobby Gene DeMuth, Jr. during its board meeting last Thursday.
At the recommendation of Division 4 board member Gus Tulloss, the board passed a resolution naming the Red Oak Bridge-located on U.S. 64 in Nash County-in honor of DeMuth, who lost his life in the line of duty on September 8, 2012.
More ...
SCHOLARSHIPS
Coopers Ruritan Club respesentative Randy Lamm (center) presents scholarships to Logan Joyner (left) and Jeb Lamm (right). Logan received The Coopers Ruritan Scholarship and Jeb received the E.C. Pearce Scholarship.
More ...
NCC recognizes 45 Associate Degree Nursing graduates
Nash Community College recognized 45 Associate Degree Nursing graduates during the Nurses Pinning ceremony on Thursday, May 12, 2016. Sharon I. Sarvey, Ph.D., R.N., Dean of the School of Nursing and Professor of Nursing at Barton College, was the speaker at the 2016 Associate Degree Nursing Pinning Ceremony. The College is proud to announce the following nursing graduates are eligible to take the NCLEX-RN licensure exam.
More ...
Forty-five students graduate NRMS Early College
It was a time of celebration for a total of 45 Nash-Rocky Mount Early College High School students as they walked the stage and turned their tassels Thursday, May 26 during the Class of 2016 graduation ceremony held at Nash Community College. A total of 30 students graduated with a high school diploma and an associate degree, while 15 students graduated with a high school diploma and college credits. The graduates have bright futures ahead of them, as 32 will attend four year colleges, six will attend community colleges, three will enter the military and four will enter the workforce.
More ...
NCC announces academic honors for Spring Semester
Nash Community College recently announced the following students achieved academic honors during the 2016 Spring Semester. To qualify for the Dean's List, students must earn a 4.0 grade point average (all A's) while taking 12 or more semester hours. Students who qualify for the Honor Roll must earn a grade point average of 3.3 or above and be enrolled in 12 or more semester hours.
More ...
Locals students receive livestock scholarships
Twenty-seven North Carolina students have been awarded 2016 N.C. State Fair Youth Livestock Scholarships, Agriculture Commissioner Steve Troxler recently announced.
The scholarships are designed for high school seniors and college students who have participated in the junior livestock or market turkey shows at the N.C. State Fair.
More ...
Nash County Animal Friends' Notebook


Mosquitoes can carry many harmful and deadly diseases for humans and pets, including Heartworms, West Nile, Zika and other Viruses! You should drain all standing water in your yard, to reduce breeding sites. They can go from egg to adult in 8-10 days. One female, after eating, can lay approx. 300 eggs, half of those female! Do the math... good golly!

More ...
Carol Vierela, NASH COUNTY ANIMAL FRIENDS

Kyle Johnson, youth pastor of Word Tabernacle Church, encourages graduates during the service.

Youth Pastor's Coalition hosts Baccalaureate Service


A group of local churches have joined forces to celebrate graduates and pray for their future.
The Youth Pastor's Coalition recently held its fourth annual Baccalaureate Service at Fellowship Church in Nashville, with just over a dozen graduates from area schools attending.
The Youth Pastor's Coalition is made up of youth pastor's from the Twin Counties.

More ...
AMANDA CLARK, GRAPHIC STAFF WRITER
Luke's Word for the Week


Deep in the words of the Old Testament there is a book called, "Deuteronomy." Within this book we find crucial words that help us understand the rest of the story within Scripture. It's the final of the Pentateuch (first 5 books of the Bible), therefore it prepares us for the storyline of Scripture as seen through the Prophets, Gospels, Letters and other books.

More ...
LUKE WHITEHEAD
RED OAK NEWS


Dorothy, Audrey, and Suzy Pearce spent Friday, June 3, in Asheboro at the NC Zoo. It was a beautiful day and they had a wonderful time walking, seeing the exhibits, taking the Zoofari, and even feeding a giraffe!
Congratulations and best wishes to Carrie Johnson and Sean Baker who were united in marriage on Saturday, June 4! Carrie is the daughter of Doug and Sue Ella Johnson.

More ...
SUZY PEARCE
BEULAH COMMUNITY NEWS


I attended a beautiful wedding on Saturday the fourth of June. I want to congratulate Courtney Cooke and Brooks Williams on their marriage. They were a special couple. Brooks is the grandson of Wilma and William Enroughty and we love him and also Courtney very much. We pray they will have a blessed and happy marriage. They will be living in White Level after their honeymoon in Jamaica.

More ...
WILMA ENROUGHTY
PEACHTREE COMMUNITY NEWS


Peachtree folks gathered at the church on a beautiful summer morning for worship. Sanctuary flowers were given by Mary Jane May in memory of her husband, Perry May. The adult choir sang a medley of "He Touched Me/Something Beautiful." The solo was by Jerry Hobgood and it was directed by the pastor.
Beverly Wilson's sermon to the children was about Bethany Hamilton, a surfing champion who placed third in the World Tournament last week.

More ...
BARBARA HARDISON
Local woman honored for 56 years of dedicated service


Tar River Missionary Baptist Association held a banquet honoring Miss Susan Anna Allen for 56 years of faithful and dedicated service as Secretary, Saturday, May 14, 2016 at Red Oak Grove Missionary Baptist Church located in Stanhope. During the 56 years, Miss Allen has never missed an Association session. She is 96 years old but young in spirit and at heart.

More ...
Contributed by Minnie L. Deans
Remembering Tony Leonard - a great man


I received some devastating news when I came into work on Monday morning.
Tony Leonard had passed away unexpectedly on Sunday, June 5.
Mr. Leonard was an amazing man and I thought the world of him.
I'm still in shock that he's gone but am comforted by knowing that he is in a much better place.

More ...
Amanda Clark
Our "baby" is growing up, in more ways than one


It seems that Lowell, the "baby" of our three kids, has almost reached a decade; he just turned nine. Somehow, I feel that not only is he nearing a milestone, we are reaching one for endurance.
Nine is a tough age for everybody. No more can I tease him about being the "spare" in case we lost Holly or Kent on a road trip or other such foolishness. Lowell is always a step ahead now.

More ...
Mike Brantley
Backward Glances


This photo was taken on the first day of school in 1966 at Northern Nash High School. Pictured are a few of the 1,000 students who were registered at Northern Nash for the 1966 school year. The total registration for Nash County in 1966 was 11,351.

More ...
A PICTORIAL LOOK INTO THE PAST

MAGICAL MADISON. Madison Lamprecht helped the Northern Nash Lady Knights earn a share of the Big East Conference Softball Championship this spring.

SOFTBALL STARS


NASH COUNTY -- Northern Nash's 2016 softball season proved to be a memorable one as the Lady Knights tied for the top spot in the Big East Conference -- and reached the third round of the Class 3-A State Playoffs.
Northern Nash went 8-2 in the league and 16-6 overall -- marks that helped veteran skipper Greg Tharrington earn Big East Co-Coach of the Year honors along with Wilson Hunt's Craig Mercer.

More ...
GEOFF NEVILLE, Graphic Sportswriter

RUNNING THE SHOW. Jahlia Williams has been an outstanding point guard for the Northern Nash Lady Knights.

DREAM REALIZED


ROCKY MOUNT -- An unexpected snag in Jahlia Williams' basketball career only served as a temporary dose of adversity -- and made her a stronger player in the long run.
After being cut from the seventh-grade team at Red Oak Middle School five years ago, Williams was devastated -- but vowed to become better through hard work.
Fast forward to last Thursday, when Williams, a senior point guard at Northern Nash, signed a letter-of-intent to continue her hoops career at Winston-Salem State University.

More ...
GEOFF NEVILLE, Graphic Sportswriter

LEAGUE STAR. Nash Central High School's John Michael Kelly has been selected to the All-Big East Conference Baseball Team.

Big East stars are honored


NASH COUNTY -- Parity was a keyword this spring in the Big East Conference baseball standings as three teams -- Northern Nash, Rocky Mount and Wilson Hunt -- tied for the league crown with 6-4 records.
And two squads -- Nash Central and Wilson Fike -- were just one game behind at 5-5.
That balance is reflected in the annual All-Big East Conference Baseball Team, which features five players apiece from RM, NN and Hunt.

More ...
GEOFF NEVILLE, Graphic Sportswriter
Mudcats fall versus Dash


WINSTON-SALEM -- Winston-Salem's Matt Cooper struck out 11 over eight scoreless innings while leading the Dash to an 8-0 blanking of the Mudcats last Thursday night at BB&T Ballpark in Winston-Salem in a Class A Carolina League baseball showdown.
Ryan Gebhardt was 3-for-4 and had all three Carolina hits in the shutout loss.
Cooper (3-4, 3.22) retired the first nine he faced in consecutive order to start the game and allowed just two hits over eight innings pitched.

More ...
Staff Reports
Golfing event is targeted


FRANKLIN COUNTY -- The Cypress Creek Civitan Club of Franklin County will have its charity golf scramble on June 18 at The River Golf Course near Bunn.
Registration will begin at 8 a.m. and will be followed by a shotgun start at 9 a.m.
Entry fee is $65 per person or $245 for a four-person team. The cost includes lunch, green fees and cart.
Ladies and coed teams are welcome. Senior tees are available for ages 65-over.

More ...
Staff Reports
NNHS salutes athletes


RED OAK -- Northern Nash concluded its strong sports campaign by conducting its annual Winter-Spring Sports Awards Ceremony last week on the NNHS campus.
Zach Langley was saluted as the Male Athlete of the Year, and CeCe Harrison was chosen as the Female Athlete of the Year.
Nash-Rocky Mount Schools Triple Crown Awards went to Rebekah Beal and Coleman Cherry.
Tyler Jones received the prestigious Roger Shearin Award.

More ...
GEOFF NEVILLE, Graphic Sportswriter
Cobras really Light It Up


STANHOPE -- The final tally is in, and Southern Nash Middle School is pleased to announce that its Baseball and Softball teams raised $2,067 for the SNMS Exceptional Children's Class during the Light It Up Blue autism fundraiser in April.
This is the first year SNMS has participated in Light It Up Blue for Autism Awareness.
Coaches Jennifer Veillette and Tim Finn decided that a philanthropic event would be a benefit to all of their team members.

More ...
Staff Reports
Orioles take rain-delayed contest


ROCKY MOUNT -- The season's longest Rocky Mount Little League game lasted 29 days (due to 2 postponements for rain) and saw two ties and three lead changes, with the most important being the one Drew Pridgen executed in the sixth inning to catapult the Breakfast Orioles to a 7-6 win over the Wesley Men Yankees last Tuesday afternoon.
Pridgen was ably supported by the lights-out pitching from the slinky right arm of Jake Fuller who struck out 4 of 6 Wesley hitters, including all three in the final inning and teammate Will Varnell, whose 2-3 outing at the dish included a double and two runs batted in.

More ...
Staff Reports
Summer swim sked released


NASH COUNTY -- The annual Nash-Halifax Swim League schedule will kick off June 16 with a matchup between backyard rivals Nash Rec and homestanding Birchwood.
N-HSL participants for the campaign will be Birchwood, Nash Rec (defending champion), Roanoke Valley and Westridge.
The complete Nash-Halifax Swim League slate is as follows:

More ...
GEOFF NEVILLE, Graphic Sportswriter
KATIE IN THE CLUTCH
Katie Hill helped the Southern Nash High School Ladybirds to yet another effective season in the always-competitive Big East Conference softball standings.
More ...
RAM TOUGH
Northern Nash's Jahlia Williams will play basketball at Winston-Salem State.
More ...
Student concert set for Sunday, June 12 at Cherry Hill
The Cherry Hill Foundation will present its annual student concert in Inez on Sunday, June 12th at 3 p.m. East Carolina Professor of Piano Dr. Keiko Sekino will introduce five of her most gifted students to the Cherry Hill audience. The students, who are in either the undergraduate or graduate programs at East Carolina, have displayed unusual talent and even at their young ages have experience in teaching and performing while pursuing degrees at the Greenville university.
Brandon Banks began musical studies at age 14 in his hometown of New Bern.
More ...