Subscribe/Access
Advertisements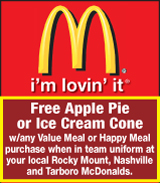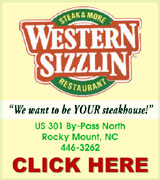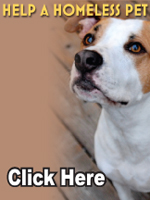 Sections
Member Options
Back
Nash turns school split over to legislators


Nash County Commissioners are pushing forward with plans to seek legislation to split the Nash-Rocky Mount School System among county lines.
Commissioners unanimously voted on Friday to move forward with seeking legislation, with Commissioner Robbie Davis making the motion and Commissioner Mary Wells offering a second. The General Assembly reconvened on Monday.
The vote came on Friday afternoon following a meeting earlier in the day between a committee of Nash County Commissioners, Edgecombe County Commissioners and Council Members from the City of Rocky Mount.

More ...
AMANDA CLARK, GRAPHIC STAFF WRITER
Police investigate shots fired at home


As the weather turns warmer, Nashville Police Officers are becoming more and more busy.
Nashville Police Chief Thomas Bashore said the change in weather tends to cause an increase in various crime.
The past week was a perfect example.
Bashore said a motor vehicle accident led to two females fighting in the streets on Brake Street last Wednesday night, April 20.

More ...
AMANDA CLARK, GRAPHIC STAFF WRITER

Little Kayden Spells enjoys Relay for Life sporting his Kids Walk shirt.

Rain doesn't dampen Relay


Heavy rainfall didn't keep the crowds away from this year's Relay for Life, as over 1,500 still participated in the annual event.
Sherry Harris, one of the organizers of the event, said the rain may have slowed everyone down but it didn't keep people away. Harris added that despite the messy weather, organizers are confident they met their $185,000 fund-raising goal.
"It was definitely a success as far as we were concerned," Harris said. "We definitely had more than we thought with it raining."

More ...
AMANDA CLARK, GRAPHIC STAFF WRITER
Bible reading is May 4th on courthouse steps


National Day of Prayer is traditionally held on the first Thursday of May.
This year, a local group of residents is planning to hold another event on the courthouse steps just prior to National Day of Prayer.
Local residents will be reading from the Bible on Wednesday, May 4 at seven different sites from 6 a.m. until 6 p.m.
Janice Gravely, one of the organizers for the event, which is set to be held on the courthouse steps, said 12 pairs of readers have committed to read for one hour.

More ...
AMANDA CLARK, GRAPHIC STAFF WRITER - 1 opinion posted
Nash commissioners meet with education leaders


Nash County Commissioners received budget requests from Nash Community College and Nash-Rocky Mount Schools at special meetings held on Monday afternoon but commissioners warned both that it was unlikely anything above and beyond what they normally receive would be approved.
Nash-Rocky Mount Schools Superintendent Dr. Shelton Jefferies presented one additional request to commissioners on Monday. The request was for an additional $751,176 to hire 15 classrooms teachers.

More ...
AMANDA CLARK, GRAPHIC STAFF WRITER
Spring Hope holds annual 5K


Over 200 runners showed up on Saturday to participate in Spring Hope's second annual 5K Run.
Spring Hope's Chamber of Commerce has sponsored the event over the past two years, said Chris Wheaton, the organizer of the event.
This year, Wheaton said 275 runners signed up for the event, 175 for the 5K and 100 for the Fun Run. Around 240 actually showed up for the event, Wheaton added.

More ...
AMANDA CLARK, GRAPHIC STAFF WRITER
Nashville Lions honor Officer of the Year


A Nashville Police Officer was recognized last week as the Officer of the Year by the Nashville Lions Club.
Sgt. Christopher Brooks Heath was recognized at the club's meeting last Wednesday, April 20. Heath received a plaque for his recognition.
This is the first time the Lions Club has sponsored an Officer of the Year. Jim Boehm, who serves as the club's President, said the idea was brought to him by Nashville Police Chief Thomas Bashore, who is a member of the club.

More ...
Amanda Clark, Graphic Staff Writer

Revka Stearns, of Middlesex, has created a line of jewelry to honor a little girl who died of a rare disease on Easter Sunday. (Graphic photo by Amanda Clark)

Nash woman creates jewelry to honor child


A Nash County woman has created a jewelry collection to honor a little girl who died of a rare disease on Easter Sunday.
Revka Stearns, of Middlesex, unveiled Tori's Triumph Collection on Saturday, April 9 and plans to donate half the proceeds to an organization dedicated to providing education, awareness and research on the disease.
Tori Brackbill was born on July 30, 2014. On February 13, 2015, Tori was diagnosed with Krabbe, a rare degenerative genetic disease that affects the brain and has no cure.

More ...
Amanda Clark, Graphic Staff Writer
Nashville Elementary School Sock Hop is May 14th
Nashville Elementary School will host a Sock Hop Fundraiser on Saturday, May 14 from 6 until 10 p.m.
The event is a fundraiser to raise money for phase two of the school's playground. Phase one was just recently completed.
The Sock Hop Fundraiser will be held at Nashville Elementary School and tickets will be available through May 10. Tickets are $50 per couple, $35 for single or $20 per child. Dinner and dessert will be served.
More ...
Amanda Baker is named new Head of Rocky Mount Academy Middle School
A new era for Rocky Mount Academy's Middle School is about to begin under the leadership of a vibrant, energetic leader. The school has announced the appointment of Amanda Baker as the new Head of Middle School. In her role as the Interim Head of Middle School following the retirement of Vanessa Smith earlier this year, Baker has provided a seamless transition for students, faculty, and parents while working closely with the leadership team to keep student-centered instruction at the front and center of future planning.
More ...
Nash Health Care to open new Women's Center
After more than a year of construction, the new $25 million dollar Nash Women's Center will be open for public tours on Mother's Day, Sunday, May 8, 2016 from 2 until 4 p.m. Prior to opening to the public, Nash Health Care will host a private ribbon-cutting ceremony for press, partners, and select staff on May 5, 2016 at 6 p.m. The ribbon-cutting ceremony will include remarks from Dr. William "Bill" Roper, CEO, UNC Health Care and Larry Chewning, President, Nash Health Care.
More ...

Ke'Andre Doyle
Task force charge three men with trafficking heroin
The Tar River Regional Task Force arrested three men recently on charges of trafficking heroin.
The ongoing investigation led the Task Force to a vehicle in the Wal-Mart parking lot at 1511 Benvenue Road in Rocky Mount. The vehicle reportedly had three subjects inside.
According to a press release, officers discovered 15 bricks, or 750 bags, of heroin inside the vehicle.
More ...
Rocky Mount's Juneteenth event is set for June 3-4
The city of Rocky Mount and the Juneteenth Planning Committee are gearing up for the annual Juneteenth Community Empowerment Celebration. Scheduled for Friday, June 3 and Saturday, June 4 in Rocky Mount's historic Douglas Block, this year's Juneteenth will feature a national recording group to serve as the headliner at the celebration finale on Saturday, June 4. This year, the city is using mobile/text marketing to reveal the headlining act.
"We have a number of ways in which we disseminate information to the public," says Tameka Kenan-Norman, public affairs manager.
More ...
NASHVILLE POLICE REPORTS
INCIDENTS
A larceny, larceny after breaking and entering and breaking and entering a residential was reported on 4/18/16 at 1109 Eastern Avenue
A trespassing and larceny (shoplifting) was reported on 4/18/16 at Wal-Mart, 1205 Eastern Avenue
A damage to property (vandalism) was reported on 4/18/16 at 272 Regency Drive
More ...
NASH COUNTY SHERIFF'S OFFICE REPORTS
An assault with a deadly weapon was reported on 4/17/16 at 3934 W Castalia Road
A communicating threats and assault by pointing a gun was reported on 4/17/16 at 6311 Bones Cut Off Road
A damage to property was reported on 4/17/16 at 7385 Peele Drive
A misdemeanor larceny was reported on 4/18/16 at 4230 Green Hills Road
More ...
SERVICE AWARD
The Martin Luther King Lodge #294 of Spring Hope recently received a 25 year service award for cleaning up the litter that has been tossed along the roadside of Pleasant Grove Church Road and North Old Franklin Road down to Red's Crossroads. The organization received a 25 service award plaque and 25 year safety vest from the NC State Department of Transportation.
More ...
Locals photography on display at Barton Senior Showcase
A Nashville resident is among 20 seniors within Barton College's School of Visual, Performing and Communications Arts who will have their works on display in the Barton Art Galleries through May 15.
Amber Baker is a senior majoring in Graphic Design and Photography whose photography will be on display during the 2016 Senior Showcase. The opening of the showcase was held on Saturday, April 23 with a reception at the college.
More ...
NCC recognizes doctor with Alumni Award
Nash Community College (NCC) honored Saed Awadallah, M.D. with the 2016 Nash Community College Outstanding Alumni Award at the 2016 Student Recognition Ceremony held on April 21st. The award recognizes his achievements as a past graduate to provide inspiration for current students. Dr. Awadallah was selected for the College's highest alumni honor for his contributions to the medical field as a physician, his excellence in leadership and service, and dedication as a lifelong learner.
More ...
Freshwater-Smith appointed to fill local District Court vacancy
Governor Pat McCrory has selected Beth Freshwater-Smith of Wilson to fill a vacant district court seat in the 7th District (Nash, Edgecombe and Wilson counties). The vacancy was created by the resignation of Judge William G. Stewart. Smith will serve the remainder of Judge Stewart's term, which runs through December 31, 2016.
Smith is currently the Senior Assistant District Attorney for the 7th District, where she has worked as a prosecutor since 1987.
More ...
Osterhoudt to attend conference
Chet Osterhoudt, of Edward Jones in Nashville, recently qualified for the Edward Jones' Financial Advisor Leaders Conference.
The conference recognizes financial advisors who are among the leaders in the financial-services firm.
Osterhoudt was among the 821 financial advisors who qualified out of the firm's 14,000 financial advisors in the U.S. and Canada.
The 2016 conference will be held in May at the firm's headquarters in St. Louis, Mo.
More ...
Garland Tucker to discuss book Thursday at GOP Aware event
The Nash County Republican Party will host author Garland Tucker, III, to discuss his most recent book "Conservative Heroes: Fourteen Leaders Who Shaped American History, From Jefferson To Reagan."
The event will be at 6 p.m. on Thursday, April 28 at the Nash County Republican Party Headquarters, located in Westridge Shopping Center at 3607 Sunset Avenue, Rocky Mount. The pubic is invited to this free event.
More ...
Spring Hope 5K


Spring Hope's Chamber of Commerce held its annual 5K Saturday, April 24 in Downtown Spring Hope followed by a one-mile fun run. Pictured above are participants of the one-mile run. One hundred runners participated in the fun run while 140 participated in the 5K. Organizers said 275 runners signed up for both events. This is the second year the 5K has been held in Spring Hope and organizers hope it will continue to be an annual event.

More ...
GRAPHIC PHOTOS BY LOU ROLDAN
Southern Nash 5K Color Run, pics 1


Clay Batchelor is splashed with color as he crosses the finish line of the 5K Color Run that was held during the Southern Nash BBQ Showdown Saturday. Batchelor finished third in the race.

More ...
GRAPHIC PHOTOS BY JO ANNE COOPER
Southern Nash 5K Color Run, pics 2
Noah Reynolds finished second in the 5K Color Run held during the Southern Nash BBQ Showdown Saturday. Other events Saturday included a BBQ plate sale, a yard sale, cow chip contest and activities for children.
More ...
Daniel receives 2016 Trustee Service Award
Jerry Daniel, Chairman of the board of trustees at Nash Health Care Systems in Rocky Mount, has received the North Carolina Hospital Association's Trustee Service Award for 2016.
Daniel was one of five hospital trustees honored at NCHA's annual Trustee Institute April 23. NCHA is statewide trade association representing more than 130 hospitals and health systems.
More ...
Nash County Animal Friends' Notebook


KEEP THEM SAFE!
I'm assuming you are a good pet parent (since you are reading this), as I pen this on National Pet Parent's Day (last Sunday of April). What does that mean? That means that you take the best care possible of your pet, including vet visits, food, water and shelter. You also have your pet spayed or neutered. If watching your bucks, there are good clinics that specialize just in these surgeries!

More ...
Carol Vierela, NASH COUNTY ANIMAL FRIENDS
PEACHTREE COMMUNITY NEWS


On a beautiful spring morning Peachtree Folks gathered for worship. Sanctuary flowers were given by Catherine Gupton in memory of her parents, Ned and Kate Wester, and of her husband, G. B. Gupton.
The sermon for the children by Beverly Wilson was about 'rules' that we must learn to live by. For example, "If you borrow it, return it" or "If you open it, close it." There are many others, but one rule for living can cover them all; "Love one another as Jesus loves you."

More ...
BARBARA HARDISON
Luke's Word for the Week


In the midst of a chaotic world with CNN and Fox News constantly filling our minds with pointless ramblings, we need to hear about something good. In the midst of entering what some folks are calling a "post Christian culture" we need to hear something good.
What's the good we need to hear? It's Jesus. It's always been Jesus. As the body of Christ we must be talking about Jesus more than any other subject we talk about. In fact, anything we talk about more than Jesus would certainly be considered idolatry.

More ...
LUKE WHITEHEAD
BEULAH COMMUNITY NEWS


There are several families we would like to remember in prayer and send our sincere sympathy in the recent loss of their loved ones. One of those who was one of my first memories as a child was Lula Bell Daniels Walker. She was the sister of my closest childhood friend, the late Polly Daniels Cary, who passed away many years ago. Lula Bell and her husband, Jim Walker, have always been friends of mine and my family too. They both were always a very Christian and loving couple and always dedicated members of Beulah Church of Christ.

More ...
WILMA ENROUGHTY - 1 opinion posted
RED OAK NEWS


A great time was had by all at the Mother/Daughter Camp at Camp Mundo Vista near Asheboro last weekend! Over 100 girls, moms, and staff attended the 20th annual camp sponsored by the WMU of the North Roanoke Baptist Association on April 22-23. Groups attending included Shiloh, Rock Creek, Castalia, Red Bud, Sunset Avenue, Proctors Chapel, Red Oak, Sharpsburg, and American Heritage Girls.

More ...
SUZY PEARCE
Nash County Blood Drives for May 2016
Monday, May 2 from 2:30 until 6:30 p.m. at the Sharpsburg Volunteer Fire Department, 300 Taylor Road, Sharpsburg
Saturday, May 7 from 9:30 a.m. until 2:30 p.m. at Capital Ford Lincoln, 2012 Stone Rose Drive, Rocky Mount
Tuesday, May 10 from 3 until 7 p.m. at Stony Hill FWB Church, 9649 Stony Hill Church Road, Middlesex
Saturday, May 14 from 10 a.m. until 2 p.m. at Light of Peace Missionary Baptist Church, 510 S Glendale Avenue, Rocky Mount
More ...
Guest speaker
Matthew "Matt" Stevens, Agriculture Extension Agent, NC State University Extension-Nash County Center, was the guest speaker for the North Carolina Mu Chapter of the Delta Kappa Gamma International Society meeting. He spoke about the Nash County Arboretum Plant Tours, as well as the Extension Master Gardner Program.
More ...
NCC ranks sixth in US for digital presence
The Center for Digital Education (CDE) has announced the winners of its 2015-16 Digital Community Colleges Survey. Nash Community College ranks sixth in the United States for its digital presence among Mid-Sized Colleges with 5,000 to 10,000 students. Nash Community College ranked eighth in the same category for the 2014-15 academic year. Nash Community College was honored at a reception April 10th in Chicago, concurrent with the American Association of Community College's annual conference.
More ...
NCC is recognized by Arbor Day Foundation
Nash Community College has received 2015 Tree Campus USA recognition by the Arbor Day Foundation for its commitment to effective urban forest management. The College is one of 11 campuses in North Carolina and more than 150 in the nation to receive the recognition. Tree Campus USA is a national program created in 2008 by the Arbor Day Foundation and to honor colleges and universities for effective campus forest management and for engaging staff and students in conservation goals.
More ...
Teachers are the solution to fixing our schools


Nash County is facing a tough budget year in preparation for an even tougher budget year during the 2017-2018 budget.
Revaluations are slated to have a significant impact on property taxes in Nash County, which for some may be good news. However, for others, it's not-so-great.
Nash County Commissioners have been looking at their upcoming budget and trying to find ways to cut so the decrease in revenues won't cause any type of impact on services the county provides.

More ...
Amanda Clark
Reader offers counterpoint to Soapbox HB2 opinion


It was amazing years ago when the conservatives in NC denied global warming. Just about denied science itself. Wow! Such preachy opinions and now Tuscany, Florida, Venice and many islands are already experiencing (1 inch increments) rising seas. Inasmuch as few of us probably know a human transgender then why do we assign (assume) pedophilia crime by supposing that it is their trend. An " errant comment" made perhaps for attention- or scaring or justifying. It is a categorical lie. They are identifying not molesting. Occurrence by other instances are more likely to happen before a transgender person publically harms a child, woman or man. Our local " opinonator" Graphic soapbox -Apr.14 feigned biblical references, versus facts.

More ...
LETTERS TO THE EDITOR
Reader says repeal of HB2 will create many problems


Since the passage of House Bill 2, North Carolina's Public Facilities Privacy and Security Act, many across North Carolina have shown their support for the performance of immoral acts across our state.
Those who support the repeal of HB2 claim that the bill is discriminatory but overlook the problems that the repeal would create with pornography, child pornography, pedophilia, and the immoral decline of our state.

More ...
LETTERS TO THE EDITOR
Backward Glances


This photo originally published in The Graphic on August 4, 1966. Some of the landowners who sold property for the 360-acre site on which the Rocky Mount-Wilson Airport was to be built are shown breaking ground for the project. From left to right are: Warner Walston, Calvin Horne, Chester Batts, Robert Winstead, Mickey Batts and Birce Viverette.

More ...
A PICTORIAL LOOK INTO THE PAST

LEADING THE WAY. Nash Central lineman Louis Rolon (76) executes a block during a game against SW Edgecombe. (Photo Submitted by Anthony Barham)

NC's Rolon Inks With Methodist


ROCKY MOUNT -- Louis Rolon's love for football was tested when he suffered a knee injury as a junior -- and missed the remainder of the campaign for the Nash Central High School Bulldogs.
But Rolon remained undeterred through the rehab process, which included him missing the entire wrestling season.
When he returned, Rolon was better than ever last fall as a senior and was a key performer on both the offensive and defensive lines.

More ...
GEOFF NEVILLE, Graphic Sportswriter

BROKEN RECORD(S). Zack Foster owns just about every passing record in the history of Southern Nash High School football.

BISHOPS MOVE


STANHOPE -- Given the fact that his father is the long-time successful coach of the Southern Nash High School football team, it was almost a given that Zack Foster would excel on the gridiron when he arrived on the SNHS campus.
But Zack's mother, Kim, is also a teacher, and she stressed academics to Zack from he was a young lad -- until now.
The double emphasis paid off for Foster, who would go on to become Southern Nash's all-time leading passer from his quarterback position.

More ...
GEOFF NEVILLE, Graphic Sportswriter

REGION READY. Nash Central's Joseph Cook will take part in the Class 3-A East Regional Golf Championships next Monday at Reedy Creek GC, which is located in Johnston County.

Big East wraps up schedule


ROCKY MOUNT -- Wilson Fike racked up all of the top honors when the Big East Conference concluded its 2016 boys golf campaign on Monday at Belmont Golf and Country Club.
The Golden Demons not only won the regular season cumulative championship, but also claimed the Big East Player of the Year (Bryson Boyette) and the Coach of the Year (Glenn Jones).

More ...
Staff Reports
NCWC plays home finale


ROCKY MOUNT -- North Carolina Wesleyan College's baseball team saw its 2016 season come to an end last Saturday afternoon at Bauer Field, splitting a doubleheader with Ferrum College.
Prior to the opener, the Bishops honored their 12 seniors, as well as NCWC alum Jim Pittman.
Last Saturday's action marked the end of the careers of Justin DiSanto, Ciro Norzagaray, Dillon Moore, Marcus Anderson, Robert Mondoux, James Kornegay, James Lovett, Andrew Franklin, Kaelan Jacobs, Chris Rogerson, Jordan Rogers, and Mike Toreno.

More ...
Staff Reports
NCHSAA plans are submitted


CHAPEL HILL -- The North Carolina High School Athletic Association's 2017-21 realignment plan is one step away from fruition -- and would feature a split between the four Nash County high schools.
Southern Nash, Northern Nash and Rocky Mount would remain in the Class 3-A Big East Conference, which would feature just one change -- Franklinton in and Nash Central out.

More ...
Staff Reports

SAFE AT THIRD. Northern Nash's Peyton Goodwin (right) slides safely into third base during the Lady Knights' road softball decision last week against Nash Central.

NNHS now in 1st place


ROCKY MOUNT -- Nash Central's Senior Night would prove to be another opportunity for backyard rival Northern Nash to continue its upward trend in the Big East Conference softball standings.
Heading into the final week of the regular season, Northern Nash is currently on a four-game winning streak that has pushed the Lady Knights to second place in the Big East at 6-2.

More ...
Staff Reports
Ross claims top award for Canes


MYRTLE BEACH, S.C. -- The Myrtle Beach Pelicans held off another ninth inning rally while clinching a series victory with a 4-2 win against the Carolina Mudcats at TicketReturn.Com Field on Sunday night in Myrtle Beach.
Stephen Gaylor was 3-for-4 with a RBI in the loss for Carolina.
The Mudcats (7-11) outhit the Pelicans (10-8) in the game seven to three, but were just 2-for-10 with runners in scoring position and left nine men on base.

More ...
Staff Reports
Wolfpack a winner against the Pirates


RALEIGH -- Evan Mendoza drove in four runs, three coming via a home run, lifting No. 6 North Carolina State University to a 6-1 non-conference baseball win over No. 17 East Carolina Monday night at Doak Field.
With the victory, the Wolfpack improves to 29-11 on the season, while the Pirates fall to 26-15.
Ryan Williamson (7-1) picked up the win allowing one run (earned) on six hits with three walks and two strikeouts in 6.2 innings.

More ...
Staff Reports
Mudcats fall on road to Myrtle Beach


MYRTLE BEACH, S.C. -- The Myrtle Beach Pelicans held off another ninth inning rally while clinching a series victory with a 4-2 win against the Carolina Mudcats at TicketReturn.Com Field on Sunday night in Myrtle Beach.
Stephen Gaylor was 3-for-4 with a RBI in the loss for Carolina.
The Mudcats (7-11) outhit the Pelicans (10-8) in the game seven to three, but were just 2-for-10 with runners in scoring position and left nine men on base.

More ...
Staff Reports
NASH CO. REC UPDATE


NASH COUNTY -- Here are updated scores from the Nash County Parks and Recreation Department's Spring Softball, Baseball and Soccer Seasons:

More ...
Staff Reports
Wesleyan salutes stars


ROCKY MOUNT -- The North Carolina Wesleyan College Department of Athletics celebrated the 2015-2016 season by hosting its 51st Annual Awards Ceremony on April 18 in the Garner Lobby of the Dunn Center.
Coaches, staff and student-athletes came together to celebrate the accomplishments of both individuals and teams from this past season.
The night began with a video highlighting the 8th Annual Wesley Awards, which offered a lighthearted take on the season.

More ...
Staff Reports
Webb sparks Phils past Yanks


ROCKY MOUNT -- Ayden Webb stroked a key, two-run single in the fifth inning to lead the Hester & Tucker Phillies past the Wesley Men Yankees 8-6 last Wednesday night in RCMT Williamsport Little League action.
Chandler Cockrell tossed two shutout innings on the mound, collected two hits along the way and Jordan Wright came on to shut the door in frames five and six to help the Phils earn their first win of the campaign.

More ...
Staff Reports
MARQUISE MAKES HIS DECISION


Southern Nash High School senior basketball standout Marquise Wright recently traveled to Davidson Community College in Lexington to sign a letter-of-intent to join the school's men's basketball program. For more on Wright's signing with DCCC, see next week's edition of The Nashville Graphic.

More ...
1 opinion posted