Subscribe/Access
Advertisements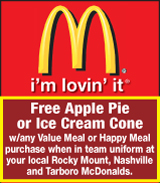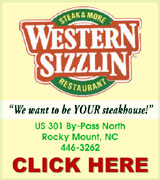 Sections
Member Options
Back

Fire Departments from Nashville, Coopers, and Momeyer, along with Nash County EMS, responded to a house fire on Old Bailey Highway Tuesday evening.

Fires destroy Nashville area homes


Two Nashville families have lost their homes in house fires over the past few days.
Nashville's Fire Department responded to 3889 Red Road around 7:30 a.m. on Saturday morning. When firefighters arrived, they found the residential structure full involved.
"They put a good knockdown on it and were able to go in and salvage a little bit of it," said Nashville Fire Captain Jason Edwards.

More ...
AMANDA CLARK, GRAPHIC STAFF WRITER
Nash cuts 2.5 million dollars from budget


Nash County Commissioners made close to $2.5 million in cuts to the upcoming fiscal year budget during a budget retreat held last week.
The cuts came from proposed expansion items presented by department heads at a previous workshop.
Commissioners are preparing for a potentially dramatic loss in revenues as the results of a revaluation are anticipated to drop property values by 10 to 12 percent. Even though the impact of the revaluation won't be felt until the 2017-2018 budget year, commissioners are preparing early.

More ...
AMANDA CLARK, GRAPHIC STAFF WRITER
NFD Centennial Celebration fundraiser deemed successful


Nashville Fire Department's silent auction was such a success on Saturday, members are considering making it an annual event.
The event brought in around $3,000, all of which will go towards the department's Centennial Celebration in October.
Captain Jason Edwards said the Centennial event will be held on October 15 and will be a big event for the community.
The silent auction was the first major fund-raiser held to support the department's centennial event and Edwards said the event was well received.

More ...
AMANDA CLARK, GRAPHIC STAFF WRITER
Nash man charged with murder
A Nash County man has been charged in the murder of a Wilson woman last week.
Robert Thomas Greene, 42, was charged with one count of murder after officers with the Wilson Police Department discovered the body of 61-year-old Janice B. Crabtree, of Wilson.
According to a press release issued by the Wilson Police Department, a Wilson Police Officers located Crabtree's vehicle in one of the driveways of the City of Wilson Operations Center on Herring Avenue around 4:30 a.m.
More ...
Relay for Life set for Friday


Rocky Mount's Athletic Complex will be bursting with activity on Friday night, as the annual Nash County Relay for Life kicks off at 5 p.m. with the Kid's Walk.
Relay for Life organizers moved the Kid's Walk to Friday night last year instead of having a separate kid's event on Saturday and because of its success, have decided to keep it on Friday. The Kid's Walk and other kid's activities will kick off this year's Relay for Life.
Opening ceremonies will follow the Kid's Walk at 5 p.m. with the Survivor and Caregiver Lap being held at 6:30 p.m., where hundreds of survivors and caregivers walk a lap around the track to celebrate their fight against cancer.

More ...
AMANDA CLARK, GRAPHIC STAFF WRITER
Spring Hope sets top five budget goals


Spring Hope Commissioners met on Saturday to discuss priorities and goals before Town Manager Jae Kim finishes up the town's 2016-2017 budget.
Kim presented some ideas of his own before the board offered their insight into some things they'd like the town to work towards.
"These are just things I'm thinking about out loud," Kim told commissioners.
After discussing several priorities and goals, commissioners chose their top five.

More ...
AMANDA CLARK, GRAPHIC STAFF WRITER
Nashville hires new library director


After spending seven years working in academic libraries, Cati Montgomery said she's excited to serve as the Library Director for Nashville's Cooley Library.
Working in public libraries will be an exciting change, Montgomery said.
"I've been wanting to get in public libraries for a long time," she added.
Montgomery started as Cooley Library's Director on Monday.

More ...
AMANDA CLARK, GRAPHIC STAFF WRITER
Carolina Gateway Partnership leader passes away


John Gessaman, the first CEO of the Carolina Gateway Partnership, passed away on April 18 after battling cancer. He was 69 years old.
Gessaman served as the first CEO of the Carolina Gateway Partnership, a position he held for many years.
Gessaman was born in Ohio in 1946, where he lived until he graduated from college in 1971. He then moved to Northern Virginia, where he met his wife, Verna. The couple were married for 40 years.

More ...
Amanda Clark, Graphic Staff Writer
Hope Initiative is a positive program for our area


This week, I would like to highlight the positive activity in the Town of Nashville Police Department stemming from the Hope Initiative. The Hope Initiative was launched in February 2016 to assist those suffering from addiction to heroin. While the Town of Nashville is fortunate to not be overrun by heroin like communities in the northeastern part of our country, we do have many individuals in our surrounding area who are grappling with this addiction.
For this reason, the Hope Initiative was created to address this problem directly rather than waiting for it to systematically permeate our community.

More ...
Henry Edward Raper, Esq. Nashville Town Manager
NASHVILLE POLICE REPORTS
INCIDENTS
A hit and run was reported on 4/11/16 at McDonald's, 501 W Washington Street
A rape, sexual battery, incest and sexual offense was reported on 4/11/16 at 533 Westwood Circle
An involuntary commitment service was reported on 4/13/16
More ...
NASH COUNTY SHERIFF'S OFFICE REPORTS
A recovered stolen vehicle was reported on 4/10/16 at 455 US 64 Westbound
A possession of marijuana and possession of drug paraphernalia was reported on 4/11/16 on I-95 in the southbound lane
An injury to personal property was reported on 4/11/16 at 6037 Mount Pleasant Road
A drug violation was reported on 4/11/16 at 3576 S NC 58
More ...
Speaker
Scott Parker, (left) US Marshall, Eastern NC district, was the Kiwanis Club speaker recently. Scott outlined the duties of the US Marshall service for the club. Picutred with Parker is Ben Moore, club president.
More ...
Griffin is initiated into the Honor Society of Phi Kappa Phi
Mayci Griffin of Castalia, was recently initiated into The Honor Society of Phi Kappa Phi, the nation's oldest and most selective collegiate honor society for all academic disciplines. Griffin was initiated at The University of North Carolina at Charlotte.
Griffin is among approximately 30,000 students, faculty, professional staff and alumni to be initiated into Phi Kappa Phi each year. Membership is by invitation and requires nomination and approval by a chapter.
More ...

Grace LaHay of Nash County shows her steer during the 79th Eastern Carolina 4H Livestock Show and Sale.

Locals compete in 4H Livestock Show and Sale


The 79th Eastern Carolina 4H Livestock Show and Sale took place at the Edgecombe County Livestock Arena on April 12th and 13th. 4Hers gathered from the Halifax, Edgecombe, and Nash County areas to present their 4H meat animal projects. Exhibitors showed their goat, lamb, swine, or steer project animals against other 4Hers to compete in Showman and Market classes. The show also consisted of a Skillathon competition that judges 4Hers livestock knowledge, and a Special Show that allows 4Hers to mentor a special needs child in showing a meat goat or lamb. The event concluded with an awards banquet and animal auction.

More ...
Special to The Graphic By Brittany Wind
4H Livestock Show and Sale, pics
Lendon Keeling and Daisy Duke (Lamb) mentored by Anna Brooks Murray of Nash County for the Special Show held during the 79th Eastern Carolina 4H Livestock Show and Sale.
More ...
NC DPI offers four options for low performing school systems


The North Carolina Department of Public Instruction (DPI) has unveiled four models for low performing school systems to consider, Nash-Rocky Mount Schools Superintendent Dr. Shelton Jefferies told board members on Monday night.
Jefferies told board members that DPI had provided changes in policies offered to school systems in their selection of school improvement models for low performing schools.

More ...
Amanda Clark, Graphic Staff Writer
Farm Market Summary for April 11-15


North Carolina's egg prices were steady on small and medium, lower on the balance when compared to last week. Supplies are moderate to meet a moderate demand. The North Carolina weighted average price quoted Thursday, Apr 14, 2016 for small lot sales of delivered, cartoned, grade "A" eggs was 91.36 for Extra Large, 87.02 for Large, 62.86 for Medium, and 42.00 for Small eggs.

More ...
Contributed by: FEDERAL - STATE MARKET NEWS SERVICE, DIVISION OF MARKETING - NCD
Nash County Blood Drives for May 2016
Monday, May 2 from 2:30 until 6:30 p.m. at the Sharpsburg Volunteer Fire Department, 300 Taylor Road, Sharpsburg
Saturday, May 7 from 9:30 a.m. until 2:30 p.m. at Capital Ford Lincoln, 2012 Stone Rose Drive, Rocky Mount
Tuesday, May 10 from 3 until 7 p.m. at Stony Hill FWB Church, 9649 Stony Hill Church Road, Middlesex
Saturday, May 14 from 10 a.m. until 2 p.m. at Light of Peace Missionary Baptist Church, 510 S Glendale Avenue, Rocky Mount
More ...
RED OAK NEWS


Law Enforcement Appreciation Day was Sunday, April 17 at Red Oak Baptist Church. Many officers and their families enjoyed the special worship service honoring them and their service to the community. The service included the presentation of colors by Officer Bradley Boone and the Pledge of Allegiance by Captain Neal Boone. Larry Camp, Chairman of Deacons gave the welcome and the choir performed a special song.

More ...
SUZY PEARCE
Luke's Word for the Week


It's a unique occurrence in our culture the way we celebrate birthdays. As a child, once we realize we receive cake and ice cream we eagerly anticipate that magical day, yet later in life when the age listed on our ID gets a little too high we bemoan the idea of another birthday coming. "Why couldn't I stay 39 forever" some might say, while others dream of those childhood days when their biggest concern was having enough time to play outside before bath time.

More ...
LUKE WHITEHEAD
PEACHTREE COMMUNITY NEWS


On a bright, sunny morning Peachtree folks gathered for worship at the church. Sanctuary flowers were given by Bob and Fran Bunn in honor of their 51st anniversary.
"Baptist Men's Day" was being observed and Jerry Hobgood, Deacon Chairman, filled the pulpit and led the service. Pastor Whitehouse played the piano for the service. The Peachtree Men's Chorus sang, "There's a Sweet, Sweet Spirit in this Place".

More ...
BARBARA HARDISON
BEULAH COMMUNITY NEWS


I pray that everyone had a great weekend. It was a really busy and enjoyable weekend for many people and friends of mine. On Friday night, the 15th of April, the annual alumni banquet was held for all the past graduates of Red Oak High School. It was held at the Shrine Club of Rocky Mount. Even though it has been 50 years since there was a high school at Red Oak, we continue to have over 200 graduates who still attend. Northern Nash opened up in 1966 and Red Oak High became an elementary school only. This alumni banquet has been continued for 98 years.

More ...
WILMA ENROUGHTY
Ruritans feed survivors at annual dinner
There is no doubt each of us has been affected by cancer, either personally or through family, a friend or neighbor. In 2004, a Relay for Life organizer shared with Wayne Outlaw, a West Mount Ruritan member and the 2008 President of Ruritan National, how much it was costing to provide an annual dinner for cancer survivors. Outlaw gathered members from other clubs in Nash County and pitched the idea of Nash County Ruritans providing the dinner as an annual project. Club members were excited about the possibility of honoring these survivors, while at the same time shedding this responsibility from the Relay for Life organizers.
More ...
Will our future generations be ashamed?


When will we ever learn? If the answer is blowing in the wind, one would think it would get trapped in trees, power lines, or something so it could be retrieved.
The City of Brotherly Love, Philadelphia, according to an AP story, has officially apolo-gized for the scandalous treatment dealt to Jackie Robinson when the Brooklyn Dodg-ers visited the Phillies. The Dodgers made history when Robinson, a black man, first played on April 15, 1947. The Phillies coach yelled from the dugout that Robinson should go back to the cotton fields down South.

More ...
Casey at Bat
Citizen says it's time to stop kicking the can down the road


Dear Editor: After all the articles I have read on the pros and cons of splitting the Nash-Rocky Mount School System my concern is the rhetoric that is being used.
Why is it that NC Senator Angela Bryant always throws out the race card when things aren't going her way? State Senator Bryant's efforts would be better served to become more sensitive and responsive to the needs of the people who elected her to office rather than the citizens of another county.

More ...
LETTER TO THE EDITOR
Backward Glances


This photo was originally published in The Nashville Graphic on May 26, 1966. The photo ran in an advertisement for Planters Industries. Dale Bone, owner and operator of the company, is pictured on the tractor.

More ...
A PICTORIAL LOOK INTO THE PAST

SUPER STOPPER. Nash Central HS keeper Anna Shaye Thompson (right) denies a shot attempt Monday against powerhouse Wilson Fike.

Nash Central Keeps On Kicking


ROCKY MOUNT -- Dramatic improvement doesn't necessarily translate into the victories in the ultra-competitive Big East Conference girls soccer standings.
The Nash Central Lady Bulldogs are evidence to that fact this season under veteran head coach Ryan Ruiz.
The Lady Bulldogs have picked up five victories in 2016 -- more than last spring -- but are still looking for that initial conquest in Big East action.

More ...
GEOFF NEVILLE, Graphic Sportswriter

BACK AT YA. Northern Nash's Brandon Bent returns a forehand during last week's team tennis matchup against rival Nash Central High School.

COURT ORDERS


ROCKY MOUNT -- One of the area's top springtime tennis traditions comes when backyard rivals Northern Nash and Nash Central meet on the courts on a pair of occasions in the Big East Conference.
The latest installment of the rivalry came last Thursday at the NCHS Courts, and visiting Northern Nash was able to leave with a clutch 6-3 team decision over the Bulldogs.

More ...
GEOFF NEVILLE, Graphic Sportswriter
NC Wesleyan Claims Tennis Crown


ROCKY MOUNT -- The men's tennis team of North Carolina Wesleyan College has claimed its eighth straight USA South Conference Tournament crown, downing #2 Methodist University by an 8-1 score on Sunday at the Slick Family Foundation Tennis Center on the NCWC campus.
With the victory, the Battling Bishops run their win streak versus USA South opponents to 78 matches dating back to 2009, when current head coach Dustin Hale helped the Bishops capture their first title as a student-athlete.

More ...
Staff Reports

INTO THE GLOVE. Nash Central's Haley Baker makes a grab during Monday's home softball matchup against Southern Nash.

Southern soars by Bulldogs


ROCKY MOUNT -- In the parity-filled Big East Conference softball standings, a quality stretch can translate into a huge jump in the tight league race.
Southern Nash, after a slow start, has made a recent move under first-year head coach Abi Earle that now has the Ladybirds in the thick of the race for the spot in the Class 3-A State Playoffs out of the Big East.
Southern Nash is now 4-2 in the league -- and 6-9 overall -- afer securing a key victory Monday night on the road against the Nash Central Lady Bulldogs.

More ...
GEOFF NEVILLE, Graphic Sportswriter
Golf season continuing


WILSON -- Nash Central High School's Joseph Cook earned medalist honors at the latest Big East Conference boys golf match, which was held Monday at the Happy Valley GC in Wilson County.
Cook's 75 was two shots better than runner-up Bryson Boyette from Wilson Fike.
Cook is now in second place in the league's cumulative individual standings heading into next Monday afternoon's finale at Belmont Golf Club in Rocky Mount.

More ...
Staff Reports
Southern will host campers


STANHOPE -- The annual Southern Nash Ladybird Basketball Camp is scheduled for July 12-14 on the SNHS campus.
The event is open to girls in grades 4-8 and will be overseen by SNHS head coach Jordan Bass and his players.
Cost is $30 per person, which includes a camp T-shirt if pre-registered.
The pre-registration deadline is July 1.

More ...
Staff Reports
NASH REC YOUTH SCORES


NASH COUNTY -- Listed are recent results from the Nash County Parks and Recreation Department's Spring Softball and Baseball Seasons:

More ...
Staff Reports
Mudcats edged against Pelicans


ZEBULON -- The Carolina Mudcats lost a 3-1 seventh inning lead and fell to the visiting Pelicans 4-3 on Sunday afternoon at Five County Stadium in Zebulon in a Class A Carolina League baseball game.
The Pelicans bounced back in the seventh with three runs and took the final two games in the series to leave with a series split.
Sunday's loss in front of 2,844 at Five County Stadium dropped the Mudcats (6-5) out of first place and one game back of the Salem Red Sox in the first half Carolina League Southern division standings.

More ...
Staff Reports
RM Orioles hold off Yankees


ROCKY MOUNT -- The Rocky Mount Little League Wesleyan Men Yankees and the Orioles hooked up in a heavyweight match last Wednesday night at the RCMT Sports Complex with both sides throwing punches back and forth in a flurry of base hits.
But when the final bell rang, it was the orange--clad O's standing, having held on for a 7-6 win in a crowd-pleaser of a game.
The Yanks ground out plenty of offense but failed to corral two fly balls on defense which ultimately lead to their demise.

More ...
Staff Reports
Wolfpack dropped by Jackets


ATLANTA, GA. -- The No. 12 North Carolina State University baseball squad fell 16-7 to No. 19 Georgia Tech on Sunday at Russ Chandler Stadium in Atlantic Coast Conference action.
The Wolfpack (26-10, 10-6 ACC) slipped into a 4-0 deficit in the bottom third. Chance Shepard's grand slam tied it in the top fourth.
Brock Deatherage followed with a solo shot to grant the Pack a 5-4 advantage.

More ...
Staff Reports
BACK TO THE BAG
Southern Nash's Emily Bryant dives safely back into first base during Monday's road victory against Big East Conference softball opponent Nash Central.
More ...
LUCKY 13
Nash Central High School's Mahala Henke sends a ball upfield as part of Monday's home girls soccer meeting with rival Wilson Fike HS.
More ...
RISING TO THE OCCASION
Nash Central's Isaiah Hernandez elevates to secure an effective return during last Thursday afternoon's Big East Conference boys tennis showdown against the Northern Nash Knights.
More ...
WILL WITH THE RETURN
Northern Nash's Will Stanley returns a shot as part of a singles match during last Thursday afternoon's boys tennis event against the Nash Central Bulldogs.
More ...
Winston Band performs at Nash Arts


The African American Music Trail presents the Winston Band at Nash Arts Saturday, April 23 at 7 p.m. General admission is $15 and $13 for senior citizens. Nash Arts membership discounts are applied according to membership level.
The Winston Band trio includes Sherry Winston, William McLaughlin, and Bill Myers. This contemporary trio has a repertoire that includes jazz, classics, rhythm, and blues. Together the musicians have more than 30 years of musical expertise.

More ...
Contributed
Art Exhibit ends April 30th


The Sue ChurchGrant art exhibit will run through April 30th at Nash Arts Center in downtown Nashville. Gallery hours are Monday through Friday 10:30 a.m.-1 p.m. and 2-5 p.m.
Sue ChurchGrant was born in Ontario, Canada. Until 2010, she was a practicing pediatrician, using every spare moment to draw, paint or sew.
Although primarily self-taught, Sue has learned from fabulous watercolor workshops led by artists including Susan Harrison Tustain, Ted Nuttall, Joseph Fettingis, Charles Reid and local classes taught by Motsie Brooks.

More ...
Contributed

Caroline Forrester of Rocky Mount High School plays Toffee, who falls in love with Jonny, played by Ben Riegel from Northern Nash High School in the upcoming presentation of "Zombie Prom."
High Schools join to present "Zombie Prom"
For the first time ever, the students of Northern Nash and Rocky Mount High Schools present in collaboration, Zombie Prom. The 1993 musical with book and lyrics by John Dempsey and score by Dana P. Rowe, is set in the fictional Enrico Fermi High School. It is the time honored story of a good girl (Toffee, played by Caroline Forrester from RMHS) who falls in love with the bad boy (Jonny, played by Ben Riegel from NNHS). After her parents and her principal object, Toffee does the right thing and ends her romance. Distraught Jonny drives his motorcycle in to the Nuclear Power Plant conveniently located next door.
More ...
Mayron Tsong to perform at Cherry Hill Plantation
Pianist Mayron Tsong will return to Cherry Hill on April 24th where she has thrilled audiences in years past with her virtuosity and charisma. The former Head of Keyboard Studies at the University of North Carolina at Chapel Hill, Dr. Tsong is now Associate Professor/Artist Teacher of Piano and Director of Undergraduate Studies at the School of Music at the University of Maryland.
Mayron Tsong has performed around the globe and in almost every state in the continental United States.
More ...
Country Doctor Museum hosts springtime event
A daylong "Springfest and Plant Sale" will be held at The Country Doctor Museum on Saturday, April 30.
From 10 a.m. until 4 p.m. free activities will include tours of the museum and Medicinal Herb Garden. Herbal teas will be on hand for tasting, and homemade baskets and a wide variety of plants will be available for purchase.
More ...