Subscribe/Access
Advertisements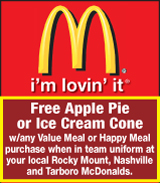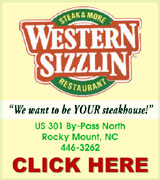 Sections
Member Options
Back
Southern Nash hosts Showdown


Southern Nash High School will be full of activity next Saturday as the school hosts its Fourth Annual Southern Sizzlin' BBQ Showdown.
The event is put together by the school's PTO, Band Boosters and Athletic Boosters. Southern Nash High School Principal Mark Cockrell said those three organizations are the largest the school has and it's unique that they come together to work for the benefit of the school.
"It's just a tribute to our staff and parents and community that on this day, our band and athletic program and PTO all come together for the benefit of the school," he said.

More ...
AMANDA CLARK, GRAPHIC STAFF WRITER
Eastpointe, schools top legislator discussion


Nash County Commissioners met with local legislators on Tuesday night to discuss a variety of issues affecting Nash County.
The intentions of Nash County to withdraw from Eastpointe and join another LME and the possible realignment of school systems to follow county lines generated the most conversation.
Nash County Commissioners voted in September to disengage with Eastpointe and realign with Cardinal Innovations. Since that time, Nash County has been waiting on approval from Rick Brajer, the Secretary of the NC Department of Health and Human Services (DHHS).

More ...
AMANDA CLARK, GRAPHIC STAFF WRITER
LIVESTOCK SHOW & SALE
The Eastern Carolina 4-H Livestock Show and Sale started on Tuesday, April 12 with a Cloverbud Sheep/Goat Show. The show continued with a Skillathon Challenge and the Meat and Lamb Shows. The event continued on Wednesday, April 13 with Hog and Steer Shows as well as the 4-H Special Show. The Eastern Carolina 4-H Show and Sale is held each year for Edgecombe, Halifax and Nash County youth. Pictured above, Raven Colbert shows her goat during the show.
(Graphic photos by Brittany Wind)
More ...
Nashville to install gravity sewer system


Nashville's Town Council voted last Tuesday night to abandon the town's largest lift station and install a gravity sewer system to better handle future growth.
The decision was made following a closed session at the board's regular meeting.
Planning Director Brian Hassell said the project is all part of plans to provide sewer to Carolina Innovative Food Ingredients (CIFI). The company is a subsidiary of Universal Leaf Tobacco and announced in 2014 the new addition.

More ...
AMANDA CLARK, GRAPHIC STAFF WRITER
Blooming Festival wraps up 2016 plans


The 20th Annual Nashville Blooming Festival is just a few weeks away and time is running out to get flag sponsorships, register for a non-food vendor booth and entries into the parade.
This year's festival is set for May 5 through 7, said Jo Anne Cooper, one of the organizers of the parade.
The event is always held Mother's Day weekend, Cooper said, and this year is no different.

More ...
AMANDA CLARK, GRAPHIC STAFF WRITER
NFD fundraiser is Saturday


Nashville's Fire Department will host it's first fund-raising event on Saturday, April 16 to raise money for the department's Centennial Celebration.
A silent auction is slated for Saturday from 6 until 9 p.m. at Nash Arts.
The event will feature numerous items as part of the auction but will also include a meal, catered by Doug Saul's as well as entertainment by Meredith Davis.
Items to be auctioned include an autographed NC State football and baseball, Ribeyes gift card, Nashville Exchange gift card, a photo session by Amber Williams, concert tickets, Carolina Mudcats tickets, custom corn-hole boards and much more.

More ...
AMANDA CLARK, GRAPHIC STAFF WRITER
Scout chooses Nashville for Eagle project


Parents of youth who play soccer at Glover Park will soon have somewhere to sit, thanks to the efforts of a local teen.
Jacob Wolf is purchasing two sets of aluminum bleachers for the soccer field at Glover Park as part of his Eagle Scout project.
Wolf made a presentation to the Nashville's Town Council last Tuesday night, asking permission to do the project.
Wolf, 17, of Elm City, is Troop 37 out of Sandy Cross. He told council members he enjoys playing soccer and noticed the soccer fields didn't have bleachers.

More ...
AMANDA CLARK, GRAPHIC STAFF WRITER

BLAZE CONTROL -- 50 firefighters worked over two hours to bring the blaze under control Saturday due to high winds.

Fire destroys Nash County home


Nash County firefighters responded to numerous fires on Saturday, including one that destroyed a home on Bend of the River Road.
Firefighters were dispatched to 8427 Bend of the River Road around 5:40 p.m. on Saturday, April 9. According to John Frazier, Nash County Fire Marshal, the fire came through initially as flames showing from the rear of the structure.
Frazier said the occupants of the home were home at the time of the fire.

More ...
Amanda Clark, Graphic Staff Writer
Nashville welcomes new library director


This week, the Town of Nashville is proud to announce the hiring of Cati Montgomery as the new Library Director of the H. D. Cooley Library. She will begin her position on Monday, April 18. Ms. Montgomery comes to the Town of Nashville with an extensive level of collegiate education. Ms. Montgomery is a 2006 and 2008 graduate of Austin Peay State University where she earned a Bachelor of Science in English and a Master of Arts in English. She is also a 2014 graduate of the University of North Carolina at Greensboro with a Master of Library and Information Studies.

More ...
Henry Edward Raper, Esq. Nashville Town Manager
Nashville man faces charges for shooting in Tarboro last month
A Nashville man faces several charges for a shooting in Tarboro on March 29.
Officers with the Tarboro Police Department responded to 501 Lincoln Road in Tarboro around 9:30 p.m. on March 29 in reference to a shooting. Upon arriving, officers learned two individuals had suffered gunshot wounds and were transported to Vidant Edgecombe Hospital by personal vehicles.
While processing the scene, officers discovered numerous spent shell casings as well as a firearm. Officers also discovered that the occupied residence at Lincoln Road had been struck.
More ...
Dortches Church campaigns to "Flush Out Hunger"


Dortches Baptist Church is joining forces with Red Oak United Methodist Church in its efforts to stop hunger.
The church has began a campaign to "flush out hunger" as part of a fund raiser for the Stop Hunger Now initiative.
This is the third year Red Oak United Methodist Church has participated in the initiative, whose mission is to end hunger by providing food and aid to the world's most vulnerable.

More ...
AMANDA CLARK, GRAPHIC STAFF WRITER
Luke's Word for the Week


You kiss your Mama with that mouth?!" Ever had this classic question posed to you following an offhand, usually rude comment you made to someone or about something? Chances are we've all slipped up and said things we had no business saying. As a country we appear to be extremely divided but one thing we could probably all agree on is that our words are sharp and can bring piercing pain to someone if used carelessly but that they also hold incredible power.

More ...
LUKE WHITEHEAD
Nash County Blood Drives for April 2016
Friday, April 15 from 11 a.m. until 3 p.m. at Braswell Memorial Library, 727 North Grace Street, Rocky Mount
Wednesday, April 20 from 9:30 a.m. until 2:30 p.m. at Nash Health Care Systems, 2460 Curtis Ellis Drive, Rocky Mount
Tuesday, April 26 from 10:30 a.m. until 4:30 p.m. at the Environmental Services Building, 1221 Thorpe Road, Rocky Mount
More ...
Envy-us Steppers
The Envy-us Steppers are working to win their third straight state championship title. The competition is April 30th at 2 p.m. and will take place at Millbrook High School in Raleigh. Admission is $7 in advance and $10 at the door. Tickets can be purchased from coaching staff of Envy-us Steppers. The group will have try-outs April 11-14 at Imperial Center from 6-8.
More ...
Nash County approves rezoning requests


Nash County Commissioners approved two conditional use rezoning requests at their meeting last Monday.
The first request was for 8.69 acres of property between Nashville and Castalia. The request was made by Charles Edward Manning on behalf of Edward and Dixie, LLC to rezone a portion of the tract, which is located on the east side of N NC Highway 58 and Snow Hill Road from A-1 Agricultural to GC-CU General Commercial Conditional Use.

More ...
Amanda Clark, Graphic Staff Writer
Nash Community College Foundation receives gift to support scholarships
The Nash Community College Foundation recently received a $15,000 gift from the Gene Haas Foundation. These funds will be used to support the NCC Foundation scholarship program.
Scholarships will be given to students currently enrolled in or who will be enrolling in a machining-based training program at Nash Community College. Students in the Computer Integrated Machining or Engineering programs at NCC will benefit from this generous gift.
More ...
NASHVILLE POLICE REPORTS
INCIDENTS
A possession of a stolen vehicle and escape from custody or resist, obstruct or delay was reported on 4/10/16 at 501 W Washington Street
A breaking and entering a residential was reported on 4/7/16 at 421 Baker Street
A fraud (credit card/ATM) was reported on 4/7/16 at 307 Battle Drive
More ...
NC Wesleyan noted as fastest growing private college in state
North Carolina Wesleyan College in Rocky Mount is the fastest growing private college in the state for the second year in a row, according to figures released from the North Carolina Independent Colleges and Universities (NCICU) organization headquartered in Raleigh.
NC Wesleyan grew total enrollment by 12.5 percent between fall 2014 and fall 2015, following last year's record growth of 19 percent. Montreat College and Lees-McRae College saw growth rates of 12 percent and 10 percent, respectively.
More ...
NASH COUNTY SHERIFF'S OFFICE REPORTS
A driving while impaired and misdemeanor possession of a schedule VI controlled substance was reported on 4/3/16 at NC 58 and Bend of the River Road
A simple physical assault was reported on 4/3/16 at 4350 S Church Street
A larceny of a motor vehicle was reported on 4/4/16 at 6557 Crowned Court
A possession of tobacco by an inmate was reported on 4/4/16 at 222 W Washington Street
More ...
Twin Counties observe April National Child Abuse Prevention Month
April was proclaimed as National Child Abuse Prevention Month in 1983. During this month, public awareness is promoted through child welfare agencies who strive to ensure and protect the safety and welfare of children to prevent child maltreatment. In 1989, the Blue Ribbon Campaign to prevent Child Abuse began as a Virginia grandmother's tribute to her grandson who died as a result of abuse. She tied a blue ribbon to the antenna of her car as a way to remember him and to alert her community to the tragedy of child abuse. The Blue Ribbon Campaign has expanded across the country.
More ...
Second phase of regional image campaign begins
The Positive Image Action Group, formed in January 2013 from the Twin Counties Visioning Process, launched on Monday the second phase of its regional image campaign. The goal is to tell a new story about living in Edgecombe and Nash Counties that will generate the interest of residents of the neighboring Triangle and Greenville metropolitans.
The campaign recorded residents from across the region to show testimonials of why a variety of people - young professionals, families, entrepreneurs and retirees - enjoy living in the Twin Counties.
More ...
N-RMPS, YMCA partner to offer Healthy Kids Day on April 30
On Saturday, April 30 from 10am until 1pm, the Harrison Family YMCA, in partnership with Nash-Rocky Mount Public Schools, is holding a free community event to inspire more kids to keep their minds and bodies active. This year marks the 25th annual YMCA Healthy Kids Day®, the Y's national initiative to improve health and well-being for kids and families. The event features activities such as obstacle courses, healthy snacks, Kids Zumba, a puppet show about nutrition, fun fire truck safety tours and more to motivate and teach families how to develop healthy routines at home.
More ...
Speaker
Henry Hinton, at right, new member of the UNC Board of Governors, spoke to the Kiwanis club about the UNC board and some of the recent controversies the 32 member board has faced. With Hinton is Ginny Mohrbutter, President elect.
More ...
FLAG CERTIFICATE
The Halifax Resolves Chapter of the North Carolina Sons of the American Revolution has awarded a SAR Flag Certificate to Nash Community College for correctly flying the U.S. flag for patriotic purposes. Jimmy Mizelle, at left, a member of campus security, accepted the award presented by Halifax Resolves Chapter Vice President R.J. Myrick, at right.
More ...

Brenda Wind received the Outstanding Volunteer Recognition at a special award's program in Raleigh in February. Wind also received a scholarship to attend a volunteer event.

4-H volunteers recognized by state


Several Nash County 4-H Volunteers were recognized in February at a special award's program in Raleigh.
Molly LaHay, Brenda Wind and the leaders of the Sew What 4-H Club were all recognized for various awards during the North Carolina 4-H Volunteer Leader's Conference February 6 and 7, held at the Jane S. McKimmon Center in Raleigh.
LaHay received an award for excellence and commitment in 4-H service at the award's ceremony. The award is a state recognition for individual 4-H volunteers.

More ...
AMANDA CLARK, GRAPHIC STAFF WRITER

Pictured above, Sereniti Bath Body and You was awarded $3,250 during the Shark Tank event, held on March 17.
Local businesses funded at annual "Shark Tank" event
SpringBoardNC enjoyed another successful Shark Tank event on March 17 at the Imperial Center. More than 30 unique startups and microbusinesses participated in the small business-oriented event, displaying their unique offerings to the more than one hundred audience members in attendance.
The competition portion of the event, hosted by Pastor James Gailliard, Word Tabernacle Church, and judged by "shark" experts Sterrett Lloyd, Draka Elevator, Joan Siefert Rose, Council for Entrepreneurial Development, Mark Little, NC Growth, and Michael Goodmon, Capitol Broadcasting Company was lively.
More ...
Author to speak at "Red Bow Tea"
Communities In Schools of the Rocky Mount Region will present Donna Tyson, author of "The Red Bow," as the guest speaker at The Red Bow Tea.
The Red Bow Tea is a special afternoon of elegance for mothers, grandmothers, daughters, granddaughters and friends. The tea, which derives its theme of enhancing self-esteem in girls from the book, is planned for Saturday, April 30 at Benvenue Country Club from 2 until 4 p.m. Tickets are $35 per person.
More ...
Nash County Animal Friends' Notebook


ASKING for YOUR HELP!
Please support our efforts to spay and neuter every pet in the Shelter!
Buy a Shirt, Help a Shelter Pet! This fundraiser will help the spay/neuter programs and vet care for the hurt homeless pets at the Shelter. To Order GO TO https://www.booster.com/fill-your-heart DEADLINE Tuesday April 26, 2016 It says "Fill Your Heart with Love! Adopt a Shelter Pet!"

More ...
Carol Vierela, NASH COUNTY ANIMAL FRIENDS
RED OAK NEWS


Congratulations to James Hurst and Amanda Griffin who were united in marriage at Red Oak Baptist Church on Saturday, April 9! Best wishes!
Women in Action will meet at Red Oak Baptist Church on Thursday, April 14 at 6:30 pm.
The Baptist Men's Breakfast will be Sunday, April 17 at 8:30 am.

More ...
SUZY PEARCE
BEULAH COMMUNITY NEWS


Last week, I told you we were having Revival at Beulah Church of Christ (April 3-6). We really had a great speaker, Minister Phillip Alligood, from Elizabeth City. His wife was able to be with him for the Sunday service. She is a very sweet lady and we were glad to meet her also. The revival was a blessing to everyone who attended. Two people came forward and accepted Christ as their savior and were baptized. We are so thankful they made those decisions and welcome them into our congregation at Beulah.

More ...
WILMA ENROUGHTY
PEACHTREE COMMUNITY NEWS


On a chilly spring morning Peachtree folks gathered for worship at the church. Sanctuary flowers were given by Brent Griffin in memory of SSG Eric Vick.
The children's sermon by Beverly Wilson was about the different things that people use to find their way, when they travel. Large paper maps were once used exclusively, but now people rely on a GPS system. But sometimes the GPS will direct you to go the wrong way. But for directions in our lives, we can always trust in the Bible, God's word for us.

More ...
BARBARA HARDISON
UDC Bethel Heroes 636
UDC Bethel Heroes 636 received an award for the Best Chapter Report at the annual United Daughters of the Confederacy District VIII meeting in Washington, NC. Pictured (L-R) Margaret Sink, Helen Sharpe, Donna Boykin and Margie Brantley, members of the Bethel Heroes Chapter 636 attended the meeting.
More ...
When disagreement escalates to hatred, we crash


Some of you may not like me after you read this, some of you may already dislike me and read this to get "stirred up," and some of you may agree. Regardless, I thank you in advance for reading my take on the "controversial" law recently passed, HB2.
First, a couple of disclosures: if you think I'm a bigot, then you obviously know nothing about my childhood, school experience or career, and are not a regular reader of this column; I don't hate anyone, even those I disagree with, because my ultimate core is the Bible; I have many dear friends who are LGBT, and I love them; even if I didn't know anyone from this category, I would not hate them as a group, period.

More ...
Mike Brantley
We're super excited about all the upcoming events


It is hard to believe that it's mid-April. But here it is and that can only mean two things!
Relay for Life!
Blooming Festival!
Yep, it's already that time again!
Relay for Life will kick off on Friday night, April 22 and there are a ton of events planned!

More ...
Amanda Clark
Give seniors a tax break


Dear editor:
I recently read where some of the Nash County Leaders had contemplated keeping the Real Estate taxes as they are, as so much has been suffered during the recent recession. I would like to pass on a tidbit of information having not been native to this County. In some other states viz New Jersey as one - once you are retired- they do not require you to pay a real estate tax anymore.

More ...
LETTERS
Backward Glances


MOTHER-DAUGHTER BANQUET -- This photo originally published in The Graphic May 12, 1966. Mothers and daughters attended an annual Mother-Daughter Banquet of the Momeyer Baptist Church Girls Auxiliary.

More ...
A PICTORIAL LOOK INTO THE PAST

IN THE NET. Northern Nash Rebekah Beal (right) scores a goal in front of the net during last Thurs. road soccer victory at Louisburg High School.

Knights Rebound With Victory


LOUISBURG -- Displeased with his club's performance one day earlier, Northern Nash girls soccer coach Joe McCarthy shuffled up his lineup for last Thursday's non-conference road meeting against Louisburg.
McCarthy's moves worked as Northern Nash was able to deliver a 9-0 non-conference decision over the Lady Warriors in a match that was contested at Joyner Park in Franklin County.

More ...
GEOFF NEVILLE, Graphic Sportswriter

WATCH IT FLY. Northern Nash High School's Zach Ward follows a shot during Monday afternoon's Big East Conference boys golf match at The River Golf Course at Lake Royale in Franklin County.

DOWN BY THE RIVER


BUNN -- Tackling The River Golf Course in Franklin County is never an easy proposition -- and the task is made even more difficult when the winds pick up.
That's what happened Monday as the wind came in during the round -- and brought in a bit of change in the competitive Big East Conference boys links standings.
After the latest installment, Nash Central and Northern Nash were able to draw closer to Wilson Fike in the team standings, while Zach Ward made a push in the boys individual standings with the best round of the day.

More ...
GEOFF NEVILLE, Graphic Sportswriter

RETURN THE FAVOR. Nash Central's Austin Luper returns a shot at No. 1 Singles during last Monday's team matchup at Louisburg High School.

LINEUP CHANGES


LOUISBURG -- With No. 1 Singles standout Chandler Johnson currently unavailable due to non-tennis related surgery, Nash Central High School court coach Frank Poyer has been forced to shuffle his lineup around a bit lately.
That didn't matter Monday as the Bulldogs rolled to an 8-1 road victory at non-conference opponent Louisburg.
The decision gave Nash Central a season sweep against the Warriors.

More ...
GEOFF NEVILLE, Graphic Sportswriter
Big East standings released


CHAPEL HILL -- Wells Fargo, along with the North Carolina High School Athletic Association, has announced the final standings in the Wells Fargo Conference Cup competitions for the 2016 winter sports season.
The Wells Fargo Cup award, sponsored by Wells Fargo and the NCHSAA, recognizes the schools that achieve the best overall interscholastic athletic performance within each of the state's four competitive classifications.

More ...
Staff Reports
Mudcats fall versus Rocks on diamond


WILMINGTON, DEL. -- Dansby Swanson was 2-for-4 with two doubles and Jordan Edgerton had a RBI triple, but the Wilmington Blue Rocks scored a season high six runs and 12 hits while earning their first win of the season 6-4 against the Carolina Mudcats on Monday night at Frawley Stadium
The Mudcats (2-3) gave starter Zach Quintana a run to work with in the first, but the Blue Rocks (1-3) answered back with two runs off Quintana to take the early 2-1 lead. Carolina went on to tie it at 2-2 in the fifth, but once again Wilmington immediately answered back.

More ...
Staff Reports
USA South events hosted in area


ROCKY MOUNT -- The 2016 USA South Conference Spring Sports Festival is set to get underway today and for the fourth straight year, the City of Rocky Mount is serving as host.
Beginning with today's baseball opener at Wilson's Fleming Stadium, the weekend is sure to be exciting as the league's tourney qualifiers travel to Rocky Mount to showcase their athletic talents.

More ...
Staff Reports
NC State claims diamond series


RALEIGH -- The No. 12-ranked North Carolina State University baseball squad swept Wake Forest with a 6-1 victory Monday night on ESPNU at Doak Field at Dail Park on the NCSU campus.
The Wolfpack (23-9, 8-5 ACC) cruised to a 2-0 lead in the first two innings on RBIs from Preston Palmeiro and Ryne Willard.
In the fifth, Palmeiro supplied his second RBI to make it 3-0. Wake (19-15, 5-10) responded with one in the seventh, before NC State tacked on three for insurance in the bottom eighth to set the final 6-1.

More ...
Staff Reports
BIG EAST GOLF ACTION
Among the competitors at Monday afternoon's Big East Conference boys golf match were (above) Northern Nash's Christian Crawford.
More ...
FREE RETURN POLICY
Nash Central High School's No. 4 Singles player Adam Moore returns a forehand during Monday afternoon's team tennis contest on the road at Louisburg.
More ...
MEDALIST
Drives like this one helped Northern Nash's Zach Ward earn medalist honors with a 74 as part of Monday's Big East Conference Golf Math, which was held at The River Golf Course in Franklin County.
More ...
READY OR NOT
Nash Central's Austin Luper delivers a serve during Monday's road team tennis contest against the Louisburg Warriors in Franklin County.
More ...
RUSH JOB
Northern Nash's Leah Vinson (right) tries to rush toward the ball as part of last Thursday evening's road girls soccer showdown against Louisburg High School in Franklin County.
More ...
SHALL WE DANCE?
Northern Nash's Grayson Tanner (left) tries to gain possession of the ball during last Thursday evening's road showdown against the Louisburg Lady Warriors in Franklin County.
More ...
SURE SHOT
Nash Central's Brittan Joyner delivers an effective approach as part of Monday afternoon's latest Big East Conference Golf Match, which was held at The River GC in Franklin County.
More ...