Subscribe/Access
Advertisements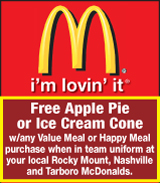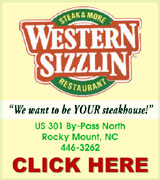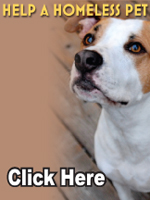 Sections
Member Options
Back
Local Lions Club to hold open house event in April


Nashville's Lions Club is planning an open house event in hopes of spreading the word about the good deeds the club has done.
The event will be held on Saturday, April 9 from 12 noon until 2 p.m. at Cooley Library in Council Chambers.
Lions Club President Jim Boehm said the event is a way to share what the Lions Club is about and to hopefully encourage others to join.
"This is our first time doing it," Boehm said of the open house. "We're real excited about this year because 2017 is our 100th year of Lionism. It was started in 1917 so we are trying to do a little bit more."

More ...
AMANDA CLARK, GRAPHIC STAFF WRITER
Nashville aims to create municipal service districts


The Town of Nashville will move forward with the idea of creating municipal service districts to generate additional revenues for the town.
A municipal service district is a defined area within a municipality that levies an additional tax for special projects or additional services that benefit the properties in the district.
The idea to form such a district came up at the board's annual retreat and was brought back up at a strategic planning session council members held on March 18.

More ...
AMANDA CLARK, GRAPHIC STAFF WRITER

FRIENDSHIP -- Little Ma\'Laisa Whitaker and Milton Batts play games during a neighborhood event held at Richardson Court Apartments Monday.

Neighborhood event brings youth together


Ashley Hinnant wanted to do something to bring youth in her community together in the wake of a recent suicide that has been blamed on bullying.
Hinnant said though she has no kids of her own, she is close to the youth in her Richardson Court community.
"All the teenagers come to my house," she said.
They visit mostly just to have somewhere to go but oftentimes, Hinnant said they turn to her to vent. And the recent suicide of Nashville teen Kenya Speight has been on the minds of many.

More ...
AMANDA CLARK, GRAPHIC STAFF WRITER
Twin Counties hopeful for school funding resolution


A long-awaited meeting between Nash and Edgecombe County commissioners took place last week to find common ground to the very complex and controversial issue of splitting the school systems along county lines.
Senate Bill 612 was enacted in 1992 basically eliminating the Rocky Mount City Schools System and merging those students and schools into what is now known as the Nash-Rocky Mount Schools System.

More ...
JO ANNE COOPER, GRAPHIC PUBLISHER
Nash prepares for future loss in revenues due to revaluation


Nash County Commissioners began budget conversations on Monday and are preparing for a potentially dramatic loss in revenues due to a property revaluation.
Nash County has been told to prepare for a 10 to 12 percent decrease in property values next year. With Nash County's projected $7.3 million tax base for the 2016-2017 year, a 10 percent decrease would drop the tax base to $6.8 million in the 2017-2018 fiscal year. That decrease could also mean $3.6 million in revenue loss for the county.

More ...
AMANDA CLARK, GRAPHIC STAFF WRITER
Local police officer receives state honor


Nashville Community Services Officer Jennifer Bull will be recognized in June as the North Carolina Law Enforcement Officer of the Year.
Nashville's American Legion Post 110 nominated Bull for the honor in October of 2015. Each year, American Legions from all over the state can nominate law enforcement officers who have exceeded their typical duty requirements and have demonstrated a pattern of community service along with professional achievement.

More ...
AMANDA CLARK, GRAPHIC STAFF WRITER
Nash Central Middle wins Battle of the Books
Teams representing all six Nash-Rocky Mount Public Schools (NRMPS) middle schools competed in the Middle School Battle of the Books competition on Tuesday, March 22, 2016. Nash Central Middle School won the competition, Edwards Middle School finished second and Southern Nash Middle School finished third.
"Middle School Battle of the Books is a competition that requires participants to read a list of 27 books and each team is quizzed on the list of books read. Each round consists of 12 questions and teams must identify the title and author of the book in each answer.
More ...
Breakfast, bake sale to benefit Relay for Life
A Breakfast and Bake Sale will be held on Saturday, April 2 to raise money for Relay for Life of Nash County.
The sale is set to be held from 7 a.m. until 11 a.m. at Mount Pleasant United Methodist Church, at 6048 Mount Pleasant Road in Bailey. The event is hosted by the church and the Nash DSS Friends for Life Relay for Life team.
Fresh baked ham and sausage biscuits will be available for purchase, along with hot grits, homemade cakes, pies, cookies and candies as well as other goodies.
More ...
Barnes elected president of organizations
John Barnes, President of Barnes Farming, has been elected to serve as President of two renowned organizations, the Association of Agricultural Production Executives (AAPEX) and for a second term with the American Sweet Potato Marketing Institute (ASPMI).
AAPEX is a diverse and professional agriculturally-based group consisting of members from across the United States and Canada. Networking top agricultural production executives and creating a forum for the commercial segment of production agriculture/agribusiness is AAPEX's mission.
More ...
Automatic draft system offers convenience


This week, I would like to highlight the work of our employees in the Finance Department who handle payments for water and sewer services. The Town of Nashville accepts payment for water and sewer services in the form of a written check, cash, and by automatic draft. At this time, the Town of Nashville does not accept debit or credit cards for water and sewer services.

More ...
Henry Edward Raper, Esq., Nashville Town Manager
Refresh your diet with local produce


'Tis the season for farm markets and roadside stands. You can take a positive step towards healthy eating by being more mindful about where your food comes from and who may benefit from you buying it.
Research shows that eating food grown nearby, or growing it yourself, may lead you to consume more fresh fruits and vegetables, one of the most important parts of a healthy diet. A diet high in fruits and vegetables is associated with decreased risk of: heart disease, some forms of cancer, overweight, and obesity.

More ...
Jayne McBurney Area Extension Agent Family & Consumer Sciences Nash County Coope
NASH COUNTY SHERIFF'S OFFICE REPORTS
An identity theft was reported on 3/21/16 at 5457 Macedonia Road
A breaking, entering and larceny was reported on 3/21/16 at 2162 Ash Way
A felony larceny and injury to real property was reported on 3/21/16 at 6882 Southern Nash HIgh Road
A forgery and obtaining property by false pretense was reported on 3/21/16 at 444 Lindsay Road
More ...

Past board chair Catherine Combs was honored with the Boys & Girls Clubs of America National Medallion award. Pictured with Combs is Boys & Girls Clubs of Nash/Edgecombe Counties CPO, Ron Green.

Baines earns Boys & Girls Club award


"What if my beginning resulted in my ending?"
The answer to this question landed Da'Jha'Rhea Baines the 2016 Youth of the Year title for the Boys & Girls Clubs of Nash/Edgecombe Counties -- a title she's earned twice before in 2014 and 2015.
The Boys & Girls Clubs of Nash/Edgecombe Counties celebrated its youth Thursday night hosting the club's premier recognition program which celebrates the achievements of the club's teens.

More ...
JO ANNE COOPER, GRAPHIC PUBLISHER
RED OAK NEWS


The youth of Red Oak Baptist Church attended Winter Jam at the PNC Arena in Raleigh on Friday, March 25.
Dorothy, Audrey, and Suzy Pearce celebrated Easter with lunch with family in Zebulon.
Calling all officers! Red Oak Baptist Church invites you and your family to Officer & Family Appreciation Sunday on April 17.

More ...
SUZY PEARCE
Luke's Word for the Week


In John's account of the resurrection he sets up, what is probably my favorite scene there in the garden. Now, all 4 Gospels contain the crucifixion and resurrection accounts, however, they do vary a little bit as far as what each author included and did not include. This was done to communicate what they thought was of utmost importance to the audience who would be reading and hearing these accounts. Think of it like a ballgame and there were four reports, all four would be guaranteed to get the major details right (who won, where the game was played, etc.)

More ...
LUKE WHITEHEAD
PEACHTREE COMMUNITY NEWS


The rain on Easter Sunday morning failed to keep Peachtree folks from coming to church to worship. "Christ is Risen- Alleluia", was the theme of the service. Sanctuary flowers were given by Beth and Patsy Baines in memory of their brother, Spencer Vann Griffin and their parents, Willie and Kezia Griffin. The Adult Choir sang several songs including, "The Day he Wore My Crown," "Before the Throne of God Above" and "The King of Who I Am," with Jerry Hobgood singing the solo. Marta Whitehouse also sang a solo titled "Written in Blood."

More ...
BARBARA HARDISON
Nash County Blood Drives - April 2016
Tuesday, April 5 from 3 until 7 p.m. at Red Oak Volunteer Fire Department, 7951 Red Oak Boulevard, Red Oak
Wednesday, April 6 from 10:30 a.m. until 3:30 p.m. at Honeywell Corporation, 3475 Wesleyan Boulevard, Rocky Mount
Monday, April 11 from 3 until 7 p.m. at Bethlehem Baptist Church, 305 South Halifax Road, Rocky Mount
Wednesday, April 13 from 8:30 a.m. until 1 p.m. at Rocky Mount Preparatory School, 3334 Bishop Road, Rocky Mount
More ...
Nash County Animal Friends' Notebook


READ THIS BEFORE YOU RESCUE KITTENS!
Are you ready for "kitten season"? Although kittens can be born any time of year, spring is when we see a big increase. What to do if you find kittens? First and foremost, WATCH and WAIT for mom. She could be off for a few hours finding food. The safest place for kittens is with their mothers. If you don't see the mom, there's a couple different ways to tell if mom is around.

More ...
Carol Vierela, NASH COUNTY ANIMAL FRIENDS
Rocky Mount Kiwanis Club
The Rocky Mount Kiwanis Club was given a tour of the new Edgecombe Community College Biotech and Medical Simulation building in Rocky Mount. Giving the tour was Dr. Deborah Lamm, (center) college president. Pictured with Dr. Lamm is Dr. Reid Parrott (left), program chair and Ben Moore, club president.
More ...
Enfield Fishing Creek Paddle set for Saturday, May 7
The Sixth Annual Enfield Fishing Creek Paddle is set to take place on Saturday, May 7.
Registration for the paddle begins at 8:30 a.m. at Bellamy Mill in Enfield. The paddle will start at Bellamy's Mill, a landmark on the national register of historic places. Paddles will journey for approximately 2- to 3 hours through soul-enhancing scenery.
Fishing Creek, one of North Carolina's treasures, winds through rolling fields and woodlands made up of loblolly pine, gum swamp and cherry bark oak.
More ...
Hat Sister for Christ
Hat Sister for Christ, a chapter of the Red Hat Society was entertained recently by Milton Bullock (back row center) at the Rocky Mount Train Station. Milton performs every Wednesday morning at the station. Bulluck, a local resident who grew up in Edgecombe County, is known as the "Golden Platter." He was a vocalist with The Platters for five years and continues to perform as the "Golden Platter" at many functions and has established the "Do it for Children Foundation" which helps children in need. Bulluck was inducted into the Twin County Museum and Hall of Fame in 2006.
More ...
Bethel Heroes
Bethel Heroes Chapter 636 of the United Daughters of the Confederacy, Helen Sharpe (at left) and Margaret Cobb (at right) delivered Easter treats to the Veterans who are residents of South Village Nursing Center. Accepting the gifts on behalf of the veterans is Darlene Batchelor (center), assistant Activity Director for South Village.
More ...
A letter to Holly on her Sweet Sixteenth birthday


Dear Holly,
This is the 16th edition of letters to you on your birthday. Sweet Sixteen. Faster than a good bluegrass G-Run, you've gone from my curly-headed, chubby-faced, beautiful baby to a beautiful young lady. You are the happiest, most optimistic person I've ever known. Hold on to that forever.
You've asked that there be no traditional party for that age, no surprise party, just a good meal out with family.

More ...
Mike Brantley
Juggling kids with a broken ankle makes for good stories


Apparently having three small children wasn't exciting enough for me so I decided to give it a try with only one working leg.
Last Wednesday afternoon, I picked my boys up from the babysitter and rushed home to get dinner started. I was trying to get a ham in the oven to cook a few hours. It was such a pretty day I thought while the ham was cooking, I'd take the boys outside to play.
I wasn't even home 30 minutes before that plan changed.

More ...
Amanda Clark
Four Nash Commissioners respond to newspaper editorial
Dear Editor: We read with interest the Sunday, March 27th editorial covering the funding for Nash-Rocky Mount Schools, and the meeting we had with Edgecombe County Commissioners. Like most editorials we find key information overlooked or stated in a way that is mostly inaccurate. First, it is not the Republican members of the Nash Board who feel this way.
More ...
Backward Glances


TRANSPLANTING TOBACCO --This photo is from The Graphic's April 21, 1966 archives. The tobacco transplanting season had started in Nash County. Woodrow Batchelor is pictured sitting on his tractor along with William Lewis, Jack Richardson and Luther Braziel. This photo was taken in the Sandy Cross area.

More ...
A PICTORIAL LOOK INTO THE PAST

CENTER OF THINGS. Second-year head coach Todd Brewer (center) and the Southern Nash Firebirds are looking to make an impact this season in the Big East Conference baseball standings.

THE MASTER BREWER


WILSON -- With almost a tinge of pride, members of the Southern Nash High School baseball program admit that are no superstars on this year's club.
But what the Firebirds possess is a collection of very good players -- players who are more than willing to sacrifice individual accomplishment for the greater good of the team.
That was readily evident during last Saturday's 3-0 decision over Faith Christian in the opening round of the annual Golden Leaf Invitational Tournament at Wilson Fike High School.

More ...
GEOFF NEVILLE, Graphic Sportswriter

THAT'S A RIP. Faith Christian's Landen Roupp makes solid contact during his club's matchup against Southern Nash last Saturday at the Golden Leaf Invitational Baseball Tournament at Wilson Fike High School.

Clifton Continues Success At Faith


WILSON -- During Greg Clifton's five-year tenure as Faith Christian School's head baseball coach, the Patriots have shared two conference championships and claimed another title outright.
Clifton will be looking to add another piece of hardware to the trophy case this spring as Faith Christian has put together another strong -- although young -- diamond squad.

More ...
GEOFF NEVILLE, Graphic Sportswriter
Northern rallies to defeat SN


RED OAK -- Northern Nash's torrid start to the 2016 girls soccer season continued last Wednesday with a 6-1 home victory against the Southern Nash Ladybirds in a key Big East Conference standings showdown.
Northern Nash is now 9-1 overall and 1-1 in the Big East under veteran head coach Joe McCarthy.
Southern Nash actually led 1-0 at intermission as Nefthali Gonzalez scored off an assist from Kylee Herron.

More ...
Staff Reports
State falls vs. 'Noles


TALLAHASSEE, FLA. -- The 13th-ranked North Carolina State University baseball squad lost 8-5 to No. 11 Florida State last Friday at Dick Howser Stadium in an Atlantic Coast Conference diamond matchup.
The Wolfpack (16-8, 3-4 ACC) sank into a 6-0 deficit by the bottom first stanza of action.
NC State clawed back with one run in the third, three in the fourth, and one in the sixth, before Florida State (18-5, 6-1) put the game away with a two-run homer in the seventh, setting the final at 8-5.

More ...
Staff Reports
Bishops win series versus rival Methodist


ROCKY MOUNT -- Senior Ciro Norzagaray delivered a bases loaded RBI single in the bottom of the 10th inning to give his host North Carolina Wesleyan College Bishop baseball team a 2-1 win in last Saturday's rubber game with rival Methodist University.
The walk-off win capped a stellar 9-inning performance by junior hurler T.J. Wilkie, who scattered six hits and struck out 10 Monarch batters on the day.
Wilkie allowed just one unearned run in the first inning, and the Bishops countered with an RBI-triple by James Lovett in the third that plated Norzagaray.

More ...
Staff Reports
A GREAT CATCH(ER)
Southern Nash backstop Hunter Perry brings in a foul ball during Saturday's decision over Faith Christian.
More ...
COMPLETE PERFORMANCE
Leroy Edwards went the distance on the hill last Saturday morning for Southern Nash during the Firebirds' tournament decision against Faith Christian.
More ...
GIVE AND TAKE
Faith Christian's Nick Clark watches a pitch sail by as part of last Saturday's tournament showdown against the Southern Nash Firebirds.
More ...
MARLOWE MASHES ONE
Southern Nash's Ryan Marlowe comes through with a base hit during last Saturday's victory over Faith Christian at the Golden Leaf Invitational.
More ...