Subscribe/Access
Advertisements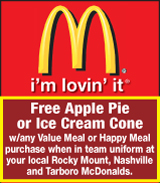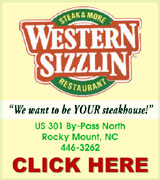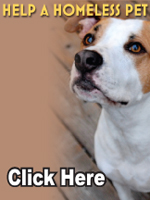 Sections
Member Options
Back
NPD launches "Hope" initiative


Nashville's Police Department is stepping up to address the heroin epidemic in Nash County by implementing an initiative that will seek help for addicts.
The department unveiled its "HOPE initiative" on Tuesday afternoon at a press conference.
The initiative is modeled after a similar one in Gloucester, Massachusetts called the "Angel" program.
Nashville Police Chief Tom Bashore said Town Manager Henry Raper approached him in October 2015 with the idea.

More ...
AMANDA CLARK, GRAPHIC STAFF WRITER
Revaluation drop to affect Nashville


A decrease in property values will be a major concern for the Town of Nashville over the next two fiscal years.
Revaluation results were a major topic of Town Council's annual retreat, held all day on Friday.
The retreat is the beginning of the planning stages for the budget process and gives the town manager direction from council on where to steer the town's public resources in the coming fiscal year.

More ...
AMANDA CLARK, GRAPHIC STAFF WRITER
Daddy Daughter Dance
Ritchie Price dances with his 11-year-old daughter, Natalie, Saturday at the annual Daddy Daughter Dance, which is held each year at the Nash County Agricultural Center. The event is sponsored by the Nash County Parks and Recreation Department and has been held successfully for nine years. Hundreds of dads and their daughters attend the event each year.
More ...
Bailey man charged with shooting
A Bailey man was arrested last Thursday and charged with shooting another man in the leg.
The Nash County Sheriff's Office received a call around 3 p.m. on February 4 that a shooting had occurred on Old Smithfield Road in Bailey.
The victim, a 29-year-old male, was shot while visiting David Preston Thompson, Jr., 42, of 11623 Old Smithfield Road, Bailey. Thompson and the victim were reportedly friends and the victim's mother lives next door to Thompson. The victim lives in Wislon.
More ...
Nash questions Easpointe's new hire


Nash County Commissioners are questioning whether Eastpointe followed protocol when hiring its new CEO.
Eastpointe Human Services, a regional behavioral health Managed Care Organization serving 12 North Carolina counties including Nash County, recently announced that Sara Stroud, Executive Vice President and Chief Financial Officer, had been appointed CEO of Eastpointe, effective immediately.
Stroud replaces Ken Jones, who announced last month he would be retiring on April 1.

More ...
AMANDA CLARK, GRAPHIC STAFF WRITER
School Board supports bond


The Nash-Rocky Mount Board of Education offered their support last Monday for the Connect NC Bond Act, by approving a resolution of support.
The resolution was approved 10-1 after some discussion by the board. Board member Evelyn Bulluck cast the dissenting vote.
Bulluck said she wanted additional information on the bond and its affect on the Nash-Rocky Mount School System.
"I would hate to vote on something when we aren't sure of the moving parts yet," Bulluck said.

More ...
AMANDA CLARK, GRAPHIC STAFF WRITER
4-H celebrates achievements


Nash County 4-H celebrated the achievements of its youth and clubs last week during its annual "Night of Achievements."
Luke LaHay and Cullin Whitley were singled out as 2015 4-H'ers of the Year.
Sandy Hall, Nash County 4-H Extension Agent, said the 4-H'er of the Year is done by nominations from club leaders. This year, Hall said they decided to recognize two.

More ...
AMANDA CLARK, GRAPHIC STAFF WRITER
Senior Center hosts Easter Food Drive


The Nash County Senior Center is collecting food to give to seniors over the Easter holiday.
The center is holding its third annual Easter Food Box Drive until March 11.
Michele McKnight, Senior Center Coordinator, said the goal this year is to collect enough items to fill at least 100 boxes.
The boxes will contain non-perishable food items that the center will give to needy seniors in the area.

More ...
Amanda Clark, Graphic Staff Writer

Shawn Lewis and his daughter, Maya.

Nash Parks & Rec hosts Daddy Daughter Dance, pics 1


Nash County Parks and Recreation hosted its 9th annual Daddy Daughter Dance Saturday night at the Nash County Ag Center in Nashville. Hundreds of daddy/daughter couples attended the annual event, which has become a very popular event. The dance is held each year around Valentine's Day.

More ...
GRAPHIC PHOTOS BY AMANDA CLARK

PARKER
Task Force makes heroin bust
The Tar River Regional Task Force confiscated 250 bags of heroin during a traffic stop last week.
The Tar River Regional Task Force is comprised of State and Local Law Enforcement Agencies based in North Carolina's Seventh Prosecutorial District.
Investigations were conducted on February 1 that led to a vehicle stop in the parking lot of Lowes on Wesleyan Boulevard in Rocky Mount. The driver, Monseque Harper, 29, of Rocky Mount, and passenger, Alterrick Parker, 36, of Rocky Mount, were found to be in possession of 250 bags of heroin plus $1,810 in U.S. Currency.
More ...
NASHVILLE POLICE REPORTS
INCIDENTS
A hit and run was reported on 2/1/16 at Bojangles, 101 W Nashville Drive
A missing person was reported on 2/2/16 at 1022 Eastern Avenue
A dog bite was reported on 2/2/16 at 202 Cypress Court
More ...
NASH COUNTY SHERIFF'S OFFICE REPORTS
A possession of drug paraphernalia and misdemeanor possession of a Schedule VI controlled substance was reported on 2/1/16 on I-95 South
A breaking and entering a motor vehicle was reported on 2/1/16 at 4827 Redwood Lane
A larceny was reported on 2/1/16 at 9615 Camp Charles Road
A possession with intent to sell and deliver marijuana and possession of drug paraphernalia was reported on 2/1/16 at US 301 and Old Mill Road
More ...
NASH COUNTY 4-H ACHIEVEMENT AWARDS, pics 1


CITIZENSHIP - The Lucky Spurs 4-H Club received the Citizenship Award at the 4-H Achievement Program. Pictured (L-R) is: Taylor Tharrington, leader Wanda Bunn and Allie Causey.

More ...
Graphic photos by Lou Roldan
NASH COUNTY 4-H ACHIEVEMENT AWARDS, pics 2
COMMUNITY SERVICE AWARD - The Red Oak Acorns 4-H Club was recognized with the Community Service Award. Pictured on the front row (L-R) is Riley Proctor, Cullin Whitley and Payton Whitley. On the back row (L-R) is: Skylar Proctor, club leader Jennifer Aycock, Dylan Proctor and Maycee Aycock.
More ...

The Winter 2016 Graduating Class of Tar River Academy. Thirty-two seniors graduated at a mid-year commencement ceremony held on Friday, January 29, 2016.
Tar River Academy holds mid-year commencement
A total of 32 Tar River Academy (TRA) seniors are now high school graduates after they turned their tassels during a mid-year commencement ceremony that was held on Friday, January 29, 2016. The majority of the graduates plan to pursue higher education, with 31 set to attend two-year colleges. The Winter Class of 2016 at TRA also has one student who will enter the workforce. Tar River Academy named JaVon Dy'rell Whitley as the Valedictorian and Kiarra Imann Pace as the Salutatorian.
More ...
Local man elected Sudan Shriner High Priest & Prophet
Noble Carl Wayne Smith from Nashville, and a member of the Rocky Mount Shrine Club, was elected as the High Priest & Prophet at Sudan Shriners annual meeting and election of officers on January 23, 2016 in New Bern. The term High Priest & Prophet is a ceremonial title given within Shriners International to one of the seven elected officers of a temple and as such is a voting member of the Divan (Board of Directors).
More ...
O.D. Moore Scholarship Foundation
The O.D. Moore Scholarship Foundation recently swore in its new officers. The foundation was established by the Nash Central Senior High School Alumni Association in 1978 to honor the memory of longtime and legendary coach Oseola D. Moore. Since the foundation's establishment, there have been over 270 scholarships given totalling over $200,000.
More ...
BEULAH COMMUNITY NEWS


I hope everyone had a great week, even with all the rain, sleet, wind and cold weather. On Sunday morning, many elder people were absent at the various churches. They didn't feel safe getting out due to the sleet and cold weather. Hey "if" you believe in the old saying about the ground hog seeing, or not seeing, his shadow, they say we will have an early spring since he did not see his shadow this time. We will just have to wait and see since I'm quite sure he saw it in some areas. Only God knows about the future.

More ...
WILMA ENROUGHTY
Luke's Word for the Week


As the parent to quite the energetic and imaginative 3-year-old, I find myself playing a wide assortment of games with neat characters, of whom are usually based in some Disney channel show. Most of the characters have noble aspirations and are usually fighting good in the world. Captain Jake from Jake and the Neverland Pirates never ceases from fighting the greedy and treasure seeking Captain Hook. However, it's also noteworthy that Jake will help out Hook once in a while, Jake will even show Hook some grace.

More ...
LUKE WHITEHEAD
AVENTON COMMUNITY NEWS


Graphic readers and Aventon family, I feel the time to say so long has come. I am busy now taking care of our little man Garrett and he deserves 100 percent of my time, attention and energy and I have not been able to dedicate any time lately to our news. I have enjoyed gathering family happenings from my Aventon family, but most of all I enjoyed sharing my old memories. Life is full of memories, good and bad, but either way, there's a lesson to be learned in them all. Memories are valuable; again I will tell you they will be the thread that holds you together in the future.

More ...
JOJO RICKS
RED OAK NEWS


Red Oak United Methodist Church is preparing for their next Bible Study. The Discipleship Bible study is a 32 week study on Genesis, Exodus, Luke, and Acts. If you would like to participate, please contact the church office.
The sanctuary at Red Oak United Methodist Church will be open on Thursdays during Lent for a quiet time of prayer. All are welcome.

More ...
SUZY PEARCE
PEACHTREE COMMUNITY NEWS


On a cold morning, with intermittent sleet falling, Peachtree folks gathered at the church for worship. This was a special day in Peachtree's history. It marked its 207th birthday. The church has been in continuous ministry since February 1809. Sanctuary flowers were given by Beverly Wilson in honor of its birthday.
During the time of 'congregational greeting', Pastor Whitehouse showed, on the screen, a picture of David and Lynn Griffin that he had just received, by phone, of them as they were leaving the hospital.

More ...
BARBARA HARDISON
FARM SERVICE AGENCY NEWS


The U.S. Department of Agriculture (USDA) recently announced that producers who have crops pledged as collateral for a marketing assistance loan can now purchase a commodity certificate that may be exchanged for the outstanding loan collateral. The authority is provided by the 2016 Consolidated Appropriations Act, legislation enacted by Congress in December. Commodity certificates are available beginning with the 2015 crop in situations where the applicable marketing assistance loan rate exceeds the exchange rate. Currently, the only eligible commodity is cotton.

More ...
SHARON TAYLOR, NASH COUNTY FSA EXECUTIVE DIRECTOR
Sometimes you have to dance like nobody's watching


I get to cover some pretty interesting events every year and one I look forward to is the Daddy Daughter Dance.
It's amazing how much the event has grown throughout the years. I believe this is the ninth year Nash County's Parks and Recreation Department has hosted the event.
Today, the event brings out hundreds of men and young women.

More ...
Amanda Clark
Guest Column: North Carolina could be a player


You've no doubt heard the spin put on the outcome of the Iowa caucuses, but when you cut through the noise the vote was a good indicator of what to expect going forward. The table is set for a most unusual presidential nomination process and North Carolina could pay a big role in it.
By the time our Primary Elections are held, 29 other states will have had votes for one or both parties, notably the big states of Texas, Georgia, Virginia and Massachusetts on March 1st. In addition to North Carolina, four of the 10 most populous states, including Florida, Ohio and Illinois, vote on March 15th.

More ...
My Spin by Tom Campbell
North Carolina Panthers are heroes


I am very proud of the North Carolina Panthers and the great job they have done during regular season football. This team has placed our state on the map and people from all over were cheering them on as they won game after game with their impressive victories during regular season and play- off competitions. Everybody wants a Super Hero, but how often do we get to meet those on a daily basis? Is a hero defined as a team, entity, or person who never fails? Is a hero defined by the biggest win only and not by all the hard work and dedication it takes to get to that point?

More ...
Letter to the Editor:
Backward Glances


This photo originally published in The Graphic May 28, 1981. Paul Boone (right) an employee with Harper Produce which was just outside of Nashville, weighs strawberries and cabbages for customers. Pictured left to right are Lenora Harris, Theresa Harris and Barbara Woods.

More ...
A PICTORIAL LOOK INTO THE PAST
Nash County Animal Friends' Notebook


PLEASE STOP!
Nash County Animal Control isn't able to control the local pet population. Pets are being bred that are adopted from the Shelter!
They started trying to curb this overpopulation a few years ago, by changing the adoption fee. It is only $50, but is returned upon spay/neuter. We sincerely believe that it has made a difference. We started by offering a FREE spay for every female adopted.

More ...
Carol Vierela, NASH COUNTY ANIMAL FRIENDS - 2 opinions posted

WON'T BE DENIED. Nash Central's Katya Fox drives toward the basket during Monday's loss at Springfield in the Tri-County Conference Playoffs.

STREAK SNAPPED


LUCAMA -- Sometimes, great seasons don't end with championships -- and that proved to be the case this winter for the Nash Central Middle School girls basketball squad.
The Lady Trojans, who are the long-time defending champions in the Tri-County Conference, have had to deal with massive graduation losses in each of the past two years.

More ...
GEOFF NEVILLE, Graphic Sportswriter

BACK IN THE FOLD. Nash Central's Michaela Nelms (with ball) has returned from injury to spark the Lady Bulldogs.

BIG EAST BLAST


ROCKY MOUNT -- Nash Central High School might just celebrate the 10-year anniversary of its last Big East Conference regular season championship in style this season.
Maybe by winning yet another title to break a drought that goes back to 2006.
The Lady Bulldogs, coached by Terri Cash, are in prime position to break that streak after delivering a key home victory last Friday night over backyard rival Northern Nash.

More ...
GEOFF NEVILLE, Graphic Sportswriter

FRIENDS AND TEAMMATES. (L to R) Jaquay Mitchell and Zack Foster have been buddies going back to their youth football playing days with the Nash County Firebirds. Foster was in attendance last week when Mitchell signed with Lenoir-Rhyne.

History Repeats Itself


STANHOPE -- For Brian Foster, it's always a thrill when one of his Southern Nash football players signs a letter-of-intent to continue his career on the four-year level.
But a bit of extra excitement was in the air last Thursday when Jaquay Mitchell finalized his plays to join the gridiron program at Lenoir-Rhyne University in Hickory.
Mitchell is a long-time family friend of the Fosters as he has been a teammate of SN senior quarterback Zack Foster -- Brian's son -- since childhood.

More ...
GEOFF NEVILLE, Graphic Sportswriter
A Mat Moment


NASH COUNTY -- With the dual meet portion of the season over, Nash County prep wrestlers are now focusing their attentions on the individual postseason -- a swing that began Jan. 20 with the Big East Championships at Rocky Mount.
County performers fared well at that event and hope for more success this Friday and Saturday at the Class 3-A East Regional Tournament, which will be held at Corinth Holders High School in Wendell.

More ...
GEOFF NEVILLE, Graphic Sportswriter
Buffaloe shines at event in California


LOS ANGELES -- Christian Buffaloe, local 16-year-old Kyokushin competitor, recently gained 2nd Place in the Teen Division (16 yrs) of the "2016 Kyokushin U.S. Karate Championships" in Los Angeles.
This prestigious yearly event is sponsored by the International Kyokushin Karate Organization in Tokyo, Japan, and features many top competitors from around the world.

More ...
Staff Reports
Beal Chooses Chowan


RED OAK -- Rebekah Beal's athletic and academic prowess earned her an opportunity from Chowan University that she simply couldn't refuse.
With all scholarship monies combined, Beal's offer from Chowan almost reached six figures -- and that helped finalize a deal for the Northern Nash standout to continue her soccer career in Murfreesboro over the next four years.
Beal made it official last Thursday as she inked a letter-of-intent to join the Hawks' women's soccer program.

More ...
GEOFF NEVILLE, Graphic Sportswriter
NCWC keeps winning


LAGRANGE, GA./ MONTGOMERY, ALA -- Senior D.J. Weaver nailed a game-winning three-pointer in the final seconds to give his North Carolina Wesleyan College men's basketball squad a 73-72 victory at Huntingdon College on Sunday.
The win came on the heels of a 114-98 thumping of LaGrange College on Saturday and leaves the Bishops in sole possession of first place in the USA South standings at 8-2.

More ...
Staff Reports
Nash County standouts honored at LC


LOUISBURG -- Louisburg College's annual Student-Athlete Awards Ceremony is always a special night -- but it was made even more special this season.
That's because the school set an all-time record for most medals awards to its athletes.
The recent ceremony has been held every winter for the past decade and salutes student-athletes who earn a grade-point average of 3.0 or higher.
Medals are presented on gold, silver and bronze levels and are presented by Louisburg College Athletic Director Mike Holloman.

More ...
GEOFF NEVILLE, Graphic Sportswriter
Ross nabs status as All-American


LOUISBURG -- When Andy Stokes first saw Abigail Ross play three years ago, he knew she displayed the talented and potential to be a high-level women's soccer keeper.
Since then, Ross has continued that upward curve. After finishing up her prep career at Nash Central, Ross signed to play under Stokes at Louisburg College.
Ross recently completed her two-year stint at Louisburg in successful fashion, but her career is far from done.

More ...
GEOFF NEVILLE, Graphic Sportswriter

MAN WITH A MESSAGE. Nash Central High School boys basketball coach Renny Taylor (right) explains strategy to Amarle Blakney during last Friday night's important Big East Conference victory at home against backyard rival Northern Nash.

Taylor's Team On Rise


ROCKY MOUNT -- Nash Central saw an opportunity in the parity-filled boys basketball standings of the Big East Conference -- and was more than happy to take advantage of it.
Facing its most important week of the season, the Bulldogs rattled off three consecutive wins over league foes to take first place outright in the league heading into the final two matchups of the campaign.

More ...
GEOFF NEVILLE, Graphic Sportswriter
Wesleyan spring squads earn preseason rankings


FAYETTEVILLE -- The USA South Athletic Conference has released its 2016 spring preseason polls for baseball, softball, tennis and golf.
North Carolina Wesleyan College's men's and women's tennis teams led the way with 1st and 2nd-place billings, respectively.
In men's tennis, 1st-year head coach Dustin Hale's squad was picked to defend last season's title with ten 1st-place votes and the maximum total of 100 points available.

More ...
Staff Reports
CONFERENCE ACTION
The Big East Conference recently held its annual individual wrestling tournament at Rocky Mount High School. Among the competitors was Southern Nash's Daniel Medina (above). The top league performers will be in action this weekend at the Class 3-A East Regionals, which will be held at the Corinth Holders High School Gymnasium in Wendell.
More ...
NC basketball rosters finalized


NASH COUNTY -- Rosters have been finalized for the Tar Heel State contingent at the upcoming 2016 North Carolina-South Carolina All-Star Basketball Games.
The contests, which feature the top male and female seniors from North Carolina and South Carolina, will be played March 19 at Socastee High School near Myrtle Beach.
The girls game will tip off at 6:30 p.m. and will be followed by the boys showdown.

More ...
Staff Reports
CHERRY PICKING
Nash Central's Zhaterrica Cherry (right) drives for a basket during Monday's playoff game at Springfield.
More ...
HELP IS ON ITS WAY
Nash Central's Mallory Roughton (right) tries to find an open teammate during Monday's road playoff game against Springfield Middle.
More ...
MAGIC MULLINS
Nash Central's Josh Mullins drives and scores over a pair of Northern Nash defenders during last Friday night's Big East Conference boys basketball meeting at the NCHS Gymnasium.
More ...
Children's Art Exhibit to feature local youth's work
Wesleyan College is hosting the Fourth Annual Rotary International Children's Art Exhibit on Thursday, February 18, 2016.
This year's exhibit theme is titled: Be A Gift To The World Through Community Service.
A reception for the children, their families, teachers and administrators from participating schools and for regional Rotarians will be held on Thursday, February 18 from 5:30 until 7 p.m. in the Wesleyan College's Civic Gallery at Wesleyan College's Dunn Center.
More ...