Subscribe/Access
Advertisements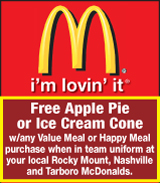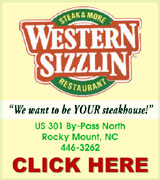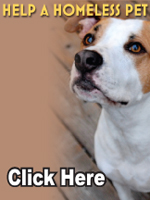 Sections
Member Options
Back
Dispute continues between Nash, Eastpointe


Since Nash County Commissioners voted in September to disengage with Eastpointe and realign with Cardinal Innovations, the two have been at odds.
Eastpointe claims Nash County cannot leave the mental health agency because they have not consented to the withdrawal.
Eastpointe Board Chairman Rob Boyette said in a November letter to Nash County Board Chair Fred Belfied that the merger agreement commissioners approved in 2012 was binding and withdrawing would be a breach of contract.

More ...
AMANDA CLARK, GRAPHIC STAFF WRITER
Nashville oks grant application


A Nashville man is taking advantage of a Downtown Incentive Grant with hopes of opening an oyster bar in Downtown Nashville.
Edward Glenn Smith requested his Downtown Development Incentive Grant (DIG) Application be approved on Tuesday night at the Town Council's regular board meeting.
Smith owns the building at 235 W. Washington Street, which used to be home to Jody's of Nashville. The building has been vacant since April 2013, when Jody's moved to a bigger space a few doors down.

More ...
AMANDA CLARK, GRAPHIC STAFF WRITER

Pictured (L-R) Tori Cook, Zeque Ashford, Aaliyah Ashford and Kaylah Coppage enjoyed fellowship prior to the Nashville Boys and Girls Club Thanksgiving celebration last Monday, November 23.

Nashville's Boys & Girls Club thanks local supporters


Nashville's Boys and Girls Club gave thanks to its supporters at a special Thanksgiving dinner last Monday evening.
Unit Director Boris Ashford said the support from the community means a lot to club members.
"We do have strong support in our community," Ashford said.
To show their appreciation, club members presented cards to Nashville's Police Department, Nashville's Fire Department, Rock Creek Baptist Church and Paul Lewis, a N.C. Wesleyan student who volunteers with the club.

More ...
AMANDA CLARK, GRAPHIC STAFF WRITER

CONE

Filing begins for election season


Six Nash County residents filed on Tuesday for various seats in upcoming elections, including two Middlesex men who are vying for one seat on Nash County's Board of Commissioners.
There are three seats up for grabs on the Nash County Board in the upcoming elections. Districts one, three and four are all up for grabs in the primary elections, which are set for March 15.

More ...
AMANDA CLARK, GRAPHIC STAFF WRITER
Solar farm withdraws application


A solar farm proposed for Nashville's Extraterritorial Jurisdiction has been postponed.
A joint public hearing was held in October on a special use and rezoning for around 25 acres of property at 1139 Old Bailey Highway.
Sunlight Partners was hoping to put a solar farm energy generating facility on the property. The property is 37 acres but the solar farm would be 25 acres.
Michael Fox, who represented Sunlight Partners, told council members and planning board members that he felt the rezoning request from A-1 Agricultural to I-1 Industrial was consistent with the area.

More ...
AMANDA CLARK, GRAPHIC STAFF WRITER
VFW collects food for veterans


Local veterans groups are working hard to ensure no veteran goes hungry this holiday season.
The VFW Auxiliary Post 2057 of Rocky Mount, Post 4147 of Bailey and Post 6651 of Wilson are collecting non-perishable items to help the Veterans Residential Services of Wilson with a program, "No Veterans Should Be Hungry At Christmas."
The posts began collecting in October and will collect through December.

More ...
AMANDA CLARK, GRAPHIC STAFF WRITER
Longtime Nash County Sheriff's Deputy retires


Treat others as you would like to be treated.
That has been Jeffrey Lucas' motto during his 28 years of service with the Nash County Sheriff's Office.
On Tuesday, Lucas, of Bailey, celebrated his last day with the Sheriff's Office.
Lucas began his career in 1987 with the Detention Center. He said someone approached him and suggested he apply.

More ...
AMANDA CLARK, GRAPHIC STAFF WRITER
NASH COUNTY SHERIFF'S OFFICE REPORTS
An assault on a female was reported on 11/23/15 at 4692 US 264A
An obtaining property by false pretense was reported on 11/23/15 at 4729 Pine Street
A damage to property was reported on 11/23/15 at 3654 W Castalia Road
A larceny of a dump trailer and damage to property was reported on 11/23/15 at 8990 NC 33
More ...
NASHVILLE POLICE REPORTS
INCIDENTS
A driving while impaired was reported on 11/25/15 at E Washington and Lumber Streets
ARRESTS
Anthony Rickshaun Wilder; 11/23/15; charged with failure to appear


More ...
Nash County Blood Drives for December 2015
Wednesday, December 2 from 9 a.m. until 2 p.m. at the Nash County Senior Center, 102 N Alston Street in Nashville
Wednesday, December 2 from 10 a.m. until 3:30 p.m. at Nash Health Care Systems, 2460 Curtis Ellis Drive, Rocky Mount
Saturday, December 5 from 9:30 a.m. until 2:30 p.m. at Capital Ford Lincoln, 2012 Stone Rose Drive, Rocky Mount
Wednesday, December 9 from 12 until 4 p.m. at Universal Health Care, 1022 Eastern Avenue, Nashville
More ...
Register now for 2016 Master Gardener Training Course
Nash County Cooperative Extension is now accepting applications for the 2016 Master Gardener training course, which starts on January 20th, 2016. Training participants will meet weekly on Wednesday mornings from 9 am until noon through April 6th. As part of the training, participants will learn valuable information about soils, fertilizer, pruning, plant identification, lawn care, growing fruits and vegetables, environmental stewardship, and insect, disease, and weed management.
More ...
NEW TOWN COUNCILMAN
Three Nashville Town Council members and Nashville's Mayor took oath of office Tuesday night during the town's board meeting. Incumbents Charles Taylor and Louise Hinton returned to their seat on the board along with Nashville Mayor Donald Street. All three ran unopposed in the November Election. Pictured above, newcomer Michael Coleman is being sworn into office by Superior Court Judge Quentin Sumner. Coleman won the unexpired seat formerly held by Patricia Rogers. Coleman will serve the remainder of the term which expires in 2017.
More ...
Oaths of office
Three Commissioners took their oaths of office at the Town of Castalia's last regular board meeting in 2015 on Tuesday. Commissioners James Alston, Patsy Fisher, and Sylvia Mann were sworn in by Judge Anthony Brown during a brief ceremony. All three commissioners were re-elected to the board and will continue to serve in their current capacity. In other business, the next Park / Fourth of July Committee Meeting is scheduled for Tuesday, December 8 at 7 pm in the town hall. Also coming up on December 12, the town will be having another chicken plate fundraiser beginning at 11 am and continuing until sold out.
More ...
Filing for Nash County Commissioners seats
Dan Cone and Incumbent Nash County Commissioner Lisa Barnes (at left, L-R) filed for Nash County Commissioners seats on Tuesday, the first day of filing for partisan primaries in March at the Nash County Board of Elections Office. Assisting Cone and Barnes is Gina Brown and Nash County Elections Director John Kearney. Filing ends on December 21 at 12 noon.
More ...
Sixth term hopeful
Longtime Nash County Commissioner Lou Richardson (at left) filied for what she hopes is her sixth term on the Nash County Board on Tuesday, with help from Gina Brown (at right). Richardson said she is seeking re-election to finish up several projects the board has started.
More ...
"Luke's Pillows" donated to Nash Pediatric Emergency Room
Nash Health Care recently received a donation of "Luke's Pillows" for its Pediatric Emergency Department.
On Monday, November 9, 2015, three representatives from Lakeside Baptist Church, Jo Webb, Dorrie Wright, and Anne Winstead delivered 25 handmade pillows to Amy Winham, Administrative Director and Tiffany Young, Pediatric Coordinator of the Nash Health Care Emergency Department.
Each pillow was made by a member of the Lakeside Baptist Church, and comes with fabric crayons and/or markers for local pediatric patients to decorate while they are receiving treatment in the emergency room.
More ...
Luke's Word for the Week


It's dark early now. Our drive home around 5:08pm is no longer a joyful ride of putting the windows down and breathing in the fresh fall air. Now, our heat is cranked up, and the stations are already playing Christmas music (a joy for some and a terror for others).
We hurry home, put our sweatshirts and sweatpants on, get on our knees and pray for June to come quickly.

More ...
LUKE WHITEHEAD
RED OAK NEWS


The community came together on Sunday, November 22 for the annual Community Thanksgiving Service. This year the service was at Red Oak Baptist Church with Pastor David Joyner of Red Oak United Methodist Church bringing a challenging message.
"Fact or Fiction: The Christmas Edition", the Red Oak Baptist Church Youth and Children's Christmas play, will be Sunday, December 6 in the Family Life Center at 6:30 pm. Everyone's welcome!

More ...
SUZY PEARCE
Progress in Downtown Rocky Mount
John Jesso, Rocky Mount Downtown Development Manager, spoke on "Progress in Downtown Rocky Mount" at the November meeting of the Micajah Pettaway Chapter of the Daughters of the American Revolution. Pictured with John on the right is Frances Powell, Regent and on the left Martha Gallop, Registrar of Micajah Pettway chapter.
More ...
Honoring First Responders
Several organizations came together on November 14th to help the VFW honor First Responders this holiday season. There are two Christmas trees located in The Golden East Crossing Mall decorated with stars featuring Nash County Veterans and First Responders. Pictured are members of the Red Oak Cub Scout Pack 16, Red Oak Girl Scout Troop 578, and Nash Central JROTC assisting with the project.
More ...
Nashville Elementary announces honor rolls
A Honor Roll
Johnathon Adams, Kelsey Allen, Jocelyn Arellano, Coburn Bailey, Faith Berry, Grace Berry, Zeke Blankenship, Jared Bone, Jamia Booth, Madison Bridgers, Harrison Brown, Avery Clark, Gavin Clark, Andrew Collier, Christopher Cooper, Clara Danforth, Shyon Davis, Cameron Denton, Christopher Deringer, Enzo Dillon, Logan Dwyer, Nora Eason, Cade Edwards, JaNiya Elijah, Kailyn Ellis, Toure Evans, Kaylee Faile,
More ...
Spring Hope Elementary announces honor rolls
A Honor Rolls
Jaylon Alston, Rachel Barnes, Taylor Bass, Carlee Beckham, Noah Braswell, Jacob Cooper, Kel'Von Dixon, Makayla Dunston, John Edwards, Sadie Edwards, Lindsay Farmer, Silas Finn, Marisol Garcia-Antunez, Reylie Gardner, Alexander Garland, William Grover, Leslie Guzman-Diosdado, Hollie Hancock, Oriyona Harrington, Joseph Hoeing, Alayla Jenkins, Courtney Lancaster, Aryana Leek, Samantha McGuire, Ashley Merari-Mendez, Rhiannon Moore, Linh Nguyen,
More ...
Coopers Elementary announces honor rolls
A Honor Roll
Caroline Adkins, Kathryn Adkins, Kendall Andrews, Kayleigh Bakerman, Emerson Bone, Mary Boulden, Dylan Cade, Bryleigh Colbert, Jaycee Coley, Jeffrey Coley, Kenan Collins, Carson Cross, Fallon Curtis, Elizabeth Daniels, Michael Daniels, Reagan Davis, Mason Deal, Victoria Diaz, Benjamin Flowers, Jacob Fowler, Hannah Frazier, Ashanti Gervacio-Diaz, Dustin Gibbs, Emory Gibson, Sarah Glover, Anna Grissom, Madeline Hart, Taylor Howard, Christian Hudgins, Ellory Jackson,
More ...
NHC hires new Hospice, Palliative Care Director
Nash Health Care has announced that Sherri Alligood, RN has taken the reigns as the Director of Hospice and Palliative Care. A long-time resident of Tarboro, Alligood comes to Nash Health Care after a 32-year nursing career. She was most recently a quality nurse specialist at Vidant Medical Center, and before that she served as the manager of the in-patient Hospice Facility at Vidant Home Health and Hospice. Alligood also has experience in critical care, emergency department intensive care, outpatient nursing and patient experience and satisfaction.
More ...
AVENTON COMMUNITY NEWS


Did anyone notice there wasn't any Aventon news last week?? I know I have finally lost it. I "thought" I sent my news to the Graphic last week, but I didn't. There has been so much going on around the Ricks Farm and my mind has been a little preoccupied. Troubles, who doesn't have them? I had someone ask me if I felt like Job yet. The answer is no! I still have my children and grandchildren; I am blessed with all the things that count.

More ...
JOJO RICKS
CELEBRATING 105!
Mrs. Alvarata Thomas, of Castalia, celebrated her 105th birthday on November 27 with family and friends at Castalia Missionary Baptist Church. Representative Bobbie Richardson also stopped by the celebration to present a certificate to Thomas and wish her a happy birthday. Pictured (L-R) is Thomas with Rep. Richardson.
More ...
Sawyer named Senior VP at Southern Bank
Southern Bank recently announced the promotion of Kenneth E. "Ken" Sawyer, Jr. to Senior Vice President in its Commercial Banking Unit in Rocky Mount. Sawyer is a Commercial Relationship Banker and his office is located in the Southern Bank on Franklin Street. He has been employed in the banking industry for the past 16 years.
A Greenville native, Sawyer attended East Carolina University.
More ...
We should spread good will and give thanks
A Thanksgiving column? Was that last week?
If you have a track record like mine, every day is Thanksgiving because you know that God is merciful.
I recently interviewed a fisherman for a news website feature story. The experiences he encountered when a safe return to the dock was questionable filtered through his nets. He summed up close calls with one comment, "God loves me so much."
More ...
A parent's view of Autism
Dear Editor:
Living with Autism is a blessing with an unusual cross to bear. Most parents bear those crosses well. As a parent who has lived with the joy, sorrow, and awesome responsibilities of guiding and providing for the needs of an infant, toddler, pre- schooler, high school graduate, and an adult with Autism, the demands of providing care have been tremendous and perpetual.
More ...
Gifts for those hard to buy for people on your list


Thanksgiving is now officially behind us. This means we can rely on a steady diet of TV stories about people being at the mall shopping and shopping online, but every retailer will complain about sales being down from the previous year.
Christmas shopping can be a chore without a plan. Sometimes, that plan requires the good sense to veto and override the wishes of children. For example, it wasn't that long ago that after binge-watching "Moonshiners" while I was outside, my boys made a list asking for the materials to build a still.

More ...
Mike Brantley - 1 opinion posted
Backward Glances


HOLIDAY TOUR -- This photo was found in The Graphic's archives of a 1981 holiday tour at Stonewall Manor. It seems visitors were being treated to some hot chocolate and apple cider during their visit.

More ...
A PICTORIAL LOOK INTO THE PAST
Nash County Animal Friends' Notebook


As Animal Control hires a new employee (replacement), I again wonder when, and if, the administration will ever consider Saturday hours. Hours for people who work during the week, when they could adopt. It could be 10 a.m. till 1 p.m. They already go in on Saturday morning. They have to check on the pets, get water, clean up, etc. If only they will consider Saturday hours, can you imagine how many more lives could be saved?

More ...
Carol Vierela, NASH COUNTY ANIMAL FRIENDS

TAKING CONTROL. Nash Central's Joshua Brice executes a takedown during last Tuesday's tri-match wrestling event at the NC Gymnasium.

Central Surges In Mat Tri-Match


ROCKY MOUNT -- Nash Central picked up a pair of victories as part of a home tri-match last Tuesday against Greene Central and Louisburg in prep wrestling action.
Central, coached by Shon Johnson, displayed its improved squad with decisions over GC (45-30) and Louisburg (34-24) at the NCHS Gymnasium.
The Bulldogs closed out their pre-holiday schedule by taking part in last Wednesday's I-95 Duals Tournament at Northern Nash.

More ...
Staff Reports

GOING TO WORK. Northern Nash's Isaiah Whitaker (top) picks up some points against a Leesville Road wrestler as part of last Wednesday's I-95 Duals Mat Tournament on the NNHS campus in Red Oak.

TURKEY TAKEDOWNS


RED OAK -- Corey Mercer had one eye on the scoreboard and the other on the future during last Wednesday's I-95 Duals Wrestling Tournament.
Mercer, Northern Nash's long-time mat skipper, has hosted the event for the past several years -- and always on the day before Thanksgiving.
The turkey tradition continued last Wednesday as eight teams showed up for dual-meet competition.
Mercer figured his Knights would experience a challenge at the duals, mainly because they were giving away 18 points due to absences against a quality field of opponents.

More ...
GEOFF NEVILLE, Graphic Sportswriter

TOWARD THE FINISH LINE. Northern Nash's Joey Whitwell takes part in a freestyle event as part of last Monday afternoon's Big East Conference Swim Meet.

2ND TIME AROUND


ROCKY MOUNT -- Wilson Fike picked up a clean sweep in the pool last Monday in Round Two of the Big East Conference's swim campaign.
The Demons were the runaway winners in the boys competition, racking up 152 points to outdistance runner-up Rocky Mount (108 points).
Nash Central was a strong third with 95 points, followed by Wilson Hunt in fourth at 90 points.
Fike set the tone for what should be an interesting year in the girls side by avenging an opening loss to Rocky Mount.

More ...
Staff Reports
Staton is sparkling at NCWC


GREENSBORO -- Junior Timyra Staton turned in her first double-double with the Bishops by netting 10 points and pulling down 13 rebounds, but it would not be enough as North Carolina Wesleyan College fell at Guilford College by 82-63 score last Tuesday night in women's basketball action.
The Bishops struggled from the floor in the opening quarter and faced an 18-6 deficit after connecting on just 2-of-17 shots over the first 10 minutes of play.
Junior Kenyata Harris proceeded to score seven of her nine points in the second quarter to send the two teams into the half with Guilford leading 38-21.

More ...
Staff Reports
Coach Battle claims 500th


RED OAK -- This much is for sure about Grover Battle's amazing career as the Northern Nash High School girls basketball coach -- even though he has piled up over 500 victories, he has touched even more lives.
That was apparent last week when Battle was saluted for winning his 500th game earlier in the campaign as the Lady Knights were victorious at Southern Wayne.
During Northern's next home contest, Battle received a commemorative ball from NN Athletic Director Patricia Haggerty and NN Principal Chad Thompson.

More ...
GEOFF NEVILLE, Graphic Sportswriter
Firebirds pick up road victories


KENLY -- Southern Nash is off to a quick start on the boys basketball hardwood thanks to a pair of recent victories in Johnston County.
Last Tuesday, the Firebirds were 58-48 winners at Corinth Holders behind 18 points and 13 rebounds from veteran frontliner Marquise Wright.
Damien Bryant (11) and Darius Edmundson (8) combined for 19 points for Southern, which used a 1-3-1 defense to force 15 Pirates' turnovers.
Southern also enjoyed a 35-16 rebounding advantage.

More ...
Staff Reports
MORE SWIM STANDOUTS
CONFERENCE SWIMMING SUPERSTARS. Several Nash County standouts took part in last Monday afternoon's latest Big East Conference Swim Meet, which was held at the Harrison Family YMCA Pool in Rocky Mount. Pictured (above) Allison Womble (Northern Nash).
More ...
Red Oak to begin campaign


RED OAK -- For the first time in school history, Jeff Dodrill won't be coaching the boys basketball program this winter at Red Oak Middle.
Dodrill has stepped down from his position and will concentrate on his duties as RO's Athletic Director.
Dodrill went out in style last year as his Tigers won the Tri-County Conference Tournament Championship at the ROMS Gymnasium.
The Red Oak girls also reached the finals of the tournament and were edged by Nash Central.

More ...
GEOFF NEVILLE, Graphic Sportswriter
SNHS to host county tourney


STANHOPE -- Northern Nash's girls and Rocky Mount's boys will defend their championships at the annual Nash County Christmas Tournament, which will be hosted this time around by Southern Nash High School.
The event is slated for December 15-17 at the SNHS Gymnasium. Tickets for all games will be available at the gate.

More ...
GEOFF NEVILLE, Graphic Sportswriter
Mudcats offering ticket packages


ZEBULON -- The Carolina Mudcats, the Class A Advanced affiliate of the Atlanta Braves and member of the historic Carolina League, proudly announce today plans for new full, half and partial season ticket packages for the upcoming 2016 season at Five County Stadium in Zebulon.
All 2016 ticket plans are immediately available by speaking to a team representative at (919) 269-2287 and by visiting the Five County Stadium front office or www.carolinamudcats.com.

More ...
Staff Reports
GREAT DAY ON THE MAT
Dillon Joyner (left) was outstanding for the Northern Nash Knights during last Wednesday's matches at the I-95 Duals Wrestling Tournament on the NNHS campus.
More ...
ON THE EDGE
Northern Nash's Jaquez Edge (top) dropped a tough match against Leesville Road in this event as part of last Wednesday afternoon's action at the I-95 Duals Wrestling Tournament. The showcase was held at the NNHS Gymnasium in Red Oak.
More ...
THIS ONE IS OVER
Alton Nobles from Nash Central (top) prepares to finish off a pinfall against a Greene Central High School wrestler as part of last Tuesday's tri-match on the NCHS campus in Rocky Mount. Nash Central, coached by Shon Johnson, defeated both Greene Central and Louisburg in team action as part of the event.
More ...
Rocky Mount holiday events start Friday
What does a Christmas parade, carriage rides, ice skating, indoor snow and Santa Claus all have in common? They are all a part of Holiday Happenings in Rocky Mount!
The events kick off on December 4, 2015 at 6 p.m. during First Friday. Come to downtown Rocky Mount for the lighting of the Imperial Centre. The ice skating rink makes its grand opening for the event, plus guests will be able to enjoy carriage rides and see Santa. While the event is free, some activities may cost a nominal fee.
More ...
Rocky Mount, Imperial Centre hosts First Friday Holiday
The city of Rocky Mount and the Imperial Centre for the Arts and Sciences will host another First Friday event on Dec. 4, 2015 from 6 p.m. to 9 p.m. According to Sheila Long, recreation services supervisor for the Imperial Centre, the December installment of the First Friday series will be the start of the city's many Holiday Happenings.
"This First Friday will feature ice skating, performances from the Christmas Chorus, carriage rides, Santa Claus and a lighting of the Imperial Centre at 6 p.m.," says Long. "Entertainment will also be provided by a local musician in the Arts Center."
More ...
"Color in Freedom" exhibit at Arts Center
The Maria V. Howard Arts Center will is now home to an exhibition that captures the stories of slaves and their determination to achieve freedom.
"Color in Freedom: Journey along the Underground Railroad," will be on display through December 13 and is a collection of paintings, etchings and drawings of what people experienced during this journey.
"This exhibition depicts the emotions and perseverance of African American slaves through slavery and into their freedom," says Alicyn Wiedrich, curator for the Maria V. Howard Arts Center, located inside the Imperial Centre for the Arts and Sciences.
More ...