Subscribe/Access
Advertisements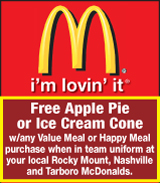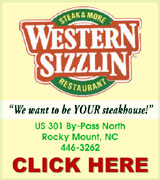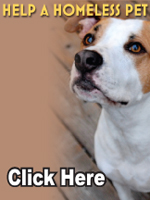 Sections
Member Options
Back
Holiday events kick off next weekend


Several events are on tap for next weekend to help get you in the Christmas Spirit.
Nashville's Children's Christmas Bicycle Parade will be held on Saturday, December 5, with events beginning at 4 p.m.
The event will kick off with music by the Nash Central High School Chorus and Red Oak Middle School Band, followed by the parade, where children will parade down Washington Street from the Courthouse to the Battleship area in their decorated bicycles, wagons and other unmotorized items.

More ...
AMANDA CLARK, GRAPHIC STAFF WRITER
Twiford responds to school safety concerns


Social media can be your best friend or your worst enemy and recently, it became the latter for Nash-Rocky Mount Schools.
An Instagram post that threatened to shoot up Nash Central High School caused alarm for parents of students at the school and rightly so, said Nash-Rocky Mount Interim Superintendent Dr. Travis Twiford. But, Twiford added, the threat was addressed by school officials as soon as it was discovered and handled before many even discovered it.

More ...
AMANDA CLARK, GRAPHIC STAFF WRITER
Explosion at local dry cleaners injures two
A propane gas line exploded inside a Nashville Dry Cleaning Business last week, injuring two employees.
Nashville's Fire Department responded to the reported explosion around 3:45 p.m. on Wednesday, November 18 at Koretizing Cleaners at 912 Eastern Avenue. There were no fire damage reported, however, Nashville's Fire Department reported moderate structural damage to an attached utility room at the back of the dry cleaning business.
More ...

TOP HONOR -- Stuart Lamm ( at right) surprised Danny Tyson (at left) with the Coopers Ruritan of the Year Award last Thursday at the club\'s annual Volunteer Appreciation Banquet.

Tyson named Coopers Ruritan of the Year


The Coopers Ruritan Club honored a long-time club member for his behind-the-scenes service last week at their annual volunteer appreciation banquet.
Danny Tyson was the recipient of the club's Ruritan of the Year Award.
Tyson has been in the club around 11 years. He has had perfect attendance for the past six years.
Gail Walker, a member of the club, said Tyson does a lot of things for the club but it's things many people don't even notice.

More ...
AMANDA CLARK, GRAPHIC STAFF WRITER

FOREVER RURITAN -- Ruritan National President Bobby Burton (at right) presented the Ruritan Forever Award to West Mount Ruritan member Gold Joyner (at left) at the club's 60th anniversary celebration last Thursday.

West Mount Ruritan Club celebrates 60 years of service


The West Mount Ruritan Club celebrated 60 years of service to the community last week at a special anniversary celebration.
Wayne Outlaw, the club's Vice President, began the celebration with a history of the club.
The club was chartered on November 14, 1955 and was sponsored by the Coopers Ruritan Club.
Twenty-five men signed the original charter, which continues to hang in the clubhouse. The last active charter member, Aaron Joyner, passed away in June 2015.

More ...
AMANDA CLARK, GRAPHIC STAFF WRITER
Thomas celebrates 105th birthday


This Thanksgiving, Alvarata Thomas has a lot to be thankful for. On Friday, November 27, she will celebrate her 105th birthday.
Thomas said she doesn't feel any different but is happy to be celebrating another birthday.
"I feel okay," she said. "I hadn't even thought about turning 105."
"I'm just proud the good Lord let me live this long," she added.

More ...
AMANDA CLARK, GRAPHIC STAFF WRITER
Town oks Nash Crossing plat


Nashville's Town Council approved a final plat for Nash Crossing at their meeting earlier this month. The approval is the first step before the owners can sell lots and construction can begin.
The property is owned by Stallings Oil Company and consists of three parcels of land across from Evans Drive, where McDonalds is located. The plan shows nine lots on the property.

More ...
Amanda Clark, Graphic Staff Writer
NASHVILLE'S CENTENARIANS
The Nashville Graphic published a story last week announcing Ms. Nan Strickland's 100th birthday celebration. Pictured is Ms. Strickland at her birthday party on Saturday, November 21st with another Nashville Centenarian, Mr. Willard Inscoe, who turned 100 on October 20th. A story was also published in The Graphic about Mr. Inscoe's birthday in the October 28th edition.
More ...
Local officials warn citizens of IRS scam
Numerous Nash County residents are reporting that they are receiving calls from people claiming to be IRS agents.
Nash County Sheriff Keith Stone said 9-1-1 has received dozens of calls from residents stating they have received calls demanding money for tax debts. Callers are reportedly asking for banking and credit card information and claiming to be IRS agents.
According to the Better Business Bureau, the IRS impersonation scam is one of the most persistent cons out there.
More ...
NASHVILLE POLICE REPORTS
INCIDENTS
A larceny after a breaking and entering and breaking and entering a residential was reported on 11/16/15 at 503 S Boddie Street
A larceny by an employee was reported on 11/16/15 at Just Save, 731 E Washington Street
A larceny was reported on 11/16/15 at L&L 14, 479 W Washington Street
More ...
NASH COUNTY SHERIFF'S OFFICE REPORTS
An obtaining property by false pretense was reported on 11/16/15 at 546 Ruth Drive
A misdemeanor possesssion of a schedule VI and possession of drug paraphernalia were reported on 11/16/15 at 465 US 64 Eastbound
A breaking, entering and larceny was reported on 11/16/15 at 6838 Colby Road
A damage to personal property was reported on 11/16/15 at 13532 NC 43
More ...
Local residents are still searching for lost dog, Maggie


Nashville residents are still searching for Maggie and still holding onto hope that one day, she will be reunited with her owner.
Maggie is a black lab mix with a large white patch on her chest and a bushy black tail.
She has made her home in the woods of Nashville after pulling out of her collar while being housed at the Nash County Animal Shelter. Maggie's owner, Richard Rewalt, was traveling from Maryland to Florida when he became ill and stopped at the Nash County Rest Area.

More ...
Amanda Clark, Graphic Staff Writer
DONATION
Nash Health Care System's Nursing Council II recently gave a $450 donation to Project Lifesaver. The group, which is made up of nurses from Nash General who mostly work weekends and night shifts, do various community service projects to ensure nurses stay visible in the community. Pictured (L-R) is: Dorothy Sollman, Medicine RN, Leslie Hall, Senior Vice President for Nash Health Care, Chris Bissette, of Nash County Emergency Services, who also helped develop Project Lifesaver, Ashley Winstead, of the Nash County Senior Center and Naomi Langley, Critical Care RN.
More ...
New principal assigned to Nash Central High
Nash-Rocky Mount Public Schools recently announced new administrative assignments that will be effective on Tuesday, December 1.
Victor Ward will become the new Principal of Nash Central High School. Ward is currently the Director of Family Engagement, At-Risk Services and Student Assignment at the NRMPS Central Office.
Gail Powers will become the new Director of Family Engagement, At-Risk Services and Student Assignment at the NRMPS Central Office.
More ...
Dortches Ruritan Club makes donation
The Dortches Ruritan Club made a donation to the Nash County Social Services Foster Care Christmas Drive, on November 12, helping the organization provide Christmas gifts for children in foster care. The agency currently has around 45 children in foster care. Pictured above, Dortches Ruritan members (L-R) Sammy and Emily Bass, Nathan Lindeman and President Kirby Brown make the presentation to Norma Boyd, Nash County Social Services Foster Care Christmas Drive Coordinator.
More ...
BIRTH ANNOUNCEMENT
Patrick and Kathryn Snipes, of Sanford, are pleased to announce the birth of their daughter, Avery Grace Snipes, on November 18, 2015 at Central Carolina Hospital in Sanford. She weight seven pounds, four ounces and was 19 inches long. Maternal grandparents are Jeff and Kaye Cummings of Sanford. Paternal grandparents are Jill Snipes of Bailey and Roy Snipes of Murfreesboro, Tennessee. Maternal great-grandparents are John and Linda Hall of Sanford. Paternal great-grandparents are Judy Rogers of Bailey. Kathryn is the former Kathryn Cummings Snipes.
More ...

The Pay it Forward Civitan Club spruced up the family and children's rooms at Nash County Department of Social Services. The organization added colorful decor, toys and other needed items to make the rooms more comfortable for family meetings.

PAY IT FORWARD


A local civic organization is making sure students at Nashville Elementary School have plenty to eat on the weekends.
The Pay it Forward Civitan Club is now sponsoring the school's Backpack Buddies Program, which began this school year.
Nashville Elementary School was one of only two schools in the Nash-Rocky Mount School System that did not have the Backpack Buddies Program. A Nashville mother decided to reach out and try to start the program at the school.

More ...
Amanda Clark, Graphic Staff Writer
Local woman launches rescue group


Shanna Floyd is not looking for the cutest, fluffiest dog when she visits the Nash County Animal Shelter.
Floyd wants the undesirables, the ones who are sick and in need of care, the ones who, without her, would surely be euthanized.
This year alone, Floyd and her organization, Odin's Orphans Rescue, have rescued 47 of those deemed undesirable and nursed them back to health.
Odin's Orphans is a fairly new organization, receiving its non-profit status in January, but rescuing dogs is something Floyd has been doing for many years.

More ...
Amanda Clark, Graphic Staff Writer - 1 opinion posted
Senior Center launches Stockings for Seniors


The Nash County Senior Center is offering residents the chance to make a senior's Christmas brighter with its "Stocking for Seniors" program.
The program is in its first year and is replacing the "Santa for Seniors" program that the center has been doing through a partnership with Walgreens. Michele McKnight, Senior Center Coordinator, said Walgreens was unable to do the partnership this year so the center developed a similar program.

More ...
Amanda Clark, Graphic Staff Writer
Oak Level honors veterans


Over 30 veterans came out to the Oak Level Ruritan Club for the second annual Veterans Appreciation Dinner on Saturday night.
The theme was "You've served us. Now let us serve you."
Herbert Joyner, President of the Oak Level Ruritan Club and Vietnam Veteran, said the military and Ruritans were inseparable so the dinner was a way to show appreciation.

More ...
Amanda Clark, Graphic Staff Writer
Nash County Blood Drives for December 2015
Wednesday, December 2 from 9 a.m. until 2 p.m. at the Nash County Senior Center, 102 N Alston Street in Nashville
Wednesday, December 2 from 10 a.m. until 3:30 p.m. at Nash Health Care Systems, 2460 Curtis Ellis Drive, Rocky Mount
Saturday, December 5 from 9:30 a.m. until 2:30 p.m. at Capital Ford Lincoln, 2012 Stone Rose Drive, Rocky Mount
Wednesday, December 9 from 12 until 4 p.m. at Universal Health Care, 1022 Eastern Avenue, Nashville
More ...

Marcie Bissette, a Southern Nash High School FFA Student, gives samples of pretzels with homemade butter on them at Heritage Days.
HERITAGE DAYS
Fourth graders from area elementary schools attended one of two days of 4-H Agricultural Heritage Days at the Rocky Mount Farmers Market last month to get a sneak peek at how things were done years ago. The program is put on each year by Nash County Cooperative Extension.
The stations included a Grist Mill/Corn Sheller station, Quilting station, Apple Cider Press, Butter Making, Milk Cow Simulator, Outhouse and Water Pump Station, Canning/Food Preservation Station, Soap making/Clothes washing Station, Bees and Honey Station, Farm Animals Station and Basket Weaving.
More ...
LIVE NATIVITY
Rock Creek Baptist Church will hold its annual Live Christmas Scenes December 12 and 13 from 6:30 until 8 p.m. at the church on Rock Creek Drive, off of First Street Extension. Drive past a series of five scenes depicting the story of the birth of Jesus. For info, call 459-4477.
More ...
RED OAK NEWS


Happy Thanksgiving! Members of Red Oak Baptist Church provided Thanksgiving meals for 50 families and also made plates for 16 homebound! Each of the families received a box with turkey, fixings, corn pudding, and a pie for dessert. Many people helped with this project promoted by the Outreach Team. Members donated pies, cooked corn puddings, cooked turkeys, and packed the boxes. Everyone had a great time together while meeting needs in the community.
Update on the number of Operation Christmas Child boxes donated by Red Oak Baptist Church: final total was 442!

More ...
SUZY PEARCE
Luke's Word for the Week


Thanksgiving is here. Some folks are chopping at the bits to sink their teeth into some turkey and pecan pie, others are trying to avoid the day like the plague due to seeing family members they might not want to see. Whatever the case, Turkey Day is coming and you'd better be ready.
The great thing is this day can be filled with joy, we just need to make some effort. Here are some helpful tips to be joyful this Thanksgiving.

More ...
LUKE WHITEHEAD
PEACHTREE COMMUNITY NEWS


On a chilly but sunny morning, Peachtree folks gathered for worship at the church. Pastor Whitehouse greeted those present. Sanctuary flowers were given by Bob and Fran Bunn in memory of his parents, Claral and Chessie Bunn.
The Adult Choir sang, "A Prayer for America", under the direction of the pastor. His sermon was based on James 5: 13-16. It was titled "Can God Heal the Sick?"

More ...
BARBARA HARDISON
UDC Bethel Heroes
UDC Bethel Heroes Chapter 636 members held a wreath laying ceremony to honor veterans on Veteran's Day. Attending were (L-R) Connie Cobb, Donna Boykin, Penny McLain, Margie Parker Brantley, Edith Whitby and Kay Freeland. Not pictured is Augustus Cobb, local veteran who also attended the ceremony.
More ...
Time to count all the Thanksgiving greats


As grocery stores hit that one time of the year they can actually sell cranberry sauce (what do you sauce it on?), it's always good to reflect on the many blessings that come with being 'American by birth, Southern by the grace of God.' Let's face it: most readers of this newspaper have pretty long lists.
Blessings, of course, are relative. Some will face holidays without family, without a feast, and some, without shelter. As those with so much, we have an obligation to offer kindness, charity and prayers. It doesn't change our lists:

More ...
Mike Brantley - 2 opinions posted
Feeling thankful for the silver linings


I am still in denial that Thanksgiving is here.
I just can't believe.
I refuse to believe it!
This year is going by way too fast!
I haven't had the best year but nonetheless it's going by so fast, I am having trouble even remembering all the crazy stuff that has happened.

More ...
Amanda Clark - 1 opinion posted
Receiving joy is easier than we think


Joy. -- It's a simple three-letter word that was beautifully defined Saturday afternoon by one woman surrounded by hundreds of people.
Ms. Nan Strickland of Nashville celebrated her 100th birthday Saturday spreading joy to hundreds of people, taking time to hug and speak to each and everyone one of us.
She asked that no gifts or cards be brought to her birthday party. Her only request was for each of us to just do something nice for another person.

More ...
1 opinion posted
Backward Glances


CHRISTMAS PARADE -- This photo was found in The Graphic's November 1977 archives. The photo is from the 1977 annual Christmas Parade in Rocky Mount. Rocky Mount's 60th Annual Christmas Parade will take place at 3 p.m. Sunday, December 6th in downtown Rocky Mount.

More ...
A PICTORIAL LOOK INTO THE PAST
Nash County Animal Friends' Notebook


Thanksgiving is a time to give THANKS. I want to thank, in particular, my hubby for tolerating all the long hours, the money spent, plus all the dogs and cats that show up at our home. Now you know why I married him and moved down here in 2002.
Nash County Animal Friends of NC (NCAF) is very appreciative for the help we have saving homeless pets.

More ...
Carol Vierela, NASH COUNTY ANIMAL FRIENDS

ALMOST THERE. Northern Nash High School's Adrian Chaves-Solorzano competes in a boys freestyle event as part of last Thursday's inaugural Big East Conference Swim Meet of the 2015-16 campaign.

THE BIG EAST BEGINS


ROCKY MOUNT - Wilson Fike's boys and Rocky Mount's girls were the big winners as the Big East Conference opened its swim season last Thursday at the Harrison Family YMCA.
The Lady Gryphons, with 141 points, edged Fike (138) to the top spot, with Nash Central taking third overall with 106 points.
Fike's boys headed the field with 164 points, followed by Rocky Mount (130) and Wilson Hunt (108).

More ...
GEOFF NEVILLE, Graphic Sportswriter
Rivals To Vie For Cup


NASHVILLE -- The all-sports rivalry between Northern Nash and Nash Central dates back to 2002, when Central opened its doors for the first time.
As someone who has coached at both schools, current Nash Central Athletic Director Michael Mosley was looking for ways to foster the competitive rivalry.
Mosley's idea was to formulate a points system between the schools' face-to-face matchups every year. At the conclusion of the season, one school would be able to take care of a trophy for the next year.

More ...
GEOFF NEVILLE, Graphic Sportswriter - 1 opinion posted

SAVE MAKER. Nash Central High School keeper Colby Carter (left) was a second-team pick for the 2015 All-Big East Conference Boys Soccer Team.

SOCCER STARS


STANHOPE -- With its third coach in the past four seasons, Southern Nash was looking for a bit of stability this fall within its boys soccer program.
Southern got just that from Mike Kennedy, who made an instant impact in his first campaign as the Firebirds' head coach.
Kennedy, a former assistant at SNHS, guided the Firebirds to a second-place finish in the Big East Conference -- and a berth in the second round of the Class 3-A State Playoffs.

More ...
GEOFF NEVILLE, Graphic Sportswriter
Southern basketball will open


STANHOPE -- Southern Nash High School's boys and girls basketball seasons were scheduled to begin Tuesday with road contests at Corinth Holders.
SN's complete ledger is follows, with home events listed in CAPS:

More ...
Staff Reports
NCHS wrestlers open season


SMITHFIELD -- Nash Central High School kicked off its 2015-16 wrestling campaign last Monday by taking part in a tri-match with Wilmington Laney and host Smithfield-Selma.
The Bulldogs, coached by Shon Johnson, defeated SSS 51-18 and fell 64-12 to Laney.
Results from the matches were as follows:

More ...
Staff Reports

SANDERS SHINES. Rocky Mount's B.J. Sanders picks up rushing yardage during last Friday's home victory over the South Johnston Trojans in the second round of the Class 3-A State Football Playoffs.

Gryphs Still Alive


ROCKY MOUNT -- After two weeks of action, only one Nash County team remains in the Class 3-A State Football Playoffs -- the Rocky Mount Gryphons.
Rocky Mount, the regular season champion in the Big East Conference, was one of two county clubs to make the playoffs, with the other being league runner-up Southern Nash.
But after winning on the road in the first round at West Craven, Southern saw its exemplary campaign come to an end last Friday with a second-round road loss at powerhouse Eastern Alamance in Mebane.

More ...
Staff Reports
Bishops hit the hardwood


FREDERICKSBURG, VA. -- The North Carolina Wesleyan College men's basketball team handed Shenandoah University an 85-68 loss on Sunday afternoon in the Bishops' final game of the 2015 South Region Challenge hosted by the University of Mary Washington. Wesleyan's victory came on the heels of a 73-60 loss to Hampden-Sydney on Saturday, leaving the Bishops with a 2-2 overall mark.
Against the Hornets on Sunday, the Bishops held a slim 32-29 lead at the break and opened the second half with a 15-5 run to go up 13 around the 15-minute mark.

More ...
Staff Report
Wesleyan footballers honored


FAYETTEVILLE -- The USA South has announced its 2015 All-Conference awards in football with a total of 59 student-athletes earning honors.
North Carolina Wesleyan College had five players recognized, led by major award winners Malik Adams and Adrian Minondo.
Adams, a junior wide receiver from Selma, was named the league's Offensive Player of the Year, marking the second consecutive season that a gridiron Bishop earned the prestigious award.

More ...
Staff Reports
BACKSTROKE EXCELLENCE
Nash Central High School's Sam Smith participates in the backstroke portion of the Boys 200 IM event during last Thursday afternoon's Big East Conference Swim Meet at the Harrison Family YMCA in Rocky Mount.
More ...
JUST SAY NO
Rocky Mount's Sherrod Greene (44) denies a South Johnston pass attempt during last Friday's action in the second round of the Class 3-A State Football Playoffs.
More ...
MORE SWIM SENSATIONS, 2
POOL PERFORMERS. Among last Thursday's Big East Conference swim meet participants were (above) Nash Central's Langdon Norris.
More ...
NOW STARRING AT SOUTHERN
Southern Nash's Sam Howell makes his way toward the finish line in the Boys 200 IM during last Thursday's Big East Conference Swim Meet in Rocky Mount.
More ...

Nash Arts will host a more modern version of A Christmas Carol December 4, 5, 11 and 12 at 7:30 p.m. and on Sunday, December 13 at 2:30 p.m. Pictured is a scene from the show, depicting a party at Fezziwig's.

"A Christmas Carol" kicks off next week


Nash Arts will offer five opportunities for the public to catch a more modern showing of "A Christmas Carol."
This year's production has been changed around to a more modern version, said Director Jim Singleton.
Jim Lee took Singleton's script of the production and used it for the basis but updated the language and said he was excited about this year's production.
The modern version was written following the 2008 banking crisis, Lee said, and Scrooge works for a financial services office and is an investment banker.

More ...
Amanda Clark, Graphic Staff Writer
A Celtic Christmas scheduled at the Dunn Center
Celebrating its fifth year of sold-out concerts in Eastern North Carolina, The Jennifer Licko Band's "A Celtic Christmas" is returning with big changes, scheduled to perform at the Dunn Center on December 18 at 7:30 p.m.
This year, for the first time, the band will include Patrick Mangan from Riverdance; the original Irish music and dance hit production. The four piece acoustic ensemble will be performing at intimate venues to give an authentic live performance.
More ...
Tickets available for "Swinging Through the Holidays"
The Tar River Swing Band under the direction of Dr. Jonathan Wacker will present "Swinging Through the Holidays" at the Boykin Center in Wilson on Tuesday, December 8 at 8 pm. The venue is located at 108 Nash Street NE in downtown Wilson. On Thursday, December 17 at 7:30 pm, the group will perform the same show at Nash Community College's Brown Auditorium in Rocky Mount.
"Come hear the best of Glen Miller, Diane Krall, Frank Sinatra, Count Basie and more as we celebrate the holiday season," Wacker said.
More ...