Subscribe/Access
Advertisements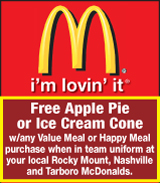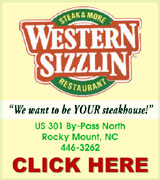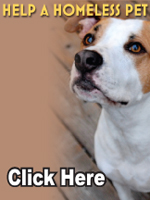 Sections
Member Options
Back
Candidates respond to local issues at forum


All three candidates for the open seat on Nashville's Town Council have a desire to see Nashville grow while keeping its small town values.
Marguerite Bishop, Michael Coleman and James "Butch" Mull participated in a candidate forum last Thursday night. The forum was sponsored by Nashville's Chamber of Commerce.
Each candidate was allowed to answer a series of questions. Prior to the questions, candidates were able to tell the audience a little about themselves.

More ...
AMANDA CLARK, GRAPHIC STAFF WRITER
Sheriff shuts down local Internet Cafe


A Nashville internet cafe was shut down on Monday, after the Nash County Sheriff's Office conducted a search warrant, along with the ALE.
According to Curtis Moore, of the Nash County Sheriff's Office, letters were sent out to all establishments operating stating that if they were not in compliance, they needed to shut down. Moore said Express Net chose to remain in operation.
"They were the last ones that, for whatever reason, did not shut down," Moore said. "(So) we helped them shut down because they were not in standing with the new legislation that was in place."

More ...
AMANDA CLARK, GRAPHIC STAFF WRITER

FOSSIL HUNTER - Tim Fisher stands beside a table of artifacts he found while at the site of the Argo Gold Mines. Fisher is holding a tool found at the site that he refurbished. Fisher and a team are showing their expeditions on a new show called, "

Local man finds Argo, launches TV show


A Nashville man and his team have discovered evidence of a Nash County town which was said to have vanished in the 1900's.
Tim Fisher, who owns Eastern Expedition Equipment, has been excavating a site in the northern part of the county thought to the be the small gold mining community of Argo.
Little is known about Argo but records show the town existed on maps in 1895.

More ...
AMANDA CLARK, GRAPHIC STAFF WRITER - 1 opinion posted
Local boy hosts teddy bear drive


Instead of presents to celebrate his 10th birthday, Tucker Simon wants to help others.
Tucker is hosting a teddy bear drive during the month of October with plans to present the bears to Nashville's Police Department. If enough bears are collected, Tucker said he hopes to be able to give to both the police and fire departments.
The idea came about through Tucker's own teddy bear, Hunter Bear, who he got from Build-A-Bear six years ago. Tucker said the bear means a lot to him and he wanted to make sure other children have a friend like that.

More ...
AMANDA CLARK, GRAPHIC STAFF WRITER
Pumpkin Festival is this weekend, rain or shine!
The Spring Hope Pumpkin Festival is slated to be held this weekend, rain or shine, organizers said.
The festival will kick off on Friday morning, October 2 at 9 a.m. with the Pumpkin Recipe Contest.
Food vendors will open at 12 noon, followed by the Inflatable Kid Zone on Pine Street at 3 p.m.
Registration will begin at 4 p.m. for the Pumpkin Creations Contest with judging at 5 p.m.
More ...
Monster Dash needs runners


Runners are still needed for the Third Annual Monster Dash for United Way.
Sue Yerkes, Nash County Parks and Recreation Director, said only around 25 have registered for the October 31 race so far. The goal is 200.
"We're trying to get numbers up," she said.
To be able to get a t-shirt for the race, runners need to register by Friday, October 2.

More ...
AMANDA CLARK, GRAPHIC STAFF WRITER

Reece Brake, 21 months, holds a balloon during a Remembrance Walk in memory of a set of twins his mother, Robin, lost in 2011.

Walk held for Steps Never Taken


Four years ago, Robin Brake lost a set of twins when she was 23 weeks pregnant. Brake said the loss is something she will never get over but said being able to grieve with others like her is comforting.
Brake, and numerous other families, remembered their babies at a special "Walk of Remembrance for Steps Never Taken" on Sunday, September 27 at Nash Community College.

More ...
AMANDA CLARK, GRAPHIC STAFF WRITER

RADIO STATION -- Northern Nash High School students celebrate the launching of 105.5 FM "The Knight" on Friday afternoon at the school. The radio station is one of the only high schools to launch its own station.

Northern Nash Knights launch radio station


Northern Nash High School made history on Friday as it became one of the only high schools to launch its own radio station.
Students and staff celebrated the new station, 105.5 FM, "The Knight," with a countdown to the official launch, which was at 5:30 p.m. on Friday.
While waiting for the launch, teacher Henry Drake helped emcee and lead students as they played games and listened to the sounds of Quick Fix, a group of Northern Nash Alumni.

More ...
AMANDA CLARK, GRAPHIC STAFF WRITER
Police nab breaking and entering suspects
Nashville Police have arrested several individuals and are searching for one more responsible for breaking into cars and homes recently.
Nashville Police Officers responded to a breaking and entering into a home at 507 S First Street on September 17 around 2 p.m. Officers discovered the home had been broken into and a flat screen television and power tools were taken.
Officers were able to identify James Randolph Williams, 23, of Nashville, as one of the suspects and later identified Ryan McNeil Boose, 17, of Nashville, as a second suspect.
More ...
NASHVILLE POLICE REPORTS
INCIDENTS
A trespassing, larceny and possession of stolen property was reported on 9/21/15 at Wal-Mart, 1205 Eastern Avenue
A larceny by bypass of an anti-theft device was reported on 9/22/15 at US Wireless, 139 Nashville Commons Drive
More ...
NASH COUNTY SHERIFF'S OFFICE REPORTS
A second degree rape was reported on 9/21/15 on Barnes Hill Church Road
An injury to personal property was reported on 9/22/15 at 522 N Old Carriage Road
A domestic was reported on 9/23/15 on Highway 264 Alt
A breaking and entering a motor vehicle and larcey from a motor vehicle was reported on 9/23/15 at 11397 Cedar Lake Drive
More ...
ENGAGED
Guy and Padgette Waters, of Nashville, announce the engagement of their daughter, Katherine (Kate) Paige Waters, of Cary, to Alstin Lee Vanderford, of Cary. He is the son of Sherri Vanderford, of Rockwell. A June 4, 2016 wedding is planned at Rose Hill Plantation, Nashville.
More ...
Recognized
The Nash-Rocky Mount Board of Education recognized Joseph Cook as the district's first Outstanding Student. Cook, a junior at Nash Central High School, was honored with a video that was shown to Board of Education members at their regular meeting on Monday, September 21. The video can also be found on Youtube. Cooke overcame physical adversity in order to excel in school, became involved in extracurricular activities and attended Duke University Summer Science Sleuths Career Prep Program on a full scholarship.
More ...
Bark For Life rescheduled to October 17
Rain last Saturday caused Bark for Life organizers to reschedule the event to October 17.
The event was initially planned for September 26 but several days of rain caused organizers to go ahead and move forward with cancelling the event.
The event will now be held on Saturday, October 17 and will follow the same schedule as before.
The event is planned to be held at Stoney Creek Environmental Park in Nashville.
More ...
Race to Reading is Oct. 10


The Twin County Literacy Council is planning its first ever Race for Reading.
The event is set to coincide with Rocky Mount's Barbecue Throw Down and will be held Saturday, October 10.
Bertha Haynes, Director of the Twin Counties Literacy Council, said though this is the first Race for Reading, she's confident it won't be the last.
"We are hoping we can do this in years to come," Haynes said.

More ...
Amanda Clark, Graphic Staff Writer

A benefit concert for Jacob's Friends featured Grafted, a contemporary Christian band.

Concert held at Red Oak Methodist to benefit Jacob's Friends


Grafted, a local contemporary Christian band, performed a two-hour concert on the lawn of Red Oak United Methodist Church (ROUMC) recently to benefit Jacob's Friends. The concert was a great success with nearly 100 people in attendance who enjoyed music, fellowship, and food. The church provided free admission, along with free hamburgers and hotdogs. Rev. David Joyner, the pastor of ROUMC, opened the event with prayer.
Jacob's Friends is a ministry of ROUMC that is intended to provide social interaction and activities to children and young adults of special needs, as well as offer a support network for their parents and caregivers.

More ...
Jessica Smith, Graphic Correspondent
Local group to clean cemetery
The Progressive Men's Club is making plans to clean up Oakdale Cemetery.
The group will hold a clean up day on Saturday, October 3 at the cemetery.
Area churches and family members will join in on the efforts to clean the cemetery.
More ...
Eastern Carolina BBQ Throw Down set for Oct. 9, 10 in Rocky Mount
The eighth annual Eastern Carolina BBQ Throw Down will be held in front of the Helen P. Gay Historic Rocky Mount Train Station in Downtown Rocky Mount on Friday, October 9 from 12 to 8:30 p.m. and Saturday, Oct. 10 from 10 a.m. to 6 p.m. The weekend of festivities will include a BBQ Competition, a home brew competition, food vendors, two stages of live entertainment, kid's activities, a Cornhole Tournament, a game of Plinko and much more.
More ...
Portrait of first mayor
A portrait of the first mayor of Rocky Mount, Mr. Benjamin H. Bunn, now hangs in the Imperian Center in Rocky Mount. Bunn's portrait was painted in 1932 by L. Freeman and had been displayed in the Nash County Courthouse for many years. Bunn was the first mayor of Rocky Mount and also served as county attorney and was a member of the General Assembly and US Congress.
More ...
Country Doctor Museum to host mobile mammography unit
The Country Doctor Museum in Bailey will host Rex Hospital's Mobile Mammography Unit on Friday, Oct. 2. Interested women ages 35 and up can make a mammography screening appointment by calling or visiting the Country Doctor Museum no later than Sept. 22.
Participants must be under the care of a physician. They should have no history of breast cancer, and should not currently be experiencing breast pain, lumps or nipple discharge. Pregnant women and women with breast implants are ineligible.
More ...

Little Eli Proctor is pictured with his grandfather, Mitchell Wells, while visiting an exhibit about bee keeping that was set up at the Nash County Arboretum Day held Saturday.
Nash County celebrates Arboretum Day
Rain didn't wash out the Nash County's Arboretum Day Saturday. The event was moved inside the Nash County Agriculture Center due to rain.
Dozens of visitors enjoyed several exhibits, demonstrations, activities and even a special appearance by Johnny Appleseed and Smokey the Bear. Nash County Commissioners recently proclaimed September 26 as "Nash County Arboretum Day" in support of the event.
More ...
Locals to compete in Distinguished Women program
The 34th annual Distinguished Young Women of Rocky Mount Program will be held on Saturday, October 3, 2015 at 7 p.m., at The Dunn Center for The Performing Arts at North Carolina Wesleyan College 3400 Wesleyan Blvd, Rocky Mount. Tickets are $15.00 and can be purchased in advance from a participant or at the door.
Founded in 1958 in Mobile, Alabama, Distinguished Young Women is the largest and oldest national scholarship program for high school girls. It has provided more than $100 million in cash scholarships at the local, state and national levels.
More ...
RED OAK NEWS


Welcome to Erin Parker and Carmen Pike as new members to Red Oak Baptist Church!
Congratulations to Patrick and Paige Edwards and Boyd in the birth of their daughter and sister, Ida Belle, born on September 15! Maternal grandparents are Thorp and Vickie Baker.
Red Oak Baptist Church hosted the ALS Ice Bucket Challenge on Sunday, September 20. Over $2,468.93 was raised for this cause!

More ...
SUZY PEARCE
Luke's Word for the Week


"I only read the words in red if I'm going to read the Bible."
I hear this declaration quite often these days, especially during discussions on hotly debated issues. Of course when image bearers (people) make this statement they are letting other image bearers (people) know that unless Jesus said it, they aren't going to waste their time.

More ...
LUKE WHITEHEAD
PEACHTREE COMMUNITY NEWS


The theme for the Homecoming Service at Peachtree Church on Sunday was, "Many Hands Working Together," That captions the long history of the church. Many people throughout those two hundred and six years since its beginning in 1809, have worked together to honor God in this place.
Pastor Whitehouse welcomed those present, many having traveled long distances to be present. The Peachtree Men Singers, directed and accompanied by Jane May sang "The Church in the Wildwood" as the call to worship.

More ...
BARBARA HARDISON
AVENTON COMMUNITY NEWS


WOW! Last week's Youth Bible Study in the Fishing Creek Baptist Church Fellowship Hall was another huge success! Approximately 35 to 40 youth and a dozen grownups were there to participate in Bible Study and outdoor fun and oh, what fun we had! Hot dogs and Hamburgers were served courtesy of Mike Keffer from Keffer Dodge along with chips and cookies. It was wonderful to see the energy and hear the laughter from our youth. Another Youth Bible Study is scheduled for this Wednesday, September 30 at 6:30 pm. Please come join us for pizza, fun and fellowship and don't forget to bring a friend. Everyone is invited!

More ...
JOJO RICKS
And then came along a learner's permit


The message arrived quietly enough. It came in a plain white envelope from the NCDOT. At first, I thought it was for my mom and took it to her house.
She opened the letter over the weekend and enclosed was my daughter Holly's driving learner's permit. It had perhaps the only great photo of a person every put on a state document. She's adorable.
The excitement continued unabated for Holly, and continues up to the writing of this column, and I'm sure well beyond that. For me, not so much. I immediately found the situation depressing.

More ...
Mike Brantley
Please get out and vote! It's your right and your duty


It was good to see people attend last week's Candidate Forum at Nash Arts.
It was an important event and a way for Nashville citizens to get to know their candidates a little better.
While all three candidates seem to be more than qualified to serve on Nashville's town council, they do have different opinions on things. The opinions weren't very different but nonetheless, for a voter, those opinions could mean a lot.

More ...
Amanda Clark
Why community newspapers matter


ROLLING FORK, Miss.--The chosen theme for this year's National Newspaper Week is "Power of the Press," and that power, it seems to me, is a very relative thing.
Everybody understands the power of, say, The New York Times or The Washington Post, but probably less recognized and appreciated is the power of the Deer Creek Pilot and the thousands of other small, community newspapers just like it all across the land.

More ...
Ray Mosby
Backward Glances


This photo was originally published in The Graphic May 5, 1977. These nine W.L. Greene students presented a special orientation program for rising seventh graders at Nashville Elementary School. Pictured on the front row, left to right, are Leigh Ann Askew, Kenneth Davis, Robert Knight, Scott Joyner and Sonya Dunn. On the back row, left to right, are Loneita Stample, Frances Perry, Kim May and Katrina Battle.

More ...
A PICTORIAL LOOK INTO THE PAST
Nash County Animal Friends' Notebook


We feel that the Animal Control Administrators/County need to evaluate how common sense can be allowed at the Nash County Animal Control Shelter. How the Animal Control Officer can be allowed to make a judgment call without punishment when inappropriate adopters come. Examples include, but are not limited to, various things that have happened in the past. Some we call serial adopters. These are the people that trade in their older model for a new one, where they surrender an adult and get a baby. When they fill their car with dogs. When you know that they are hoarders.

More ...
Carol Vierela, NASH COUNTY ANIMAL FRIENDS

BIG GAINER. Nashville's Jimadre Hilliard speeds ahead for yardage during last Saturday morning's Eastern North Carolina Football League varsity contest at home versus the Enfield Warriors. Enfield won the rainy matchup at Glover Park.

Nashville's Rainy Day People


NASHVILLE -- Enfield brought the bare minimum number of players for last Saturday's Eastern North Carolina Football League varsity game at Nashville -- but it wouldn't matter.
Using only 11 players on the wet-and-wild day, the traditional powerhouse Warriors were still able to deliver a 25-0 triumph over the Hornets, who continue to make progress despite currently having a winless record.

More ...
GEOFF NEVILLE, Graphic Sportswriter

BREAKING AWAY. Nash Central Middle School's Jordan Lynch (with ball) escapes a pair of Parker Middle defenders during last Thursday afternoon's football showdown on the NCMS campus in Nashville.

EIGHT WAS ENOUGH


NASHVILLE -- After a disappointing opening-week effort, the Nash Central Middle School Trojans bounced back with a feel-good performance last Thursday at home against Tri-County Conference opponent Parker.
Nash Central was able to beat both Parker and the weather to earn an 8-0 decision in the defensive-minded contest.
The game was moved up 30 minutes due to pending storms, and the Trojans were able to control the proceedings to improve to 1-1 overall under head coach Matt Lancaster.

More ...
GEOFF NEVILLE, Graphic Sportswriter
NN AD SALUTED


RED OAK -- Already a successful coach, Northern Nash High School's Patricia Haggerty added the responsibility of Athletic Director three years ago -- and she couldn't be happier.
"I like the fact that I'm now involved with all of the athletes and coaches on campus, and not just the ones on my team,'' said Haggerty, the long-time skipper of NN's volleyball program. "I live being able to help them.''

More ...
GEOFF NEVILLE, Graphic Sportswriter
Bishops' clubs on the field


ROCKY MOUNT -- North Carolina Wesleyan College's soccer, volleyball and cross country squad were all in action last weekend, with soccer earning a sweep at Averett, volleyball downing Mary Baldwin and cross country competing in Greensboro.
Last Friday kicked off with women's soccer picking up a 1-0 victory at
Averett. Freshman Maggie Rankin scored her first collegiate goal, heading home an Ella Burkhart cornerkick with less than three minutes remaining.

More ...
Staff Reports
Nash squads get games in


ROCKY MOUNT -- If any coach is familiar with the Bunn Wildcats, it's current Nash Central High school skipper Chris Lee.
For six seasons, Lee coached 10 miles away from Bunn at Louisburg, which happens to be BHS' biggest rival.
Lee knows all about the Wildcats' abilities to run the football -- and sustain drives in huge chunks.
That fact was reinforced for Lee on Monday as his new Nash Central squad entertained the Wildcats in the renew of a rivalry that had taken a few years off.

More ...
Staff Reports
NN wins in Greensboro


RED OAK -- Northern Nash's season-long run to glory took a westward turn last Saturday as the Knights and Lady Knights participated in the prestigious Greeensboro Invitational Cross Country Championships at historic Hagan Stone Park.
Northern Nash's boys secured the team championship for the second consecutive campaign under veteran head coach Jeff Dodrill.
"This year was a little more impressive because we went 1-2-3 in the boys race -- and each guy set a personal best,'' Dodrill said. "It was a great day under some wet conditions in Greensboro.''

More ...
GEOFF NEVILLE, Graphic Sportswriter
Knights take on Firebirds


RED OAK -- Nash County's Knights hosted Nash County's Firebirds on Sept. 19 in an Eastern North Carolina Football League rivalry matchup.
In varsity action, the Knights secured the victory by an 18-12 margin at Death Valley on the campus of Northern Nash High School.
Teondre Nash delivered a part of touchdowns for the Knights, while JaQuan Hardee scored twice to pace the Firebirds.
In junior varsity action, the Firebirds were 18-0 winners behind two touchdowns from Jackson Vick -- and one from Jordan Vick.

More ...
Staff Reports
NASCAR HOF tickets on sale


CHARLOTTE -- Tickets for the 2016 NASCAR Hall of Fame Induction Ceremony will be available to the public beginning Oct. 6 at 10 a.m.
Jerry Cook, Bobby Isaac, Terry Labonte, Bruton Smith and Curtis Turner will be honored during this year's ceremony set for Jan. 22, 2016.
Ticket prices range from $45 for general seats to the Induction Ceremony to $350 for the Exclusive Driver Dinner Package (plus applicable service fees and taxes).
Drivers, celebrities and legends of the sport will take the stage during this premier celebration that will honor the seventh class of the NASCAR Hall of Fame.

More ...
Staff Reports
Wesleyan volleyballers defeated


ROCKY MOUNT -- North Carolina Wesleyan College's volleyball team played its first home match of the 2015 season last Tuesday night in Everett Gym, rallying late but falling just short versus league-leading Meredith, 3-1.
Set scores were 25-10, 25-17, 28-30 and 26-24.
The Bishops struggled offensively in the first two sets, recording negative hitting percentages in both en route to a 2-0 deficit in the match.

More ...
Staff Reports
DRIVIN' IN THE RAIN
Nashville's Jaedon Whitaker (with ball) runs through the rain for yardage during last Saturday morning's youth football matchup at home against the Enfield Warriors.
More ...
PULLED IN DIFFERENT DIRECTION
Nash Central's Jaedon Jenkins (with ball) tries to escape the pursuing Parker Middle School defense during last Thursday's gridiron showdown in Nashville.
More ...
UNIFORM MALFUNCTION
A Parker Middle School defender tackles Nash Central's Jordan Lynch by grabbing his jersey during last Thursday's football showdown on the NCMS campus.
More ...