Subscribe/Access
Advertisements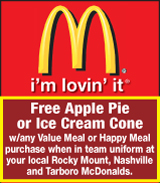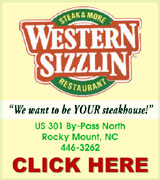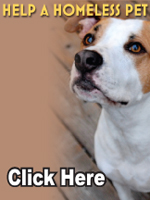 Sections
Member Options
Back
Nash hopeful for school split resolution


Nash County Commissioners are hopeful legislators will come up with a solution to the proposed Nash-Rocky Mount Schools split during this session, which will soon be ending.
Nash County Commissioners requested legislation to split the school system down county lines in April after a report showed funding inequities between Nash and Edgecombe Counties for the school system. Currently, Rocky Mount is also a part of the funding equation and pays the difference in the per pupil allocation.

More ...
AMANDA CLARK, GRAPHIC STAFF WRITER
Council begins interviews for manager


Nashville's Town Council has started the interview process to fill its town manager position.
Nashville Mayor Donald Street said 23 applications were submitted to the town for the position held by Preston Mitchell for almost 10 years. Mitchell left Nashville in July and is now serving a similar position in Reidsville.
Interim Town Manager Leonard Barefoot is filling the position until a permanent replacement is found.

More ...
AMANDA CLARK, GRAPHIC STAFF WRITER

BLAYLOCK
Duo nabbed for growing marijuana
The Nash County Sheriff's Office recently busted a marijuana growing operation in a Nash County home.
The Sheriff's Office executed a search warrant on Green Hills Road, Rocky Mount on August 24. During a search of the home, detectives found a sophisticated marijuana growing operation inside the basement of the home. The operation was outfitted with lights to assist in the growing process.
Detectives found 72 marijuana plants inside the basement, ranging in size from six inches to five foot in height.
More ...

107 WISHES -- Francis McCullough blows out candles on his birthday cake with the help of Nash County Senior Center Coordinator Michelle McKnight. McCullough will turn 107 on Friday, September 11th.

Nash County man celebrates 107th


"Drink white whiskey because water will rust your insides."
Francis McCullough provides that advice to anyone who asks how he has lived such a long life.
And he would know.
On Friday, September 11, McCullough will celebrate his 107th birthday.

More ...
AMANDA CLARK, GRAPHIC STAFF WRITER
Nash recognizes Arboretum Day


Nash County will be showing off its arboretum at a special one-day event on September 26.
The Nash County Master Gardeners are planning Nash County Arboretum Day from 9 a.m. until 1 p.m. on September 26 at the Nash County Agriculture Center, where the gardens are located.
Nash County Commissioners showed their support for the event last Tuesday when commissioners unanimously approved a proclamation naming September 26 "Nash County Arboretum Day."

More ...
AMANDA CLARK, GRAPHIC STAFF WRITER
Nash okays Red Oak, Dortches water project


Nash County Commissioners approved a Water System Expansion Preliminary Engineering Report and Environmental Assessment for the Red Oak and Dortches Water Project at their regular meeting on September 1, leaving funding as the next step in the process.
Derek Hawkes, County Engineer and Utilities Director, requested approval for the Red Oak and Dortches Area Water System Study last Tuesday.
Hawkes told commissioners that the project was funded with $57,900 of matching utility funds towards a $40,000 Rural Center grant for the purpose of conducting a customer recruitment campaign, preliminary engineering report and environmental assessment.

More ...
AMANDA CLARK, GRAPHIC STAFF WRITER
School Board to study report card results
The Nash-Rocky Mount Board of Education plan to review the North Carolina 2014-2015 Report Card results at their September 21st meeting.
The North Carolina Department of Public Instruction released report cards for 2014-2015 last week. The report cards offer up-to-date information about student achievement and attendance, class size, school safety, teacher quality, school technology and other topics for the 28 public schools in Nash County as well as all other school districts across the state.
More ...

Horace Mitchell stands in the Rosenwald School with his book, "Family Tree: The Corridors of NC Interstates 85 and 95," which came out last October.

Castalia native shares proceeds from his book


A Castalia native has written a book about growing up in Castalia and is donating part of the proceeds to an organization dedicated to restoring the old Rosenwald School.
Horace Lee Mitchell wrote, "Family Tree: The Corridors of NC Interstates 85 and 95," which came out last October. The book is Mitchell's documentation of his family from 1845 to 1940.

More ...
AMANDA CLARK, GRAPHIC STAFF WRITER
Twin Counties update meeting to be held September 16th
The public is invited to a Community Update on the Twin Counties Vision and Strategic Plan Process. The Community Update will be held Wednesday, Sept. 16 from 4 p.m. to 5:30 p.m. in the Imperial Centre for the Arts and Sciences, located at 270 Gay Street in Rocky Mount.
The event will highlight the eight action groups created, progress made within each action group, and how the public can still play an essential role in attaining a prosperous future for the Twin Counties region. A new visioning website which will house the action groups' future accomplishments and news will also be unveiled.
More ...
NASHVILLE POLICE REPORTS
INCIDENTS
A damage to property (vandalism) was reported on 9/2/15 at 122 Tonya Court
A possession of stolen property, possession of firearm by a convicted felon and possession of a concealed weapon was reported on 9/6/15 at 931 Eastern Avenue
A larceny was reported on 9/7/15 at Waffle House, 314 W Washington Street
More ...
NASH COUNTY SHERIFF'S OFFICE REPORTS
A domestic violence was reported on 8/31/15 on Burgess and Cone Roads
A larceny and theft of money, personal items was reported on 8/31/15 on I-95 Northbound at the 142 mile marker
A felony larceny was reported on 8/31/15 at 2311 Meadowlark Road
A speeding, reckless driving and driving left of center was reported on 9/1/15 at Hoyt and Stoney Hill Church Road
More ...
Sweet Taters opts for Rocky Mount location


A Nashville couple recently announced that the Rocky Mount Brewmill Campus will be the home of their new restaurant and brewery, Sweet Taters.
Chris and Erin Flora will open Sweet Taters at the beginning of next year in one of the mill houses on the main Brewmill Campus alongside Koi Pond Brewing Company and Springboard NC.
The couple said they were excited about being a part of the revitalization to the historic mill district in Rocky Mount.

More ...
Amanda Clark, Graphic Staff Writer
Nash Commissioner achieves recognition
Nash County Commissioner Lisa Barnes was recognized by the North Carolina Association of County Commissioners for meeting the requirements for the Mentor level in the Local Elected Leaders Academy. A Mentor has completed a minimum of 82 credits (18 orientation credits + 42 focused in-depth credits + 24 elective credits).
The Local Elected Leaders Academy, a partnership with the UNC School of Government, the N.C. Association of County Commissioners and the N.C. League of Municipalities, offers local elected officials the knowledge and skills needed to lead and govern their communities.
More ...
NCC announces recruit firefighter graduates
Under the motto of "Leadership, Teamwork, Service," Nash Community College Recruit Firefighter Class #020915 graduated in Brown Auditorium at 6 p.m. on Thursday, August 20. The ceremony began with a processional and a presentation of colors by Rocky Mount Fire Department Honor Guard followed by a ceremonial welcome given by Nash Community College Associate Vice President of Community and Governmental Affairs, Dr. Keith Smith.
More ...
Nash Health Care unveils Pediatric ER mascot


The Nash Health Care family has welcomed its newest member, "Splash," who was recently unveiled as the new mascot for the system's Pediatric Emergency Department.
"Splash" was officially welcomed during a ceremony on August 20, which also celebrated the one-year-anniversary of the new Emergency Department, which has its own Pediatric Emergency Department.

More ...
Amanda Clark, Graphic Staff Writer
Lakeside Baptist to feature play written and directed by locals
Out in Left Field, a short play by Lela Chesson, will be directed by Lawrence Goering in Robbins Hall, Lakeside Baptist Church on, Friday, September 18th at 7:30 p.m. and on Sunday, September 20th at 2 p.m.
The play, set in Eastern North Carolina in the years of Harry Truman and the days of Dick and Jane, centers on the plight of a young left-hander in the 1940's and points to the struggles of all who face the pain of feeling different.
More ...
Word for the week


Blue Laws, restrictions forbidding stores to open on Sunday, are passé. The French atheist Voltaire put it something like this: If you want to do away with Christianity, do away with the Sabbath. So it goes. There is more commerce, more recreation, and more athletics on the First Day of the week and less worship of the great God of all.

More ...
DENNIS PRUTOW
PEACHTREE COMMUNITY NEWS


Peachtree folks gathered at the church for worship on another gorgeous Sunday. Special emphasis was given on this Sunday to the Annual State Missions Offering. A brief video was shown, depicting some of the things supported by this offering. Most notable among them is the commendable work carried out by the Baptist Men in disaster relief, not only in North Carolina, but around the world.
Sanctuary flowers were given by Bob and Fran Bunn in honor of their granddaughter, Linnea Mink, upon the occasion of her 14th birthday.

More ...
BARBARA HARDISON
RED OAK NEWS


Sunday, September 13 will begin Kid's Worship at Red Oak Baptist Church. Kid's Worship is for children in grades 3-5. Nate James, Associate Pastor and Minister of Youth and Children, will meet with them. Kid's Worship will be held on the 2nd and 4th Sundays during the morning worship.
First Seekers Bible Study at Red Oak Baptist Church resumed meeting on Tuesday, September 8. They meet at 10:30 am each Tuesday and are studying the book of Mark. Everyone's welcome.

More ...
SUZY PEARCE
AVENTON COMMUNITY NEWS


Summer fun is over and with that comes schedules and "more" responsibilities; I know that first hand. No longer do I have the free time to ramble and play; my social time in the neighborhood is at a standstill LOL. Harriet and Sue have to come see me to visit. Again, we are without help for our Garrett. Do you know anyone interested in the most rewarding job there is? It's not an easy job, and it's not a job for everyone. This person needs to have compassion and a strong work ethic. Responsibility and commitment are a must! A high school graduate, CPR- First Aid and a clean criminal background are mandatory.

More ...
JOJO RICKS
Nash County Animal Friends' Notebook


We had several dogs returned after being adopted. Why? Because their adopter's dog at home didn't like them. Hmmm. We think it is mostly a problem with introductions. You walk in with a strange dog and your dog goes into protection mode. Who is this stranger invading the home? Will he attack? Will he hurt my family? So immediately the home dog tells them to get out and don't come back.

More ...
Carol Vierela, NASH COUNTY ANIMAL FRIENDS
NCC launches new brewing program
With the launch of Nash Community College's Brewing, Distillation and Fermentation (BDF) Associate Degree program this semester, students are enrolled in classes such as BDF 111 Sanitation and Safety and BDF 114 Craft Beer Brewing. Instructor Thomas Clawson says he is excited to be at the forefront of this grassroots movement engrained in flavor, creativity and devotion.
More ...
There is a difference between smart and intelligent
Ask any schoolteacher? Who is the go to person; who is the person who makes things happen in any school?
Intelligent teachers will say, "Why, it's the principal, of course."
Smart teachers will answer, "It's the office secretary." I might add, that next in line after the office secretary in terms of effectiveness in any school is any reliable member of the maintenance staff.
More ...
Time is flying by way too fast for this mom!


And, just like that, I have two boys in school!
Where did the time go?
Corbin is now four years old and in pre-kindergarten. I can't wrap my mind around it. I swear it was yesterday I was dropping him off for his first day of school for his little two-year-old program and we were both crying our eyeballs out.

More ...
Amanda Clark - 1 opinion posted
Backward Glances


This photo was found in The Graphic's archives of a Nashville float in the 1977 Red Oak Farmer's Day Parade held to celebrate Nash County's 200th birthday. An estimated 4,000 people gathered in Red Oak for the event.

More ...
A PICTORIAL LOOK INTO THE PAST

A TOUGH OBSATCLE TO CLIMB. Nathan Burkhalter makes his way through a challenging portion of the course during last weekend's action at the Ultimate Backyard Warrior event near Red Oak.

BACKYARD BONANZA


RED OAK - When he built the course in his backyard, little did Mike Cook know that it would be hailed as the largest of its kind in the United States.
And would attract the interests of competitors from the likes of Texas, Kentucky, New York and Florida.
But Red Oak was the center of the Ultimate Backyard Warrior universe last weekend as Cook hosted 51 athletes -- and over 400 spectators -- for a spirited two-day event on Cook's property on Red Oak-Battleboro Road.

More ...
GEOFF NEVILLE, Graphic Sportswriter

30 FOR 30. Sharquez Tillery had a big night for the Nash Central Bulldogs during last Thursday's road setback at North Johnston HS.

Bulldogs edged by Panthers


KENLY -- Rebuilding a high school football program is destined to be filled with ups and downs -- and last Thursday proved to be a down moment for the Nash Central Bulldogs under the direction of first-year head coach Chris Lee.
The Bulldogs experienced a euphoric moment one week earlier as they broke a two-year winless streak with a convincing triumph at Smithfield-Selma.
Six days later, Nash Central was back in Johnston County for what will be remembered as a winnable contest against the North Johnston Panthers.

More ...
GEOFF NEVILLE, Graphic Sportswriter

SEND IT. Southern Nash's Brandon Pitts (left) delivers a ball forward during last Wednesday's road soccer decision against Louisburg High School.

Southern Soars In Soccer


LOUISBURG -- The start of last Wednesday's non-conference soccer matchup between Southern Nash and host Louisburg didn't foreshadow how the contest would eventually turn out.
Louisburg earned the early portion of play and had its share of chances. But when the ball went across midfield for one of the few times in the first six minutes, Southern Nash was there to capitalize.

More ...
GEOFF NEVILLE, Graphic Sportswriter

SIGNAL-CALLING SAVVY. Southern Nash quarterback Zack Foster escapes the Bunn defense during last Thursday's home victory.

WHEN IT COUNTS


STANHOPE -- After a scoreless first half, Bunn and Southern Nash would combined to rack up 34 points after the break.
But the Firebirds would get the better of the half and stopped the Wildcats by a 21-13 margin in a prep football non-conference rivalry showdown last Thursday on the SNHS campus.
Southern Nash is now 3-0 on the campaign, while the Wildcats dropped to 1-2 overall -- with both losses coming against powerhouses from the Big East Conference.

More ...
Staff Reports
NCWC drops first matchup


ROCKY MOUNT -- Despite leading nearly every statistical category, North Carolina Wesleyan College's football team dropped its 2015 season opener at Bishop Stadium last Friday night, falling to visiting Stevenson University by a 20-9 score. The game, which was delayed due to lightning, proved to be a defensive battle that featured 17 punts on the night.
The Mustangs were able to cash in 10 points off of Bishop turnovers, and it was just enough to move to 3-0 in the all-time series.

More ...
Staff Reports
Knights to host XC Invitational


RED OAK -- Northern Nash High School will host its annual Knights Invitational Cross Country Meet this Saturday at the Red Oak Middle School Course (adjacent to the ROMS Gymnasium).
Action will begin with the boys developmental race at 9 a.m., followed by the girls developmental event at 9:45 a.m.
The Boys Championship will be at 10:30 a.m., with the Girls Championship targeted for 11:45 a.m.

More ...
Staff Reports
Mudcats continue series at Lynchburg


LYNCHBURG, VA. -- Lynchburg's Dorsyss Paulino was 3-for-4 with two runs and Joe Sever drove in two while going 2-for-4 and the Hillcats escaped with a 5-4 win against the Carolina Mudcats on Sunday afternoon at Calvin Falwell Field in a Class A Carolina League baseball contest.
Reed Harper was 2-for-3 with two RBI in the loss for Carolina.
The Mudcats (70-68, 36-33) led only once in Sunday's loss in Lynchburg.

More ...
Staff Reports
COUNTY LINE RACE RESULTS


ELM CITY -- Listed are last Saturday's results from the Fifth Annual Carolina Steel Block Nationals/I-95 Late Model Challenge at County Line Raceway:

More ...
Staff Reports
Central to host a special night


ROCKY MOUNT -- Nash Central High School will honor America's Heroes as part of this Friday's home football game against the SouthWest Edgecombe Cougars.
To honor military members, there will be a special commemorative event, and a moment of silence will be observed before the opening kickoff.
Individuals with a military ID will be admitted free of charge, as will police officers, firefighters and EMS responders.

More ...
GEOFF NEVILLE, Graphic Sportswriter
Trojans to open spike/v'ball skeds


NASHVILLE -- Nash Central Middle School will open its 2015 boys soccer/girls volleyball schedule on Sept. 14 at home against Darden Middle.
All events will run concurrently beginning at 4 p.m.
Julia Donajkowski will serve as NC's soccer coach, while Laura Thompson will be in charge of the Lady Trojans' spikers.

More ...
GEOFF NEVILLE, Graphic Sportswriter
NCWC drops men's soccer match


LYNCHBURG, VA. -- Lynchburg College posted a 2-0 shutout of the North Carolina Wesleyan College men's soccer team last Saturday, netting single goals in each period.
The Hornets held an 18-8 lead in shots on the night.
LC's Ben Grossfuss scored the eventual gamewinner at the 15:34 mark off a Thomas Salamone assist.

More ...
Staff Reports
ALMOST
North Johnston running back A.J. Edwards barely eludes a tackle attempt en route to a touchdown in the first quarter of last Thursday night's high school football matchup.
More ...
BY AIR OR BY LAND
Southern Nash's Jaquay Mitchell (left) tries to avoid a flying tackle attempt by Bunn's Ian Land during last Thursday's football showdown.
More ...
NOWHERE TO GO
Nash Central defenders team up to tackle North Johnston quarterback Dallas Krob during last Thursday's high school football meeting on the NJHS campus in Kenly.
More ...
RAISING THE BAR
Todd Bourgeois hangs on to a bar as part of last weekend's Ultimate Backyard Warrior event, which was held on Red Oak-Battleboro Road in Nash County.
More ...
RETURN TO SENDER
Southern Nash's Carlos Hernandez prepares to send the ball downfield during the Firebirds' road soccer triumph last Wednesday evening against the Louisburg Warriors in Franklin County.
More ...