Subscribe/Access
Advertisements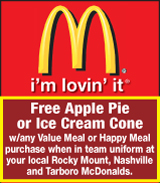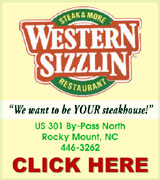 Sections
Member Options
Back
Zaxbys to open in Nashville


Rumors have swirled over the types of businesses slated to come to Nashville, on the new development across from McDonald's but one rumor can be put to rest, as Zaxby's was confirmed on Wednesday night.

More ...
By Amanda Calrk
Nashville aims to add sidewalks


The Town of Nashville is requesting assistance from North Carolina legislatures to help with funding for part of the town's sidewalk project.
The proposed project would provide sidewalk from First Street Extension all the way to Wal-Mart on Eastern Avenue. Another part of the project will provide sidewalk on S. Alston Street from Circle Drive to Circle Drive.
At the town council's regular meeting earlier this month, Planning Director Brian Hassell told council members the projet had come in over budget.

More ...
AMANDA CLARK, GRAPHIC STAFF WRITER
Nashville applies for sidewalk funding


The Town of Nashville recently applied for funding for two sidewalk projects through the Congestion Mitigation and Air Quality Improvement (CMAQ) Program.
The CMAQ program was implemented to support surface transportation projects and other related efforts that contribute air quality improvements and provide congestion relief. In North Carolina, the Department of Transportation serves as the administrator of the program.
Planning Director Brian Hassell told council members earlier this month that no other municipality, including Rocky Mount, had planned to apply for funding for this cycle. Hassell suggested Nashville put two projects in the running for funding.

More ...
AMANDA CLARK, GRAPHIC STAFF WRITER
CloudWyze may be Nash internet option


Nash County is hoping to be one of three markets selected by a communications company for expansion of high-speed internet.
Patsy McGhee, Grants & Intergovernmental Relations Administrator, said CloudWyze, a technology and communications company offering internet, phone, cloud services and technology support, is actively pursuing expansion into three new markets over the next year. The Wilmington-based company plans to make its decision in January.

More ...
AMANDA CLARK, GRAPHIC STAFF WRITER

4-H CAMP -- Barbara Sue Edwards, who campers got to know as "Granny," helps Alize Newton with a coloring assignment during the "Fruit of the Spirit Summer Reading Camp." Red Oak United Methodist Church hosted the camp with proceeds it received from

5K funds Fruit of the Spirit Summer Reading Camp


A summer camp hosted by a Red Oak church is meeting many needs for youth in the community.
Red Oak United Methodist Church is wrapping up its "Fruit of the Spirit Summer Reading Camp" on Thursday with a picnic at Ennis Park.
The summer camp was made possible through proceeds from a 5K run the church held late last year.
"It is the direct product of the Fruit of the Spirit 5K in October," said Rev. David Joyner, the pastor of Red Oak United Methodist Church.

More ...
AMANDA CLARK, GRAPHIC STAFF WRITER - 1 opinion posted

Albert Batchelor

Local men inducted into NC 4-H Hall of Fame


Two Nash County residents were among the 11 inducted into the North Carolina 4-H Hall of Fame recently.
Fred Belfield and Albert Batchelor were both inducted during 4-H Congress, which was recently held at North Carolina State University.
Belfield, of Rocky Mount, has been involved in 4-H most of his life. He began his 4-H career at nine years old when he joined his first 4-H club. He continued his membership in 4-H in college, participating in collegiate 4-H clubs.

More ...
AMANDA CLARK, GRAPHIC STAFF WRITER
Stolen goods, drugs found in Nash County home
A stolen motorcycle and two pounds of marijuana were found at a home during a search by the Nash County Sheriff's Office recently.
Deputies and investigators with the Nash County Sheriff's Office were investigating illegal activity at 3093 Big Jim Road in Rocky Mount Friday when they came across a stolen Harley Davidson. Two pounds of marijuana was also located.
James Clinton Reges, Jr., 62, was arrested and charged with possession of stolen goods/property, possession with intent to manufacture, sell and deliver marijuana, maintaining a vehicle/dwelling/place for a controlled substance and felony possession of marijuana.
More ...
NASHVILLE POLICE REPORTS
INCIDENTS
A trespassing and larceny (shoplifting) was reported on 7/20/15 at Wal-Mart, 1205 Eastern Avenue
A trespassing and larceny was reported on 7/21/15 at Wal-Mart, 1205 Eastern Avenue
Found property was reported on 7/22/15 at N First Street at Forrest Hills Cemetery
More ...
NASH COUNTY SHERIFF'S OFFICE REPORTS
A breaking, entering and larceny was reported on 7/20/15 at 5737 Bent Creek Court
A fraud was reported on 7/20/15 at 3133 Bone Pone Road
An intentional overdose was reported on 7/20/15 on Mills Drive
A felony larceny was reported on 7/20/15 at 861 W Hilliardston Road
More ...
PARK VIEW NURSES ALUMNAE
Pictured on the first row, left to right: Gayle Hollingsworth, Secretary; Ernell Edwards, Vice President; Louise Riddick; Crews Shearin; Eva King, Treasurer; Back Row: Flora Powell; Ennis Edwards; Martha Price, President; Betty Langston; Carolyn Shearin; Sue Boone, Ann Greene.
More ...
Park View Nurses Alumnae surpass scholarship goal
The 100 for the 100th Year fundraising goal for the Park View Hospital (PVH) Nurses Alumnae Association concluded June 30, 2015 with a small alumnae luncheon celebrating reaching $100,000 in the PVH/NCC Scholarship Fund.
At the beginning of the centennial celebration held June 28, 2014, Association President and Founding Nursing Scholarship Chair, Martha Raynor-Price challenged alumnae and the entire Park View family to honor the hospital and the School of Nursing's commemorative 100th anniversary by having $100,000 in the Nash Community College Park View Hospital Nurses Alumnae Scholarship Fund for student nurses by the end of the 100th year, June 30, 2015.
More ...
Cotton, Deans wed
Elizabeth Deans Cotton and John Randolph Deans were united in marriage on Saturday, June 20, 2015 in a 5:30 p.m. ceremony held at Lakeside Baptist Church in Rocky Mount. The ceremony was officiated by Dr. Jody Wright.
The bride is the daughter of Mr. and Mrs. Russell D. Cotton of Red Oak.
She is the granddaughter of Rosa Belle Cotton and the late Horace Dowd Cotton, and Martha Oleksa and the late Charles Oleksa, Sr.
More ...
Nashville native wins first place film award
Westwood One syndicated talk show host Phil Valentine has won first place in the prestigious Colorado Film festival screenplay competition for his work 'Derek Dickens & The Dream.'
Derek Dickens & The Dream is a fictional story of one man's mid-life crisis that becomes an international pop sensation when he takes on an imaginary persona through which he lives out his lifelong dream.
More ...
FOOD DRIVE
The Town of Nashville held a food and personal care items drive to benefit Faith Christian Ministries. Pictured above, town staff present the donations to Lynn Walker, (pictured center), Director of Faith Christian Ministries. Last year, Faith Christian Ministries assisted with an estimated 10,000 meals and the organization helps between 40-60 families per month with food. The organization depends on donations for food benevolence and its pantry is used only on an emergency or crisis basis.
More ...
QUARTERLY BENEVOLENCE
InJoy Thrift Store presented over $40,000 in donations to around a dozen non-profit organizations on Monday morning. The donations were from the second quarter earnings, including April, May and June. InJoy has been giving back since it opened almost two years ago. Those receiving donations include My Sister's House and Faith Christian Ministries. Since opening, InJoy has donated nearly $88,464 to local Christian-supported ministries and another $88,465 to DOOR International. The store will celebrate its second birthday with a celebration on Saturday, August 1 from 10 a.m. until 6 p.m. at the store at 1020 Liberty Lane in Rocky Mount.
More ...
Learning to make a difference
At Peacemakers in Rocky Mount, local school-age children are spending their summer learning to make a difference in their world. Recently, young scholars at Freedom School participated in an International Festival where they were exposed to other cultures, interacting with people from around the world, sampling food, learning words in other languages and more. Peacemakers is a Christian community development 501c3 organization serving the under-resourced area of South Rocky Mount by empowering citizens with the knowledge and skills necessary to lead successful and sustainable lives.
More ...
PARTNERSHIP DONATION
Wells Fargo renewed its support of the Carolinas Gateway Partnership for the next five years with a financial contribution of $50,000 presented to the organization's Capital Campaign. Pictured left to right are Carrie Gray, Vice President and Community Affairs Officer; Tem Myers, Market President for Wells Fargo in Rocky Mount, and Frank Harrison, Chairman of the Carolinas Gateway Partnership.
More ...
SELF-DEFENSE CAMP
Nashville Academy of Martial Arts hosted a self-defense camp as part of Nash County's 4-H Summer Camp programming. Students learned basic self-defense techniques during the three-day camp, which was held at the martial arts studio in Nashville. Pictured above, Sensei Allen Clark (center) shows students a blocking technique during the camp.
More ...
Young bowlers earn scholarships
The Board of Directors of the Kitty Powell Scholarship Fund recently presented $6,000 in scholarships to members of the local bowling community.
The Kitty Powell Scholarship Fund was established in 1989 to provide education assistance to members of the Rocky Mount bowling community. The scholarship is named for Kitty Powell who was the long-time general manager of the Bowling Center in Rocky Mount, and who has given so much to the sport of bowling. To be eligible for a scholarship, the recipient must be an active bowler in the local Rocky Mount USBC or the child or grandchild of an active bowler.
More ...
Philbeck earns designation
Tonja S Philbeck, agent for North Carolina Farm Bureau Insurance, has earned the Chartered Life Underwriter (CLU) professional designation from The American College, Bryn Mawr, PA.
Candidates for the CLU designation must complete a minimum of eight courses and 16 hours of supervised examinations. They must also fulfill stringent experience and ethics requirements.
More ...
MILITARY NEWS
Air Force Airman 1st Class Ashaunti R. Davis graduated from basic military training at Joint Base San Antonio-Lackland, San Antonio, Texas.
The airman completed an intensive, eight-week program that included training in military discipline and studies, Air Force core values, physical fitness, and basic warfare principles and skills. Airmen who complete basic training earn four credits toward an associate in applied science degree through the Community College of the Air Force.
More ...
PEACHTREE COMMUNITY NEWS


The observance of the ordinance of Baptism was held at Peachtree Church on Sunday morning at the beginning of the worship service. The candidates who were baptized by Pastor Whitehouse were Ray Eason and his wife, Joan Rackley Eason.
Sanctuary flowers were given by Doug and Cheryl Hayes in memory of Doug's parents, Melvin and Annie Hayes. The Adult Choir sang "Holy Ground".
Pastor Whitehouse's sermon was titled, "He made Not One Mistake".

More ...
BARBARA HARDISON
RED OAK NEWS


Congratulations to Derek and Leigh Ann Bostian in the birth of their son, Jacob Allen, born on July 20! Jacob has an older sister, Abigail. Proud grandparents are Rev. Larry and Donna Bostian.
Congratulations to Chris and Christy May in the birth of their daughter, Caroline, born on July 21! Caroline has 3 older siblings, Caitlyn, Caleb, and Cameron.
Women in Action of Red Oak Baptist Church had their monthly meeting on Thursday, July 23.

More ...
Suzy Pearce
Word for the week


Almost every organization has a motto, a short pithy statement by which the members strive to live. "Be Prepared," the Scout motto, is one of the best known.
There are also mottoes by which Christians should live. The Bible is filled with them. Take for example 1 Peter 2:17. "Honor all men; love the brotherhood, fear God, honor the king." Here are guiding principles for all of us.
"Honor all men." Highly esteem all men, women, and children. They bear God's image.

More ...
DENNIS PRUTOW
Nash County Blood Drives for August 2015
Saturday, August 1 from 10 a.m. until 2 p.m. at Thorne's Chapel Baptist Church, 1624 Windsor Drive, Rocky Mount
Tuesday, August 4 from 2 until 6 p.m. at St. Andrew's Episcopal Church, 301 S. Circle Drive, Rocky Mount
Wednesday, August 5 from 2:30 until 6:30 p.m. at First United Methodist Church, 100 S. Church Street in Rocky Mount
Thursday, August 6 from 3 until 7 p.m. at West Mount Volunteer Fire Department, 7955 West Mount Drive, Rocky Mount
More ...
BEULAH COMMUNITY NEWS


The VBS at Beulah Church of Christ last week was greatly blessed. The attendance was really good and was enjoyed by all who attended. We want to thank all the children for coming and also the parents and friends who brought them. May God continue to bless them, keep them safe and bring them back to be with us at Beulah. On Sunday, the children came to church for a program which we all enjoyed very much. Their parents and many other family members and friends came also. The attendance was such a blessing to everyone, especially all the VBS teachers and everyone who had helped make VBS a real success.

More ...
WILMA ENROUGHTY
AVENTON COMMUNITY NEWS


A politician was in Aventon recently, not kissing babies or politicking for your vote, but to visit with his daughter. His honor the Mayor of Lizard Lick Charles Wood and wife Shirley were in Aventon last week to visit daughter Donna Milligan. While there they had the privilege of meeting Harriet Griffin and Sue Shearin. It was a great visit with lively conversation. What a delight to Donna for her sweet family and dear friends to meet each other and fellowship a while.

More ...
JOJO RICKS
DEPC receives $25,000 grant from GlaxoSmithKline Foundation
The Down East Partnership for Children (DEPC) recently announced that they will be the recipient of North Carolina GlaxoSmithKline Foundation's $25,000 "Ribbon of Hope" to continue the Partnership's ongoing Ready Schools and Ready Communities programs supporting family and community engagement in elementary schools in Edgecombe and Nash Counties.
The North Carolina GlaxoSmithKline Foundation chose the DEPC as a grantee, because of the Partnership's ongoing work that addresses critical needs in Nash and Edgecombe Counties.
More ...

Dance Arts of Rocky Mount danced for those who came out to celebrate their fight with cancer.

Nash Senior Center celebrates cancer survivors


The Nash County Senior Center held its first ever Cancer Survivors Dessert Social last month.
The event was put together by Michele McKnight, Senior Center Coordinator.
"This program is about celebrating life," McKnight told those in attendance. "We're here today to celebrate every one of you."
Survivors shared their stories of cancer with others.

More ...
AMANDA CLARK, GRAPHIC STAFF WRITER
CELEBRATING RETIREMENT
Rocky Mount Fire Captain Alan Booth recently retired After 28.5 years with the Rocky Mount Fire Department. Booth retired on June 1 from Rocky Mount Station #4, where he served as captain. Booth moved from Indiana to take the position over 28 years ago. Following retirement, Booth plans to move to Erwin, Tennessee but said he does intend to visit his fire fighter brothers and sisters.
More ...
Nash to host Hunter Ed Courses
Hunter Education Courses are slated for Nash County beginning in August, according to the NC Wildlife Resources Commission.
Since 1991, any person desiring to purchase a North Carolina hunting license for the first time, must complete a Hunter Education Course and be certified as a safe hunter.
The courses are free and there is no age limit. However, children under 12 years of age must be accompanied by an adult when they take the course.
More ...
Central Carolina Holstein Show
Cedar Isle Dairy traveled to Hillsborough, North Carolina on June 18 for the annual Central Carolina Holstein Show. Cole and Casey Strickland (L-R) competed in the Type Classes with their six Heifers and received several first place awards. In the Spring Heifer Class, "Amaretto" took first place. In the Fall Heifer Class, "Leslie" took first place and in the Spring Yearling Class, "Butterluck" took first place. In the Winter Yearling Class, "Emilia" took second place and "Holly" took third place. And in the Fall Yearling Class, "Enya" took second place. "Leslie" went on to win Reserve Junior Champion of the Junior and Open Show Competitions.
More ...

Cummins-Rocky Mount Engine Plant representatives pictured with North Carolina Governor Pat McCrory (center) are (left to right) Ron Ellis, Eric Spivey, Jammie Barber and Jacquelyn Deloach.
Area businesses receive Governor's Award
The North Carolina Commission on Volunteerism and Community Service has presented the 2015 Governor's Medallion Volunteer Service Award to Cummins - Rocky Mount Engine Plant for Edgecombe County in the Corporate/Business Volunteer Category and to PNC Bank for Nash County also in the Corporate/Business Volunteer Category.
The Governor's Medallion Award for Volunteer Service, is awarded to the top 20 volunteers in the state.
More ...
Rocky Mount Police Chief graduates from Harvard program
Rocky Mount Police Chief James Moore recently graduated from the Harvard Kennedy School's Senior Executives in State and Local Government program. Using case studies, projects and listening to speakers, the course often provided a philosophical approach to exercising leadership in an environment with a struggling economy but a demand for more services. Professors skilled in their respective crafts provided keen insight on how to develop creative solutions under "tight constraints and increased public scrutiny," according to the website for Harvard Kennedy School.
More ...
National Night Out in Nashville is Tuesday!


Nashville's Police Department will host its annual National Night Out event Tuesday, August 4th at Glover Park. Hats off to Nashville Community Police Officer Jennifer Bull for her enthusiasm and hard work organizing this event each year.
Past years have been very successful, but she saw a need to reach more kids and offer more to the community. So she rolled up her sleeves and got to work.
She will be the first to tell you that pulling off such an event doesn't happen overnight, nor without a lot of help. And I'm sure, knowing most of the staff, she's received a lot of help!

More ...
Jo Anne Cooper
Rumor mill keeps growing - here's a few suggestions for local development


There's a lot of rumors about the happenings on the big 'ole empty lot across from McDonalds.
Rumors are flying about all the businesses that are supposedly going there.
The one I've heard most is a Sheetz gas station. So far, I have been unable to confirm that, or any of the other rumors, but it sure has been an exciting topic of conversation.
If I was in charge of that development, I know what I'd like to see over there!

More ...
Amanda Clark
Pioneer spirit ends where the a/c begins


I got my "analysis" from the power company the other day.
You know, that thing that seems to be a waste of paper and ink and postage that breaks down electricity usage for customers. Mine informed me that while I had shown improvement over last year, I still spent quite a bit of money more than other people in my area.
I found this mailing to be of great interest on a number of levels:

More ...
Mike Brantley - 2 opinions posted
Backward Glances


COOP GOES FOR A TOUCHDOWN! -- This photo was originally published in The Graphic on September 24, 1970. W.L. Greene defeated Spaulding 34-6 at the opening season game. Pictured above, Roy "Coop" Cooper goes for a touchdown for W.L. Greene.

More ...
A PICTORIAL LOOK INTO THE PAST
Nash County Animal Friends' Notebook


Once upon a time, continued....
So now I have a purebred almost feral like very sick little Pomeranian at my home, one that was probably the result of a breeder. A backyard breeder, if only a few or a puppy mill if a lot more. Bet he was the daddy of someone you paid hundreds of dollars for. He ended up costing me quite a bit too, to get him well. We had to use a muzzle to groom him and to take him to the vet.

More ...
Carol Vierela, NASH COUNTY ANIMAL FRIENDS

FAMILIAR FACE. Jordan Bass, who has extensive experience with the Southern Nash football and boys basketball programs, will now be in charge of the girls basketball squad in Stanhope.

CHANGING BIRDS


STANHOPE -- Southern Nash High School's newest varsity coaches will be familiar faces -- albeit in different responsibilities.
Southern has made coaching changes in girls basketball, boys and girls soccer and softball in preparation for the 2015-16 calendar year.
Only one fall sport was affected as Mike Kennedy will take over as the head coach of the successful Southern Nash boys soccer program.
Kennedy was SN's boys assistant last year and also served as the school's boys golf coach -- a position he will retain next spring.

More ...
GEOFF NEVILLE, Graphic Sportswriter

READY FOR THE FINALE. Isabella Daza and the Birchwood Barracudas will be in action Saturday at the Nash-Halifax Swim League Championships at the Harrison Family YMCA in Rocky Mount.

N-HSL's finals are Saturday


NASHVILLE -- The much-anticipated swim showdown between Nash Rec and host Roanoke Valley never materialized last Thursday evening.
Instead, the meeting -- which was for the top spot in the Nash-Halifax Swim League standings -- was cancelled and will not be made up.
The season-ending matchup between homestanding Westridge and Birchwood Country Club was also cancelled.
Nash Rec and Roanoke Valley -- expected to be the league's top-two clubs -- were unable to conduct a full meet this summer.

More ...
GEOFF NEVILLE, Graphic Sportswriter
Nash County Nabs A Crown


NASH COUNTY -- Given the option, most clubs would choose to have the final at-bat in a baseball game -- for the simple reason of knowing how many runs are needed in the last inning in order to secure a victory.
But Nash County took a different and successful strategy at the Babe Ruth 13-Under Eastern North Carolina State Championship, which concluded last week at Emerald Isle in Carteret County.

More ...
GEOFF NEVILLE, Graphic Sportswriter
Bulldogs will open practices


ROCKY MOUNT -- Nash Central High School will begin its fall sports practice schedule soon in preparation for the upcoming seasons.
A list of practice times by sport is as follows:
• Football will have a mandatory meeting today at 6 p.m. in the NCHS Media Center. The meeting is mandatory for prospective football players and their parents.
The first practice will be Saturday from 8-11 a.m.

More ...
Staff Reports
Mudcats fall vs. Pelicans


MYRTLE BEACH, S.C. -- Carolina starter Rob Whalen allowed just two earned runs in his Mudcats debut, but Myrtle Beach starter Brad Markey struck out 10 over seven scoreless innings as the host Pelicans defeated the Mudcats 3-1 on Sunday night at TicketReturn.Com Field in a Class A Carolina League baseball showdown .
Markey (W, 3-0, 0.76) faced only 24 batters and scattered three hits over seven full innings pitched for the Pelicans ((57-43, 16-15).

More ...
Staff Reports

A BIT OF ADVICE. Nash Central High School football coach Chris Lee (left) offers instruction to a player during last Wednesday evening's action at the East-West All-Star Football Game in Greensboro.

County standouts contribute to win


ROCKY MOUNT -- Chris Lee's last official order of business at Louisburg High School -- and his first at Nash Central -- came during last Wednesday's North Carolina Coaches Association East-West All-Star Football Game at Greensboro Grimsley's Jamieson Stadium.
Lee, who became Central's head football coach in the off-season after a successful tenure at Louisburg, served as an assistant for the East, which left Greensboro with an impressive 27-13 victory.

More ...
GEOFF NEVILLE, Graphic Sportswriter
Nash Central releases soccer schedule


ROCKY MOUNT -- Nash Central High School's boys soccer campaign will kick off Aug. 18 at home against the North Johnston Panthers.
First kick is scheduled for 5 p.m. on the NCHS campus.
The Bulldogs' first matchup in the always-competitive Big East Conference will be Sept. 21 at home versus Rocky Mount.
Soccer interest continues to increase at Nash Central, and the Bulldogs will undertake a junior varsity schedule this fall.

More ...
GEOFF NEVILLE, Graphic Sportswriter
Southern Nash to host gridiron jamboree


STANHOPE -- The annual Nash County Football Jamboree will shift to Southern Nash High School this season.
The event, which rotates between county schools, will make its way to SN's Firebird Stadium on Aug. 13 at 6 p.m.
The host Firebirds will be in scrimmage action along with Northern Nash, Rocky Mount, Nash Central, Bertie, West Johnston and Southeast Halifax.
Junior varsity squads will also participate.

More ...
GEOFF NEVILLE, Graphic Sportswriter
Vanderslice steps down at Louisburg


LOUISBURG -- One of the most prolific stretches in Louisburg College men's basketball history came to an end earlier this week with the resignation of head coach Mark Vanderslice.
Vanderslice, who piled up an almost-unbelievable 152-20 record during five campaigns at LC, has stepped down to take over the Division II program at the University of South Carolina-Aiken.

More ...
GEOFF NEVILLE, Graphic Sportswriter
SUCCESSFUL STINT
Christy Bailey-Reams enjoyed an outstanding tenure as the head coach for the tradition-rich Southern Nash High School softball program.
More ...
"Art of the Brick" on display at Maria V. Howard Arts Center through Sept.
The Maria V. Howard Arts Center is hosting "The Art of the Brick," an exhibition featuring large scale sculptures created out of iconic LEGO bricks by New York based artist, Nathan Sawaya.
"The Art of the Brick" is one of the largest and most popular art exhibits touring the globe. CNN hailed it as one of the top 12 "must see exhibitions in the world."
"This year alone, we've visited Australia, South Africa and Taiwan," said Sawaya. "We are thrilled to be bringing this collection to Rocky Mount."
More ...
Franklin County Tar River Festival set for Sept. 12
The Greater Franklin County Chamber of Commerce will host the 26th annual Tar River Festival on Saturday, September 12 from 10 a.m. until 5 p.m. in downtown Louisburg and Riverbend Park.
Many activities have been planned to celebrate the festival's 26th year with fun for the entire family. Arts and crafts from local artisans will line the streets as well as a variety of food vendors.
More ...