Subscribe/Access
Advertisements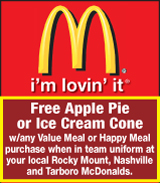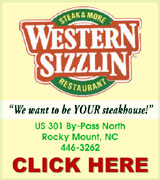 Sections
Member Options
Back
Attorney: Jackson is still Superintendent


Rumors circulating that Nash-Rocky Mount Schools Superintendent Dr. Anthony Jackson was fired are not true, the school system's attorney Rod Malone said.
The rumors began last Wednesday. Sources told The Graphic that Dr. Jackson had been fired by the Nash-Rocky Mount Board of Education in a 7-4 vote. Other rumors said Dr. Jackson had accepted a position with the state and would be leaving the school system at the end of the year.

More ...
AMANDA CLARK, GRAPHIC STAFF WRITER
Boddie Mill Pond bridge named for Braswell


A bridge on Boddie Mill Pond Road in the Pleasant Grove Community now bears the namesake of a man who has given selflessly of himself to that community.
The Gene E. Braswell Bridge was dedicated last week during an official ceremony at Pleasant Grove Baptist Church.
North Carolina Transportation Secretary Tony Tata said though he didn't know Braswell personally, he'd discovered his reputation in the community and said naming the bridge after him was fitting.

More ...
AMANDA CLARK, GRAPHIC STAFF WRITER
Whitakers man dies in car accident
A Whitakers man was killed on Saturday afternoon after running a stop sign and colliding with another vehicle.
According to the NC Highway Patrol, 80-year-old Howard Leonard, of Whitakers, was traveling north on Halifax Road when he ran the stop sign at Halifax and Red Oak-Battleboro Road. A spokesperson said Leonard's vehicle t-boned a 2001 GMC truck, driven by 56-year-old Walter Davis. Davis' truck was pulling a trailer loaded with lawn equipment.
More ...

David E. Pulley
Nashville couple face drug charges
A Nashville couple were arrested and charged with prescription drug fraud following a five month investigation.
According to Nashville Police Chief Tom Bashore, a search warrant was conducted at 1836 Aspen Court in reference to suspects obtaining controlled substance by fraud/forgery. The search warrant was conducted following a five-month investigation by the Nashville Police Department and the Nash County Sheriff's Office.
More ...
NPD SPOTLIGHT
The Nashville Graphic is introducing officers of the Nashville Police Department each month as part of an "Officer Spotlight" series. The articles are featured the last Thursday of each month to help Nashville residents get to know the officers who protect and serve their communities.
More ...
Richardson celebrates 100th


If the Lord wants, Josephine Coppedge Richardson could live to be 200 years old.
But for now, Richardson is content celebrating her 100th birthday.
Richardson turned 100 years old on Monday, March 23. She spent Saturday celebrating with family and friends at Gardner's Barbecue in Rocky Mount.
"We all get together and have a good meal and that's all," Richardson said.

More ...
AMANDA CLARK, GRAPHIC STAFF WRITER

Pictured (L-R is owner, operator Carolina Physical Therapy Sue Ella Johnson with Kelly Jenkins, who owned Progressive Rehab and Carolina Physical Therapy Vice President Jerry Strickland.
Chamber hosts ribbon cutting for Carolina Physical Therapy
Nashville's Chamber of Commerce recently held a ribbon cutting to celebrate Carolina Physical Therapy Associates, Inc.
The company was formerly Progressive Rehab and owned by Kelly Jenkins.
Carolina Physical Therapy Associates is a Rocky Mount based private physical therapy practice owned and operated by Sue Ella Johnson, President, Jerry Strickland, Vice President and Jeff Agan, Vice President.
More ...
Guest speaker
Rocky Mount Rotarian and President Elect, Richard Sykes, at left, stands with Rachel Joyner, Nash County Clerk of Court. She spoke at a recent meeting at the DoubleTree Hotel about the workings of the Clerk's office.
More ...
Tarboro man faces drug charges in Nash County
The Nash County Sheriff's Office arrested a Tarboro man after a vehicle stop last week.
A Nash County Patrol Unit was able to stop a vehicle on March 13 based on information received from a joint investigation between the Sheriff's Office and the Rocky Mount Police Department. The vehicle was stopped in the Nashville area on US Highway 64 East.
Upon approaching the vehicle, the patrol unit detected the odor of marijuana coming from the vehicle.
More ...
NASHVILLE POLICE REPORTS
INCIDENTS
A larceny after a breaking and entering and burglary of an occupied residence was reported on 3/17/15 at 1002 Birchwood Village Court
A possession of counterfeit money was reported on 3/18/15 at Just Save, 721 E Washington Street
An obtaining money/property by false pretense and obtaining a controlled substance by fraud was reported on 3/18/15 at Wal-Mart, 1205 Eastern Avenue
More ...
NASH COUNTY SHERIFF'S INCIDENT OFFICE REPORTS
A text fraud was reported on 3/16/15 at 4230 Green Hills Road
A possession of drug paraphernalia was reported on 3/16/15 at 1370 N Wesleyan Boulevard
A criminal damage to property was reported on 3/17/15 at 7514 Kingsboro Drive
A breaking, entering and larceny was reported on 3/17/15 at 3344 Dalmar Road
More ...
Nash County Blood Drives for APRIL 2015
Thursday, April 2 from 7 a.m. until 5 p.m. at Kaba Ilco Corp, 400 Jeffreys Road, Rocky Mount
Friday, April 3 from 12:30 until 4:30 p.m. at Golden East Crossing Mall, 1100 North Wesleyan Boulevard, Rocky Mount
Friday, April 3 from 11 a.m. until 2 p.m. at Outback Steakhouse, 210 Gateway Boulevard, Rocky Mount
Monday, April 6 from 3 until 7 p.m. at Bethlehem Baptist Church, 305 South Halifax Road, Rocky Mount
More ...
McDonalds buys vests for Nashville Police Department


A news article about the needs of Nashville's Police Department prompted a local fast food chain to donate four bulletproof vests to the department.
BHT Companies, the franchisee for McDonald's, saw an article on the wish lists of Nashville's Police Department for the upcoming budget. During Nashville Town Council's budget retreat, department heads present their list of wants and needs to Town Manager Preston Mitchell and council members. Nashville Police Chief Tom Bashore submitted requests for police cars and soft body armor, better known as bulletproof vests.

More ...
AMANDA CLARK, GRAPHIC STAFF WRITER
NRMS School Board oks switch to Latin honors


The Nash-Rocky Mount School Board voted to approve a measure to convert from the current Valedictorian- Salutatorian graduation honors program to a new Latin Honors program that will allow for more graduates to receive recognition for high achievement. The change is slated to take place with the graduating class of 2019.
Robin May, Assistant Superintendent of Curriculum and Instruction, presented the plan to the board for the second time at the workshop held on Monday, March 16.

More ...
AMELIA HARPER, GRAPHIC CORRESPONDENT
Black History Month celebrated
Cedar Grove Elementary School celebrated Black History Month with two special programs. One included singing, poems and a play about Ruby Bridges. The second one was a live wax museum. Pictured above is fourth grader C. Everritt in the Live Museum.
More ...
ENGAGED
David and Laura Winstead of Nashville announce the engagement of their daughter, Emily Lauren Winstead, to Cameron Wayne Joyner of Elm City. He is the son of Ronnie and Janice Joyner of Nashville. The wedding is planned for May 16, 2015 at Leon's Barn in Nashville.
More ...
Easter Food Drive
Nashville Police Officers Mark Withrow and Jennifer Bull are picutred at the Nash Senior Center helping sort food and pack boxes for the Easter Food Drive. Nashville Police Department's newest member, Bradley Boone (not pictured) also assisted.
More ...
PCC announces graduates, honor students
Nash County residents were among those graduating from Pitt Community College during the Fall 2014 semester.
Locals included George Harrison Caudle, Jacqueline Denise Harper, Tatanisha Hill and Elizabeth Ashley Romero, all of Nashville, Karen L. Mott and Joshua E. Pridgen, both of Rocky Mount and Erin B. Hildreth, of Spring Hope.
Nash residents were also among those named to the Dean's List and Honor Roll at Pitt Community College during the Fall 2014 semester.
More ...
Chinese students visit Wesleyan
As North Carolina Wesleyan College continues to grow in size and reputation, an increasing number of students from around the world--most recently China--are taking a look at what this small liberal arts college in Rocky Mount has to offer.
N.C. Wesleyan currently enrolls 76 international students from 26 countries, including four Chinese students enrolled for the current spring semester. On February 3, a group of 18 Chinese high school students and their chaperones toured the college to learn more about what Wesleyan has to offer.
More ...
CAREER DAY
Nashville Elementary students look at The Nashville Graphic newspaper during a special Career Day event held last week. Pictured, left to right, are: Carolyn Nethercutt, Hunter Raines and Zyshone Pearce.
More ...
NCC MASCOT
The Nash Community College Student Government Association has introduced a new mascot for the College. The mascot, a NightHawk, was designed and named by students. The design was created by Advertising and Graphic Design student Judie Taylor. "Newton" was selected as the mascot's name following a naming contest among students. Associate in Arts student, Michael Stallings, submitted the winning name. When asked why he chose "Newton" he said he had recently read about Sir Isaac Newton and thought it was an appropriate name for the mascot.
More ...
PROGRAMS ARE BREWING AT NCC
As space is vacated at Nash Community College when programs move into the new Continuing Education and Public Services Building, the College will be able to expand its offerings in existing facilities. One new program, Brewing, Distillation and Fermentation, starting this fall, is part of the College's expanded offerings in its Hospitality Curriculum. Other degree programs being offered in the Hospitality Group include Culinary Arts and Hospitality Management.
More ...
NCC Run for Knowledge 5K run is May 2
Nash Community College has designated Saturday, May 2, 2015 as a day to raise money enabling hard working students to pay for college through student scholarships. The Inaugural Nash Community College Run for Knowledge 5K will be held on campus that morning. Later in the day, the 8th Annual Jack Laughery Ride for Knowledge will occur at Rocky Mount Harley-Davidson.
The Run for Knowledge race, hosted by Nash Community College, will begin at 8:30 a.m. at the new Continuing Education and Public Services Building located on Eastern Avenue. Runners will take off for the trees in a race that features a combination of road and trail.
More ...
Byrd returns as pastor of Nashville Baptist Church


Kenny Byrd has returned to Nashville to once again serve as the pastor of Nashville Baptist Church.
Byrd served as the pastor of the church from 2001 to 2006. He left to serve as a pastor of a church in Sylva, North Carolina and also returned to his hometown of Whiteville to pastor a church there a few years.
Now, Byrd is back in Nashville.

More ...
AMANDA CLARK, GRAPHIC STAFF WRITER
PEACHTREE COMMUNITY NEWS


'March Madness' is raging! There are several North Carolina teams that will be in the 'Sweet Sixteen.' I hope that one of them will win!
Sunday morning was another beautiful spring day. Pastor Whitehouse welcomed those Peachtree folks who came for worship. Sanctuary flowers were given by Beth and Patsy Baines in memory of their parents, Willie and Kezie Griffin, and their brother, Spencer Vann Griffin. Special music was a solo titled, "Something Beautiful", sung by Marta Whitehouse.

More ...
BARBARA HARDISON
RED OAK NEWS


Members of Women in Action of Red Oak Baptist Church and friends prepared and served a hot dog supper at the Bassett Center on Saturday, March 21. Supper included hot dogs with fixings, chips, tea, and cookies. Those participating were Jeanette and Hazel Hill, Audrey and Suzy Pearce, Karen Girona, Vicki Griffin, Marion Faulkner, and Charles Williams. Following the supper, several went to Rocky Mount Rehab and visited with Louise Hackney who is in room 208.

More ...
Suzy Pearce
BEULAH COMMUNITY NEWS


Happy early birthday to Jean Outlaw, who will be 81 years old on the 28th of March. Her daughter and other family members gave her a surprise get together last Saturday at the Beulah Church of Christ fellowship hall. It was really a family reunion with approximately 40 members of Jean's family attending. There were lots and lots of delicious food and great fellowship. Jean was really surprised and very much appreciated seeing everyone. We were just sorry that one sister, Dorothy Cary and her brother, Arthur Beamon were unable to attend due to health problems.

More ...
WILMA ENROUGHTY
AVENTON COMMUNITY NEWS


What a way to start a day! I found a lizard in my over 115 year old farm house....and it's only MARCH! Truly not what I wanted to see, but like I said there is always something good in a situation if you only look for it and in this case, I had to look really, really, really hard to find it..... IT WASN'T A SNAKE! I have seen 3 snakes in my old house over the 38 years I have lived in it, and I know.....if a lizard can find "her" way in (I am sure she is a mama with lots of babies), I know a snake can. Yuck! There are advantages to cold weather.

More ...
JOJO RICKS
NCC names lobby of new building after Ruritans, Duke K.I.D.S
A lobby on the first floor of the NCC Continuing Education and Public Services Building, set to open this year, will be named in honor of contributions to the College by West Mount Ruritan Club and Duke K.I.D.S. (Kids In Desperate Situations). Nash Community College was one of the beneficiaries from last year's Duke K.I.D.S. Golf Classic, sponsored annually by the Club to raise money for Duke Children's Hospital. Donations from the event to the College were to aid in the education and training of current and future EMS and Nursing students.
More ...
Rasdorf discusses LGBT Center
Mark Rasdorf, assistant director of the LGBT Resources Center, East Carolina University, Greenville, was the featured speaker for the March 17 meeting of the Rocky Mount Chapter of PFLAG (Parents, Families and Friends of Lesbians and Gays).
"This is my life's work. I don't want to see any more gay kids take their lives," Rasdorf said as he spoke out against the bullying, depression and rejection often experienced by those who are part of today's sexual and gender minorities.
More ...
United Daughters of the Confederacy
United Daughters of the Confederacy held their Annual District VIII Meeting at the Braswell Memorial Library. UDC Bethel Heroes Chapter 636 hosted the meeting. Pictured on the front row in attendance from Bethel Heroes 636: Helen Sharpe, Margie Parker Brantley, Margaret Sink and Edith Whitby. Pictured on the back row (L-R): Donna Boykin and Connie Cobb, all members of Bethel Heroes. Not pictured Toni Suiter.
More ...
March madness is in need of companions


By now, provided you are a college basketball fan, you are nearing a state of euphoria that far exceeds that of the residents of Colorado or Washington. It is NCAA Tournament time, also known as March Madness.
If you are not particularly fond of college basketball, then by now you are wondering if the world has completely stopped on its axis because news, talk, and highlights of the tournament pervade every aspect of civilization. There seems to be no other news to report.

More ...
Mike Brantley
Men like Gene Braswell are rare


There are many things wrong with this world. I could get into my thoughts on that but don't worry, I won't.
The point of this column is to talk about the things that are right with this world, specifically Nash County.
Gene Braswell is one of those things.
Mr. Braswell is a man that I don't know well. I have, however, heard of him many, many times. He's a man who has contributed much to Nash County.

More ...
Amanda Clark
It's time to spread a little sunshine!


We started receiving phone calls and office visits early Friday from concerned citizens and parents wanting to know if Nash-Rocky Mount Schools (NRMS) Superintendent, Dr. Jackson, had been fired. The news somewhat came out of the blue and was all over social media within minutes -- and another news agency even offered speculation that Jackson may be leaving NRMS.
We spent a good chunk of the day making phone calls and asking questions. We finally heard back from the Nash-Rocky Mount Schools attorney late Friday afternoon declaring the information was not true and that Dr. Jackson was still employed.

More ...
Jo Anne Cooper
Backward Glances


JUNE GERMAN -- This photo was originally published in The Graphic on June 25, 1970. The 90th annual June German, sponsored by the Carolina Cotillion Club of Rocky Mount, was held at the National Guard Armory in Nashville. Pictured above, guests receive a comment from President T.E. Ricks.

More ...
A PICTORIAL LOOK INTO THE PAST

ONE OF THE BEST. Northern Nash's Kiana Thomas (left) was one of three Girls Most Valuable Players this season in the Big East Conference.

ROOM TO SHARE


NASH COUNTY -- The wild basketball season in the Big East Conference had one final curtain call with the announcement of the All-League team for the 2014-15 campaign.
The Coach of the Year honors were rather expected, as Northern Nash's Henry Drake (boys) and Grover Battle (girls) received the top awards.
Drake led the NN boys to within one game of the league crown -- and the Knights also made an appearance in the Class 3-A State Playoffs in Drake's initial season in charge of the program.

More ...
GEOFF NEVILLE, Graphic Sportswriter
Votipka honored in ODAC


GREENSBORO -- Guilford College's Turner Votipka earned his second Old Dominion Athletic Conference (ODAC) Men's Tennis Player of the Week Award recentlyy.
The winner of the March 2 weekly ODAC honor, he is the Quakers' first two-time recipient in a single season in at least 10 years.
Votipka, a senior captain from Nash Central High School, posted a 3-1 combined record in Guilford's two ODAC victories.

More ...
Staff Reports

CLINTON'S QUEST. Clinton Whitaker (top) enjoyed a sparkling season this winter for the Southern Nash High School wrestling squad. Whitaker qualified for the Class 3-A State Championships last month at the Greensboro Coliseum.

Southern Salutes Winter Athletes


STANHOPE -- Southern Nash High School recently hosted its 2014-15 Winter Awards Ceremony on the SNHS campus.
Honorees from the event were as follows, by sport:

More ...
GEOFF NEVILLE, Graphic Sportswriter
Turkey hunting targeted


NASH COUNTY -- The North Carolina Wildlife Resources Commission will open the statewide spring hunting season for wild turkeys -- male and bearded turkeys only -- on April 11 through May 9, preceded by a youth-only week from April 4-10.
During the youth-only season, turkey hunting is only allowed for those younger than 16 years, who must be accompanied by a licensed adult at least 21 years old.

More ...
Staff Reports
CLR opens racing season


ELM CITY -- After 126 days of waiting for the 2015 racing season to begin at County Line Raceway, this all ended last Saturday night as fans and drivers poured into the 3/8th-mile clay oval to kickoff the track's 27th consecutive season of racing action.
The night began with qualifying for the two featured divisions.
Ultimate Super Late Models would take to the track first seeing the 101 of Casey Roberts, who won last year's season finale Race for the Kids, set the fast time turning the track in only 14.176 seconds.

More ...
Staff Reports
Mudcats release promotion sked


ZEBULON -- The Carolina Mudcats, the Class A Advanced affiliate of the Atlanta Braves and member of the historic Carolina League, have announced their promotional schedule for the 2015, 25th anniversary season at Five County Stadium.
Individual tickets are now available online at www.caronlinamudcats.com, by calling (919) 269-2287 and by visiting the Five County Stadium box office.

More ...
Staff Reports
Wesleyan drops series at Ferrum


FERRUM, VA. -- Sophomore Kaelan Jacobs went 6-of-11 with a pair of doubles over the weekend, but it would not be enough to lift his North Carolina Wesleyan College Bishops to a baseball series win at Ferrum.
After dropping last Friday's opener by an 8-3 score, the Bishops bounced back for a 9-2 win in game two only to see the Panthers take the rubber game by a 6-3 tally.

More ...
Staff Reports
Big East Conference golf in full swing


ROCKY MOUNT -- The Big East Conference staged its second boys league match of the season on Monday afternoon at Northgreen County Club.
Wilson Hunt was the narrow winner at 330 strokes -- just two shots ahead of backyard rival Wilson Fike (332).
Northern Nash was third at 364, followed by Southern Nash (366), Nash Central (419) and Rocky Mount (436).
Southern Nash veteran Josh Harden was the overall medalist with a 74.

More ...
Staff Reports
Tobs ready for a big campaign


WILSON -- The Wilson Tobs have announced their 2015 promotions schedule.
This year will feature some new promotions among some old favorites.
The Tobs will also feature a record 33 home games in 2015 at Fleming Stadium.
Thomas and Farris Postgame Fireworks return for two nights: Opening Night Sunday, May 24 and the Fourth of July Firework Extravaganza.

More ...
Staff Reports
Northern Nash play is this weekend
Northern Nash High School's drama, "By the Way, Meet Vera Stark" by Lynn Nottage, will take place at Nash Arts Center in Nashville at 7:30 p.m. on March 27 and 28. The play was previously scheduled in February to honor Black History Month, but was postponed due to inclement weather. Tickets are $5 per person.
"By The Way, Meet Vera Stark" tells the fictional tale of the very real life struggles of black women trying to break into the film industry in the 1930s.
More ...
CAREY A. LYNCH, SR.
Carey A. Lunch, Sr., 59, of Whitakers, passed away Sunday, March 22, 2015. Funeral services will be held Thursday, March 26, 2015 at Pleasant Grove Baptist Church. Burial will follow in the church cemetery. The Rev. Linda Taybron will officiate.
More ...
CHAD EVERETTE WILLIAMS
Chad Everette Williams, 47, passed away Wednesday, March 18, 2015. He was born January 23, 1968 in Nash County to Judith Colbert Williams, and the late Ellis Guy Williams Jr..
More ...
CLARENCE JASPER "JACK" ROSE
Clarence Jasper "Jack" Rose, age 90 of Rocky Mount, passed away on March 20, 2015. He was born February 23, 1925 in Nash County. He is preceded in death by his parents William Henry Rose, Annie Sikes Rose and his sister Mamie Rose Perry.
More ...
HOWARD HARDY LEONARD
Howard Hardy Leonard, born on July 26, 1934, passed away Saturday, March 21, 2015. He was born in Franklin County to the late Willie Howard Leonard and Wilma Gupton Leonard. He was predeceased in death by his brother, Robert Perry Leonard (Doris).
More ...
LARRINE HINES BLAIR
Larrine Hines Blair, 70, passed away Sunday, March 22, 2015. Funeral services will be held Saturday, March 28, 2015 at New Hope Baptist Church, Battleboro. The Rev. D. Keith Miller will officiate. An open visitation will be held at Richardson Funeral Home in Nashville on Friday, March 27, 2015 from 3-7 pm.
More ...
MARION ADAMS MANNING
Marion Adams Manning passed away on Thursday, March 19, 2015. She was born in Danville, Virginia on December 7, 1920 to the late Emma Tanner Adams and Sumpter Hutchinson Adams. Preceding her in death was her devoted husband of over 52 years, John Wiggins Manning.
More ...
MAVIS ALSTON
Mavis Alston, 87, of Elm City passed away March 20, 2015. The funeral will be held Saturday, March 28, 2015 at 11a.m. at Edwards Funeral Home Chapel with Minister Stacey Atkinson officiating. Interment will follow in Evergreen Memorial Park 2704 Nash St. W. Wilson. Public viewing will be Friday from 2-7 pm. Family and friends are requested to assemble on Saturday at the residence at 10 am for the funeral procession.
More ...
WILLIAM KIRBY FRAZIER
William Kirby Frazier, 73, passed away on March 15, 2015. He was born in Vance County, N.C. to the late Thomas and Vernice Frazier, October 5, 1941. Kirby retired from Westinghouse after thirty years of service and Myers Biegel with fifteen years of service.
More ...
WILLIE ATKINSON, SR.
Willie Atkinson, Sr., 81 of Castalia, passed away March 22, 2015. A funeral service will be held at 1 p.m. Friday, March 27, 2015 at Bunn Chapel Baptist Church, Nashville. A visitation will be held from 12-1 p.m. prior to the services.
More ...
ZOLA BELL CLAY
Zola Bell Clay, age 90, passed away Tuesday, March 17, 2015. She was born in Halifax County on February 28, 1925 to the late Joseph Hassel Bell and Kate Newsome Bell. Besides her parents, she was also preceded in death by her first husband, Murray Hale and her second husband, Archie Benjamin Clay.
More ...