Subscribe/Access
Advertisements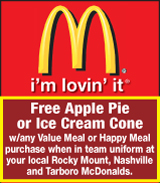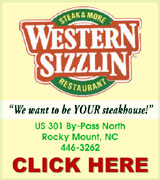 Sections
Member Options
Back
Nash County mulls fox trapping season


Nash County Commissioners will consider adding a fox trapping season to the county following a public hearing on the issue next month. The issue of establising a fox hunting and trapping season was first brought to commissioner's attention at the board's March 2 meeting. Greg Batts, District 3 Wildlife Biologist with the NC Division of Wildlife, presented information to commissioners at that meeting.

More ...
AMANDA CLARK GRAPHIC, STAFF WRITER
County picks auditor for NRMS study


Nash County Commissioners selected a consultant on Tuesday afternoon to perform a performance audit on Nash-Rocky Mount Schools. Commissioners unanimously voted to hire Evergreen Solutions, LLC after hearing proposals from two consultants during a recessed meeting on Tuesday afternoon. Evergreen Solutions, LLC and Prismatic Services, Inc. each made presentations to commissioners on the work they'd do if hired to perform the study.

More ...
AMANDA CLARK, GRAPHIC STAFF WRITER

National Ruritan President Bobby Burton spoke at the 56th annual Nash County Ruritan Clubs meeting.

Nash County Ruritan Clubs celebrate 56th annual meeting


Nash County Ruritans held their 56th Annual Meeting of the Nash County Ruritan Clubs last week at Momeyer Ruritan Club. Ruritans remembered fellow members who had passed away last year. The Reverend Tim Andrews said, "We always want to remember those who have served in various Ruritan clubs, especially this area." The list included Charles David Batts of Coopers Ruritan Club, George L. Boone of Dortches Ruritan Club, Paul Shaw of Oak Level Ruritan Club, and Dennis Raper of West Mount Ruritan Club.

More ...
JO ANNE COOPER, GRAPHIC PUBLISHER
DOJ meets with school officials


After months of threats to call in the Department of Justice to investigate a social media situation involving six female students in the Nash-Rocky Mount School System, the local branch of the NAACP has succeeded in bringing a DOJ representative to town to help resolve the issue that is igniting portions of the community. In response, the school board has agreed to sit down to discuss ways to improve the school system's response to such situations in the future.

More ...
AMELIA HARPER, GRAPHIC CORRESPONDENT
Town of Nashville cable station nears reality


In the near future, the Town of Nashville should have its own cable television channel and YouTube channel as well. In a cooperative agreement with Nash Community College, the new channel will broadcast information about the Town of Nashville and offer some original programming relating to education and civic events. For the most part, development of the new station falls into the hands of Andrew Small, Director of Media Productions at Nash Community College.

More ...
AMELIA HARPER, GRAPHIC CORRESPONDENT

LEGION LADIES -- Wanda Powell and Gail Walker are pictured at the annual Ladies Night hosted by American Legion Post 110.

American Legion Post 110 holds Ladies Night event


Nashville's American Legion Post 110 held its traditional Ladies Night on Monday at Nashville United Methodist Church. The event was rescheduled from last month due to the weather. Ladies Night is held each year as a way for the post to honor the ladies of the post, including widows, as well as those in the community that support the Legion.

More ...
AMANDA CLARK, GRAPHIC STAFF WRITER
Traffic stop leads to arrest
A traffic stop at Highway 301 and East NC 97 led to the arrest of a Rocky Mount woman for trafficking drugs. Deputies with the Nash County Sheriff's Office responded to Highway 301 and East NC 97 around 10 p.m. on Wednesday, March 11 at the request of the North Carolina Highway Patrol. The vehicle was being driven by Deborah Denice Cherry, 30, of Sunset Avenue, Rocky Mount. Deputies located 50 morphine pills inside the vehicle.
More ...
NASH COUNTY SHERIFF'S INCIDENT OFFICE REPORTS
An attempted breaking and entering and injury to real property was reported on 3/9/15 at 7589 Watson Seed Farm Road, An identity theft was reported on 3/9/15 at 12235 Old Raleigh Wilson Road, A fraud identity theft was reported on 3/9/15 at 1243 Cobb Corner
More ...
Nelms, Pafford unite in marriage
Maggie Lee Nelms and Jerauld Brian Pafford were united in marriage on December 31, 2014 at 4 p.m. at the Church of the Good Shepherd. The ceremony was officiated by the Reverend Bob Hudak of St. Paul's Episcopal Church in Greenville. The bride is the daughter of Cy and Cathy Nelms, of Nashville.
More ...
BIRTH ANNOUNCEMENT
Michael and Jamie Staton Valentine, of Nashville, announce the birth of their baby boy, Jasper William Valentine. He was born on January 6, 2015 at Nash General Hospital in Rocky Mount and was 6 pounds, 9 ounces and 21 inches long. Maternal grandparents are Dennis and Sue Staton of Spring Hope. Paternal grandparents are Craig and Joyce Valentine of Rocky Mount. Maternal great-grandparents are Wiley and Shirley Staton of Rocky Mount.
More ...
NCC student of the month feature


Nash Community College student, Anna Inscoe of Louisburg, knows with certainty where she wants her future to take her. But Anna has not always been laser-focused on her career goals. When she graduated from Bunn High School in 2010 she was unsure of a field she might find interesting. As a lover of art she decided to try her hand at graphic design and realized she enjoyed every minute of it. She began looking for a college where she could further her education as a Graphic Designer.

More ...
Special to The Graphic, By Desiree Dolberry

Boys and Girls Club staff member Linda Hagans (at right) helps Xi'Omara Martinez (at left) with a school assignment on Monday afternoon at the Nashville Boys and Girls Club.
GREAT FUTURES START HERE
Nashville joins Boys & Girls Clubs across America next week to celebrate National Boys & Girls Club Week, by hosting several events to emphasize the importance and value of the Clubs to the Nashville community. The organization invites everyone to visit the club and see first-hand the impact being made on today's youth.
More ...
Ballroom Dance
Members of the Rocky Mount Chapter of USA Dance performed a Ballroom Dance exhibition at Autumn Care for the residents on March 1, 2015. The dancers are pictured (L-R): Dot Haskins, Leon Shearin, Tom and Laura Bender, Ann and Leo Bishop, and Terrie and Rod Buckner.
More ...
NCC student selected for NASA aerospace project
Brandy Martin Ward of Nash Community College in Rocky Mount has been selected to travel to NASA's Johnson Space Center this spring to participate in the NASA Community College Aerospace Scholars project (NCAS). Brandy Martin Ward has been selected as one of 240 community college students from across the U.S. to be part of NCAS.
More ...
MILITARY NEWS
Air Force Airman 1st Class Jacob B. Edwards graduated from basic military training at Joint Base San Antonio-Lackland, San Antonio, Texas. The airman completed an intensive, eight-week program that included training in military discipline and studies, Air Force core values, physical fitness, and basic warfare principles and skills.
More ...

The Y.E.S. (Youth Express Success) Whitakers 4-H Club was presented with the 4-H Club Citizenship Award, a new award. Pictured (L-R) is: Leader Denise Wright, Korteisha Wilkins, Ty'Aisha Perry, and Raven Moore.

Nash County 4-H recognizes local youth, clubs


Nash County 4-H celebrated its many clubs and their achievements recently during a revamped awards program held at the Nash County Agriculture Center. Sandy Hall, Nash County 4-H Extension Agent, said the achievement program had been held for many years but this year, some new awards were added and the program was revamped.

More ...
AMANDA CLARK, GRAPHIC STAFF WRITER
Nash County Rabies Clinic is April 2
A rabies clinic sponsored by the Nash County Health Department will be held on Thursday, April 2, 2015 at the Nash County Animal Shelter located at 921 First Street Extension in Nashville, from 8 a.m. to 4 p.m.
More ...
PEACHTREE COMMUNITY NEWS


Peachtree folks gathered for worship on a beautiful Sunday morning. Pastor Whitehouse greeted those present. Sanctuary flowers were given by Annie Belle Edwards in memory of her husband, Harold W. Edwards. Pastor Whitehouse chose as his sermon topic, "We Don't Have to Hide from the Lord."

More ...
BARBARA HARDISON
Word for the week


How do you get hold of something invisible? How do you join an unseen organization? What about the church? Is it essentially invisible? No! The church in the Bible is a very visible body of people.

More ...
DENNIS PRUTOW
RED OAK NEWS


On Saturday, March 7, in spite of freezing temperatures, the youth of Red Oak United Methodist Church held a yard sale of items donated by the congregation. Proceeds from this event will be used to support youth activities and missions during the year. The Nash County WMU meeting was held at Red Oak Baptist Church on Tuesday, March 10. Participants also enjoyed lunch following the program.

More ...
SUZY PEARCE
AVENTON COMMUNITY NEWS


Aventon community increased in size! Congratulations Allen and Amanda Clark on the new addition to your family, Brendin Allen Clark. Weighing 6 pounds, 11 ounces and 18 inches long, Brendin made his debut on Feb. 2 at Vidant Hospital in Greenville. The Clarks also have 2 other sons, Corbin age 3 and Devin age 2.

More ...
JOJO RICKS
Rocky Mount Rotary Club
The Rocky Mount Rotary Club met on Monday, March 9 at the DoubleTree Hotel for their weekly meeting. The guest speaker was Evan Chavez of Capital Broadcasting. She spoke about the Rocky Mount Brew Mill and the improvements and changes being made to the old Rocky Mill area. Pictured above is Rotarian President Ron Green with Chavez.
More ...
Farm market summary March 9-13


North Carolina's egg prices were steady on small, higher on the balance when compared to last week. Supplies are light to meet a good demand. The North Carolina weighted average price quoted Thursday, Mar 12, 2015 for small lot sales of delivered, cartoned, grade "A" eggs was 177.81 for Extra Large, 172.69 for Large, 141.69 for Medium, and 119.00 for Small eggs.

More ...
Courtesy of FEDERAL - STATE MARKET NEWS SERVICE, DIVISION OF MARKETING - NCDA&C
We should sweat the small stuff more often


Sunday morning, I sat up in a chair and did something really significant: I put on a fresh pair of cotton athletic shorts and a soft new t-shirt. That probably sounds ridiculous, and a month ago, I could not have imagined writing such a sentence. But after this past week, I've come to a new understanding of how to appreciate.

More ...
Mike Brantley
Nashville will miss Cynthia Richardson


As you know, I've been out for several weeks on maternity leave. Last week was my first official week back. I've tried to keep up with the happenings in the area but I spent my maternity leave in Pitt County to be closer to family so I really haven't been "in the loop." I missed several board meetings while I was out, one of which was Nashville's budget retreat. I'm still trying to catch up on all the happenings at that meeting but one thing I'm a little sad I missed was Nashville Town Clerk Cynthia Richardson's departure .

More ...
Amanda Clark
Recent award recipients are very deserving


The recent recognitions awarded by the Nashville Chamber of Commerce were truly well deserved by the two recipients. As you may recall reading in The Graphic last week, James Ervin was named Nashville's 2015 Distinguished Citizen of the Year. Mr. Ervin's nomination came with three full pages of reasons he earned such an honor. He is sincerely committed to his community which is evident in everything he does. He works tirelessly for the American Legion, Oak Level Ruritan Club and many other veteran affiliated agencies. He is part of a local group of men we locals call the "Ramp Guys," which provides ramps to those in need in our communities. Plus he's likely to be found on most any given day lending a helping hand to local citizens.

More ...
Jo Anne Cooper
Backward Glances


CELEBRATION -- This photo was found in The Graphic's March 26, 1970 archives. Teens are pictured riding in the All American Parade held in Rocky Mount. The parade was part of a celebration of Rocky Mount winning one of the 11 awards in the nation as an All-America City. (Graphic photo by Baines)

More ...
A PICTORIAL LOOK INTO THE PAST
Nash County Animal Friends' Notebook


Over 1, 300 Cats and Kittens died at the Nash County Animal Control Shelter in 2014. Why is that? Because people obviously don't care. If they did, they would have their cats fixed (Spayed/Neutered) so there wouldn't be babies. Or they would keep them inside. Around half of the animals that go into the Shelter are cats. Most of them aren't adoptable because they were dumped outside and left to fend for themselves, with sometimes some food put out.

More ...
Carol Vierela, NASH COUNTY ANIMAL FRIENDS

IN THERE. Southern Nash player Kayla Moore (right) is safe at second base following an error by Smithfield-Selma.

RIGHT ON TIME


STANHOPE -- Weather has hindered Southern Nash's aspirations for a bountiful start to the 2015 softball campaign -- just like everybody else in the area. But SNHS head coach Christy Bailey-Reams took a proactive approach to last Friday's non-conference home meeting against Smithfield-Selma.

More ...
GEOFF NEVILLE, Graphic Sportswriter
Northern wins first matchup


RED OAK -- Practice hasn't necessarily made perfect for the Northern Nash Knights in the early portion of the 2015 baseball campaign. Like every other prep team in the area, Northern hasn't had much preseason work due to poor weather. So the Knights have gotten off to a 1-2 start under second-year skipper Leonard Allen -- though Northern was able to secure a victory over Corinth Holders by a 10-0 tally last Tuesday in Northern's opener.

More ...
Staff Reports
Nine Is Enough For Northern


LOUISBURG -- Northern Nash's second trip to Franklin County in two days finished twice as quickly last Tuesday in prep girls soccer action/

Northern needed just one half to defeat Louisburg by a 9-0 margin last Tuesday at Joyner Park.

NN invoked the nine-goal mercy rule with a strong first half. Under North Carolina High School Athletic Association rules, at least one half must be played in soccer, despite the score.

More ...
GEOFF NEVILLE, Graphic Sportswriter
Mudcats' tickets are available


ZEBULON -- The Carolina Mudcats, the Class A Advanced affiliate of the Atlanta Braves and member of the historic Carolina League, have announced that individual game tickets for the 2015 baseball season are available for purchase to the general public.

Tickets are available online at www.caronlinamudcats.com, by calling (919) 269-2287 and by visiting the Five County Stadium box office.

Premium Field Level seats are $12, Box Seats are $10 and Cattail Skybox Seats are $15.

More ...
Staff Reports
Wesleyan selects new coach


ROCKY MOUNT -- The North Carolina Wesleyan College Department of Athletics has announced that Vicky Gentile has been promoted to head coach of the Battling Bishop volleyball program.

Her acceptance of the position follows the resignation of long-time head coach Dr. Robin Pietryk, who is pursuing another professional opportunity as Wesleyan's Coordinator of Disability Services.

More ...
Staff Reports
County Line to open for season


ELM CITY -- Area racing fans have waited nearly four months for the return of action to the 3/8th- mile clay oval at County Line Raceway.

This coming weekend marks the start of the 27th consecutive season at the Elm City oval located on Stagecoach Road.

Friday night, CLR will host an Open Practice for all five weekly divisions, plus any super late models or modifieds.

More ...
Staff Reports
ECU Pirates secure sweep at Elon


ELON -- East Carolina University recorded a season-high 22 hits which included three home runs, two of them in grand style, en route to a 20-4 win completing the non-conference series sweep Sunday afternoon at Walter C. Latham Park in Alamance County.

The Pirates (13-6) extended their win streak in the series to 11-straight games and have now won 12 of the last 14 contests.

More ...
Staff Reports
HILL QUEEN
Southern Nash's Olivia Lamm claimed the mound victory for the Ladybirds as part of last Friday's home softball triumph versus Smithfield-Selma HS.
More ...
ON TARGET
Southern Nash High School's Madison Smith prepares to make contact with a pitch as part of the Ladybirds' home softball victory last Friday afternoon against Smithfield-Selma.
More ...
OUCH
Northern Nash's Caitlyn McLaughlin (left) can't avoid this collision last Tuesday against Louisburg High School.
More ...
PLAYING CATCH-UP
Northern Nash's Olivia Bunn (left) tracks down a loose ball for the Lady Knights during last Tuesday evening's road soccer decision against the Louisburg Lady Warriors.
More ...
SLAP HAPPY
Southern Nash's Ayessha Hall slaps at the ball during the Ladybirds' fast-pitch softball conquest last Friday afternoon at home against the Smithfield-Selma Lady Spartans.
More ...
SNHS INFIELD EXCELLENCE
Southern Nash's infielders meet on the mound before the start of an inning during last Friday's home softball victory against non-conference opponent Smithfield-Selma High School.
More ...
STEPPING STONE
Northern Nash's Olivia Bunn (left) leaps in an attempt to gain possession for the Lady Knights during last Tuesday's girls soccer triumph against homestanding Louisburg High School.
More ...
BENNETTE SAUL PRIDGEN
Bennette Saul Pridgen, 63, passed away Monday, March 16, 2015. He was born in Nash County to the late Robert and Marietta Pridgen. In addition to his parents he is preceded in death by his brothers, Robert Clarence Pridgen and Ronnie Wayne Pridgen.
More ...
CAROLYN MARIE PROCTOR STANFIELD
Carolyn Marie Proctor Stanfield, age 67, passed away on Wednesday, March 11, 2015. She was born in Nash County on January 18, 1948 to James Proctor and Ethel Lee Williams Proctor. She is preceded in death by her father, James Proctor.
More ...
DOLORES WILLIAMS
Dolores Williams, age 85, of Nashville, passed away on Thursday, March 12, 2015. She was born on August 7, 1929. She was preceded in death by her husband, Loyd; her son, Joseph Williams and her grandson, Bobby Williams.
More ...
FRANKLIN DALE KING
Franklin "Frank" Dale King, age 55, passed away on Sunday, March 15, 2015. He was the son of the late Alonza King, Jr. and Margaret Perry King.
More ...
J. HAROLD CRUMPLER
J. Harold Crumpler passed away on Monday, March 16, 2015. He was born on April 14, 1928, and raised in Nash County, the son of the late Jutsion Crumpler and Myrtie Moss Crumpler, and husband of the late Lottie Proctor Crumpler. He was also preceded in death by his son, Joe Crumpler; a sister, Alice "Doodle" Crumpler; and two brothers, Watson Crumpler and Warren Crumpler.
More ...
JOSEPH ALTON BEARD
Joseph Alton Beard, 82, died Sunday March 15, 2015. He was born November 17, 1932 in Nash County, son of the late Lester J. and Rene Bullard Beard. Joseph was also preceded in death by a sister, Vivian Rita Beard and brothers, John Lester Beard, Marcus D. Beard and William A. Beard, his niece Susan Beard Bunn.
More ...
JOSEPH WILLIAM COCKRELL
Joseph William Cockrell, age 63, passed away on Wednesday, March 11, 2015. He was born in Nash County on April 12, 1951 to the late Dorsey Manuel Cockrell and Effie Stone Cockrell. In addition to his parents, Joseph was predeceased by brothers, James Clee Cockrell and an infant brother.
More ...
JOYCE BLUNT ROSE
Joyce Blunt Rose of Rocky Mount and Elm City passed away on Friday, March 13, 2015. She was born on December 15, 1930 to the late Joseph D. Blunt and Lillie Mae West Blunt. She was preceded in death by her husband of 57 years, David Jeptha Rose II; her step mother, Mary Savada Coggin Blunt; sister, Anne Blunt Dorsett; brother, Robert W. Joyner, Jr.; brother-in-law, Dr. I. W. "Boojack" Rose, Sr.
More ...
LAURA JANE HESALTINE
Laura Jane Hesaltine, 61, passed away, Wednesday, March 11, 2015. She was born August 25, 1953 in Cambria County, Pennsylvania. She was preceded in death by her mother, Nancy J. Waring and her husband, Jerry Wayne Presley.
More ...
LONNIE PERRY SHEARIN
Lonnie Perry Shearin, 76, passed away Sunday, March 15, 2015. He was born in Nash County, in the community of Essex on May 7, 1938 and was the youngest child of Jasper Luscious and Betty Will Harper Shearin. He was preceded in death by his parents, his sisters Mary Gladys Shearin and Lois Shearin Joyner and brothers in law Oliver Dawes Joyner, Chester Carpenter and W.J. Minchew.
More ...
LULA WYATT WILKINSON BAILEY
Lula Wyatt Wilkinson Bailey, 93, of Rocky Mount passed away Thursday, March 12, 2015. She was preceded in death by her husband of 60 years Millard Thomas Bailey; and sister Nan W. Price of Greensboro. She was born May 4, 1921, the eldest of three daughters in the family of Lula Daughtridge Wilkinson and William Stronach Wilkinson.
More ...
MARJORIE HAYES TURNER
Marjorie Hayes Turner, 92, of Nashville, passed away Saturday, March 14, 2015. She is predeceased by her parents James and Lucy Hayes and a brother, Earl Hayes.
More ...
NORMA THELMA CUTHRELL
Norma Thelma Cuthrell, 89, passed away Thursday, March 12, 2015. She was born in Rocky Mount on May 24, 1925 as the first daughter of the late Joseph Monroe Cuthrell and Thelma Scammell Cuthrell. She was preceded in death by her sister Joyce Cuthrell and nephew Ron Smith, Jr.
More ...
WILLIAM KIRBY FRAZIER
William Kirby Frazier, 73, passed away on March 15, 2015. He was born in Vance County, N.C. to the late Thomas and Vernice Frazier, October 5, 1941.
More ...