Subscribe/Access
Advertisements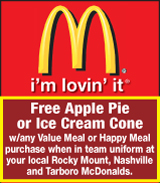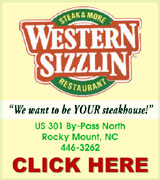 Sections
Member Options
Back
Nash County budget requests call for more manpower


Nash County Commissioners began budget preparations on Monday during an all day work session.
The work session included requests from department heads as well as a presentation from Nash Community College.
Requests from department heads totalled just over $3 million. Most department heads requested additional personnel, including five positions in social services and two in the sheriff's department.

More ...
AMANDA CLARK, GRAPHIC STAFF WRITER
Hospital rankings offer mixed sentiments


The board of Nash UNC Health Care was given mixed news at its most recent board meeting on March 5. On the one hand, the hospital was honored as one of the top 25 best hospitals in the state. On the other, the hospital was recently downgraded on the Standard and Poor's Index.
The good news is good indeed. In the March issue of Business North Carolina magazine, Nash UNC Health Care was selected as the 20th Best Hospital in the State.

More ...
AMELIA HARPER, GRAPHIC CORRESPONDENT

Lieutenant Joseph Corbett received the chamber's 2015 Above and Beyond the Call of Duty Award.

Chamber names James Ervin 2015 Distinguished Citizen


The Nashville Chamber of Commerce named James A. Ervin, Sr. as its  2015 Distinguished Citizen during the 24th annual awards ceremony held at Nash Arts Thursday night.
James A. Ervin, Sr. was born in Rocky Mount. He grew up in Edgecombe County  and has been married to his wife, Rachel, for 48 years. They have two sons, James A. Ervin, Jr. and John David Ervin.

More ...
JO ANNE COOPER, GRAPHIC PUBLISHER
Governor nominates Nashville man to lead SBI
Governor Pat McCrory has nominated B.W. Collier to serve as the director of the State Bureau of Investigation (SBI).
Collier, a Nashville resident, was appointed as the acting director on August 7, 2014 and sworn in on August 11.
The SBI director is appointed by the governor and confirmed by the General Assembly for an eight-year term.
"The SBI has made tremendous progress under B.W. Collier's leadership in a very short period of time," Governor McCrory said.
More ...
Solar farm trend viewed as "Gold Rush"


"We are in something of a gold rush in North Carolina," commented Nathan Rogers, a San Francisco developer who testified at one of two quasi-judicial hearings regarding approval of two new solar farms in Nash County. The hearings took place as part of the regular County Commissioners meeting held on March 2.
According to Nash County Planning Director Nancy Nixon, the county currently has approved another 12-15 conditional use permits for potential solar farms.

More ...
AMELIA HARPER, GRAPHIC CORRESPONDENT
2015 OPRY
Nashville's Business and Professional Women (BPW) hosted its 37th annual Elsie Clark Memorial Opry on Friday night at Nash Arts. Several musicians took to the stage to perform a mix of country and  bluegrass music. The annual event is a fundraiser for scholarships the BPW gives each  year. Pictured above, Meredith Davis and Jamie Pridgen perform at the 2015 Elsie Clark Memorial Opry held in Nashville Friday night.
More ...
NASHVILLE POLICE REPORTS
INCIDENTS
A larceny was reported on 2/22/15 at Food Lion, 1151 Eastern Avenue
A larceny was reported on 2/22/15 at LBJ Chevrolet, 815 E. Washington Street
A larceny was reported on 2/23/15 at Wal-Mart, 1205 Eastern Avenue
More ...
NASH COUNTY SHERIFF'S INCIDENT OFFICE REPORTS
A damage to property was reported on 3/2/15 at 3300 Benvenue Road
A felony larceny was reported on 3/2/15 on 9742 Red Oak Boulevard
An identity theft was reported on 3/2/15 on 5486 Quail Roost Road
A simple affray and domestic violence was reported on 3/2/15 at 3519 Red Oak Road
More ...
Nash Republicans host annual convention at NCC


Members of the Nash County Republican Party met last week for their annual convention at the Business and Industry Center of Nash Community College. The event was held on Thursday, March 5 and, despite predictions of icy weather, organizers said it was the best turn-out ever.
Skip Carney, Marketing Consultant for Carney & Co., led the festivities for the evening.

More ...
AMELIA HARPER, GRAPHIC CORRESPONDENT
NRMS Public Info Department honored
School public relations professionals across the state were honored Friday, January 30 for the products of their craft during the North Carolina School Public Relations Association's (NCSPRA) annual Blue Ribbon Awards in Greensboro. A total of 26 school districts totaled 139 awards in 11 categories.
Included in the list of winners was the Public Information Department for Nash-Rocky Mount Public Schools (NRMPS).
More ...
MILITARY NEWS
Air Force Airman Michael K. Harper graduated from basic military training at Joint Base San Antonio-Lackland, San Antonio, Texas.
The airman completed an intensive, eight-week program that included training in military discipline and studies, Air Force core values, physical fitness, and basic warfare principles and skills.
More ...
PEACHTREE COMMUNITY NEWS


Sunday dawned as a beautiful spring day.  It was so welcomed after two weeks of miserably cold days of ice and snow.  Peachtree folks were glad to be out and at church for worship.  Pastor Whitehouse greeted those present.  He welcomed special guests, one of whom brought the morning sermon.  John Michael Sykes, grandson of Janice and Bobby Sykes, is at home on furlough from his mission station in Myanmar.

More ...
BARBARA HARDISON
RED OAK NEWS


On Wednesday, March 4 Red Oak United Methodist Church members came together for their first Wednesday Meal. This was a time to fellowship with one another without the pressure of a meeting agenda. Look for a sign up sheet in the bulletin the Sunday before the first Wednesday of each month.

More ...
Suzy Pearce
Word for the Week


The Good News of Jesus Christ begins on a negative note because we are in need. It then reports the only answer we have. If you've ever had a guilty conscience, you know the problem. Guilt means violation. You've crossed the line. You are due a penalty. "The wages of sin is death" (Romans 6:23).

More ...
DENNIS PRUTOW
UDC Bethel Heroes
Members of UDC Bethel Heroes Chapter 636 attended the United Daughters of the Confederacy General Spring Board meeting in Richmond Virginia on March 7, 2015. Those attending are pictured (L-R): Edith Whitby, Margaret Sink, Margie Parker Brantley, Helen Sharpe and Donna Boykin.
More ...
AVENTON COMMUNITY NEWS


Aventon may be small in size, but the hearts of Aventonians are huge.  There isn't one person in this community we couldn't call for help without receiving it. It's a wonderful feeling knowing that in this busy, busy world, there are people that really care.

More ...
JOJO RICKS
Twin Counties awarded funds under emergency food and shelter program
United Way Tar River Region recently announced the continuation of the Emergency Food and Shelter Program (EFSP).  For Phase 32, Congress has appropriated $120,000,000 nationally to supplement and expand emergency food and shelter programs.  Of this amount, Nash and Edgecombe Counties have been awarded $95,243 to supplement emergency food and shelter programs in our area. 
More ...
Nash 4-H receives donation
Nash County 4-H recently received a $2,500 donation from Ronnie Weaver Farms and America's Farmers Grow Communities, sponsored by the Monsanto Fund.
The donation will help the organization support leadership development by covering the costs of various programs. Some of these programs include: the 4-H Summer Intern Leadership Institute, 4-H Congress, and youth and adult leadership training.
More ...
Red Cross seeks Heroes Banquet donors
The Frederick E. Turnage Chapter American Red Cross is accepting donations for individuals and businesses for the 2015 Heroes Banquet, to be held Tuesday, March 24, 2015, 5:30 p.m. at Rose Hill Conference Center in Castalia.
Since 2007, the Heroes Banquet has honored individuals and groups for extraordinary accomplishments on behalf of the local community.
More ...
District 3 Youth Hunter Education Skills Tournament is Saturday
The N.C. Wildlife Resources Commission has set the schedule for the 2015 Youth Hunter Education Skills Tournaments, marking the 37th year for the popular statewide pre-collegiate shooting sports events.
The Commission will conduct nine district-level competitions in March, with hundreds of middle school and high school students taking part.
More ...
Excited mom of three is happy to return


I am now a mother of three boys. So far, it's been an interesting experience, to say the least.
Little Brendin came into this world rather quickly on February 2 and it all started rather interestingly, as you have probably heard.
I was due to have my c-section on Thursday, February 5. I started having some interesting, and severe, pains about two weeks before. On Tuesday, February, 24, I was sitting in my doctor's office all but begging him to induce labor.

More ...
Amanda Clark - 1 opinion posted
Reader says it's time to move on, stop dividing Nash County


Dear editor:
Ever since November of last year, members of the NAACP and the Rocky Mount City Council have been showing up to Nash-Rocky Mount school board meetings about a picture put on Instagram over four months ago that had KKK connotations (we all know what I'm talking about at this point, so there's no need to describe it again). 

More ...
Letters to the Editor: - 2 opinions posted
Backward Glances


SCHOOL MUSICAL –– This photo originally published in The Graphic on March 17, 1977. A musical version of Mark Twain's "The Prince and the Pauper" was given by fifth grade students at Baskerville Elementary School in Rocky Mount. Pictured left to right are Trey Reeve, Greg Frazier, Darryl Clark and Stephen Johnson who portrayed the Four Lords.

More ...
A PICTORIAL LOOK INTO THE PAST

SEVENTEEN SENDS ONE. Northern Nash's Kali Ranke (left) clears the ball for the Lady Knights during Monday's road soccer victory against Bunn.

WAITING GAME


BUNN -- The poor preseason weather couldn't have come at a worse time for the Northern Nash High School girls soccer squad.
Had the Lady Knights possessed a veteran group, the onslaught of cancelled matches and practices wouldn't have mattered so much.

More ...
GEOFF NEVILLE, Graphic Sportswriter
Southern wraps up solid year


STANHOPE -- Following one of the best starts in school history, Southern Nash's 12-12 overall record on the boys hardwood this winter might be considered somewhat of a disappointment.
But that's not the way SNHS veteran coach Robbie Kennedy looks at things. Instead, Kennedy sees a program on the rise after the Firebirds reached the Class 3-A State Playoffs for the third time in the past four seasons.

More ...
GEOFF NEVILLE, Graphic Sportswriter

BIG CUT. Nash Central's Haley Baker takes a mighty swing during the Lady Bulldogs' season-opening road softball matchup on Monday against the host Bunn Ladycats. Bunn was a 10-0 winner in the non-conference fast-pitch contest.

Central Starts With Setback


BUNN -- After watching his club experience tough graduation losses over the past two seasons, Gary Smith wasn't sure what to expect this spring from his Nash Central High School fast-pitch softball squad.
Nash Central still has a solid nucleus of players, but the Lady Bulldogs will also feature several newcomers who will need time to adjust to the varsity level.

More ...
GEOFF NEVILLE, Graphic Sportswriter
Southern stopped in opener


WILSON -- Under new coach Todd Brewer, the Southern Nash Firebirds opened their 2015 baseball season last Saturday with a 15-3 setback against D.H. Conley as part of the Tobs Varsity Classic at Fleming Stadium.
Southern led 1-0 after the top of the first stanza as Kendall Parker delivered a leadoff single and eventually scored off an RBI from Blake Boyd.

More ...
Staff Reports
NCHSAA HOOPS STATE FINALS


CHAPEL HILL -- Listed is this weekend's schedule for the North Carolina High School Athletic Association's State Basketball Championships:

More ...
Staff Reports
Mudcats to host anthem singers


ZEBULON -- The Carolina Mudcats, the Class A Advanced affiliate of the Atlanta Braves, will host their annual National Anthem tryouts on Saturday, March 28 beginning at 9 a.m. at Five County Stadium.
Registration begins at 8:30 a.m. on the third base side of Five County Stadium.
This open audition event will run until noon.

More ...
Staff Reports
NCWC squads compete in league action


ROCKY MOUNT -- Four North Carolina Wesleyan College Battling Bishop athetic squads were in action on Sunday afternoon, all of which involved USA South Conference competition.
The Battling Bishop men's and women's tennis teams opened up league play with a pair of dominating wins at Averett University.

More ...
Staff Reports
State sets double play record


RALEIGH -- North Carolina State University's baseball squad set a school record by turning six double plays, and kept the hit parade going to clinch the series, blowing past Clemson 14-6 on Sunday at Doak Field at Dail Park on the NCSU campus.
The series win marks the first time NC State (9-4, 2-1 ACC) has ever won four of the last five series with Clemson (8-6, 1-2).

More ...
Staff Reports
DUEL FOR POSSESSION
(L to R) Northern Nash's Ally Deans and Bunn's Haley Jones sprint toward the ball during Monday afternoon's non-conference girls soccer showdown, which was claimed by the Lady Knights.
More ...
GIVE AND TAKE
Nash Central High School's Caitlin Hamm looks over a pitch for the Lady Bulldogs during their regular season opener on Monday afternoon at Bunn. The homestanding Ladycats won the event by a 10-0 margin. Central was at home Tuesday for a meeting with Pitt County South Central HS.
More ...
IN THE CLEAR
Northern Nash's Ally Deans (3) wins a footrace to the ball for the Lady Knights during Monday's road soccer decision against Bunn in Franklin County.
More ...
TEAM LEADER
Rebekah Beal (left) will be a key veteran this season for the Northern Nash High School girls soccer squad, which opened with a road victory Monday at Bunn.
More ...

Shelton Carter, as Bert, and Meagan Culkin, as Mary Poppins, dance with the cast of Mary Poppins.

Rocky Mount hosts Mary Poppins Musical


One of the most popular Disney movies of all time is capturing hearts in a whole new way –– as a practically perfect musical! Based on the books by P.L. Travers and the classic Walt Disney film, this family friendly musical has delighted audiences around the world. Everyone's favorite practically perfect nanny takes the stage in this Supercalifragilisticexpialidocious musical adventure.

More ...
Contributed
Elsie Clark Memorial Nashville Opry
Nashville's Business and Professional Women (BPW) hosted its 37th annual Elsie Clark Memorial Opry Friday night at Nash Arts welcoming local artists to the stage.
The annual event is a fundraiser for scholarships the BPW gives each  year.
Pictured above, Nashville BPW President Barbara High-Tyre and Ronnie Ezzell share a few moments on stage during the annual event.
More ...
NCC presents show and dinner theatre in March
Nash Community College will present the musical Working in March as both a show and dinner theatre experience. Based on Studs Terkel's best-selling book of interviews with American Workers, Working paints a vivid portrait of the men and women the world so often takes for granted: the schoolteacher, the phone operator, the waitress, the millworker, the mason, and the housewife, just to name a few.
More ...
AMY DUNN HARVEY
Amy Dunn Harvey, 44, passed away March 7, 2015. She was born in Nash County on August 24, 1970. 
More ...
JAMES "JIMMY" MYRON BECKNELL
James "Jimmy" Myron Becknell, Sr.,85, passed away March 3, 2015,  He was born in Nash County.  Jimmy was preceded in death by his parents, a brother,  a sister,  one step-son, and one step-daughter.
More ...
JOHN ("JACK") ARRINGTON PHILIPS, JR.
John ("Jack") Arrington Philips, Jr., passed away on Wednesday, March 4, 2015. He was born in Rocky Mount on June 22, 1935. He was the son of the late John Arrington Philips, Sr. and Winifred Phoebe Green. He was preceded in death by his wife, Ann Adkins Philips.
More ...
LAWRENCE THOMAS (L.T.) PHILLIPS
Lawrence Thomas (L.T.) Phillips, age 91, passed away Saturday, March 7, 2015. He was born in Bolivia, NC on June 18, 1923 to the late Berry Roger Phillips and Mary Denton Phillips. L.T. was predeceased by his former wife, Betty Gibson Phillips, six sisters and three brothers.
More ...
NORA PRICE BOONE
Nora Price Boone, age 85, died on Saturday, March 7, 2015. She was born in Nash County,  on August 4, 1929 to the late John Belton Price and the late Annie Proctor Price. Besides her parents, she was also preceded in death by her husband of 62 years, Howard Boone; her great-granddaughter, Anna Riley Davis; her brothers, John, Marvin, Harvey and Clarence Price; and her sisters, Ruby Keel and Frances Tolson.
More ...
VELMA CROCKER HALL
Velma Crocker Hall, 83, of Middlesex, passed away Tuesday, March 3, 2015. Funeral services were  Friday, March 6, 2015 at Mount Zion Free Will Baptist Church, Johnson Farm Rd., Kenly. Entombment  followed in Hollywood Cemetery, Middlesex. The Rev. Lloyd Hargus officiated.
More ...
WATSON "SONNY" NEWBERRY SHERROD, JR.
Watson "Sonny" Newberry Sherrod, Jr., 86, passed away on Wednesday, March 4, 2015 in Tarboro. He was born on February 6, 1929 in Enfield,   to Watson and Ruth Wood Sherrod. He married May Holton in 1958 in Wilmington.
More ...