Subscribe/Access
Advertisements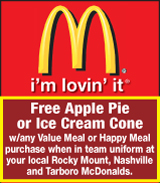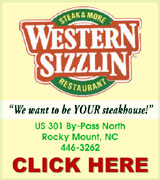 Sections
Member Options
Back
Nashville hires new town clerk


Less than two weeks after the announcement that Nashville's Town Clerk/Human Resources Officer, Cynthia Richardson is retiring from her position, the Town of Nashville announced the hiring of a new town clerk to replace her. Lou Bunch will replace Richardson when her retirement becomes effective on March 6.
Currently, Bunch is employed with the State of North Carolina at the Nash Correctional Institution located in Nashville.

More ...
Staff Reports
Nashville Fire Department hopes to increase staff


The Nashville Fire Department will likely gain an additional full time staff member in the near future, but that addition may also mean a slight increase in the fire tax for the Gully Fire District, which includes Nashville.
At the recent Nashville Town Retreat, Nashville Fire Chief Randy Goodbrod, made the request for additional manpower, which would bring the total complement of the fire-fighters up to 13 full time paid staff members.

More ...
AMELIA HARPER, GRAPHIC CORRESPONDENT
Former Nash County Sheriff, Frank Brown, passes away


Former Nash County Sheriff Frank Brown, Sr. passed away on Tuesday, February 17 at the age of 81. Brown served as Sheriff of Nash County for twenty years, serving five terms from 1974 to 1994.
Brown was born in Bailey in 1933. After graduating from Bailey High School in 1952, he briefly attended Atlantic Christian College before joining the Army. He served his country during the Korean conflict from 1953-1955.

More ...
AMELIA HARPER, GRAPHIC CORRESPONDENT

Marc Hines is pictured above as he begins a new project.

Nashville native's work featured in Ali exhibit


A Nashville native's artwork is part of a temporary exhibit at a  Kentucky museum dedicated to the life of boxing legend Muhammad Ali.
Marc Hines recently visited the Muhammad Ali Center in downtown Louisville, Kentucky to see his work and said seeing it hanging in a museum was unbelievable.

More ...
AMANDA CLARK, GRAPHIC STAFF WRITER
Icy roads lands car in creek


A vehicle traveling south on Highway 58 on Monday evening, took an unexpected dip in the creek as a result of the hazardous road conditions on Monday evening.
Jason Edwards, of the Nashville Fire Department, reported that the driver lost control near the convenience center near Creekbridge, flipped over and plunged into the creek bed. Fortunately, there was only about a foot of water in the creek at the time.

More ...
AMELIA HARPER, GRAPHIC CORRESPONDENT
Sheriff Stone to speak at Nashville Chamber event
Nashville's Chamber of Commerce will add a new name to its list of Distinguished Citizens next Thursday night at Nash Arts.
The annual Distinguished Citizen event is scheduled for March 5 and is free and open to the public. Refreshments will be served at 6:30 p.m.  prior to the ceremony which will begin at 7:00 p.m.
More ...
Recycling event is Saturday, March 7
Nash County will hold a recycling day on Saturday, March 7 from 10 a.m. - 1 p.m. in the parking lot of the Nash County Courthouse at 234 W. Washington Street, Nashville.
The event is free and open to the public and patrons are invited to bring items for recycling such as old electronics, fluorescent tubes and bulbs, unwanted or unused prescriptions (pills only), and over-the-counter medications and paper documents which will be safely and securely shredded.
More ...
Sheriff's Office responds to armed man threatening family


An incident on Halifax Road Monday, February 24, led to a confrontation between an elderly man and members of the Nash County Sheriff's Department and North Carolina Highway Patrol. At one point, the man reportedly barricaded himself within his home and threated officers with a shotgun.
Curtis Moore, Public Information Officer for the Nash County Sheriff's Department, said that the unidentified elderly male had mental health issues that caused him to be unable to recognize his own family members.

More ...
AMELIA HARPER, GRAPHIC CORRESPONDENT
HOME FIRE
A mobile home caught fire on Monday on South Highway NC 58 near Coopers Elementary School. The occupants were at home at the time of the blaze, but were unharmed. The Nashville, Coopers, and West Mount Fire Departments responded to the blaze as well as the Nash County EMS, the Highway Patrol, and the Fire Marshal's office. The structure was deemed a total loss. The cause of the fire is still under investigation, but appears to be accidental.
More ...
NNHS play postponed due to weather
Northern Nash High School's play, "By the Way Meet Vera Stark" was scheduled for Feb. 27-28 but has been postponed due to the weather. The play will be rescheduled soon.
More ...
Water conservation could raise Nashville's rates


In a recent discussion at the Town of Nashville retreat, Town Manager Preston Mitchell gave the board bad news concerning the current status of the Enterprise fund. Lower water usage will likely mean that the town will need to raise water rates in the coming fiscal year.
A large part of the problem is water conservation efforts on the part of the Nash Correctional Institution.

More ...
AMELIA HARPER, GRAPHIC CORRESPONDENT
NASHVILLE POLICE REPORTS
INCIDENTS
A hit and run was reported at 222 W. Washington Street parking lot on 2-8-15
A larceny was reported at 201 Essex Road on 2-9-15
A larceny (shoplifting) was reported at Kangaroo, 367 W. Washington Street on 2-11-15
More ...
NASH COUNTY SHERIFF'S OFFICE REPORTS
A breaking, entering and larceny was reported at 5481 Robertson Rd. on 2-16-15.
An assault on a female was reported at 4856 Kaitlin Rd. on 2-16-15
A communicating threats was reported at 9257 Pace Road on 2-16-15
A larceny was reported at 4662 West Old Spring Hope Road on 2-16-15
More ...
Nash County Blood Drives for MARCH 2015
Monday, March 2 from 3-7 p.m. at Bailey United Methodist Church 12437 Green Street, Bailey.
Wednesday, March 4 from 9:45 a.m. - 12:30 a.m. at Boddie Noell Rocky Mount, 1021 Noell Lane, Rocky Mount.
Monday, March 9 from 2:30 p.m. - 6:30 p.m. at Nashville United Methodist Church, 209 East Washington Street, Nashville.
More ...
Rocky Mount Police Chief named to Public Safety Leadership Initiative Advisory Board
Police Chief James Moore was recently named to the advisory board of the Public Safety Leadership Initiative (PSLI) at NC State University. Moore will join 12 other members of a board comprised of sheriffs, chiefs from throughout the state and other law enforcement executives. The board will give direction to the director of PSLI on curriculum matters in the police educational programs at NC State.
More ...
Deadline for farm service safety-net program is Friday, February 27
U.S. Department of Agriculture's (USDA) Farm Service Agency (FSA) Bob Etheridge reminds producers of upcoming important deadlines for the new safety-net programs established by the 2014 Farm Bill, known as Agriculture Risk Coverage (ARC) and Price Loss Coverage (PLC). The final day to update yield history or reallocate base acres is Feb. 27, 2015, and the final day for farm owners and producers to choose coverage is March 31, 2015. 
More ...
Locals receive Innovative Young Farmer Award
The Farm Credit Associations of NC announce the recipients of the 2015 Innovative Farmer of the Year Award given by The Tobacco Farm Life Museum.
This year's "Innovative Young Farmer of the Year" award winners are Peyton McDaniel, Billy McDaniel, and Phillip Watson.  These young men have set themselves apart with equal parts commitment, dedication, and enthusiasm for their craft. 
More ...
Nash Health Care honors volunteers
Nash Health Care recently held its annual Volunteer Recognition Banquet at the Doubletree in Rocky Mount. Over 120 people were in attendance, including hospital and hospice volunteers, pastoral care volunteers, hospital board members, and staff.
All volunteers were honored for their service to the hospital and pins were awarded for hours served and years of service.
More ...
Nash County Senior Center holds Easter Food Box Drive
There are many Nash County Senior Citizens who are in need of food assistance. More and more, many seniors who live on fixed incomes have to make a choice of whether to buy food or their prescription medications.  During this Easter Holiday, your help is needed to make their burden a little lighter.
The Nash County Senior Center is in need of your assistance in the Second Annual Easter Food Box Drive.
More ...
Nash County EMS 9-1-1 staff earn dispatch certifications
Brian Brantley, Nash County Emergency Services Director, has announced the recent accomplishments of four 9-1-1 employees. Karen Smith of the West Mount Community, Sarah Brisbee of Spring Hope, Brittany Long of Spring Hope, and Miguel Rivas of Castalia, have  received initial certifications in Emergency Medical Dispatch (EMD), Emergency Fire Dispatch (EFD), and Emergency Police Dispatch (EPD).
More ...
Students graduate from NCC EMS Services Academy
"When you learn something new, at a fire school or class, a new technique or technological advancement, the operation of a new piece of equipment, critiquing the response to a previous call, or the development of a new policy, learn all that you can and share it with others," Assistant Director of Fire and Emergency Management at Nash County Emergency Service, Brent Fisher, told Nash Community College graduates.
More ...
Area growers awarded entrepreneurial grants
Eight Wilson area farmers have been named winners in a grant program aimed at supporting family farms.  They were among 20 individuals growers earning grants of between $5,000 and $15,000 from NC AgVentures.
The competitive grants – administered by the North Carolina Cooperative Extension Service, with funding provided through the North Carolina Tobacco Trust Fund Commission – are awarded to innovative projects aimed at diversifying, expanding or implementing new entrepreneurial plans for farm operations.
More ...
RED OAK NEWS


The youth of Red Oak Baptist Church returned home Sunday after a fun-filled weekend skiing at Winterplace Ski Resort with lots of snow!
Due to winter weather this past week, the youth benefit yard and bake sale, scheduled for February 21at Red Oak United Methodist Church has been rescheduled for Saturday,  March 7.

More ...
Suzy Pearce
PEACHTREE COMMUNITY NEWS


The winter weather was the news this past week.  All kinds of records were broken as the temperatures plunged down to the single digits and roads were icy. Travel was hazardous and schools were closed.  Most people stayed at home. Thankfully there were few power outages in this area.  On Tuesday the plans for the Winter Celebration Revival at Peachtree Church were canceled.  This will be rescheduled for sometime in April.

More ...
BARBARA HARDISON
Word for the week


All games have rules. When a football player throws an illegal block, an official throws a flag and calls a penalty. The whole team suffers. Hardly seems fair, does it. When a basketball player steps out of bounds, he looses the ball. The other team takes over. When a sprinter does not stay in her lane, she is disqualified.

More ...
DENNIS PRUTOW
AVENTON COMMUNITY NEWS


Living in the country can put you in the panic mode when ice is predicted. By "unfortunate" past experiences we have learned that life without water and power is not fun. It's not easy, it's down right hard on your body, but we only have to endure for a few days. Imagine living this way everyday. Imagine living like this and not knowing when it's going to end. Imagine living like this with no means to change it.

More ...
JOJO RICKS
BEULAH COMMUNITY NEWS


We pray that we will see many of you at Revival beginning this weekend at Beulah Church of Christ. The speaker will be Minister Charles Lucas from Walstonburg, N.C. It will begin Sunday morning, March 1 at 10:45 a.m. After the morning service there will be a covered dish luncheon at the fellowship hall across the road from the church.

More ...
WILMA ENROUGHTY
Oscars, red carpets and other essentials


Many of you were glued to the television Sunday night, mesmerized by movie stars and celebrities, as they walked the red carpet into The Dolby Theater. Most of the stars and celebrities seemed annoyed by the cameras, put off by constantly hearing their names called. It is possible you found this ironic, because most of these stars and celebrities have spent most of their lives doing whatever it takes to get in that position.

More ...
Mike Brantley
Special edition inside today!


Tucked inside today's Graphic, you'll find our annual edition of "Protecting Our Children." This publication delivers information and tips regarding the issues children and teens face today such as peer pressure to try alcohol, drugs, prescription medication, and issues such as bullying, Internet and social media dangers.
Many organizations such as The Partnership at Drugfree.org (www.drugree.org) Inhalant Abuse Prevention (www.inhalant.org).

More ...
Jo Anne Cooper
Aventon Community petitions for high-speed Internet


Dear Editor,
Within the last several years residents in the Aventon community collected signatures for a petition with addresses and phone numbers requesting consideration for high speed internet, more than once.  I know there were several hundred signatures that were presented to the Nash Board of Commissioners.

More ...
Letters to the Editor:
Backward Glances


TEACHING EQUIPMENT –– This photo originally published in The Graphic August 18, 1977. Teacher aides at Nashville Elementary display some of the audio-visual equipment for the 1977 school year.

More ...
A PICTORIAL LOOK INTO THE PAST
Nash County Animal Friends' Notebook


As always, the Nash County Animal Friends team can use more volunteers, especially photographers!
You don't need to go to the shelter to help. We need administrative assistance which can include tasks like corresponding on Facebook, organizing pet details, designing transport schedules, coordinating with rescues and arranging fundraisers. Many of our volunteers work from home at locations all around the United States.

More ...
Kristy Carney, NASH COUNTY ANIMAL FRIENDS

ACADEMIC AND ATHLETIC EXCELLENCE. Nash Central High School alums (l to r) Brian Williams and Natalie Manning were saluted last Wednesday at the Louisburg College Athletic Awards Ceremony.

DUAL WINNERS


LOUISBURG -- The list of Nash Countians who have made extensive contributions to the Louisburg College athletic program is an impressive one -- and it continues to grow with each passing year.
The 2014-15 school campaign at Louisburg features several county residents who have displayed talent both on the playing field and in the classroom.

More ...
GEOFF NEVILLE, Graphic Sportswriter
Weather hampers playoffs


NASH COUNTY -- Weather wreaked havoc on all attempts to conduct the Big East Conference Basketball Tournament -- and the problems have moved into this week under much bigger circumstances.
After the league tourney was called off, Nash County teams were seeded for work in the Class 3-A State Girls and Boys State Playoffs, which were targeted to begin Tuesday night.

More ...
GEOFF NEVILLE, Graphic Sportswriter
RMA SWIMMERS SPARKLE AT STATE MEET
STARS OF THE SHOW AT THE STATE MEET. The Rocky Mount Academy Swim Team fared well at the recent North Carolina Independent School Sports Association's Class 1/2-A State Championships in Greensboro. RMA's Girls Relay Team took eighth place overall in the 200 Relay and 14th in the 400 Relay. Pictured in the photo are relay squad members (l to r) Gracie Cox, Claire Stanovich, Deanna Mayo and Ashley Bissette.
More ...
Mudcats will host Job Fair


ZEBULON -- The Carolina Mudcats will host their annual Job Fair on Saturday, March 7 between 10 a.m. and 2 p.m. inside Cattails Restaurant at Five County Stadium in Zebulon.
There are many different positions at Five County Stadium for you to work during our 70 home games and other events during the year.

More ...
Staff Reports
STATE PLAYOFF HOOPS BRACKETS


CHAPEL HILL -- Listed are the brackets for the Class 3-A Boys and Girls State Basketball Playoffs.
Action began Tuesday and Wednesday, with second-round games scheduled for today.

More ...
Staff Reports

STATON A STARTER. Former Nash Central standout Timyra Staton has earned a starting position for Louisburg College.

Just Staton The Facts


LOUISBURG -- Considering her injury history, it would be easy to understand if Timyra Staton simply wanted to be on the women's basketball roster this season -- and maybe see some playing time along the way.
Staton, however, had different ideas, despite the fact that she arrived at Louisburg in the fall of 2013 coming off a pair of torn ACL injuries.

More ...
GEOFF NEVILLE, Graphic Sportswriter
Northern's Marshall on East-West squad


RED OAK -- Northern Nash High School senior Tristan Marshall will be one of the participants for this year's North Carolina East-West All-Star Boys Soccer Game.
The event will be held July 21 at the University of North Carolina-Greensboro Soccer Complex. Marshall will be one of the keepers for the East Team.

More ...
Staff Reports
Wesleyan wraps up hoops campaign


FERRUM, VA. -- The North Carolina Wesleyan College men's basketball squad saw its 2014-2015 season come to a close on Sunday at Ferrum College.
Despite posting a 75-69 win over the Panthers, the Bishops came up on the short end of the USA South's tie-breaking procedures for conference tournament seeding after finishing 7-7 in league play alongside Covenant, LaGrange and Methodist.

More ...
Staff Reports
RMA swimmers make the grade


GREENSBORO -- The Rocky Mount Academy Swim Team capped off a successful 2014-15 campaign by competing in the North Carolina Independent School Sports Association's Class 1-2/A Championships on Feb. 16.
RMA boasted eight swimmers who combined to qualify for 10 total events.

More ...
Staff Reports
NCWC makes up contests


ROCKY MOUNT -- Sophomore Ryan Grant and senior George Moore each picked up wins on the mound over the weekend, leading their North Carolina Wesleyan College baseball team to a USA South Conference series win over William Peace.
Originally scheduled to be played in Raleigh, the series shifted to Bauer Field after last week's ice storm left the Pacer facility unplayable.

More ...
Staff Reports
Softball league being formed


NASH COUNTY -- The Nash County, Nashville and Rocky Mount Parks and Recreation Departments along with Tri-Community Baseball are teaming up this spring to form the Tar River Youth Softball League, or TRYSL. 
The purpose of the league is to promote youth softball and help youth develop softball skills by focusing on the fundamentals of catching, throwing, baserunning, fielding and hitting.

More ...
Staff Reports
Regional schedule finalized


CHAPEL HIL -- The schedule has been announced for next week's North Carolina High School Athletic Association regional basketball tournaments, set to be played in Fayetteville and Winston-Salem.
Third -round NCHSAA playoff winners from the East Regional will be going to Fayetteville for the fifth consecutive year.

More ...
Staff Reports
CARL E. HUNTER
Carl E. Hunter of Nashville, 84, passed away February 21, 2015. Wake services will be held Friday, February 27, 2015 from 6-7:30 p.m. at Richardson Funeral Home in Nashville. Funeral services will be held Saturday, February 28, 2015 at Union Hill Baptist Church. Burial will follow in the Rocky Mount Memorial Park Cemetery. The Rev. Thomas Richardson will officiate.
More ...
CHARLIE "TOOT" ALSTON, JR.
Charlie "Toot" Alston, Jr., of Louisburg,  65, passed away Sunday, February 15, 2015. A funeral service was held Saturday, February 21, 2015 at Walnut Grove Baptist Church. Burial was at the church cemetery. The Rev. Thomas Richardson officiated.
More ...
KENNIE JOYNER
Kennie Joyner, Jr., passed away on Sunday, February 22, 2015 at the age of 81. Born April 7, 1933, he was the son of the late Kennie Gold Joyner, Sr. and Mamie Pridgen Joyner.
More ...
LIZZIE STRICKLAND
Lizzie Strickland of Louisburg, 86, passed away Tuesday, February 10, 2015. A funeral was held at Richardson Funeral Home, Louisubrg. Burial was at the Mt. Zion AFC Church cemetery. Bishop Perry officiated.
More ...
MADELINE BAKER WINSTEAD
Madeline Baker Winstead, age 89, passed away on February 22, 2015. She was born March 14, 1925, in Nash County,  to George Dallas Baker and Mary Lewis Baker.
More ...
RUTH HOPE ROPER MATTHEWS
Ruth Hope Roper Matthews, passed away on Monday, February 16, 2015. She was the daughter of the late Samuel Edward Roper and Christine Tyler Roper. In addition to her parents, she was preceded in death by her husband, Roland Lee Matthews, Sr., her son, Roland Lee Matthews, Jr. and her brother, Robert Edward Roper.
More ...
SHAKEIL I. COOPER
Shakeil I. Cooper, 4 months old, of Nashville, passed away February 18, 2015. Funeral services were held Wednesday, February 25, 2015 at Richardson Funeral Home in Nashville. Burial followed in Oakland Cemetery. The Rev. Worthy officiated.
More ...
WILLIAM EARL BAKER
William Earl Baker, 67, passed away Monday, February 23, 2015. He was born July 27, 1947 in Nash County. He was preceded in death by his father Selby Baker.
More ...