Subscribe/Access
Advertisements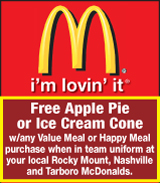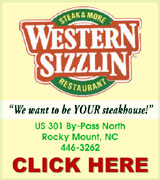 Sections
Member Options
Back
School Board changes grading scale


The Nash-Rocky Mount Board of Education voted on Monday night to change the method of computing grades in order to become more consistent with other counties across the state. In addition, the school board is considering major changes that would eliminate the valedictorian and salutatorian positions and honor a broader range of high-achieving students instead.

More ...
AMELIA HARPER, GRAPHIC CORRESPONDENT
Town moves forward with Boddie Street


During a recent retreat, Nashville Town Council members revisited plans for developing Boddie Street as a part of an overall ecconomic development plan for the downtown area.  The plans include parking, improving sidewalks, and adding underground conduit at an estimated cost of $40,000.
The plans call for the street to be converted to a one-way street running from West Washington Street to Church Street.

More ...
AMELIA HARPER, GRAPHIC CORRESPONDENT
Sheriff's Office arrests gang suspects


The Nash County Sheriff's Criminal Investigation Division has identified and charged seven individuals as a result of an investigation into more than 17 breaking and entering cases that occurred in Nash County from September of 2014 through November 2014. Investigators feel that these crimes were committed to fund gang activity.
The identities of the seven individuals arrested have not been released as this is an ongoing investigation. However, more arrests are expected in connection with these crimes.

More ...
Staff Reports
DADDIES & DAUGHTERS
DADDIES & DAUGHTERS –– Little Sarah Liles dances with her father, Mickey Liles, Saturday night at the annual Daddy Daughter Dance, hosted by the Nash County Parks and Recreation. The event is held at the Nash County Agricultural Center in Nashville. Around 484 attended the princess themed dance, which has grown tremendously since the event was first held.
More ...
NRMS report cards yield dismal results


Traditionally, many kids are reluctant to get report cards because they fear what news it will bring. However, this year, school officials had to face disheartening news when their own report cards arrived.
 Statewide, 5.4 percent of schools received an A rating; 24 percent, a B rating; 41.4 percent, a C rating; 23.1 percent, a D rating; and 6 percent earned a failing grade, according to information presented the Nash-Rocky Mount School Board Meeting on Monday, February 9.

More ...
AMELIA HARPER, GRAPHIC CORRESPONDENT
Nashville oks solar farm ordinance


The Nashville Town Council approved a new solar farm ordinance its regular meeting on February 3. The approval followed a public hearing that was held on the matter at the last agenda meeting.
 The town has not yet had any requests for solar farms within the town limits. However, members of the town council wanted to have regulations in place because of the growing number of such facilities in the state.

More ...
AMELIA HARPER, GRAPHIC CORRESPONDENT

Jacob Smith

New support group launches in Red Oak


A Red Oak Church plans to sponsor a support group for parents and children of special needs.
Jacob's Friends is planning to hold its first meeting on February 28 at 3 p.m. at Red Oak United Methodist Church. The meeting will take place in the fellowship hall of the church.
Jacob's Friends is the idea of Bonnie Smith. Smith has a 20-year-old son, Jacob, who is mentally challenged.

More ...
AMANDA CLARK, GRAPHIC STAFF WRITER
Woman crashes into Nash-UNC ER entrance


Wendy McCabe, 54, reportedly drove through the front doors of the new Emergency Department at Nash UNC Health Care in the early hours on Monday, reported Corporal Lewis with the Rocky Mount Police Department who investigated the accident.

More ...
AMELIA HARPER, GRAPHIC CORRESPONDENT
NASHVILLE POLICE BRIEFS
INCIDENTS
A burglary of an occupied residence and breaking and entering was reported at 509 Golfers Lane on 2/2/15
A larceny was reported at 927 Eastern Ave. on 2/2/15
A damage to property / vandalism was reported at W. Washington Street in the intersection of First Street on 2/4/15
More ...
NASH COUNTY SHERIFF'S OFFICE REPORTS
An obscene material / exploiting children charge was reported on 2/2/15 at 3142 Bend of the River Road
An obtain property by false pretense / financial card theft was reported on 2/2/15 at 12235 Old Raleigh Wilson Road
A common law robbery was reported on 2/3/15 at 8758 David Way
A felony possession of Heroin / maintaining a dwelling for CS was reported on 2/3/15 at 3441 Old Bailey Hwy.
More ...
Nash commissioners modify legislative goals


Nash County Commissioners met last week to approve the legislative goals of the North Carolina Association of County Commissioners. However, after some discussion, the goals were modified to reflect values more particularly held by Nash County.
One legislative goal that received intense opposition was GC4, the goal that encouraged the state to omit the requirement for counties to include press announcements in the local newspaper.

More ...
AMELIA HARPER, GRAPHIC CORRESPONDENT
NAACP supporters attend recent NRMS School Board meeting


At a recent school board meeting held last week on February 2, several black community leaders reprimanded Nash-Rocky Mount School Superintendent Anthony Jackson, the first black man to hold that position, for his stance on a recent social media posting that has sparked racial debate in the community.
Ten speakers signed up to speak  during the public comment portion of the meeting, but only five of these appeared at the meeting and one waived his option to speak.

More ...
AMELIA HARPER, GRAPHIC CORRESPONDENT
Pinkham named to ASU Dean's List
Gail Parrish Pinkham of Nash County has been named to the Dean's List at Appalachian State University for the Fall Semester of 2015. To be included on the list, a student must either be enrolled for 12 to 14 hours of course work for which quality point are computed and attain a grade point average of 3.45 or better, or be enrolled for a minimum of 15 hours of course work for which quality point are computed and attain a grade point average of 3.25 or better.
More ...
Nash Community College partakes in "A Day of Service"
On Thursday, January 29,  the Nash Community College Student Government Association and Alumni Association joined together for a "Day of Service" at the Frederick E. Turnage Chapter of the American Red Cross. While there, the students and staff cleaned the Disaster Assistance Vehicle and made comfort kits for individuals who find themselves in desperate situations.
More ...
ENGAGED
Mr. and Mrs. Michael Anthony Murray of Nashville announce the engagement of their daughter, Kelsey Dail Murray, to Harry Cline Ballard, III of Tarboro.
More ...
Locals named to UNC Asheville Dean's List
UNC Asheville recently announced its Fall 2014 Chancellor's List / Dean's List.
Locals named to the Dean's List include Everett Lee Shuford, of Nashville, and Catherine Magen Hill, of Rocky Mount.
The Dean's List is made up of full-time students who have achieved between 3.5 and 3.99 grade point average.
More ...
Bailey Mayor visits Southern Nash Middle


Timothy Johnson, Mayor of Bailey, put on his geologist's hat to educate and inspire 6th grade Science students at Southern Nash Middle School where his three children also attend. Mayor Johnson interacted with over 250 interested students by sharing personal photos and experiences gained on trips abroad including real volcanic sites like Kilauea, Hawaii. Of specific interest to the students were the rock and lava specimens Johnson brought to share with them.

More ...
Terri Jenkins, Sothern Nash Middle School Grade 6 Science
Golden LEAF Scholarships of $12,000 offered
Applications for Golden LEAF Scholarships of $12,000 ($3,000 per year for up to four years) will be accepted until March 1, 2015 online at the College Foundation of North Carolina (CFNC) website, CFNC.org/goldenleaf.   A total of 215 awards, funded by the Golden LEAF Foundation, are available for first-time recipients with financial need for the 2015-16 academic year.
More ...
Application deadline nears for RM Citizens Academy
Monday, Feb. 23  is the application deadline for a program that has grown increasingly popular for the city of Rocky Mount. Citizens Academy, coordinated by city employee Loretta Braswell, introduces participants to government.
"Those enrolled in Citizens Academy will learn how government operates," says Braswell. "This learning will be in the form of presentations from all of our departments, as well as tours."
More ...
Bailey museum to host free screenings
The Country Doctor Museum in Bailey will host the North Carolina Lions' Mobile Screening Unit on Thursday, Feb. 26, from 9 a.m. until 3 p.m. Free vision and hearing screenings will be offered.
The Nash County Health Department will also be on site offering free blood sugar and blood pressure checks from 9 a.m. until 11 a.m.
More ...
RED OAK NEWS


Congratulations to Dr. Geneva Chavis who celebrated her 85th birthday on January 15!  Dr. Chavis along with 80 friends and family members enjoyed festivities at Country Inns and Suites in Rocky Mount on January 17.  Dr. Chavis was a teacher and librarian with Nash County Schools and was later an administrator and Dean at Nash Community College.

More ...
Suzy Pearce
PEACHTREE COMMUNITY NEWS


On a beautiful morning, Pastor Whitehouse greeted those who gathered to worship at Peachtree Church.  The worship hour began with the observance of the Lord's Supper, administered by the pastor and the deacons.  The choir sang "In Remembrance of Me" under the direction of the pastor.

More ...
BARBARA HARDISON
AVENTON COMMUNITY NEWS


I have some mighty big shoes to fill with our community news.   In years past, Dorothy Skinner, Lucile Ricks and Annie Mae Saunders all wrote the news.  I have been reminded a lot lately on how these wonderful ladies would always end each family's news with "a fun time was had by all."  I will continue their tradition.

More ...
JOJO RICKS
Word for the week


Heart-shaped cards display nymphs with bows, arrows that pierce our hearts, and words of love. Flowers also abound. Valentine's Day is a dream come true for card makers and florists. It's a dream come true for those who receive cards and especially flowers. We are smitten with the arrows of love.

More ...
DENNIS PRUTOW
Team Courtney hosts Valentine's Day Brunch


Courtney Moss is approaching her six-month anniversary of when she received a heart transplant. Being the inspiring and giving young lady she is, Courtney has started a blanket project with the intent of giving back and providing comfort and support through the no-sew blankets she is making and collecting. Her hopes are to collect as many blankets as possible to give out to the heart transplant patients at UNC and Duke Children's Hospitals.

More ...
Contributed
BEULAH COMMUNITY NEWS


Sunday school began Sunday morning at 9:45 am with opening songs by the audience and Mrs. Frances Hedgepeth at the piano. Church services followed at 10:45 am with Bonnie Matthews at the piano and Mary Lee Bass at the organ. We want to thank these ladies for their faithful attendance and the great blessing they add to our service.

More ...
WILMA ENROUGHTY
GUEST SPEAKER
Evan Covington Chavez was the guest speaker at the Jan. 20 meeting of the Tar River Connections Genealogical Society held at Braswell Memorial Library. She presented an update on the development of the Historic Rocky Mount Mills property. Pictured with Chavez is Jimmy Winters, President of the TRC Genealogical Society.
More ...
Coach Smith was about more than basketball


I don't remember the first time I heard the name "Coach Dean Smith," but it had to be around 1974 when UNC beat Duke after trailing by 8 points with 17 seconds to go in the game.
I remember the next year I heard it a lot. My new brother-in-law John molded me into a rabid Tar Heels fan.
I remember I was about 5.

More ...
Mike Brantley - 1 opinion posted
Show and tell makes for great learning experiences


Last week a good friend, and parent of an Englewood Elementary student, notified me that the AIG students from Englewood Elementary were going to tour the Nash County Courthouse. I figured the tour would make for a good photo opportunity and I would slip across the street and take a quick picture of students admiring the restored footprints of President Harry S. Truman. I was pleasantly surprised that quite a bit more took place!

More ...
Jo Anne Cooper
Backward Glances


EFNEP GRADUATES –– This photo originally published in The Graphic March 24, 1977. These are some of the Nash County homemakers who received certificates for graduation under the Expanded Foods and Nutrition Education Program.

More ...
A PICTORIAL LOOK INTO THE PAST

TECH SUPPORT. Nash Central High School's Houshun Gaines has signed a letter-of-intent to continue his football career at Virginia Tech.

GAINES GOING TO TECH


ROCKY MOUNT -- Nash Central's Houshun Gaines has been spotted around town wearing plenty of Virginia Tech gear this winter -- so it was almost considered a given that he would continue his football career with the Hokies.
But a latecomer added a bit of intrigue to the selection process before Gaines finalized his commitment to the Hokies during a National Signing Day ceremony last Wednesday afternoon.

More ...
GEOFF NEVILLE, Times Sportswriter

FUTURE BRONCO. Southern Nash High School football player Aramahs Martin poses with Firebirds' coach Brian Foster after signing to continue his career at Fayetteville State University. (Photo Submitted by Bunnie Hagler)

Martin Makes It Official


STANHOPE -- Musicians are known to be methodical, precise and instinctive -- and those are all traits that can also be beneficial on the football field.
Southern Nash's Aramahs Martin was schooled from a young age in musicianship as he has been a long-time member of his church choir, along with plying his craft as a drummer.

More ...
GEOFF NEVILLE, Graphic Sportswriter

CENTRAL SKIPPER. Chris Lee will be taking over as the new football coach at Nash Central High School.

Lee tabbed at Central


ROCKY MOUNT -- Chris Lee never moved away from the area when he accepted the head football coaching position at Louisburg High School six years ago.
Because of that fact, Lee, a former Rocky Mount HS assistant, was always intrigued when a job opened in Nash County.
But Lee would remain at Louisburg for that duration, leading the Warriors to four playoff appearances, along with a Tar-Roanoke Athletic Conference championship in 2013.

More ...
GEOFF NEVILLE, Graphic Sportswriter
Central, Red Oak in finals


RED OAK -- It will be an All-Nash County final in the girls portion of the Tri-County Conference Basketball Tournament.
Host Red Oak Middle School will be the top seed and will entertain backyard rival Nash Central. The clubs have played twice this season, with Red Oak winning a pair of tight contests.
This will be the second consecutive year the teams have met in the championship.

More ...
Staff Reports

WILLIAMS WEAVES HER MAGIC. Point guard Jahlia Williams and the Northern Nash Lady Knights continue to dominate their basketball foes in the competitive Big East Conference.

NN seeks perfection


RED OAK -- Plenty of goals remain for the Northern Nash High School girls basketball squad as the Lady Knights are just one week away from the rigorous postseason portion of their schedule.
But Northern Nash is on the verge of scratching one goal off the list as the Lady Knights are just two victories away from wrapping up an undefeated regular season under veteran head coach Grover Battle.

More ...
Staff Reports
Bishops defeated versus Peace


RALEIGH -- Despite getting a career-high 27 points from junior Brandon Brown, the North Carolina Wesleyan College men's basketball team was unable to overcome a hot-shooting William Peace squad, falling by an 84-72 score in last Wednesday's USA South Conference action in Raleigh.
The Pacers knocked down 11 treys and connected on 21-of-29 free throw attempts on the night en route to their tenth victory of the season.

More ...
Staff Reports
Nash County hosts youth signups


NASH COUNTY -- The Nash County Parks and Recreation Department is currently conducting registration for its spring baseball and softball seasons.
Here is a look at the availabilities in each youth sport:
• Spring Baseball is open to registration through Feb. 27.

More ...
Staff Reports
RMA's swimmers shine


NEW BERN -- The Rocky Mount Academy Swim Team fared well at the Carolina Independent Conference Swimming Championship, which was held last Friday in Craven County.
RMA's club, which features eight girls and four boys, took on four other squads -- all with larger rosters.
The RMA girls took second place overall, while the boys club claimed the fourth position.

More ...
Staff Reports
Wesleyan opens with losses


MONTGOMERY, ALA. -- The North Carolina Wesleyan College Battling Bishop baseball team opened its 2015 slate last weekend with a three-game USA South Conference series at Huntingdon College.
Junior Ciro Norzagaray blasted a pair of homers and batted .500 (5-for-10) during the set, but Wesleyan had no answer for the Hawk bats in falling by 10-7, 10-9 and 13-5 scores.

More ...
Staff Reports
BRAXTON LEE SHERROD
Braxton Lee Sherrod, age 71, passed away Tuesday, February 3, 2015. Born June 12, 1943 in Nash County, he was the son of the late Willie Sherrod and Lela Vick Sherrod.
More ...
DAVID EZZELL, JR.
David Ezzell, Jr., 81, passed away  Thursday, February 5, 2015. He was born May 25, 1933 in Nash County to the late David and Meta Proctor Ezzell. In addition to his parents he was preceded in death by a son, Donnie Ezzell, two sisters, Linda Ezzell and Ann Coley, former wife, Janice Bailey Ezzell.
More ...
DONALD WINSLOW MORGAN
Donald Winslow Morgan, 77, passed away Sunday, February 8, 2015. Funeral services were held Wednesday, February 11, 2015 at Richardson Funeral Home Chapel in Nashville with the Rev. James Parks officiating. Burial followed in the family cemetery.
More ...
ELSIE M. ROGERS
Elsie M. Rogers passed away February 1, 2015 at Saint Agnes hospital in Clovis, Ca. She was born in Nashville in 1939.
More ...
HOWARD DENNIS ADAMS
Howard Dennis Adams, 73, passed away on Friday, February 6, 2015. Dennis was born on October 24, 1941 to the late William Howard and Jessie Ryals Adams. Dennis was also preceded by his two brothers, Billy and Jerry Adams.
More ...
JULIA ANN LYNCH
Julia Ann Lynch of Hollister, 73, passed away Tuesday, February 3, 2015. Funeral services were held Saturday, February 7, 2015 at Pine Chapel Baptist Church. Burial followed in the Lynch Familey Cemetery. Rev. James Rudd officiated.
More ...
MELISA HOLLAND HINSON
Melisa Holland Hinson, age 48, passed away on Saturday, February 7, 2015. Born in Suffolk, VA on April 24, 1966, she was the daughter of the late Jerry Holland and the late Judy O'berry Holland Byrum.
More ...
RUBY BRANTLEY FALL
Ruby Brantley Fall, 97, of Bailey, passed away Wednesday, February 4, 2015. A memorial service was  Sunday, February 8, 2015 at Joyner's Funeral Home,  Wilson. The Rev. Ray Wells officiated.
More ...
RUBY VICK VIVERETTE
Ruby Vick Viverette, of Rocky Mount,  passed away  Thursday, February 5, 2015. She was born on December 15, 1938 in Tarboro. She was the daughter of the late Woodrow Wilson Vick and Lossie Boykin Vick Peace. She was preceded in death by her parents and by a brother, Charles W. Vick of Miami, FL.
More ...
SALBERT LEE SILVER
Salbert Lee Silver, 76, passed away Monday, February 9, 2015. A funeral service will be held Friday, February 13, 2015 at Pine Chapel Church. Burial will follow in the Pine Chapel Church Cemetery. An open visitation will be held from 6-7pm Thursday, February 12, 2015 at Richardson Funeral Home, Louisburg.
More ...
TAMMY LYNN CURTIS
Tammy Lynn Curtis, age 44, passed away Wednesday, February 4, 2015. Born in Robersonville, she is the daughter of James Alex Curtis and Minnie Roebuck Curtis of Parmele, NC. Besides her parents, she is also survived by her sister, Janet Gail Curtis of Rocky Mount.
More ...
WILLIAM THOMAS HEATH
William Thomas Heath, age 68, passed away Friday, February 6, 2015.  He was born on Oct. 31, 1946 to the late Vera Jewel Heath and Albert Edward Heath.
More ...