Subscribe/Access
Advertisements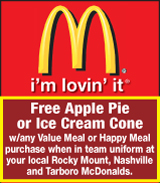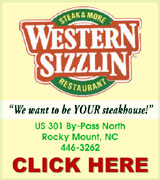 Sections
Member Options
Back
Citizens voice concerns over social media photo


Seven members of the public spoke at the Nash-Rocky Mount Board meeting on Monday concerning the recent student social media posting that has sparked racial concerns in recent weeks. Thirteen members of the public had originally signed up to speak on the issue, but six of those failed to show and one other yielded his time to another speaker. One additional speaker was added to the agenda by vote of the school board.

More ...
AMELIA HARPER, GRAPHIC CORRESPONDENT - 1 opinion posted
Nash County increases rural solid waste fee


Nash County Commissioners moved forward with approving a $29 increase on solid waste fees for rural residents but will continue to explore ways to allow municipal residents to pay to use convenience centers.
The increase will bring the total fee to $125 from $96 and will not be effective until July 1, 2015, when the new budget year starts.

More ...
AMANDA CLARK, GRAPHIC STAFF WRITER
Nash County Social Services Director retires after 20 years


Melvia Batts left behind many memories last week as she said goodbye to 20 years with the Nash County Department of Social Services.
Batts has served as the department's director for six years.
At a retirement celebration last Monday afternoon, employees said they would miss her leadership.

More ...
AMANDA CLARK, GRAPHIC STAFF WRITER
Spring Hope to appoint commissioner next month


Spring Hope Commissioners will decide next month who will fill the seat recently vacated by Bill Newkirk.
Newkirk announced his resignation in a letter at last month's regular meeting. Newkirk has not attended a meeting in several months due to health issues and in his letter, said he didn't feel it was right to continue serving.
Newkirk was serving his third term on the Spring Hope Board.

More ...
AMANDA CLARK, GRAPHIC STAFF WRITER
Oak Level Baptist forms new youth troop


A local church is chartering a new chapter of an organization that hopes to serve as an alternative to the Boys Scouts of America and is actively recruiting new members.
Oak Level Baptist church will host Troop 1214 of Trail Life USA and plans to host a registration rally next Saturday, January 10 from 11 a.m. until 1 p.m.

More ...
AMANDA CLARK, GRAPHIC STAFF WRITER - 1 opinion posted
Hospital restricts visits due to flu outbreak
In response to the current increase in flu activity, Nash Health Care has temporarily restricted its visitation policy for the safety of its patients.
For the health of hospital patients, employees, visitors and the general community, hospital officials are asking that visitors cooperate with the following guidelines:
More ...
ANNUAL DONATION
The Nashville Graphic makes an annual donation from the proceeds of its annual Relay for Life edition to the American Cancer Society each year during the Nash County Relay for Life event.  Pictured receiving the donation on behalf of the American Cancer Society and Nash County Relay for Life are Jerry and Retha Pappas.
More ...
COFFEE WITH A COP
My Sister's House in downtown Nashville hosted Coffee with a Cop in October. Pictured chatting with Nashville Community Police Officer Jennifer Bull is Graciela Ma-cias of My Sister's House. The police department will start it's Coffee with a Cop events back up in the Spring.
More ...
The Nashville Graphic to feature local recipes
Due to changes in production, the American Profile supplement will no longer be included in the weekly delivery of The Nashville Graphic.
Publishers of the supplement, PGOA Media, recently announced changing to a semi-weekly schedule.
More ...
NASH COUNTY SHERIFF'S OFFICE REPORTS
A breaking, entering and larceny was reported on 12/30/14 at 9649 Valley Road
A felony larceny was reported on 12/30/14 at 995 Parker Road
A misdemeanor larceny was reported on 12/30/14 at 222 W Washington Street
A possession of tobacco by an inmate was reported on 12/30/14 at 222 W Washington Street
More ...
NASHVILLE POLICE REPORTS
INCIDENTS
A damage to property (vandalism) was reported on 12/29/14 at 1847 S First Street
A larceny was reported on 12/29/14 at 1022 Eastern Avenue
A larceny was reported on 12/29/14 at L&L #14, 479 W Washington Street
More ...
NASH COUNTY BUILDING PERMITS
Nash County Planning and Inspections issued the following building permits from December 29 through January 2
Building Permit (Residential)
Robert Lucas; 108 Barnes Street; miscellaneous; $300
Lenno Thorne; 4856 Davis Road; moving building; $7,200
More ...
Association hopes to convert Spaulding gym into senior center


The Spaulding Alumni Association once again came before Spring Hope's Board on Monday night asking for support for their efforts in turning the Spaulding gymnasium into a senior center.
Bernard Howard also asked the town for financial support.
Howard, the President of the Alumni Association, spoke to commissioners in November about the group's desire to turn the gym into a senior center.

More ...
AMANDA CLARK, GRAPHIC STAFF WRITER
80TH BIRTHDAY
80TH BIRTHDAY - Leroy Jones, of Nashville, celebrated his 80th birthday on December 27th. A surprise birthday party was held at the Nashville Community Center on Thursday January 1st. Members of his line dancing group and several friends attended the event to wish Leroy a happy 80th. Leroy is pictured holding a birthday poster that was made by Emily Bass.
More ...
PRIDE AWARD
As recognition for approaching their roles at Nash Community College with pride, the Student and Enrollment Services department was honored with the 2014 Pride Award. The group was selected as this year's award recipients by NCC President, Dr. Bill Carver. "Student and Enrollment Services was honored to be awarded the 2014 Pride Award," said Vice President for Student and Enrollment Services, Larry Mitchell.
More ...
Presentation
Rotarian President Ron Green, at left, stands with fellow Rotarian, Carther Jorgensen, at right, who made a presentation on the US Naval Academy. Carther spoke to the Rocky Mount Rotary Club on January 5 at the DoubleTree hotel during their 1 p.m. meeting.
More ...
MILITARY NEWS
Air Force Airman 1st Class Seth N. Hardin graduated from basic military training at Joint Base San Antonio-Lackland, San Antonio, Texas.
The airman completed an intensive, eight-week program that included training in military discipline and studies, Air Force core values, physical fitness, and basic warfare principles and skills.
More ...

Darren Lau (Center)
Rocky Mount hosts recipe contest
This fall, City of Rocky Mount customers had a chance to win up to $150 off their utility bill simply by entering their best energy-saving recipe in the Watt's Cooking Recipe Contest.
As part of the celebration of Public Power Week in October, Rocky Mount Public Utilities hosted a recipe contest to encourage customers to use less energy in the kitchen.
More ...

CEO Ken Jones (far left) and Karen Salacki, Chief of External Operations (far right) with an award received for the groups anti-bullying efforts.
Eastpointe recognized at annual conference
Eastpointe was recently recognized for Excellence in Prevention, Outreach and Wellness for their Anti-Bullying Initiative.  
The organization was also recognized for Excellence in Crisis Response for their Crisis Intervention Team (CIT) program.  
More ...
DADDY DAUGHTER DANCE
Nash County Parks and Recreation will host its Eighth Annual Daddy Daughter Dance on Satudray, February 7 at the Nash County Ag Center in Nashville.  The dance will be held from 6 until 8:30 p.m. and cost $25 per couple. The dance is for young ladies in kindergarten through fifth grade. Space is limited so be sure to register by January 23. Pictured above, Olivia Ashman enjoys a dance with her dad, Dave, at last year's event.
More ...
Nash Health Care sponsors annual Remembrance Walk
Approximately 130 people attended Nash Health Care's second annual Walk of Remembrance for Steps Never Taken.  This event was designed to provide comfort and support for area families who have lost an infant, and to honor the children who are lost yearly due to miscarriage, stillbirth and newborn death.   Each year, over one million women experience a miscarriage or a stillbirth. This equals to one of four pregnancies ending in a loss.
More ...
Rocky Mount selected to host national conference
From March 18th to 20th, the City of Rocky Mount and the Imperial Centre for the Arts and Sciences will join Art-Force Incorporated in hosting one of three national conferences to promote economic development and well-being in rural communities.
More ...
BEULAH COMMUNITY NEWS


I pray that everyone had a Happy Holiday and always remembering why we celebrate Christmas. With all the shopping and other things that people have brought into the holidays, many are celebrating for the wrong reasons. Jesus was born in a manger. It is his birthday. In your family's life don't let Him be a stranger.
Last Sunday at Beulah Church of Christ, our morning message was brought to us by Chris Matchem.

More ...
WILMA ENROUGHTY
PEACHTREE COMMUNITY NEWS


On a warm but foggy January morning, Pastor Whitehouse welcomed Peachtree folks who had come to worship on the first Sunday in the New Year. He preached the concluding sermon in his series on Jonah. It was based on Jonah 4 and was titled "Nineveh Needs You." God told Jonah to tell these people that He was going to destroy them for their wickedness. When Jonah preached that message, they immediately repented and God forgave them.

More ...
BARBARA HARDISON
Word for the week


We set the mood with soft lights and sentimental music. Our favorite person arrives. Our hearts are moved. We feel good. Love is in the air. Or is it?
What is love? Jesus says, "If you love Me, you will keep My commandments" (John 14:15).

More ...
DENNIS PRUTOW
Nash Soil and Water selects leaders
The Nash Soil and Water Conservation District Board recently selected members to serve as supervisors.
Longtime member Bobby Joe Fisher will serve as Chairman of the board, Robert Glover will serve as Vice-Chair, Parker Phillips will serve as Secretary/Treasurer and John Finch and Shawn Lucas will each serve as members. In addition, Willie Harrison and Jeff Tyson will serve as Associate Members of the board.
More ...
Rocky Mount to host annual MLK Unity Breakfast
The city of Rocky Mount and the Martin Luther King, Jr. Commission will honor Dr. King's legacy through a series of events, including the 27th annual Unity Breakfast. This year's breakfast, taking place at the Dunn Center for the Performing Arts on the campus of NC Wesleyan College, will feature Peggy Wallace Kennedy. Kennedy has broken her family's legacy to become one of the nation's foremost voices on justice and equality.
More ...
RED OAK NEWS


A lot happened in Red Oak last year and many more and better things are to come in 2015! 
Come be a part of the excitement at Red Oak Methodist Church!  They have a lot of things in the works.  To stay informed about upcoming events, like their Facebook Page. Just search for "Red Oak United Methodist Church." Joining their page will make it easy to Share information about upcoming events like Tale Talk, Bible Studies, the Fruit of Spirit 5K, Stop Hunger Now,  and more.

More ...
Suzy Pearce
Nash County Blood Drives for January 2015
Thursday, January 8 from 2:30 until 7 p.m. at the Momeyer Ruritan Club, 4812 Momeyer Way, Nashville
Saturday, January 10 from 10 a.m. until 2 p.m. at 1624 Windsor Drive, Rocky Mount
Monday, January 12 from 3 until 7 p.m. at Bethlehem Baptist Church, 305 South Halifax Road, Rocky Mount
Monday, January 12 from 2:30 until 6:30 p.m. at The Church of the Good Shepherd, 231 N Church Street, Rocky Mount
More ...
Predictions for 2015 with flawless results


It's January, and that can only mean one thing: the diet business is booming. Also, it means it is time for the annual Soapbox Predictions for the Coming Year edition.
Because we are so accurate year after year, many folks clip and save this column on their refrigerators until the newsprint becomes brittle, escapes the magnet, and slides under the device, causing a major fire hazard.

More ...
Mike Brantley - 1 opinion posted
Please send us your recipes!


After careful consideration, we have decided to discontinue American Profile, the supplement you normally find tucked inside of the paper.
The publisher of American Profile recently announced the publication would change to a twice-monthly edition in 2015. After reviewing the new schedule and current content, we decided this would be a good opportunity for us to offer more local features and even local recipes rather than continue to carry the publication.

More ...
Jo Anne Cooper
Reader thanks community, law enforcement and a special angel


Dear Editor:
On Christmas Eve, our family had a terrifying experience that lasted a total of about 6 hours. You may remember that the evening was foggy, cloudy and extraordinarily dark. As many families were gathering and doing things that were out of the normal routine, our daddy drove from West Mount to Sharpsburg for a family gathering.

More ...
Letters to the Editor:
Backward Glances


TIME CAPSULE –– This photo was originally published in The Graphic on February 3, 1977. J.W.E. Joyner placed a copy of The Graphic and an emblem of the City of Rocky Mount in a time capsule during ceremonies marking the 25th anniversary of the Children's Museum. Looking on, left to right, are John Farris, Bob Siler and Mrs. Jasper Cummings.

More ...
A PICTORIAL LOOK INTO THE PAST
Nash County Animal Friends' Notebook


Happy New Year to all! Nash County Animal Friends is ready to have a great year, helping the lost and unwanted pets of Nash County.
We were so grateful that very few animals had to spend the holidays in the shelter. We saw quite a few last-minute adoptions and some of our local fosters stepped up to give some of the pets a temporary home for the holidays.

More ...
Kristy Carney, NASH COUNTY ANIMAL FRIENDS
NNHS A Force At Falcon Invite


PIKEVILLE -- In Coach Corey Mercer's estimation, the Northern Nash Knights are on the verge of peaking at the correct time heading into the latter portion of the 2014-15 wrestling season.
The Knights continue to improve with each week, as evidenced from last Saturday's strong performance against a solid field at the Falcon Invitational Tournament at C.B. Aycock High School in Wayne County.

More ...
GEOFF NEVILLE, Graphic Sportswriter

SAME TIME, SAME PLACE. (L to R) Bunn's Jordan Whitman and Northern Nash's Adam Renner meet at the ball during last Monday's semifinal contest of the Bunn Chrismtmas Basketball Tournament. NN ended up as the second-place finisher.

A FINALS CLEARANCE


BUNN - One year removed on the calendar, the Northern Nash Knights weren't about to experience the same fate in the opening round of the Bunn Christmas Tournament.
During last season's event, the Knights had fallen to the host Bunn squad in the first round -- and the clubs were scheduled to meet again in the semifinals of the four-team basketball tourey last Monday night at the Bunn Dome.

More ...
GEOFF NEVILLE, Graphic Sportswriter

SPIVEY SHINES. Nash Central's Aaron Spivey tries to find an open teammate during last Friday's road victory against the Bunn Wildcats.

Bulldogs back with a victory


BUNN -- Coach Renny Taylor's message was simple heading into last week's action for his Nash Central High School boys basketball squad.
Make it a three-win week.
"That's what we talked about,'' Taylor said. "We won on Monday and Tuesday (at the Cleveland Classic Christmas Tournament), so we had a chance last Friday to get a victory in each of those three games.''

More ...
GEOFF NEVILLE, Graphic Sportswriter

THAT'S A WRAP. Nash Central High School's David Sutton delivers a pinfall in this match as part of the Bulldogs' participation in last Saturday's Falcon Invitational Wrestling Tournament at C.B. Aycock High School in Wayne County.

MAKING IT COUNT


PIKEVILLE -- A few too many visits to the feast table over the holidays might have cost the Nash Central Bulldogs a bit during action last Saturday at the Falcon Invitational Wrestling Tournament.
NC head coach Shon Johnson saw several of his performers unable to make their preferred weight classifications after gaining a few pounds over Christmas Break.

More ...
GEOFF NEVILLE, Graphic Sportswriter
Central takes the title


CLEVELAND -- Nash Central went from seven seconds to first-round elimination to eventual champion as part of its whirlwind appearance at the Cleveland Classic Girls Basketball Christmas Tournament.
In the opening round, the Lady Bulldogs cashed in on a late turnover to rally past Clayton by a single point thanks to a buzzer-beating shot from Tournament Most Valuable Player Myia Spivey.

More ...
Staff Reports

CLEARING A PATH. Nash Central High School's Kathryn Wilkins splits the Bunn defense en route to the basket during last Friday night's non-conference girls basketball showdown at the Bunn Dome.

Back On The Court


BUNN -- Just three days after a euphoric run through the Cleveland Classic Christmas Tournament, the Nash Central Lady Bulldogs returned to their regular season schedule -- and faced one of their toughest foes of the campaign.
Bunn had defeated Nash Central in Rocky Mount back in December, but the Lady Bulldogs hoped their momentum gained from the tourney championship would carry into last Friday's rematch.

More ...
GEOFF NEVILLE, Graphic Sportswriter
Northern soccer sked released


RED OAK -- Northern Nash High School's 2015 girls soccer slate will kick off March 2 at 7 p.m. with a home matchup against the Bunn Ladycats.
As has been their usual custom, the Lady Knights will take part in the annual Brittany Soccer Showcase on March 20 against Fayetteville Jack Britt at Gillette Park in Wilson.

More ...
Staff Reports
Lady Bishops defeated twice


ROCKY MOUNT --  In its first action since the holiday break, the women's basketball team of North Carolina Wesleyan College dropped a pair of USA South Conference contests over the weekend in Everett Gymnasium on the NCWC campus.
The Bishops fell to Piedmont College by an 88-74 tally on Saturday, then dropped a 61-48 decision to Meredith on Sunday.

More ...
Staff Reports
Hot Stove League event slated


RALEIGH -- The 65th Annual Raleigh Hot Stove League Baseball Banquet will be held Jan. 27 at the McKimmon Center on the campus of North Carolina State University.
Festivities will begin at 5:15 p.m., followed by a dinner at 6 p.m.
Pat O'Conner, the President of Minor League Baseball, will serve as the guest speaker.

More ...
Staff Reports
ALMOST THERE
Nash Central's Jahkele Goins prepares to wrap up this pinfall during last Saturday morning's action at the Falcon Invitational Wrestling Tournament at C.B. Aycock High School.
More ...
NNHS WRESTLING ACTION, 1
GOOD DAY TO BE A KNIGHT. Among Northern Nash High School's competitors at the Falcon Invitational at C.B. Aycock High School were (above) Javon Clark.
More ...
NNHS WRESTLING ACTION, 2
GOOD DAY TO BE A KNIGHT. Among Northern Nash High School's competitors at the Falcon Invitational at C.B. Aycock High School were (above) Jalen Spooner.
More ...
BETHEL DAVIS SWANSON
Bethel Davis Swanson  passed away  January 1, 2015. Bethel was born June 25, 1923 in Aledo, Illinois to the late Clarence and Ella Agar Davis. She was preceded in death  by her husband Carl J. Swanson;  sister, Hazel Davis Banks, of Quincy, Illinois; and a brother, Paul Davis, of Galesburg, Illinois.
More ...
DOROTHY LEE BULLUCK SHEARI
Dorothy Lee Bulluck Shearin, age 91, passed away Saturday, January 3, 2015. Born in Nash County on February 4, 1923, she was the daughter of the late Robert Lee Bulluck, Jr. and Minnie Pearl Davis Bulluck. She was also preceded in death by her husband, Milton Foster Shearin.
More ...
JOHN MARSHALL SODEN, SR.
John Marshall Soden, Sr., 79, passed away Wednesday, December 31, 2014. He was born March 9, 1935 in Nash County to the late William and Jean Lassiter Soden. John was preceded in death by his wife, Mary Elizabeth "Lib" Merritt Soden.
More ...
LILA MAE BRANTLEY-LEWIS
Lila Mae Brantley-Lewis, age 75, passed away on Wednesday, December 24, 2014. Born on July 11, 1939, she was the daughter of the late Alvin Preston Brantley and Aggie Bell Brantley. In addition to her parents, she was predeceased by her sister, Magdaline Brantley-Puckette and brother, Charles (Buddy) Brantley.
More ...
SAMUEL ARCHIE COCKRELL
Samuel Archie Cockrell, age 96, passed away on Sunday, December 28, 2014. He was predeceased in death by his wife, Jo and his eldest son, David.
More ...
TEDDY RAYBURN LITTLE
Teddy Rayburn Little, Sr., age 75, passed away on Thursday, January 1, 2015. Born on February 23, 1939, he was the son of the late Frank Little and Lulu Bridgers Little. In addition to his parents, he was predeceased by his sister, Jeanette L. Joyner and his grandson, Jonathan Derek Simmons, Jr.
More ...
WAYNE "BUSHWACKER" LEWIS TAYLOR
Wayne "Bushwacker" Lewis Taylor, 57, passed away Saturday, January 3, 2015.  He was born March 7, 1957 in Nash County to the late Alphonzo and Emily Hall Taylor.
More ...