Subscribe/Access
Advertisements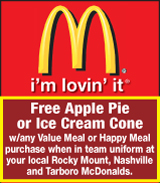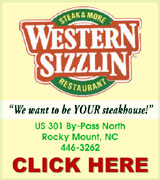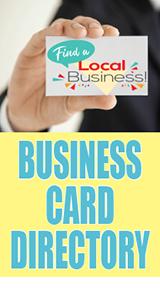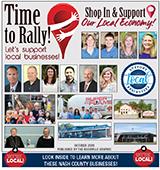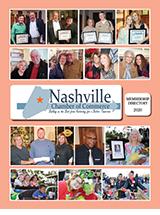 Sections
Member Options
Back

LONGTIME SERVICE –- Nashville Fire Chief Randy Goodbrod (far left) recognized Volunteer Assistant Chief Haywood Edmonds (center) and Volunteer Engineer David Viverette (far right) for 30 years of service to the department.

Nashville honors local firefighters


Nashville Firefighters were recognized Friday night at the department's annual Christmas celebration.
Three firefighters received special recognition as they were named Firefighter of the Year.
Quintin Jefferies was named the Volunteer Firefighter of the Year. This is the second year Jefferies has received the Volunteer Firefighter of the Year Award.
The award was presented by Volunteer Captain Tony Bailey.

More ...
AMANDA CLARK, GRAPHIC STAFF WRITER
Nash County okays park for Sandy Cross area


Nash County Commissioners have approved a 10-year update to the Parks and Recreation Comprehensive Master Plan, which includes the addition of a community park in  the Sandy Cross area.
A group was formed over five years ago to try to get a park built near Coopers Elementary School. The Coopers Community Development Corporation has since been working to get a park in the community.

More ...
AMANDA CLARK, GRAPHIC STAFF WRITER
A little holiday cheer
MERRY CHRISTMAS! –– First and second grade students from Cedar Grove Elementary brought holiday cheer to residents at Universal Health Care in Nashville last Tuesday morning. Students sang Christmas carols to residents and then read a Christmas story to residents. Students concluded the morning by giving homemade crafts to each resident at the nursing home.
More ...
Momeyer Ruritan Club honors members


The Momeyer Ruritan Club voted two of its members Ruritan of the Year for going above and beyond in their service to the club.
Wayne Outlaw, 2008 Ruritan National President, presented the awards to Fran Bunn and Debbie Key at the club's annual Christmas Party on Monday night.

More ...
AMANDA CLARK, GRAPHIC STAFF WRITER
NASHVILLE POLICE BRIEFS
INCIDENTS
A trespassing was reported on 12/18/14 at Wal-Mart, 1205 Eastern Avenue
A larceny was reported on 12/18/14 at Wal-Mart, 1205 Eastern Avenue
A larceny after a breaking and entering and breaking and entering a residential were reported on 12/19/14 on S. Brake Street
More ...
NASH COUNTY SHERIFF'S OFFICE REPORTS
An assault inflicting serious injury was reported on 12/15/14 at 13034 Watson Seed Farm Road
A trafficking opiates was reported on 12/15/14 at 5862 Highway 58 S
A larceny was reported on 12/15/14 at 609 W Hilliardston Road
A misdemeanor possession of a schedule VI drug was reported on 12/16/14 at 3170 Red Oak Battleboro Road
More ...

Wayne Outlaw, (left) presents a certificate of appreciation to Bruno Keel for his service as the 2014 president of Oak Level Ruritan Club.

Oak Level Ruritan Club welcomes new officers


Oak Level Ruritan Club held its annual Christmas dinner recently to celebrate the holiday season, recognize members and install new officers for 2015.
Current club president Bruno Keel said the club had accomplished many things in 2014 including two successful chicken and barbecue plate sales.

More ...
JO ANNE COOPER, GRAPHIC PUBLISHER
Sandy Cross Cooks honored for service to Ruritans


The tables were turned last week at the Coopers Ruritan Club's monthly meeting, as the ones who usually do the serving were being served.
Members of the club cooked up a meal for the Sandy Cross Cooks, to thank them for nine years of service.
The ladies recently retired from cooking for the club.

More ...
AMANDA CLARK, GRAPHIC STAFF WRITER
4-H Holiday Shopping Extravaganza
The 4-H Holiday Shopping Extravaganza was held on Friday, December 5 and Satudray, December 6 at the Nash County Agricultural Building. Vendors set up and sold various gift items for the holiday season. Pictured above, Nash County 4-Hers Taylor Hall, Emily Godwin and Leah Dorsey display handmade craft buckets at the Extravaganza. The buckets were made by the 4-H Sew What Club.
More ...
Health Department offers flu safety tips
It is never a good time to be sick, but especially frustrating to feel bad during the holidays.  Unfortunately, cold, flu, and norovirus ("stomach bug") season is in full swing in December and in the coming months.  Therefore, the Nash County Health Department is encouraging all citizens to take as many precautions as they can this holiday season to stay healthy and happy.
More ...
GIVING BACK


Nashville's Lions Club recently donated hats, gloves, mittens and scarves to Cedar Grove Elementary School. Ladies of the Lions Club, with help from the Nash County Senior Center, made the items for the youth. Pictured on the back row are Lions Club members Doris and James McBride. James McBride served as the principal of the school for many years and wanted to give back to his former school.

More ...
1 opinion posted
PEACHTREE COMMUNITY NEWS


On Sunday morning Pastor Whitehouse greeted those Peachtree folks present for worship.  It was the fourth Sunday in Advent and the theme for the Sunday was "Love".  The meditation was given and the candle representing "Love" in the Advent wreath was lit.  This completed the candle lighting, as the candles for "Hope", "Peace" and "Joy" were lit on the previous Sundays.

More ...
BARBARA HARDISON
RED OAK NEWS


The Adult II Sunday School Class of Red Oak Baptist Church honored Tonia Taylor with a birthday party on Tuesday, December 9 at Universal Health Care in Nashville.
Everyone was treated to ice cream and drinks.  Tonia enjoyed opening all the wonderful and fun gifts.  Bright birthday balloons also decorated her room.

More ...
Suzy Pearce
Word for the week


Big changes were in store for God's people. Moses, their faithful leader for forty years, came to the end of his term of service. Changes like this promote fear. We dislike the unknown. What would the people do without Moses?
At the change of command ceremony, God gave Joshua and the people a promise to remember. "The Lord is the one who goes ahead of you; He will be with you. He will not fail you or forsake you. Do not fear or be dismayed"

More ...
DENNIS PRUTOW
RMA students learn abroad as part of new Global Studies program
In 2013, Rocky Mounty Academy Spanish teacher, Mrs. Rebecca Watkins, was inspired to create a Global Studies Honors Program.
"I want kids at RMA to have some of the same learning opportunities that I enjoyed growing up," Watkins said when asked about her purpose for founding the program. "Problem solving, communicating, listening to other ideas, and sharing experiences [that] bring people together."
More ...
FARM SERVICE AGENCY NEWS


Agriculture Secretary Tom Vilsack recently announced that greater protection is now available from the Noninsured Crop Disaster Assistance Program for crops that traditionally have been ineligible for federal crop insurance. The new options, created by the 2014 Farm Bill, provide greater coverage for losses when natural disasters affect specialty crops such as vegetables, fruits, mushrooms, floriculture, ornamental nursery, aquaculture, turf grass, ginseng, honey, syrup, and energy crops.

More ...
SHARON TAYLOR, NASH COUNTY FSA EXECUTIVE DIRECTOR
Nash County Blood Drives for January 2015
Friday, January 2 from 12 until 4 p.m. at Parkwood Baptist Church, 1731 Hunter Hill Road, Rocky Mount
Friday, January 2 from 2 until 7 p.m. at Petsmart, 1462 Jeffries Road, Rocky Mount
Tuesday January 6 from 2:30 until 6:30 p.m. at First United Methodist Church, 100 S. Church Street, Rocky Mount
Tuesday January 6 from 3 until 7 p.m. at the Red Oak Volunteer Fire Department, 7951 Red Oak Boulevard, Red Oak
More ...
Nash residents participate in NC Special Olympics Bowling Tourney
The state-level 2014 Special Olympics North Carolina Bowling Tournament was held on Sunday, December 7.   The event for the eastern part of the state was held in Durham, the central part of the state in Greensboro, and the event for the western part of the state was held in Newton.  In Durham, more than 300 Special Olympics North Carolina athletes and Unified Partners competed while coaches and volunteers supported the event, according to Keith L. Fishburne, president/CEO of SONC.
More ...
Annual Meeting
The Annual Meeting of the North Carolina Farm Bureau Federation was held December 7-9 at the Sheraton Four Seasons and Joseph S. Koury Convention Center in Greensboro, NC. Nash County Farm Bureau President, Greg Bunn,  was recognized among his peers at the Presidents' and Agents' Luncheon. Farm Bureau President Larry Wooten presented each winning County President with a limited edition Case knife.
More ...
Recognition plaque
Pictured above is the Harrison Family YMCA's CEO, Jacquelyn Price, presenting a recognition plaque to Larry Chewning, Nash Health Care System's President and CEO, for their $25,000 contribution to the Y's Capital Campaign. Chewning chose the Y's  cardio area for the hospital's naming rights, as you will now see this plaque presented on one of the brick columns in the cardio area.
More ...
Champ graduates basic training
Air Force Airman 1st Class Cameron B. Champ graduated from basic military training at Joint Base San Antonio-Lackland, San Antonio, Texas.
The airman completed an intensive, eight-week program that included training in military discipline and studies, Air Force core values, physical fitness, and basic warfare principles and skills.
More ...
Shuford earns degree
Everett Lee Shuford, of Nashville, recently received a degree from UNC Asheville.
Shuford earned a Bachelor of Arts in Psychology at a graduation ceremony in December.
More ...

Judy Grimmer volunteers assisting with a fresh coat of paint at My Sister's House.
Volunteers assist My Sister's House
Employees from McGladrey LLP recently volunteered at My Sister's House to assist with their beautification efforts. Ten employees from McGladrey's Rocky Mount office helped clean and paint two bedrooms at the shelter.
The mission of My Sister's House is to provide survivors of domestic violence and sexual assault with effective and comprehensive services in Nash and Edgecombe counties.
More ...
"Giving Tuesday"
Girl Scout Troop 3249 collected and donated non-perishable food items to the Red Oak United Methodist Church food pantry on "Giving Tuesday" recently. Pictured (left to right) are Raven Davis, Rachel Magallon, Hannah Tollefsen, Veronica Magallon, and Destiny Silver. Not pictured are Sarah O'Berry and Tiye Vincent.
More ...
Santa letters from home


Last year around this time, I helped my boys write a letter to Santa. Since The Graphic publishes children's letters to Santa, I thought it was a good idea. My boys are still unable to write letters so again, I'm going to help them out.

More ...
Amanda Clark
Let's all hope for Peace on Earth


Merry Christmas to all of you from all of us at The Nashville Graphic! We all hope your holiday is peaceful, restful and full of unforgettable memories!
Most of us here at The Graphic are finding it  hard to just keep up with what day it is on the calendar as we've been juggling multiple deadlines and early press schedules.

More ...
Jo Anne Cooper
Backward Glances


This photo of the Rocky Mount Christmas Parade was found in the November 29, 1976 archives at The Nashville Graphic. Looks like Santa was escorted by a very shiny  choo-choo!

More ...
A PICTORIAL LOOK INTO THE PAST

UNSTOPPABLE. Northern Nash's Kiana Thomas (with ball) scores in the paint during last Thursday night's victory against Rocky Mount.

PRESSING ISSUES


ROCKY MOUNT -- Grover Battle's best teams at Northern Nash have always featured one key intangible -- the ability to defeat an opponent in several distinctly different ways.
If you want to challenge the Lady Knights in a half-court setting, NN has consistently featured some talented inside performers, along with a handful of key threats from the perimeter.

More ...
GEOFF NEVILLE, Graphic Sportswriter

STRONG IN THE PAINT. Tarod Brown (right) drives toward the basket for the Red Oak Tigers during last Thursday's road decision over Nash Central Middle in Tri-County Conference boys basketball action.

RIVALRY TO RO


NASHVILLE -- With each passing game, Red Oak's season-opening loss against Toisnot seems like an unexpected mirage.
Since that setback, the Tigers have rolled through their next four opponents, including a 39-18 decision over homestanding Nash Central Middle School in the final pre-holiday Tri-County Conference boys basketball event for both squads.

More ...
GEOFF NEVILLE, Graphic Sportswriter

ON THE MOVE. Northern Nash's Adam Renner (right) dribbles around the Rocky Mount defense during last Thursday's boys basketball showdown.

RMHS Claims Boys Crown


ROCKY MOUNT -- Rocky Mount's long-time dominance of the Nash County Boys Christmas Basketball Tournament continued last Thursday -- but with a different plot twist this time around.
Instead of simply blowing out an overmatched foe -- which has become a trend in recent campaigns -- the Gryphons were able to hold off threats from Southern Nash and Northern Nash in order to nab yet another title at the RMHS Gymnasium.

More ...
GEOFF NEVILLE, Graphic Sportswriter

GETTING A LEG UP. Nash Central's Bryce Miles (left) holds the leg of a Southern Vance wrestler during last Wednesday night's tri-match. The event was held at the Franklinton High School Gymnasium.

Central takes part in a road tri-match


FRANKLINTON -- Nash Central High School experienced a bit of a mixed back during a trip to Franklinton last Wednesday for a non-conference wrestling tri-match event.
The Bulldogs, coached by Shon Johnson, opened in fine fashion by delivering a convincing victory against the homestanding Franklinton Red Rams.

More ...
GEOFF NEVILLE, Graphic Sportswriter

DUAL POSSESSION. (L to R) Nash Central's Camryn Countee and Red Oak's Kristian Johnson attempt to gain the ball during last Thursday's girls basketball contest at the NCMS Gymnasium.

Red Oak With A Rally


NASHVILLE -- Midway through the third quarter, the Red Oak-Nash Central girls showdown seemed well on its way to being an instant replay of last year's meeting in the Tri-County Conference Girls Basketball Championship.
Once again, Central was ahead, and seemingly on its way to a key league decision last Thursday at the NCMS Gymnasium.

More ...
GEOFF NEVILLE, Graphic Sportswriter
NC, Southern will play at Cleveland


CLEVELAND -- Nash Central and Southern Nash are in the eight-team field in both the boys and girls portions at the Cleveland Classic Basketball Tournament.
The event will begin this Saturday and will run through next Tuesday at Cleveland High School in Johnston County.
Each club is guaranteed three games at the second annual tournament.

More ...
Staff Reports
NN honorees announced


RED OAK -- For Northern Nash High School, a successful fall season was capped by the 2014 Fall Sports Award Ceremony.
Honorees from the event were as follows:

More ...
GEOFF NEVILLE, Graphic Sportswriter
NNHS headed to Holly Springs


RED OAK -- Northern Nash High School will put its unblemished girls basketball record on the line at the Holly Springs Christmast Tournament.
The event will be staged Dec. 29-30 at Holly Springs High School in Wake County.
Northern will tangle with Wakefield on Dec. 29 at 4 p.m. as part of the round-robin format.

More ...
Staff Reports
Birds Atop Big East


STANHOPE -- One of the most emotionally trying seasons of Brian Foster's two-decades tenure as Southern Nash High School's football coach would ultimately prove to be extremely rewarding.
Southern Nash, under Foster's direction, claimed its first league championship since the early 1990s as the Firebirds picked up a Big East crown.

More ...
GEOFF NEVILLE, Graphic Sportswriter
SN's Kennedy receives Whitley Award


ROCKY MOUNT -- When the Dudley Whitley Memorial Award was established in 2010, its chief goal was to honor a Nash County coach who best displays the positive traits that characterized Whitley's 35-year career in education.
Those traits include sportsmanship and character, along with serving as a quality role model for student-athletes.
Southern Nash Athletic Director Robbie Kennedy vividly remembers SN football coach Brian Foster accepting the inaugural award that year.

More ...
GEOFF NEVILLE, Graphic Sportswriter
BONK
Red Oak's Carresian Whitaker (left) drives toward the basket during last Thursday's road triumph at Nash Central.
More ...
CAN I GET A LITTLE HELP HERE?
Nash Central's A'nya Bobbitt tries to find an open teammate during last Thursday's Tri-County Conference contest against Red Oak at the NCMS Gymnasium in Nashville.
More ...
CLEVELAND ROCKS
Southern Nash High School boys basketball coach Robbie Kennedy will guide his club during the upcoming Cleveland Holiday Classic. The event will be held at Cleveland HS in Johnston County. Nash Central will also participate.
More ...
DANDY DOZEN
Northern Nash's Demonte Johnson (12) speeds upcourt with the ball during last Thursday's championship meeting with Rocky Mount at the Nash County Christmas Basketball Tournament. The event was held at Rocky Mount High School.
More ...
EYE ON A BUCKET
Nash Central Middle School's Kayla Mitchell drives for a basket last Thursday against rival Red Oak.
More ...
GRAPPLING
Nash Central's Zechariah Fenner (left) gets tangled up with a Southern Vance performer as part of a wrestling tri-match last Wednesday evening at the Franklinton High School  Gymnasium in Franklin County.
More ...
HANDOFF
Red Oak Middle School's Carresian Whitaker sends a pass to a teammate during last Thursday's rivalry basketball matchup against Nash Central.
More ...
IN CONTROL
Nash Central's Lamaze Alston (top) takes charge of this match as part of his club's event with Southern Vance during tri-match action last Wednesday evening at Franklinton HS.
More ...
ON THE LOOKOUT
Nash Central's Drifton Padgett (with ball) tries to find an open teammate during last Thursday's home matchup with the Red Oak MS Tigers.
More ...
SHARPSHOOTER
Red Oak's Alexis Moore scores in the paint for the Lady Tigers during last Thursday's road decision over Nash Central Middle.
More ...
Letters to Santa
Dear Santa,
I have been good  because I wash the table and I sweep the floor in my room and I wash the dishes. I want a gum machine and a horse and a bike. I want Santa to come because he has presents and toys.
From Aatiyah Lynch - age 7
Red Oak Elementary
More ...
BETINA CARTEE BLANFORD
ROCKY MOUNT – Betina Cartee Blanford, age 55, passed away on Friday, December 19, 2014. She was born in Nash County on January 30, 1959 to William E. Cartee and the late Dorothy Louise Shearin Cartee. In addition to her mother, Betina is preceded in death by a sister, Teanna Louise Chapman.
More ...
CRAVEN ELMO HUNT
Craven Elmo Hunt, 79, passed away Sunday, December 21, 2014. Craven was preceded in death by his wife, Carolyn Barnes Hunt.
More ...
GLORIA DENISE CARROLL
NASHVILLE - Gloria Denise Carroll, age 61, passed away on Wednesday, December 17, 2014. She was born in Harnett County on November 19, 1953 to Earl Lee Sills, Sr. and Lizzie Parker Sills. In addition to her mother, Gloria is predeceased by her sisters, Darlene Shaffer and Susan Lowe.
More ...
MABLE ANNE CRICKMORE SENNER SLOAN
Mable Anne Crickmore Senner Sloan, age 102, passed away on December 18, 2014. She was born on October 20, 1912 to William Alex and Patty Harper Crickmore. Mable was preceded in death by her first husband, Chester Senner; second husband, Stanley Sloan; brothers, Randolph, William, Frank, Francis and Mack Crickmore; and one sister, Mildred.
More ...
MAGDALNE PERRY
Magdalne Perry, age 81 of Spring Hope, departed this earthly life on Sunday, December 21, 2014.
More ...
SUSAN "LORETTA" WOOTEN
Susan "Loretta" Wooten, 56, passed away Sunday, December 21, 2014.  She was born May 16, 1958 to the late Bill and Mary Lewis.
More ...
VINCENT JAMES TESORO
Vincent James Tesoro, 76, of Rocky Mount passed away on December 16. The son of restaurateurs Nunzio and Josephine Tesoro, and grandson of immigrants from Terlizzi in the province of Bari, Italy.
More ...