Subscribe/Access
Advertisements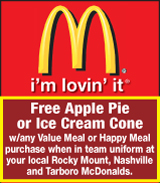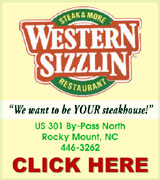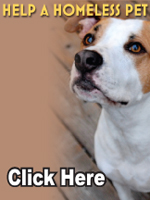 Sections
Member Options
Back

NEW SHERIFF –– Voters chose Keith Stone (pictured left) as the new Nash County Sheriff Tuesday night. Standing with Stone during his campaign celebration is the Reverend Thomas Green. (Graphic photo by Chuck Lewis)

Stone is new Sheriff


Nash County residents have selected Keith Stone as their next sheriff.
Stone, a Republican, received 20,863, or 61.53 percent, of the votes for sheriff while his opponent, Stanley "Big Griff" Griffin, a Democrat, received 13,043, or 38.47 percent, of the votes.
Griffin said his campaign fought a good race.

More ...
AMANDA CLARK GRAPHIC STAFF WRITER AND AMELIA HARPER
Suspects remain in custody


One of the two victims in last week's shooting at the Nash County Courthouse is out of the hospital.
According to a press release, Donte'a Evans has been released from Vidant Medical Center in Greenville. Lamar Ricks is in stable condition at the same hospital and is now in a regular room.
Evans, of Bailey, was shot in the hand and leg and Ricks, of Rocky Mount, was shot in the back last Tuesday morning, just after 11 a.m., just outside the courthouse doors.

More ...
AMANDA CLARK, GRAPHIC STAFF WRITER
Hospital offers early retirement


Shaken by the roughly 11 million dollar loss in income from operations thus far this year, Nash UNC Health Care is  offering early retirement packages to 145 long-term employees.  As reported last month, the 11 million dollar loss as of the end of August is $6,801,822 more than the $4,117,754 loss budgeted for this point in the year.
The loss in income from operations reflects economic hardships which are facing many hospitals across the state.

More ...
AMELIA HARPER, GRAPHIC CORRESPONDENT
County considers family center ordinance


After numerous appearances before Nash County's Board of Commissioners over the years, Leon Shearin was back before the board with another request for his property on Batchelor Road.
This time, Shearin was requesting a text amendment to add "family function center" as a new use requiring a conditional use permit in the R-40, A-1, OI, RC and PI districts.

More ...
AMANDA CLARK, GRAPHIC STAFF WRITER
Boys & Girls Club rallies support from town


The current South Brake Street facility that houses members of Nashville's Boys and Girls Club serves its purpose. But the aging facility is becoming more and more cramped and maintenance is becoming more and more difficult.
Ron Green, Chief Professional Officer, said a new, larger facility is in future plans but support from the town and community is needed.

More ...
AMANDA CLARK, GRAPHIC STAFF WRITER
Monster Dash raises funds for United Way


The rain held off but the cold stuck around for the second annual Monster Dash for United Way.
The event was still a success, despite the cold, said Sue Yerkes, Nash County Parks and Recreation Director.
This year's event brought out around 150 runners, many dressed up in Halloween costumes. Last year, around 300 runners participated in the event.

More ...
AMANDA CLARK, GRAPHIC STAFF WRITER
Saturday, November 15 is America Recyles Day
On Sat., Nov. 15, 2014 there will be thousands of events across the country in celebration of America Recycles Day. Keep America Beautiful of Rocky Mount, Nash and Edgecombe counties will join in on the celebration by hosting America Recycles Day locally from 10 a.m. to 1 p.m. at the Golden East Crossing Mall. Come to the parking lot near JCPenney to participate.
More ...
NASH COUNTY SHERIFF'S OFFICE REPORTS
A narcotics violation was reported on 10/27/14 at 475 W Washington Street
A narcotics violation was reported on 10/27/14 at L&L
A possession of a cell phone by an inmate was reported on 10/27/14 at 222 W Washington Street
An assault with a deadly weapon and injury to real property was reported on 10/28/14 at 234 W Washington Street
More ...
NASHVILLE POLICE BRIEFS
INCIDENTS
A possession of marijuana was reported on 10/27/14 at US Highway 64 East
A larceny was reported on 10/27/14 at Wal-Mart, 1205 Eastern Avenue
A damage to property and breaking and entering a residential was reported on 10/29/14 at 115 Sara Drive
More ...
Spring Hope approves new cemetery fees


Spring Hope Commissioners have agreed on a third proposal to increase cemetery fees at Oakdale and Meeks Cemeteries.
Commissioners have been discussing the possibility of increasing fees since September, when it was discovered the town's rates were much lower than neighboring municipalities.

More ...
AMANDA CLARK, GRAPHIC STAFF WRITER
Nash County's Got Talent Finals start tonight!


Sixteen will compete in this year's Nash County's Got Talent competition, with the top 10 being announced on Friday night.
All 16 participants will perform in the finals on Thursday, November 6, said Shelly Gray, Nash Arts Director. On Friday, the top 10 will be called individually to perform again. The top five will then be announced before the first, second and third place winners are called.

More ...
AMANDA CLARK, GRAPHIC STAFF WRITER
Nashville Elementary Fall Festival is Friday


The baseball field at Nashville Elementary School (NES) will be full of activity on Friday night and the community is invited to participate.
The school's Parent Teacher Association (PTA) is hosting the annual Fall Festival on Friday night from 5 until 8 p.m.
Last year, the PTA expanded the event to allow the community to participate. Anna Joyner, PTA Chair, said this year's event is expected to be even bigger.

More ...
AMANDA CLARK, GRAPHIC STAFF WRITER
Nash County Blood Drives for November 2014
Friday, November 7 from 7:45 a.m. until 12:15 p.m. at Rocky Mount Preparatory School, 3334 Bishop Road, Rocky Mount
Sunday, November 16 from 12 until 5:15 p.m. at Sharpsburg Baptist Church, 3720 Hathway Blvd, Sharpsburg
More ...
Deputy's killer sentenced to life in prison
The man who shot and killed a United States Marshal will serve life in prison.
Lamont Deshawn Byrd was sentenced on Monday in federal court in Raleigh. He was sentenced to life in prison for committing first degree murder of an Officer of the United States.
Byrd, 22, pled guilty on August 4, 2014 to killing Warren Bascoe "Sneak" Lewis, III with premeditation and malice on June 9, 2011.
More ...
School system releases year end testing data


The Nash-Rocky Mount School Board released an end-of-year assessment data review at the school board workshop on Monday, indicating slow growth in most areas, but revealing that fewer than 50 percent of students meet state proficiency requirements overall.  The data was compiled from the End of Grade and End of Course testing done at the end of the 2013-2014 school year.

More ...
AMELIA HARPER, GRAPHIC CORRESPONDENT

Firefighters from Buies Creek travelled to Nashville to meet the two firefighters battling cancer, Tony Bailey and Jerry Sherrod, and make a donation. (Graphic photo by Jo Anne Cooper)

Cornhole tourney to "Toss Away Cancer"


In 2009, Jason Edwards' brother, Scotty, spent his 21st birthday battling  Hodkin's Lymphoma.
A few years later, Edwards' mother-in-law battled breast cancer.
Edwards said though he knew how horrible a disease cancer was, he added that it was much different when you know someone going through the battle.

More ...
AMANDA CLARK, GRAPHIC STAFF WRITER
MONSTER DASH!, pics 1


Nash County Parks and Recreation Director Sue Yerkes and Nash County Assistant Manager Rosemary Dorsey (from L-R) show off their dance moves prior to the start of the Monster Dance for United Way.

More ...
Graphic photos by Amanda Clark
PEACHTREE COMMUNITY NEWS


On a cold, blustery Sunday morning, Pastor Whitehouse welcomed the Peachtree folks who had gathered for worship.  Sanctuary flowers were given in memory of Raymond and Elizabeth Rackley by their daughter and son-in- law, Joan and Ray Eason.
Pastor Whitehouse's sermon was titled, "Do You Care Enough to be Interested?"

More ...
BARBARA HARDISON
RED OAK NEWS


They're here!  The Red Oak Community Cookbooks to benefit the Cystic Fibrosis Foundation are now for sale.  Each hometown cookbook features 289 delicious recipes from cooks in the community, helpful hints, and contributor index so you can find recipes by your favorite cook.  These cookbooks would be a great keepsake and wonderful gifts for Christmas or any special occasion.

More ...
Suzy Pearce
The best candidate was not on the ballot


If you're like me, you're tired of the election cycle, tired of politics and most of all, tired of political ads.
By the time you arrived at this page, you've heard the results (endlessly) of Tuesday night's election results.
Unfortunately, the best candidate was not on the ballot Tuesday. This candidate could make a real difference in Nashville, Raleigh and Washington, D.C. This candidate could help cut (there is no cure) corruption, money and ineffective leadership.

More ...
Mike Brantley
The Boys and Girls Club needs a new building


Last month, I had the opportunity to attend the Boys and Girls Club of Nash/Edgecombe Counties Steak and Burger fundraising event.
It was my first time covering the event, though I've covered numerous other Boys and Girls Club events.
It was exciting to see the youth have the opportunity to sit down and have dinner with sponsors while dining on steak. The youth were fed steak. The adults, burgers.

More ...
Amanda Clark
Getting things back to normal in downtown Nashville


Last Tuesday started out like any typical day in Nashville. The early morning smell of country ham cooking at local restaurants, people strolling the downtown sidewalks heading to court or local offices, and local retail shops were opening for a day of business.
But just before 11 a.m. –– everything changed. Many say Nashville lost a bit of its innocence as shots were fired, injuring two victims, in front of the courthouse last Tuesday morning.

More ...
Jo Anne Cooper
Backward Glances


1976 PARADE ––This photo was taken in 1976 in Nashville during a Parade celebrating the Bicentennial. Pictured on a car owned by Donnie Deans of Nashville are several young men who were members of Elm Grove RAs including Jamey Baines, Jim Rose, Dwayne and Paul Mooney, and Mike Cooper.

More ...
A PICTORIAL LOOK INTO THE PAST
Nash County Animal Friends' Notebook


For some time, Nash County Animal Friends has been hoping that a TNR program for feral cats would be developed for our county. We have yet to see it materialize but would be very open to participating in any discussions about developing a program. A program like this would initially require a bit of organization, fundraising and many volunteers but the benefits would be well worth the effort.

More ...
Kristy Carney, NASH COUNTY ANIMAL FRIENDS

LEADER OF THE PACK. Northern Nash's Stephen Whitehead (left) claimed the Class 3-A East Regional Boys Cross Country Championship.

A Spectacular Season For NN


RED OAK -- Jeff Dodrill set several goals this season for this Northern Nash High School boys cross country squad.
But one of them stood apart from the rest, and that was winning the school's first regional crown since the mid-1990s.
Northern Nash was able to achieve that lofty goal two Saturdays ago when the Knights hosted the Class 3-A East Regional Cross Country Event at Red Oak Middle School.

More ...
GEOFF NEVILLE, Graphic Sportswriter

MOVING THROUGH A CROWD. Southern Nash's Zonovan Knight (with ball) escapes the Nash Central defense during last Thursday afternoon's Tri-County Conference middle school football showdown in Nashville.

WRAPPING THINGS UP


NASHVILLE - Cooler temperatures mean the inevitable end of the Tri-County Conference football season -- but the Southern Nash Cobras were red-hot during last Thursday's middle school finale at Nash Central.
The Cobras took charge early and never relented en route to stopping the homestanding Trojans by a 36-8 margin at the NCMS Football Field in Nashville.

More ...
GEOFF NEVILLE, Times Sportswriter

LEAVING HIS FEET. Southern Nash's Zack Foster (with ball) lunges forward for yardage while being tackled during last Friday night's home football triumph against the Rocky Mount Gryphons.

THRILLER TO SN


STANHOPE -- It may have been one of the most important, hard-fought games of the season in the Big East Conference.
But the outcome of last Friday's football showdown between Rocky Mount and homestanding Southern Nash didn't seem to matter early in the fourth quarter.

More ...
GEOFF NEVILLE, Graphic Sportswriter
Red Oak will open at Hawks


RED OAK -- Red Oak Middle School's 2014-15 boys and girls basketball seasons will begin Dec. 4 with a road game in Wilson against the Toisnot Hawks.
Once again, the Tigers will take part in the competitive Tri-County Conference.
Jeff Dodrill will return to coach the boys squad, while Russell Rouse will be in charge of the girls program.

More ...
Staff Reports

HOT PURSUIT. Wilson Fike High School's Delante Hall (with ball) tries to escape the Northern Nash defense during last Friday night's prep football matchup.

One More Week To Go


WILSON -- After a solid start to the regular season, the Northern Nash Knights have run into a stumbling block in Big East Conference football competition.
The Knights traveled to league powerhouse Wilson Fike last Friday and were no match for the homestanding Golden Demons, who celebrated Senior Night with a 43-7 decision.

More ...
Staff Reports
NASH COUNTY SOCCER SCORES


NASH COUNTY -- Here are updated scores from the Nash County Parks and Recreation Department's Fall Youth Soccer Season:

More ...
Staff Reports
Former SN star saluted by CIAA


RALEIGH -- Outside hitter/middle blocker Danyelle Noland and Head Coach Nikki Bynum Bumpass of Saint Augustine's University were honored by the Central Intercollegiate Athletic Association (CIAA) on October 29.
Noland was named CIAA Volleyball Rookie of the Week and Bumpass was selected CIAA Volleyball Coach of the Week.

More ...
Staff Reports
NCWC players honored


FAYETTEVILLE -- The USA South Athletic Conference has released its weekly awards for November 3 with a trio of North Carolina Wesleyan College Battling Bishops earning honors in their respective sports.
Sophomore Christina Huber of volleyball led the way with her second Defensive Player of the Week recognition of the season, while freshman Sarah Hovis of women's soccer picked up her career first award in that same category.

More ...
Staff Reports
Strong effort at states for Northern Nash


KERNERSVILLE -- Northern Nash's strong distance season was capped in style last Saturday under tough weather conditions at the Class 3-A State Cross Country Championships.
The Knights' campaign-to-remember saw Coach Jeff Dodrill's club claim fifth place overall in the team standings in the annual event at the Ivey Redmon Sports Complex in Kernersville (Forsyth County).

More ...
Staff Reports
A Strong Showing


RED OAK -- Northern Nash entered last Wednesday's first-round showdown against Cleveland as an underdog in the Class 3-A State Boys Soccer Playoffs.
But the Knights left Johnston County with a clutch 1-0 victory to advance into the second round of action.
Northern Nash's campaign then ended last Saturday evening with a tough 3-0 loss at Northern Guilford in Greensboro.

More ...
GEOFF NEVILLE, Graphic Sportswriter
Former 'Dogs shine for Canes


LOUISBURG -- Two former Nash Central High School running standouts are making a bit of history this fall for the Louisburg College cross country squad.
This is the first season for LC's program, and the Hurricanes will be competing this weekend at the Division I National Junior College Athletic Association National Championships in Lubbock, Texas.

More ...
GEOFF NEVILLE, Graphic Sportswriter
Sweet 16th At NCWC


ROCKY MOUNT -- North Carolina Wesleyan College's 2014 Homecoming festivities culminated on Oct. 25 with the induction of its 16th Athletics Hall of Fame class.
Alyson Patrick Beicker of women's soccer, Ken Bowers of men's soccer, long-time Bishop head coach John Brackett and Chontae Uptegrow of softball were all officially enshrined, and each offered remarks about their Wesleyan experiences that are indicative of what it means to be a Battling Bishop.

More ...
Staff Reports
Scots sail past North Carolina Wesleyan


MARYVILLE, TENN. -- Freshman Anthony Janezic tallied a career-high 20 tackles and recorded a 68-yard fumble return for a touchdown, but it would be not be enough as his North Carolina Wesleyan College football team suffered a 42-28 loss to league-leading Maryville College last Saturday on the road.
The two teams battled frigid, wet conditions throughout the contest, which ended with the Scots out-scoring the Bishops 21-7 in the second half to pull away.

More ...
Staff Reports
Big East players honored


NASH COUNTY -- Wilson Hunt's Taylor Love has been saluted as the Girls Tennis Player of the Year in the Big East Conference.
Joining Love on the Big East top honors list is Coach of the Year Barry Nethercutt from Rocky Mount.
Nethercutt paced Rocky Mount to a 16-1 overall record, including a perfect mark in league action.

More ...
GEOFF NEVILLE, Graphic Sportswriter
CARTER COUNTRY
Rocky Mount High School quarterback Joshua Carter (left) tries to evade the Southern Nash defense during last Friday night's Big East Conference gridiron contest.
More ...
D'BACKS NAB LEAGUE TITLES
DIAMONDBACKS GET IT DONE. The Diamondbacks, coached by Matt Gibson, claimed the regular season and tournament championships for the Rocky Mount Parks and Midget Baseball Fall League. In the tourney semifinals, the Diamondbacks earned a tough 9-6 win over the Tigers. That put the Diamondbacks into the title game, where they defeated the Cubs 8-7 in extra innings.
More ...
FIFTEEN ON THE FLY
A Nash Central Middle School player (15) tries to go around en for yardage during last Thursday's home football contest against the Southern Nash Cobras in Nashville.
More ...
IN THE CLEAR
Northern Nash's Miranda Griffin (left) escapes the pack during the Class 3-A East Regional Meet.
More ...
IT'S A FOOTRACE
Nash Central's William Moody (right) sprints with a Swansboro runner during the Class 3-A East Regional Cross Country Championships.
More ...
READY FOR HOMECOMING CONTEST
HOMECOMING HEROES. Northern Nash's (l to r) Gus Huddleston, Brandon Howlett, Luke Pajaro and Alvin Johnson get ready for the coin toss before the Knights' recent homecoming matchup against backyard rival Nash Central. Northern Nash won the Big East Conference football contest at Death Valley in Red Oak. The Knights, coached by Randy Raper, will wrap up the regular season portion of the schedule this Friday night against the Rocky Mount Gryphons.
More ...
ROSSER RUNS PAST THE DEFENSE
Northern Nash's Jamayis Rosser (right) picks up yardage for the Knights during last Friday night's road football setback against Wilson Fike HS.
More ...
SOUTHERN NASH STARS
Southern Nash High School runners from the Class 3-A East Regional Cross Country Championships included Jessy Lucas.
More ...
SPECIAL DELIVERY
Southern Nash Middle School quarterback Matt Foster sends a pass toward a teammate during last Thursday afternoon's Tri-County Conference football game on the road against the Nash Central Trojans. The visiting Cobras won the event to close out the regular season.
More ...

VOLUNTEER OF THE YEAR –– Ivan Price received one of the two Volunteer of the Year Awards presented during the Nash Arts Founders Day celebration for his contributions at Nash Arts. (Contributed photo)

Nash Arts celebrates Founders Day


Nash Arts and its volunteers had something extra to celebrate this year during their annual Founders Day event as they acknowledged the 100th birthday of the building.
The facility was built in 1914 as the original home of Nashville Baptist Church. The building was slated to be demolished to make room for a parking lot in 1983.

More ...
JO ANNE COOPER, GRAPHIC PUBLISHER
Staged reading of "Out in Left Field" is set for Nov. 15 at 7 pm
A Staged Reading of Out in Left Field, a short play by Lela Chesson, will be presented Saturday, November 15, 7 p.m., in the Powers Recital Hall, Dunn Center for the Performing Arts, Rocky Mount. Lawrence Goering will direct the reading. The play, focusing on the plight of a young left-hander in the 1940's, points to the struggles of all who face rejection and oppression.
More ...
BETTIE G. MCLEAN
Rocky Mount –– Bettie G. McLean, 56, of Rocky Mount, passed away  on Friday, October 31, 2014.
More ...
BONITA "BONNIE" SUE JOYNER BOONE
Bonita "Bonnie" Sue Joyner Boone, 63, passed away Wednesday October 29, 2014. She was born September 20, 1951 in Nash County. She was the daughter of the late Otha J. Joyner and Ruth Bone Joyner.  She was preceded in death by her brother Herbert M. Joyner, sister Jeanette Cooper Stark, and step brother Johnnie W. Joyner.
More ...
DANNY SCOTT BONE
ELM CITY - Danny Scott Bone, 53, passed away on Sunday, November 2, 2014.  He was born November 15, 1960 in Nash County.  Danny was preceded in death by his father, Alvin "Bird" Bone and a brother, Terry Bone.
More ...
JIMMY LEVI GRIFFIN
NASHVILLE - Jimmy Levi Griffin, 53, passed away on Saturday, November 1, 2014. He was born in Nash Co. on November 14, 1960 to the late James H. Griffin and Ophelia Griffin Leonard.  Along with his parents, he was preceded in death by his brother, J.W. Matthews.
More ...
JOHNNY ALBERT COBB
Johnny Albert Cobb, age 63, passed away  on Saturday, November 1, 2014. Born in Wilson County on April 11, 1951, he was the son of the late Johnny Harrison Cobb and Ruby Anderson Jackson.
More ...
MARK DWAYNE BOYETTE
Mark Dwayne Boyette, 53, passed away, Friday, October 31, 2014.  He was born November 21, 1960 in Edgecombe County.
More ...
PHILLIP EDWARD DOUGHERTY, SR.
Phillip Edward Dougherty, Sr., age 64, passed away on Monday, November 3, 2014. Born in Newport News, VA on June 29, 1950, he was the son of the late James Edward Dougherty and Dorothy Leggett Griffin.
More ...
RALPH CLIFTON GRIFFIN
Ralph Clifton Griffin, age 80, passed away  on Wednesday, October 29, 2014. Born in Nash County on March 8, 1934, he was the son of the late Cicero Thomas Griffin, Sr. and Della Frances Jones Griffin. He was also preceded in death by his dear wife, Lucrecia House Griffin.
More ...
RUBY S. BARNES
Ruby S. Barnes, 88, passed away Wednesday, October 29, 2014.  She was born May 3, 1926 in Edgecombe  County to the late Mack and Alma Sims.  In addition to her parents, Ruby was preceded in death by her husband, Edgar R. Barnes; son, Marvin Lewis Spain, and five brothers.
More ...